For a long time I have been looking for the secret of a successful crème brûlée. Obviously it is easy to make a recipe according to what is proposed in the books, but the result is often a cream which is certainly very good but not firm enough for my taste. The basic cream recipe is often fickle, ranging from a one hour to two and a half hour cook time for some ovens!!! I offer you my version which gives a very smooth and firm cream, which resists to caramelization!

I made many versions until this one 100% unpublished! My secret is the addition of gelatin before baking and whole milk powder, both of which give a wonderful consistency! The other little secret is to pre-cook in custard before baking. This recipe is with vanilla, I will soon propose other creme brulee's all as delicious!
Recipe for 4 people:
-5 egg yolks
-50cl of full cream
-80g of sugar
-50g of whole milk powder
-1 vanilla bean
-1+1/2 gelatin sheets
-semolina sugar for caramelizing
Preheat oven to 100°C.
Start by soaking the gelatin sheets (well the sheet and a half!!) in cold water.
Mix half of the sugar and the yolks.
Bernard's tip:
above all (!!) do not bleach them!!! That would give a foam that we do not want! In almost all the recipes they advise to blanch well and well no I don't agree!!! The result (after many tries) is much better without this step!
Add the whole milk powder. Mix well without lingering.
Heat the cream, the other half of the sugar and the vanilla bean split and scraped.
At the first boil, remove from heat and pour over the yolk/sugar/milk powder mixture.
Return to low heat and cook like a custard, i.e. do not boil it and stop when it coats the wooden spoon with a layer of cream. Remove from heat, remove vanilla bean, run a hand blender through the cream for three or four minutes (this will even out the cream) then add the gelatin, well wrung out and mix well.
The cream is ready to be baked. With the cooking in custard and the addition of gelatine, the cream is almost ready but if we stop there we will obtain a pannacotta a little too liquid, therefore a small passage in the oven is necessary. Bake at 100°C for 50 minutes.
Once the creams have cooled, place them in the refrigerator for at least 5 hours, with overnight being best!
For the caramelization I prefer 1000 times the professional flashlight because the small ones take too much time to caramelize the whole surface of the cream. There is also the iron, but I do not find it practical, and to pass the cream under the grill of the furnace is really the last option to choose because there it is all the cream which passes again to heat and thus makes it liquid again!
Bernard's advice:
I prefer white caster sugar, brown sugar will take longer to caramelize because the grains of sugar are larger, and so by the time it caramelizes, the cream will be warm!
Sprinkle sugar over the entire surface of the cream, then burn with the flashlight over the entire surface.
I put it back in the fridge for half an hour to firm up again, but it can be served right away!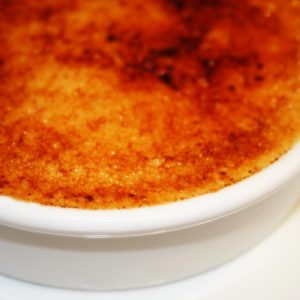 Crème brûlée
Depuis longtemps je cherche le secret d'une crème brûlée réussie. Évidemment il est facile de réussir une recette d'après ce qui est proposé dans les livres, mais le résultat est souvent une crème certes très bonne mais à mon goût pas assez ferme. La recette de crème basique est souvent capricieuse, allant d'une cuisson d'une heure à deux heures trente pour certains fours!! Je vous propose ma version qui donne une crème très onctueuse et ferme, qui résiste à la caramélisation!
J'ai réalisé beaucoup de versions jusqu'à celle ci 100% inédite!! Mon secret est l'ajout de gélatine avant cuisson au four et de poudre de lait entier, les deux donnant une consistance merveilleuse! L'autre petit secret est de pré-cuire en crème anglaise avant le passage au four. Cette recette est à la vanille, je proposerai bientôt d'autres crèmes brûlées toutes aussi délicieuses!
Instructions
Préchauffer le four à 100°C.

Commencer par laisser tremper les feuilles de gélatine (enfin la feuille et demie!!) dans de l'eau froide.

Mélanger la moitié du sucre et les jaunes.

Conseil de Bernard: surtout (!!) ne pas les faire blanchir!!! Cela donnerait une mousse que l'on ne désire pas!! Dans presque toutes les recettes ils conseillent de bien blanchir et bien non je ne suis pas d'accord!!! Le résultat (après beaucoup d'essais) est bien meilleur sans cette étape!

Ajouter la poudre de lait entier. Bien mélanger sans s'attarder.

Chauffer la crème, l'autre moitié du sucre et la gousse de vanille fendue et grattée.

Dès la première ébullition, enlever du feu et verser sur le mélange jaunes/sucre/poudre de lait.

Remettre sur le feu doux et cuire comme une crème anglaise, c'est à dire ne pas la faire bouillir et arrêter quand celle-ci nappe la cuiller en bois d'une couche de crème. Enlever du feu, enlever la gousse de vanille, passer un coup de mixer plongeant dans la crème pendant trois ou quatre minutes (cela va uniformiser la crème) puis ajouter la gélatine bien essorée et bien mélanger.

La crème est prête à passer au four. Avec la cuisson en crème anglaise puis l'ajout de gélatine, la crème est presque prête mais si on arrête là on va obtenir une pannacotta un peu trop liquide, donc un petit passage au four s'impose. Cuire au four à 100°C pendant 50 minutes.

Une fois les crèmes refroidies, les placer au réfrigérateur pendant au moins 5 heures, le mieux étant une nuit entière!

Pour la caramélisation je préfère 1000 fois le chalumeau professionnel car les petits mettent trop de temps à caraméliser toute la surface de la crème. Il existe aussi le fer, mais je ne le trouve pas pratique, et passer la crème sous le grill du four est vraiment la dernière option à choisir car là c'est toute la crème qui repasse à la chaleur et donc la rend de nouveau liquide!!

Conseil de Bernard: Je préfère le sucre blanc semoule, la cassonade mettra plus de temps à caraméliser car les grains de sucre sont plus gros, et donc le temps de la caramélisation, la crème sera réchauffée!

Saupoudrer de sucre toute la surface de la crème, puis brûler avec le chalumeau toute la surface.

Saupoudrer de sucre toute la surface de la crème, puis brûler avec le chalumeau toute la surface.
Nutrition
Calories:
257
kcal
Carbohydrates:
26
g
Protein:
8
g
Fat:
14
g
Saturated Fat:
7
g
Polyunsaturated Fat:
1
g
Monounsaturated Fat:
5
g
Cholesterol:
269
mg
Sodium:
62
mg
Potassium:
204
mg
Sugar:
25
g
Vitamin A:
625
IU
Vitamin C:
1
mg
Calcium:
152
mg
Iron:
1
mg