The other day, as I watched my bananas take on a sad look and thought about West Indian jams, I thought it was time to make a really delicious one! I think of all the recipes I have, this is the one that smells the best in the kitchen. For this reason alone I advise everyone to try it! And especially on a piece of fresh bread, this jam will transport you to the tropics!
Recipe of the "banana jam":
-1kg of banana flesh
-550g of brown sugar
-60g of amber rum
-1 or 2 vanilla beans
Here are my bananas that were starting to look a little sulky! But they can be even more mature! For a jam it is not serious!
Put the banana flesh in a saucepan with the brown sugar.
Since I like jam with chunks, I mash it with a fork. But you can use a hand blender at the end of the recipe if you want a very smooth jam.
Add vanillin from a whole bean by scraping the inside with your thumbnail.
And add the old amber rum.
Place over medium heat.
Cook and stir regularly with a wooden spoon.
Cook for at least 25 minutes from boiling. If you want a smooth jam, you have to mix with the hand blender, then let it cook a little more (10 minutes).
Put in a sterilized jar.
And invert the jar to perfectly sterilize with the very hot contents.
No! It wasn't me who took a bite out of the bread… I don't know anymore!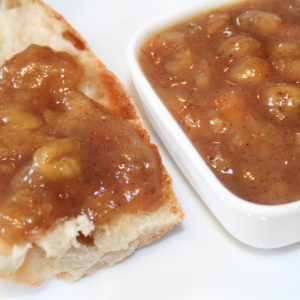 Confiture de Bananes, Rhum et Vanille
L'autre jour, en regardant mes bananes prendre un air triste et en pensant aux confitures des antilles, je me suis dit qu'il était temps d'en faire une vraiment délicieuse! Je crois que de toute les recettes que j'ai, c'est celle qui dégage la meilleure odeur dans la cuisine. Rien que pour cela je conseille à tout le monde de l'essayer! Et surtout sur un morceau de pain frais, cette confiture vous transportera sous les tropiques!
Instructions
Mettre la chair des bananes dans une casserole avec la cassonade.

Comme j'aime bien la confiture avec des morceaux, j'écrase avec une fourchette. Mais on peut passer au mixeur plongeant à la fin de la recette si l'on souhaite une confiture très lisse.

Ajouter la vanilline d'une gousse entière en raclant l'intérieur avec l'ongle du pouce.

Et ajouter le vieux rhum ambré.

Et cuire en mélangeant réguliérement avec une cuiller en bois.

Laisser cuire au moins 25 minutes à partir de l'ébullition. Si l'on veut une confiture lisse, il faut mixer avec le mixeur plongeant, puis laisser recuire un peu plus (10 minutes).

Et renverser le pot pour parfaitement stériliser avec le contenu très chaud.
Nutrition
Calories:
2
kcal
Carbohydrates:
1
g
Protein:
0.01
g
Fat:
0.002
g
Saturated Fat:
0.001
g
Sodium:
0.1
mg
Potassium:
3
mg
Fiber:
0.02
g
Sugar:
0.4
g
Vitamin A:
0.4
IU
Vitamin C:
0.1
mg
Calcium:
0.3
mg
Iron:
0.004
mg