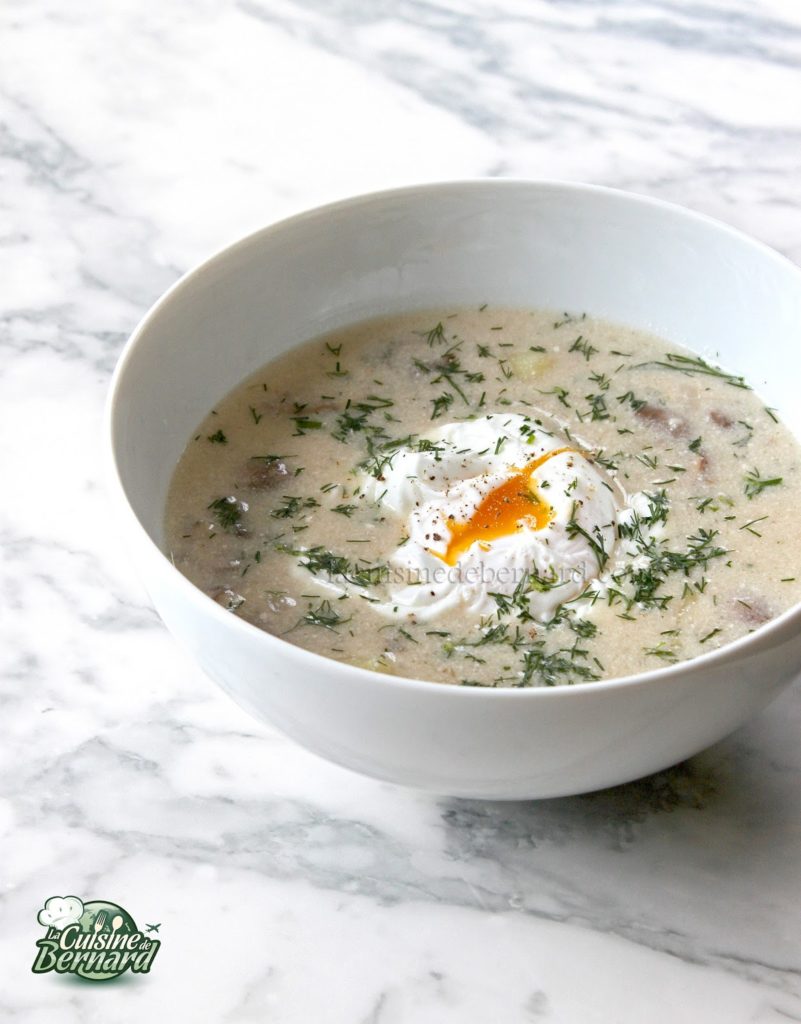 I just came back from Prague with a few recipes in my luggage. Before my culinary journey that I will publish very soon, here is this delicious mushroom, potato and dill soup. This is rich as can be, with cream and a little vinegar to excite the taste buds! A big thank you to Michal Suchanek from
Chef Parade
for sharing his recipe with us!
Czech soup with mushrooms, potatoes and dill:
1 stalk of celery

1 carrot

1 parsnip

1 head of garlic

1 shallot

salt, 10 black peppercorns, 10 juniper berries
250g of pink mushrooms

2 firm-fleshed potatoes

1 onion

2 heaping tablespoons of flour

1 liter of broth

1/4 teaspoon caraway seeds, coarsely ground

1 small bunch of dill

100ml full cream

100ml sour cream (or heavy cream and a little vinegar)

1 tablespoon of cider vinegar

30g of semi-salted butter

4 eggs

salt pepper
First, prepare the vegetable broth. For this, prefer organic vegetables. Put them with the salt, pepper corns and juniper berries in 1.2 liters of water and bring to the boil. Let cook for 30-45 minutes.
Peel and finely chop the onion. Put 3 tablespoons of oil and the onion in a saucepan over moderate heat.
Cook for 3-4 minutes and add the mushrooms.
Mix well and pour in the flour.
Stir again to distribute it well, then pour in the broth, straining it (especially for the peppercorns and berries).
Add the potatoes.
Now let cook for 20 minutes until potatoes are tender.
Then add the caraway.
Pour in the sour cream and the liquid cream.
Butter, dill and vinegar.
The soup is ready!
You can add one poached egg per person (the method is HERE)