These palets are wonderfully crisp and melt-in-the-mouth. To be eaten in moderation because they are rich in butter! But accompanied by a homemade sorbet, they will be devoured very quickly! Quick and easy to prepare!
For those who want the real recipe of "traou mad" or Breton palets, it is here:
-The Traou Mad (click
HERE
)
Recipe for "palets bretons" for about twenty cakes:
-170g of salted butter
-125g of flour
-80g almond powder
-90g of powdered sugar
-2 egg yolks
Put the two yolks, the very soft butter and the powdered sugar in a bowl. Mix well to obtain a homogeneous mass.
Add flour and almond powder. Mix quickly so as not to overwork the resulting dough. Mixing the yolks, butter and sugar into a very soft dough first, allows the flour and almond powder to be added quickly afterwards.
Place this dough between 2 sheets of parchment paper. This way of doing things avoids the addition of flour and above all does not dirty the work surface! Then spread on a thickness of 1 cm.
You can see in the photo that I use a very handy rolling pin. On the sides of this one you can see a tool that allows to control the thickness of the dough. I choose the one I want and then I get a perfectly even dough on the thickness. You can find it at Mora's (or probably elsewhere) in the "my addresses" section on the left-hand side of the home page.
Put the dough between the 2 sheets (spread on 1cm…) in the refrigerator until it hardens. Remove the leaves one by one like a decal.
Cut out with a 6cm cookie cutter but leave the dough in the cutters! Which implies to have several (at least 10) and/or to cook in several times. But one won't be enough and if you let the dough cook without the cookie cutter, it will spread and sink into the pan!
Preheat the oven to 180°C. Place the cookie cutters on a baking sheet lined with parchment paper and let them rest in a cool place while you preheat.
Bake for 20-25 minutes, the cooking time always depends on the power of the oven! Remove the palets from the pan and cool them on a rack.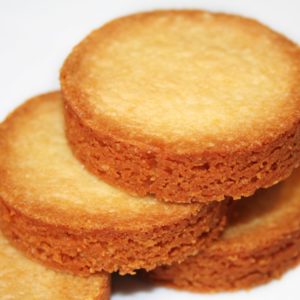 Palets aux Amandes
Ces palets sont merveilleusement croustillants et fondants. A manger avec modération car ils sont riches en beurre! Mais accompagnés d'un sorbet maison, ils seront dévorés très rapidement! Recette simple et rapide à préparer!
Instructions
Mettre les deux jaunes, le beurre très mou et le sucre glace dans un bol. Bien mélanger pour obtenir une masse homogène.

Ajouter la farine et la poudre d'amandes. Mélanger rapidement pour ne pas trop travailler la pâte ainsi obtenue. Le fait de mélanger d'abord les jaunes, beurre et sucre en une pâte très molle, permet l'ajout rapide par la suite de la farine et de la poudre d'amandes.

Mettre cette pâte entre 2 feuilles de papier sulfurisé. Cette façon de faire, permet d'éviter l'ajout de farine et surtout de ne pas salir le plan de travail!! Puis étaler sur une épaisseur de 1 cm.

On peut voir sur la photo que j'utilise un rouleau à pâtisserie très pratique. Sur les côtés de celui-ci on peut voir un outil qui permet de contrôler l'épaisseur de la pâte. Je choisis celui que je veux et j'obtiens alors une pâte parfaitement égale sur l'épaisseur. Il se trouve chez Mora (ou ailleurs aussi sans doute) dans la rubrique « mes adresses » sur la page d'accueil à gauche.

Mettre la pâte entre les 2 feuilles (étalée sur 1cm…) au réfrigérateur jusqu'à durcissement de cell-ci. Enlever les feuilles une à une comme une décalcomanie.

Découper à l'emporte-pièce de 6cm mais laisser la pâte dans ces emporte-pièces!! Ce qui implique d'en avoir plusieurs (au moins 10) et/ou de cuire en plusieurs fois. Mais un seul ne suffira pas et si on laisse cuire la pâte sans l'emporte-pièce, elle s'étalera et coulera dans la plaque!!

Préchauffer le four à 180°C. Mettre les emporte-pièces sur une plaque garnie de papier sulfurisé et laisser reposer au frais le temps du préchauffage.

Cuire 20-25 min en surveillant, le temps de cuisson dépend toujours de la puissance du four! Décercler les palets, et les mettre à refroidir sur une grille.
Nutrition
Calories:
130
kcal
Carbohydrates:
10
g
Protein:
2
g
Fat:
9
g
Saturated Fat:
5
g
Polyunsaturated Fat:
0.4
g
Monounsaturated Fat:
2
g
Trans Fat:
0.3
g
Cholesterol:
38
mg
Sodium:
56
mg
Potassium:
11
mg
Fiber:
1
g
Sugar:
5
g
Vitamin A:
238
IU
Calcium:
14
mg
Iron:
0.5
mg