With or without pits… Such is the eternal dilemma for clafoutis! If you go to the Limousin and say you are going to make a clafoutis with pitted cherries, I don't give a damn! So I propose you the classic version of this dessert, with the basic dough and the whole cherries. But after having tried it with or without the pits, I can tell you that personally, it doesn't change the taste. It seems that the pit, when cooking, leaves the flavor, but nobody felt the difference… And yes I admit it, I prefer a clafoutis without pit, easier to taste. And yes I admit it, I prefer a clafoutis without pit, easier to taste. So I leave you also my clafoutis recipe, less traditional certainly. You will have the choice and I ask the purists to let me eat without me having to spit out my pits 😉
Clafoutis recipe:


-600g of whole cherries
-2 large eggs
-120g sugar
-100g of flour
-330ml of whole milk
-25g butter (to butter the dish)

My version (richer but delicious!):


-600g pitted cherries
-2 large eggs
-350ml full cream
-50g almond powder
-90g cornstarch
-125g powdered sugar
-a pinch of vanilla powder
-25g of melted butter + 25g to butter the dish


Instructions:

Preheat the oven to 200°C.


Wash the cherries thoroughly.


(If you choose to pit them, you can use an automatic cherry pitter. More convenient!)


Prepare the clafoutis mixture. Mix the eggs, flour and sugar in a bowl.


Mix well with a whisk, then add the milk.


Butter the dish for easier unmolding later.


Put the whole or pitted cherries in an ovenproof dish.


Pour the batter over the cherries.


You can make mini clafoutis…! (here, with the pits!!).


Put in the oven for 35 minutes at 200°C.


My version:


Put the powdered sugar, cornstarch, almond powder and vanilla powder in a container.


Add the eggs and mix well.


Add the cream while mixing.


Then add the melted butter.


Butter the clafoutis dish.


For my part, I pit the cherries… And yes!


Pour the dough on the cherries and put in the oven at 200°C for 35 minutes.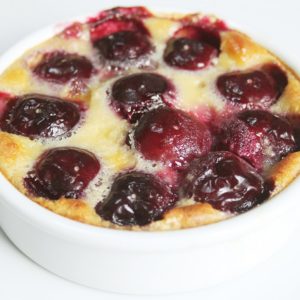 Clafoutis aux cerises. Le vrai…et ma version !
Avec ou sans noyaux… Tel est l'éternel dilemme pour le clafoutis! Si vous allez dans le Limousin et que vous dites que vous allez réaliser un clafoutis avec des cerises dénoyautées, je ne donne pas cher de votre peau! Je vous propose donc la version classique de ce dessert, avec la pâte de base et les cerises entières. Mais après avoir fait des essais avec ou sans les noyaux, je peux vous dire que personnellement, cela ne change rien au goût. Il parait que le noyau, en cuisant, laisse la saveur, mais personne n'a senti la différence… Et oui je l'avoue, je préfère un clafoutis sans noyau, plus facile à déguster. Je vous laisse donc également ma recette de clafoutis, moins traditionnelle certes. Vous aurez donc le choix et je demande aux puristes de me laisser manger sans que je sois obligé de cracher mes noyaux!
Instructions
L'original
Préchauffer le four à 200°C.

Laver soigneusement les cerises.

Préparer l'appareil à clafoutis. Mélanger les oeufs, la farine et le sucre dans un récipient.

Bien homogénéiser au fouet, puis ajouter le lait.

Beurrer le plat pour un démoulage plus aisé par la suite.

Mettre les cerises entières ou dénoyautées dans un plat allant au four.

Verser la pâte sur les cerises.

On peut faire des mini clafoutis…! (là, avec les noyaux!!).

Mettre au four 35 minutes à 200°C.
Ma version
Mettre le sucre glace, la maïzena, la poudre d'amandes et la vanille en poudre dans un récipient.

Ajouter les oeufs et bien mélanger.

Ajouter la crème tout en mélangeant.

Beurrer le plat à clafoutis.

Pour ma part, je dénoyaute les cerises… Et oui!!

Verser la pâte sur les cerises et mettre au four à 200°C pendant 35 minutes.
Notes
Si l'on choisit de dénoyauter les cerises, on peut utiliser un dénoyauteur à cerises automatique. Plus pratique!
Nutrition
Calories:
4560
kcal
Carbohydrates:
635
g
Protein:
79
g
Fat:
205
g
Saturated Fat:
109
g
Polyunsaturated Fat:
11
g
Monounsaturated Fat:
47
g
Trans Fat:
1
g
Cholesterol:
1153
mg
Sodium:
701
mg
Potassium:
3941
mg
Fiber:
34
g
Sugar:
428
g
Vitamin A:
8153
IU
Vitamin C:
86
mg
Calcium:
1093
mg
Iron:
15
mg