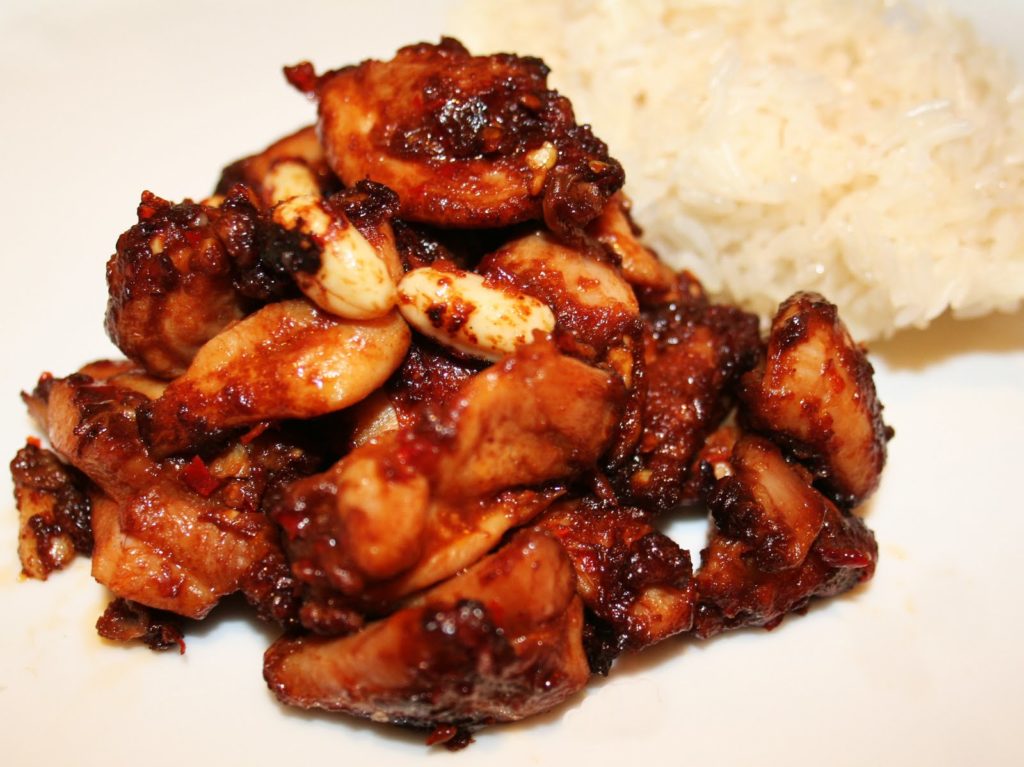 Contrary to its name, this chicken is mild and very tasty. This recipe comes from one of my cooking classes in China. I made it again here in France and it is still excellent! A very moist chicken, fried with a marinade made of garlic and chillies (but not hot!). A real trip! However, plan to ventilate your kitchen well!
Recipe of chicken with garlic and chilli.
For 6 people.
-3 tablespoons of chilli/garlic sauce (see photo below)
2 heaped tablespoons of cornstarch
-1 clove of garlic, crushed
-1 tablespoon of clear soy sauce
-1 tablespoon of dark soy sauce
-1 heaping teaspoon of sugar
-1 tablespoon of Chinese wine (special cooking)
-2 teaspoons of toasted sesame oil
-1 teaspoon garlic powder (not semolina, powder!!!)
-a good handful of unsalted peanuts (roasted or not, to taste)
First, I want to emphasize one point. This chicken is very tender even after a long wok cooking. Why is this? Because in the recipe they are thighs! Of course it is tempting to use whites, which are easier to prepare. But the result is dry! Very dry indeed! So it's best to go to the trouble of boning the thighs to get the full flavor of this dish! I would never recommend using whites in any of my recipes anyway. I save them to eat just grilled when I'm trying to watch what I eat!
For those who wonder what is this garlic and chili sauce I use, it's the same one I used in my cooking class in China, but that you can find in Asian grocery stores without any problem.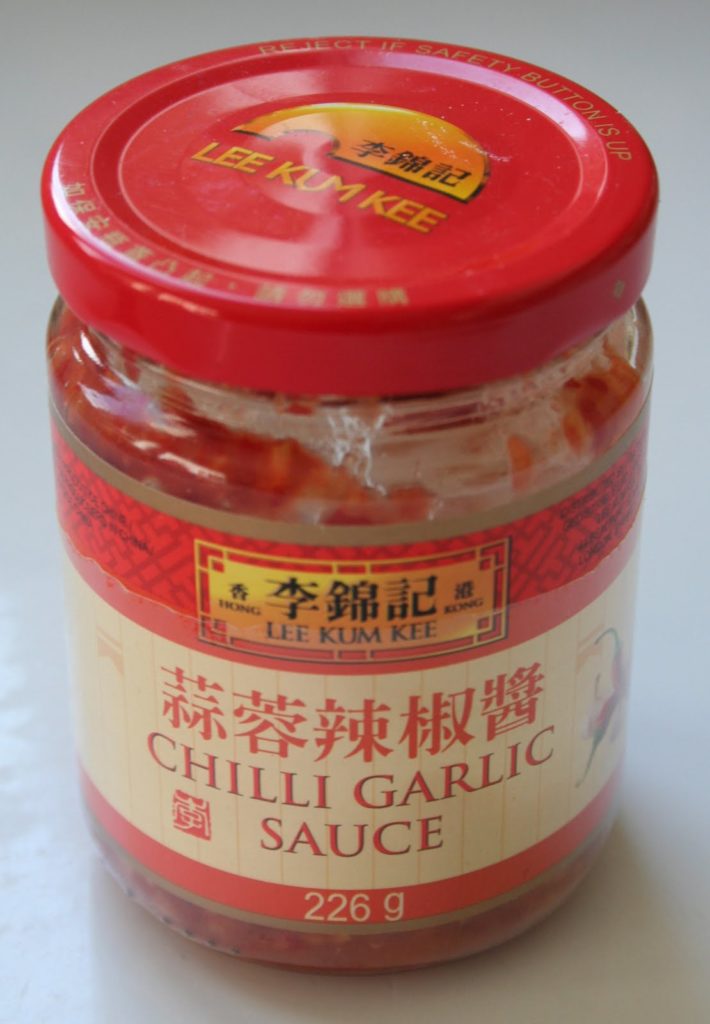 Start by removing the skin from the thighs. It's simple, just pull it! Remove the little bits of grease that are lying around here and there. Then remove the central bone with a good knife. Also make sure there is no cartilage left!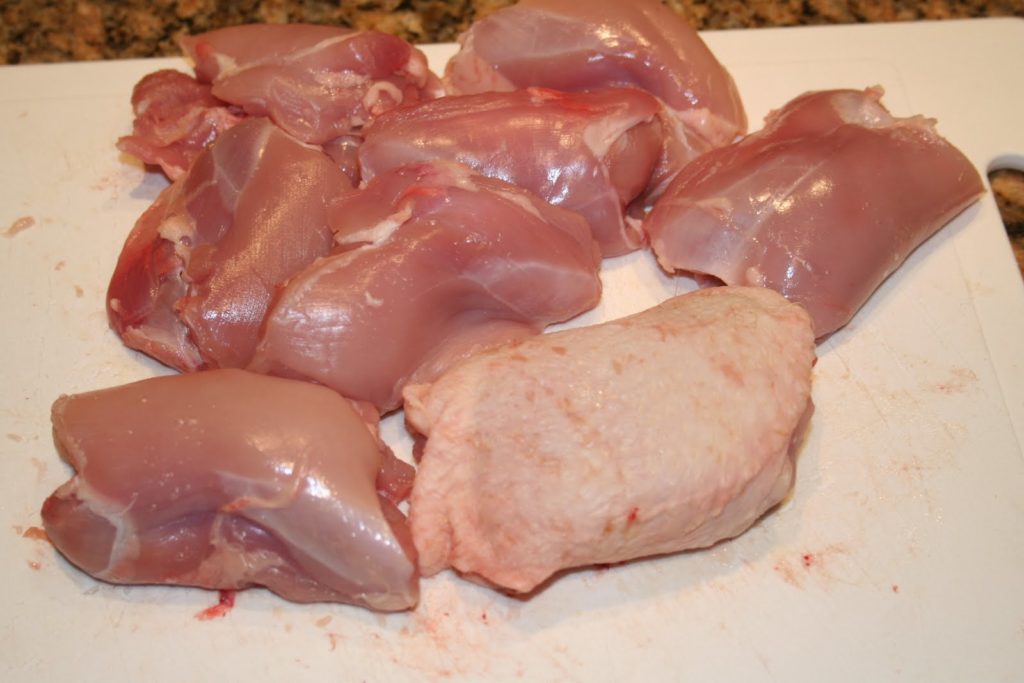 Cut the thighs into pieces, cutting them in three lengthwise and three widthwise. Put them in a bowl and add all the other ingredients except the peanuts.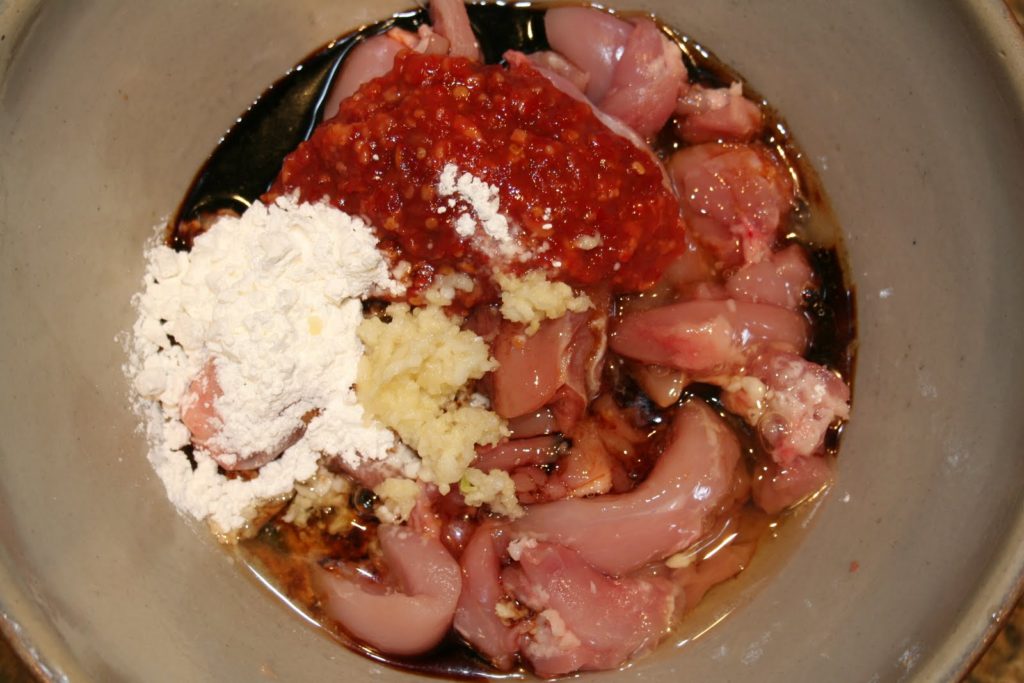 Mix well. At this point the chicken doesn't look very appetizing! But I assure you it is delicious!
Marinate the chicken for an hour or two.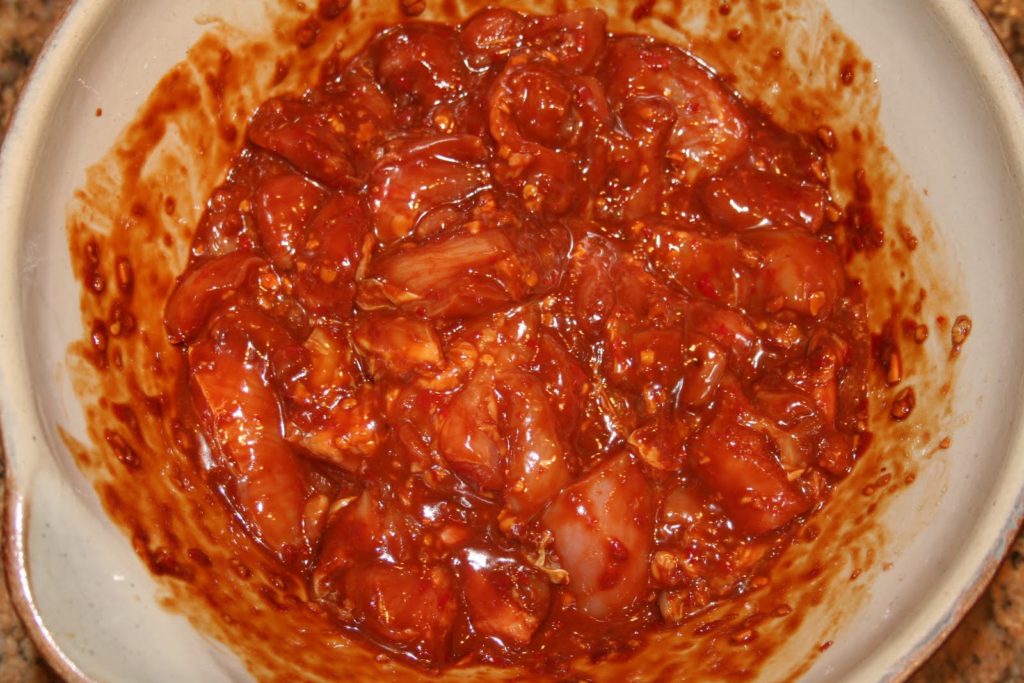 At the last moment, heat a good quantity of oil in a wok. When the oil is at the right temperature (you can tell by dipping a wooden chopstick in the marinade, if it boils, it's good!), cook the chicken. It is better to cook a first quantity, then when it is cooked, to put it on an absorbent paiper. Continue with another quantity. Like this in three times.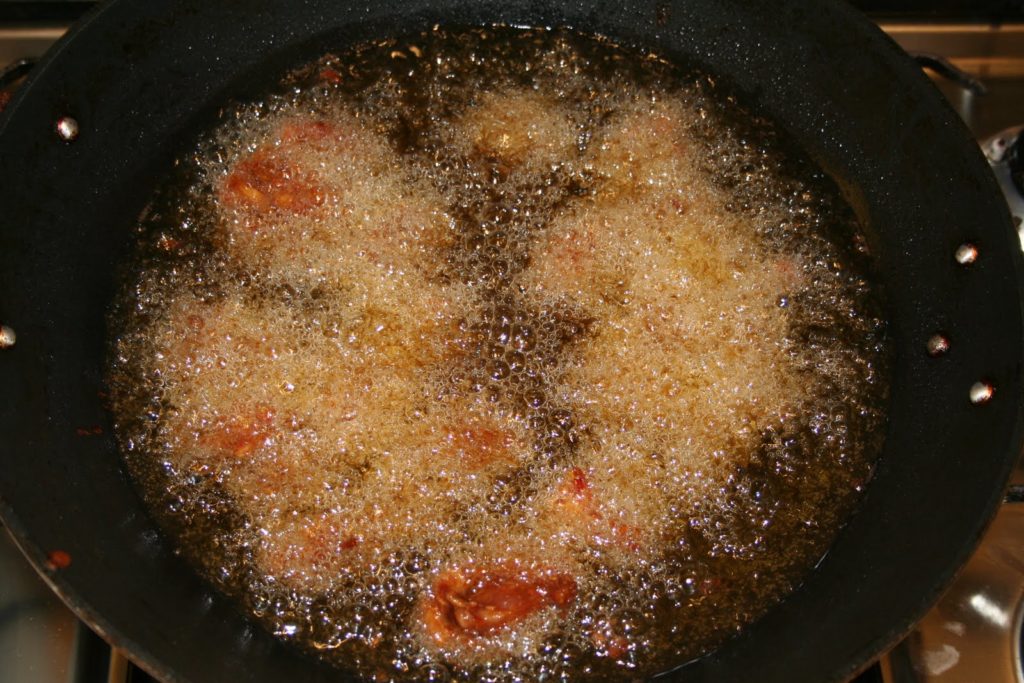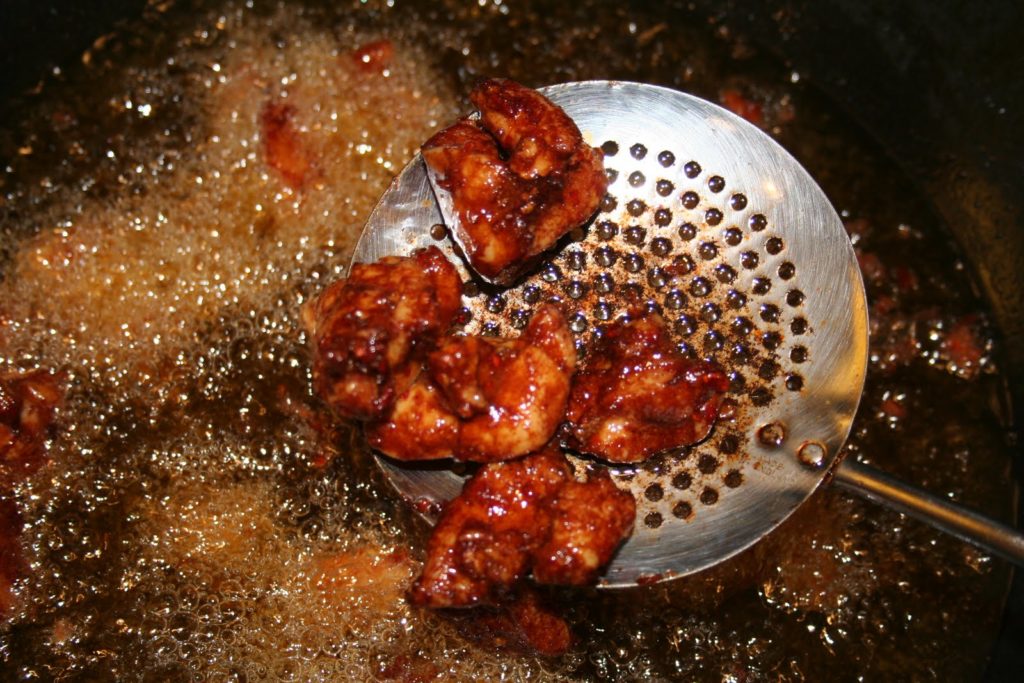 When all the chicken is cooked, empty the oil from the wok into a saucepan and return the wok to high heat. Allow to heat up a bit before pouring in all the cooked chicken. Add the peanuts at this point and cook, stirring constantly.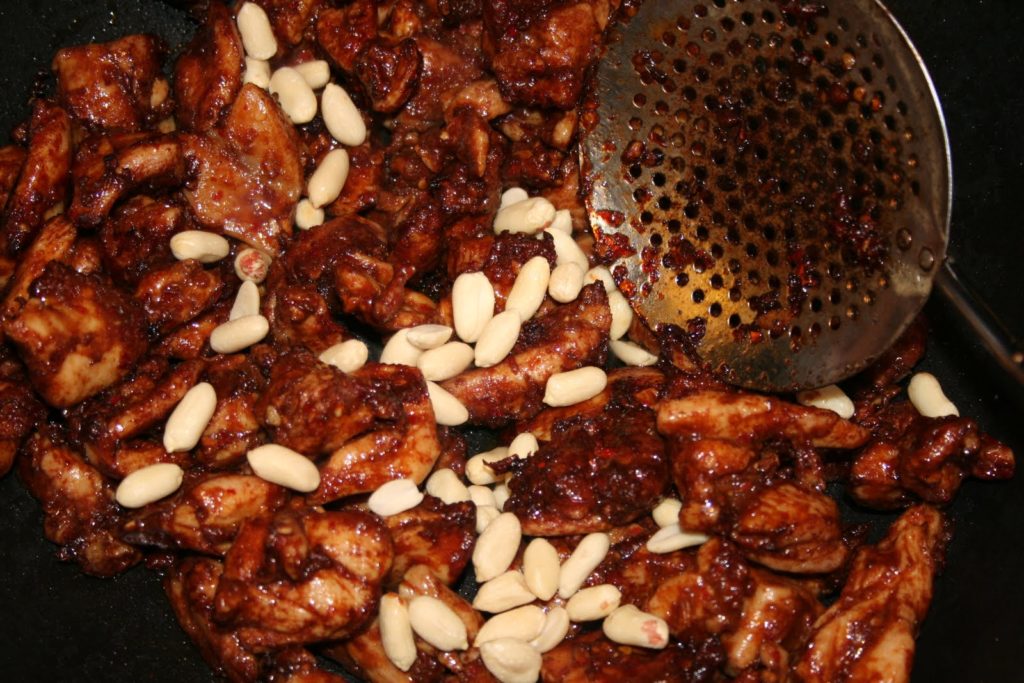 Do not let it burn but it does not happen anyway! However, I left the chicken on high heat for a long time.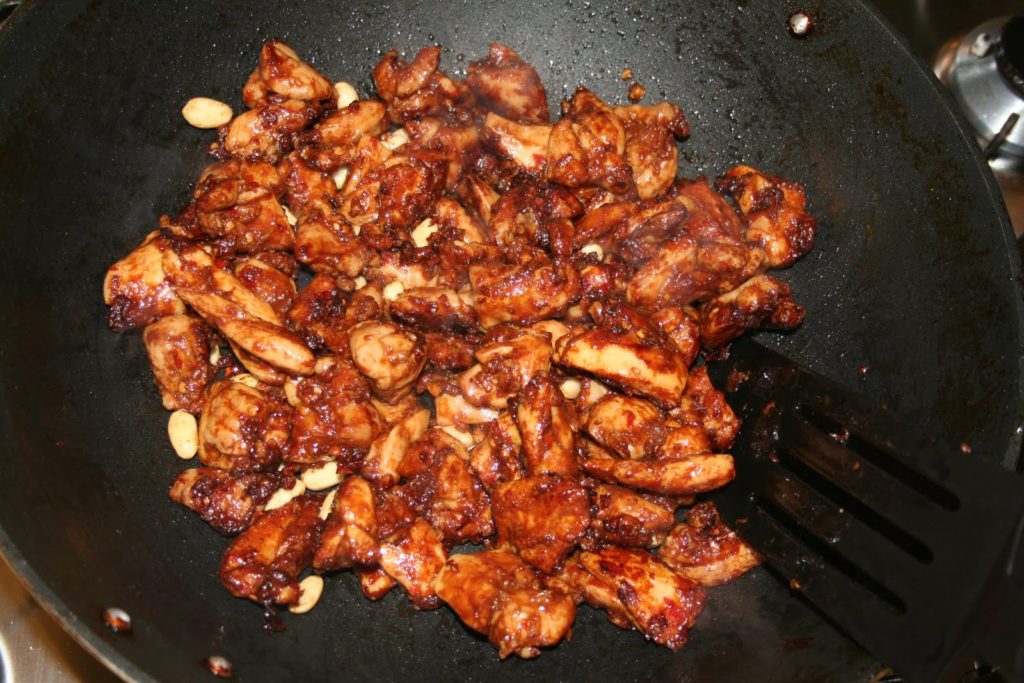 Stir and then turn off the heat and pour the chicken onto a serving dish.
Serve with
glutinous rice
(my favorite!) or rice cooked in the rice cooker.