Every time I go to Thailand, I order this wonderful chicken, flavored with pandanus leaf. The pandanus leaf is actually the leaf of a palm tree and is not eaten. It is widely used in Thai cuisine for its fragrance. It has a very particular smell when it is crushed or cooked. But don't panic! This recipe is excellent on its own. If you can't find the leaves, you can marinade the chicken and cook it in a very hot wok or pan. My main concern with this recipe was to find the recipe for the dipping sauce. Easy to find in the supermarket in Bangkok, but impossible, even in the 13th in Paris, so I wanted to clone this sauce. My version will give you exactly the same thing. I couldn't even tell mine from the bottle I bought there. Don't wait any longer to cook this delicious dish. I gave this recipe to students in one of my cooking workshops and everyone loved it!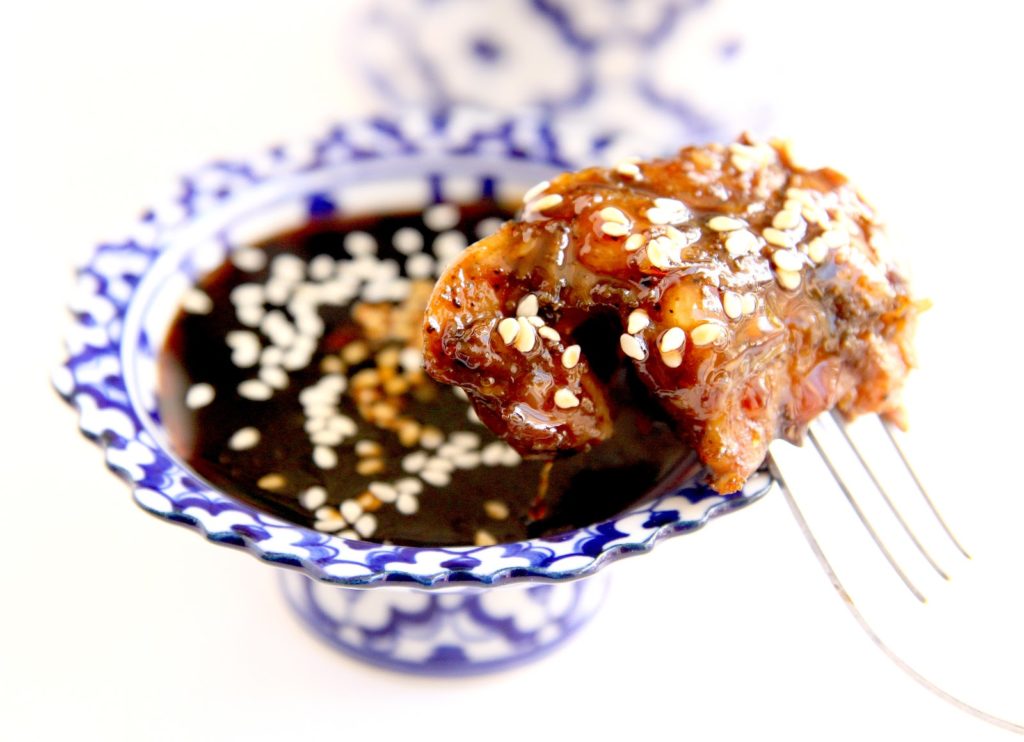 Recipe for chicken with pandanus leaves:
-5 chicken thighs
-30 pandanus leaves
-5 coriander roots (or the stems of a bunch of coriander)
-1 heaping teaspoon of ground black pepper
-3-4 cloves of garlic
-3 tablespoons of chopped lemongrass (2 stalks of lemongrass)
-3 tablespoons of sugar
-2 tablespoons of clear soy sauce
-4 tablespoons of oyster sauce
-4 tablespoons of toasted sesame oil
-2 teaspoons of white sesame


For the dipping sauce:
-155g of sugar
-65g of whole cane sugar
-60g of glucose syrup
-100g of water
-20g of dark soy sauce
-1 level teaspoon of salt
-white sesame (to sprinkle on the sauce)
Start by preparing the sauce (in which you dip the chicken pieces).
Put the ingredients: sugar, wholemeal sugar, glucose syrup, dark soy sauce.


In this case, you can replace them with the stems of a bunch of coriander.



Fold the first third of the sheet as shown in the photo.