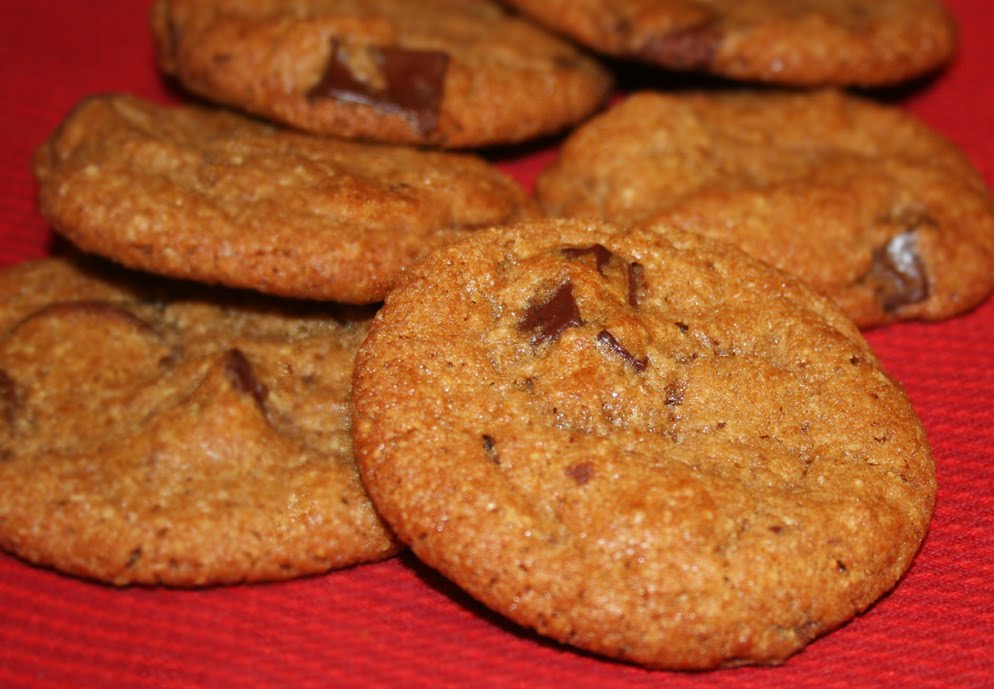 I got this recipe from an American grandmother, (nanny for friends) during a linguistic trip to the United States a long time ago, (1992!!). I have always treasured it because it is the best I have ever found! The cookies are crispy as can be (thanks to the oatmeal) and melt-in-your-mouth. The combination of dark chocolate AND milk chocolate is divine!
You can make balls of dough in advance and freeze them raw. In this way, they can be cooked directly from the frozen state, which means that the cooking time is slightly longer.
Cookie recipe:
-225g of soft butter at room temperature
-225g of sugar
-190g of brown vergeoise
-2 eggs
-1 tablespoon of liquid vanilla
-300g of flour
-200g of powdered oatmeal (in a blender)
-1/2 teaspoon salt
-1/2 teaspoon baking powder
-1 teaspoon of baking soda
-200g of dark chocolate chips (I use chunk chocolate bars)
-100g of milk chocolate chips
-65g of walnut pieces
Preheat the oven to 190°C.
Mix the butter with the two sugars in a bowl. Add the eggs, then the liquid vanilla.
In a separate bowl, combine the flour, powdered oats, salt, baking powder and baking soda. Mix well. Add this dry mixture to the first mixture a little at a time. You're going to need some elbow grease to mix it all in when all the flour/oats are incorporated! Then add the chocolate chips and finish with the chopped nuts.
Make walnut-sized dumplings with this dough (you can make them a little bigger!) and place them on a baking sheet lined with parchment paper. (Leave some space between the dumplings because they will flatten out during cooking!) Bake for 7 minutes, check for doneness, (depending on the oven, the cookies should be golden brown) then remove from the oven and let rest for 5 minutes before removing from the oven and placing on a rack.