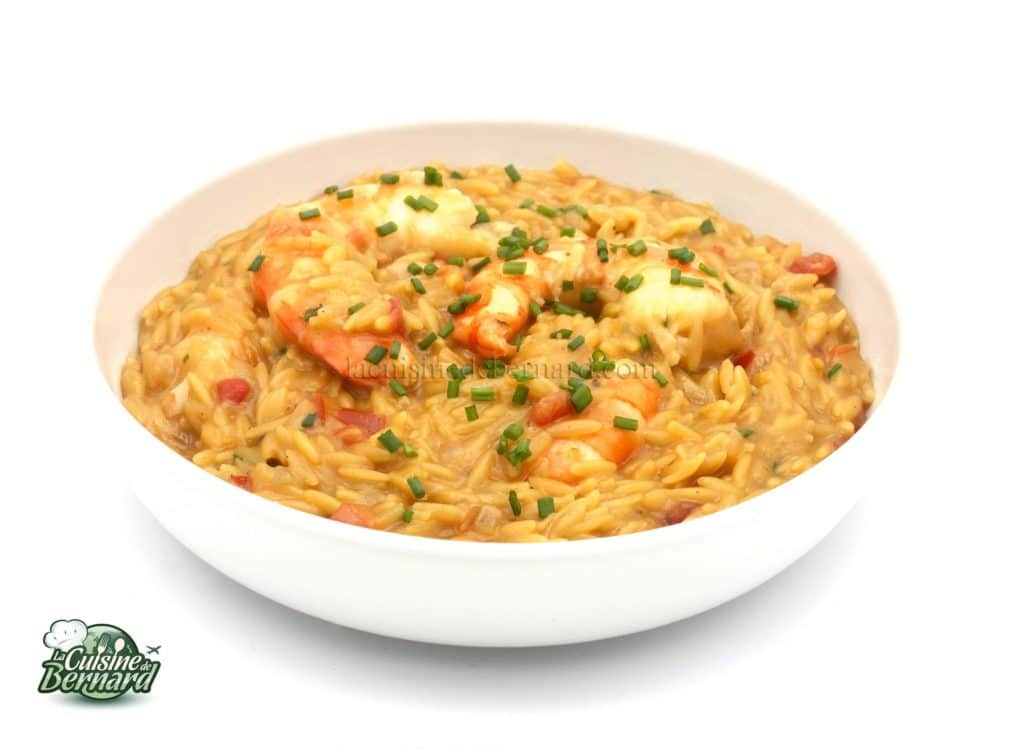 Heat over high heat and place shrimp on top. Here I only put 6 because I made half of my recipe, but follow the proportions for 4!
Season with salt and pepper.
After 2 minutes, turn them over to cook the other side still on high heat!
A nice coloration and it's already over for the shrimps.
In the same pan, without washing it, pour the peeled and cut onion in pieces. It doesn't matter if it's well done because it's for the broth.
Still on a fairly high heat, brown them in the shrimp juices with the chopped garlic.
Peel the shrimp.
Put the "shrimp peelings" in the pan. Let cook for 5 minutes.
Pour the mixture into a saucepan with the water and saffron and cook over moderate heat.
Add the bay leaves.
Let simmer for a good 20 minutes. It already smells great!
After some time, pour back into a container, filtering well. You must have at least 1.5 liters of broth.
For the pasta, here they are ! You will find them quite easily in the shops. They have many names depending on the region or country concerned.
In a large saucepan, pour the butter, olive oil and half an onion, finely chopped.
Let cook over moderate heat.
The onions should colour slightly.
Pour in the pasta.
Mix well to coat with fat while cooking for 2 minutes.
Pour in the white wine.
As soon as the wine is absorbed, pour in some broth. Always stir it well before pouring. Cook this time over low heat, stirring regularly. When the pasta is almost completely absorbed, pour in more broth.
Prepare the tomato. Empty it of its pulp.
Then cut it into small pieces.
When you are halfway through the broth, add the tomato pieces.
Grate the cheese. In Greece, they will put more kefalotyri, but here you can put fresh parmesan. But shhh, don't say it too loud !
Pour it into the pan with a little chopped chives.
You may not have to use all the broth. Pasta usually cooks in 9 minutes. It's up to you to decide if you want a very creamy dish, in which case you'll need to use almost all the broth, or if you want a more substantial dish with less broth. For me, it was almost 1.5 liters of broth.
Replace the shrimp and cook on very low heat for 3-4 minutes to warm them up in the kritharoto.
Serve on 4 plates and enjoy without delay!