I'm slowly coming back to the blog after a little absence. While waiting for me to get back to the stove, I give you a recipe from my book Végéterrien published by Flammarion!
I had discovered in Vancouver in a big organic store, cookies that inspired me the ones you have in front of you. I had written down all the ingredients and ended up in my workshop with the same ones that make up these cakes. Of course, I made several trials of proportions and I came to the conclusion that the version I am proposing to you was ultimately even better than the one I had discovered. For breakfast or a snack, they are perfect to fill up on energy.
Recette pour 9 power cookies :
50g of wholemeal spelt flour
75g of white spelt flour
55g of oatmeal
40g of brown sugar
½ teaspoon cinnamon powder
15g of coconut powder
50g of rice syrup
60g of soy milk
85g rapeseed oil (for cooking)
70g of dark chocolate chunks
35g of sunflower seeds
35g of pumpkin seeds
20g of pine nuts
15g of pecan nuts
55g of raisins
15g of flax seeds
Instructions :
In a container, pour the small spelt flours (the integral and the white). Add the oats, brown sugar, cinnamon powder and coconut. Mix briefly and then pour in the rice syrup, soy milk and canola oil. The dough will become sticky. If you make it in a food processor, with the sheet it will be very easy!
Add the dark chocolate chunks (or alternatively chocolate chips) and the rest of the ingredients. Mix well to distribute all the seeds in the dough. Make balls of 75g each. You will be able to make 9 of them. The dough is sticky, so you may need to oil your hands. This will be much easier!
Flatten the dumplings with the palm of your hand and spread them on a baking sheet lined with parchment paper.
Bake in a preheated oven at 160°C and cook the cookies for about 20 minutes. The center should not look cooked. Remove from oven and let cool to room temperature. Peel them off and place them in an airtight box. They will keep relatively long. As long as they are not dry, they are still delicious.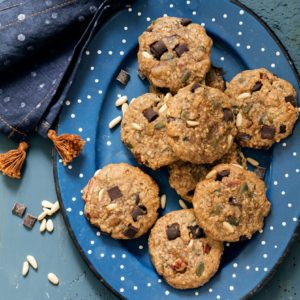 Power cookies
Je reviens doucement sur le blog après une petite absence. En attendant que je retourne aux fourneaux, je vous donne une recette de mon livre Végéterrien édité chez Flammarion !
J'avais découvert à Vancouver dans un grand magasin bio, des cookies qui m'ont inspiré ceux que vous avez sous vos yeux. J'avais bien noté tous les ingrédients et je me suis retrouvé dans mon atelier avec les mêmes que ceux qui composent ces gâteaux. J'ai évidemment fait plusieurs essais de proportions et je suis arrivé à la conclusion que la version que je vous propose était en définitive encore meilleure que celle que j'avais découverte. Au petit déjeuner ou au goûter, ils sont parfaits pour faire le plein d'énergie.
Instructions
Dans un récipient, versez les farines de petit épeautre (l'intégrale et la blanche). Ajoutez les flocons d'avoine, le sucre roux, la cannelle en poudre et la noix de coco. Mélangez succinctement puis versez le sirop de riz, le lait de soja et l'huile de colza. La pâte va devenir collante. Si vous la faites au robot, avec la feuille cela sera d'une simplicité enfantine !

Ajoutez les chunks de chocolat noir (ou à défaut des pépites de chocolat) et le reste des ingrédients. Mélangez bien pour répartir toutes les graines dans la pâte. Faites des boulettes de 75g chacune. Vous allez pouvoir en faire 9. La pâte est collante, il faudra donc peut être vous huiler les mains. Cela sera beaucoup plus simple !

Aplatissez les boulettes avec la paume de votre main puis répartissez-les sur une plaque à pâtisserie garnie de papier sulfurisé.

Enfournez à four préchauffé à 160°C et faites cuire les cookies pendant une vingtaine de minutes. Le centre ne doit pas paraître cuit. Sortez-les du four et laissez-les refroidir à température ambiante. Décollez-les puis placez-les en boite hermétique. Ils se garderont relativement longtemps. Tant qu'ils ne sont pas secs, c'est signe qu'ils sont toujours délicieux.
Nutrition
Calories:
326
kcal
Carbohydrates:
31
g
Protein:
6
g
Fat:
21
g
Saturated Fat:
4
g
Polyunsaturated Fat:
9
g
Monounsaturated Fat:
6
g
Trans Fat:
0.1
g
Cholesterol:
0.5
mg
Sodium:
13
mg
Potassium:
204
mg
Fiber:
5
g
Sugar:
11
g
Vitamin A:
35
IU
Vitamin C:
1
mg
Calcium:
41
mg
Iron:
2
mg