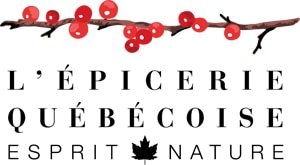 Hello to all! I do it very rarely, but today I'll put a spotlight on the site www.epicerie-quebecoise.com
This is not a sponsored article! Just a little push. I've been going to Perigueux every other year for the cookbook fair since I started putting out books in 2014. I can't wait to go back this year! I met Maryse and Olivier there, whom I like very much, through their restaurant Le Café Louise. Olivier's cousin opened the Quebec grocery store and since I love Quebec, he kindly introduced me to a few products from his store.
Founded in the spring of 2019 by three Frenchmen in love with Quebec, l'Epicerie Québécoise is an online store specializing in the gastronomy of la Belle Province. Their selection is essentially composed of rare or unpublished products in France, made in an artisanal and/or organic way. They are also certified organic importer-distributor by Alpes Contrôles, which guarantees the quality and safety of the products they offer.
Eric, Mirko and Jérôme, the founders of the site, began their adventure with Quebec some twenty years ago by organizing La Semaine Québécoise in Chamonix Mont-Blanc, a cultural festival designed to promote Quebec's music, art and gastronomy to the French public. Since then, they return regularly, for trips or sports excursions, and more recently with the idea of creating this online store. For several weeks, they set out to meet their future producer partners, to taste their products and learn about their stories. This is part of their approach: to establish privileged relationships, to propose quality products, to support artisanal production, to make discover the wealth of a region.
L'Epicerie Québécoise offers a selection of carefully chosen products, from the most traditional to the most confidential. You will find, for example, an organic and medal-winning maple syrup from the Caséal brand, but also many lesser-known but equally tasty derivatives: maple caramel, maple butter, maple sugar, maple jelly… And even maple water, appreciated by athletes for its nutrients that promote recovery. On the savory side, we discover camelina oil, a very balanced oil produced in a totally eco-responsible way, or garlic flower, a new condiment perfect for seasoning many dishes in summer and winter. Cirka spirits are also part of the catalog, a medal-winning Vodka and Gin, very aromatic, distributed only at Epicerie Québécoise.
Note that products such as maple syrup, garlic flower or camelina oil are available in containers adapted to professional customers such as restaurants or hotels.
For the site: www.epicerie-quebecoise.com