But what is an "Arlette"? Well, it's a kind of finely crisped and caramelized tuile, made of puff pastry (here homemade) and powdered sugar and that's it! The result is incredibly light and tasty and is a perfect accompaniment to ice creams and sorbets. Extremely simple to make, the "arlettes" are similar to the palms, but much thinner and more caramelized. One of my favorite recipes for its simplicity and result.
Recipe for arlettes:
The instructions
Lightly flour the work surface, but not too much. Place one piece of puff pastry in a square.
Roll out the dough thinly. If everything is not straight, it doesn't matter!
Roll it into a sausage.
Then cut the dough into pieces. The bigger the pieces, the bigger the arlettes!
Put a pile of powdered sugar on the work surface.
Dab dough pieces in powdered sugar on both sides.
Then roll thinly in powdered sugar. The dough will absorb the sugar that suits it!
You can see the difference in size between the small pieces and the size of the arlette! If you want small arlettes, you have to cut the puff pastry more finely.
Place the arlettes on a baking sheet lined with parchment paper. You can tighten them because the dough instead of spreading, will shrink.
Put in the oven for 8 to 1 minute depending on the power of your oven! Watch for the first time and then apply the right time to the other plates!
MUST be stored in an airtight box! Otherwise the arlettes will lose their crispy texture!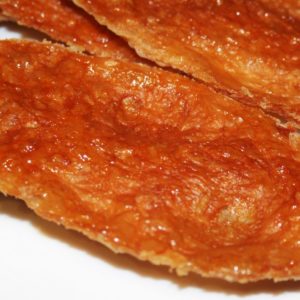 Arlettes
Mais qu'est ce qu'une « Arlette »?? Et bien c'est une sorte de tuile finement croustillante et caramélisée, faite de pâte feuilletée (ici maison) et de sucre glace et c'est tout! Le résultat est incroyablement léger et savoureux et accompagne à merveille les crèmes glacées et sorbets. Extrêmement simple à réaliser, les « arlettes » se rapprochent des palmiers, en beaucoup plus fines et plus caramélisées. Une de mes recettes favorites pour sa simplicité et son résultat.
Ingredients
Instructions
Fariner légèrement le plan de travail sans excès. Mettre un pâton de pâte feuilletée en carré.

Étaler finement la pâte. Si tout n'est pas droit, cela n'a aucune espèce d'importance!

Rouler le tout en un boudin.

Puis couper la pâte en morceaux. Plus les morceaux sont grands, plus les arlettes seront grandes!

Mettre un tas de sucre glace sur le plan de travail.

Tamponner les morceaux de pâte dans le sucre glace sur leurs deux faces.

Puis étaler finement au rouleau dans le sucre glace. La pâte va absorber le sucre qui lui convient!

On peut voir la différence de taille entre les petits morceaux et la taille de l'arlette! Si l'on souhaite de petites arlettes, il faut couper plus finement le boudin de pâte feuilletée.

Mettre les arlettes sur une plaque garnie de papier sulfurisée. On peut les serrer car la pâte au lieu de s'étaler, va rétrécir.

Mettre au four

8 minutes

! Il faut surveiller la première fois et appliquer ensuite le bon temps aux autres plaques!

Conserver IMPÉRATIVEMENT dans une boite hermétique! Sinon les arlettes vont perdre leur texture croustillante!