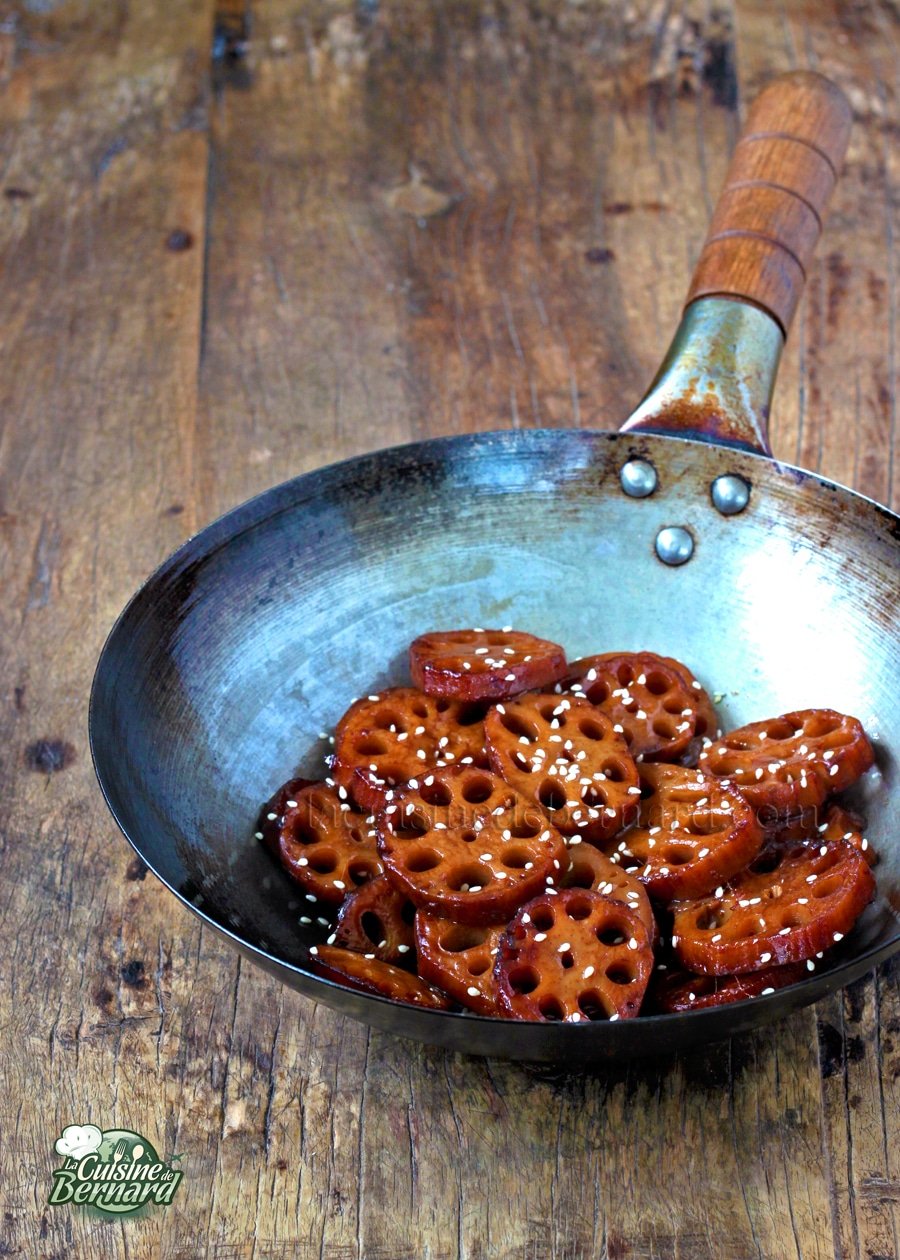 Here is a very classic recipe to accommodate the lotus roots still sometimes very unknown in our countries. You have to like the slightly crunchy texture, but this version will allow a simple approach. The dish is ready in 25 minutes and gives an amazing visual. Serve as an accompaniment to a Chinese dish or simply with rice.
Recette :
500g of lotus roots (frozen is fine!)
50g of sugar
1 tablespoon of rice vinegar or alcohol
2 tablespoons of clear soy sauce
1 tablespoon of dark soy sauce
1 tablespoon of neutral oil
1 clove garlic, finely peeled and chopped
2 tablespoons of toasted sesame oil
salt, pepper, sesame seeds
Instructions :
First, make a dry caramel with the sugar. Put half the sugar in a saucepan or wok over moderate heat.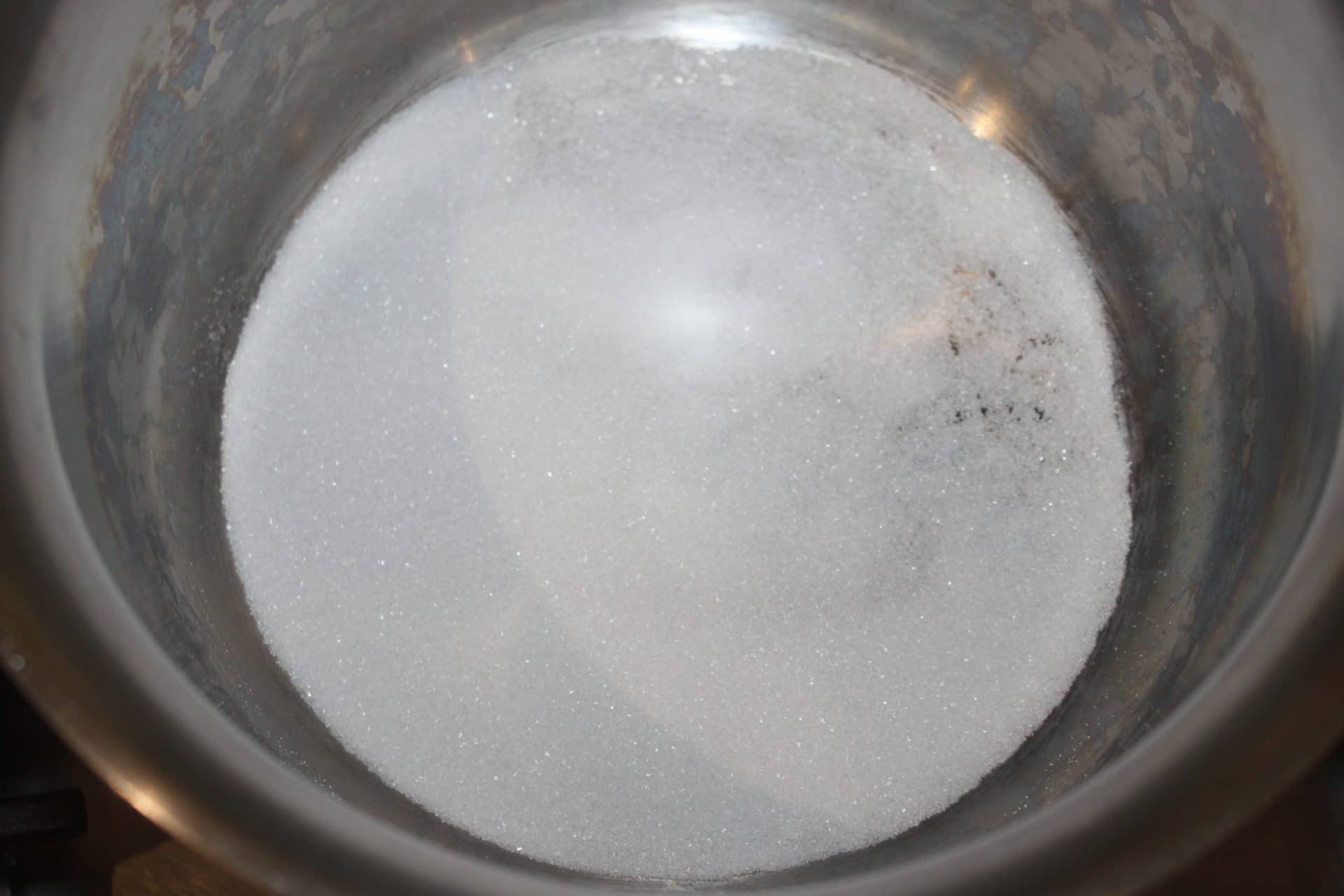 When the sugar melts, add the other half of the sugar and shake the pan.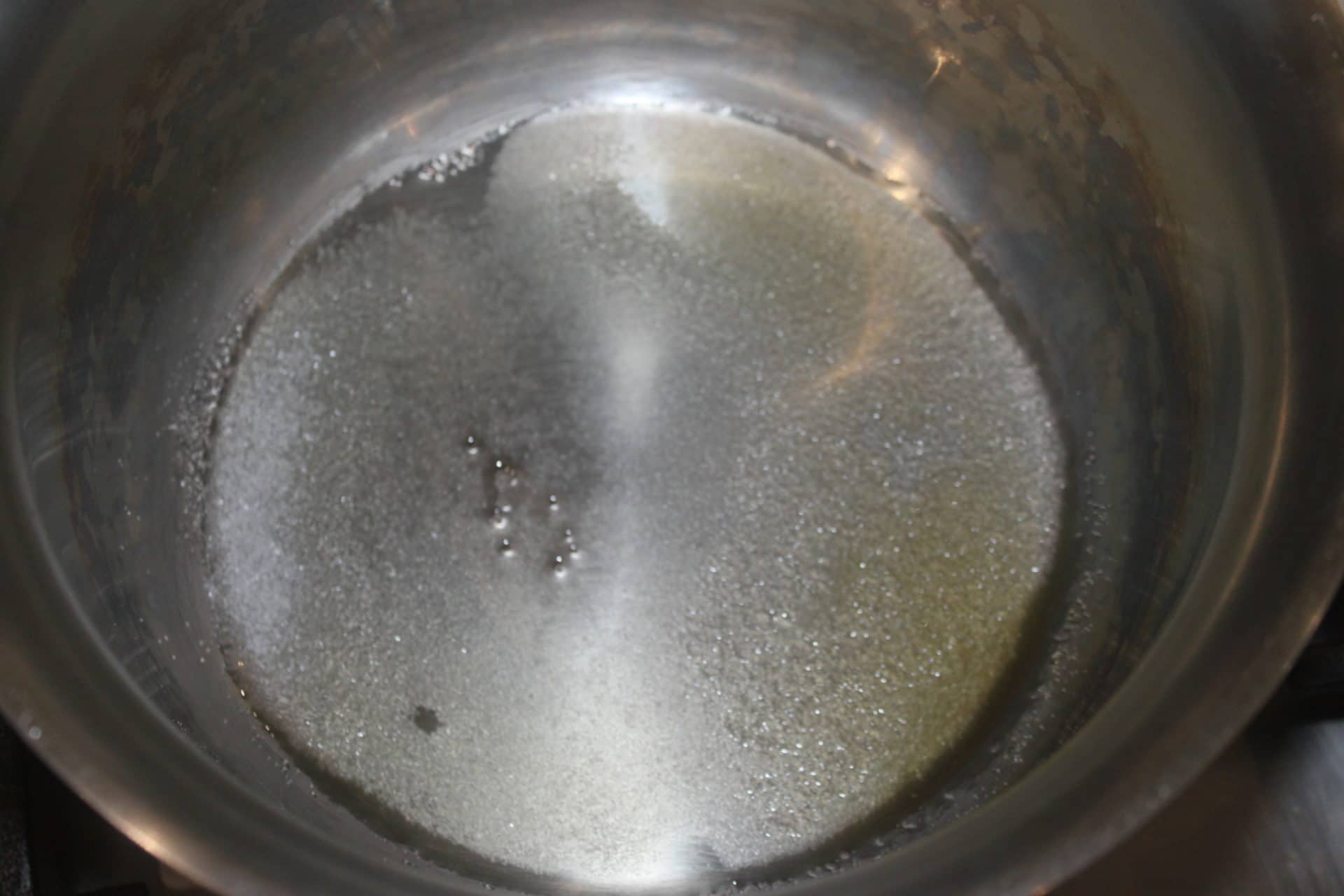 When the caramel is done, pour in water.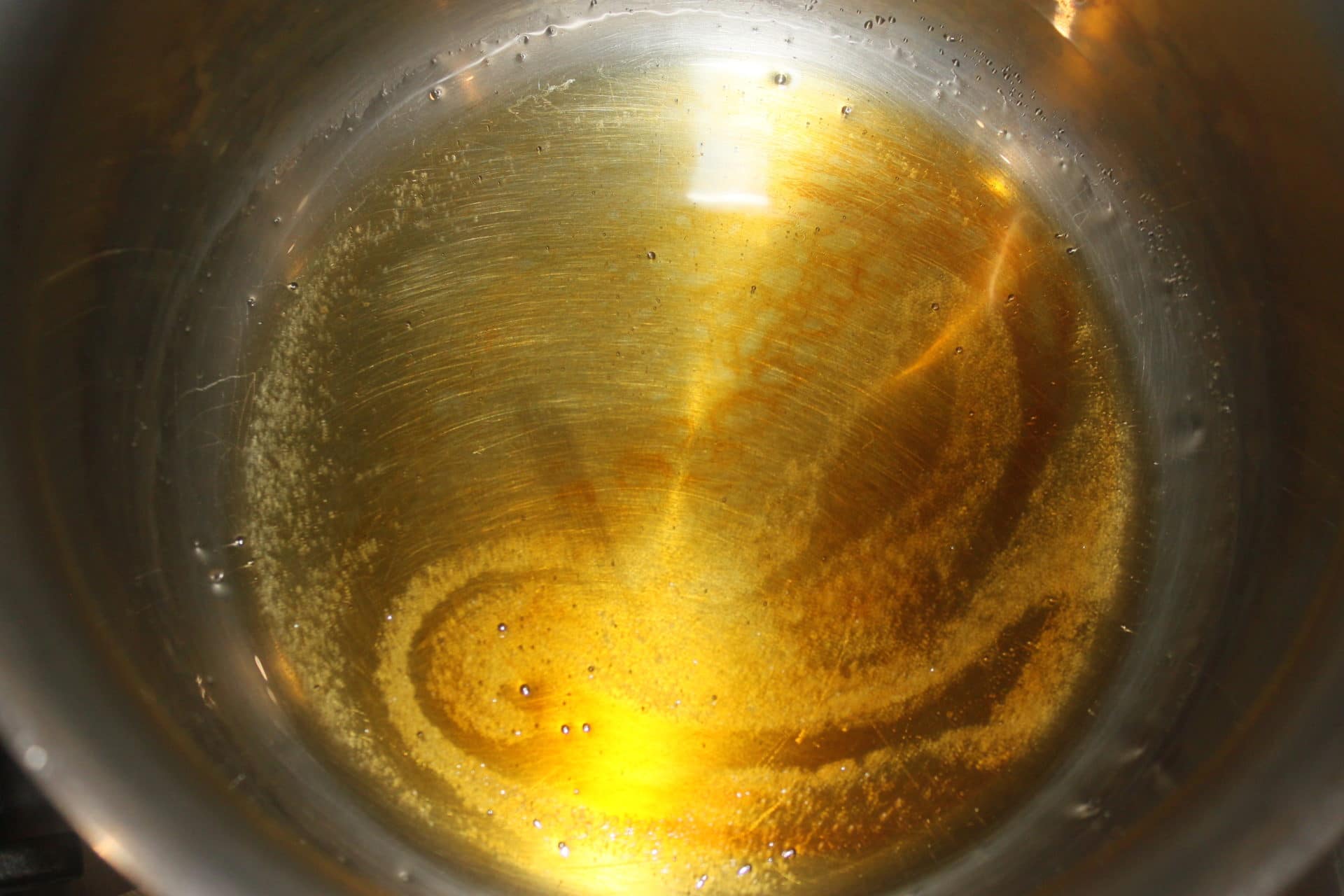 The caramel will harden immediately and then completely dissolve.
For the recipe, I used frozen roots. They are already peeled and we have 500g of them, whereas with a fresh root, I find that I make too much. But it will be enough to peel and slice.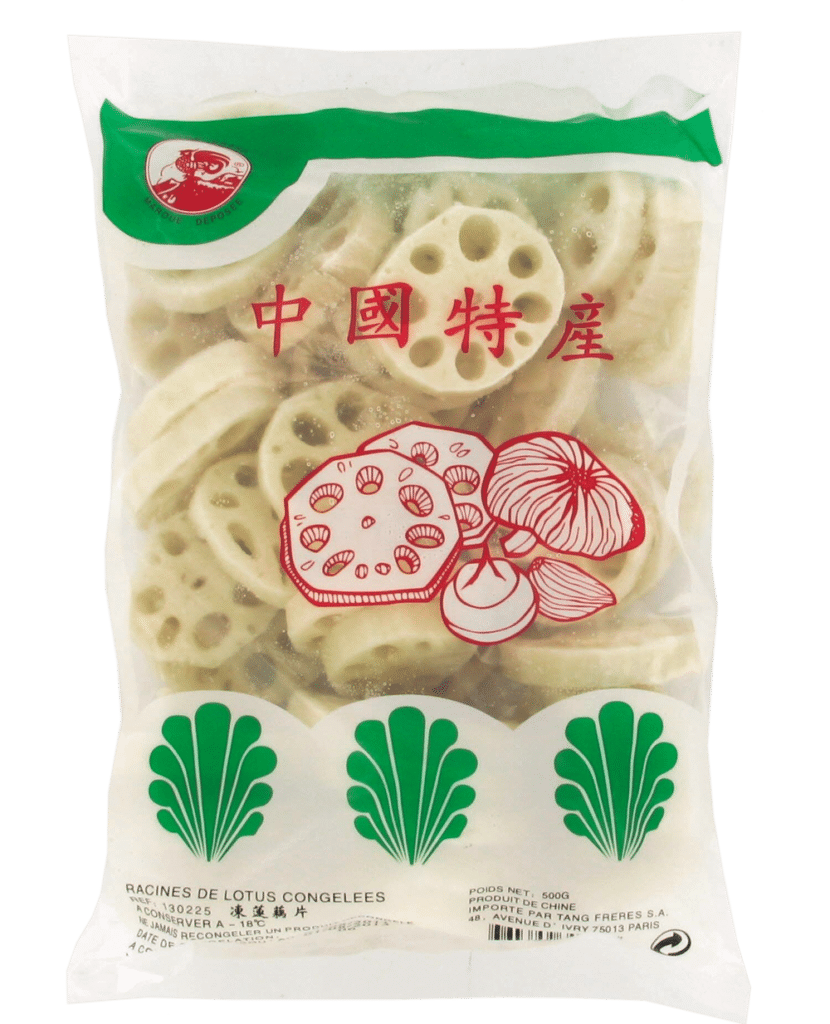 Pour them into the pan (or wok).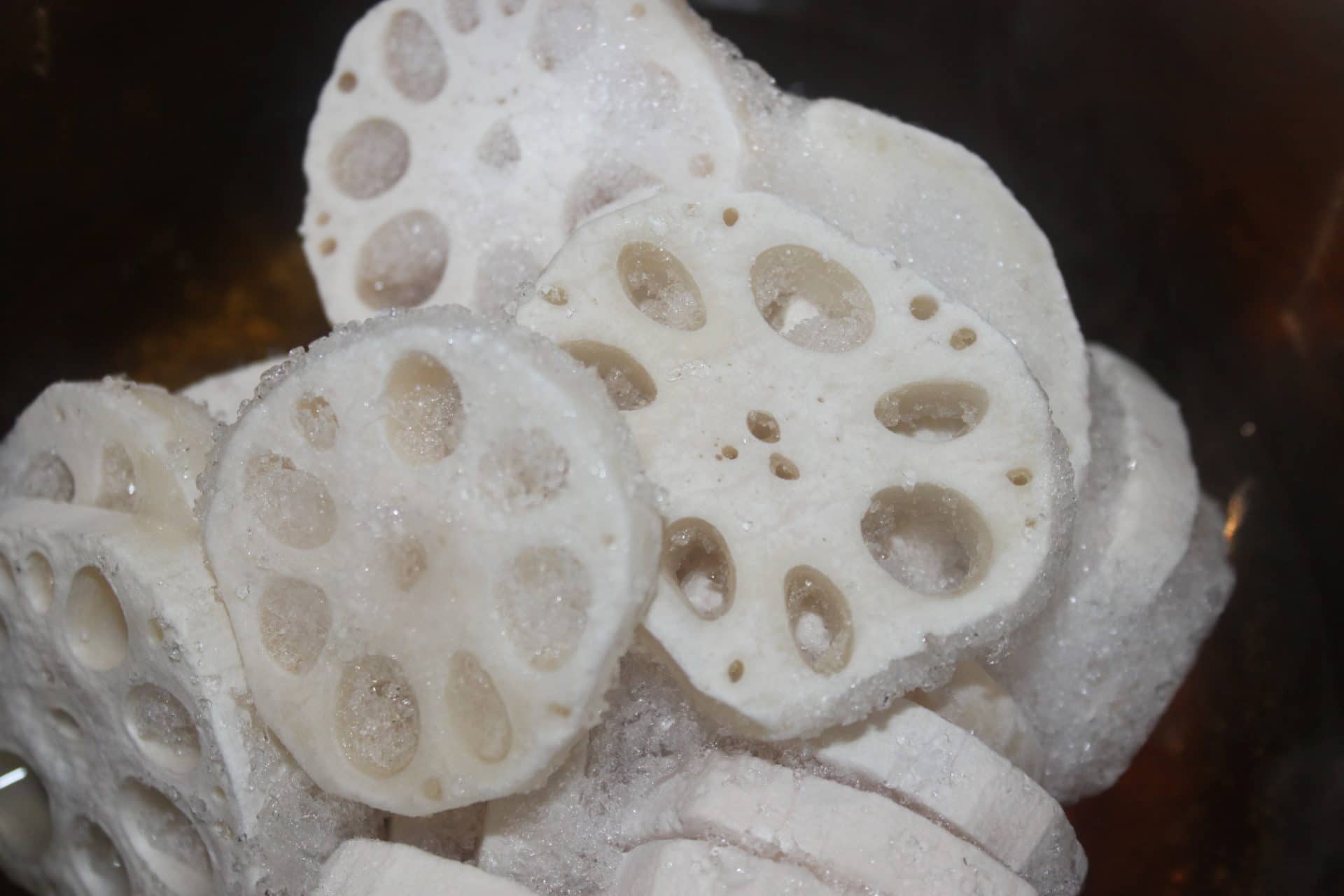 Pour enough water to cover them and then add the rest of the ingredients except for the sesame oil, which will be added at the end.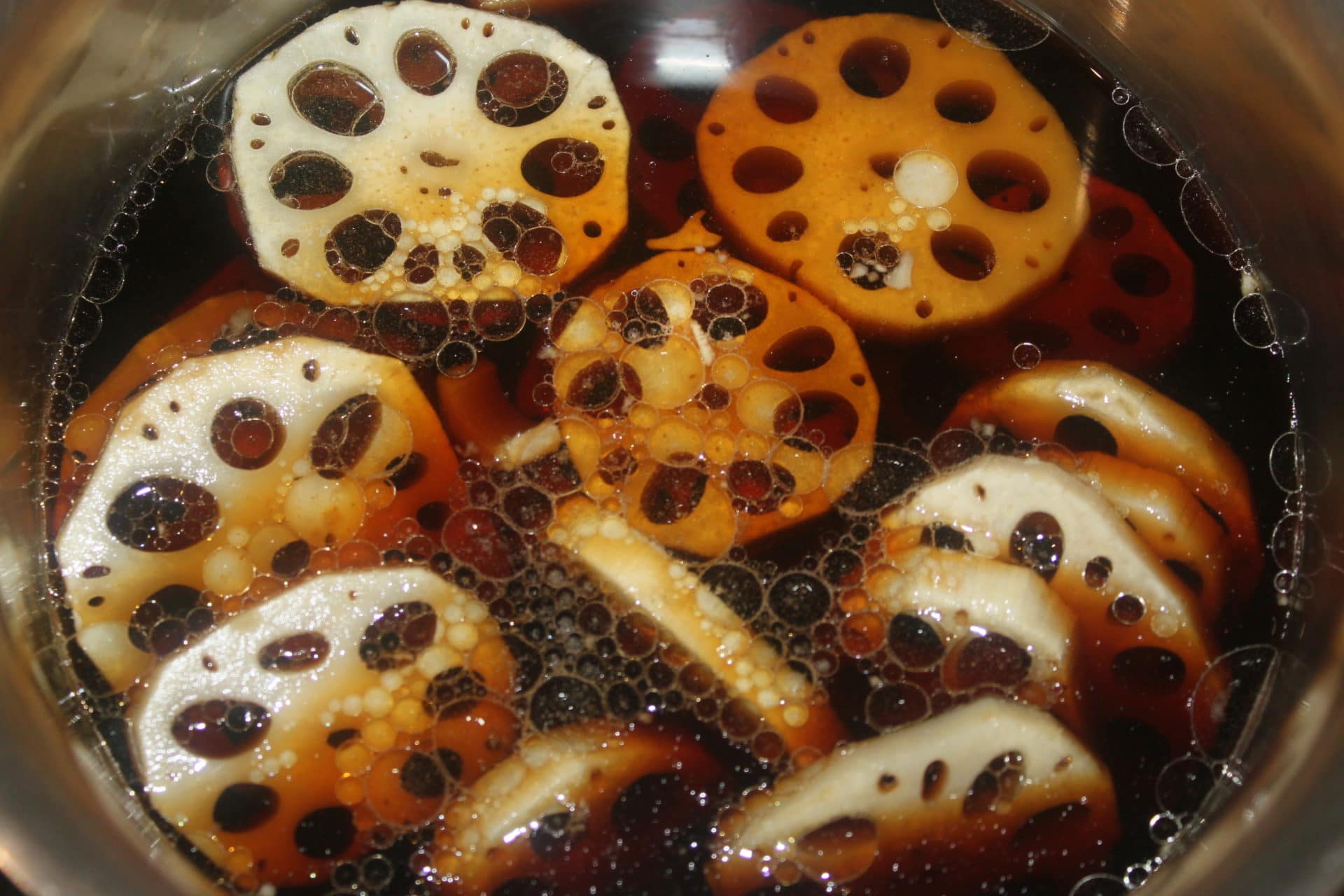 Let boil over moderate heat.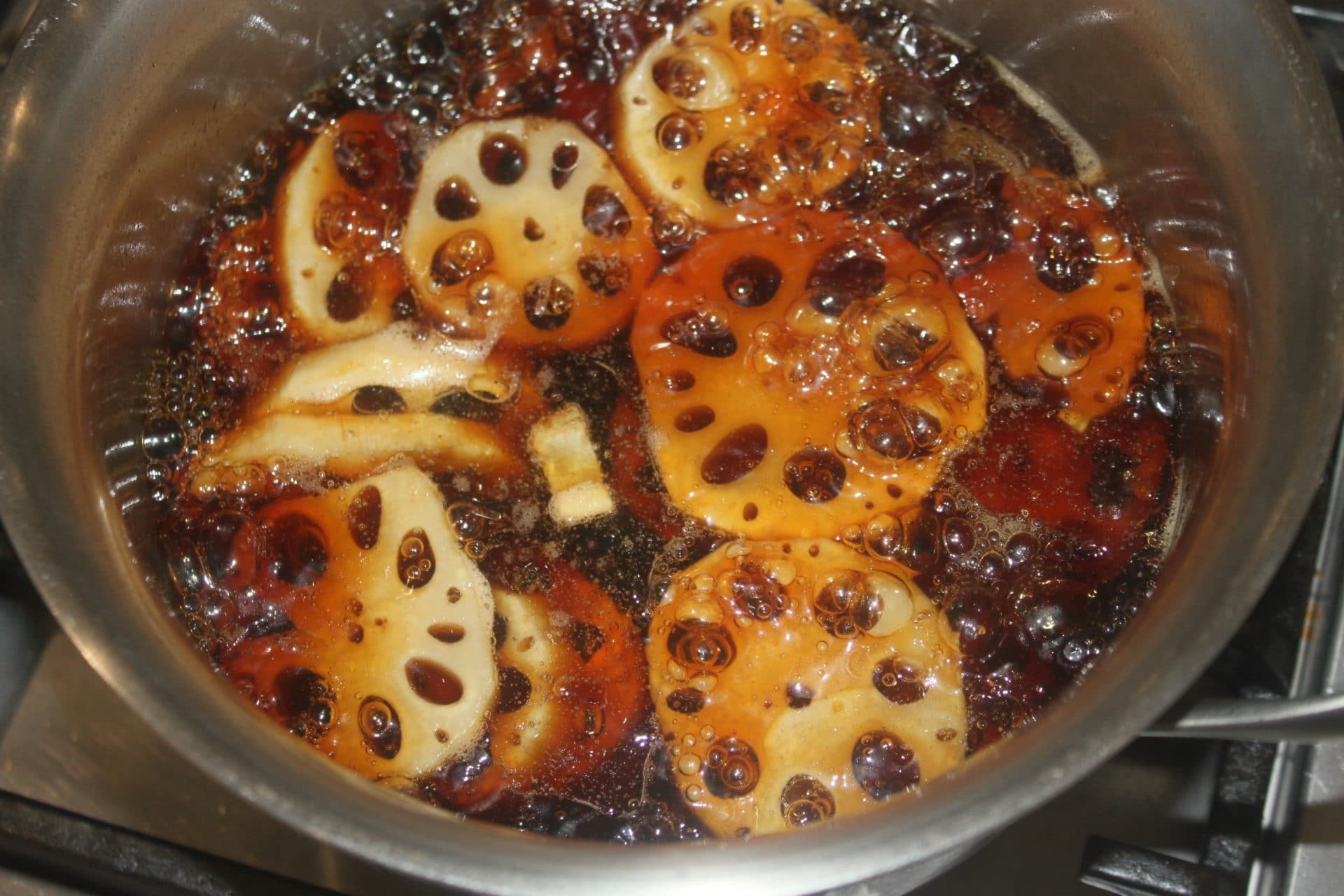 All the juice must be evaporated. In a wok the end of cooking is easier because you can shake to coat the thickening sauce.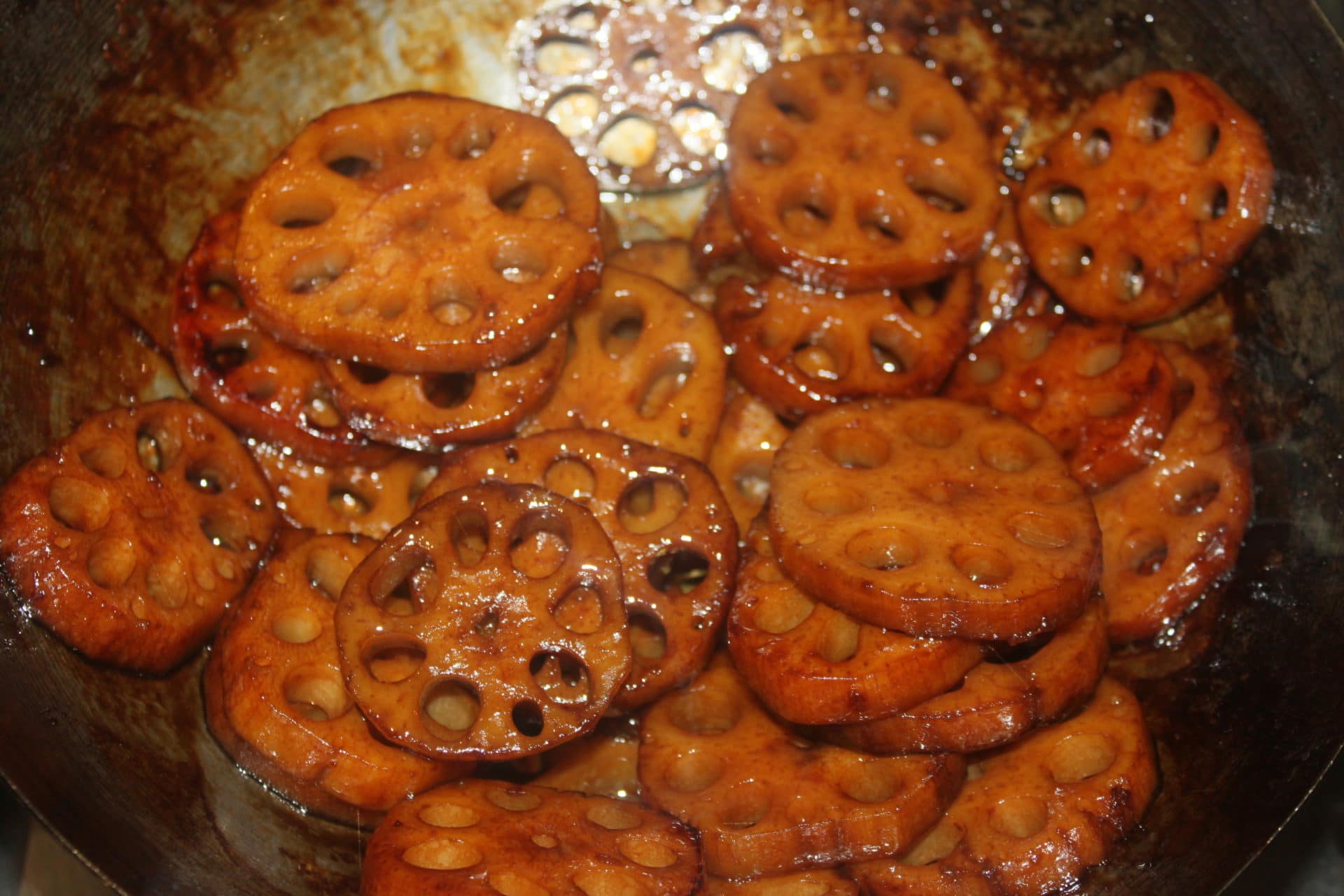 Add salt and pepper to taste and then add the toasted sesame oil. Serve as a side dish or with rice. Sprinkle with a little sesame seeds (toasted or not).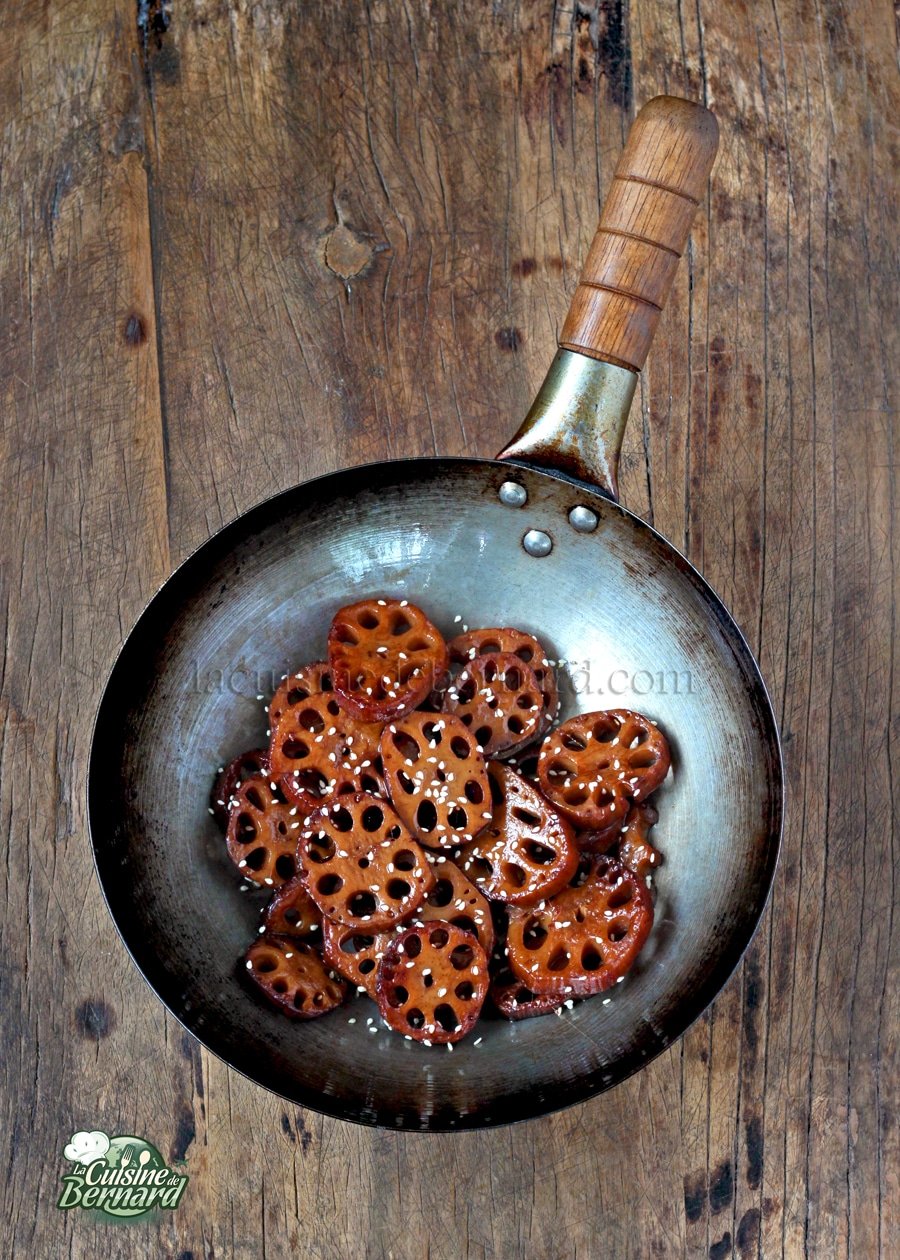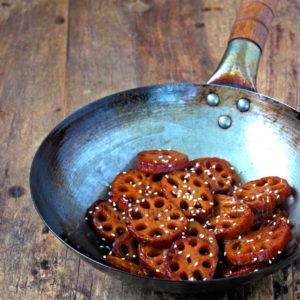 Racines de lotus braisées et caramélisées
Voici une recette très classique pour accommoder les racines de lotus encore parfois très méconnues dans nos contrées. Il faut aimer la texture un peu craquante, mais cette version permettra une approche simple. Le plat est prêt en 25 minutes et donne un visuel étonnant. À servir comme accompagnement d'un plat chinois ou simplement avec du riz.
Instructions
Faites tout d'abord un caramel à sec avec le sucre. Mettez la moitié du sucre dans une casserole ou un wok sur feu modéré.

Quand le sucre fond, ajoutez l'autre moitié de sucre et secouez la casserole.

Quand le caramel est fait, versez de l'eau.

Le caramel durcit tout de suite puis va totalement se dissoudre.

Pour la recette, j'ai pris des racines congelées. Elles sont déjà épluchées et on en a 500g, alors qu'avec une racine fraiche, je trouve que j'en fais trop. Mais il suffira d'éplucher et de coupe en tranches.

Versez-les dans la casserole (ou wok).

Versez suffisamment d'eau pour les couvrir puis ajoutez le reste des ingrédients sauf l'huile de sésame que l'on mettra à la fin.

Laissez bouillir sur feu modéré.

Il faut que tout le jus soit évaporé. Dans un wok la fin de cuisson est plus simple car on peut secouer pour enrober de la sauce qui épaissit.

Salez et poivrez à votre goût puis ajoutez l'huile de sésame grillé. À servir comme accompagnement d'un plat ou avec du riz. Saupoudre d'un peu de graines de sésame (sésame grillé ou non).
Nutrition
Serving:
4
personnes
Calories:
148
kcal
Carbohydrates:
34
g
Protein:
3
g
Fat:
1
g
Saturated Fat:
0.1
g
Polyunsaturated Fat:
0.3
g
Monounsaturated Fat:
0.4
g
Sodium:
92
mg
Potassium:
698
mg
Fiber:
6
g
Sugar:
12
g
Vitamin A:
0.02
IU
Vitamin C:
55
mg
Calcium:
57
mg
Iron:
1
mg