Recipe for a dozen tarts:
A recipe for salted butter caramel sauce (recipe HERE)
Instructions:
Mix half of the sugar and the yolks.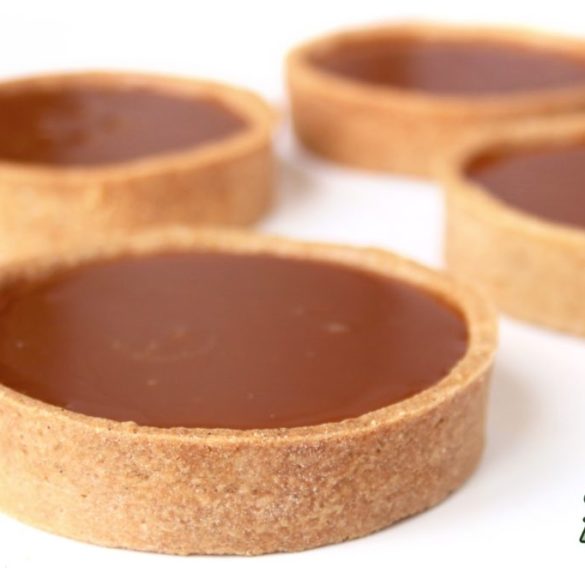 Tartelettes au Caramel et Crème Brûlée
Je l'avoue, oui je l'avoue, de temps en temps à Paris, j'aime aller prendre un café au lait au Pain Quotidien. Je mange rarement des gâteaux (j'en fais déjà tellement souvent à la maison !) mais là j'ai voulu absolument goûter à leurs tartelettes au caramel. Je me suis dit que ça devait être écœurant. J'ai été étonné de découvrir une couche d'appareil à crème brûlée, le caramel coulant remplaçant la couche de traditionnel caramel craquant. Et c'est vraiment très bon ! Je me suis donc retrouvé dans ma cuisine pour partager avec vous cette recette que je mets ici au point. J'avais déjà proposé il y a un moment une tarte à la crème brûlée à la fève tonka (recette ICI), donc aucune difficulté technique pour cuire une crème brûlée dans un fond de pâte. On utilise en fait tout bêtement le fond de pâte cuit à blanc comme ramequin !
Ingredients
Appareil à crème brulée :
Instructions
Commencer par préparer la sauce au caramel au beurre salé pour lui laisser le temps de refroidir et d'être à température ambiante. La recette et les explications sont ici !
Préparer ensuite la pâte sucrée :
Mettre la poudre d'amande, le sucre glace, l'intérieur de la gousse de vanille, la farine, le sel et le beurre en morceaux dans le bol du pétrisseur.

Sabler le mélange pour incorporer le beurre avec le « k » du robot. Ou bien à la main !

Ajouter l'œuf battu en avance et mélanger juste pour incorporer celui-ci, mais pas plus!

Mettre une boule de pâte sur un papier sulfurisé et mettre une deuxième feuille de papier sur celle-ci. Étaler avec le rouleau sans ajout de farine, tout reste propre !

Étaler la pâte assez finement et foncer de cercles à tarte de 8 cm en s'assurant de bien plaquer la pâte au fond du cercle. L'angle droit doit être parfait !

Couper le surplus de pâte en passant un couteau sur le tour du cercle !

Faire de même pour tous les cercles !

Piquer le fond de pâte avec une fourchette sur tous les cercles.

Mettre ensuite une feuille du film étirable (SPÉCIAL CUISSON MICRO-ONDE ! Les autres fondent !) sur un fond de pâte.

Remplir de farine en tassant pour remplie le fond à angle droit !

Et fermer comme un petit baluchon.

On a à ce stade des petits cercles parfaitement foncés !

Laisser reposer le tout sur une plaque garnie de papier sulfurisé au frais pendant une heure.

Préchauffer le four à 180°C.

Cuire 15 minutes à 180°C avec le sac de farine, puis au bout de laps de temps, enlever le sac en tirant simplement vers le haut. Enlever de cette façon tous les sacs.

Décercler également les fonds de pâte avec précaution. Remettre les fonds de pâte au four pour 15-20 minutes en surveillant.

On obtient alors des fonds de pâte prêts à être garnis de délicieuses crème !

Si l'on a bien fait le travail, on peut voir l'angle droit! On peut tout à fait cuire un petit peu plus ces fonds de pâte.

Sortir les fonds et les laisser refroidir.

Mélanger la moitié du sucre et les jaunes.

Conseil de Bernard : surtout ! Ne pas les faire blanchir ! Cela donnerait une mousse que l'on ne désire pas ! Dans presque toutes les recettes ils conseillent de bien blanchir et bien non je ne suis pas d'accord ! Le résultat (après beaucoup d'essais) est bien meilleur sans cette étape !

Chauffer la crème, l'autre moitié du sucre et la gousse de vanille fendue et grattée.

Dès la première ébullition, enlever du feu et verser sur le mélange jaunes/sucre.

Remettre sur le feu doux et cuire comme une crème anglaise, c'est à dire ne pas la faire bouillir et arrêter quand celle-ci nappe la cuiller en bois d'une couche de crème. Enlever du feu, enlever la gousse de vanille, passer un coup de mixer plongeant dans la crème pendant trois ou quatre minutes (cela va uniformiser la crème).

Verser la crème dans les fonds cuits de tartelettes. Il ne faut pas avoir peur de presque remplir les fonds de pâte, car la crème va diminuer un peu de volume. On aura donc la place pour le caramel.

Mettre au four à 90°C pendant 1 heure. La pâte des tartelettes ne cuira pas plus, mais la crème oui ! Miracle !

Mettre au frais au moins deux heures avant de verser un nappage de caramel à température ambiante.

Pour rappel, la recette du caramel est ICI !

Le laisser couler sur la surface et bouger la tartelette pour égaliser le nappage.

Mettre au frais jusqu'au moment de servir !

Il ne reste plus qu'à croquer dedans et sentir les différentes textures !
Nutrition
Serving:
10
tartelettes
Calories:
406
kcal
Carbohydrates:
31
g
Protein:
5
g
Fat:
30
g
Saturated Fat:
14
g
Polyunsaturated Fat:
4
g
Monounsaturated Fat:
10
g
Trans Fat:
0.002
g
Cholesterol:
75
mg
Sodium:
179
mg
Potassium:
83
mg
Fiber:
1
g
Sugar:
14
g
Vitamin A:
1209
IU
Vitamin C:
0.3
mg
Calcium:
48
mg
Iron:
1
mg