It seems like forever since I last made mochis for the blog. I had even put some in my first book "Mes desserts" published by Flammarion in 2014. There was a time when I went to Japan 3-4 times a year, and I plan to go back to continue discovering this fascinating country. I suggest these chocolate mochis, which do not contain any bean paste. I work here in the microwave for a quick and easy result. A little treat for those who love the amazing texture of mochis!
For 18 mochis :
Ganache mochi :
100g of milk chocolate
90g of dark chocolate
125g of cream
45g of butter
Cocoa mochi dough:
120g of glutinous rice flour
25g unsweetened cocoa powder
110g of sugar
285g of semi-skimmed milk
55g of soft butter
Mochi powder :
100g of potato starch
25g unsweetened cocoa powder
Start by preparing the ganache, even the day before. Place all ingredients in a microwave-safe container or in a water bath. Melt the whole thing while mixing well.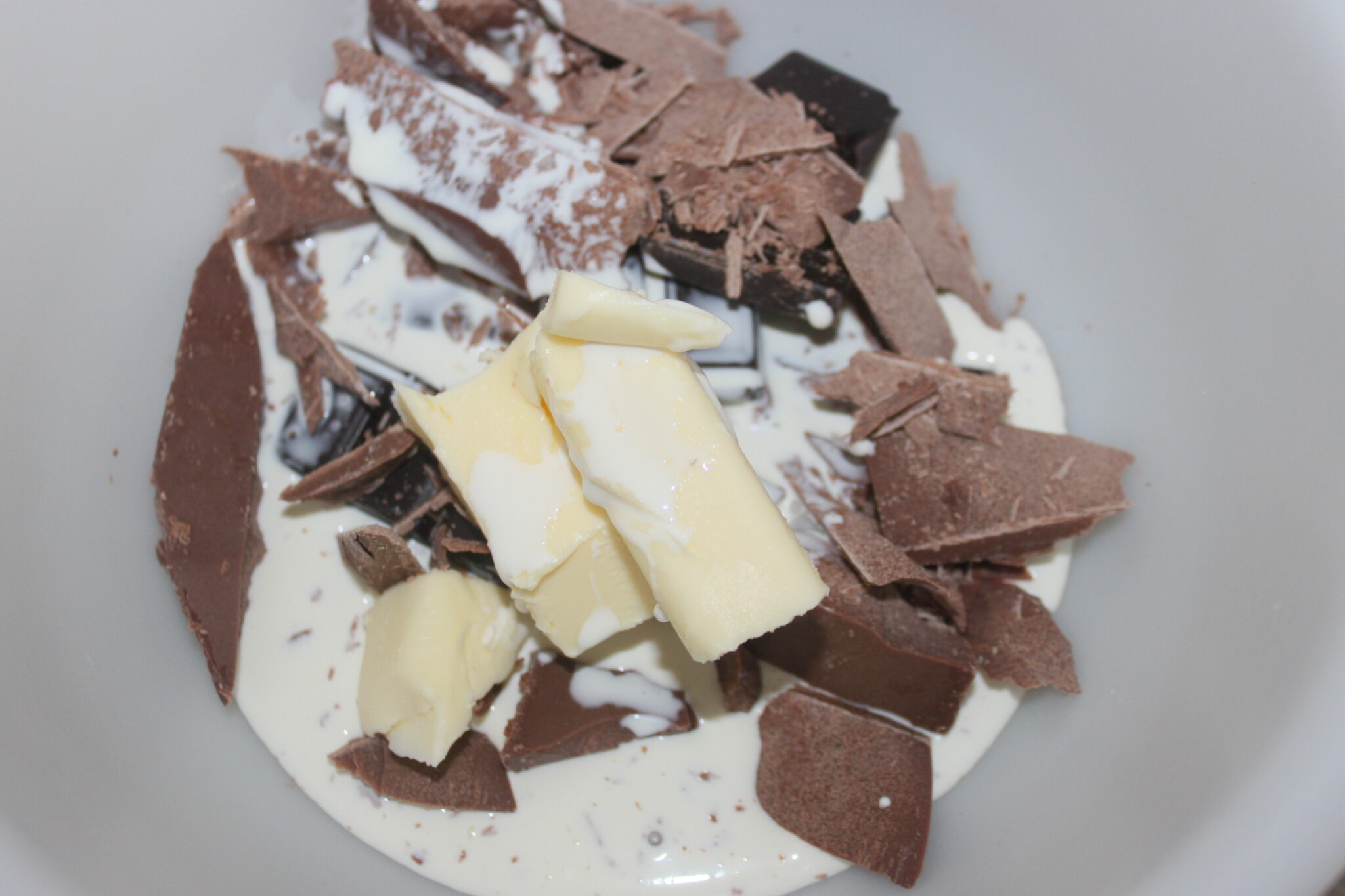 In the microwave, go in 30 second increments maximum! The ganache should be smooth.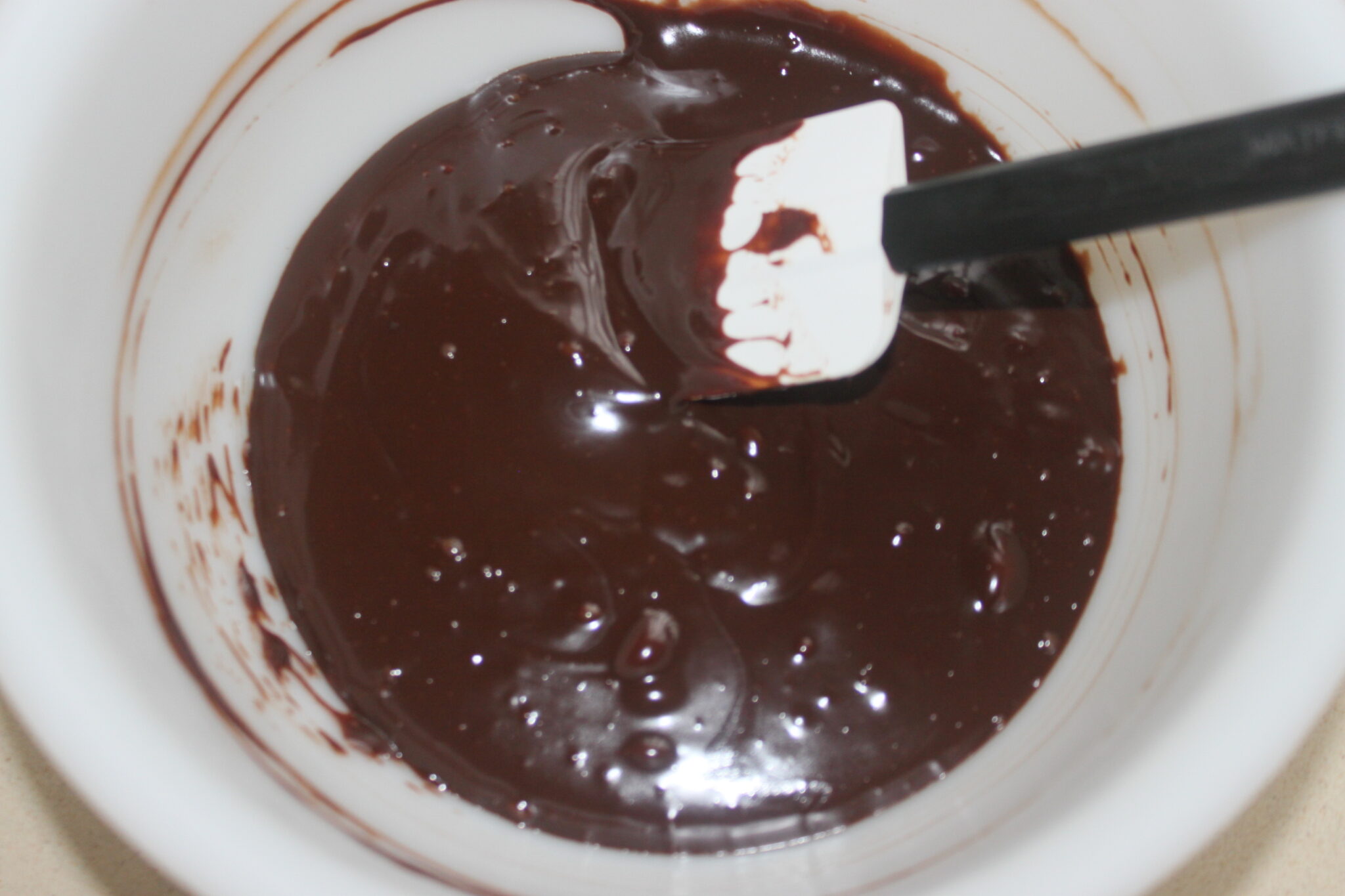 Cover with cling film and refrigerate for at least 3-4 hours or overnight.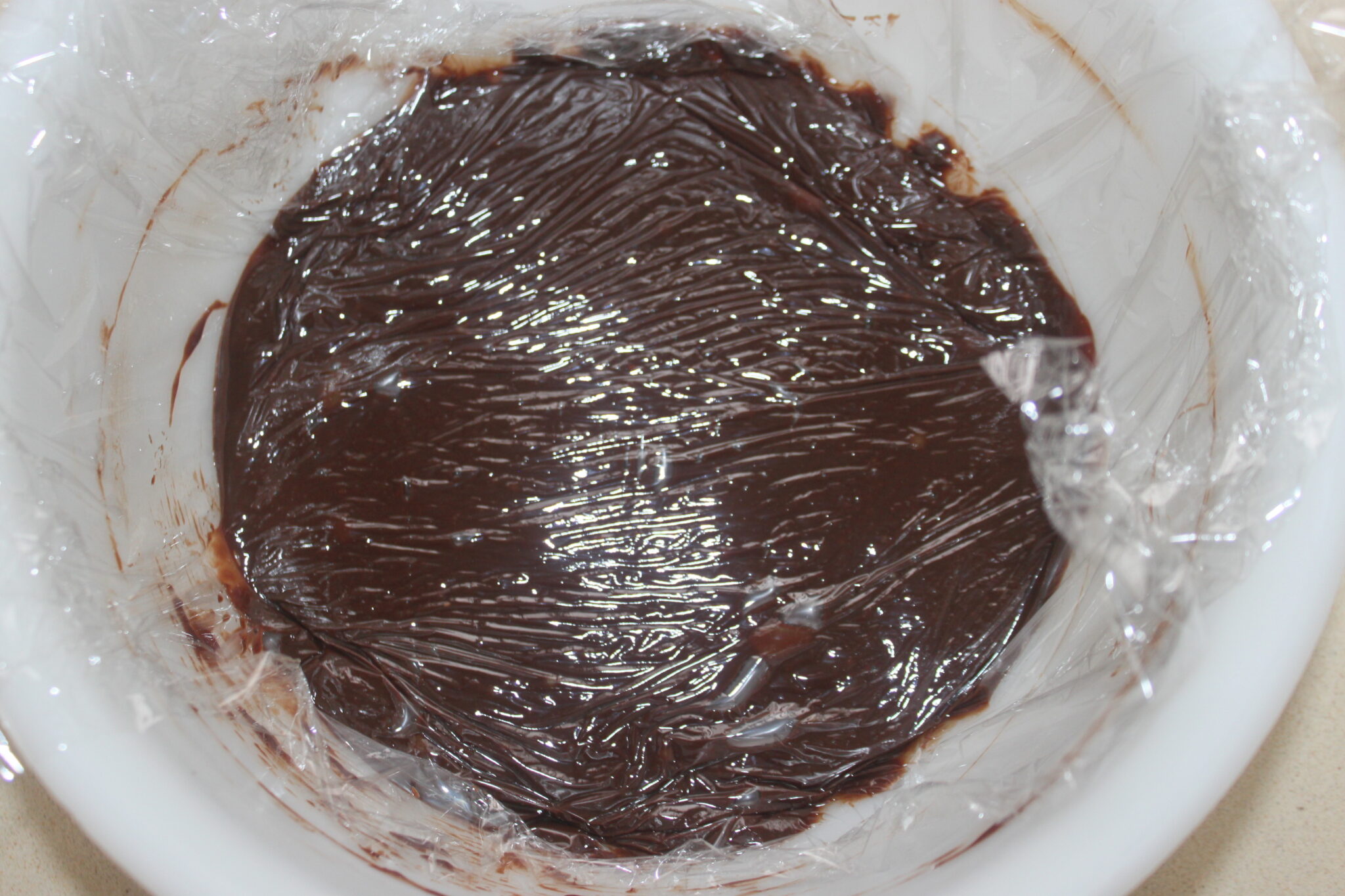 Here is the glutinous rice flour you should use for this recipe.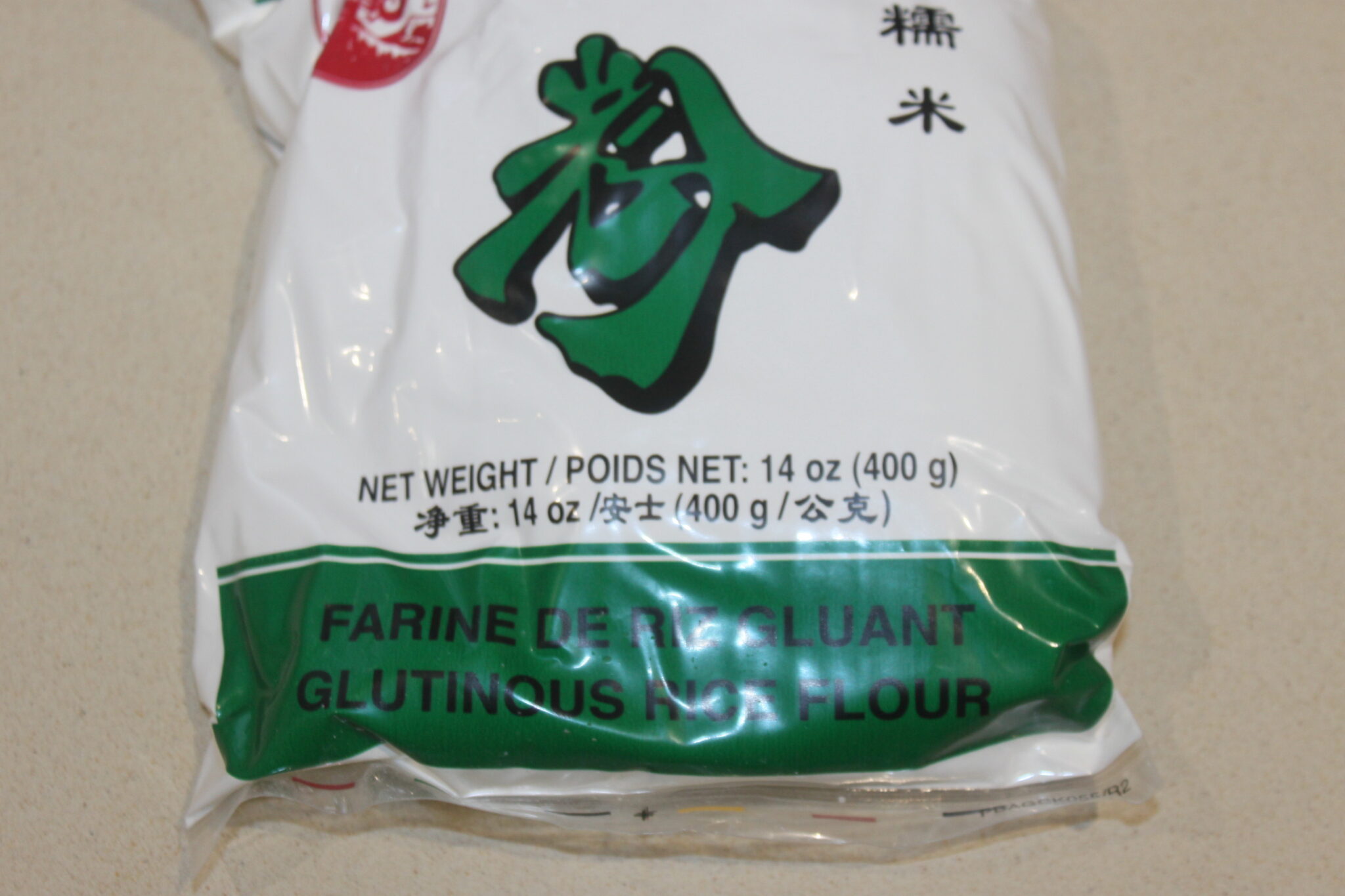 Put the glutinous rice flour, unsweetened cocoa and sugar in a microwave-safe container.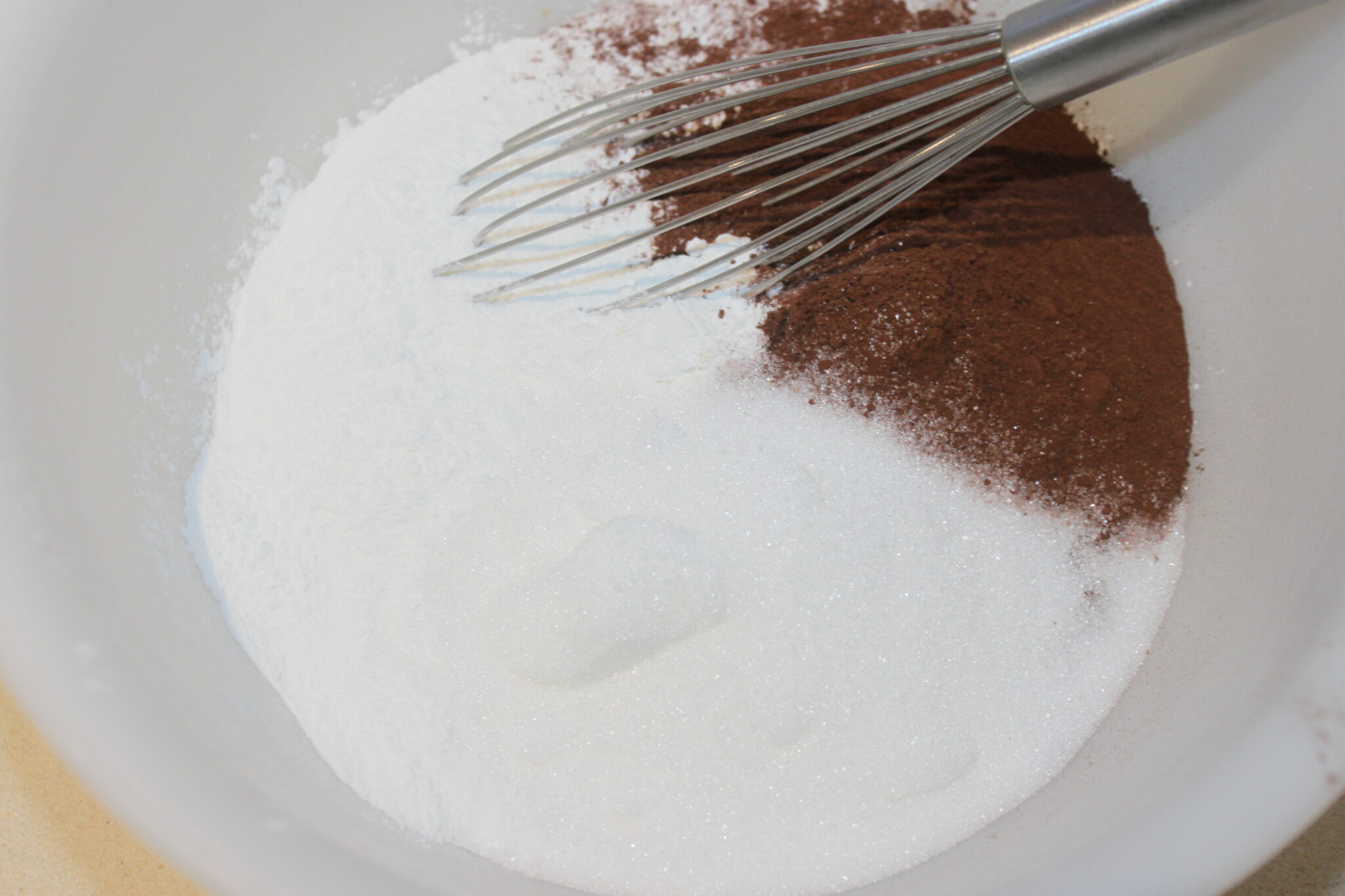 Pour in the milk while stirring. There is no gluten, so no risk of having lumps.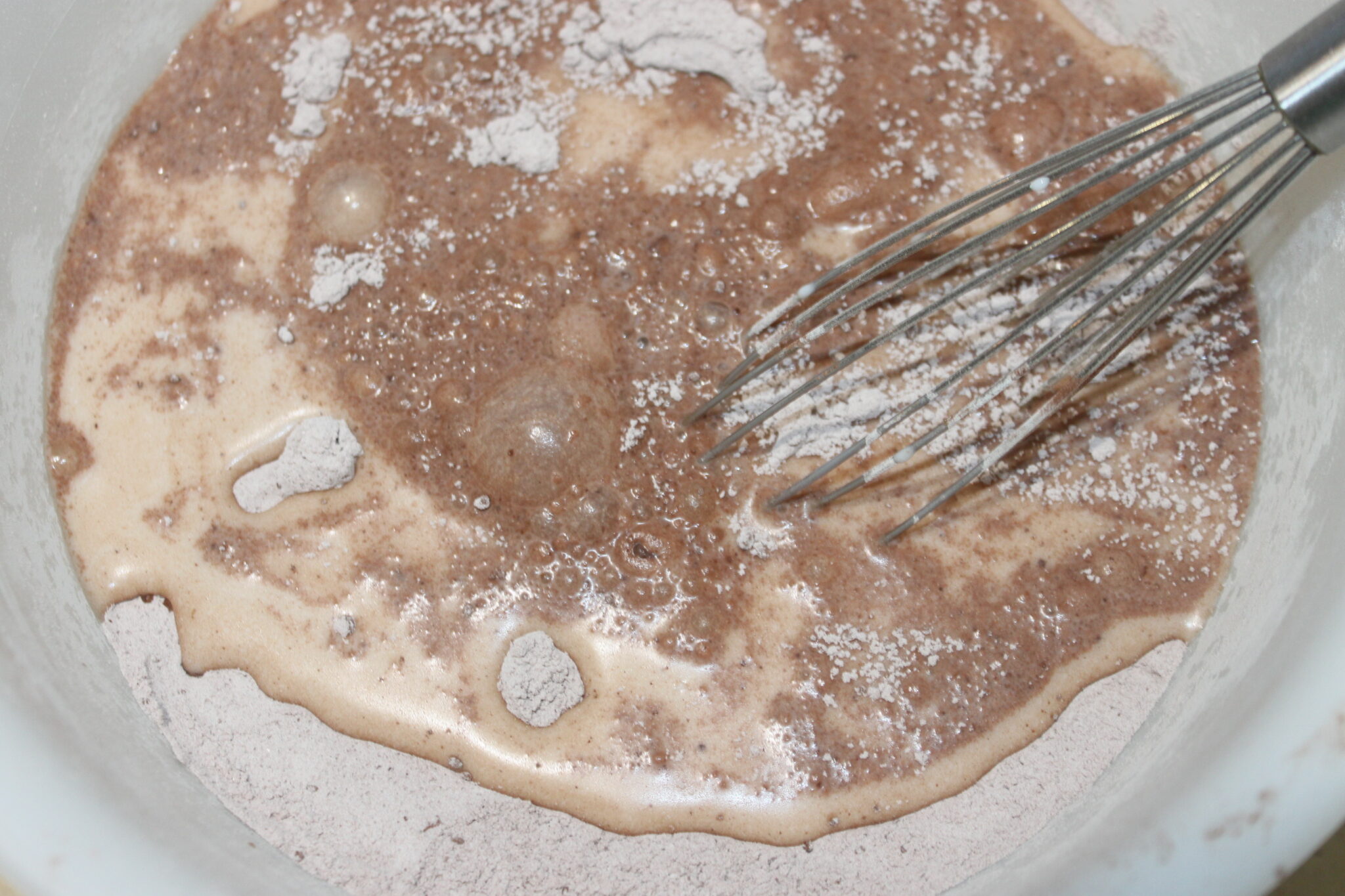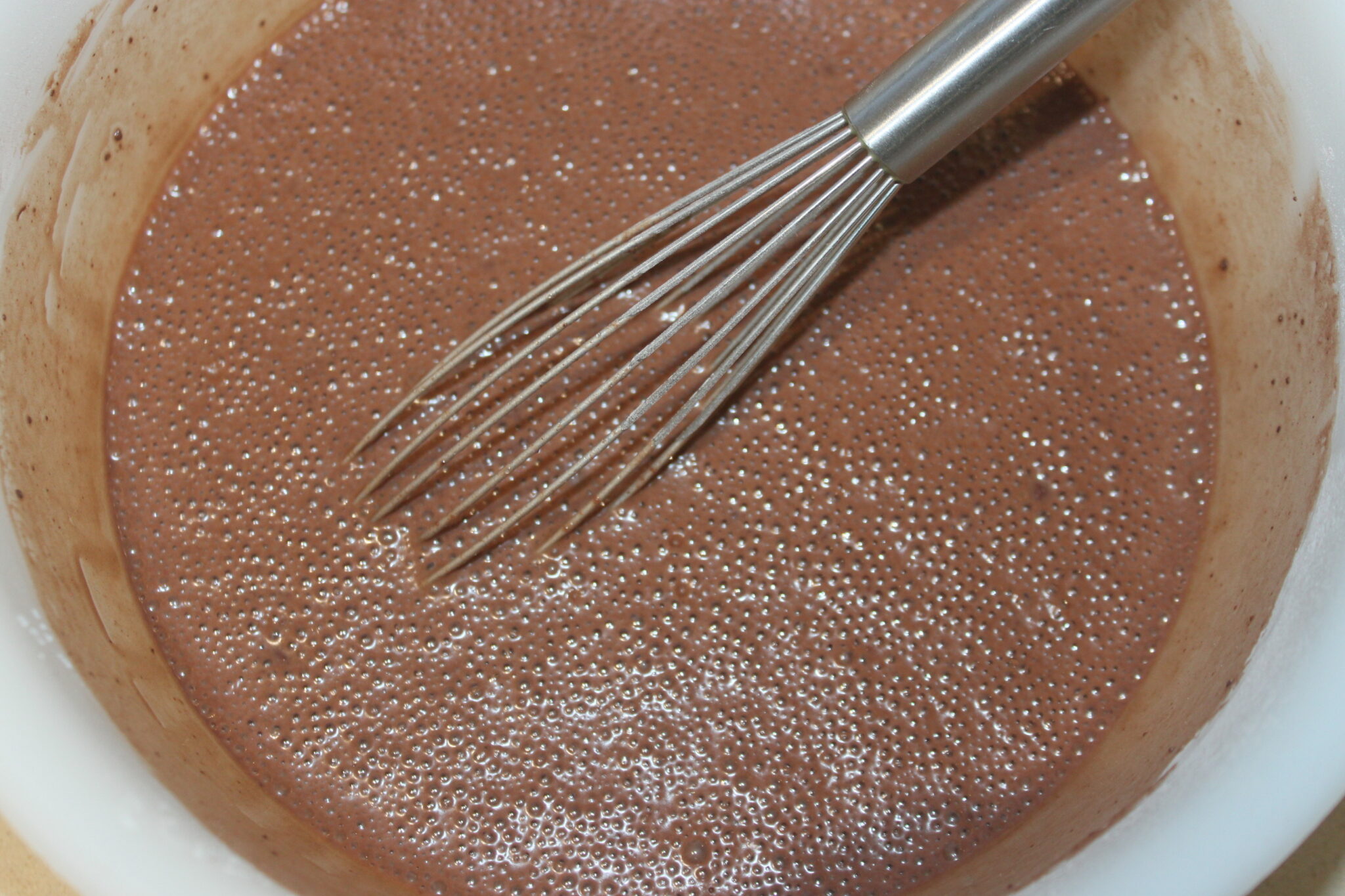 Heat for 2 minutes at 900w, or at the maximum of your oven, (each oven, even with the power gives different results!). The liquid must be hot. Add the soft butter and mix until perfectly incorporated.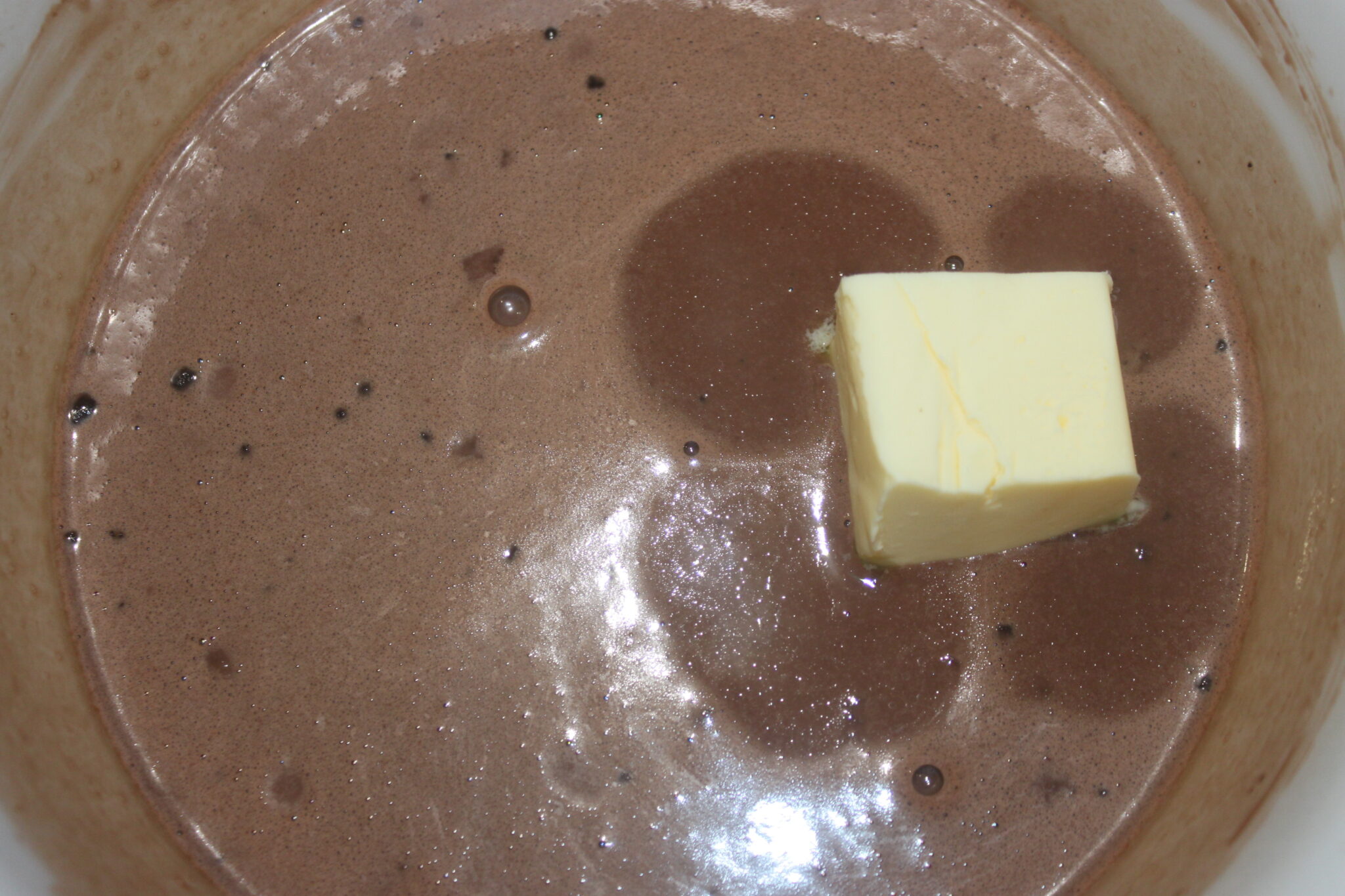 Then heat on maximum power minute by minute. Mix well each time. At some point, the dough will start to set in places. This is the time to break up the lumps with an immersion blender.
The dough should become smooth again.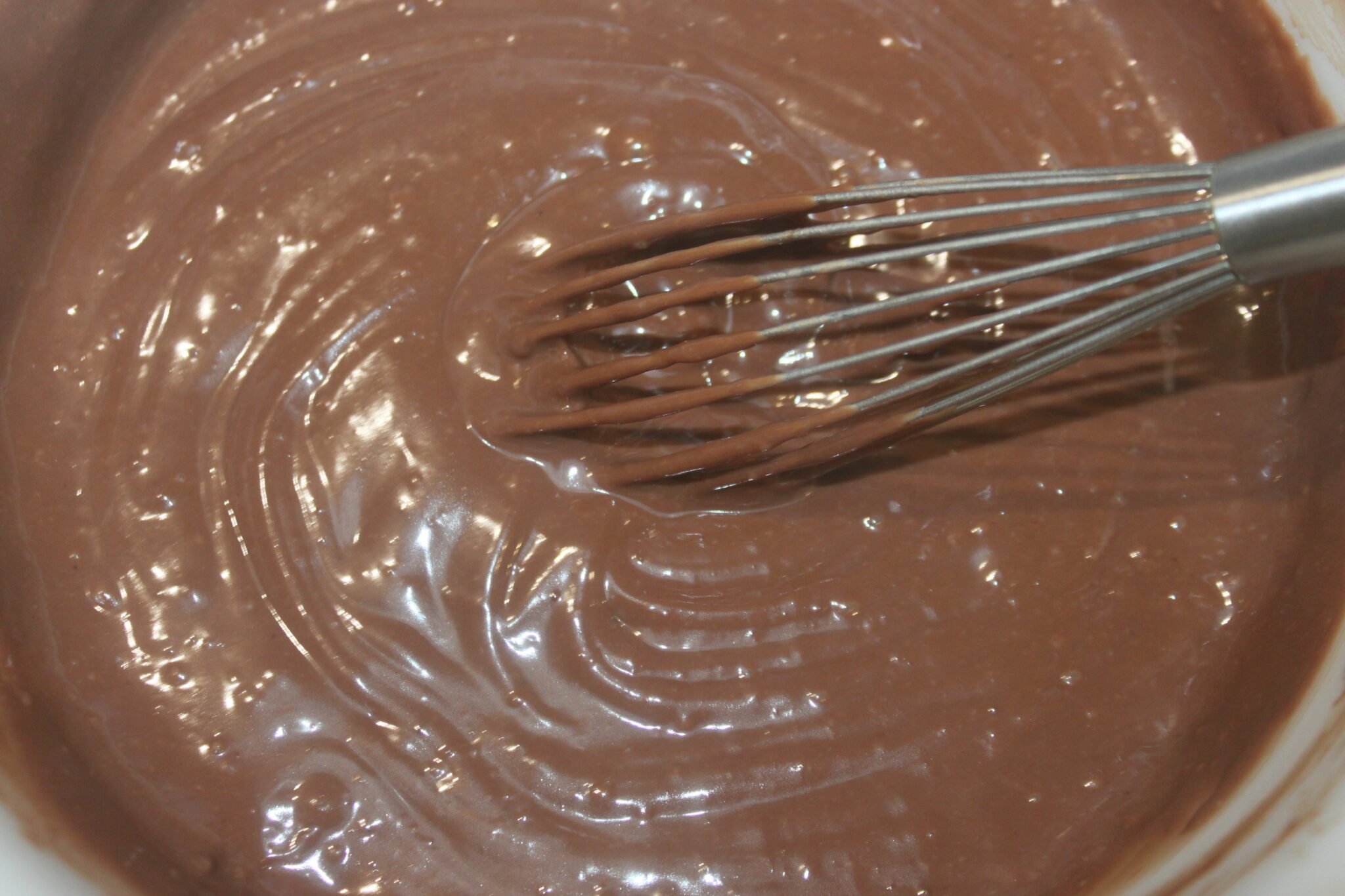 Heat again minute by minute, stirring each time.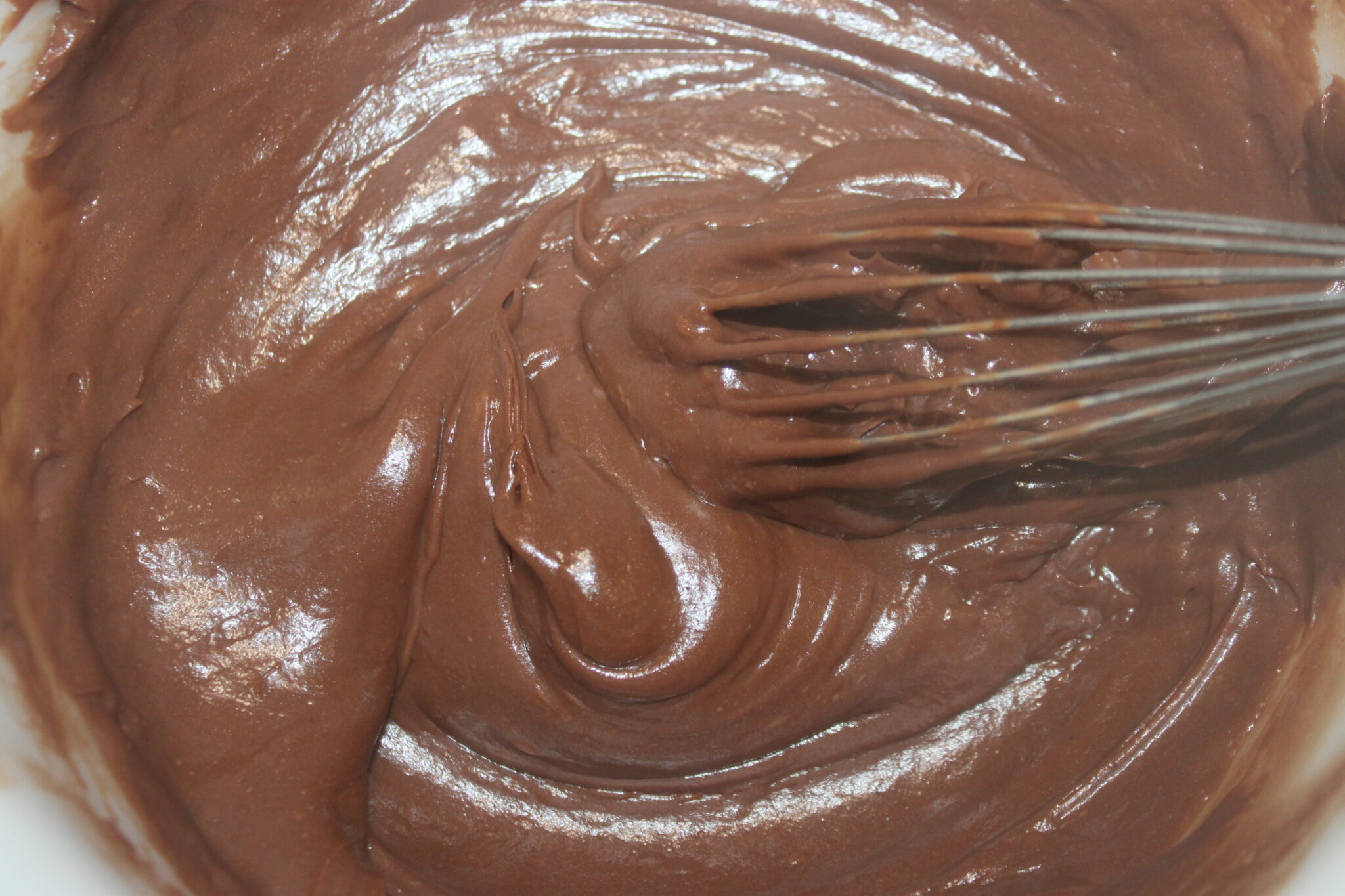 After a while the dough will take its final consistency.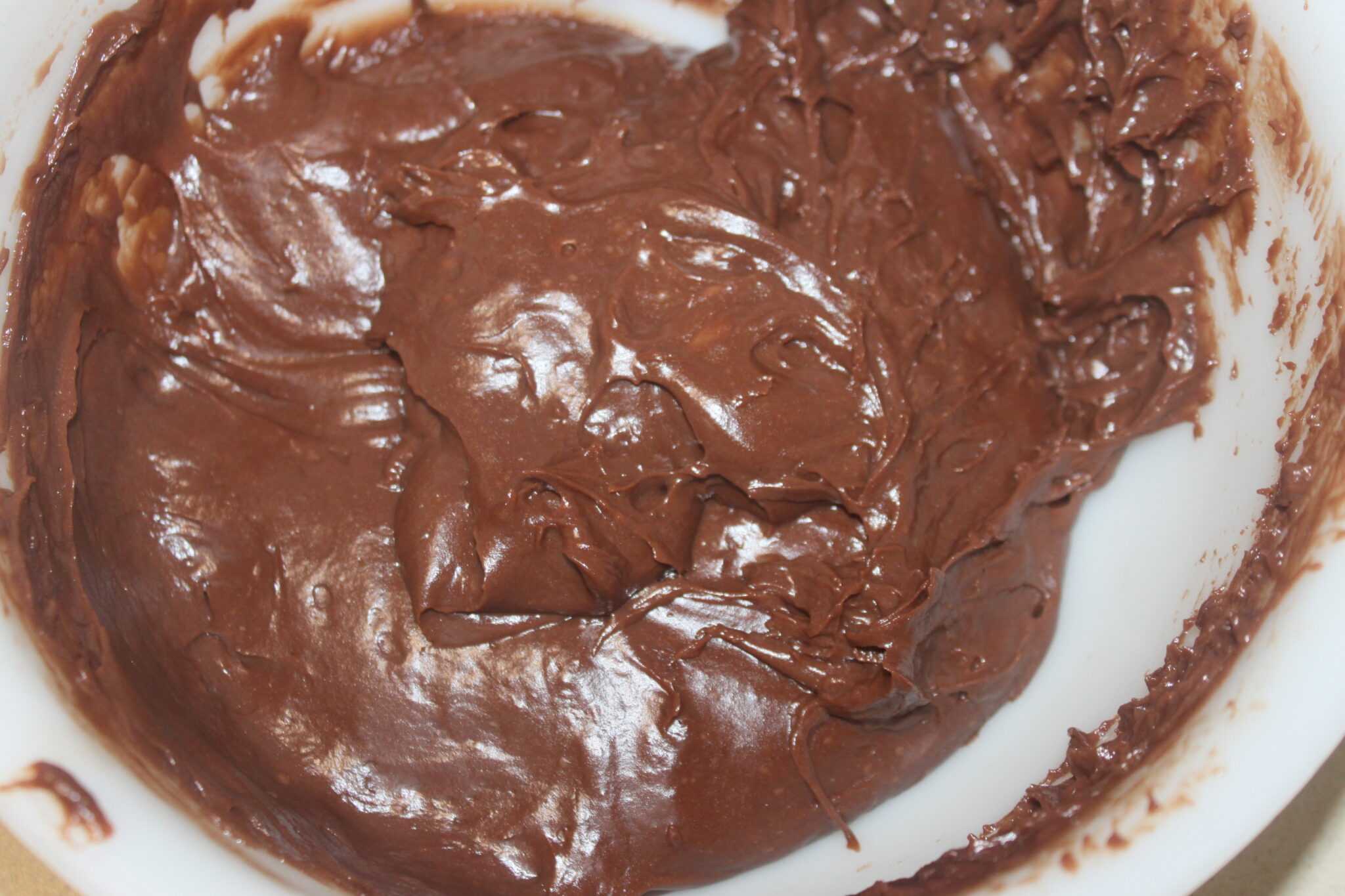 When the dough puffs up nicely and comes to a boil in the oven, it's time to stop. When it almost doubles in size, take it out and put a piece of cling film around it. It almost looks like a giant chewing gum!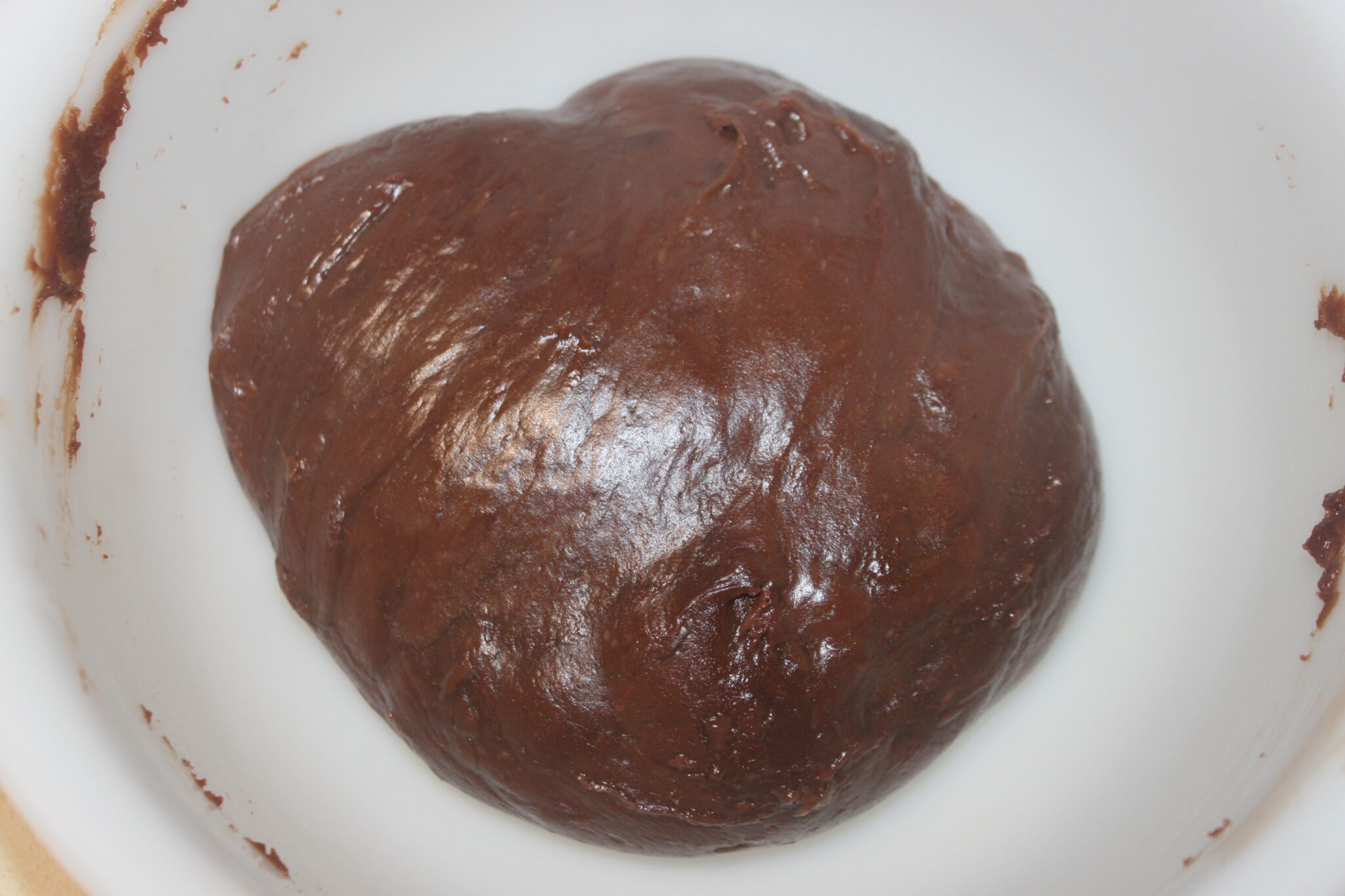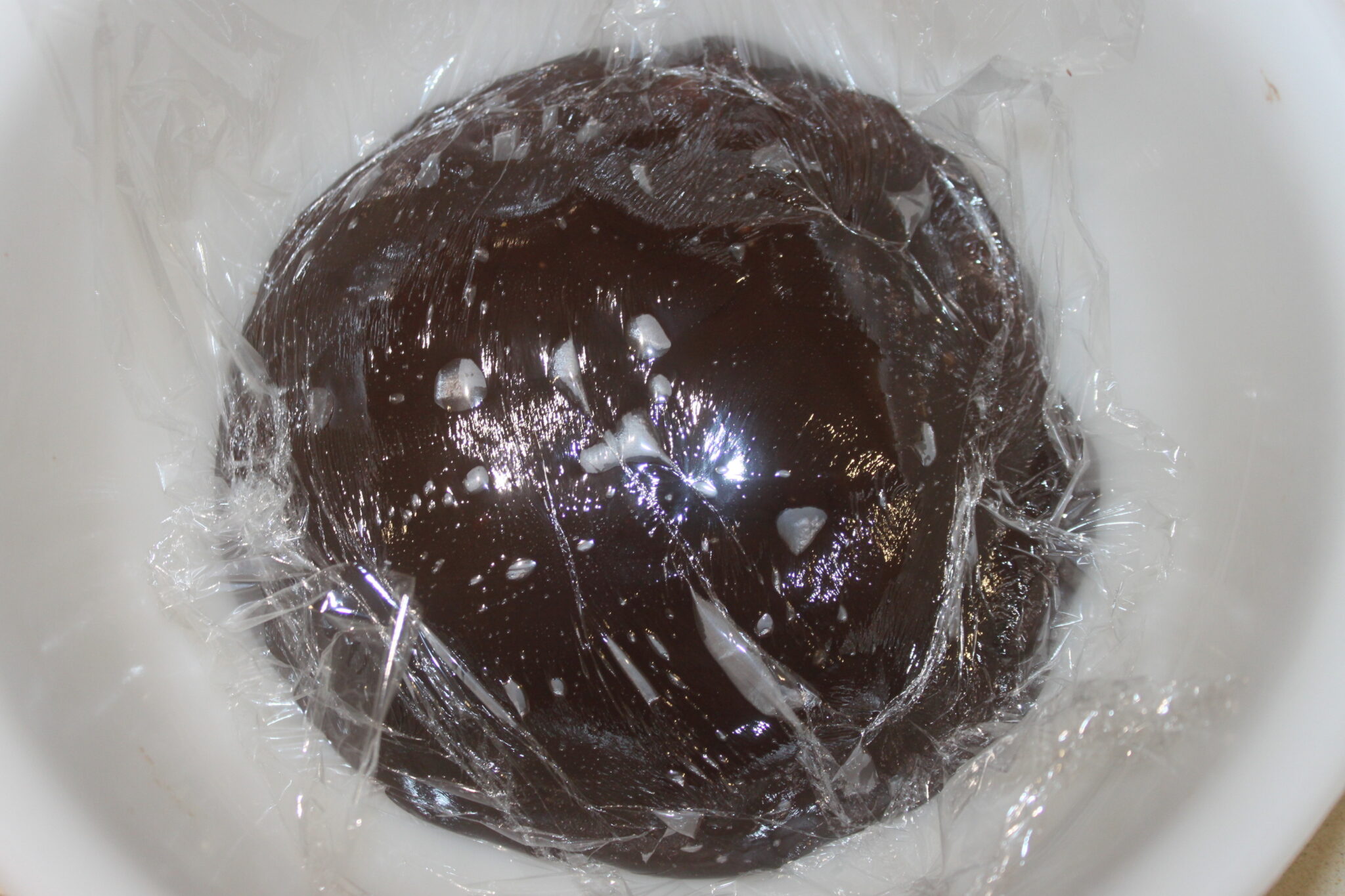 Let the dough cool to room temperature in this manner. Then take out the ganache.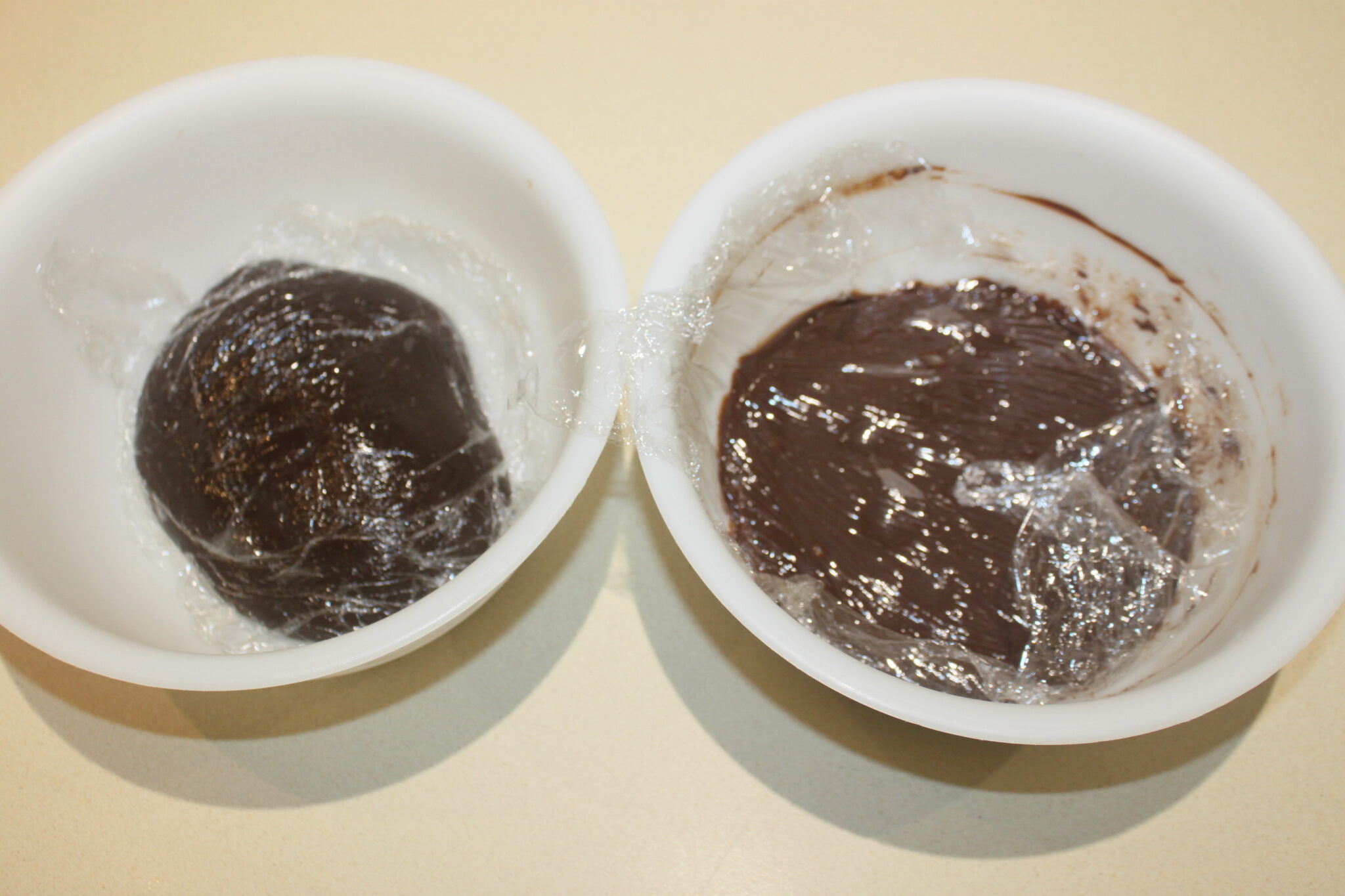 Prepare the mochi powder: mix the potato starch and unsweetened cocoa powder together in a container.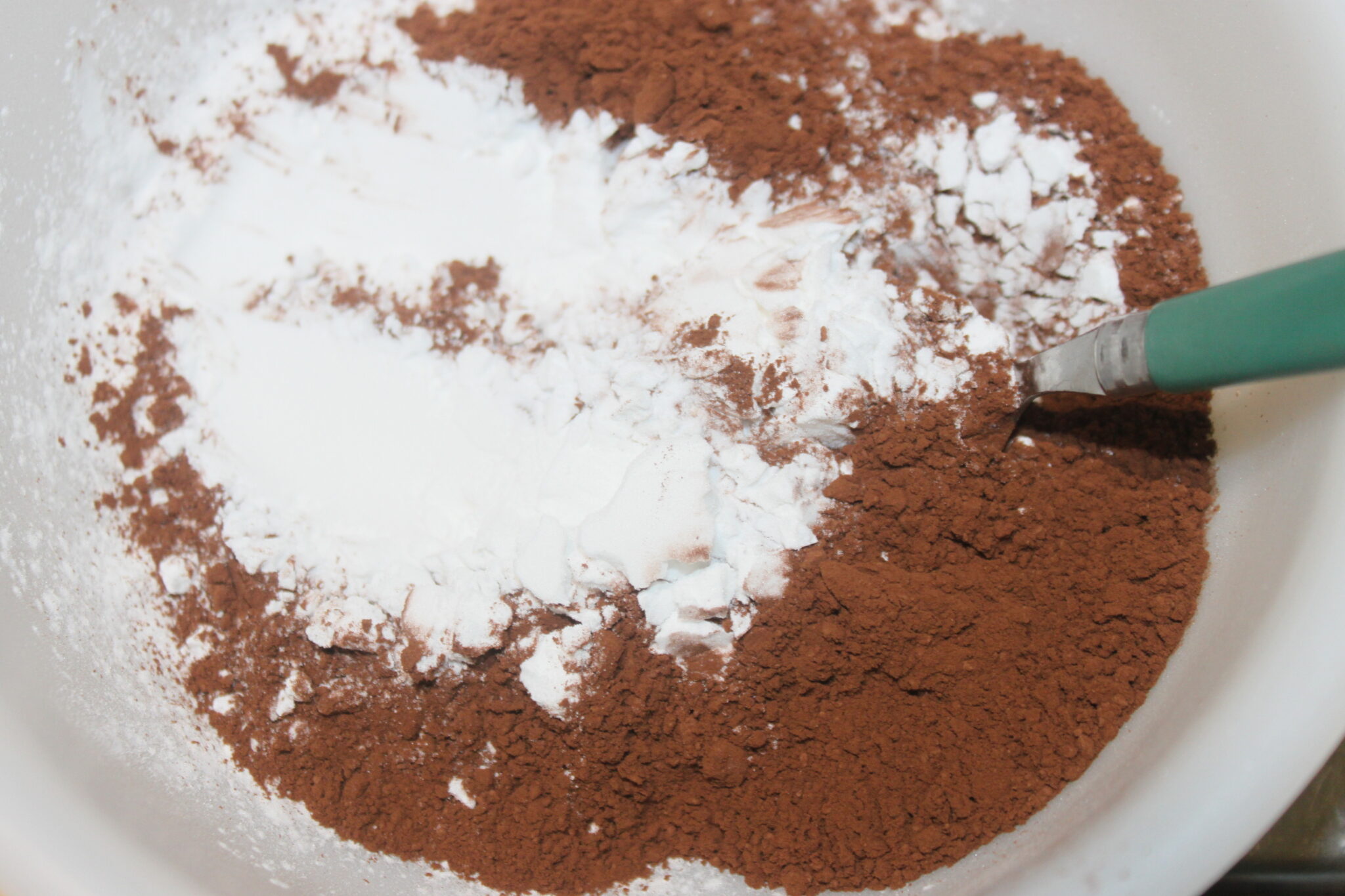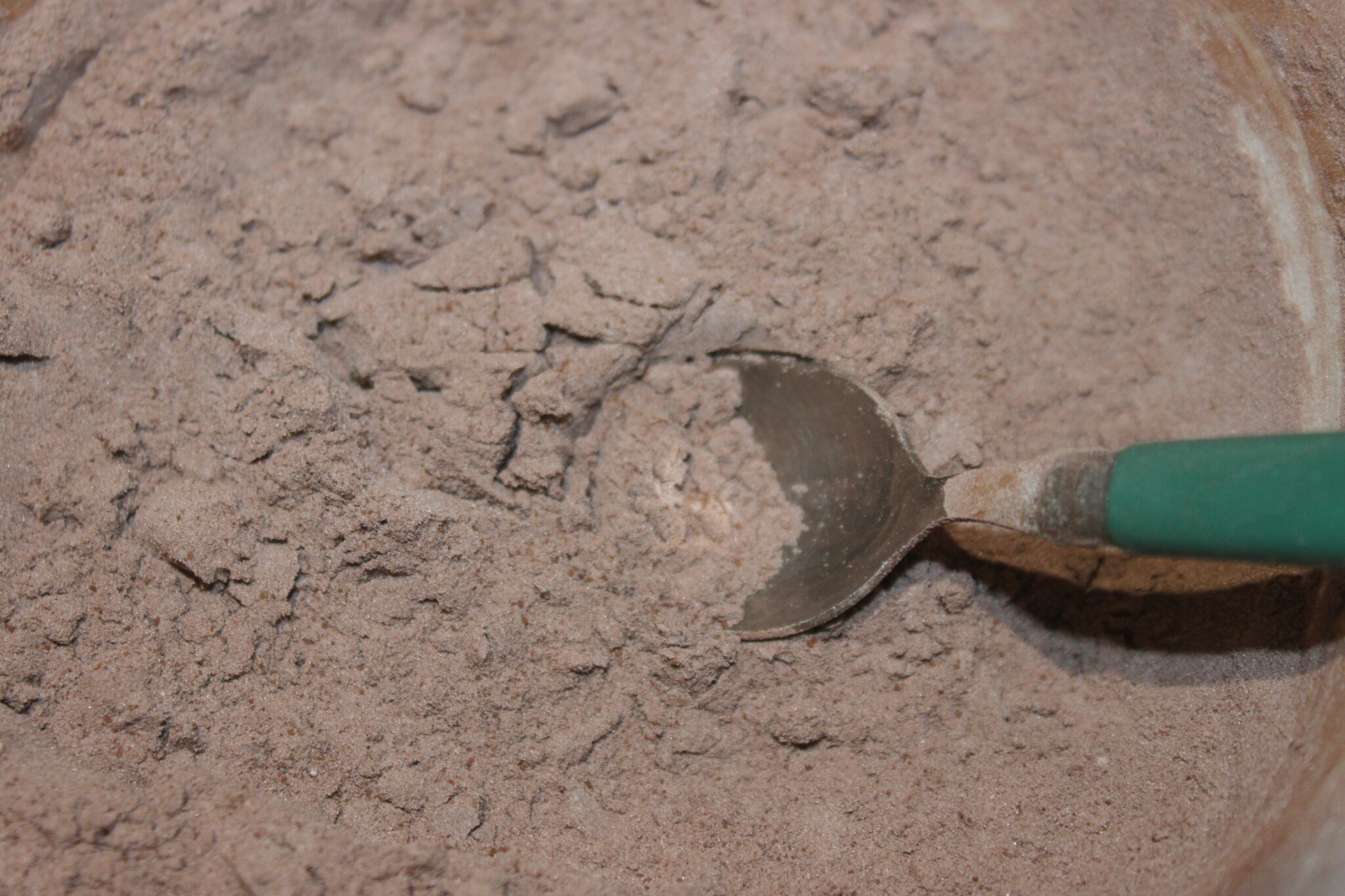 Take a 30g ball of dough and place it between two sheets of baking paper.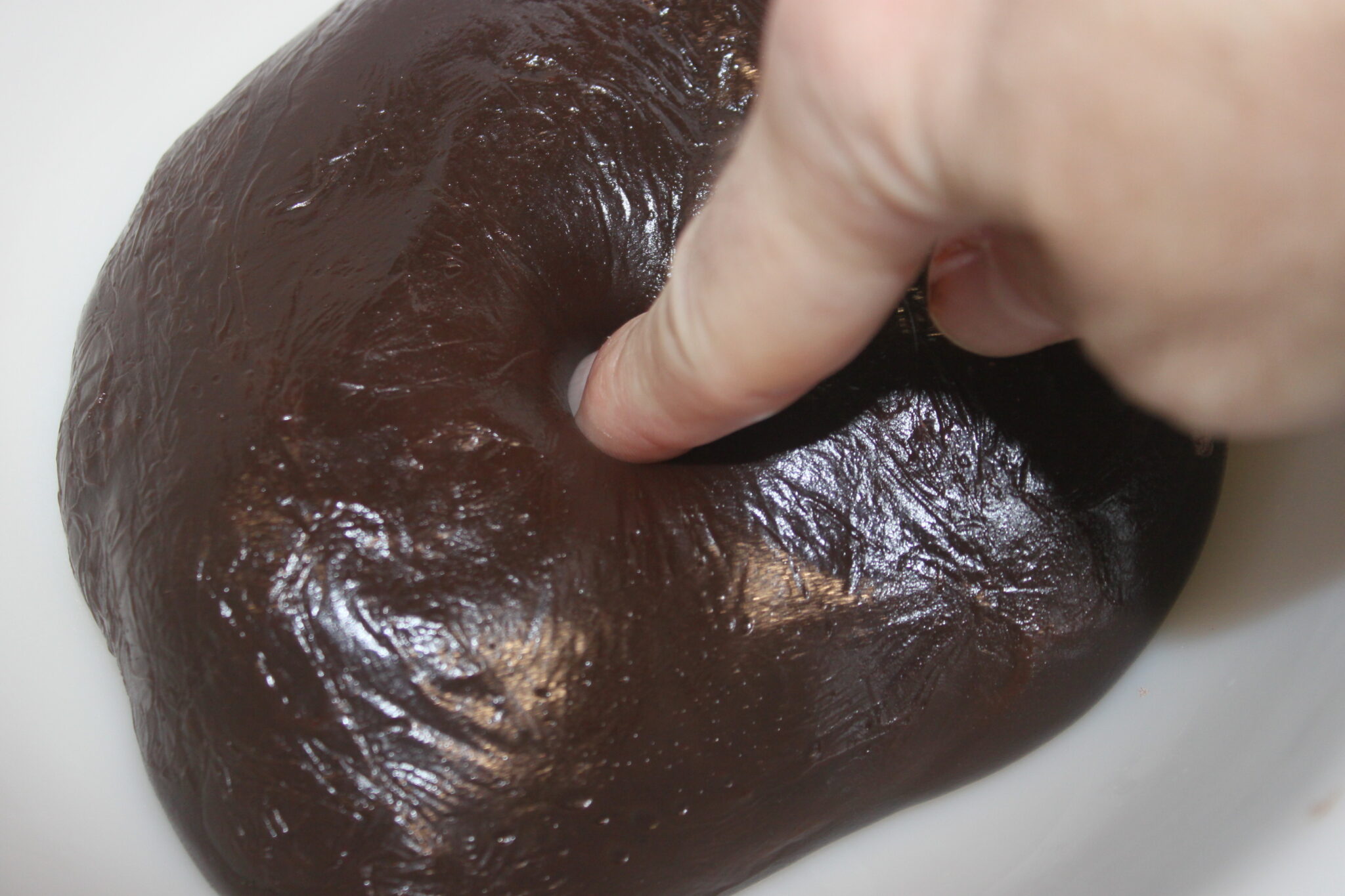 Roll out to a disk about 10cm in diameter.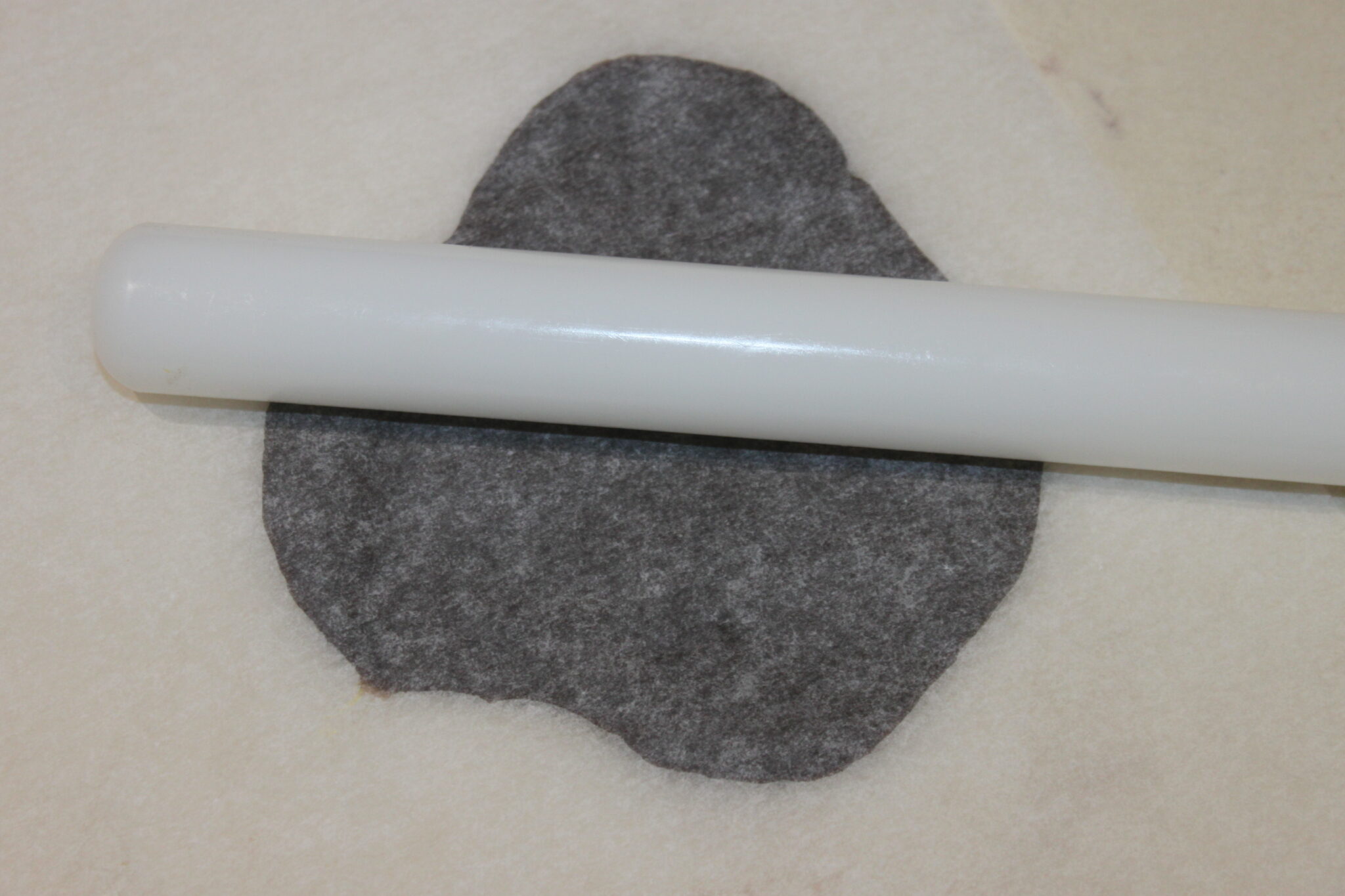 Scoop 20g of ganache with a mini ice cream scoop or a teaspoon and place it in the center.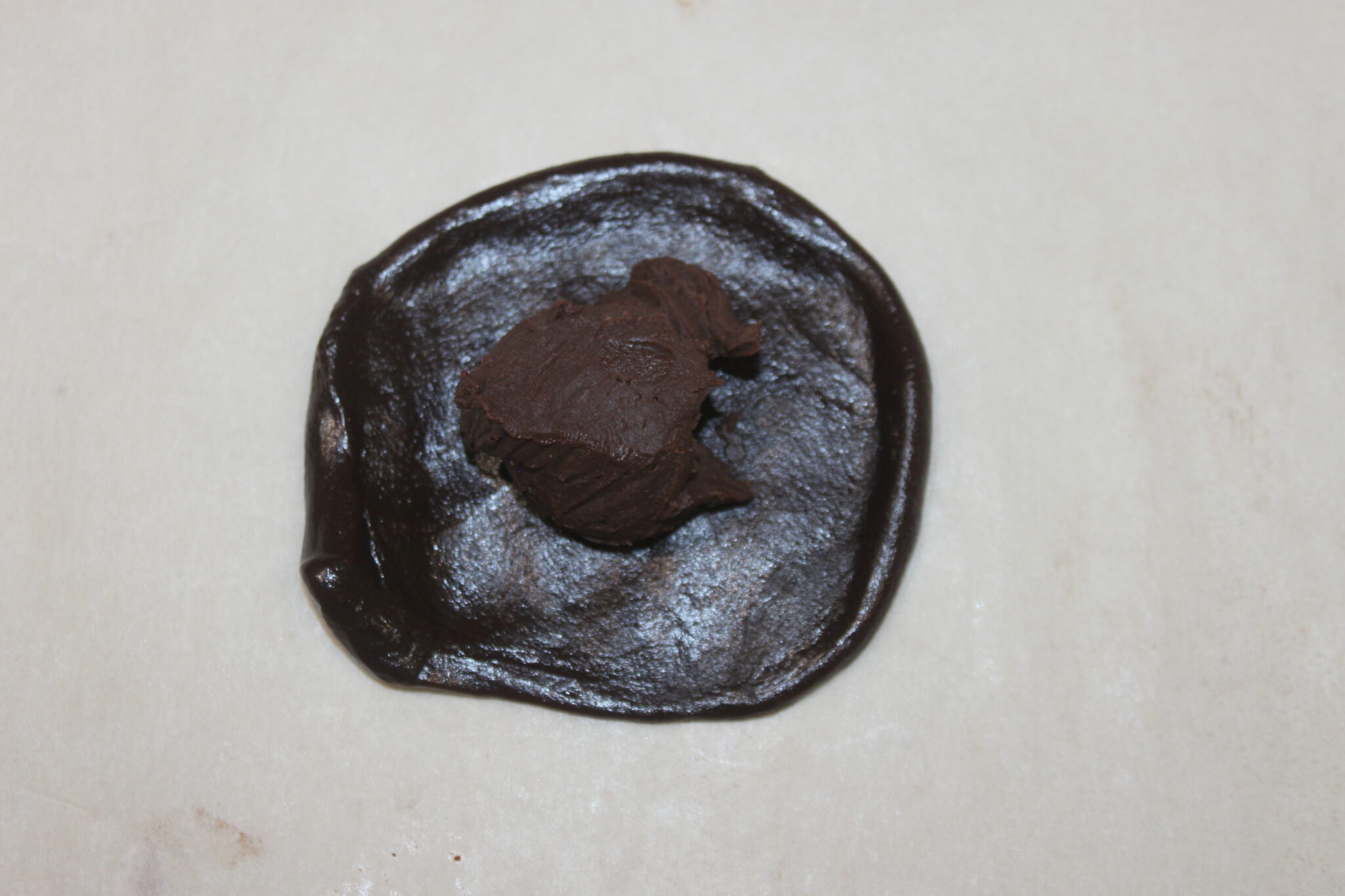 Fold the dough around the ganache.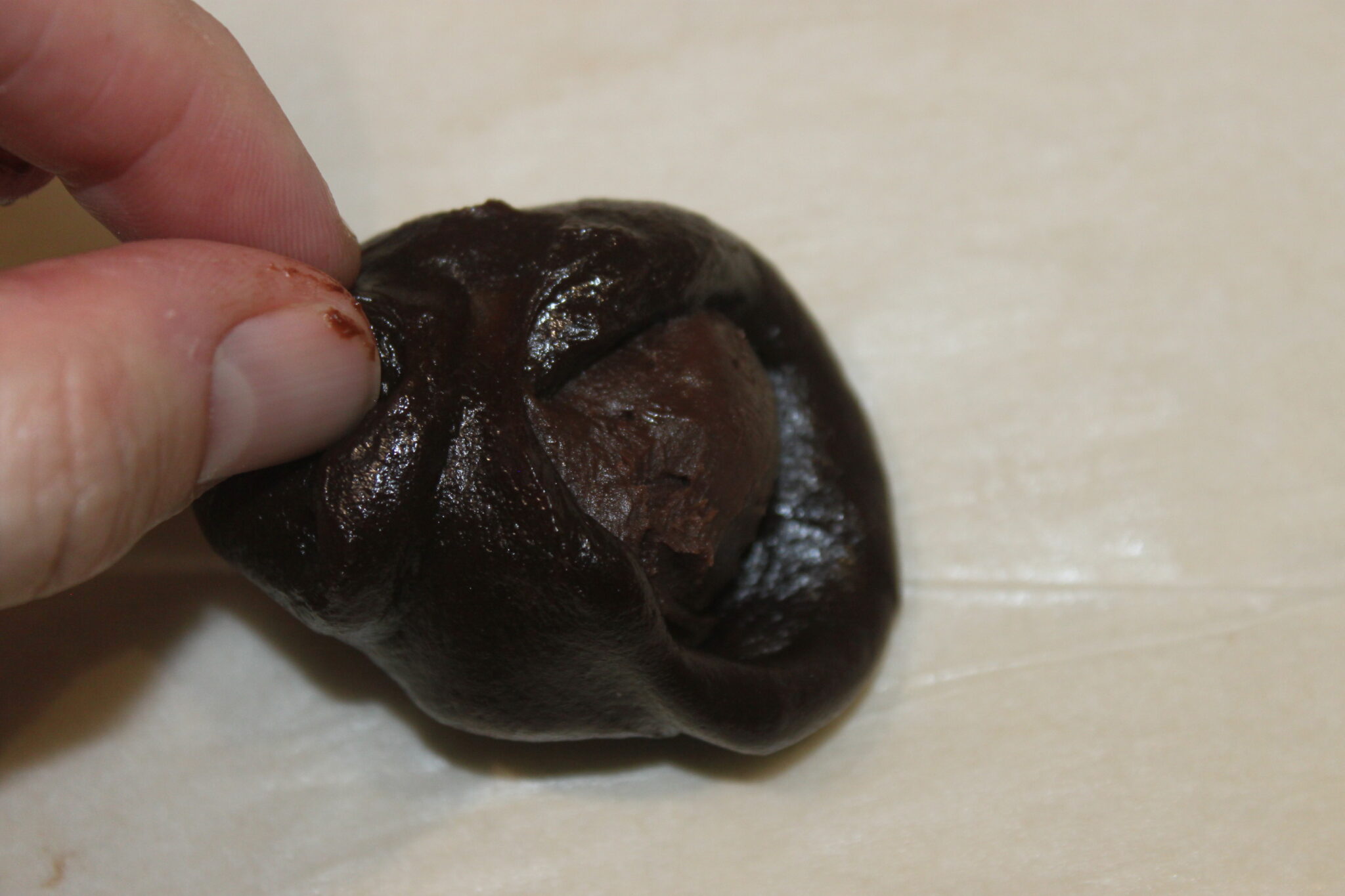 Then roll the mochi between your hands to seal it.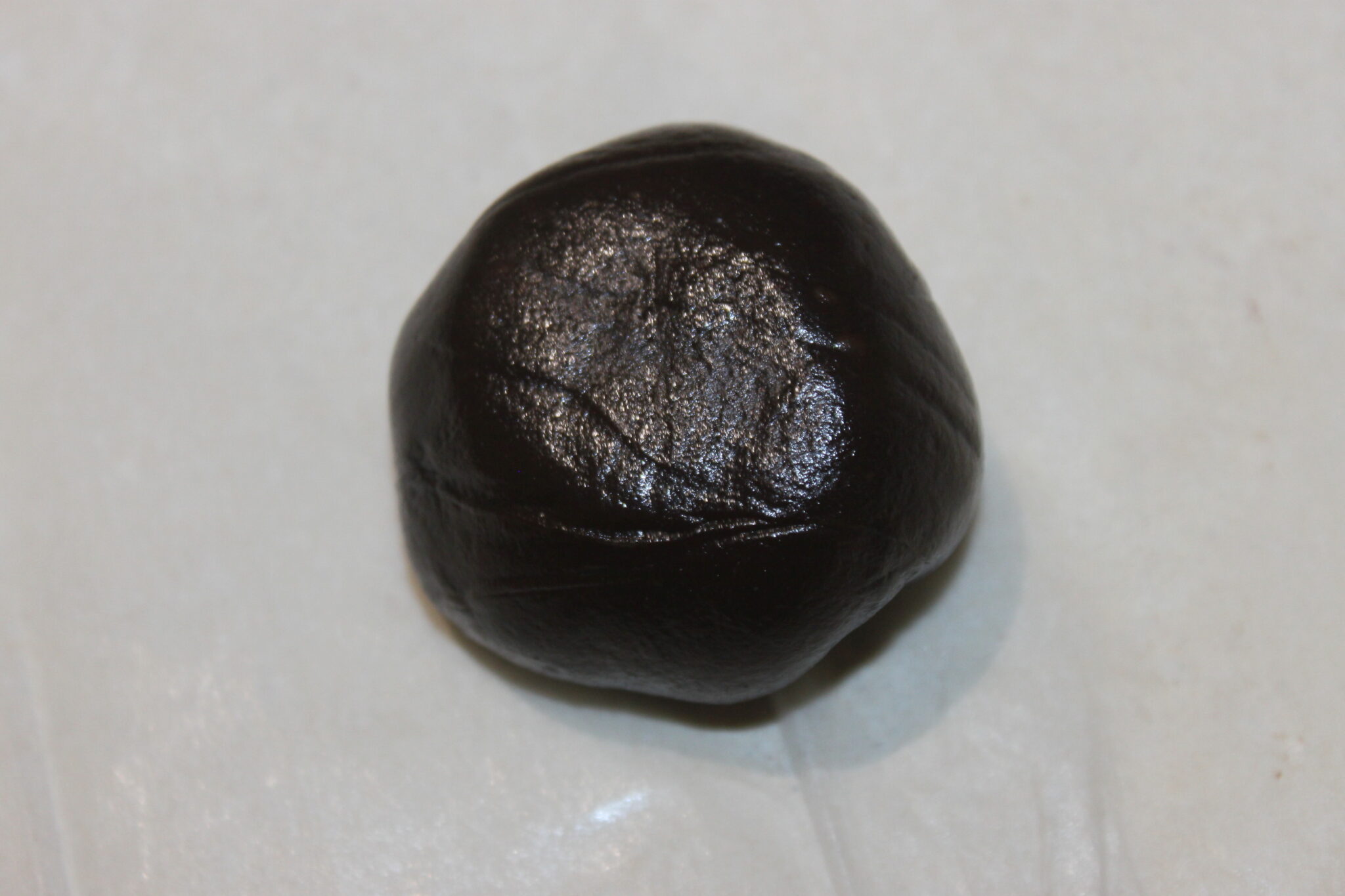 Place in bowl of mochi powder.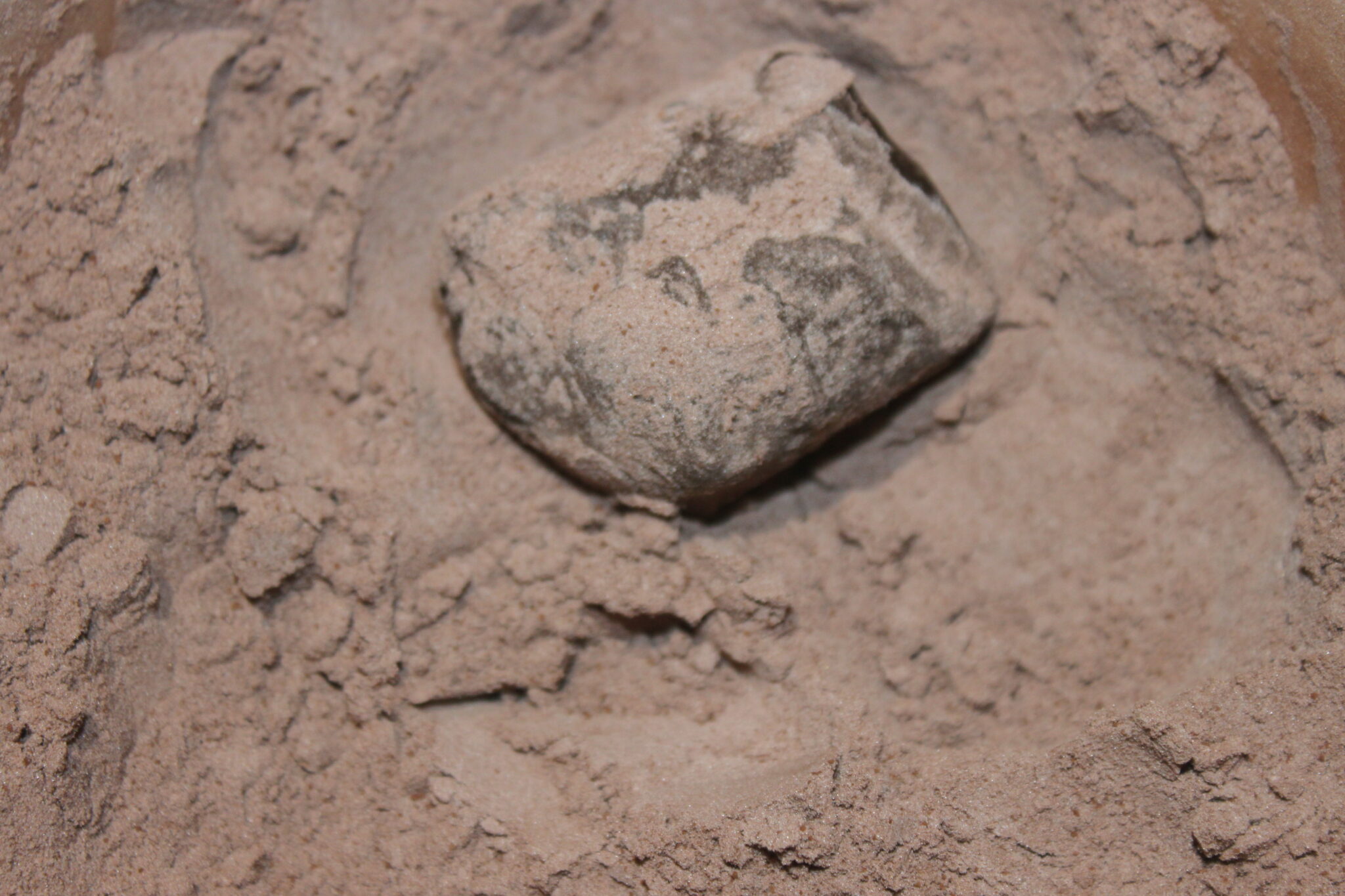 Then shape the mochi as you like: it is usually a flattened ball. Place the mochis on a sheet of parchment paper as you go.
Set aside in a cool place and when you want to serve them, remove the excess mochi powder with your hands to leave just a thin film. They will keep in a cool place for a few days and freeze perfectly in an airtight box.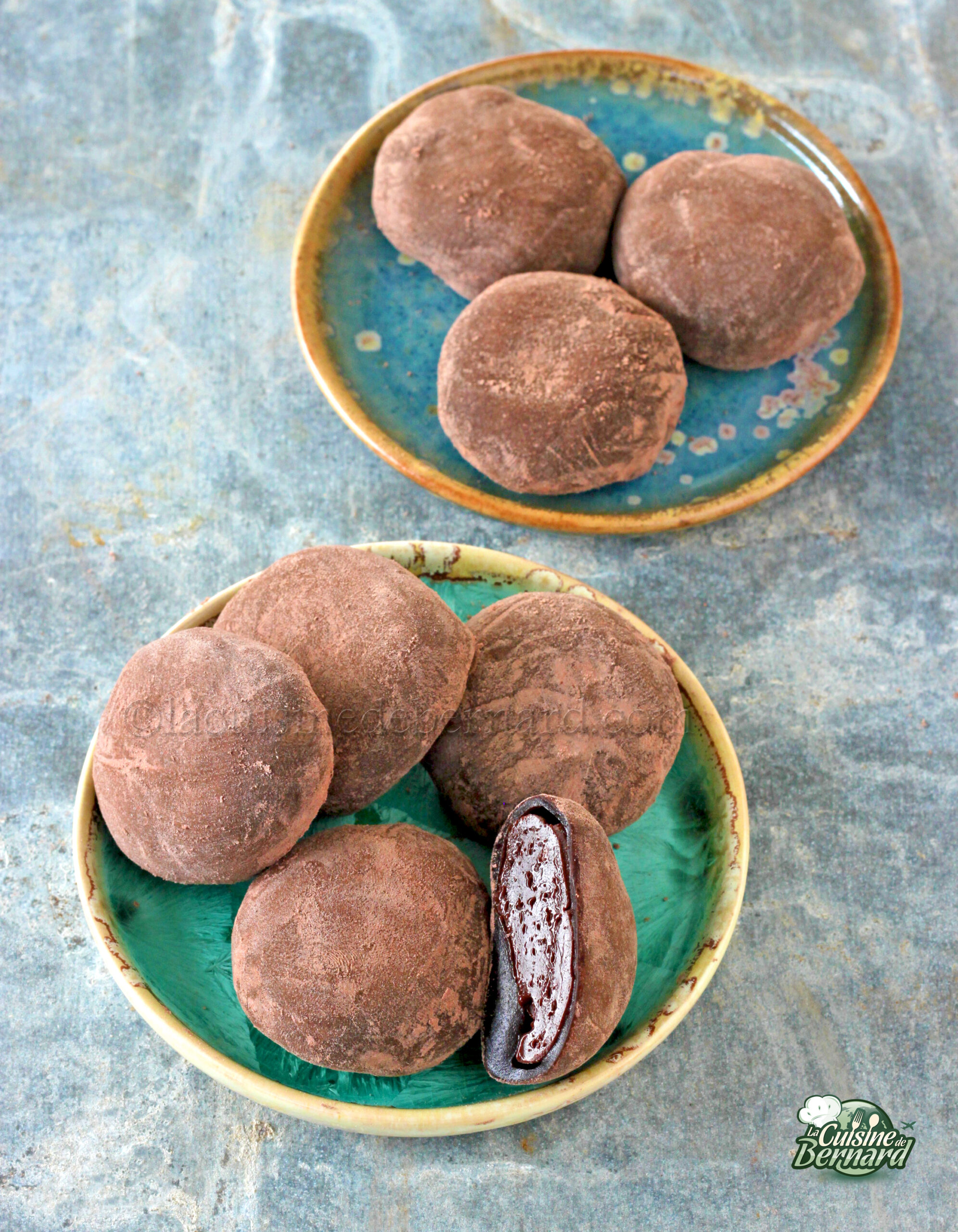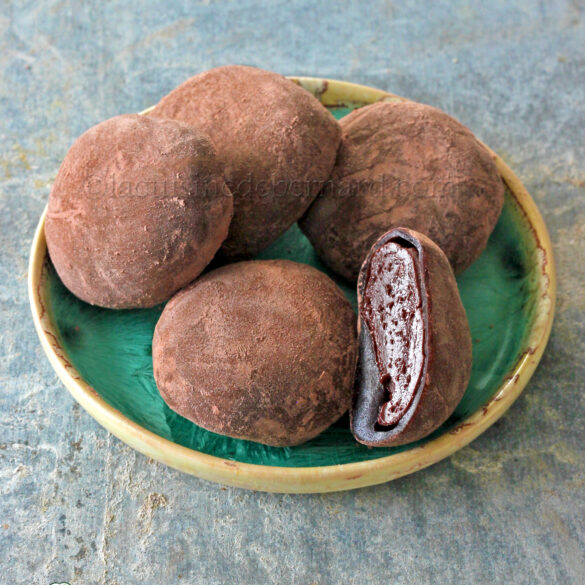 Mochi au chocolat
Ingredients
Poudre à mochi :
Instructions
Commencez par préparer la ganache, même la veille. Mettez tous les ingrédients dans un récipient allant au four à micro-ondes ou dans un bain marie. Faites fondre le tout tout en mélangeant bien.

Au four à micro-ondes, allez-y par tranches de 30 secondes maximum ! La ganache doit être bien lisse.

Mettez un film étirable au contact puis réservez au réfrigérateur au moins 3-4 heures ou une nuit.

Mettez la farine de riz gluant, le cacao non sucré et le sucre dans un récipient allant au four à micro-ondes.

Versez le lait tout en mélangeant. Il n'y a pas de gluten, donc pas risque d'avoir de grumeaux.

Faites chauffer 2 minutes à 900w, ou au maximum de votre four, (chaque four, même avec la puissance donne des résultats différents !). Le liquide doit être bien chaud. Ajoutez le beurre doux et mélangez jusqu'à sa parfaite incorporation.

Faites ensuite chauffer sur puissance maximale minute par minute. Mélangez bien à chaque fois. À un moment donné, la pâte va commencer à figer par endroit. C'est le moment où il faudra défaire les grumeaux avec un mixeur plongeant.

La pâte doit redevenir bien lisse.

Faites chauffer de nouveau minute par minute en mélangeant à chaque fois.

Au bout d'un moment la pâte va prendre sa consistance définitive.

Quand la pâte gonfle bien et entre en ébullition dans le four, c'est le moment d'arrêter. Quand elle double presque de volume, sortez-la et mettez un film étirable au contact. Elle ressemble presque à un chewing-gum géant !

Laissez refroidir la pâte de cette façon à température ambiante. Sortez ensuite la ganache.

Préparez la poudre à mochi : mélangez la fécule de pomme de terre et la poudre de cacao non sucré ensemble dans un récipient.

Prélevez une boule de 30g de pâte et mettez-la entre deux feuilles de papier sulfurisé.

Étalez au rouleau en un disque de 10cm de diamètre environ.

Prélevez un boulette de 20g de ganache avec une mini cuillère à glace ou une cuillère à café et placez-la au centre.

Rabattez la pâte autour de la ganache.

Roulez ensuite le mochi entre vos mains pour bien sceller le tout.

Placez dans le bol de poudre à mochi.

Façonnez ensuite le mochi à votre guise : c'est en général une boule aplatie. Mettez les mochis sur une feuille de papier sulfurisé au fur et à mesure.

Réservez au frais puis quand vous voulez les servir, il faudra enlever l'excédent de poudre à mochi avec les mains pour laisser juste une fine pellicule. Ils se conserveront au frais quelques jours et se congèleront parfaitement dans une boite hermétique.
Nutrition
Calories:
206
kcal
Carbohydrates:
25
g
Protein:
3
g
Fat:
12
g
Saturated Fat:
7
g
Polyunsaturated Fat:
0.5
g
Monounsaturated Fat:
3
g
Trans Fat:
0.2
g
Cholesterol:
20
mg
Sodium:
51
mg
Potassium:
204
mg
Fiber:
3
g
Sugar:
12
g
Vitamin A:
243
IU
Vitamin C:
0.3
mg
Calcium:
38
mg
Iron:
1
mg