The golden sphere (or sinking ball, as one of my guests called it!!) is an original and quite spectacular recipe. The idea is to pour a boiling liquid over it to reveal the inside. Of course, the interior can be varied infinitely, this is only a proposal. We can imagine everything!
It is also possible not to gild the spheres. You can also make up the inside like a tiramisu and pour a coffee or chocolate sauce over it. I will be looking for new compositions in the future! I'm interested in your recipes or comments!
Recipe for 4 people:
For the mascarpone whipped cream:
-150g of full cream
-150g of mascarpone
-60g of powdered sugar
-a pinch of vanilla powder
For the crisp cookie dough:
-30g of soft semi-salted butter
-30g of sugar
-30g of almond powder
-30g of flour
-golden food powder and a new makeup brush
-8 half-spheres in tempered chocolate (recipe here!)
4 large balls of chocolate sorbet (recipe here!!)
–raspberry coulis brûlant (recipe here)
-fresh raspberries
Start by placing the mascarpone, cream, vanilla and powdered sugar in a bowl in a cool place with the beaters of an electric whisk. Then prepare the crispy cookie pieces. Preheat oven to 160°C. Place all ingredients in a bowl and mix. Do not overwork the dough.
Form the dough into a ball, and roughly cut out pieces from it. Spread these pieces on a baking sheet. Bake for 30 minutes.
When removed from the oven, let cool and store in an airtight box until ready to use.
Put the half-spheres, which will have been prepared the day before, in the fridge for 10 minutes, just to cool them down. In this way, when coming out of the cold, the condensation on the half-spheres will make the gold powder adhere. I use a makeup brush (new of course!!) to dust the powder evenly.
Set the golden half-spheres aside. Then start the mascarpone whipped cream.
Place the beaters on the whisk and start beating on medium speed, then when the ingredients are well mixed, increase the speed until the whipped cream is set. Fill a piping bag with this cream.
Place a dot of cream on a plate and then place a half sphere on top. This way the sphere will be fixed. Proceed of course in the same way on 3 other half-spheres! Garnish the inside of these with mascarpone whipped cream.
Then place a scoop of chocolate sorbet, a few fresh raspberries and cookie chips.
Close the set with another half-sphere on the reverse side and decorate as desired.
At the last second, in front of the guests, pour the hot raspberry coulis on the golden spheres, the chocolate will melt and let the inside of the balls show!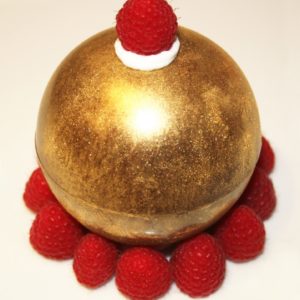 Sphère d'Or
La sphère d'or (ou la boule qui coule, ainsi nommée par l'un de mes invités!!) est une recette originale et assez spectaculaire. L'idée est de verser un liquide bouillant dessus pour révéler l'intérieur. On peut bien sûr varier l'intérieur à l'infini, ceci n'est qu'une proposition. On peut tout imaginer!
On peut également ne pas dorer les sphères. On peut également composer l'intérieur comme un tiramisu et verser une sauce au café ou au chocolat dessus. Je vais dans le futur chercher de nouvelles compositions! Je suis preneur de vos recettes ou commentaires!
Ingredients
Pour la chantilly au mascarpone
Pour la pâte à biscuit croustillant
Instructions
Commencer par mettre le mascarpone la crème, la vanille et le sucre glace dans une jatte au frais avec les batteurs d'un fouet électrique. Puis préparer les morceaux de biscuits croustillants. Préchauffer le four à 160°C. Mettre tous les ingrédients dans une jatte et mélanger. Ne pas travailler la pâte trop longtemps.

Réunir la pâte en une boule, et prélever de façon grossière des morceaux dans celle-ci. Répartir ces morceaux sur une plaque à pâtisserie. Enfourner pour 30 minutes.

A la sortie du four, laisser refroidir puis stocker dans une boite hermétique jusqu'à la préparation finale.

Mettre les demi-sphères, que l'on aura pris soin de préparer la veille, au frais pendant 10 minutes, juste pour les refroidir. De cette façon en sortant du froid, la condensation sur les demi-sphères, fera adhérer la poudre d'or. J'utilise pour cela un pinceau à maquillage (neuf bien sûr!!) pour saupoudrer la poudre de façon uniforme.

Mettre les demi-sphères ainsi dorées de côté. Puis commençer la chantilly au mascarpone.

Placer les batteurs du fouet sur celui-ci puis commençer à battre à vitesse moyenne, puis quand les ingrédients sont bien mélangés, augmenter la vitesse jusqu'à ce que la chantilly soit prise. Garnir une poche à douille de cette crème.

Placer un point de crème sur une assiette puis poser une demi sphère dessus. De cette façon la sphère sera fixée. Procéder bien sûr de la même façon sur 3 autres demi-sphères! Garnir l'intérieur de celles-ci de chantilly au mascarpone.

Puis placer une boule de sorbet au chocolat, quelques framboises fraîches et des brisures de biscuits.

Refermer l'ensemble avec une autre demi-sphère à l'envers et décorer à l'envie.

A la dernière seconde, devant les convives, verser le coulis de framboises brûlant sur les sphères d'or, le chocolat va fondre et laisser s'entrevoir l'intérieur des boules!!
Nutrition
Calories:
661
kcal
Carbohydrates:
52
g
Protein:
10
g
Fat:
47
g
Saturated Fat:
27
g
Polyunsaturated Fat:
1
g
Monounsaturated Fat:
7
g
Trans Fat:
0.2
g
Cholesterol:
117
mg
Sodium:
134
mg
Potassium:
186
mg
Fiber:
2
g
Sugar:
43
g
Vitamin A:
1588
IU
Vitamin C:
1
mg
Calcium:
218
mg
Iron:
1
mg