Japanese grilled riavolis, or "gyozas" are very strongly inspired by Chinese dumplings from Shanghai. Definitely the Chinese have invented everything! They are however richer in garlic and have no spice. The dough is much finer. They are grilled on one side and steamed on the other.
Recipes for 80 "gyozas":
-80 "gyoza skins"
-350g minced pork loin
-200g Chinese cabbage (or leeks or half and half)
-5 crushed garlic cloves
-2 cm grated fresh ginger
-2 tablespoons of mirin
-1 tablespoon of light soy sauce
-1 tablespoon of toasted sesame oil
First of all, for once I want to clarify that no I will not give the recipe for the gyoza dough. I already had fun doing it and it's really very very long to do. As much as I love spending time doing complicated things, gyoza dough is cheap and much more convenient to use. This is the one I bought in Tokyo. But you can easily find them on rue Sainte-Anne in the Japanese district at the K Mart.


Start by washing the Chinese cabbage (or leeks).
In a blender, chop the meat as much as possible. Then separately, chop the cabbage but not too much otherwise it will be reduced to mush!
Put all the ingredients in a bowl, the ginger, the 5 cloves of garlic, the mirin, the soy sauce and the sesame oil.
Mix the ingredients by hand to force the meat to integrate with the rest.
Sprinkle a little water around the pastry. Place a teaspoon of stuffing in the center.
Start by folding in half and pinching the right edge. Fold the upper part of the dough with the left index finger.
With the right index finger, pinch at each times the dough thus folded. Continue to cast off until the end.
This results in a ravioli that is folded on one side and smooth on the other. A real gyoza!
Heat oil in a skillet over fairly high heat. Arrange the gyozas in a fairly tidy fashion.
When the gyozas are colored underneath (you have to lift one to see!), add water to the pan (there should be roughly 3mm of water in the entire bottom of the pan). Immediately cover with a large lid. The steam will cook the gyozas. Shake the pan occasionally to loosen the gyozas. When all the water has evaporated, the gyozas are cooked. If you see that they are not all cooked, add a little water and close the lid.
Serve immediately upside-down on a plate with a side sauce made with half light soy, half black rice vinegar (or sherry) and a chilli oil (also found at K Mart!).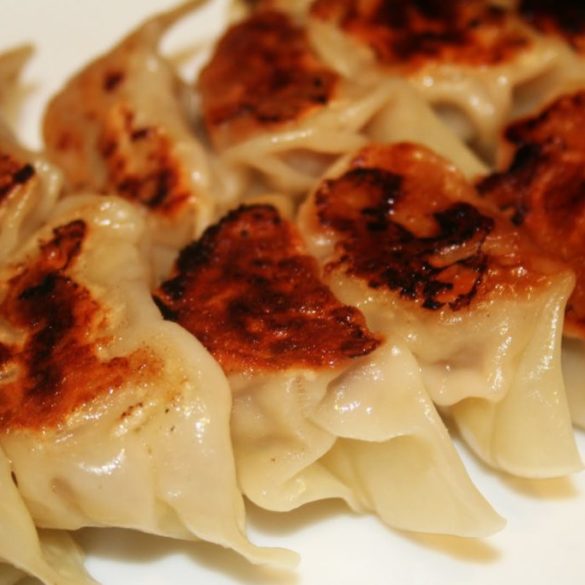 Gyozas
Les riavolis grillés japonais, ou « gyozas » sont très fortement inspirés des raviolis chinois de Shanghai. Décidément les chinois ont tout inventé! Ils sont cependant plus riches en ail et n'ont pas d'épice. La pâte est beaucoup plus fine. Ils sont grillés d'un côté et cuits à la vapeur de l'autre.
Ingredients
Recettes pour 80 « gyozas »:
Instructions
Tout d'abord, pour une fois je tiens à préciser que non je ne donnerai pas la recette de la pâte à gyozas. Je me susi déjà amusé à la faire et c'est vraiement très très long à faire. Autant j'aime passer du temps à faire des choses compliquées, mais la pâte à gyozas ne coûte pas cher et est beaucoup plus pratique à utiliser. Voici celle que j'avais acheté à Tokyo. Mais on en trouve sans problème rue Sainte-Anne dans le quartier japonais au K Mart.

Commencer par laver le chou chinois (ou les poireaux).

Au mixeur, hacher la viande au maximum. Puis séparemment, hacher le chou mais pas trop sinon il se réduit en bouillie!

Mettre tous les ingrédients dans un bol, le gingembre, les 5 gousses d'ail, le mirin, la sauce de soja et l'huile de sésame.

Mélanger à la main les ingrédients pour bien obliger la viande à s'intégrer au reste.

Passer un peu d'eau sur le tour de la pâte. Y mettre une cuillerée à café de farce au centre.

Commencer par plier en deux et pincer le bord droit. Rabattre avec l'index gauche la partie supérieure de la pâte.

Avec l'index droit, pincer à chaque fois la pâte ainsi rabattue. Continuer à rabattre jusqu'au bout.

On obtient ainsi un ravioli plié d'un côté et lisse de l'autre. Un vrai gyoza!

Faire chauffer de l'huile dans une poêle sur feu assez fort. Placer les gyozas de façon assez rangée.

Quand les gyozas sont colorés en dessous (il faut en soulever un pour voir!) , ajouter de l'eau dans la poêle (il doit en gros y avoir 3mm d'eau dans tout le fond de la poêle). Couvrir immédiatement avec un grand couvercle. La vapeur va cuire les gyozas. Secouer la poêle de temps en temps pour détacher les gyozas. Quand toute l'eau s'est évaporée, les gyozas sont cuits. Si l'on voit qu'ils ne sont pas tous cuits, rajouter un peu d'eau et refermer le couvercle.

ervir immédiatement renversés sur une assiette avec une sauce d'accompagnement faite avec moitié soja claire, moitié vinaigre noir de riz (ou de xéres) et une huile pimentée (qui se trouve aussi chez K Mart!).
Nutrition
Calories:
7
kcal
Carbohydrates:
0.3
g
Protein:
1
g
Fat:
0.4
g
Saturated Fat:
0.1
g
Polyunsaturated Fat:
0.1
g
Monounsaturated Fat:
0.2
g
Cholesterol:
2
mg
Sodium:
18
mg
Potassium:
12
mg
Fiber:
0.004
g
Sugar:
0.1
g
Vitamin A:
7
IU
Vitamin C:
0.1
mg
Calcium:
1
mg
Iron:
0.1
mg