I share with you a recipe from my book "Je fais mon chocolat maison" published by Solar and prefaced by Christophe Michalak! I was largely inspired by the cookies that you can find in New York, in a very famous bakery. I had already cracked the "plain" recipe in my blog, but this time I offer you the 100% chocolate version. With a touch of salt and vanilla, these cookies are completely addictive and if you start making them, beware, because you will be asked to make them all the time! I make them like there, in XXL version.
110g of semi-salted butter
75g of 55% dark chocolate
100g of sugar
125g of brown vergeoise
1 teaspoon of liquid vanilla
1 good pinch of salt
50g of egg
240g of flour
20g unsweetened cocoa powder
200g of 65% chocolate chips
Melt butter and chocolate in microwave oven. Mix the sugar, vergeoise, liquid vanilla and salt in the bowl of a mixer. Pour in the melted chocolate/butter and mix again. Add the egg. Mix and then pour in the flour and unsweetened cocoa powder. Mix for another minute to get a smooth paste. Pour in the chocolate chips and mix. The dough is ready. There is no yeast, this is intentional on my part.
Divide the dough into 5 balls. This makes for monstrous and totally decadent cookies weighing in at about 180g each.
Take a ball and tear it apart by hand to give it a very rough appearance. Having a highly textured dough ball increases the surface area of the crust. Place each giant cookie on a baking sheet and freeze for at least 4 hours or overnight.
Preheat your oven to 200°C (it's this high heat in the oven that will sear the outer crust well before cooking the inside). Place the frozen cookies in the oven for 15 to 20 minutes. Let them cool on the baking sheet for about 10 minutes before carefully transferring them to a wire rack. The giant cookies will be at their best half an hour after baking: the inside will have had time to firm up slightly, the chocolate will still be half-melted and the crust will be crisp to perfection.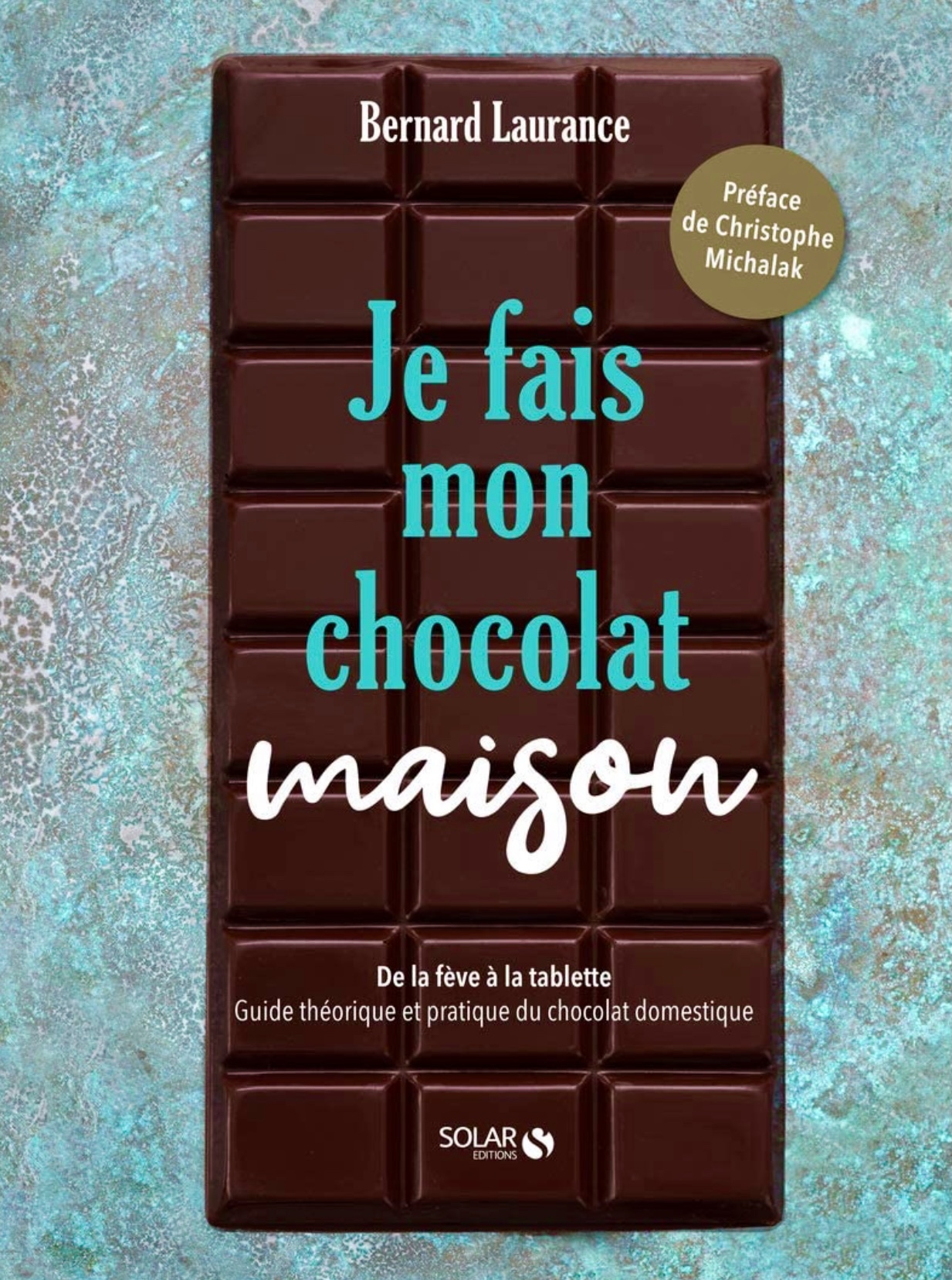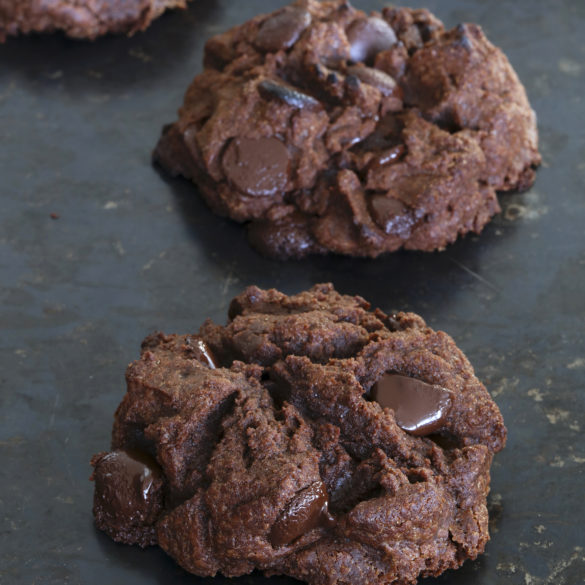 Cookies monstrueux au chocolat
Je partage avec vous une recette de mon livre "Je fais mon chocolat maison" édité chez Solar et préfacé par Christophe Michalak ! Je me suis très largement inspiré des cookies que l'on trouve à New York, dans une pâtisserie très connue. J'avais déjà craqué la recette « nature » qui se trouve dans mon blog, mais cette fois je vous propose la version 100% chocolatée. Avec une touche de sel et de vanille, ces cookies sont complètement addictifs et si vous commencez à en faire, prenez garde, car on vous en demandera d'en faire tout le temps ! Je les fais comme là-bas, en version XXL.
Instructions
Faites fondre le beurre et le chocolat au four à micro-ondes.Mélangez dans la cuve d'un batteur, le sucre, la vergeoise, la vanille liquide et le sel. Versez alors les chocolat/beurre fondus puis mélangez de nouveau. Ajoutez l'œuf. Mélangez puis versez la farine et le cacao non sucré en poudre. Mélangez pendant encore une minute pour avoir une pâte homogène. Versez les pépites de chocolat et mélangez. La pâte est prête. Il n'y a pas de levure, cela est voulu de ma part.

Divisez la pâte en 5 boules. Cela donne des cookies monstrueux et totalement décadents d'environ 180g chacun.

Prenez une boule et déchirez-la à la main pour lui donner une apparence très brute. Le fait d'avoir une boule de pâte très texturée augmente la surface de la croûte. Posez chaque cookie géant sur une plaque et mettez au congélateur pendant au moins 4 heures ou toute une nuit.

Préchauffez votre four à 200 °C (c'est cette forte chaleur du four qui va bien saisir la croûte extérieure avant même de cuire l'intérieur). Mettez les cookies congelés au four pour 15 à 20 minutes. Laissez-les ensuite tiédir sur la plaque pendant une dizaine de minutes avant de les transposer délicatement sur une grille à pâtisserie. Les cookies géants seront à leur paroxysme une demi-heure après leur cuisson : l'intérieur aura eu le temps de se raffermir légèrement, le chocolat sera encore à moitié fondu et la croûte sera craquante à souhait.
Nutrition
Calories:
720
kcal
Carbohydrates:
104
g
Protein:
8
g
Fat:
32
g
Saturated Fat:
19
g
Polyunsaturated Fat:
1
g
Monounsaturated Fat:
7
g
Trans Fat:
1
g
Cholesterol:
91
mg
Sodium:
246
mg
Potassium:
241
mg
Fiber:
4
g
Sugar:
60
g
Vitamin A:
610
IU
Calcium:
35
mg
Iron:
5
mg