Hello to all! I don't know if you know the QOOQ tablet? I was asked to discover it around the holidays and I immediately accepted. Like you, I knew about this famous tablet that offers recipes, but without really knowing more about it. It has been around for 10 years now, just like my cooking blog! If you are looking for a gift for a cooking enthusiast, I will show you why QOOQ is probably made for him/her! And on top of that you can benefit from a coupon code! To get a 30 euros discount with all the store offered, just go HERE and then add the promo code QOOQBERNARD
I also give you the direct link to the QOOQ store: https: //store.qooq.com/fr/
I think what you like here is that I explain all the recipes step by step. So imagine with QOOQ, it's like having a cookbook that contains more than 5000 recipes and all perfectly explained.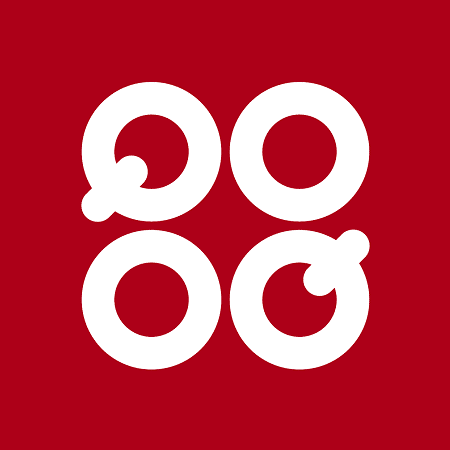 Well, I admit, I was bluffed, because the designers have literally thought of everything and have anticipated all the needs we could have with such a connected object. It is an android tablet, with a full HD screen. As a result, the photos are clear and the videos are very pleasant to follow. Because it's a bit like a cookbook, but magical, because it's fully interactive for cooking enthusiasts, like all of us here! You can slip it anywhere, even when traveling, and you'll have everything you need at your fingertips. Well, don't forget me! Anyway, you can of course also go on the internet and surf on my blog for example! So phew, I still keep in touch with you. And then who knows? Maybe one day I'll offer recipes on the tablet too…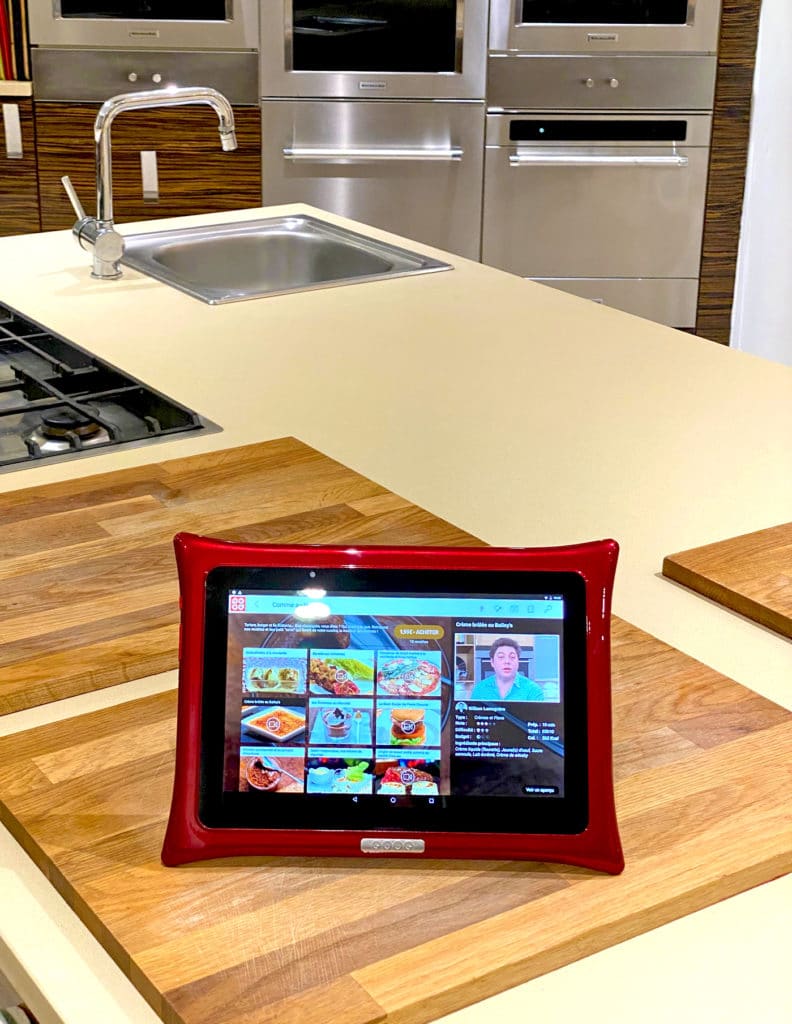 The tablet is equipped with an 8M pixel camera. So you can also store your own delights in photos inside! But also a 5M pixels camera to be able to use it as your usual tablet (or smartphone). It is shock and splash resistant. So much the better, because when I see the state of my camera with which I take the pictures of the site, I tell myself that having a tablet that resists all this is very practical in the kitchen! It is really designed to follow you everywhere, but obviously especially in the kitchen, place of all these small dangers for a usual tablet, but not for the QOOQ. It is also slightly raised at the four corners, so that the base is not in contact with the work surface. So no problem if it is not perfectly clean or dry!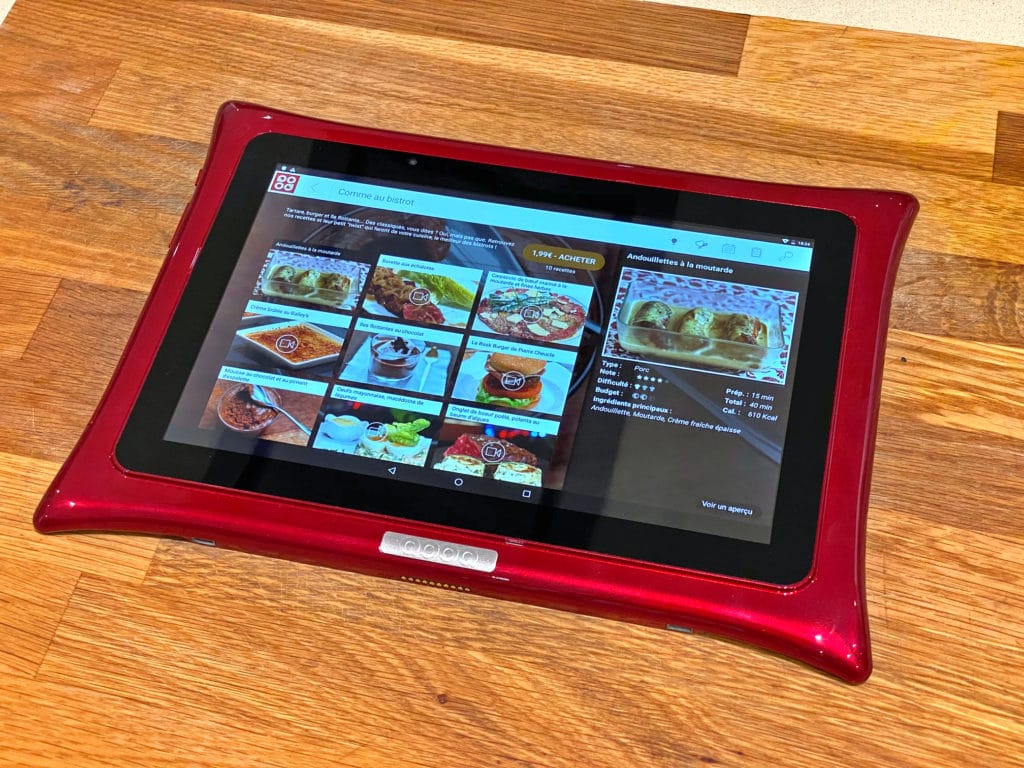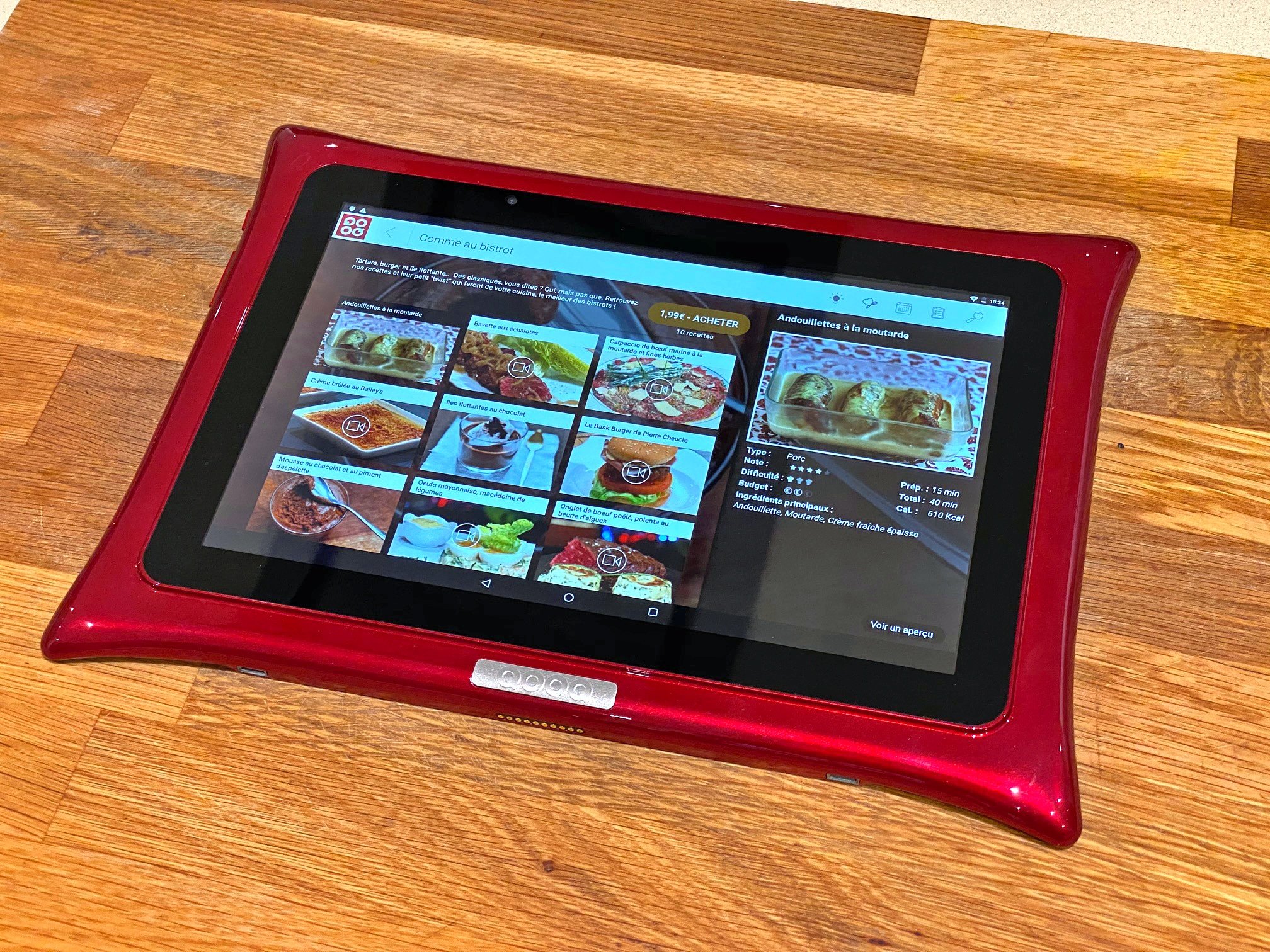 There's even a built-in stand to position it for easy cooking. Hop I fall on Mercotte here! That I have been meeting regularly for 8 years (ah the small world of food bloggers! ).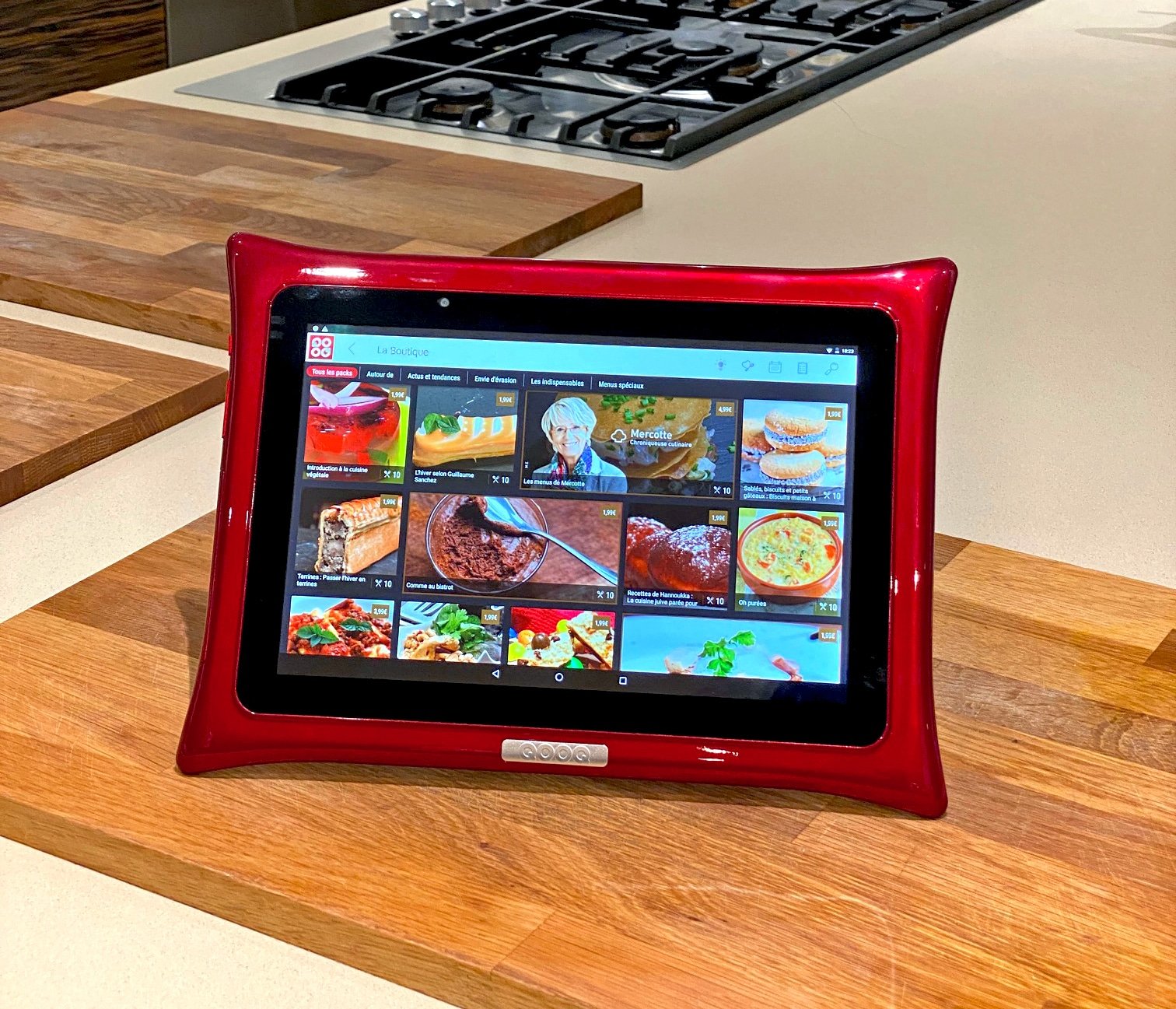 I attach great importance to the accuracy of a recipe. Here they have ingredients that can be adjusted to the number of people: no need for a calculator! Once you have selected your recipes, you can make a shopping list and send it to yourself by email. No more need for a paper list! There is even a food and wine pairing suggested for certain recipes. And as always, with the step-by-step videos or the perfectly explained recipes, there is no risk of missing anything!
For those of you who are wondering what you will find inside, it's hard to tell you everything. I won't be able to be exhaustive, because there are really a lot of features related to recipes. For example:
Planning: a handy little tool, as you can plan your meals in advance and put them in the schedule. It is quite intuitive (a bit like all the features!) and allows you for example not to have to wonder what to eat for busy weeks, or on the contrary, as I used to do before, a week's vacation with friends with everything we like!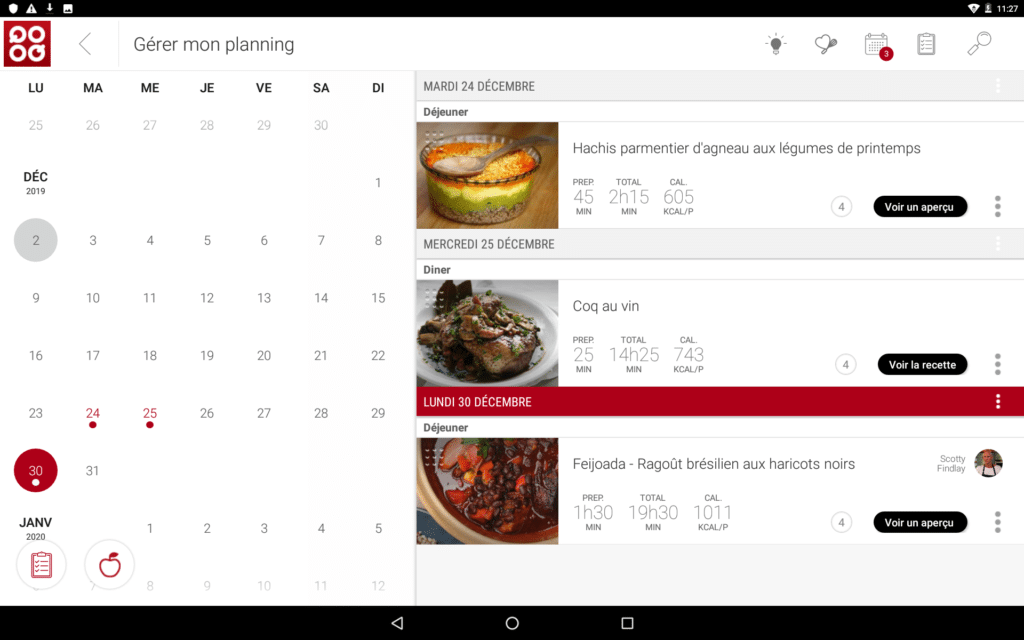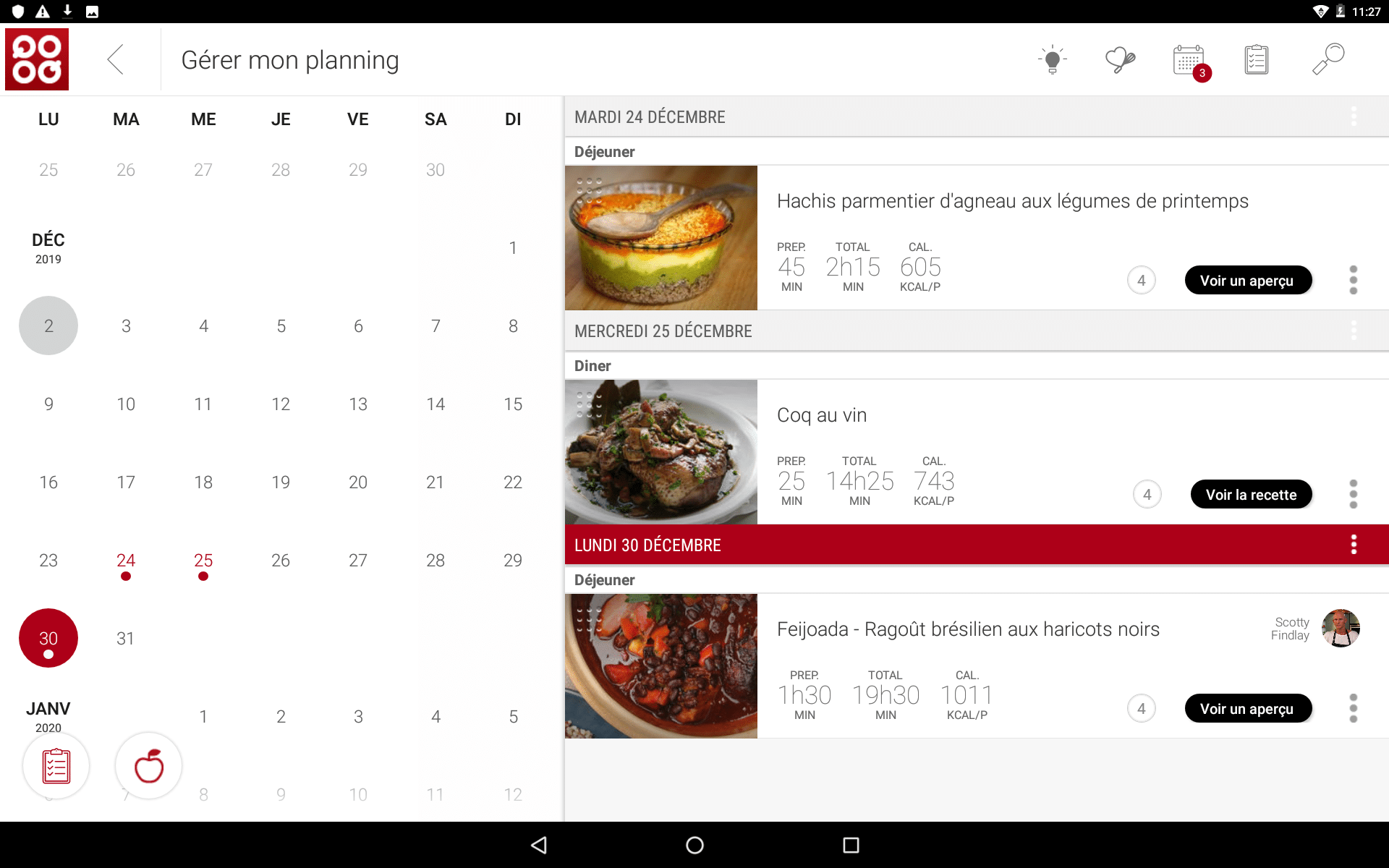 Culinary profile: very practical because you put your favorite ingredients, those you do not like. You can also indicate your culinary allergies and your cooking skills. This will refine your profile and direct you immediately to the recipes you are most likely to like.
Quickly, an idea! This is a very practical tab on the QOOQ tablet, because you can put all the ingredients you have in your cupboard, choose seasonal vegetables, rich or light dishes, while taking into account the culinary profile if you have entered it in the tablet! With this option, you can't run out of inspiration. I myself can find myself in this situation when I have to make a recipe for everyday cooking! Sure for the blog, I have plenty of ideas ahead of time, but when it comes to feeding myself with a more classic recipe that I don't post, well this little tab will come in handy!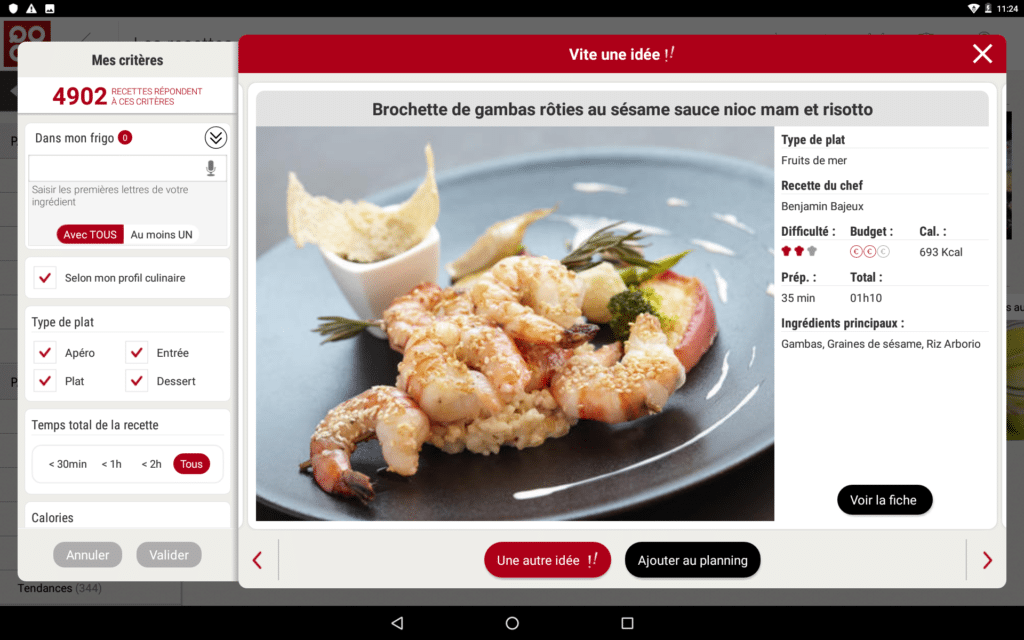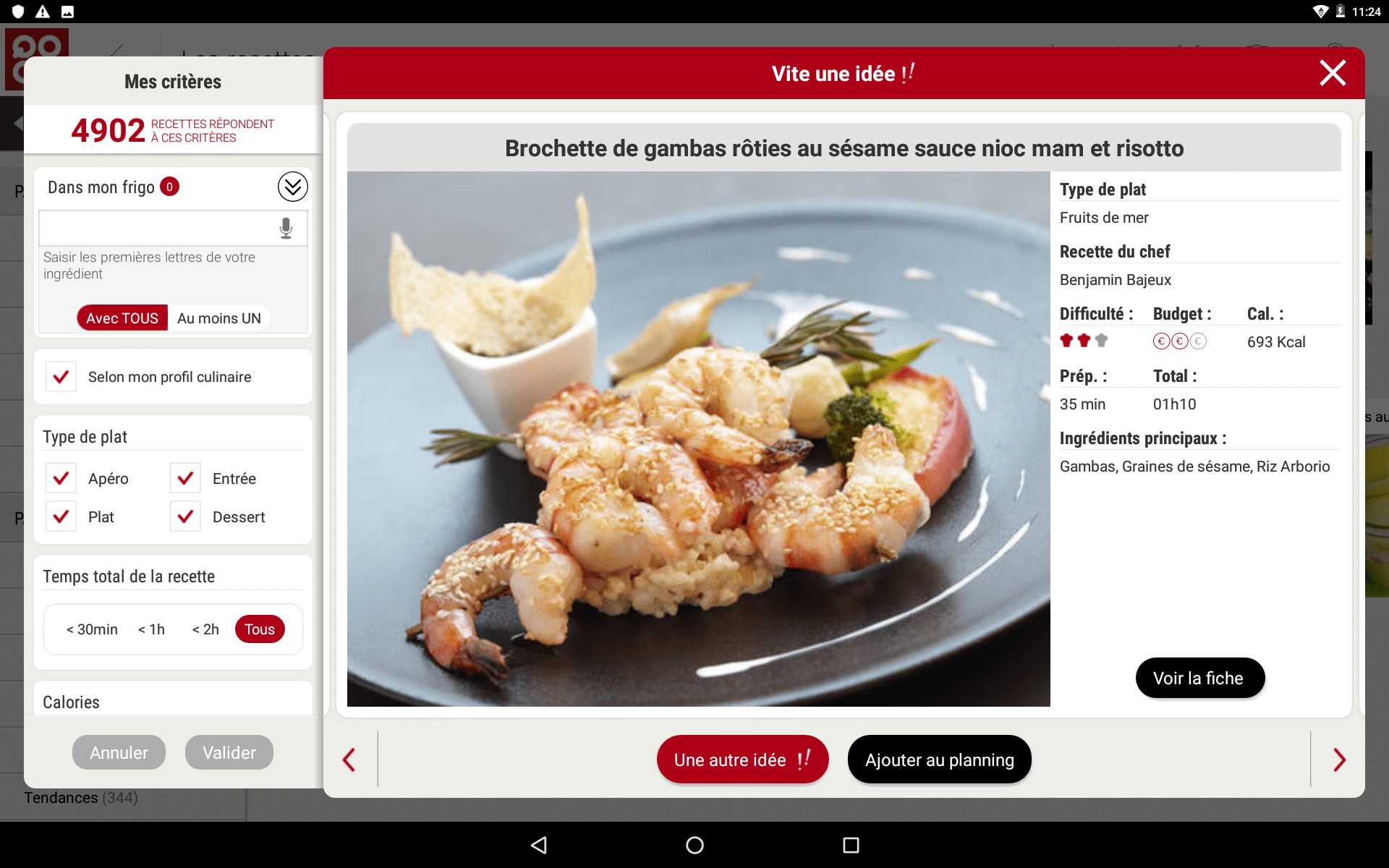 You'll also get plenty of techniques and tips from famous chefs (I came across a mouth-watering bailey crème brûlée from William Lamagnère that I really admire!). Whether you are a novice or an expert, you are bound to find ideas that will be very useful.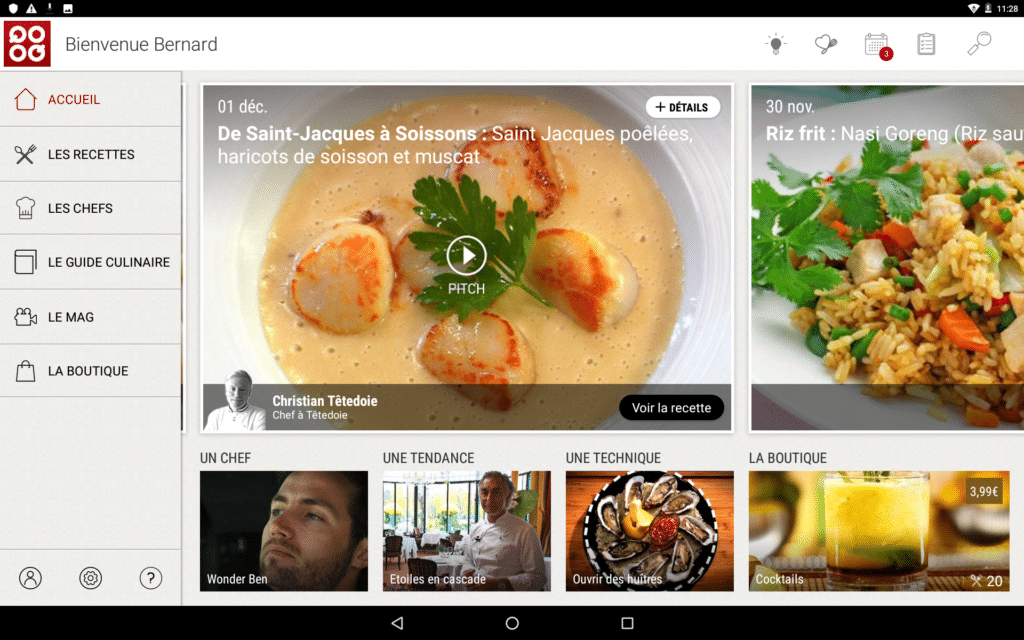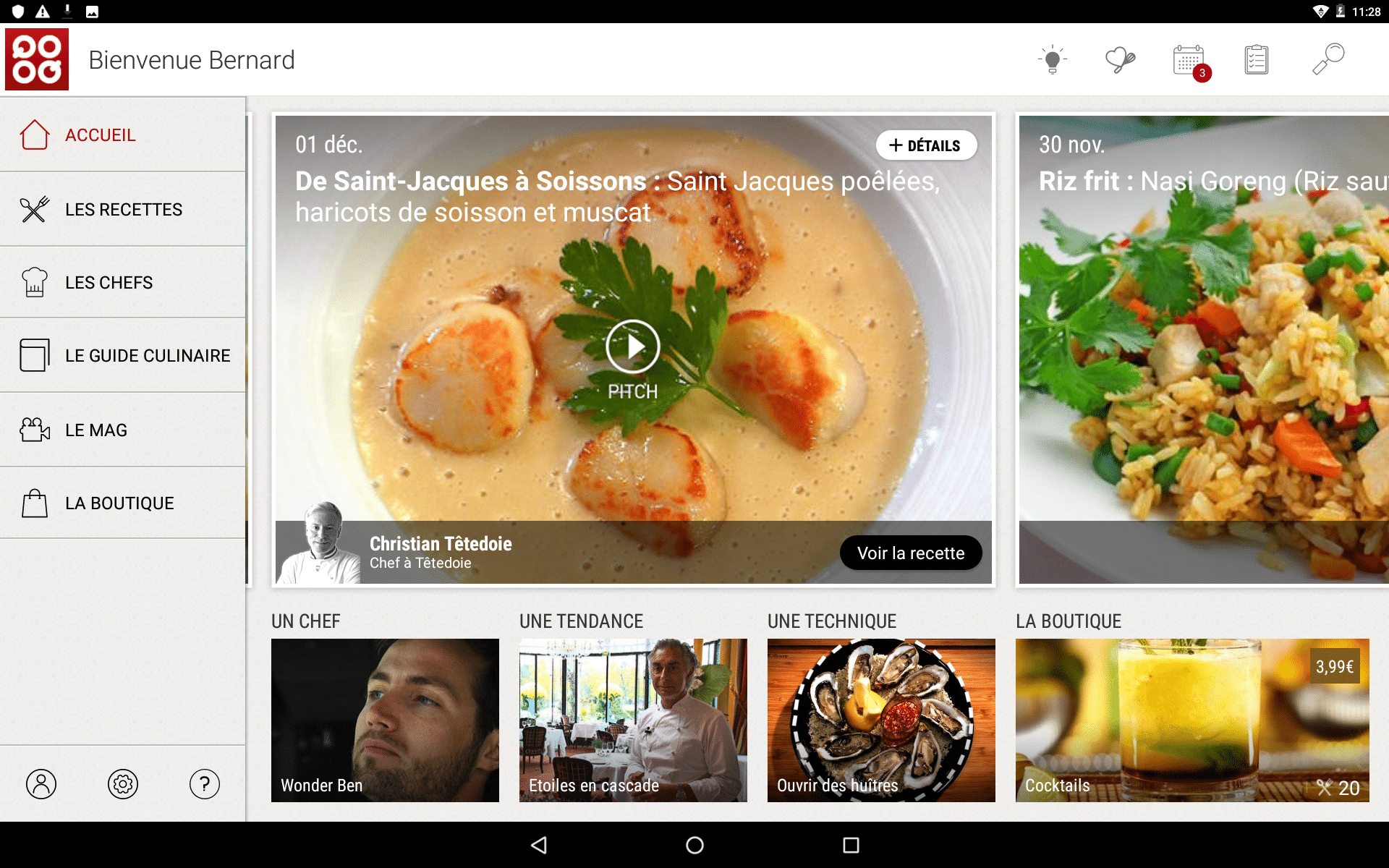 The recipes are classified under many different indexes and you will always find a way to find the perfect recipe for the occasion: gluten-free, vegetarian, vegan, for kids, for lovers, for holiday meals, for brunches, etc.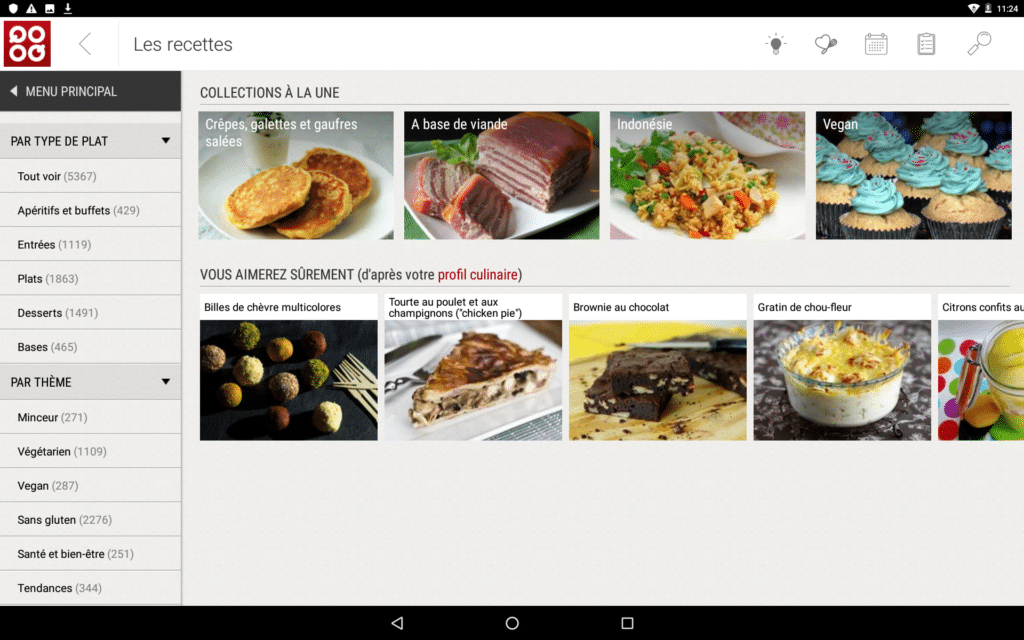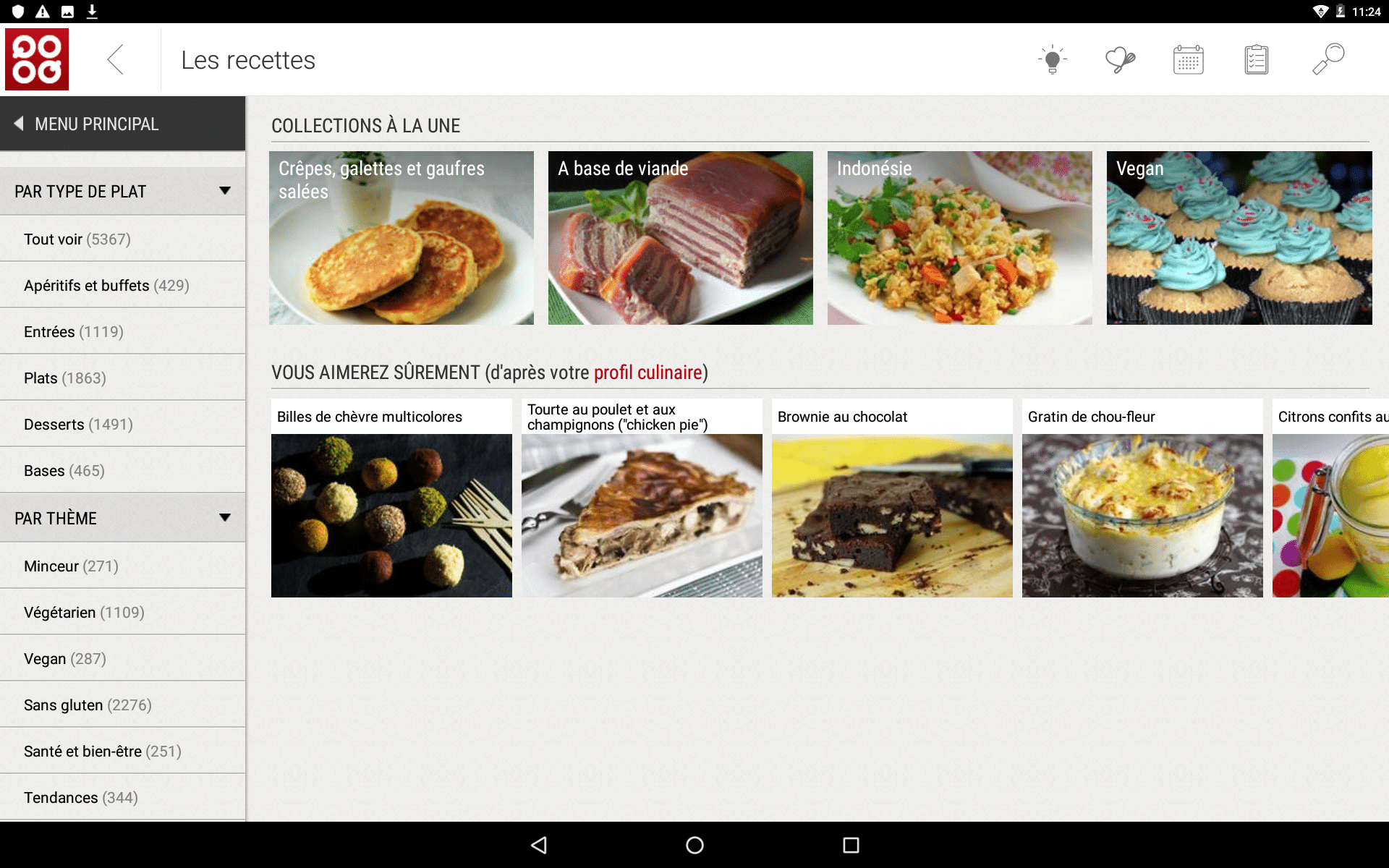 Feel free to check out the QOOQ website: www.qooq.com or/and the qooqstore.com!
Well, I have to worry, because this is a formidable competition I have here! 🙂 I've been surfing the QOOQ tablet quite a bit and I have to say that I'm impressed by the amount of information it has. So don't be afraid, because if you take the time to discover it, you will see that it is really easy to use!