As I travel much less than before, I look at my notebooks in which I wrote down the dishes I had tasted abroad. This dish of crispy wasabi prawns really stuck with me and I had tasted it in Shanghai some time ago. It took me a long time to find the right proportions and since I finally discovered the way to make fried food extra crispy, I am having fun making the delights I had in mind. It's done with this dish which is very special. I recommend if you try it, maybe only start with half the proportions. The "sauce" that coats the shrimp is very very special. But a delight when you dare to venture there!
Ingredients for 4 to 6 people:
500g peeled and deveined raw prawns
For the wasabi coating sauce:
10g of wasabi powder with 15g of water or 25g of wasabi already ready in paste
115g of Japanese "kewpie" mayonnaise or equivalent brand
35g sweetened condensed milk
To coat the shrimp:
Then:
If you like crispy dishes, try the extra crispy sesame chicken HERE !
Here are the rather special ingredients of this wasabi sauce. No, I'm not mistaken about them, there is sweetened condensed milk! Japanese mayonnaise can be found in Japanese or Asian grocery stores or on the internet. If you know me, I'm a fan of homemade mayonnaise that I've been making since my childhood, but if I put Japanese mayonnaise here, there's a reason!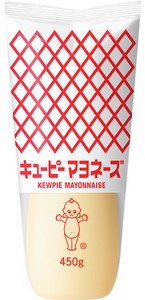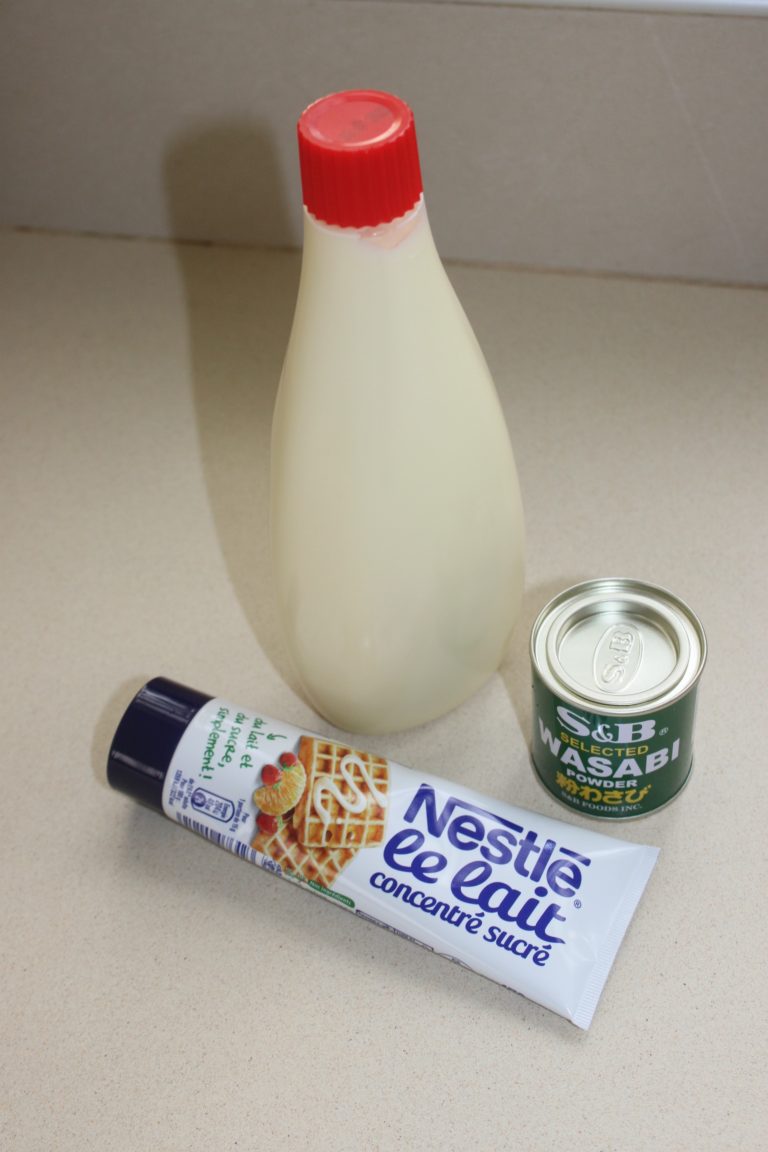 Mix the wasabi powder with the water or take the wasabi paste directly.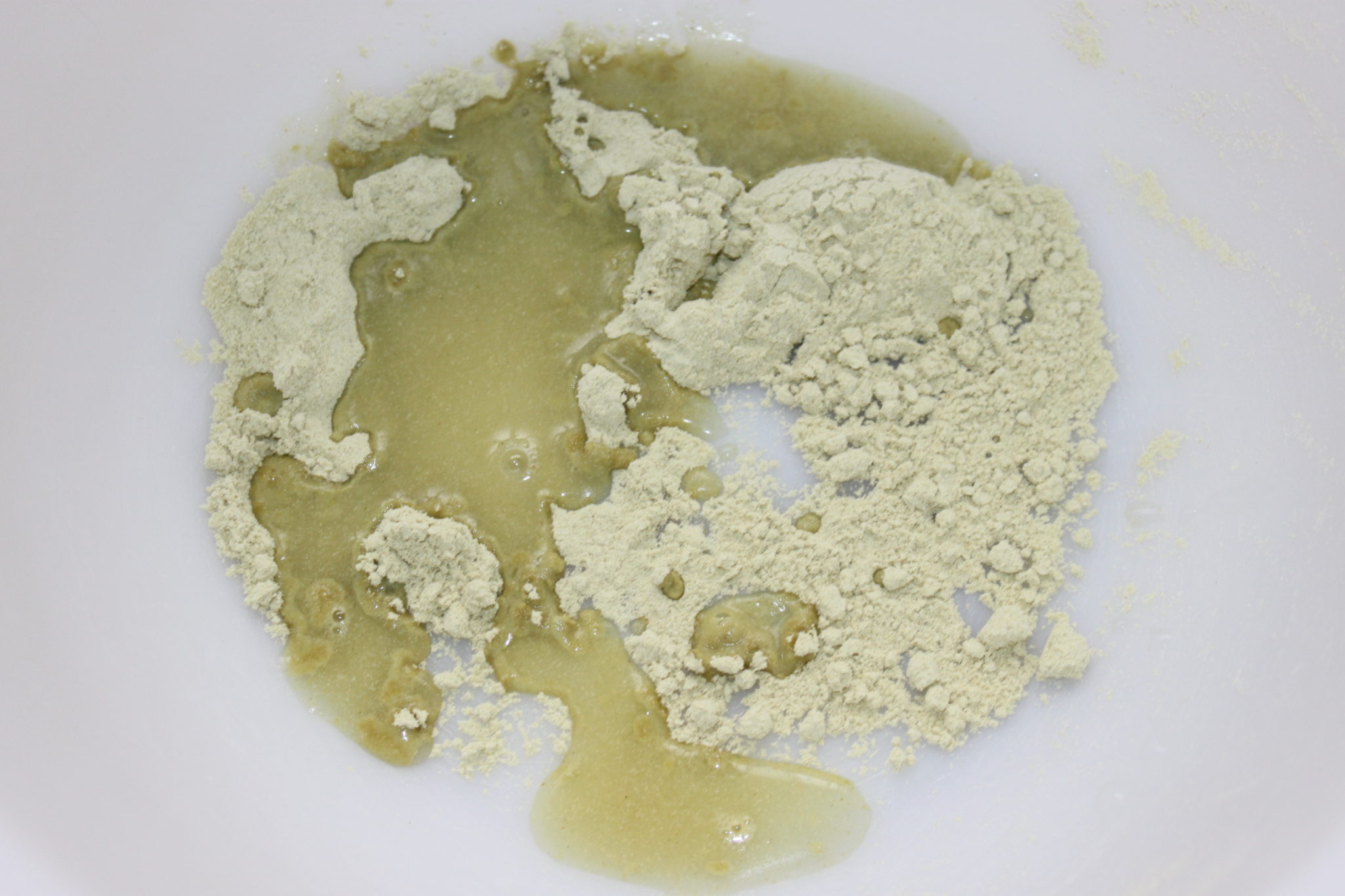 Mix well.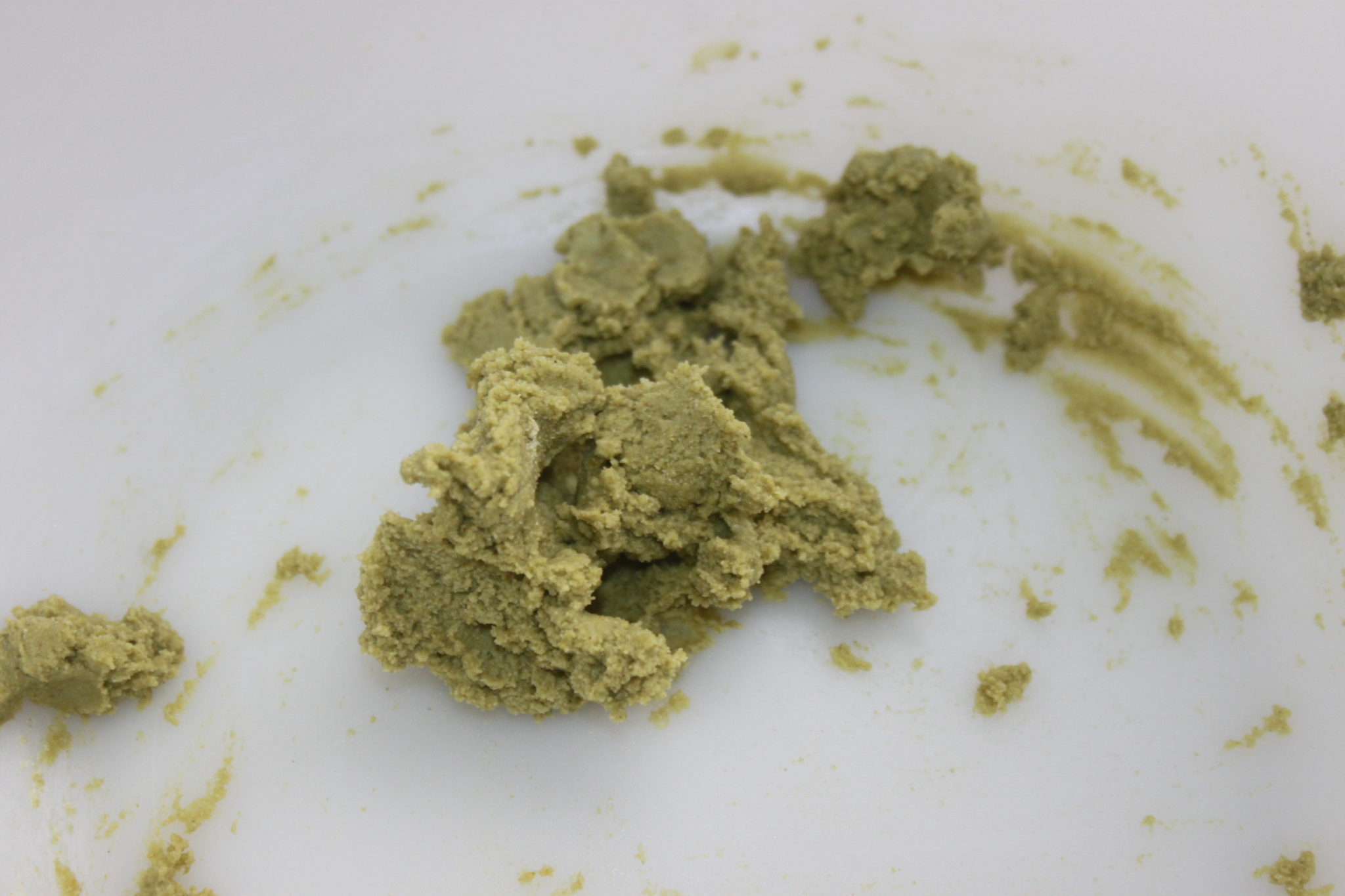 Add mayonnaise and sweetened condensed milk.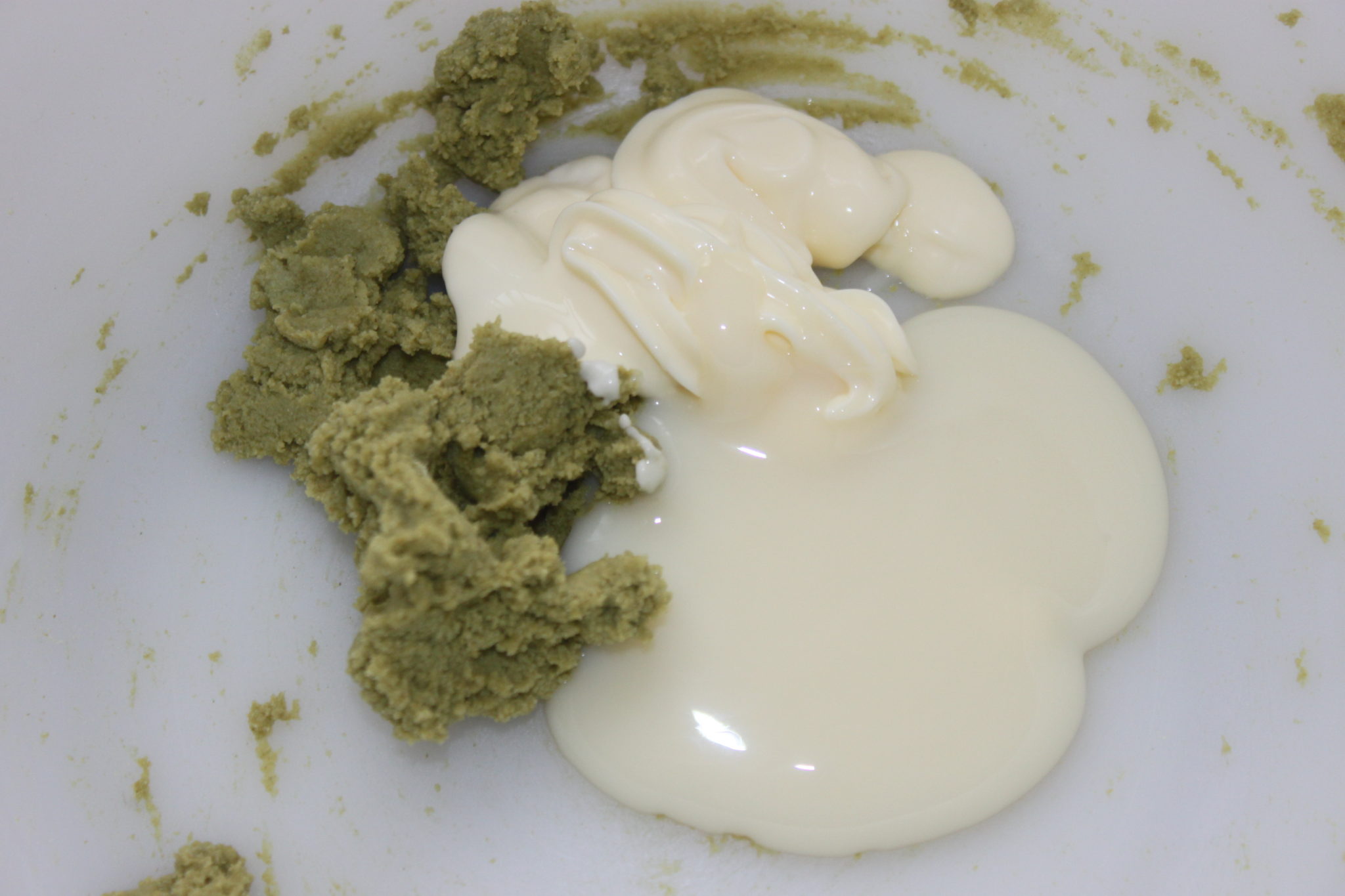 A little mixing and it's already over. Set aside.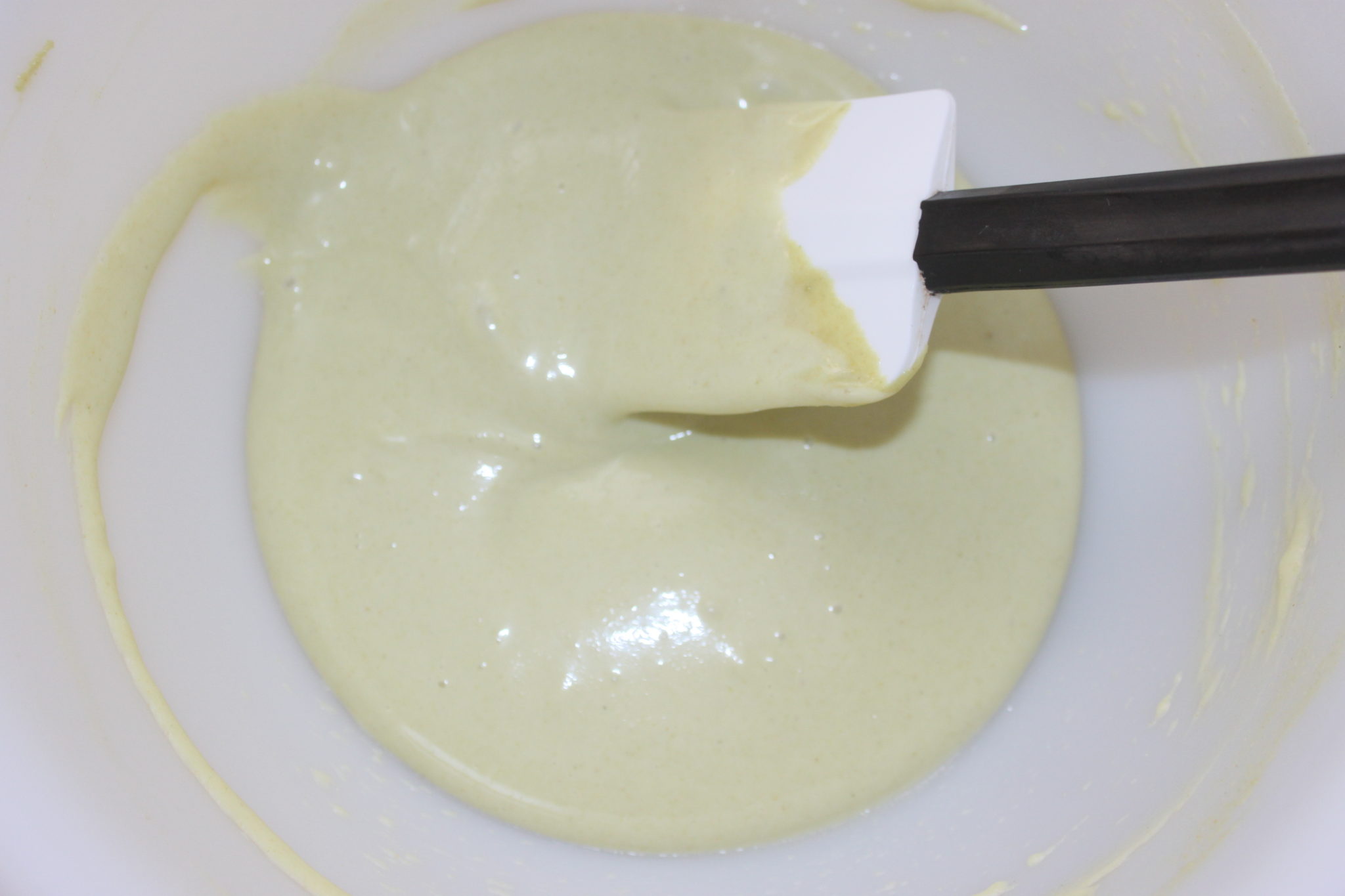 Mix flour and water in a container.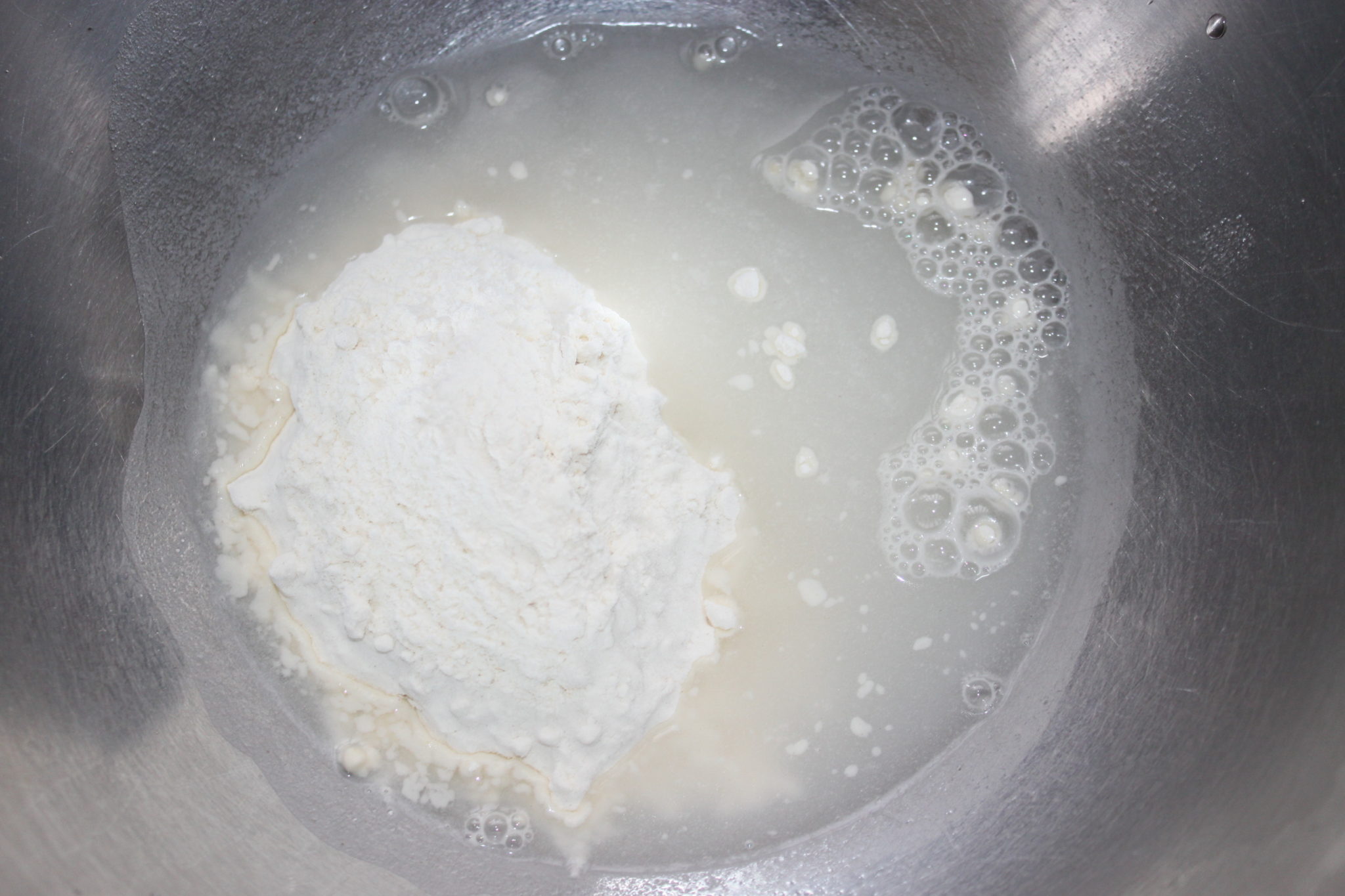 Add the deveined and shelled raw prawns.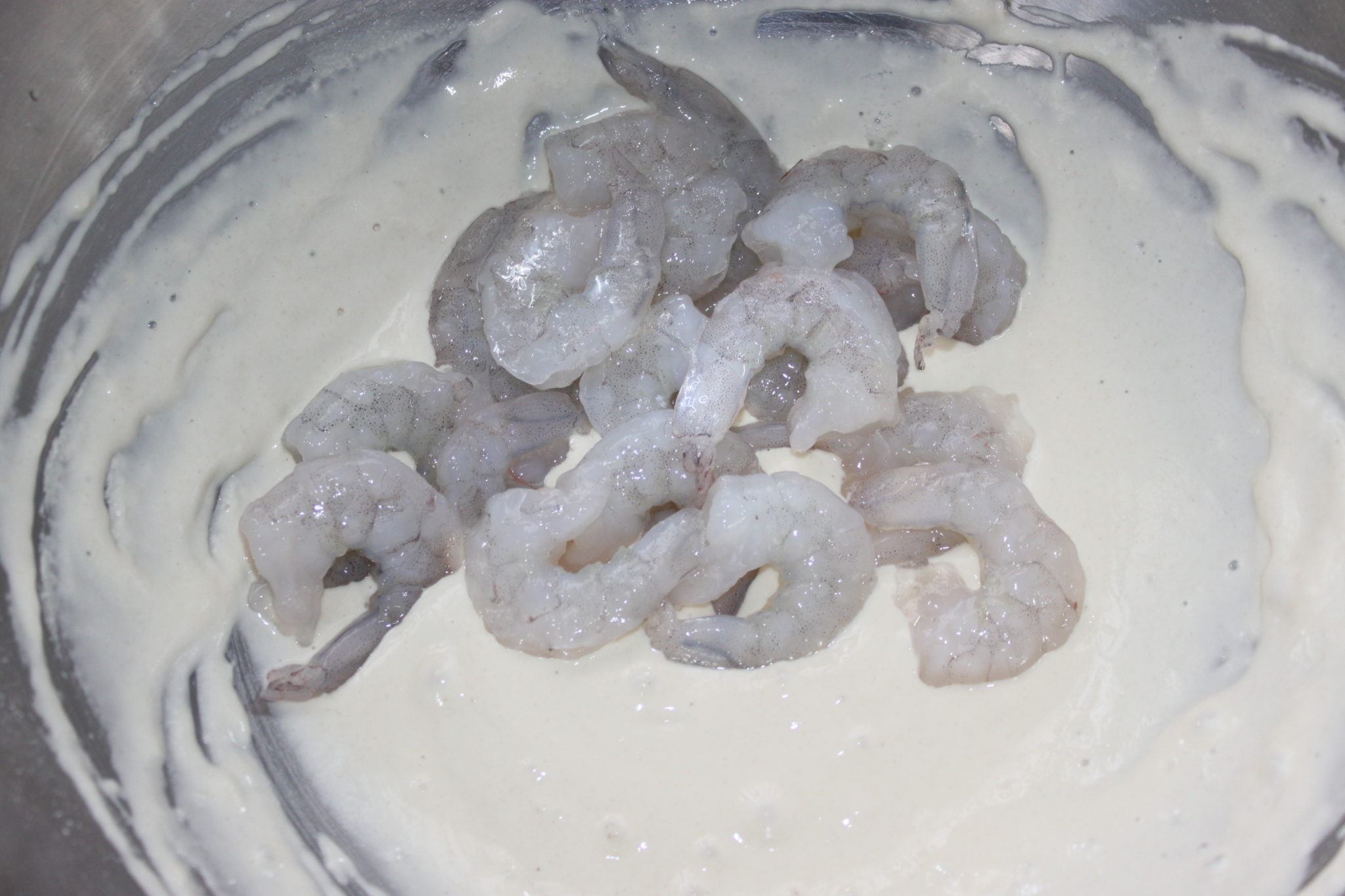 Mix everything well. In another container, put the tapioca starch. Put the prawns one by one in the starch, removing all the same the excess dough.
Even if it says flour on it, it is indeed starch (in fact, in English it says starch, starch).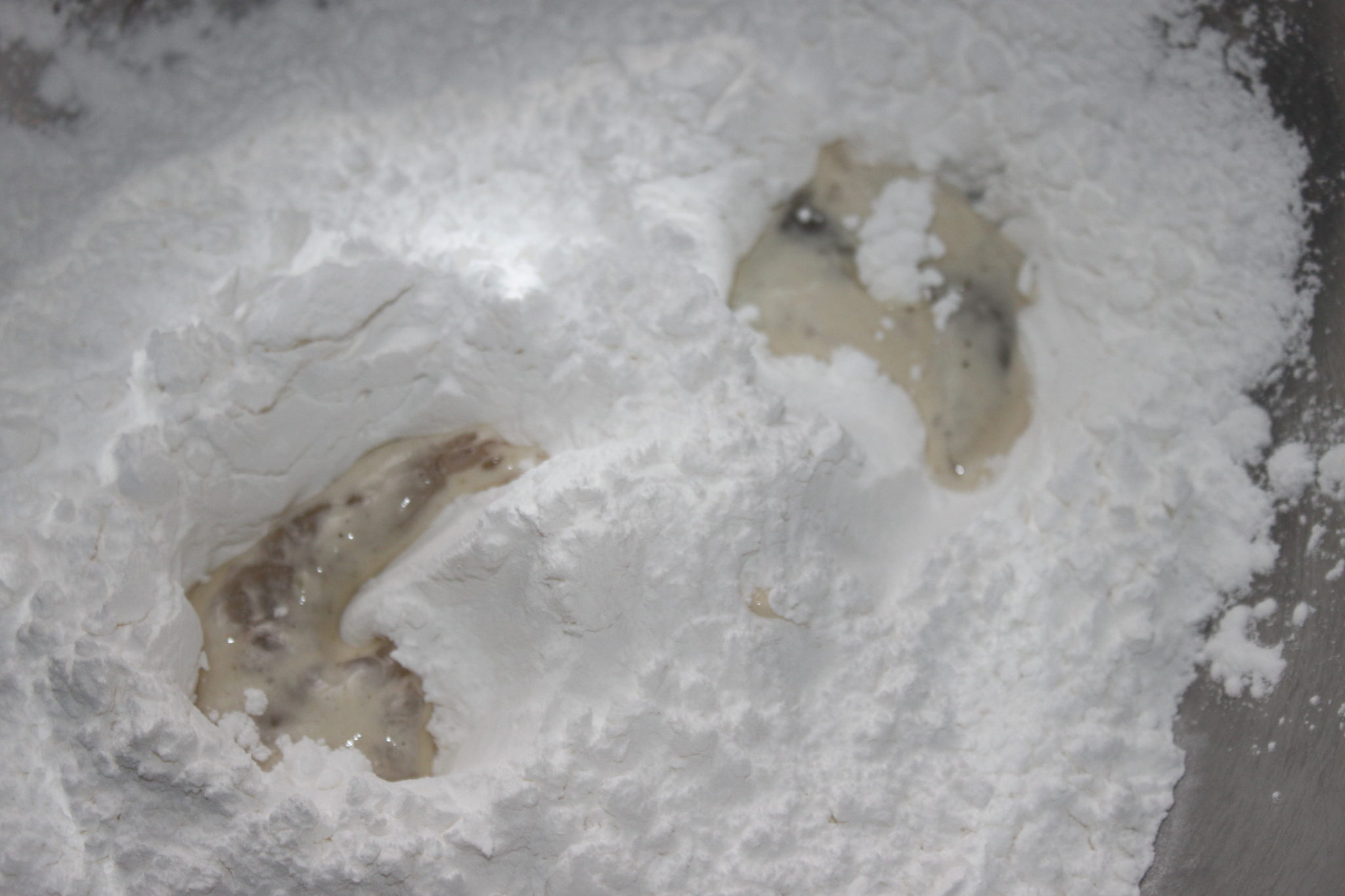 Then coat each shrimp with starch. Leave the prawns in the cornstarch by pushing them to the side of the bowl and then leave them in there for 15 minutes. The moisture from the shrimp will create a thicker layer of batter as the starch absorbs this moisture.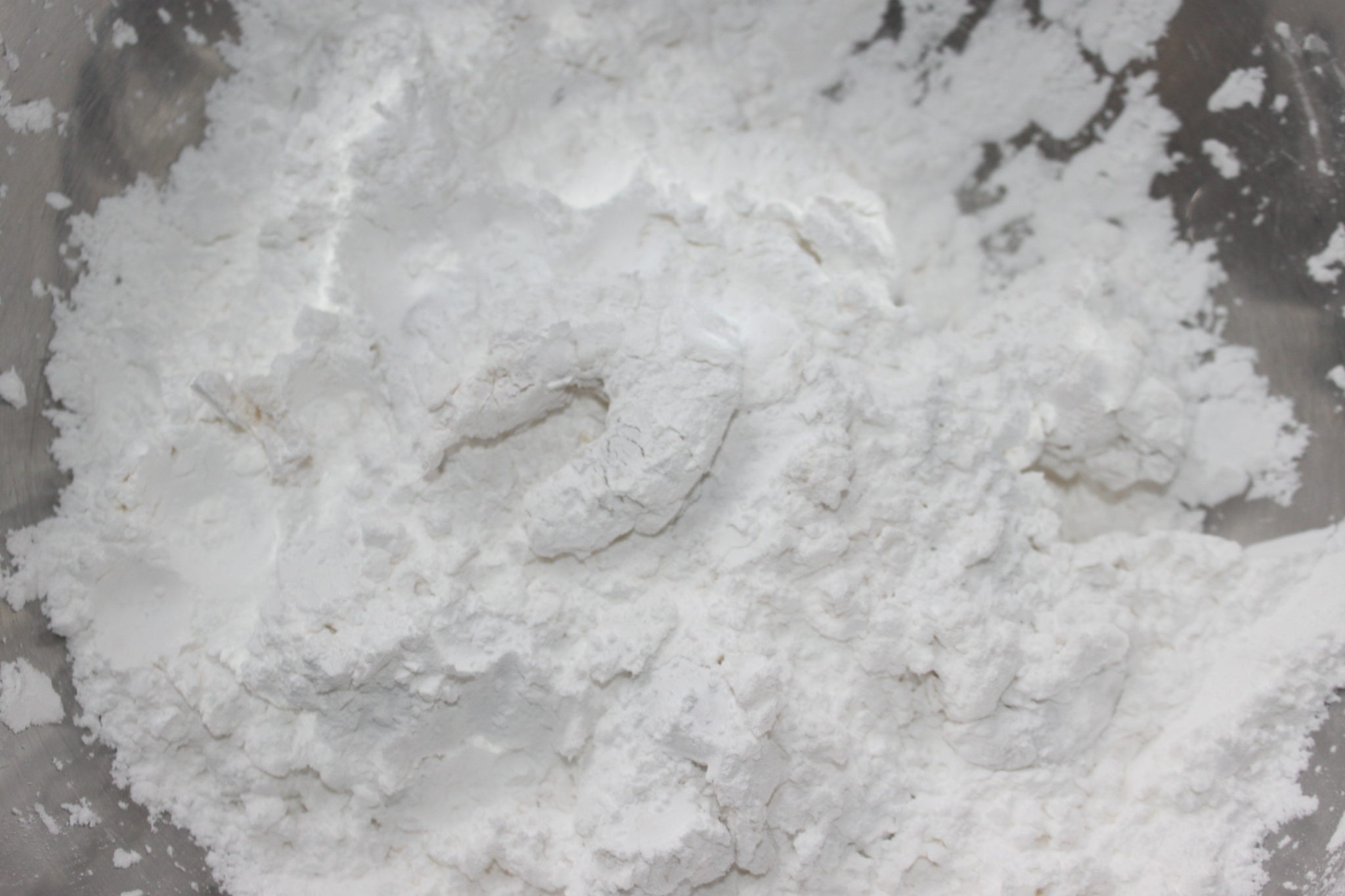 When you're ready to eat, heat up a wok or a pan of oil (not a fryer!). The oil must be very hot, over 190°C. Put the prawns one by one. You will probably do several baths for all the shrimp.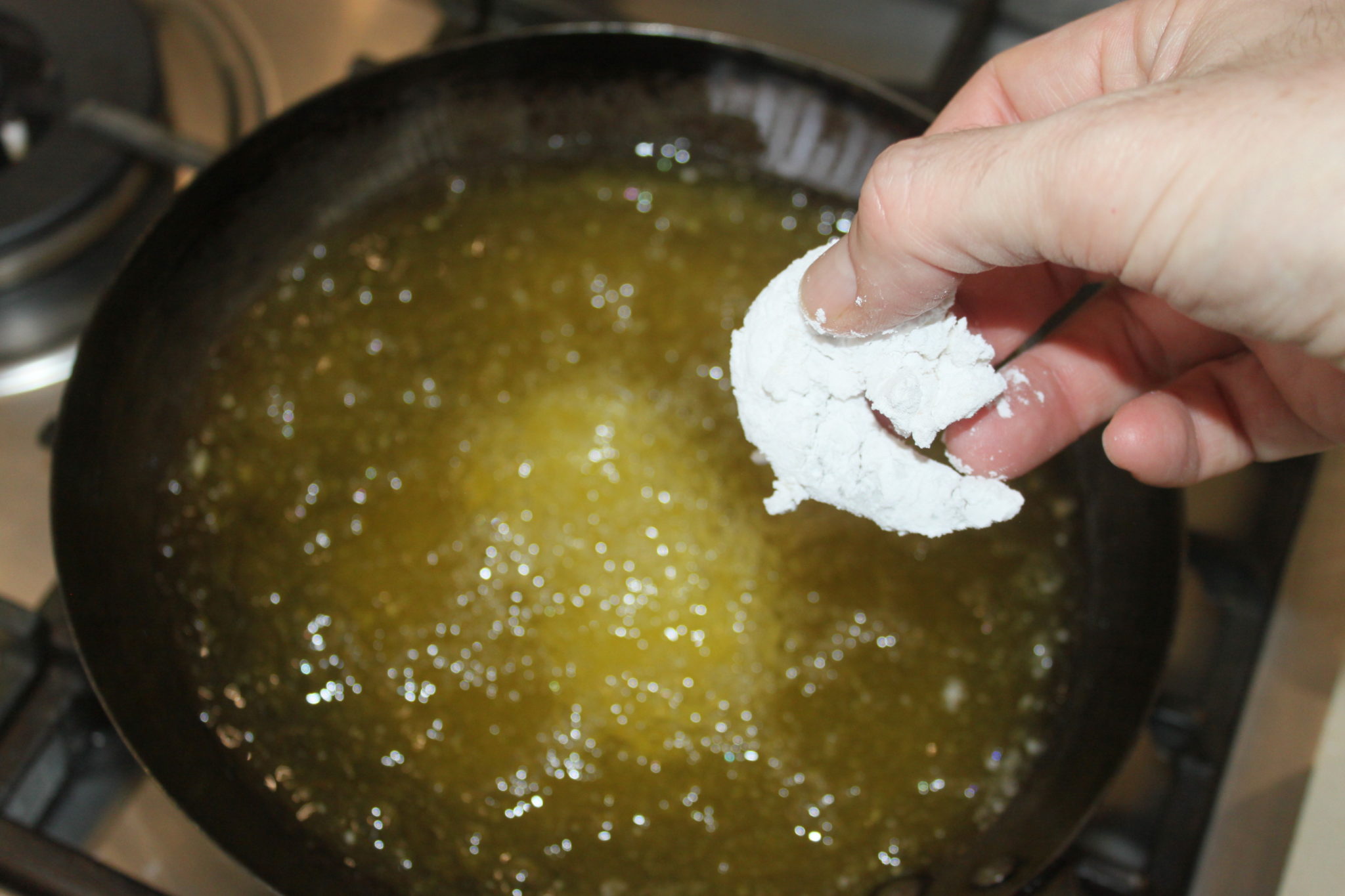 Let them cook for about a minute, no more otherwise the shrimp will overcook. But the superficial layer of dough will be very crispy!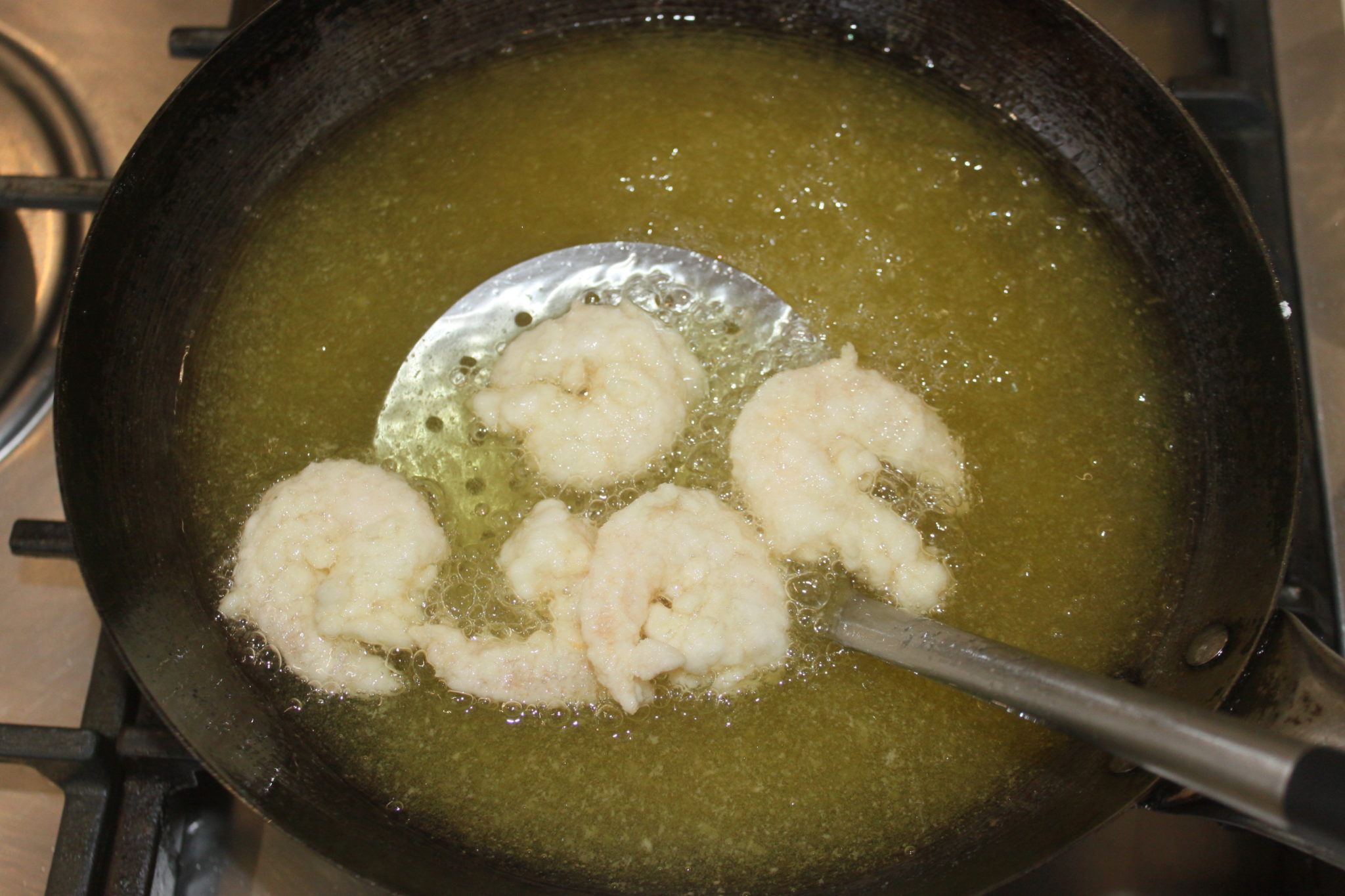 Let the shrimp rest on absorbent paper while cooking them all.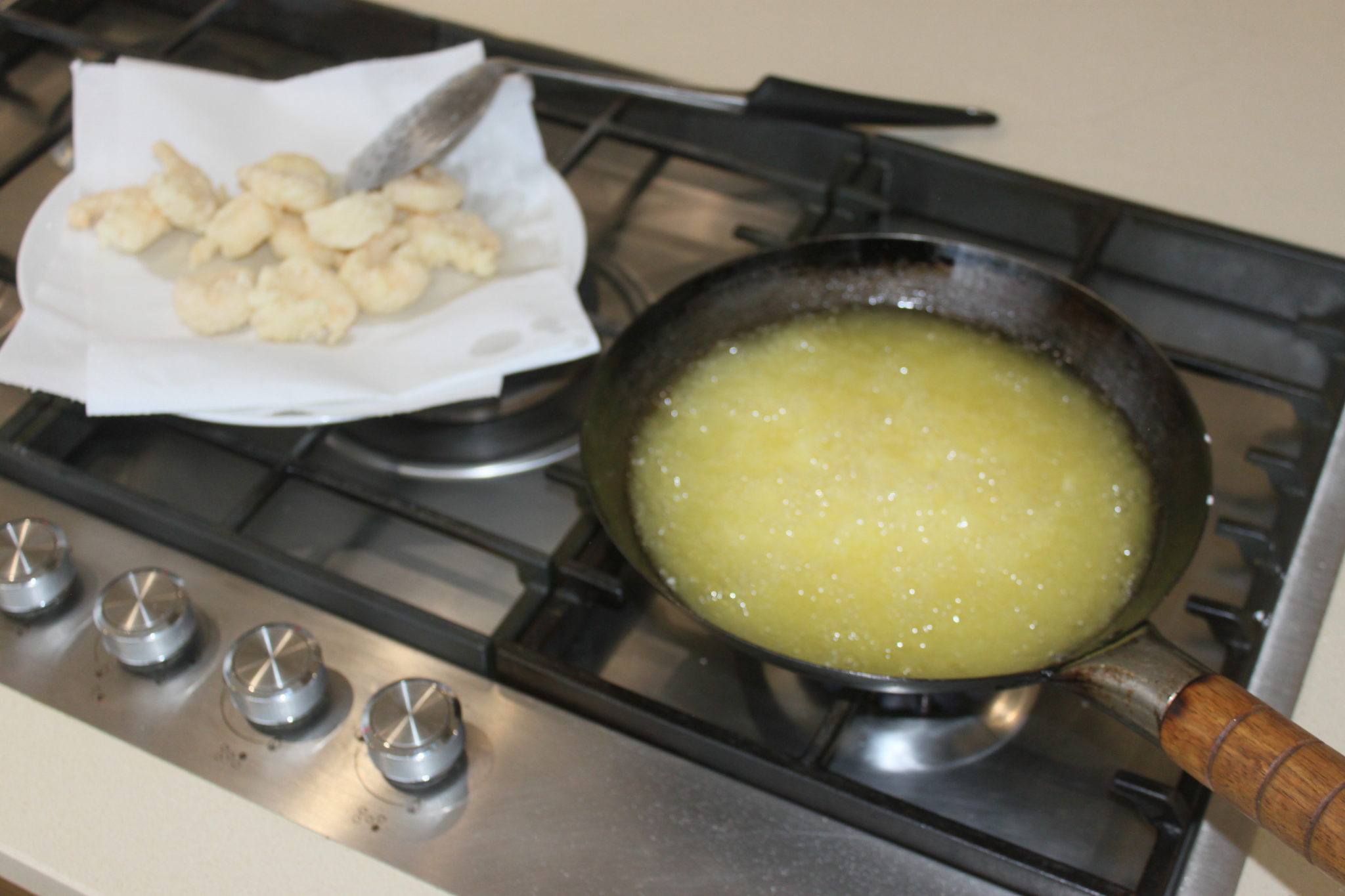 I can confirm that I only cook the shrimp once. If they were cooked again a second time, they would become overcooked!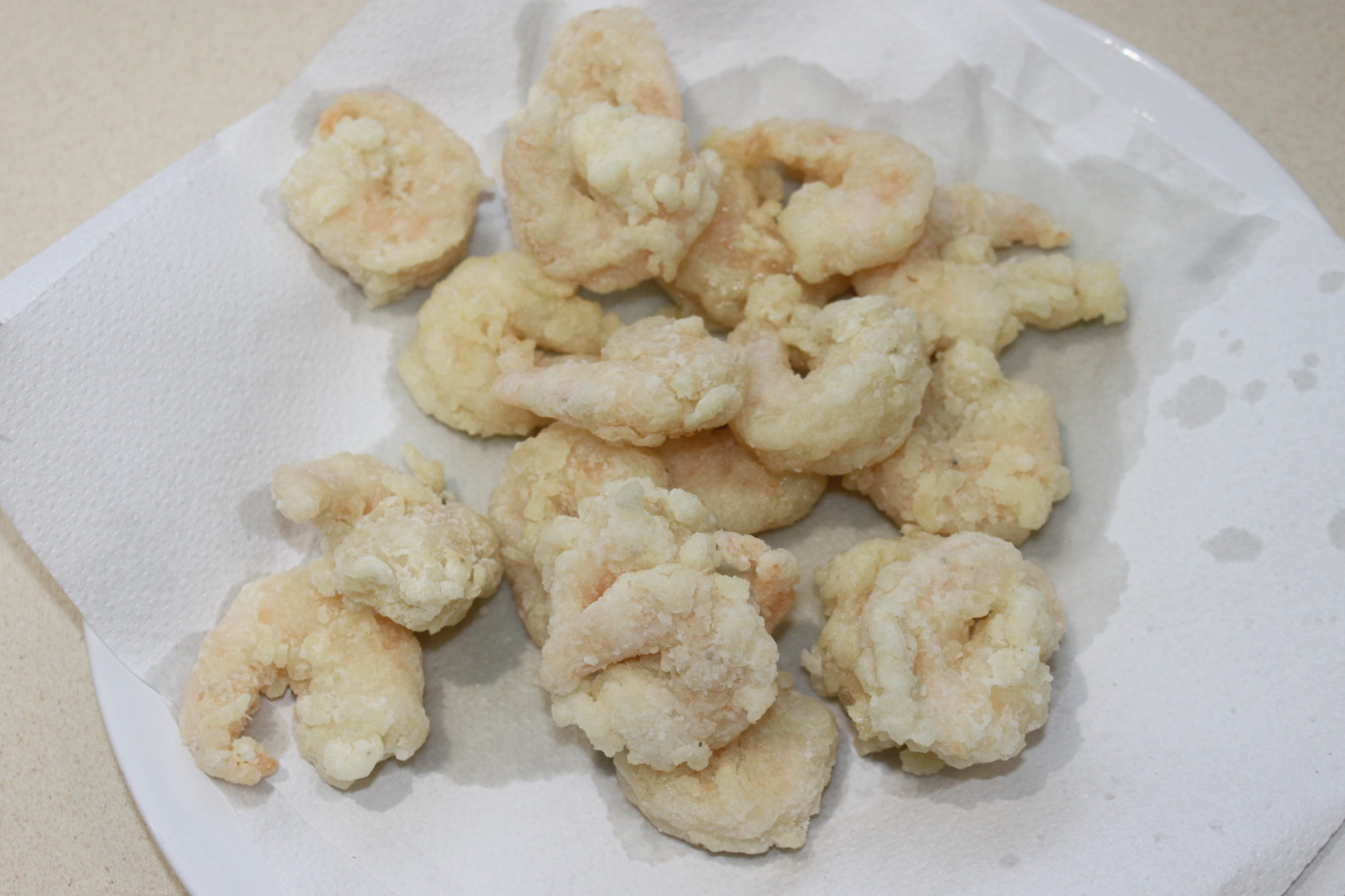 Pour some of the sauce. You will surely not put everything, just enough to coat them well, but I did my calculations so that everything falls well as it should!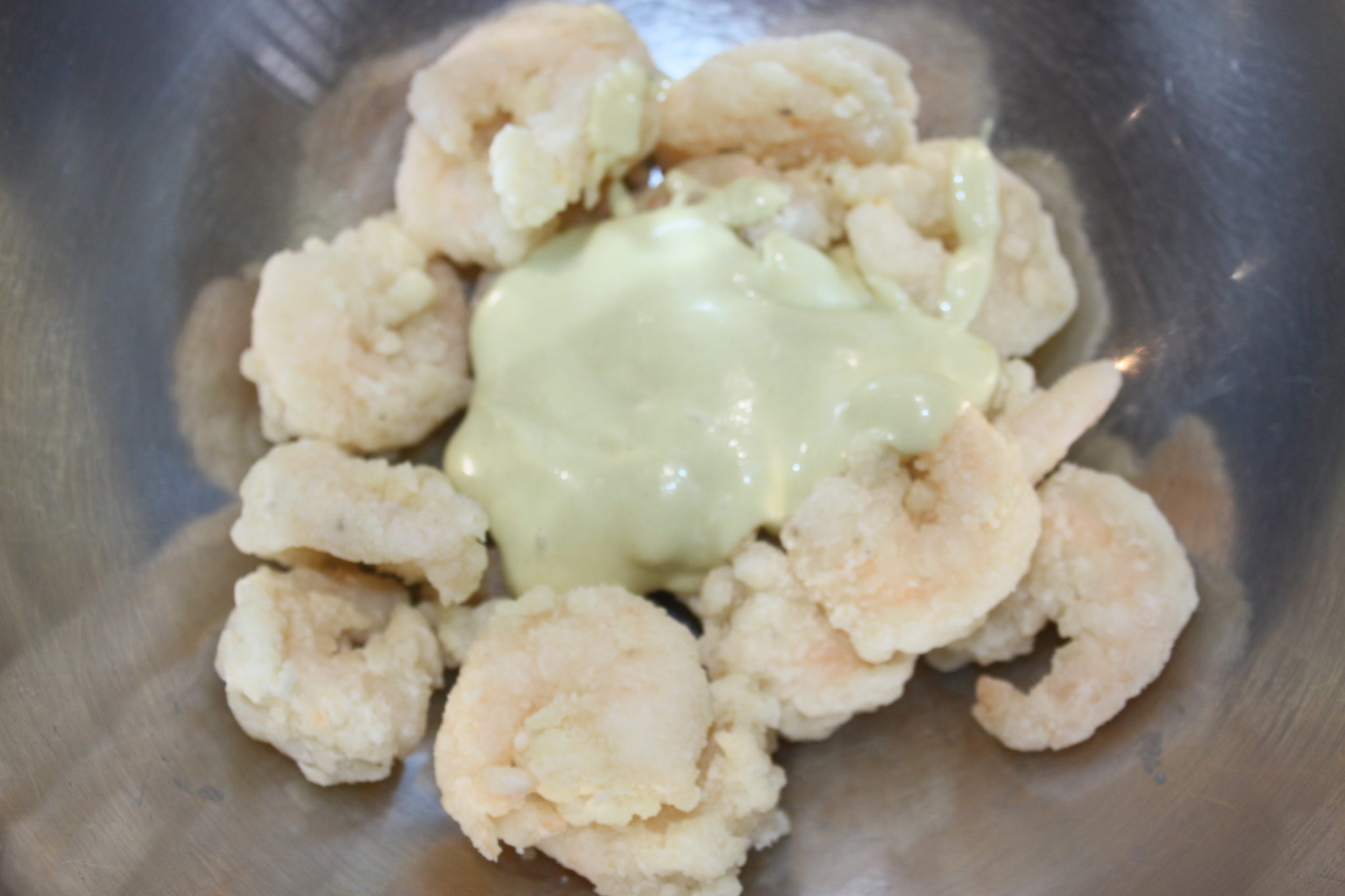 Mix well.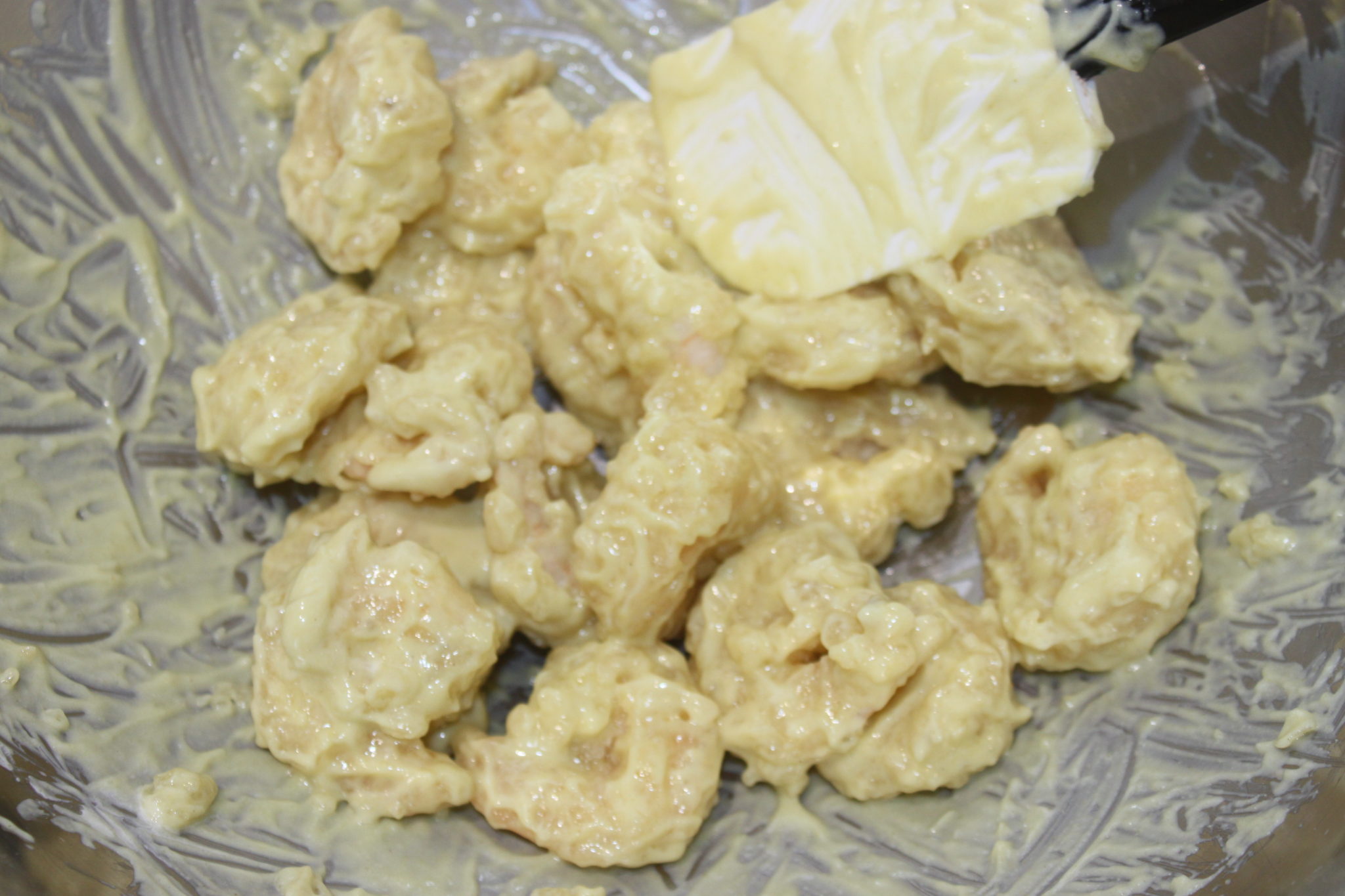 Then serve immediately. I put some wasabi sesame seeds here that I found in an Asian supermarket!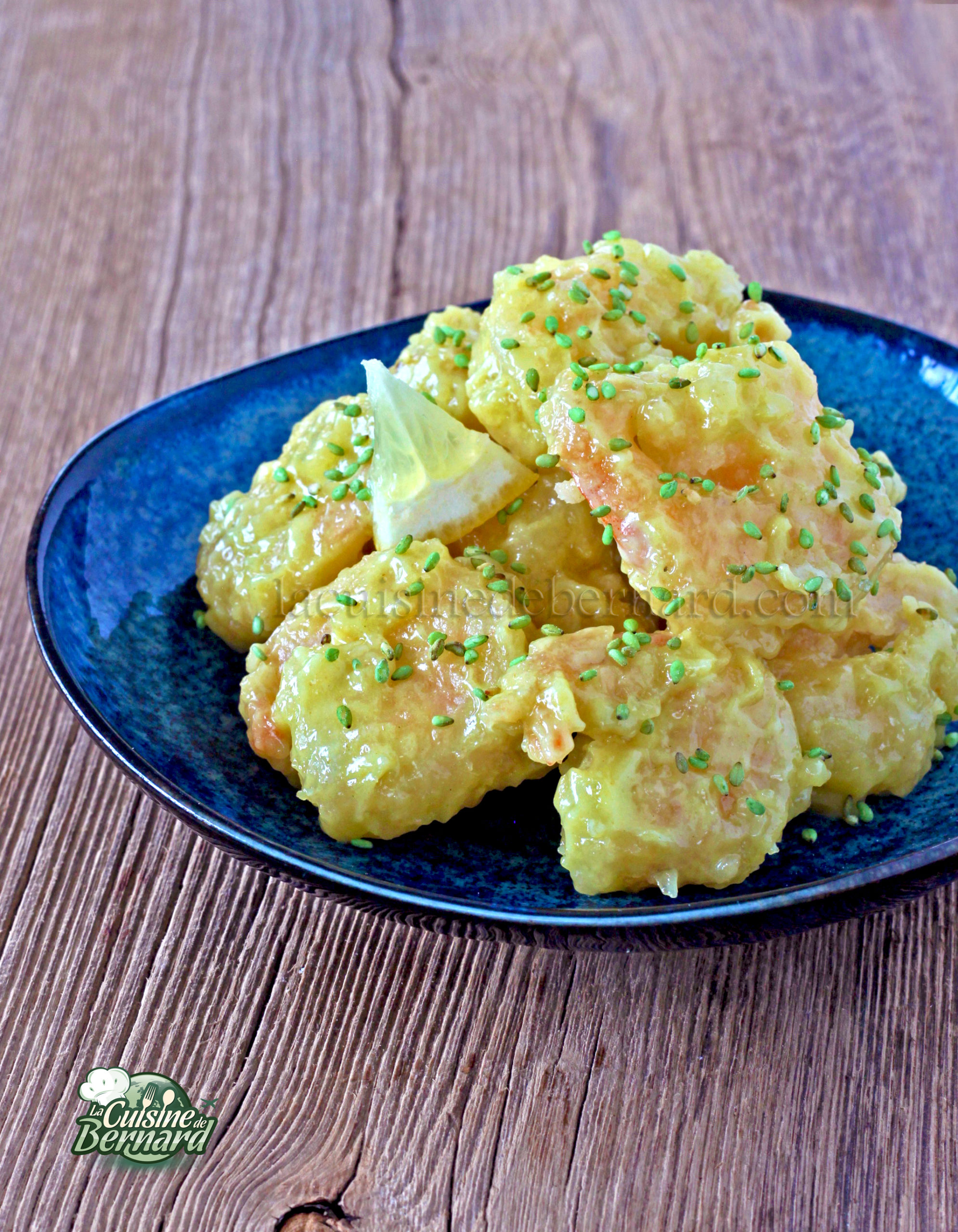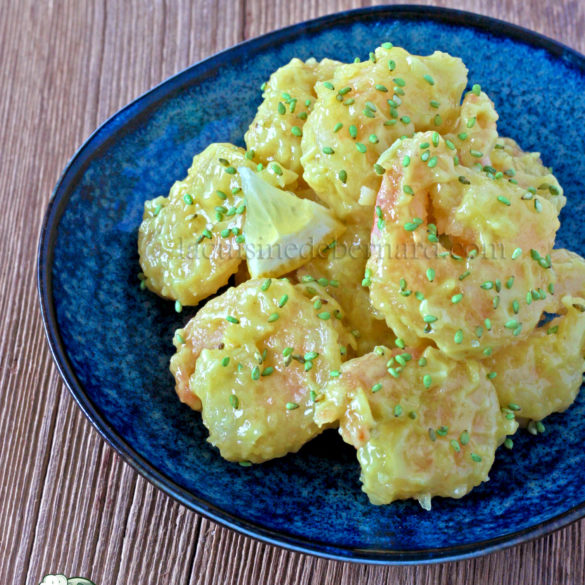 Crevettes Croustillantes au wasabi
Comme je voyage beaucoup moins qu'avant, je regarde mes carnets dans lesquels j'ai écrit les plats que j'avais dégustés à l'étranger. Ce plat de crevettes croustillantes au wasabi m'avait bien marqué et je l'avais goûté à Shanghai il y a quelque temps. J'ai mis du temps à trouver les bonnes proportions et depuis que j'ai découvert enfin le moyen de rendre les fritures extra-croustillantes, je m'amuse à refaire les délices que j'avais en tête. C'est chose faite avec ce plat qui est très particulier. Je vous recommande si vous l'essayez, de ne commencer peut-être que par la moitié des proportions. La « sauce » qui enrobe les crevettes est très très particulière. Mais un délice quand on ose s'y aventurer !
Ingredients
Instructions
Si vous aimes les plats croustillants, essayez le poulet extra croustillant au sésame ICI !

Voici les ingrédients un peu particulier de cette sauce au wasabi. Non, je ne me trompe pas sur eux, il y a bien du lait concentré sucré ! La mayonnaise japonaise se trouve en épicerie japonaise ou asiatique ou encore sur internet. Si vous me connaissez, je suis adepte de mayonnaise maison que je fais depuis mon enfance, mais si je mets ici de la mayonnaise japonaise, c'est bien qu'il y a une raison !

Mélangez le wasabi en poudre avec l'eau ou alors prenez directement le wasabi en pâte.

Ajoutez la mayonnaise et le lait concentré sucré.

Un petit mélange et c'est déjà terminé. Mettez de côté.

Mélangez la farine et l'eau dans un récipient.

Ajoutez les crevettes crues éveinées et décortiquées.

Mélangez bien le tout. Dans un autre récipient, mettez la fécule de tapioca. Mettez les crevettes une à une dans la fécule en enlevant tout de même l'excédent de pâte.

Même si c'est écrit farine dessus, il s'agit bien de fécule (d'ailleurs en anglais il est écrit starch, amidon).

Enrobez ensuite chaque crevette de fécule. Laissez-les crevettes dans la fécule en les poussant sur le côté du bol puis laissez-les là-dedans pendant 15 minutes. L'humidité des crevettes va créer une plus grosse couche de pâte car la fécule absorbe cette humidité.

Quand vous êtes prêts à passer à table, faites chauffer un wok ou une casserole d'huile (pas une friteuse !). L'huile doit être très chaude, plus de 190°C. Mettez les crevettes une par une. Vous ferez probablement plusieurs bains pour toutes les crevettes.

Laissez-les cuire environ une minute, pas plus cas sinon les crevettes vont trop cuire. Mais la couche superficielle de pâte sera en revanche bien croustillante !

Je vous confirme bien que je ne fais cuire les crevettes qu'une fois. Si on les refaisait cuire une deuxième fois, elles deviendraient trop cuites !

Versez une partie de la sauce. Vous ne mettrez sûrement pas tout, juste de quoi bien les enrober, mais j'ai fait mes calculs pour justement que tout tombe bien comme il faut !

Puis servez sans attendre. J'ai mis ici un peu de graines de sésame au wasabi que j'avais trouvées dans un supermarché asiatique !
Nutrition
Calories:
775
kcal
Carbohydrates:
146
g
Protein:
16
g
Fat:
16
g
Saturated Fat:
3
g
Polyunsaturated Fat:
9
g
Monounsaturated Fat:
3
g
Trans Fat:
0.04
g
Cholesterol:
115
mg
Sodium:
604
mg
Potassium:
191
mg
Fiber:
1
g
Sugar:
3
g
Vitamin A:
179
IU
Vitamin C:
1
mg
Calcium:
71
mg
Iron:
3
mg