I had discovered these chips recently in the United States. I immediately fell in love with them because I could enjoy them without any complex, since they are dried and not fried. But with the price of the package and having to go there to get them, I had to find a way to make them at home. Kale, the kale that has recently come back into fashion, is very easy to buy today. I was very surprised to immediately get an even better result than the commercial one. I add sunflower seeds and red bell pepper for ultra crispy and tasty chips, perfect for a colorful appetizer. They are wonderfully crisp and usually fool everyone!
This recipe comes from my book Végéterrien published by Flammarion! You will find a lot of delights… You can find it in bookstores.
Recette de chips de chou kale pour 6 personnes :
400g of cleaned kale
220g of sunflower seeds
180g of red peppers
2 tablespoons of olive oil
50g of malted yeast flakes
1 clove of garlic
10g of salt
80ml of water
Instructions :
First, soak the 220g of sunflower seeds in a large volume of warm water for 2 hours. They will swell and almost double in weight.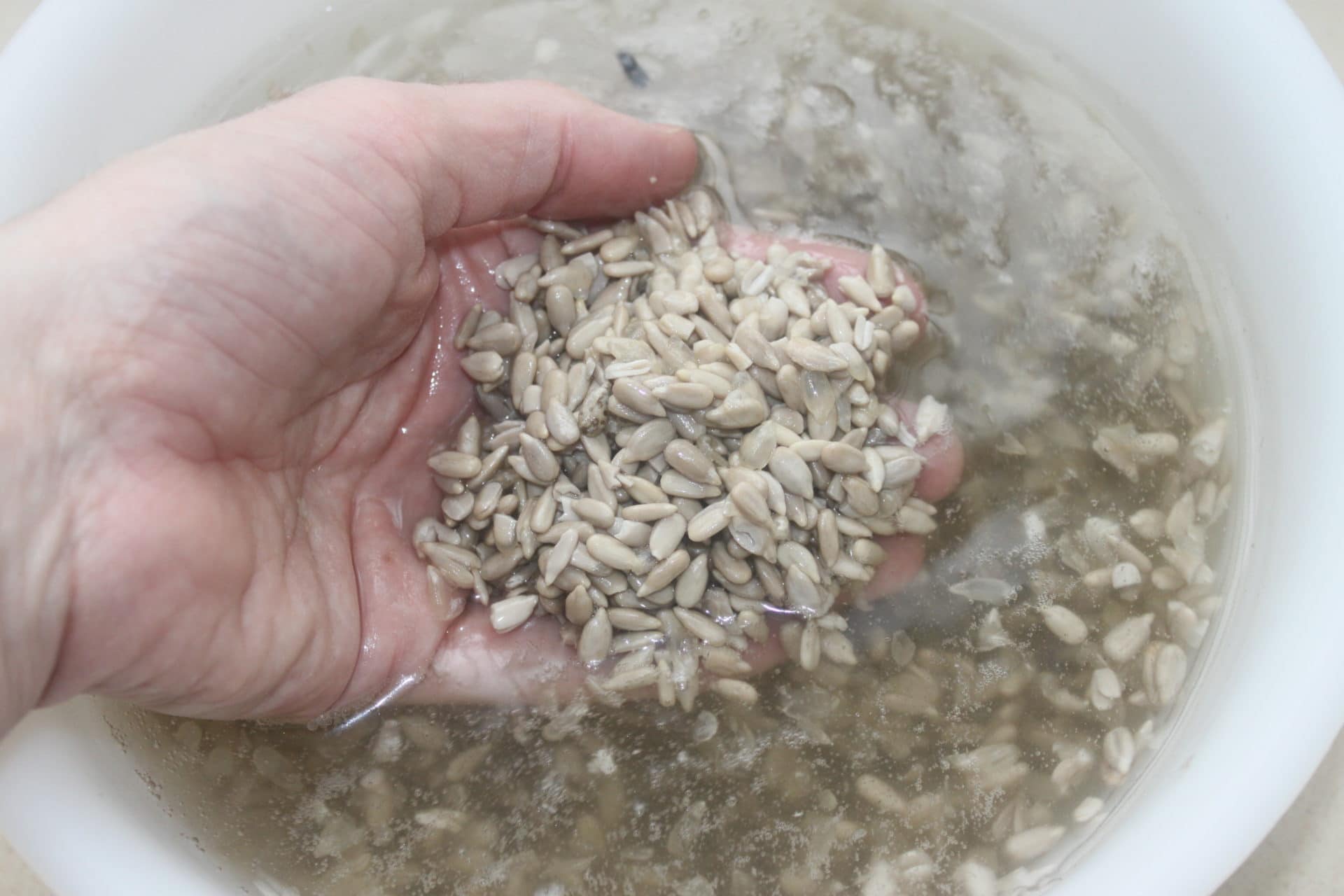 Wash your kale and remove the midrib.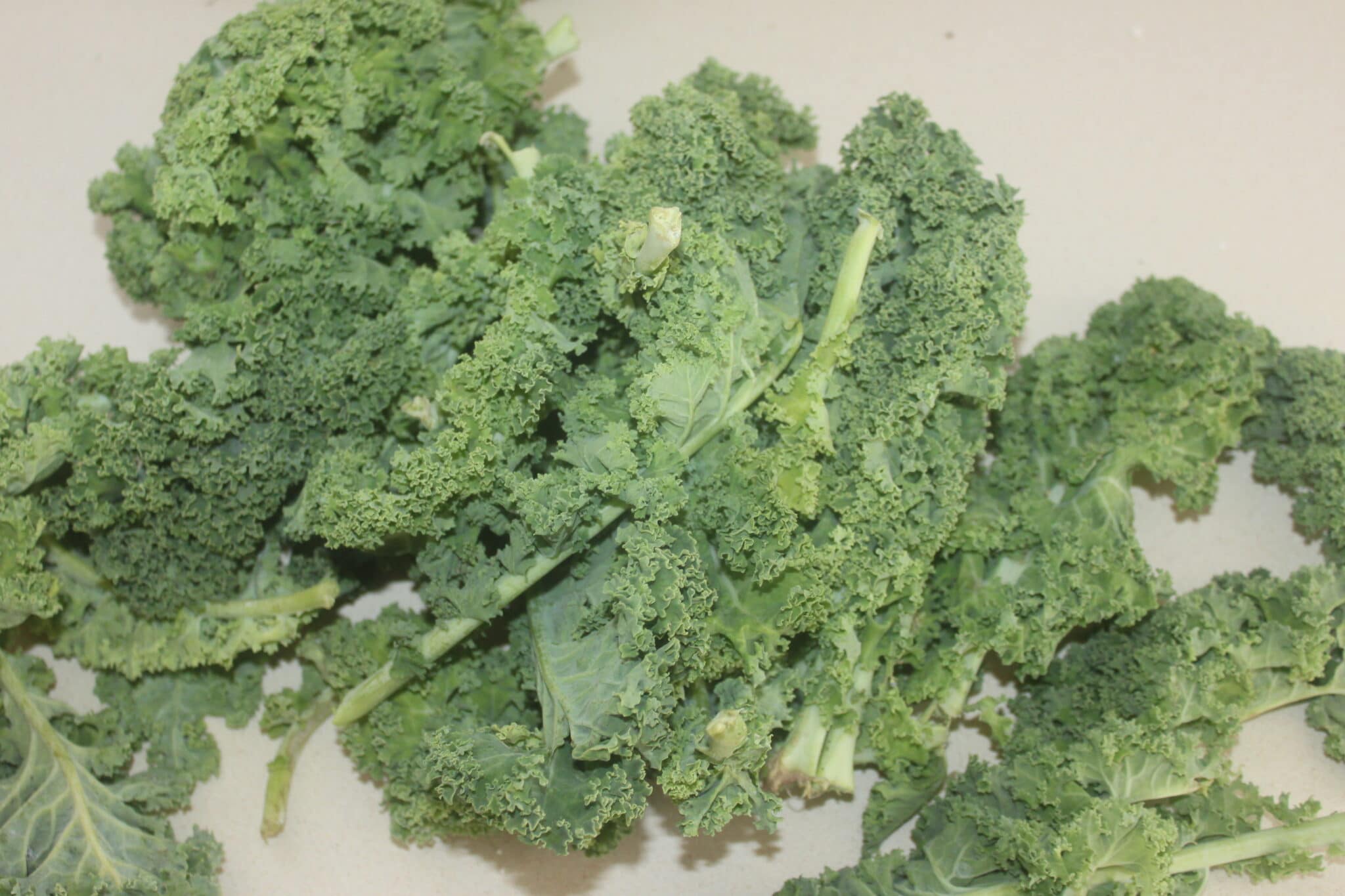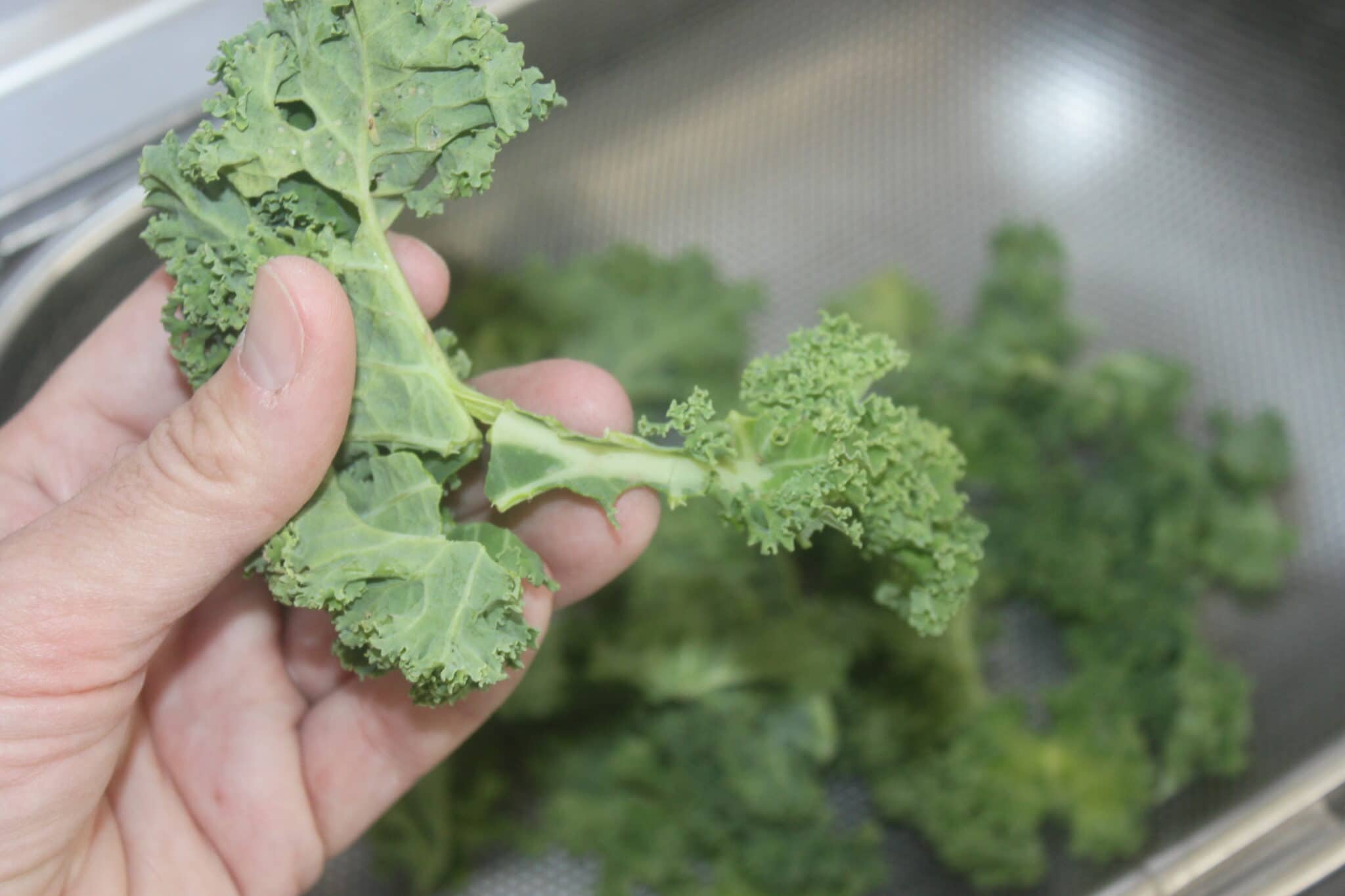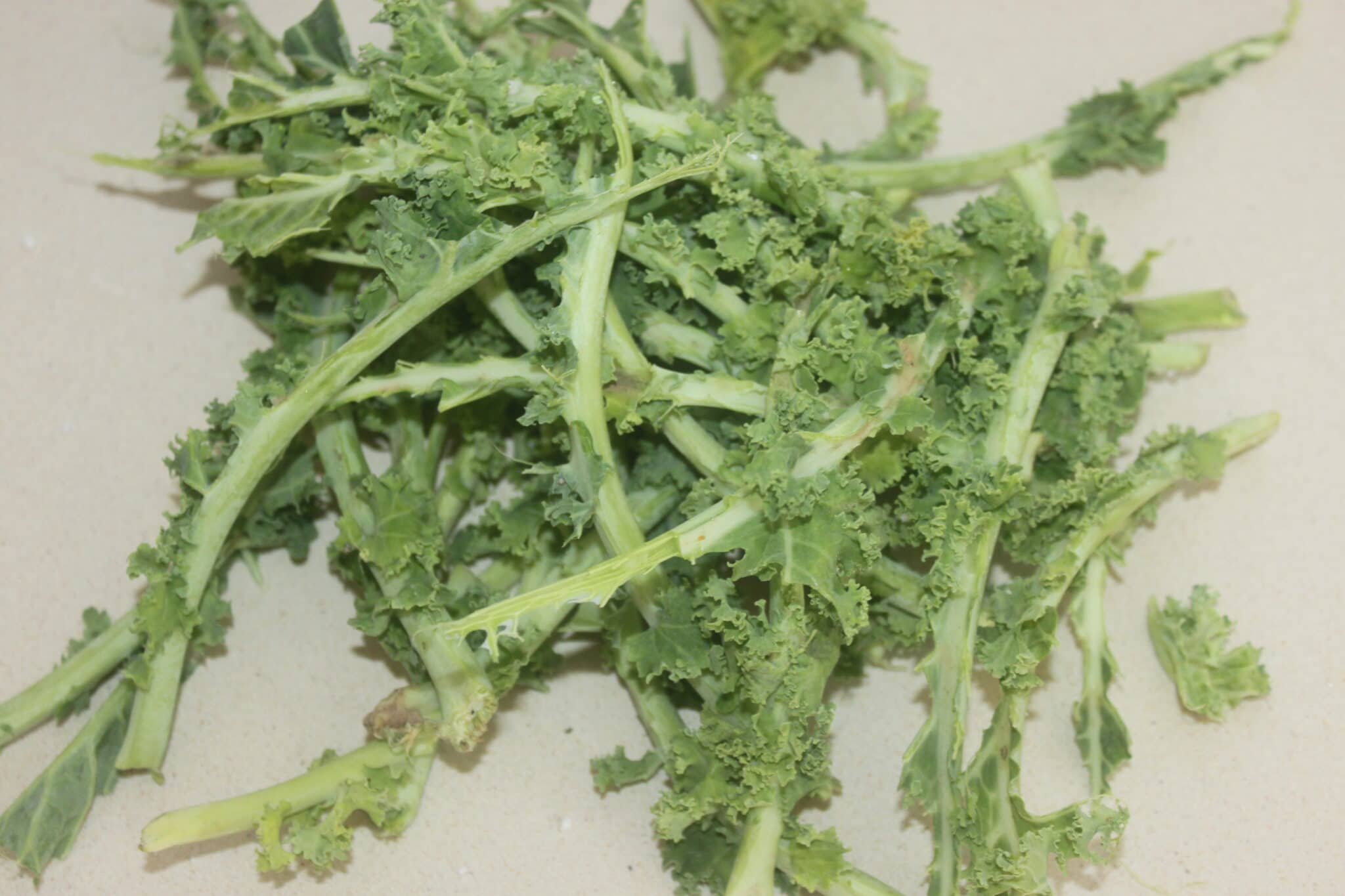 Tear the leaves roughly.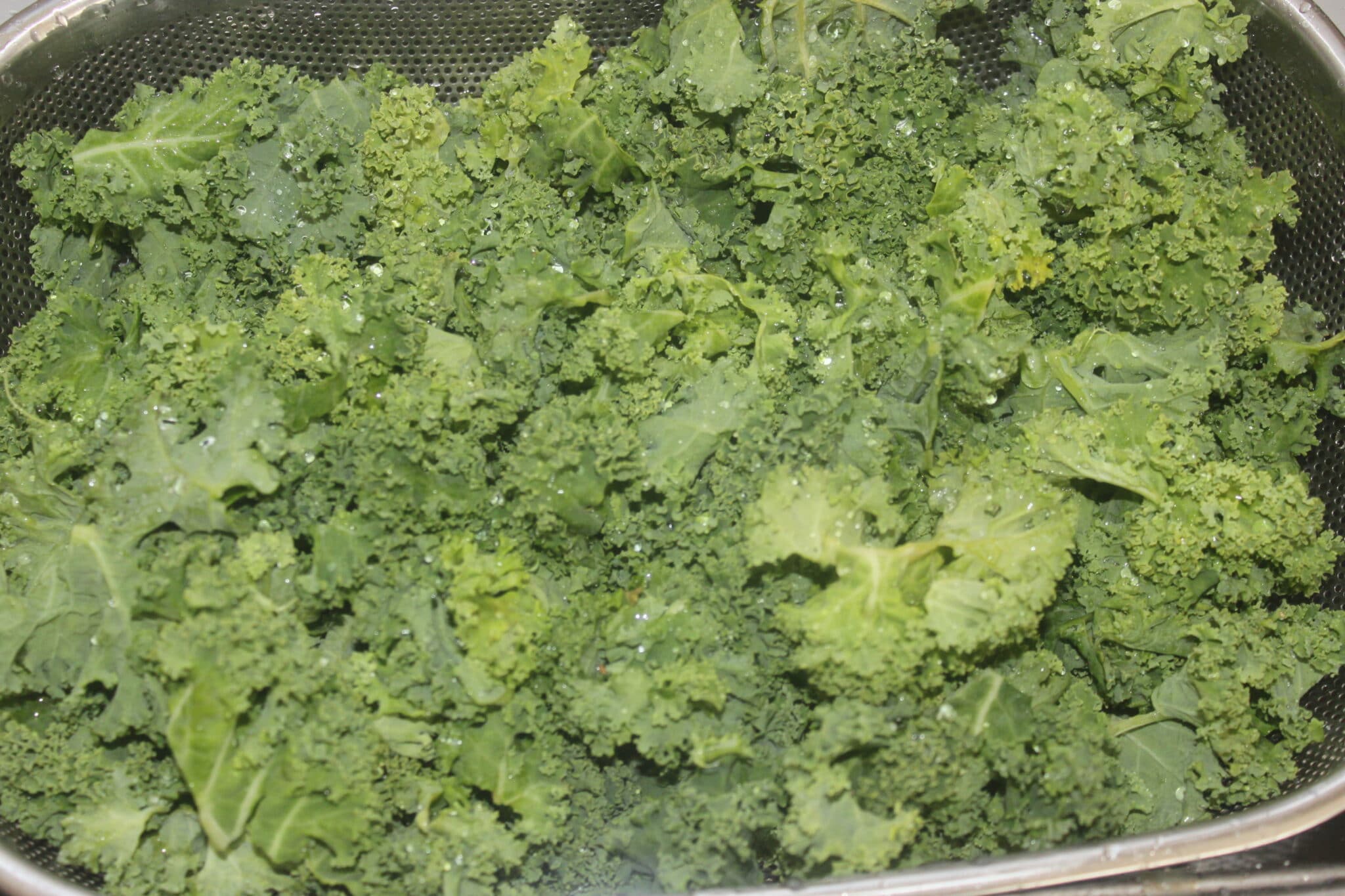 Wring it out like a salad.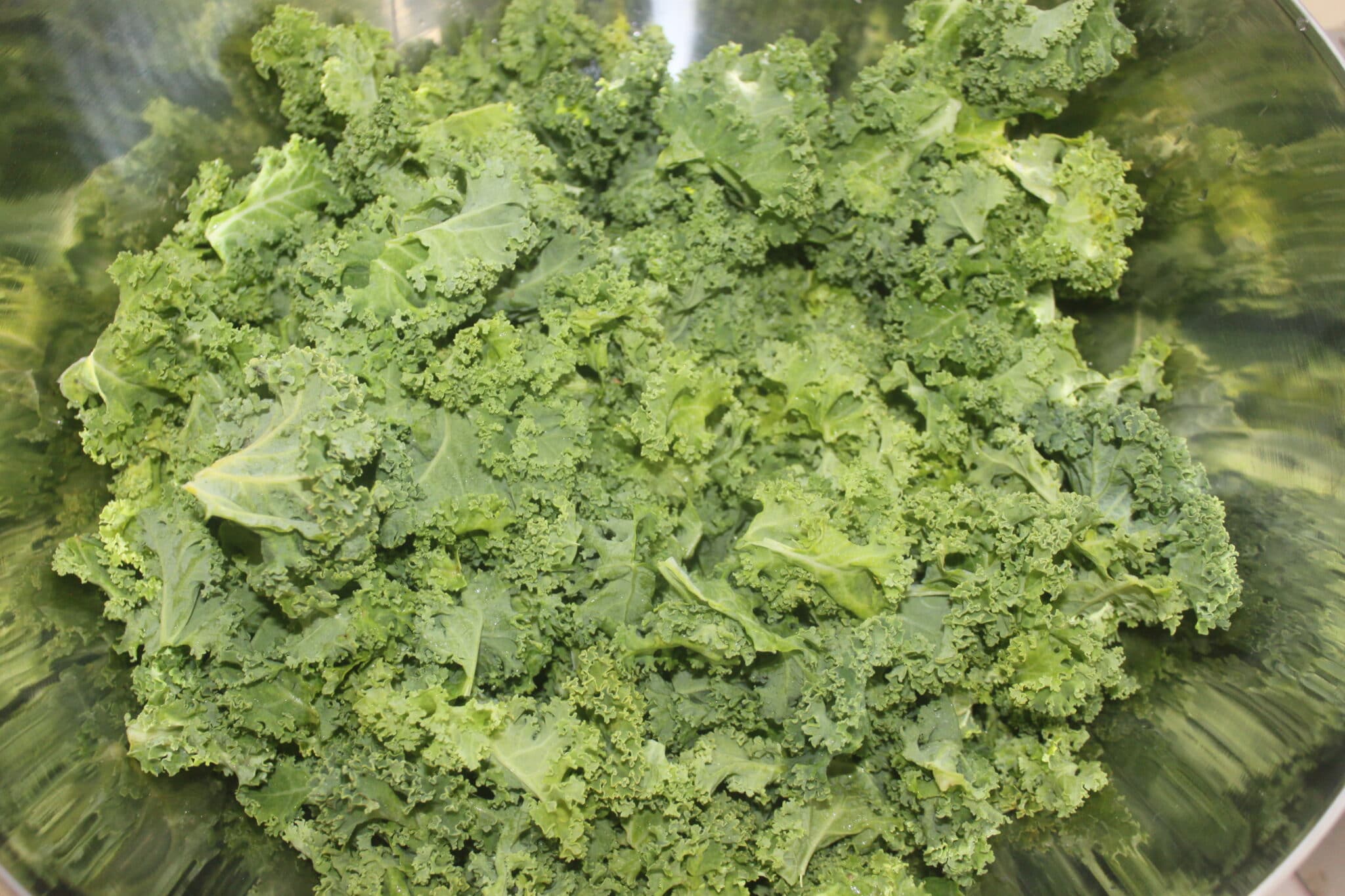 After hours of soaking, drain the sunflower seeds. Here are the malted yeast flakes I buy for this recipe.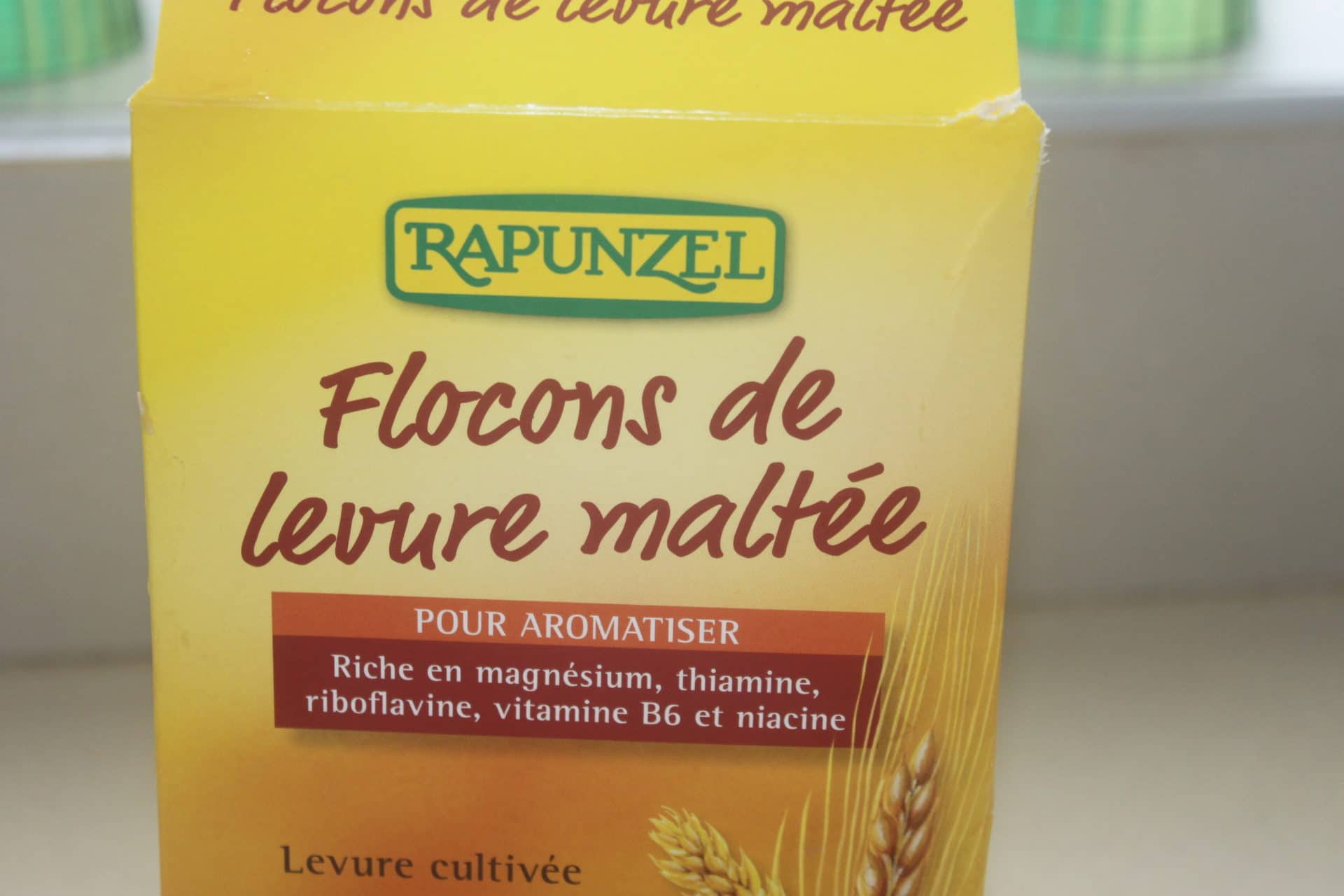 Place the stemmed, seeded and weighed red bell pepper in the bottom of the blender.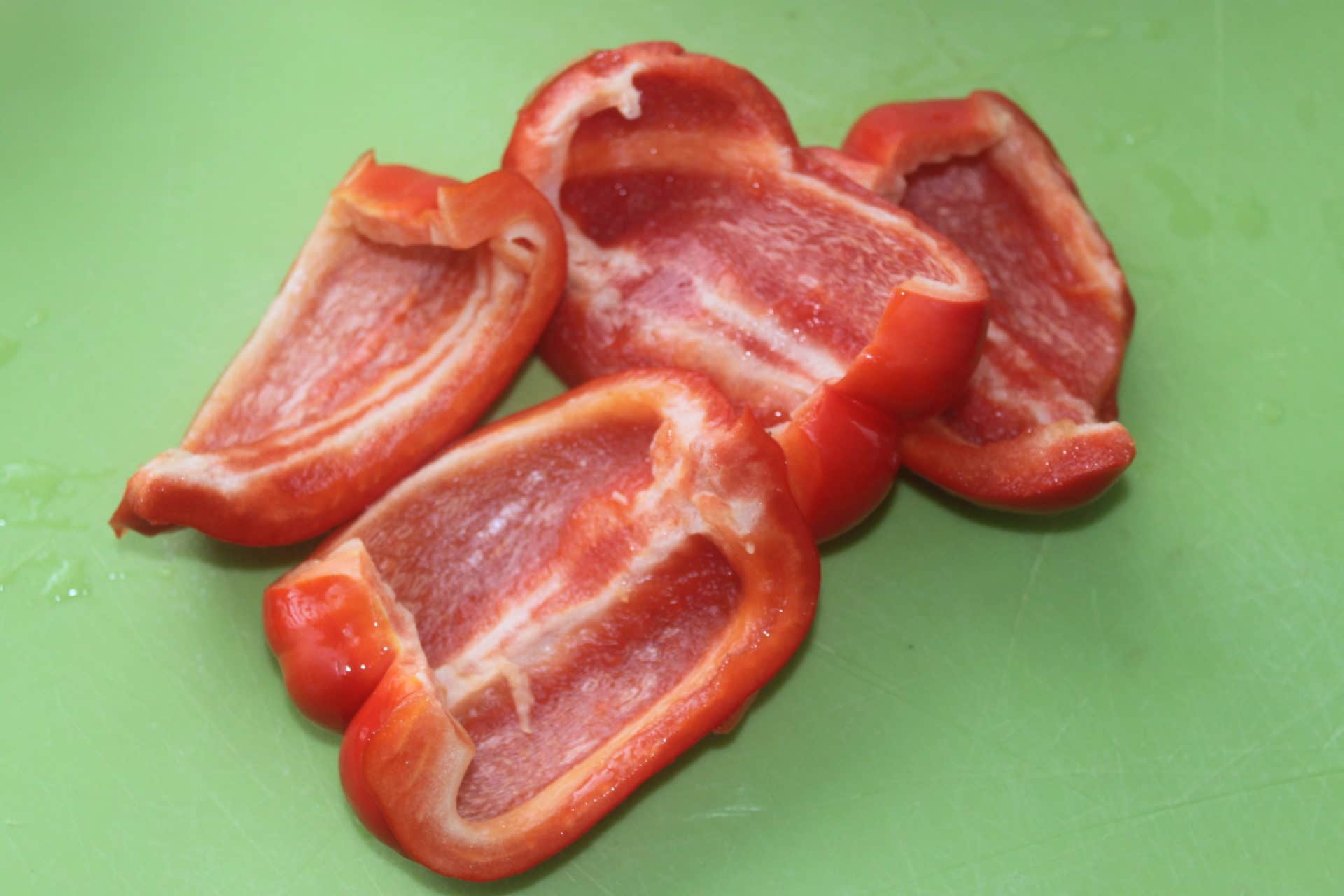 Pour in the olive oil, malted yeast flakes, garlic and salt.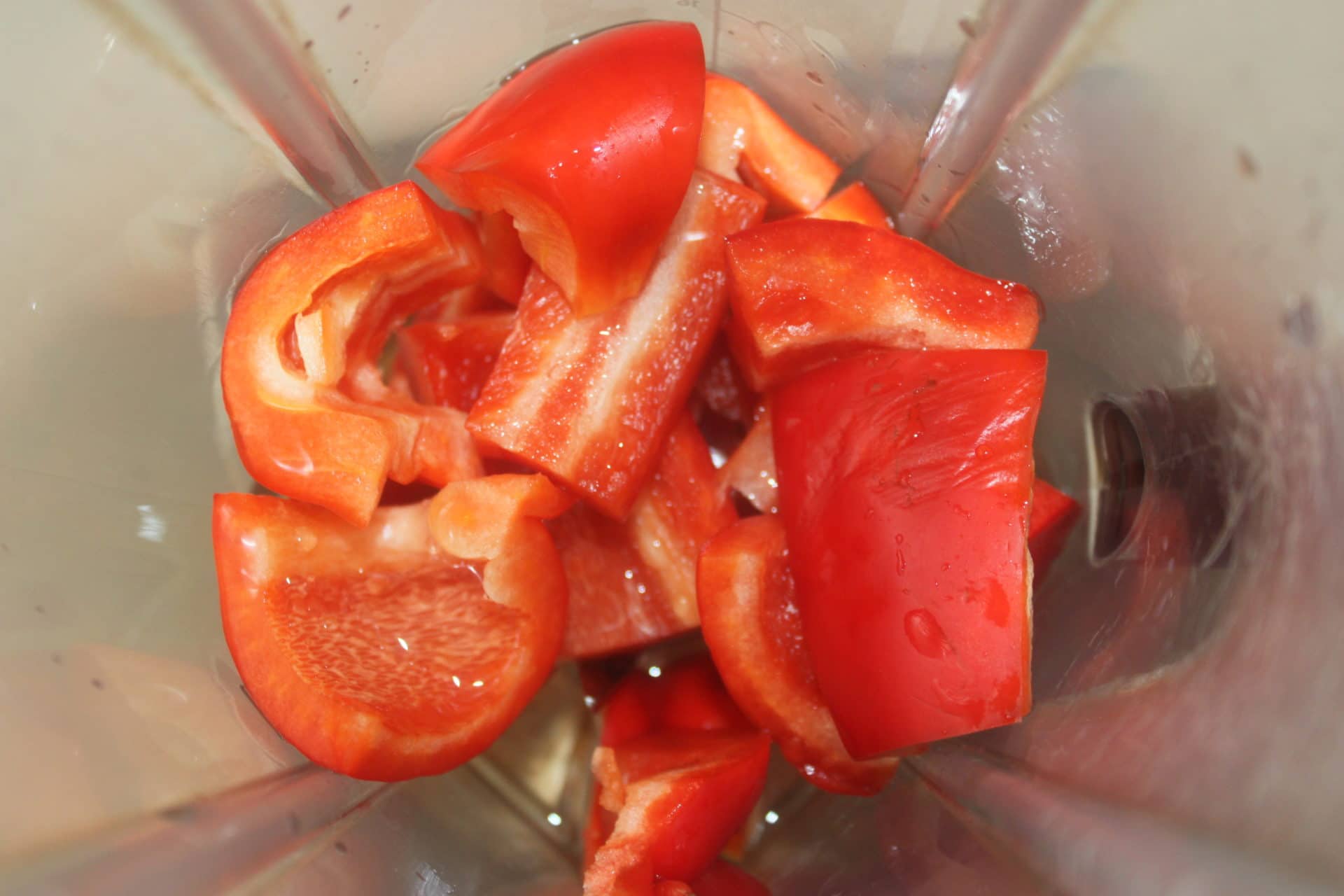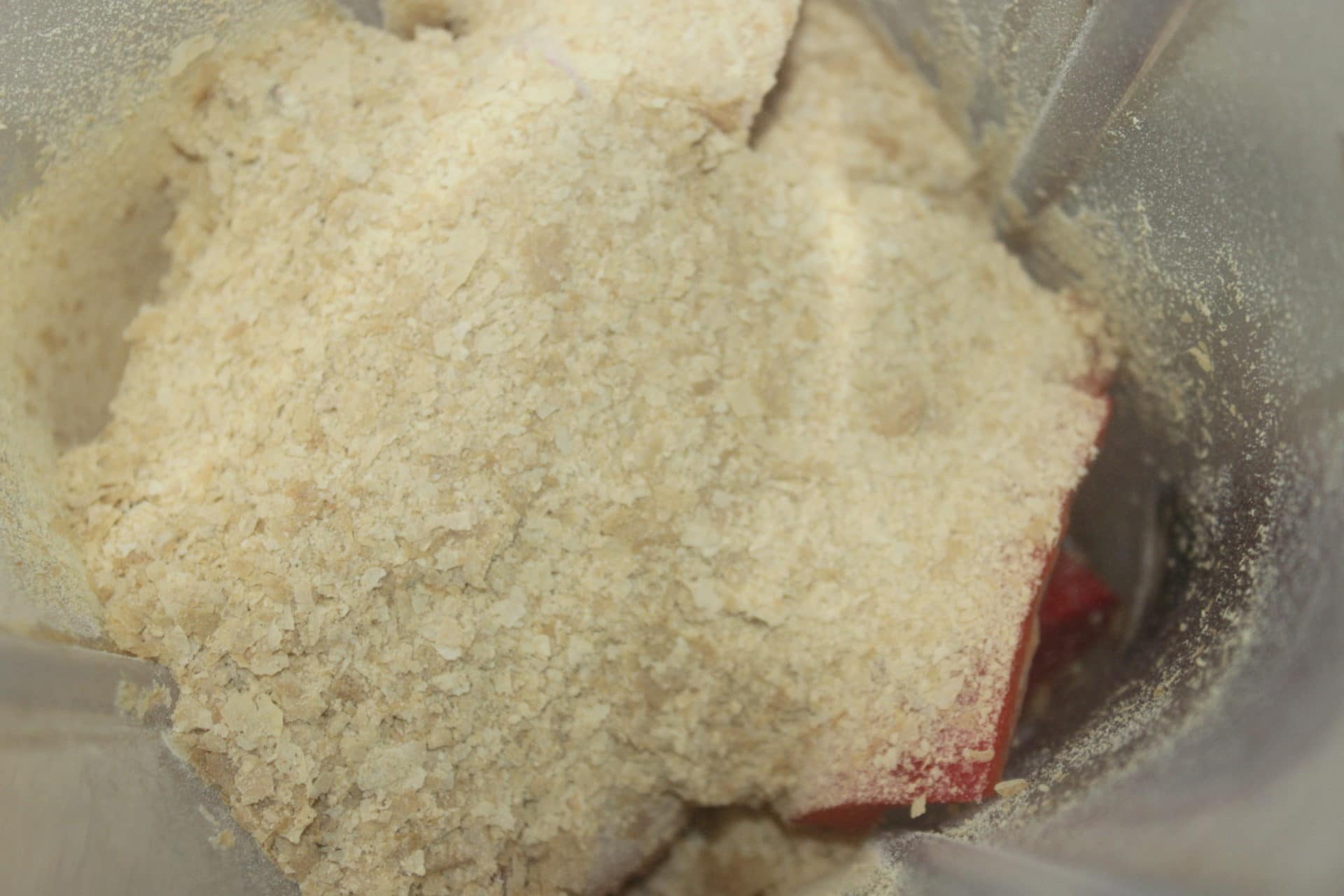 Don't forget the sunflower seeds. Put them in last to avoid filling the blender.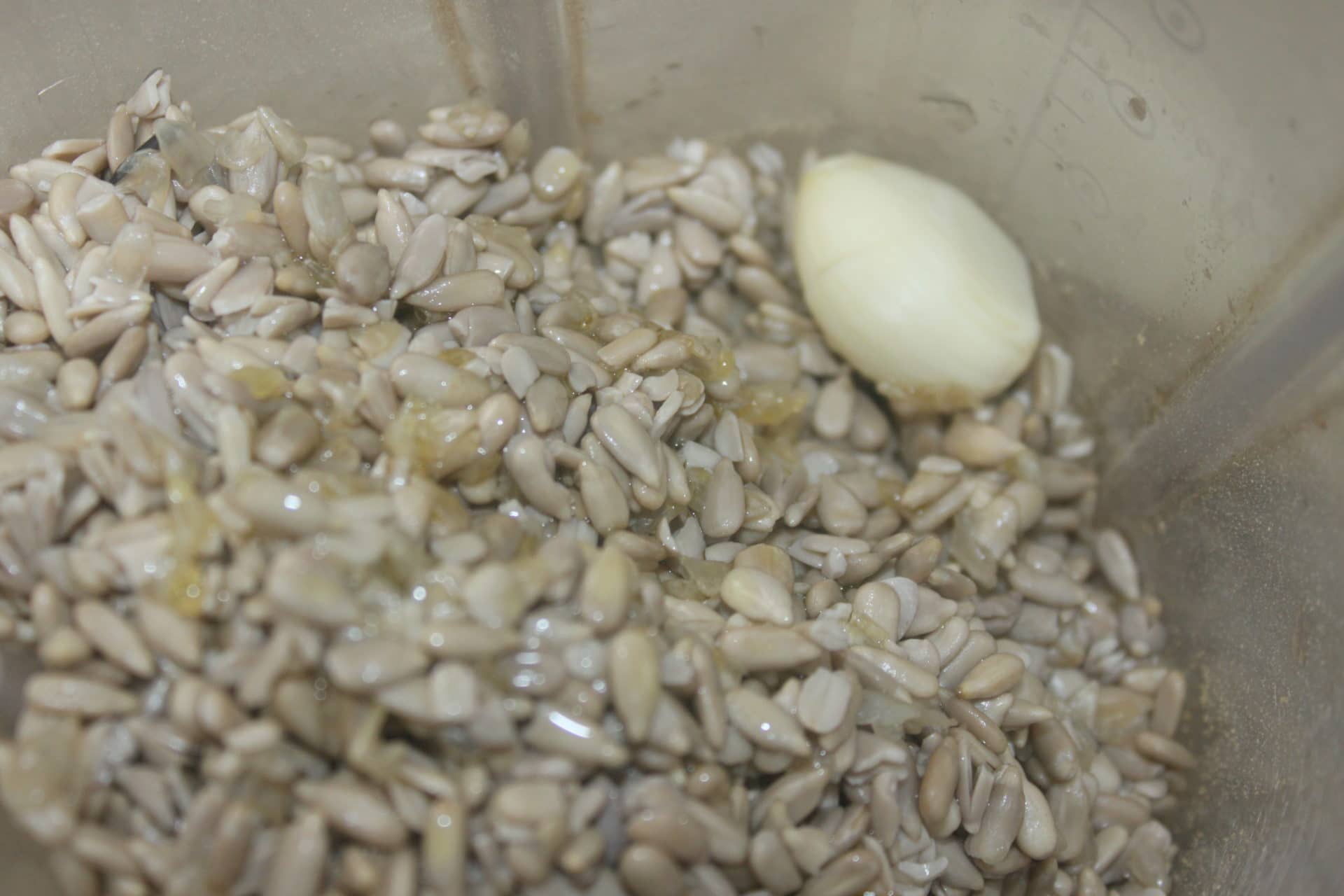 Start blending on high speed and pour in water gradually to facilitate grinding. You will obtain a smooth and rather thick liquid.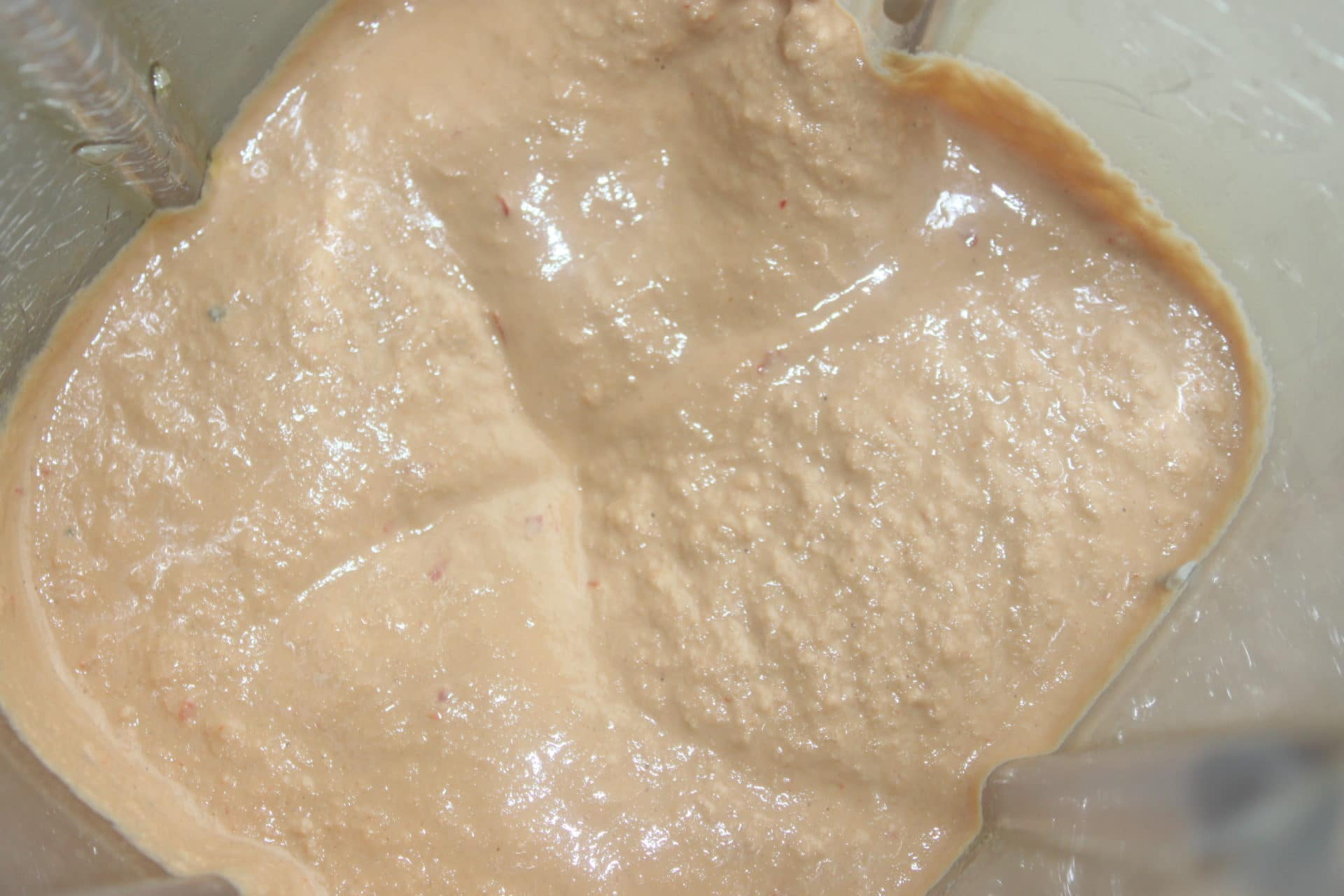 Place half of the kale leaves in a large container and pour in half of the sunflower seed puree. Stir by hand to thoroughly soak all the leaves. Do not hesitate to mix well without crushing the leaves.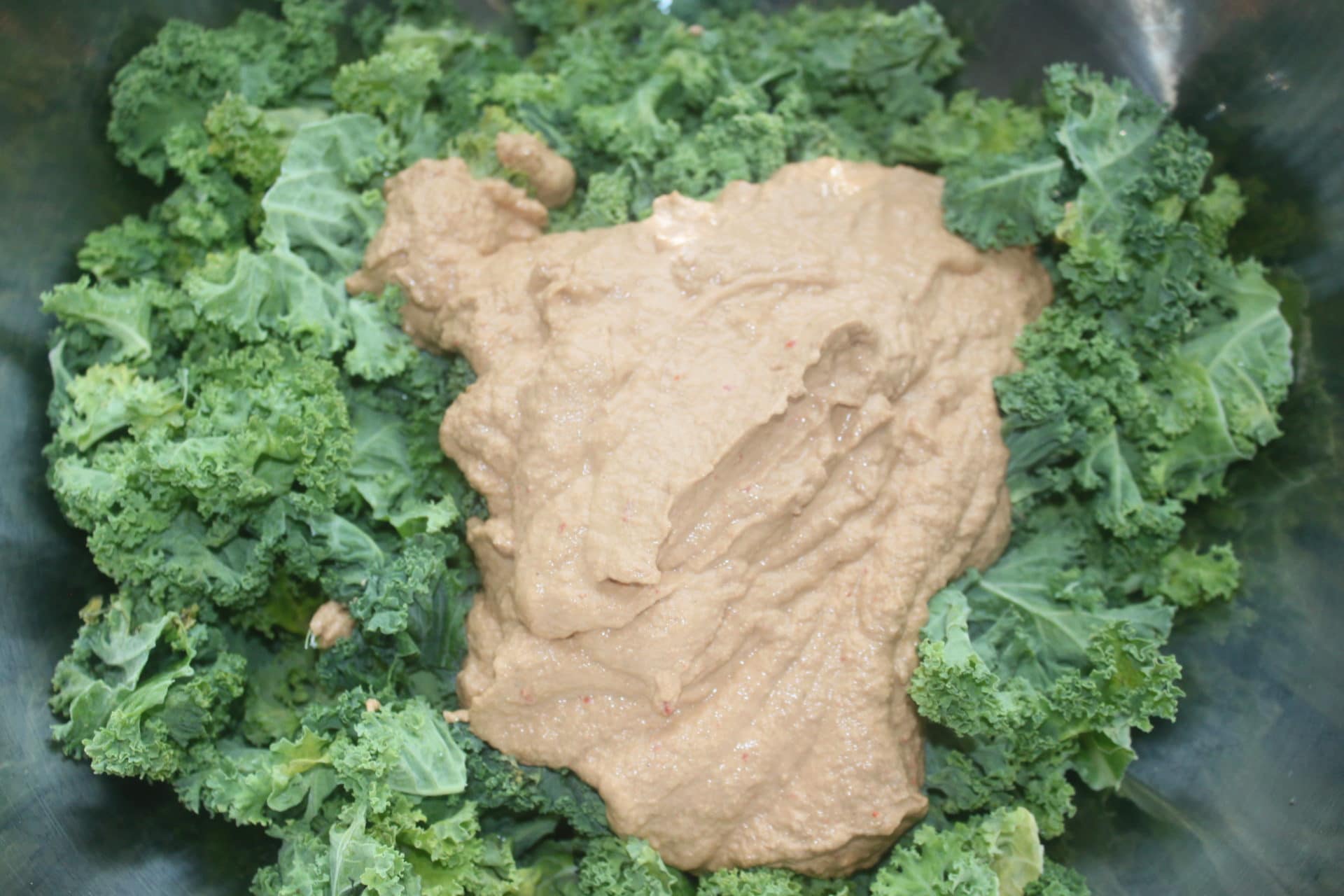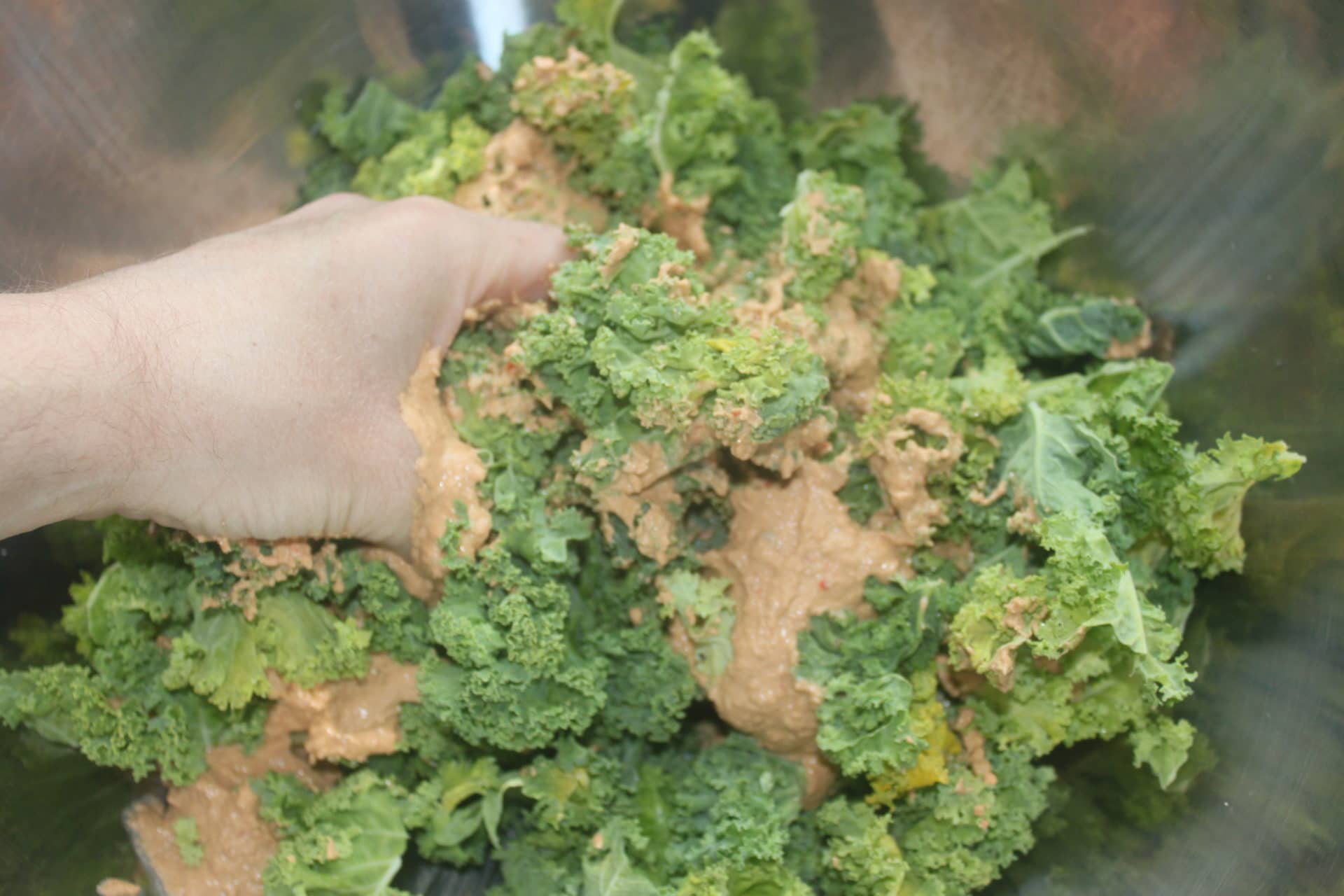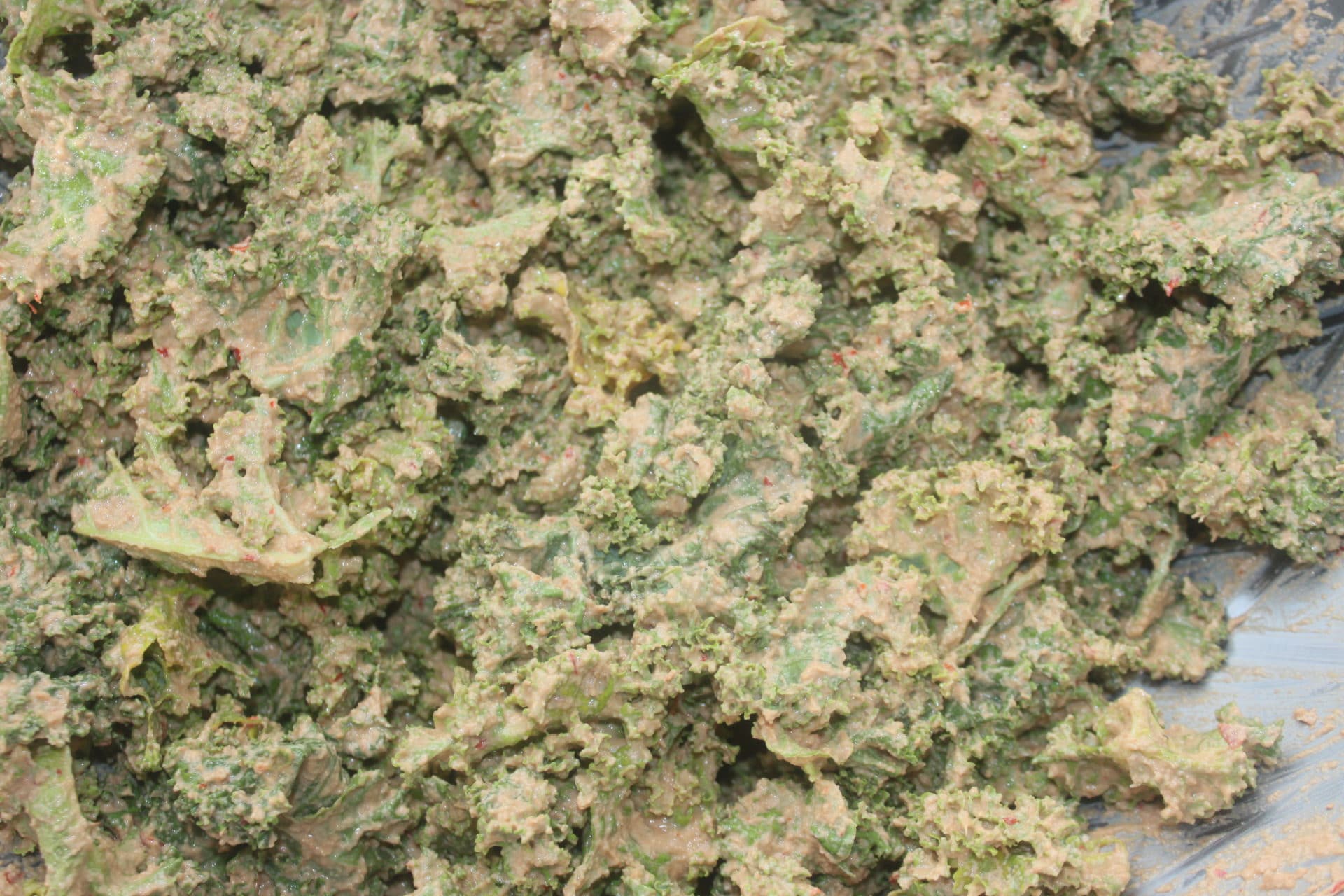 Then place the cabbage on a drying rack for your oven or in an electric dehydrator. Do not pack it, but the leaves can touch each other without any problem. Do the same with the other half of the ingredients for a total of two plates. If your oven has a dehydration function (sometimes we don't even know our oven does this) it will probably ask you to open the door during drying to allow the steam produced to escape. In my oven, I dry them for 7 hours. The chips are ultra-crispy. You can also dry them in a dehydrator for 12 hours. The last option is to put them in the oven at 60°C with the door open for at least 6 hours. You must also adapt to your oven. The problem with drying at higher temperatures is that you may cook the cabbage instead of drying it.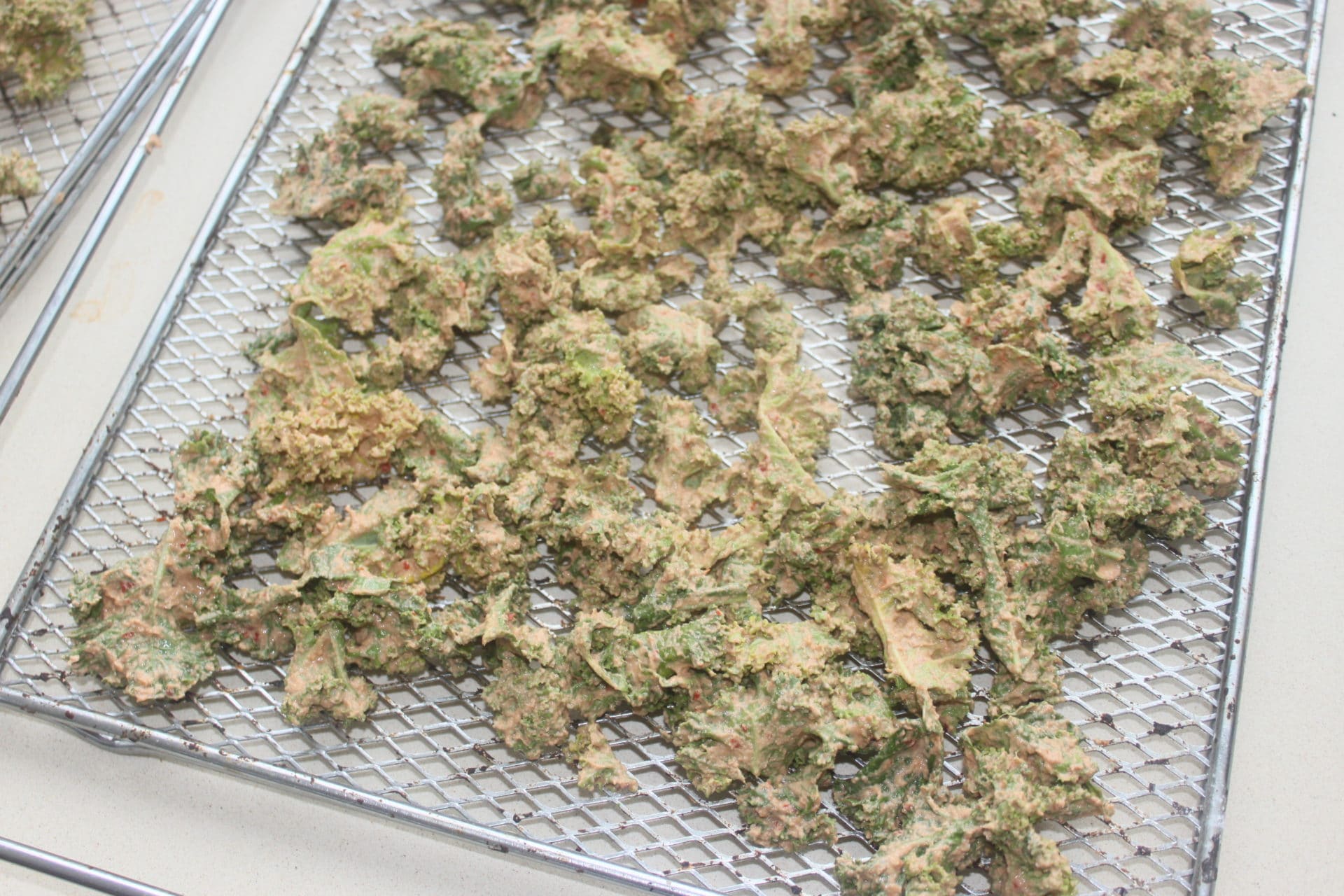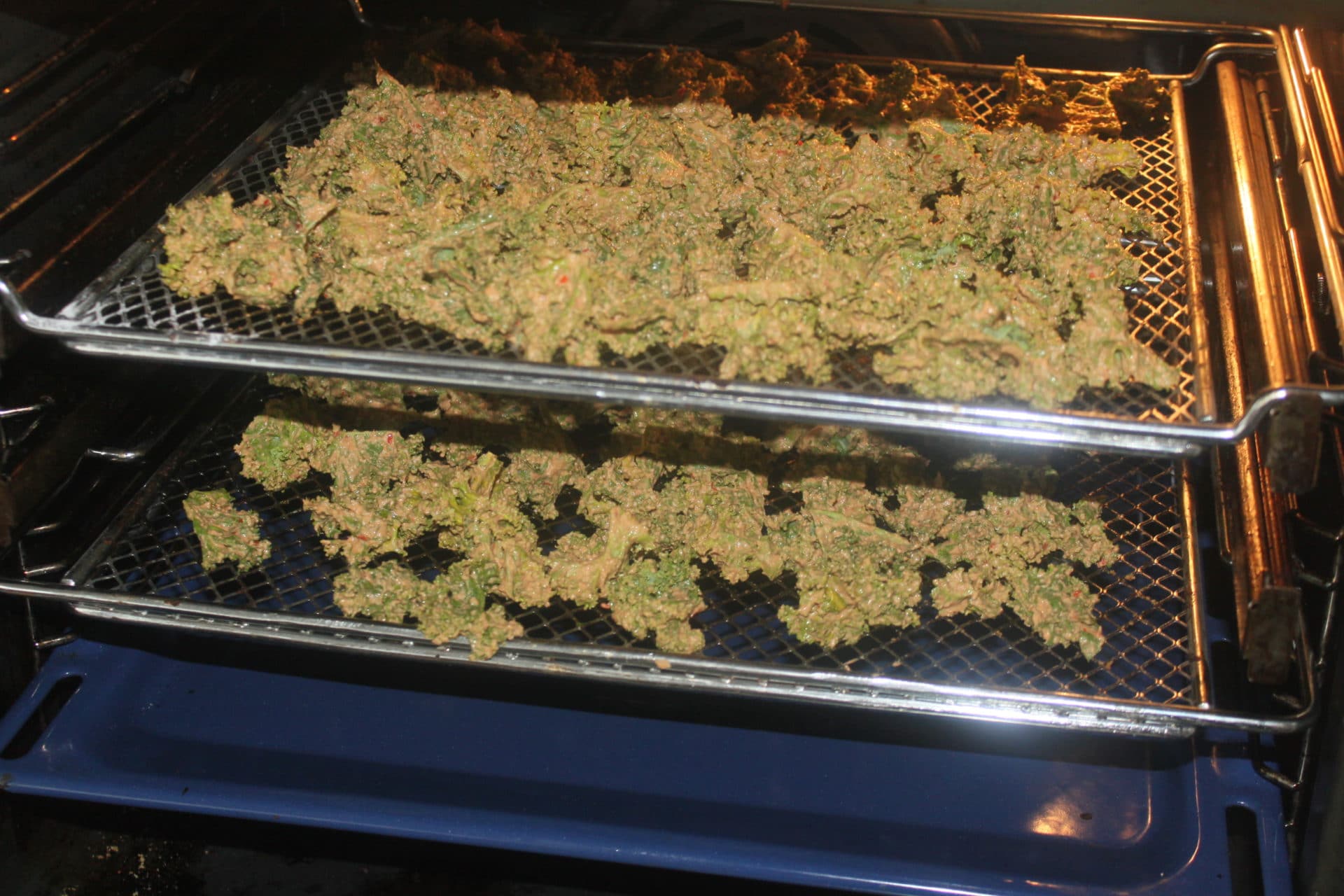 When the chips are ready, gently scrape the grid with a spatula to loosen them without breaking them.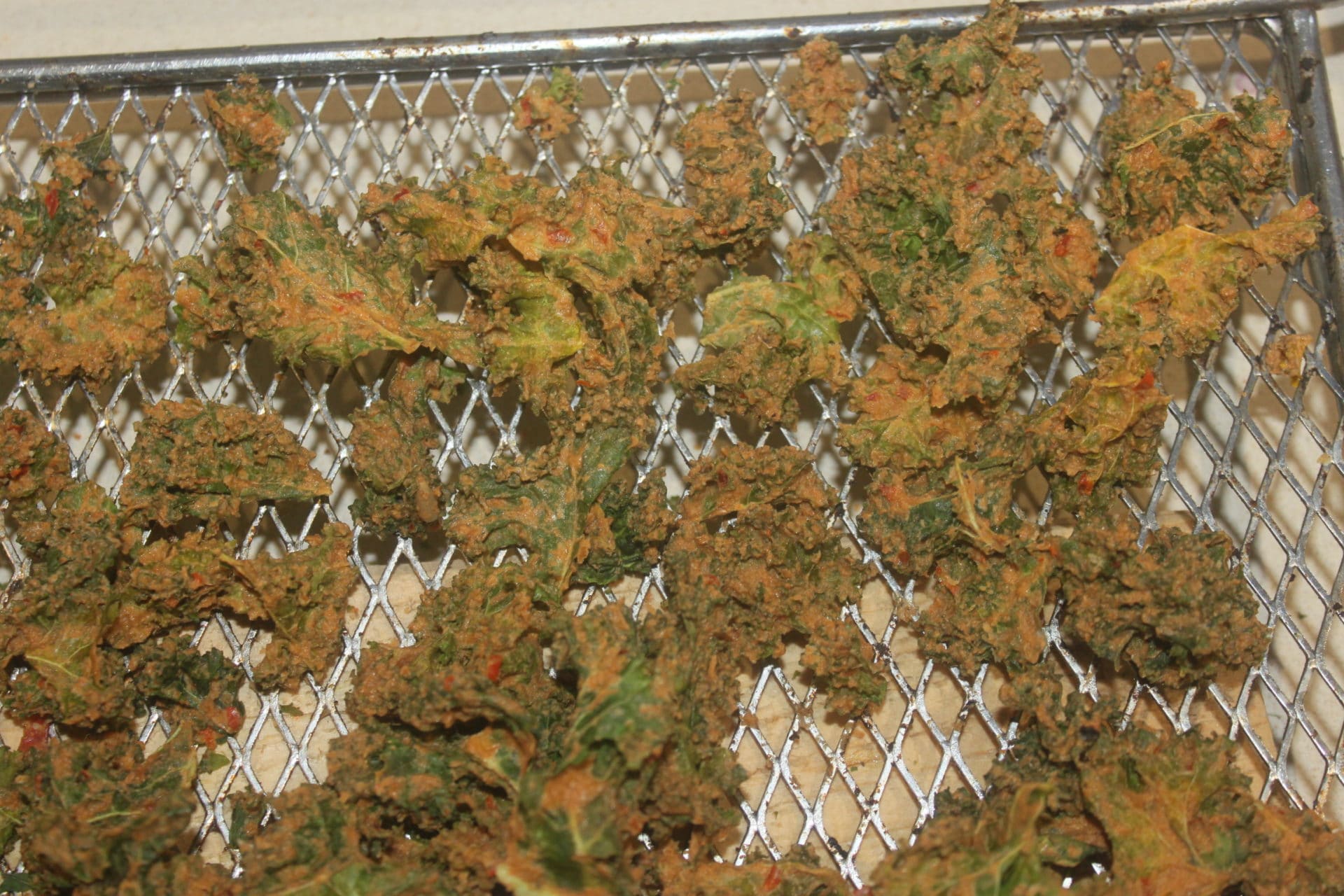 Place them immediately in an airtight box. They can thus be kept for weeks.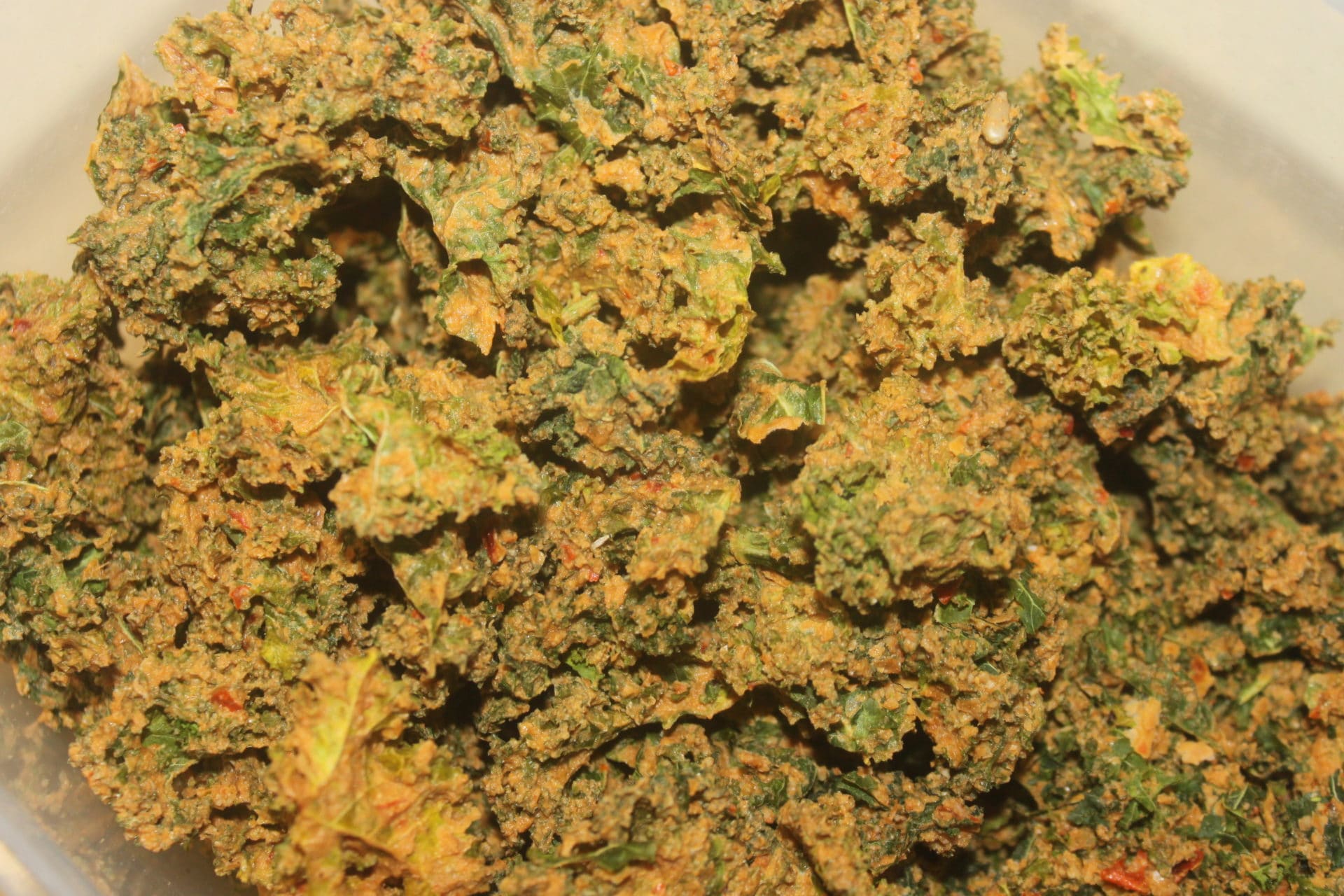 If they start to soften, put them back in the oven to dry again.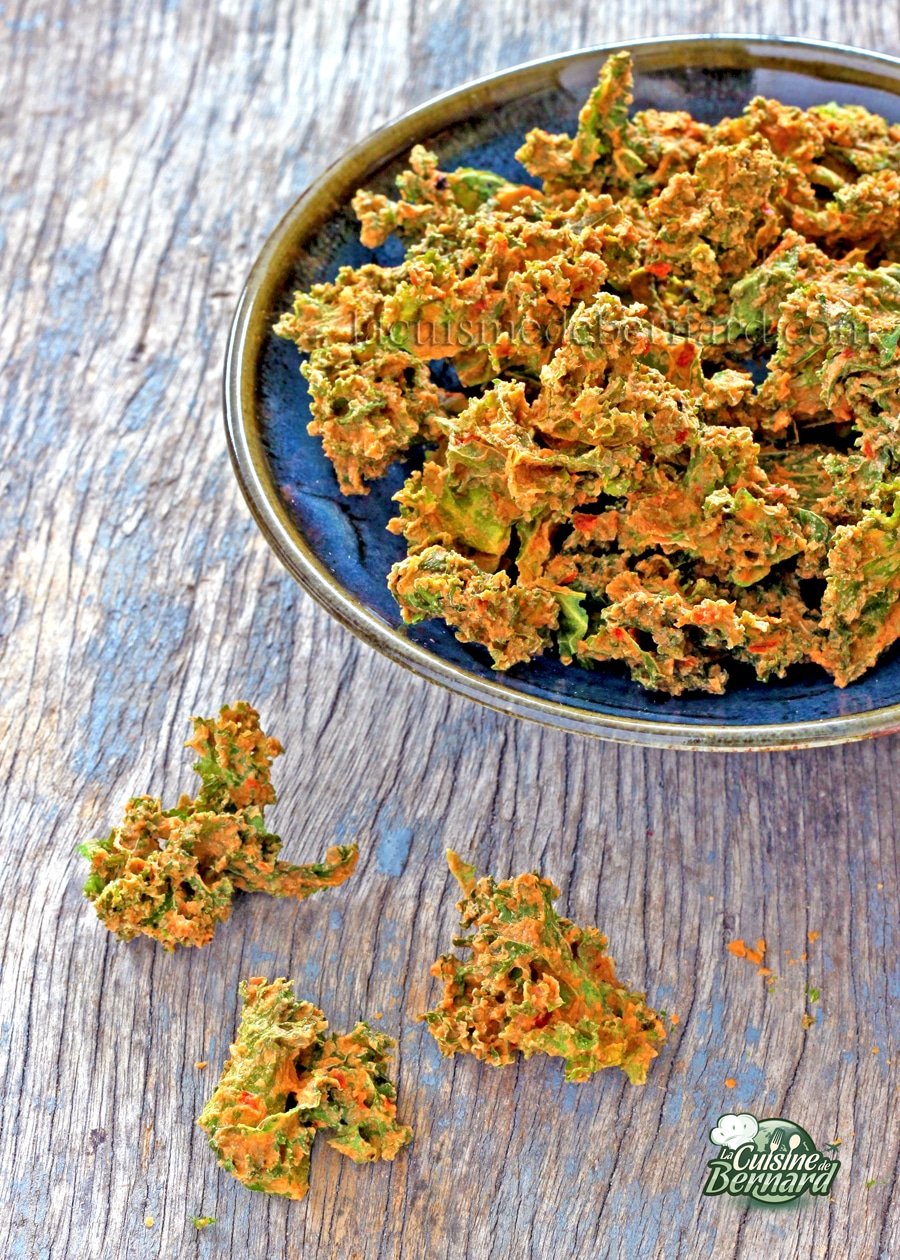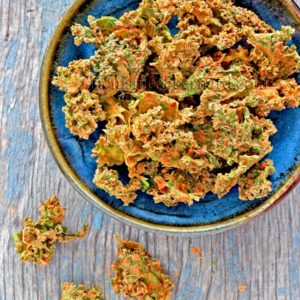 Chips de chou kale
J'avais découvert ces chips récemment aux Etats-Unis. J'en suis immédiatement tombé amoureux, car je pouvais les déguster sans complexe, étant donné qu'elles sont séchées et non frites. Mais vu le prix du paquet et le fait de devoir y aller pour m'en procurer, il me fallait trouver un moyen de les faire à la maison. On achète aujourd'hui très facilement du chou kale, ce chou frisé revenu à la mode récemment. J'ai été très surpris d'obtenir immédiatement un résultat encore meilleur que celui du commerce. J'y mets des graines de tournesol et du poivron rouge pour des chips ultra croustillantes et savoureuses, parfaites pour un apéritif haut en couleur. Elle sont croustillantes à merveille et bluffent en général tout le monde !!
Instructions
Mettez tout d'abord les 220g de graines de tournesol à tremper dans un grand volume d'eau tiède pendant 2 heures. Elles vont gonfler et presque doubler de poids.

Lavez votre chou kale et enlevez la nervure centrale.

Déchirez les feuilles grossièrement.

Essorez-le comme une salade.

Au bout des heures de trempage, égouttez les graines de tournesol. Voici les flocons de levure maltée que j'achète pour cette recette.

Placez le poivron rouge équeuté, vidé de ses graines et pesé dans le fond du blender.

Versez l'huile d'olive, les flocons de levure maltée, l'ail et le sel.

N'oubliez pas les graines de tournesol. Mettez-les en dernier pour éviter de bourrer le blender.

Commencez à mixer à grande vitesse et versez l'eau progressivement pour faciliter le broyage. Vous allez obtenir un liquide lisse et assez épais.

Placez la moitié des feuilles de chou kale dans un grand récipient puis versez la moitié de la purée de graines de tournesol. Mélangez à la main pour bien imprégner toutes les feuilles. N'hésitez pas à bien malaxer sans écraser pour autant les feuilles.

Placez ensuite le chou sur une grille de séchage pour votre four ou bien dans un déshydrateur électrique. Ne le tassez pas, mais les feuilles peuvent se toucher sans aucun problème. Faites la même chose avec l'autre moitié des ingrédients pour avoir deux plaques au total. Si votre four a une fonction déshydratation (parfois on ne sait même pas que notre four fait cela) il vous demandera sans doute d'entre-ouvrir la porte pendant le séchage pour permettre à la vapeur produite de s'échapper. Dans mon four, je les fais sécher 7 heures. Les chips sont ultra-croustillantes. Vous pouvez aussi les faire sécher au déshydrateur pendant 12 heures. La dernière option et de les mettre au four à 60°C, porte entre-ouverte pendant au moins 6 heures. Il faut aussi adapter à votre four. Le problème de faire sécher à plus haute température, est que vous risquez de cuire le chou au lieu de le sécher.

Quand les chips sont prêtes, racler doucement la grille avec une spatule pour les décoller sans les briser.

Placez-les immédiatement en boite hermétique. Elles peuvent ainsi ce conserver des semaines.

Si elles commencent malgré tout à ramollir, replacez-les au four pour les sécher de nouveau.
Nutrition
Calories:
276
kcal
Carbohydrates:
16
g
Protein:
13
g
Fat:
21
g
Saturated Fat:
2
g
Polyunsaturated Fat:
9
g
Monounsaturated Fat:
7
g
Sodium:
691
mg
Potassium:
614
mg
Fiber:
9
g
Sugar:
3
g
Vitamin A:
7618
IU
Vitamin C:
101
mg
Calcium:
204
mg
Iron:
3
mg