Here's a great way to extend the summer with this delicious coconut milk ice cream. If you've ever been to the West Indies, then you'll probably have tasted this fabulous ice cream. It is often made in the streets, in traditional wooden ice-cream makers where ice and coarse salt are added. This recipe is very simple and here I make it with my turbine! In one minute the preparation is done and twenty minutes later, the ice cream is ready to be eaten! You can add lime zest, vanilla or nutmeg to taste. I prefer it plain and as soon as you put a spoon in your mouth, you literally melt with pleasure!
Recipe for coconut ice cream:
-500ml of coconut milk
-1 can of sweetened condensed milk (the 397g Nestlé can)
-1 can of unsweetened condensed milk
-dehydrated coconut (optional, I don't use it)
-Lime peel, nutmeg, liquid vanilla (also optional)
Pour the coconut milk (you need a very liquid one because there are all kinds) into a container. Add the sweetened condensed milk.
Then add the unsweetened condensed milk. Mix well: it's ready!
Pour into ice cream maker or ice cream maker.
If you wish (I tried but I prefer 'plain' ice cream!), you can add a little lime zest, vanilla, nutmeg powder or a little of everything…
Let the machine do all the work!
When the ice cream is ready, put it in a container and store for at least two hours in the freezer to firm up even more (so that you can form balls later). But you can eat the ice cream as soon as it comes out of the machine, it will be very creamy and runny! A must!
Serve in cones or in a coconut split in two.
Bernard's tip: to open a coconut, just tap gently with a hammer all around the coconut (where you want it to open). After 3-4 minutes of this treatment, the coconut finally opens…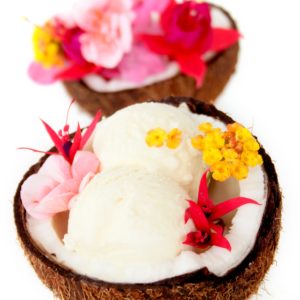 Glace à la Noix de Coco
Voici un bon moyen de prolonger l'été avec cette délicieuse glace au lait de coco. Si vous êtes déjà allés aux Antilles, alors vous aurez probablement déjà goûté à cette fabuleuse glace. Elle est souvent faite dans les rues, dans des sorbetières traditionnelles en bois où l'on ajoute de la glace et du gros sel. Cette recette est simplissime et ici je la fais avec ma turbine! En une minute la préparation est faite et vingt minutes plus tard, la crème glacée est prête à être dégustée! Vous pourrez ajouter à votre guise du zeste de citron vert, de la vanille ou bien encore de la noix de muscade. Je la préfère nature et dès que l'on met une cuiller en bouche, on fond littéralement de plaisir!
Instructions
Verser le lait de coco (il en faut un très liquide car on en trouve de toute sorte) dans un récipient. Ajouter le lait concentré sucré.

Puis ajouter le lait concentré non sucré. Bien mélanger: c'est prêt!

Verser en turbine à glace ou en sorbetière.

Si l'on souhaite (j'ai essayé mais je préfère la glace 'nature'!), on peut ajouter un peu de zeste de citron vert, de la vanille, de la noix de muscade en poudre ou un peu de tout…

Laisser tourner la machine qui fait tout le travail!

Quand la glace est prête, la mettre dans un récipient puis stocker au moins deux heures au congélateur pour raffermir encore plus (pour pouvoir ensuite former des boules). Mais on peut tout à fait manger la glace dès la sortie de la machine, elle sera bien crémeuse et coulante à souhait! Un must! Servir dans des cornets ou dans une noix de coco ouverte en deux.
Notes
Conseil de Bernard: pour ouvrir une noix de coco, il suffit de taper doucement avec un marteau tout autour de la noix de coco (là où l'on veut qu'elle s'ouvre). Au bout de 3-4 minutes de ce traitement, la noix de coco finit par s'ouvrir…