That's it, it's hot and I'm constantly dreaming of ice cream! And one of my favorites is the yogurt one, so frozen yogurt! Simple and quick to prepare, if you have an ice cream maker or an ice cream maker, the frozen yogurt will be ready in 20 minutes! The only drawback (which is not a drawback for me!) is that you have to eat it within two hours of making it. Because I don't sugar it much and I don't use any additives that would keep it soft, the frozen yogurt hardens pretty quickly in the freezer. But with this weather, there's no chance of any left…
Frozen yogurt recipe:
-875g of plain stirred yogurt
-125g of sugar
-and that's it!
Instruction:
Mix the sugar and the stirred yogurt. You can even use 0% yogurt.


When the sugar is liquefied, it's good!


Put it in the ice cream maker or ice cream maker.




Until you have the perfect consistency!


The frozen yogurt will be better when it comes out of the machine or within two hours when stored in the freezer. Beyond this time, the sugar content (quite low) makes the ice cream harden a lot… It should be left at room temperature for 15 minutes before eating. But again, it's on the way out that it's perfect!
Without a turbine or an ice cream maker: you can make frozen yogurt by putting it in a dish in the freezer and scraping it every half hour until you have a sort of granita. The consistency will not be as smooth as in a machine, but it helps!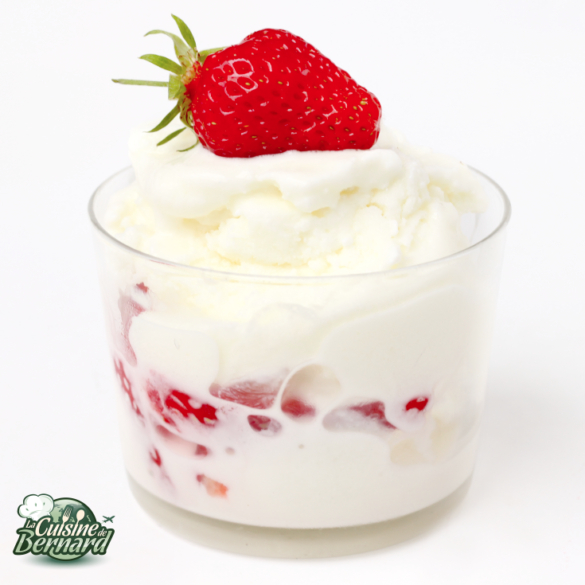 Yaourt Glacé
Ça y est, il fait chaud et je rêve en permanence de glace ! Et l'une de mes préférées est celle au yaourt, le yaourt glacé donc ! Simplissime et rapide à préparer, si vous avez une turbine à glace ou une sorbetière, le yaourt glacé sera prêt en 20 minutes ! Le seul inconvénient (qui n'en est pas un pour moi !) est qu'il faut le manger dans les deux heures qui suivent sa préparation. Car comme je ne le sucre pas beaucoup et que je mets pas d'additifs qui permettraient de conserver son moelleux, le yaourt glacé durcit assez vite au congélateur. Mais avec ce temps, aucun risque qu'il en reste…
Instructions
Mélangez le sucre et le yaourt brassé. Vous pouvez même tout à fait prendre du yaourt 0% brassé.

Quand le sucre est liquéfié, c'est bon !

Mettez le tout dans la turbine à glace ou la sorbetière.

Jusqu'à avoir la consistance parfaite !

Le yaourt glacé sera meilleur à la sortie de la machine ou dans les deux heures après, conservé au congélateur. Au delà de ce temps, le taux de sucre (assez faible) fait que la glace va beaucoup durcir… Il faudra la laisser 15 minutes à température ambiante avant de la déguster. Mais encore une fois, c'est à la sortie qu'elle est parfaite ! Sans turbine ou sans sorbetière: vous pouvez faire le yaourt glacé en le mettant dans un plat au congélateur et en grattant le tout toutes les demi heures jusqu'à avoir une sorte de granité. La consistance ne sera pas aussi onctueuse que dans une machine, mais cela dépanne bien !!
Nutrition
Calories:
254
kcal
Carbohydrates:
39
g
Protein:
23
g
Fat:
1
g
Saturated Fat:
0.2
g
Polyunsaturated Fat:
0.03
g
Monounsaturated Fat:
0.1
g
Trans Fat:
0.01
g
Cholesterol:
11
mg
Sodium:
79
mg
Potassium:
309
mg
Sugar:
38
g
Vitamin A:
9
IU
Calcium:
243
mg
Iron:
0.2
mg