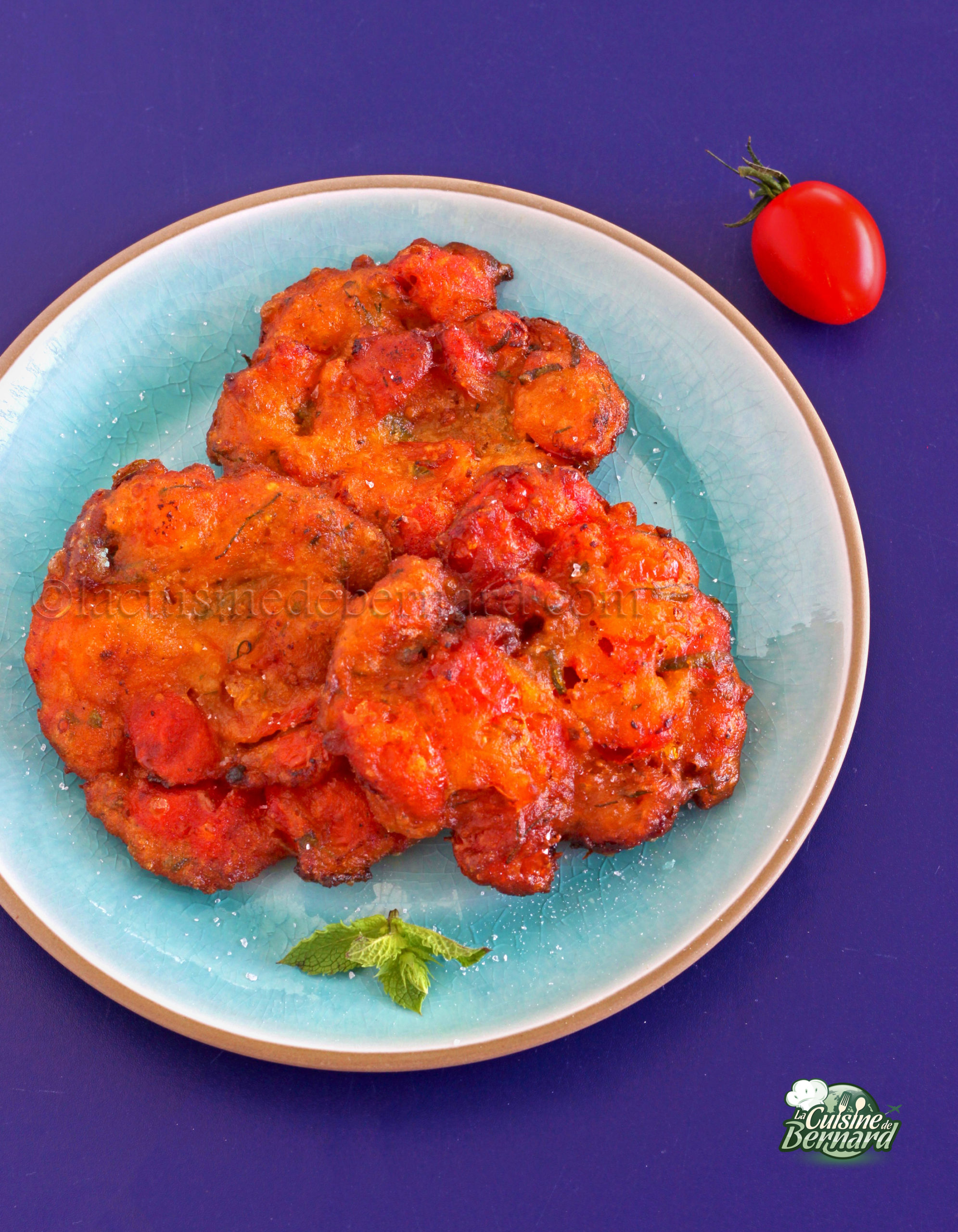 These are the deliciously tasty Greek tomato fritters, domatokeftedes. I made them with cherry tomatoes, but you can make them with large tomatoes. The advantage is that they are completely vegan. Very crispy, I find them irresistible!
400g of cherry tomatoes or ripe tomatoes
1/2 teaspoon oregano
1 shallot
1 large clove of garlic
a dozen mint leaves
a dozen basil leaves
100g of flour
salt pepper
Wash and de-stem your tomatoes. I had cherry tomatoes that were sweeter than the large tomatoes.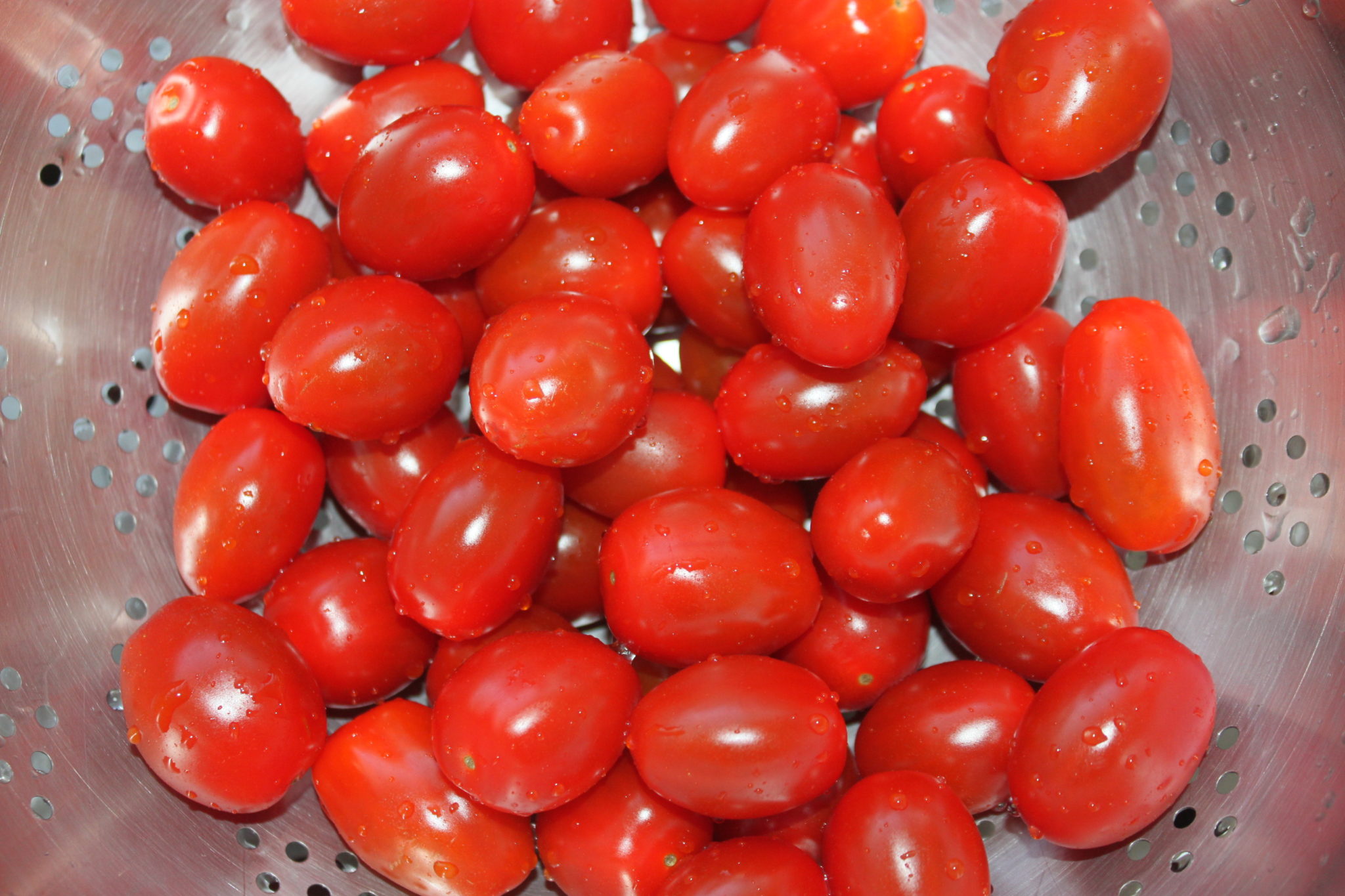 Cut into pieces, roughly into 4 for the cherry tomatoes.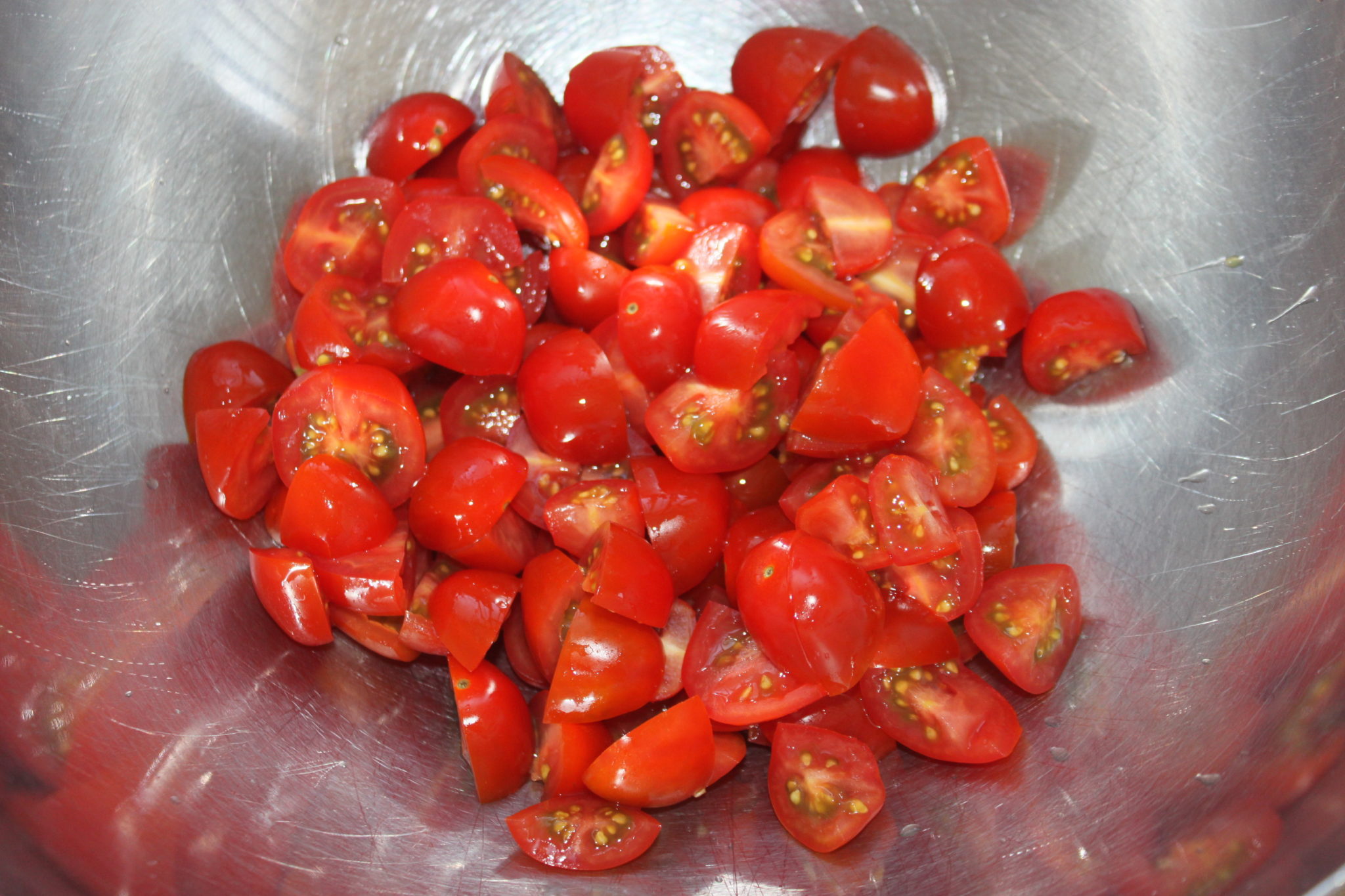 Salt and crush the tomatoes in your hands to extract as much juice as possible. Don't throw the juice away!
Add the peeled and finely chopped shallot and the finely crushed garlic, and add pepper to taste.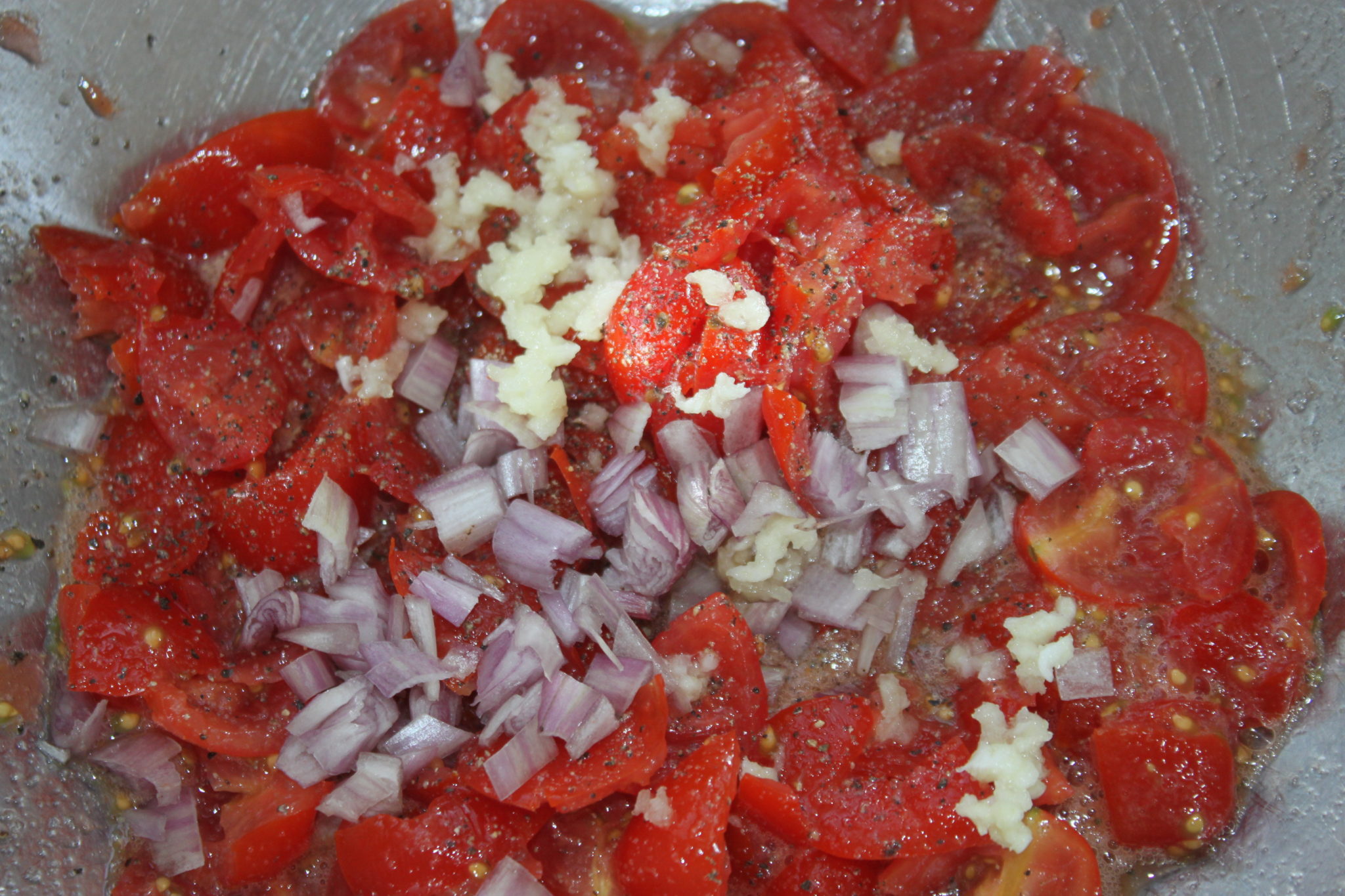 Wash and chop the mint and basil leaves and add them to the tomatoes.
Pour in the flour and adjust to the juice from the tomatoes. If it lacks juice, add a little water as needed. Put the equivalent of one tablespoon at a time.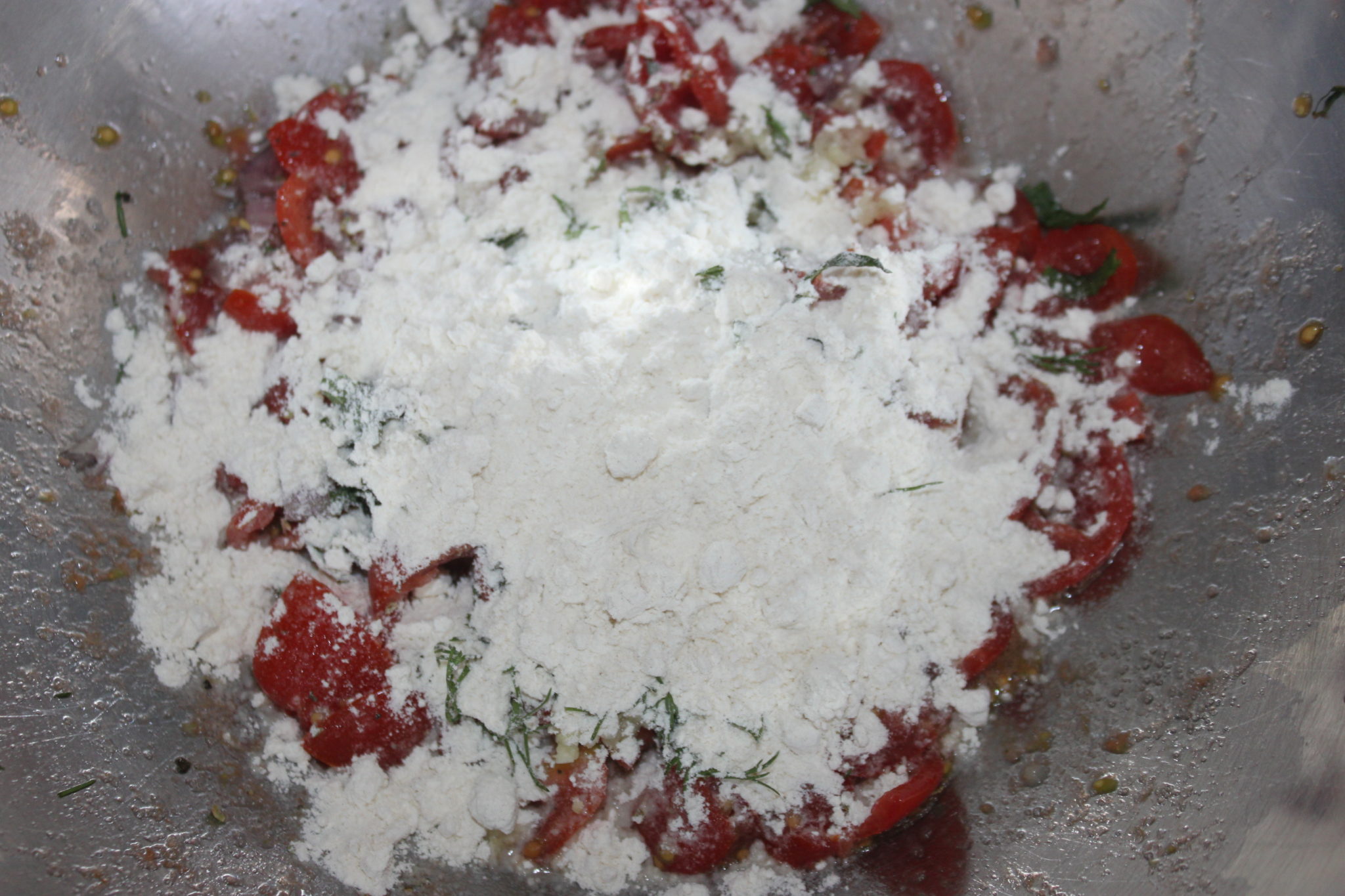 Mix well. The dough should finally be quite fluid.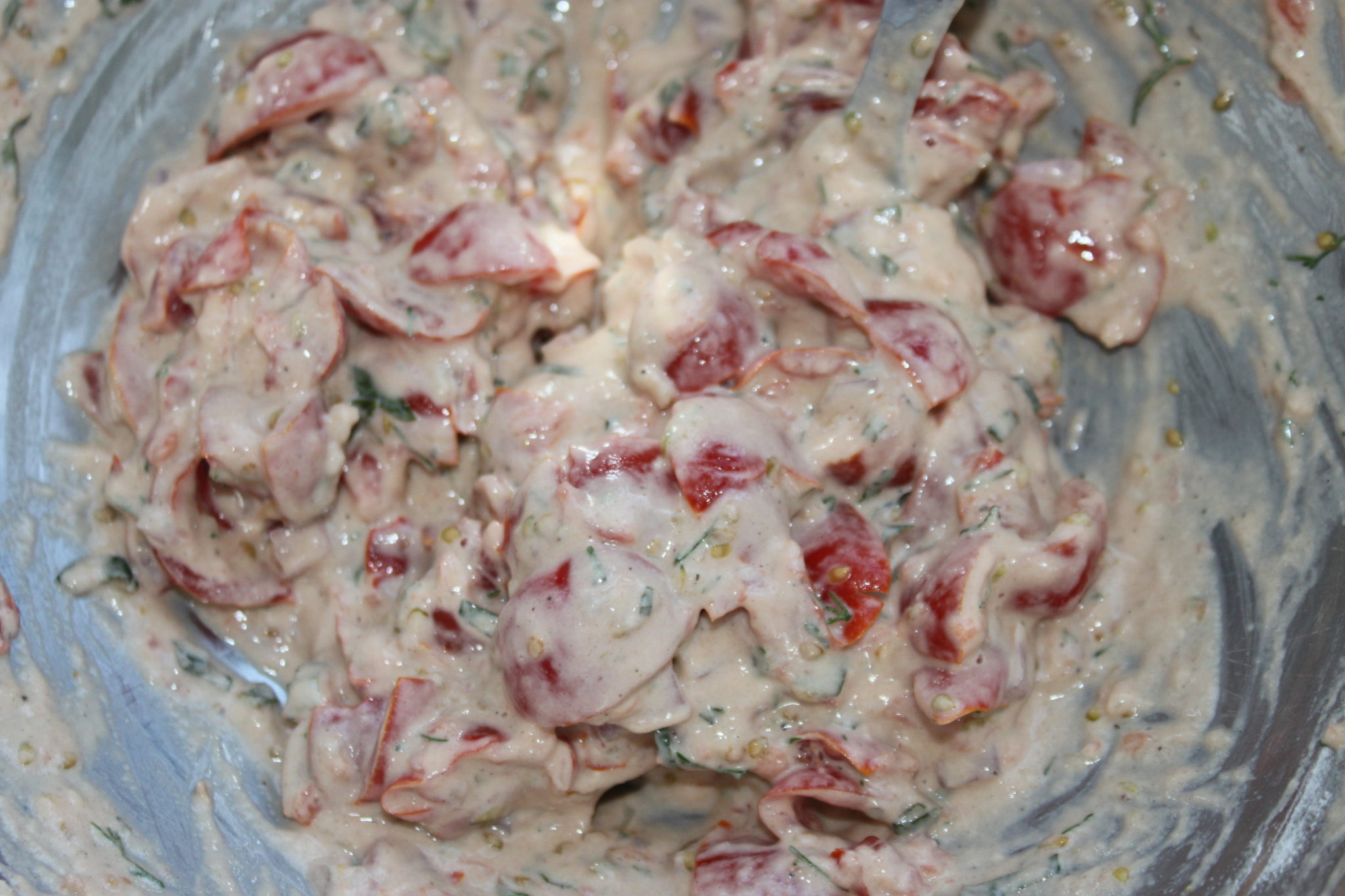 Heat a frying pan with at least 2cm of oil. When hot, fry the equivalent of one tablespoon at a time. As the dough is fluid, it will flatten and make round fritters.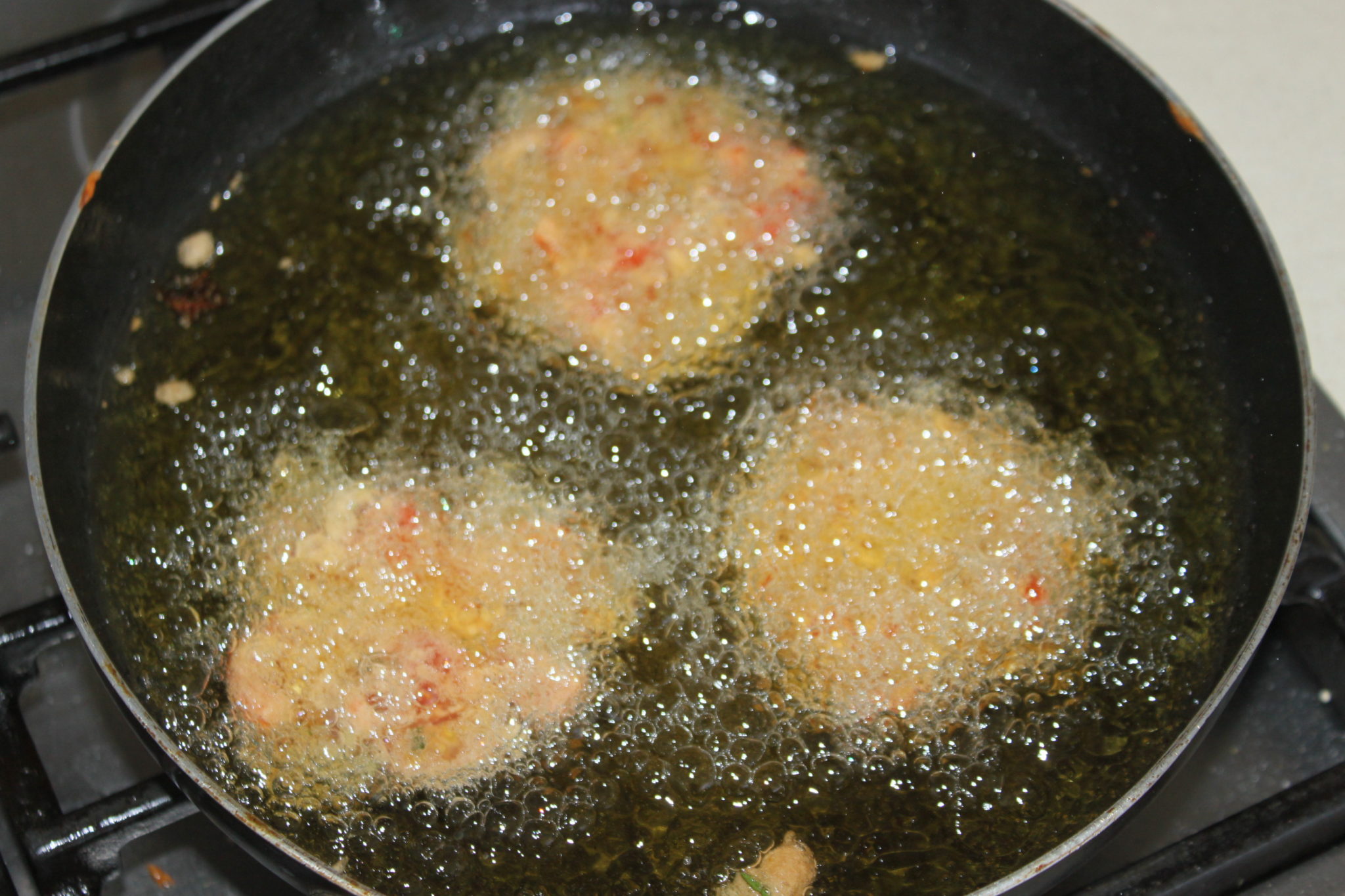 Let cook well and then turn the fritters over until they are golden brown and red.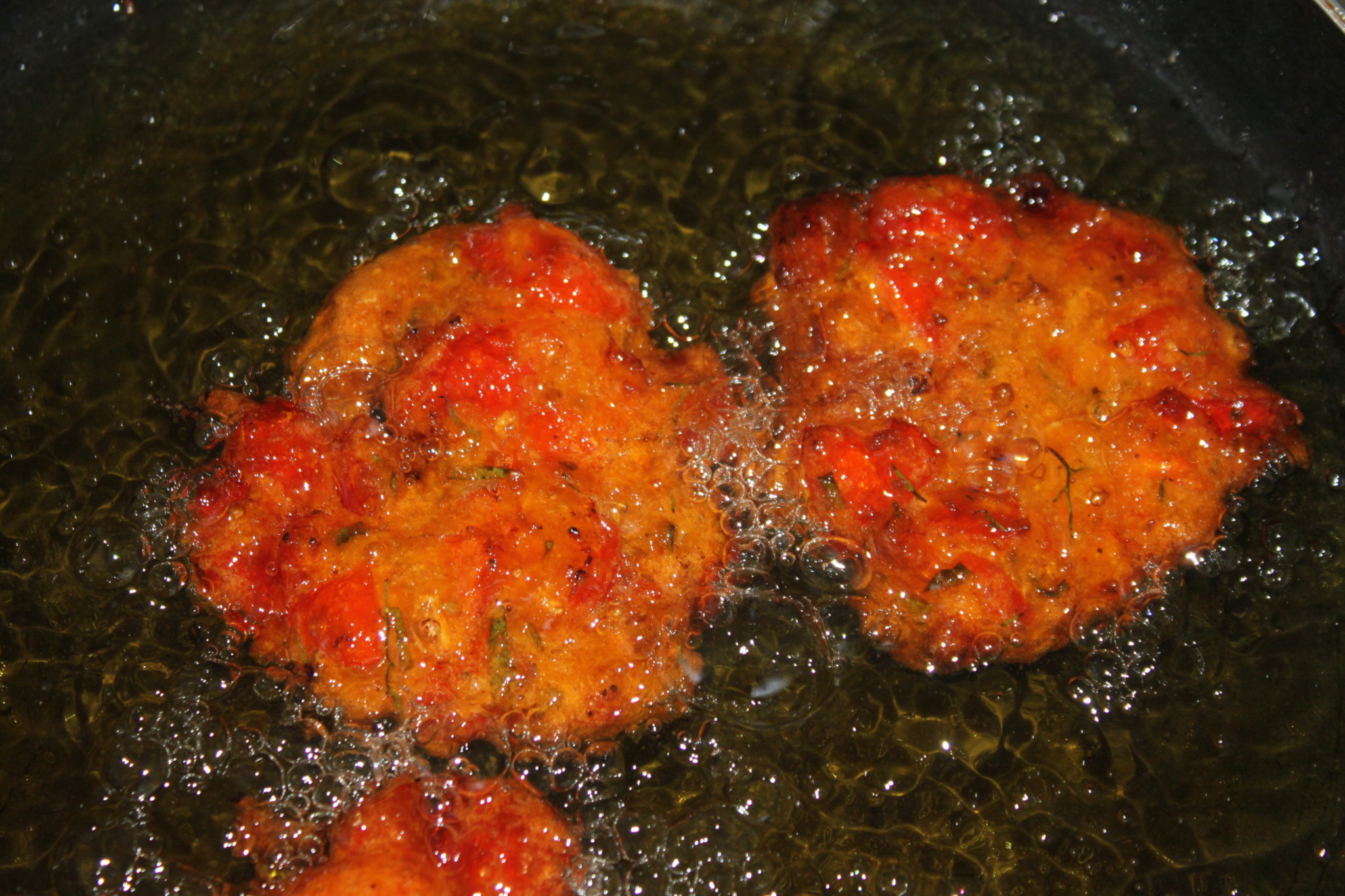 Cook all the doughnuts and then let them rest on a paper towel.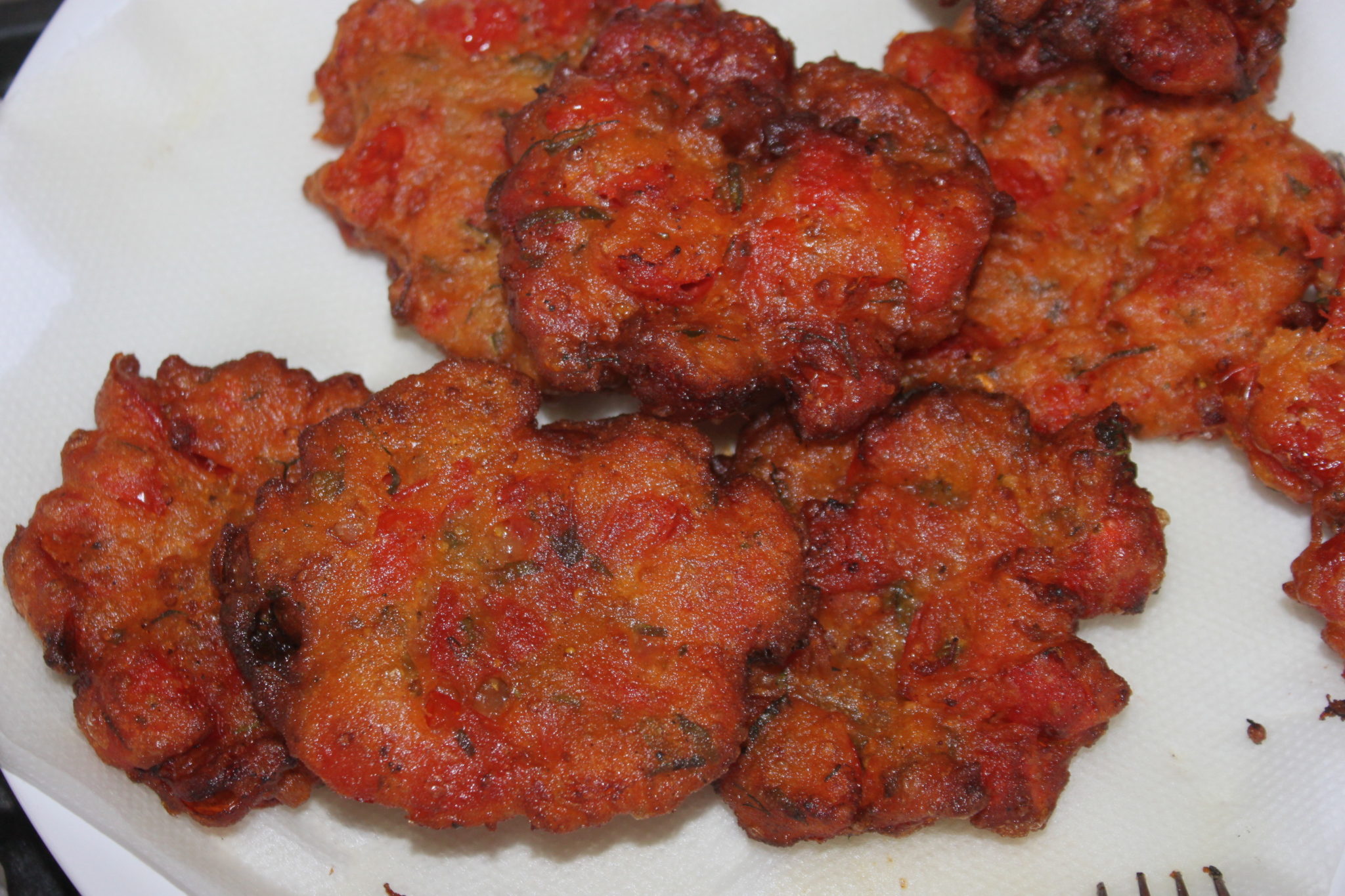 Serve with Greek yogurt salted to taste and garnished with herbs (mint and/or basil). You can reheat them for 10-12 minutes in a hot oven (200°C) and let them regain their crispness in 10 minutes.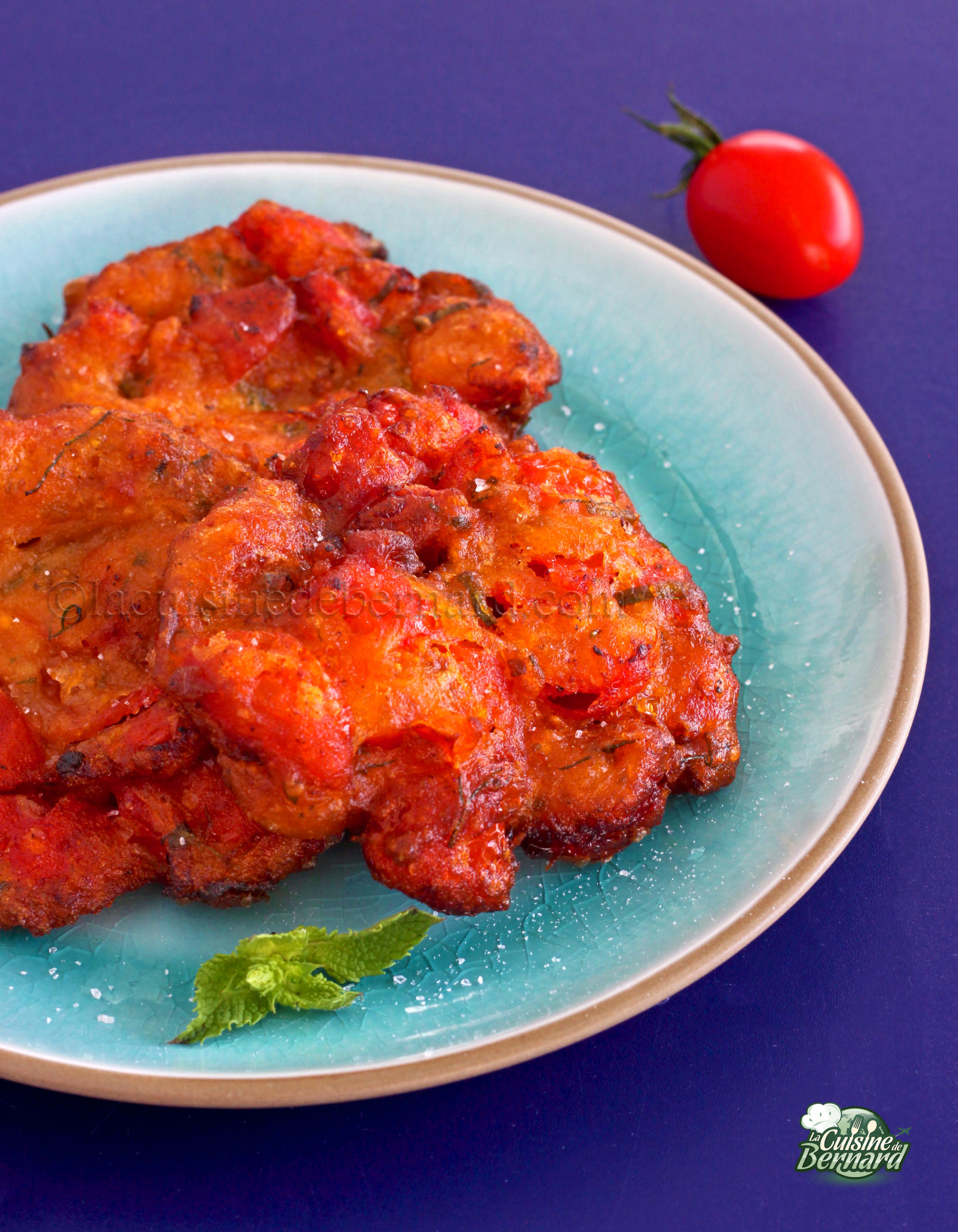 Beignets grecs de tomates (domatokeftedes)
Instructions
Lavez et équeutez vos tomates. J'ai pris des tomates cerises plus sucrées que les grosses tomates. Coupez en morceaux, en gros en 4 pour les tomates cerises.

Salez puis écrasez les tomates dans vos mains pour extraire le jus au maximum. Ne jetez pas le jus !

Ajoutez l'échalote épluchée et coupée en petits morceaux et l'ail finement écrasé, poivrez à votre goût.

Lavez et ciselez les feuilles de menthe et de basilic, ajoutez-les dans les tomates.

Versez la farine et adaptez au jus rendu par les tomates. Si cela manque de jus, ajoutez un peu d'eau au besoin. Mettez l'équivalent d'une cuillerée à soupe à la fois. Mélangez bien. La pâte doit être finalement assez fluide.

Faites chauffer une poêle avec au moins 2cm d'épaisseur d'huile. Quand elle est bien chaude, faites frire l'équivalent d'une cuillerée à soupe à la fois. La pâte étant fluide, elle va s'aplatir et faire des beignets ronds.

Laissez bien cuire puis retournez les beignets pour qu'ils soient bien dorés et bien rouges.

Faites cuire tous les beignets et laissez ensuite reposer sur un papier absorbant.

Servez avec du yaourt grec salé à votre goût et agrémenté d'herbes (menthe et/ou basilic). Vous pourrez les réchauffer 10-12 minutes à four chaud (200°C) puis les laissez reprendre leur croustillant en 10 minutes.
Nutrition
Calories:
49
kcal
Carbohydrates:
11
g
Protein:
2
g
Fat:
0.2
g
Saturated Fat:
0.02
g
Polyunsaturated Fat:
0.1
g
Monounsaturated Fat:
0.02
g
Sodium:
6
mg
Potassium:
112
mg
Fiber:
1
g
Sugar:
2
g
Vitamin A:
250
IU
Vitamin C:
10
mg
Calcium:
11
mg
Iron:
1
mg