Cheesecake sans cuisson
Je sais que mes recettes de cheesecakes présentes sur mon blog de cuisine ont beaucoup plu à une grosse partie de mes lecteurs. Je prends le pari que celle-ci va prendre le relais ! Pour une fois, c'est un cheesecake sans cuisson que je vous propose. Je vous donne aussi une recette tout bête de coulis mangue passion. Alors je préviens tout de suite, ce gâteau est riche, mais complètement addictif ! Sa texture est riche et onctueuse, exactement comme je l'aime, mais tient parfaitement malgré l'absence de cuisson. 
Instructions
Placez les biscuits dans votre mixeur. J'ai pris ici moitié biscuits avoine et moitié spéculos.

Mixez finement avec le beurre fondu et la vergeoise.

Chemisez votre moule à manqué à bord amovible dans le fond. J'ai mis également un morceau de rhodoïd dans le bord intérieur du moule. Cela va permettre de démouler très facilement le gâteau. 

Versez le fond de biscuits.

Étalez sur le fond et le bord.

Versez le cream cheese, le sucre (15g), le chocolat blanc fondu, la vanille liquide et l'intérieur de la gousse, le zeste du demi-citron. Mélangez avec le feuille de votre robot ou avec une spatule.

Faites fondre l'agar-agar, avec les 25g d'eau et les 15g de crème.

Portez à ébullition en mélangeant.

Versez tout de suite dans le cream cheese et mélangez de nouveau très soigneusement. Raclez bien le fond de la casserole avec une maryse pour bien tout récupérer.

Montez les 300g de crème entière en chantilly très ferme.

Ajoutez dans le mélange au cream cheese et mélangez sans faire retomber le tout, comme pour une mousse au chocolat blanc.

Et voilà ! Versez dans le moule sur le fond de pâte.

Étalez soigneusement. Mettez au frais au moins 4 heures, ou mieux : une nuit.

Pour le coulis, épluchez et coupez en morceaux la mangue.

Videz les fruits de la passion. 

Versez le tout dans une casserole avec un peu d'eau.

Ajoutez une cuillerée à soupe de sucre.

Faites cuire sur feu doux.

Le tout doit bouillir doucement.

Vous pouvez ajouter un peu d'eau pour avoir la consistance désirée. J'ai également ici écraser la mangue à la fourchette. Laissez ensuite refroidir. 

Enlevez le cercle du moule. On voit bien ici le rhodoïd. 

Enlevez la languette de rhodoïd pour libérer le cheesecake. Décollez-le du papier sulfurisé avec attention. 

Il ne reste plus qu'à le servir avec le coulis mangue-passion ! Pour faire de belles tranches, trempez votre couteau dans de l'eau brûlante à chaque découpe. 
Nutrition
Serving:
4
personnes
Calories:
1726
kcal
Carbohydrates:
97
g
Protein:
20
g
Fat:
142
g
Saturated Fat:
81
g
Polyunsaturated Fat:
10
g
Monounsaturated Fat:
37
g
Trans Fat:
1
g
Cholesterol:
331
mg
Sodium:
991
mg
Potassium:
520
mg
Fiber:
1
g
Sugar:
68
g
Vitamin A:
4207
IU
Vitamin C:
1
mg
Calcium:
343
mg
Iron:
2
mg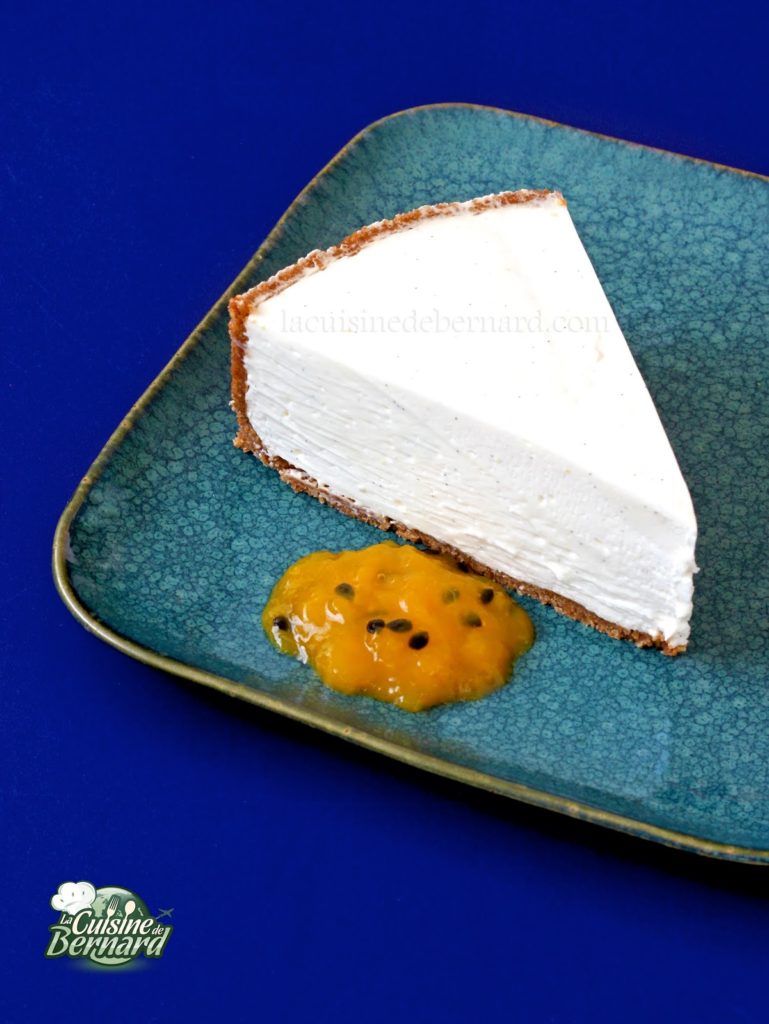 I know that my cheesecake recipes on my cooking blog have been very popular with a large portion of my readers. I bet this one will take over! For once, this is a no-bake cheesecake I'm proposing. I also give you a very simple recipe for mango passion fruit coulis. So I'll warn you right now, this cake is rich, but completely addictive! The texture is rich and creamy, just the way I like it, but holds up perfectly despite the lack of cooking.
Recipe for a 24cm diameter mould:
Base:
240g of cookies
100g of semi-salted butter
45g of brown vergeoise
Cream:
700g of cream cheese
300ml full cream
210g of white chocolate
15g of sugar
the zest of half a lemon, untreated
1 vanilla pod
1 teaspoon of liquid vanilla
1,5g of agar-agar
15g of liquid cream
25g of water
Instructions:
Place the cookies in your blender. I took here half oatmeal cookies and half speculos.
Mix finely with melted butter and vergeoise.
Line the bottom of your springform pan with a removable rim. I also put a piece of rhodoid in the inside edge of the mold. This will make it very easy to unmold the cake.
Pour in the cookie base.
Spread on the bottom and the edge.
Pour in the cream cheese, sugar (15g), melted white chocolate, liquid vanilla and the inside of the pod, and the zest of the half lemon. Mix with the leaf of your robot or with a spatula.
Melt the agar-agar, with the 25g of water and the 15g of cream.
Bring to a boil while stirring.
Immediately pour into the cream cheese and mix again very thoroughly. Scrape the bottom of the pan well with a marysee to collect everything.
Whip the 300g of whole cream into a very firm whipped cream.
Add to the cream cheese mixture and mix without letting it fall apart, like a white chocolate mousse.
And There you go !
Pour into the pan on top of the batter.
Spread carefully. Chill for at least 4 hours, or better yet, overnight.
For the coulis, peel and chop the mango.
Empty the passion fruit.
Pour into a saucepan with a little water.
Add a tablespoon of sugar.
Cook over low heat.
The whole thing should boil gently.
You can add a little water to get the desired consistency. I also crushed the mango here with a fork. Then let cool.
Remove the circle from the pan. The rhodoïd is clearly visible here.
Remove the rhodoid flap to release the cheesecake. Carefully peel it off the parchment paper.
All that's left to do is serve it with the mango-passion coulis! To make nice slices, dip your knife in hot water with each cut.