Early potatoes have the perfect texture for this generous Korean recipe. It is necessary to take advantage of the good season, that is to say as of May and to cook them quickly because they are preserved only a few days. They are true treasures of our French terroirs. They are cultivated mainly in sunny coastal areas with sandy soil: Brittany, Noirmoutier, South of France. The latest ones come from the northern regions: the English Channel, Alsace and the Saône Valley. Harvested before their complete maturity, they are marketed without delay to guarantee their extreme freshness. Here, the sauce is deliciously spicy, sweet and spicy, with a touch of sesame oil at the last moment. They will be perfect to accompany a Korean meal, or simply as they are on the table with a meat. Be careful, because once you start to dive in, you can't stop ! https://www.lespommesdeterre.com/
Recette des POMMES DE TERRE DE PRIMEUR À LA CORÉENNE pour 3-4 personnes :
400g of small potatoes
4 tablespoons of neutral oil (grape seed or rapeseed for cooking)
3 cloves of garlic
250ml of water
5 teaspoons rice syrup (or honey)
4 teaspoons of clear soy sauce
1 teaspoon of gojuchang (or easier to find sriracha)
1/2 teaspoon of rice or white vinegar
2 teaspoons of toasted sesame oil
toasted sesame seeds, fresh chives
Instructions :
Wash the potatoes in clean water. Take small potatoes and leave the skin on and do not cut them. If you cut them in half, the starch will make a sauce that is not at all syrupy. To get a nice shine, leave them whole!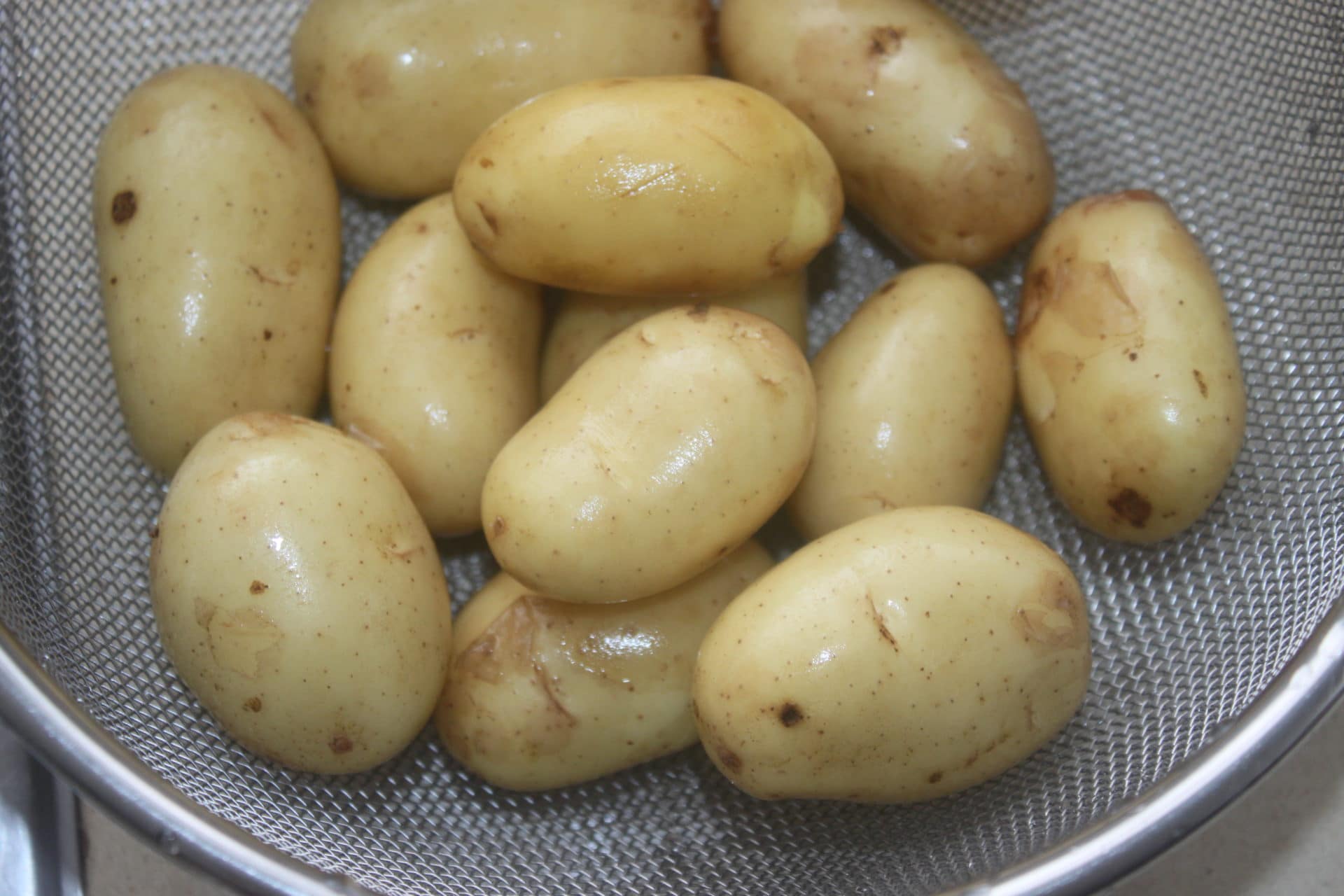 Pour the oil into a saucepan and heat over high heat. Cover and cook for 15 minutes, stirring occasionally. The potatoes will color nicely.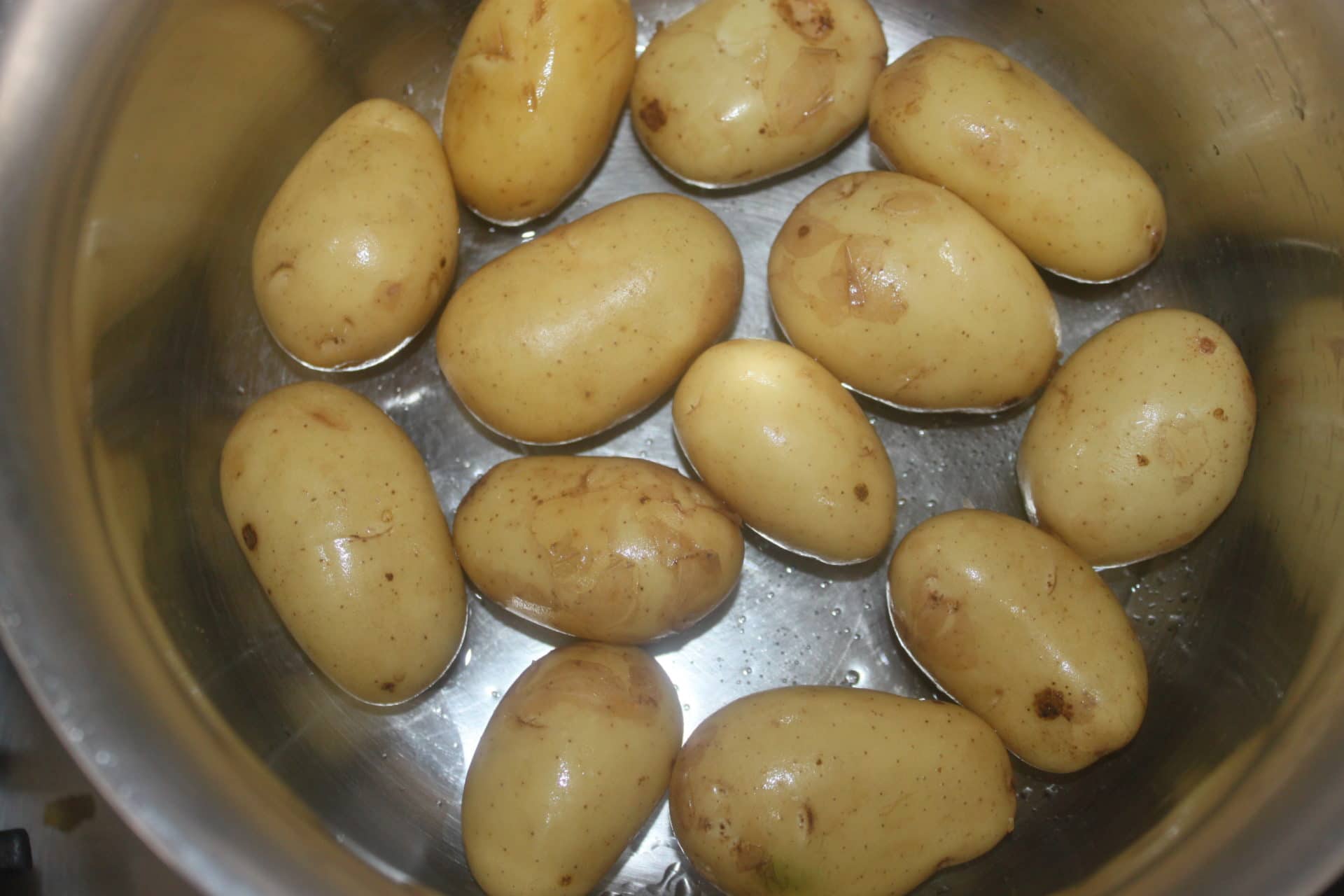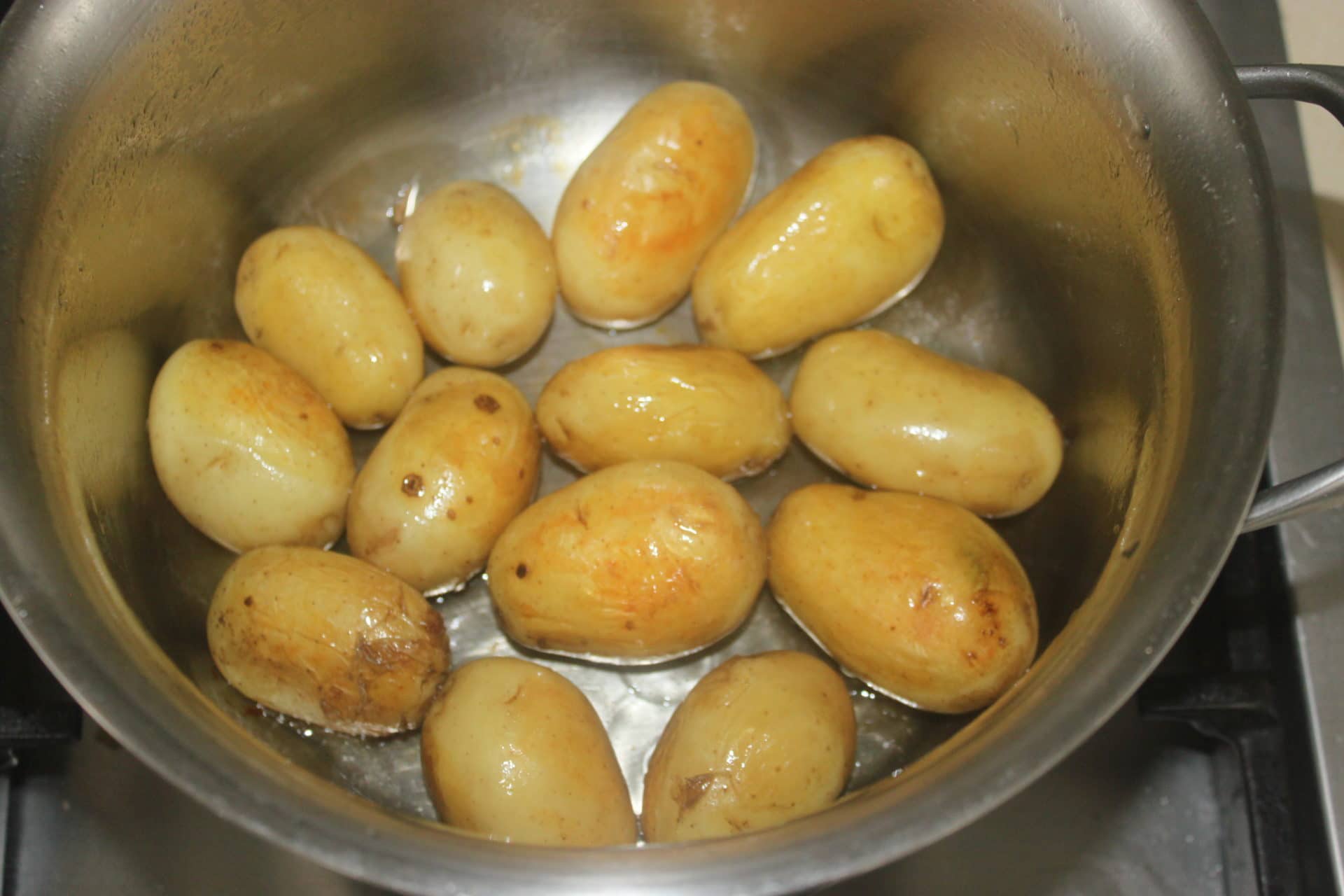 Add finely chopped or crushed garlic cloves and cook for two minutes.
Then pour in the water, rice syrup, clear soy sauce, gojuchang and vinegar.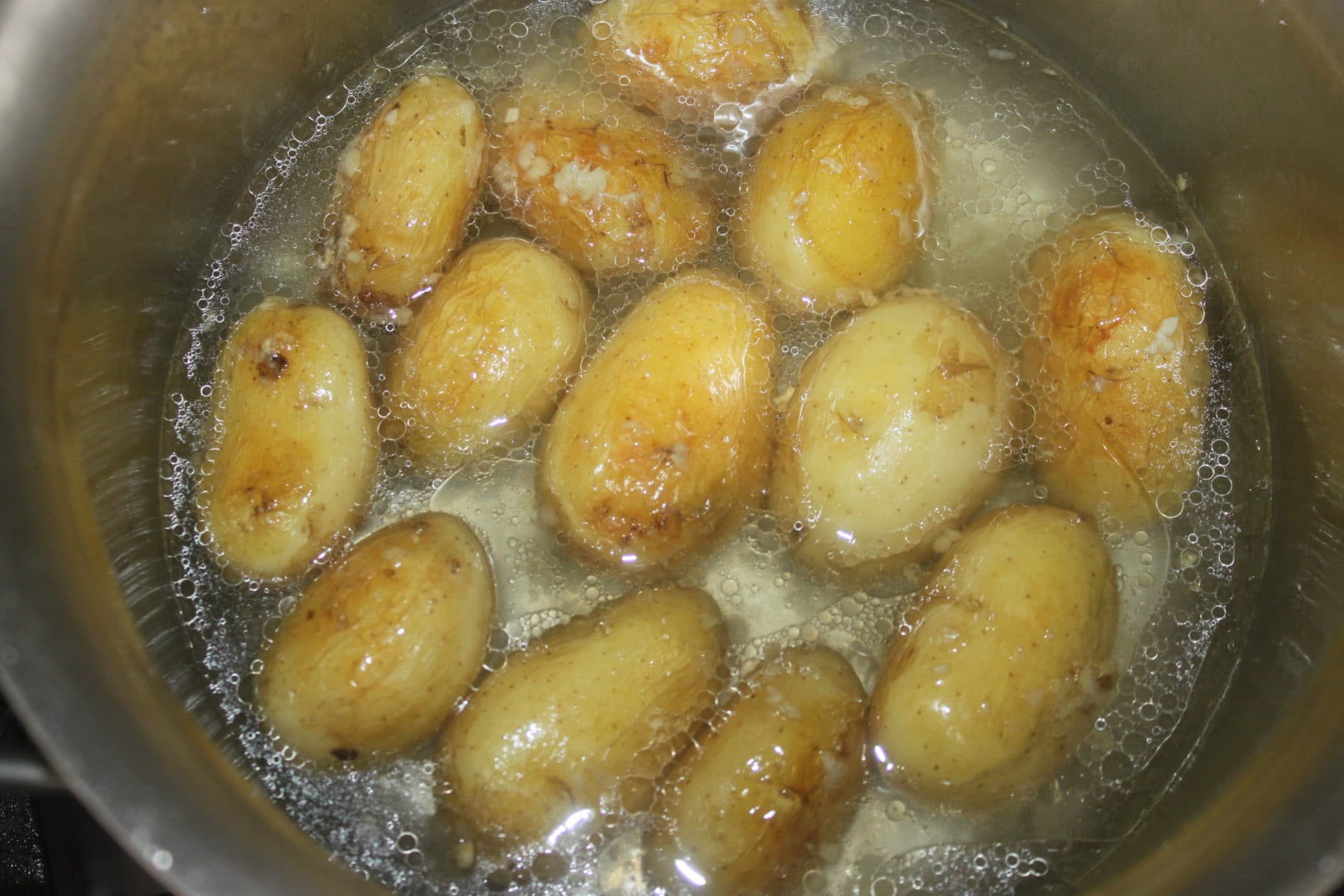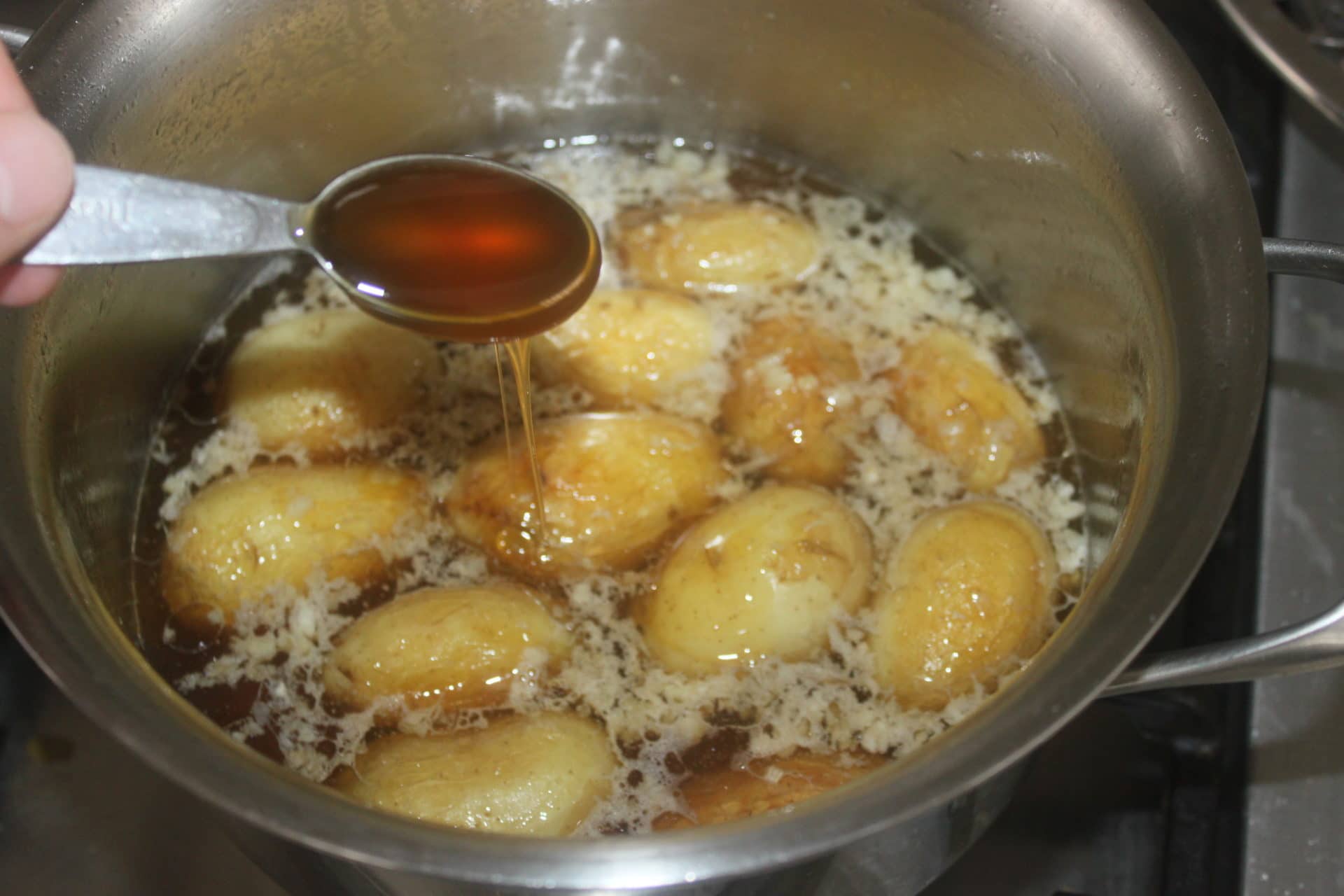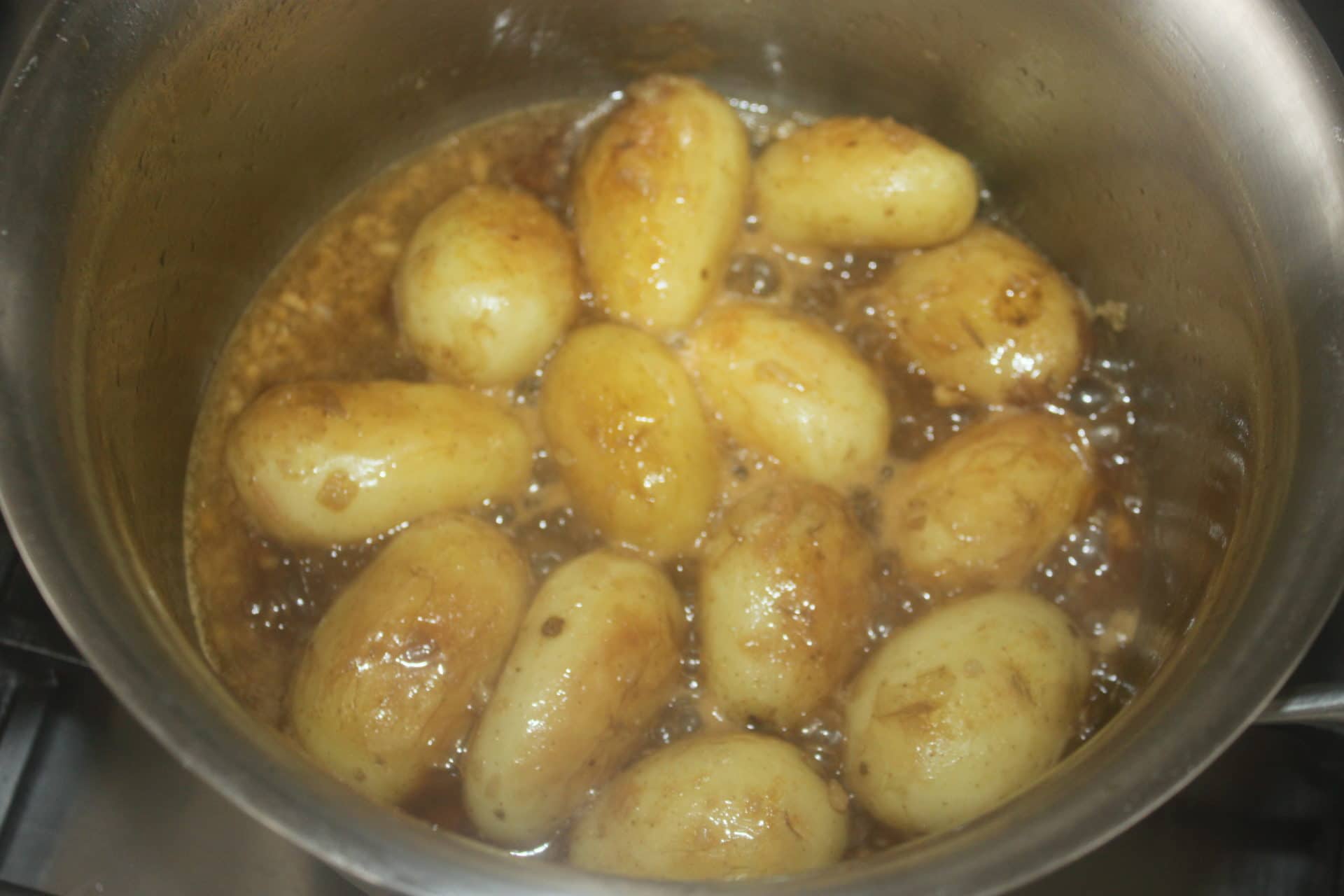 This time, cook uncovered over moderate heat. The broth will evaporate slowly. When there is still 2cm thick, be very careful. It will thicken up nicely as it goes along and become syrupy.
When the potatoes are well coated, pour in the sesame oil.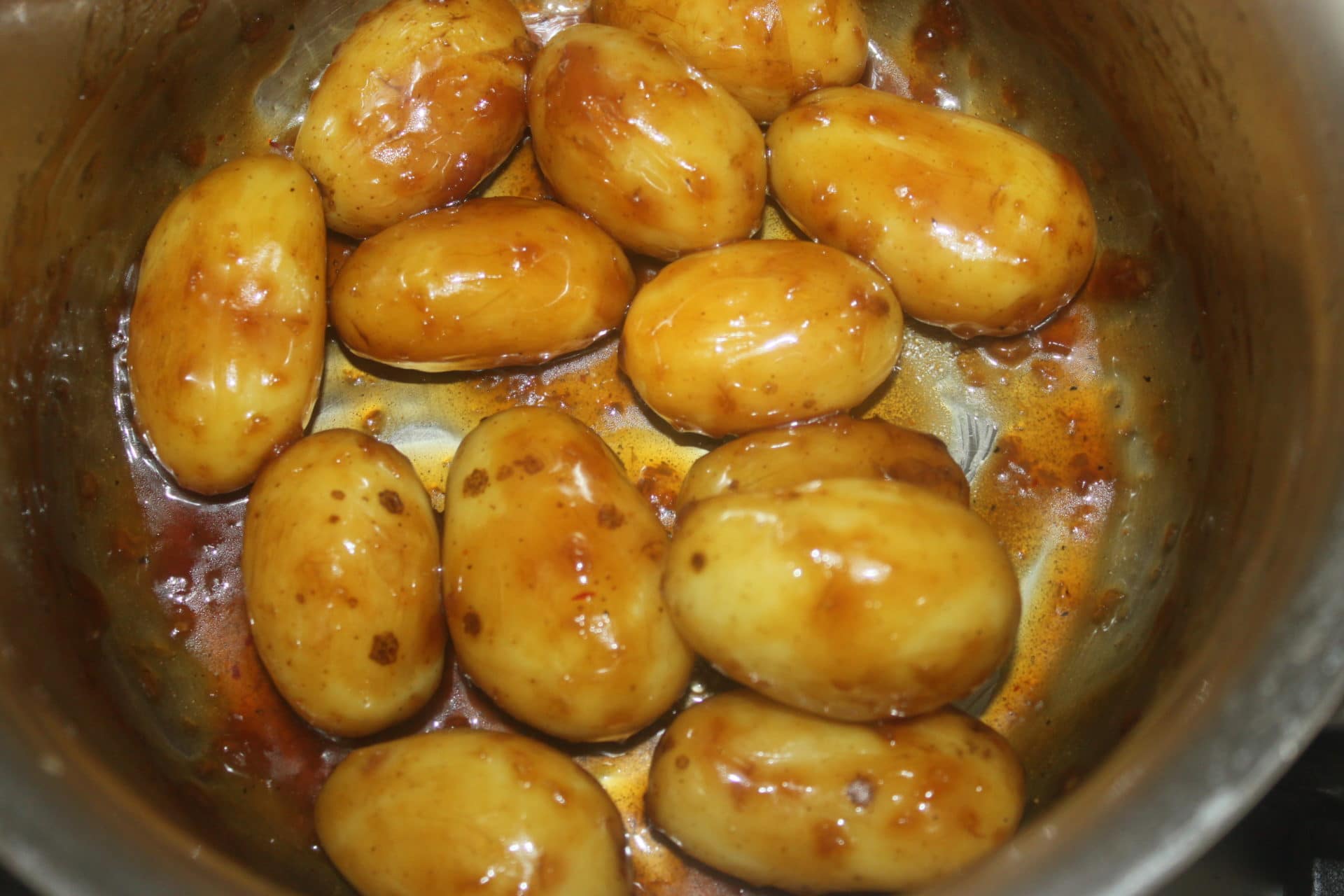 Mix and serve immediately with the toasted sesame seeds and some finely chopped chives.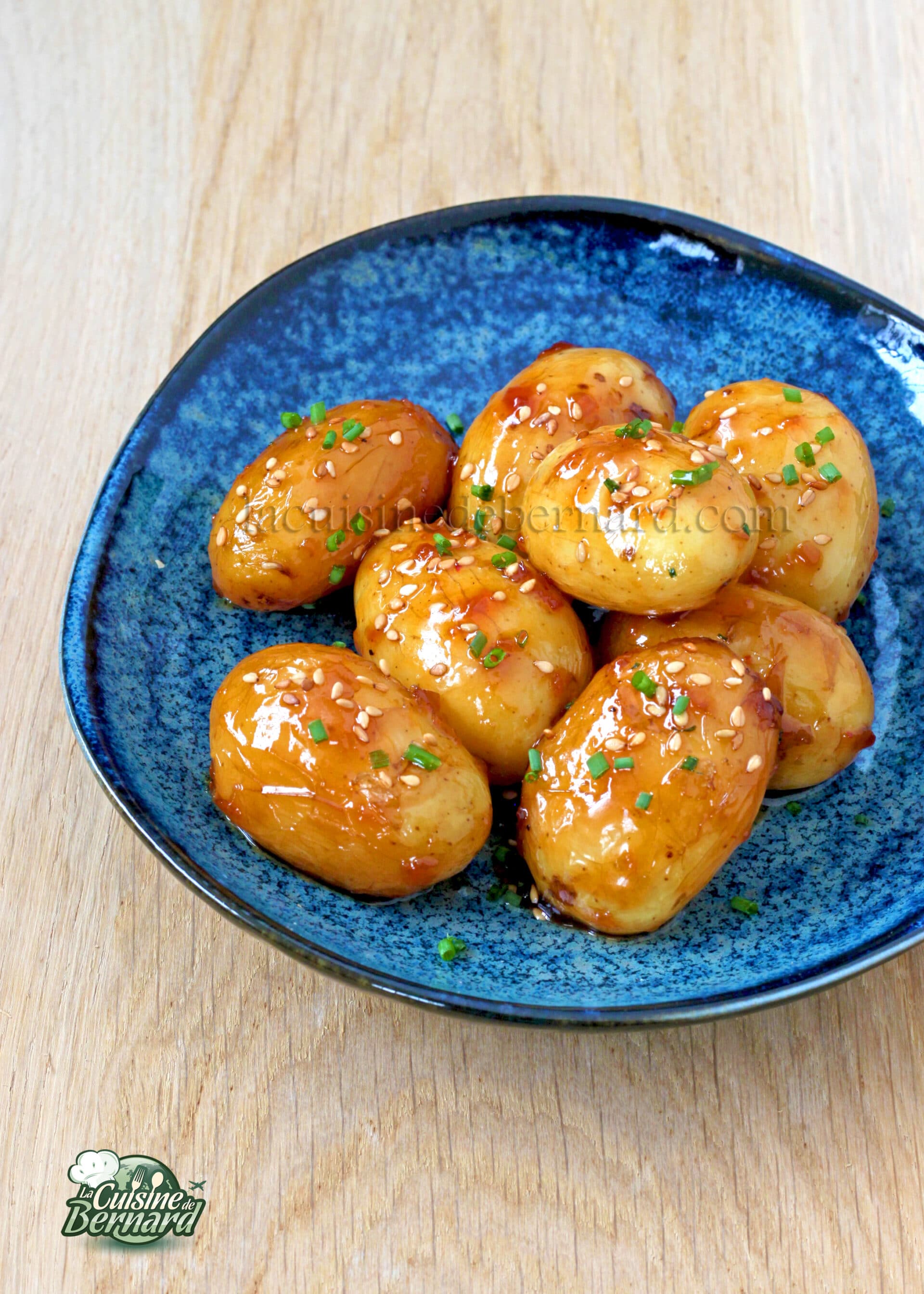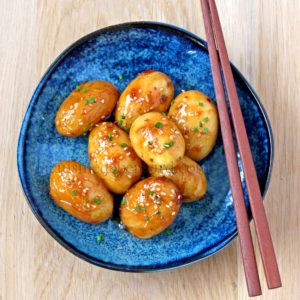 Pommes de terre de primeur à la coréenne : pimentées, sucrées et à l'huile de sésame
Les pommes de terre primeur ont une texture parfaite pour cette généreuse recette coréenne. Il faut en profiter à la bonne saison, à savoir dès le mois de mai et les cuisiner rapidement car elles ne se conservent que quelques jours. Ce sont de véritables trésors de nos terroirs français. Elles sont cultivées principalement dans des zones littorales ensoleillées, au sol sablonneux : Bretagne, Noirmoutier, Sud de la France. Les plus tardives nous viennent des régions du Nord : la Manche, l'Alsace et le Val de Saône. Récoltées avant leur complète maturité, elles sont commercialisées sans tarder pour garantir leur extrême fraîcheur. Ici, la sauce est délicieusement relevée, sucrée et pimentée, avec une touche d'huile de sésame au dernier moment. Elles seront parfaites pour accompagner un repas coréen, ou simplement telles quelles sur la table avec une viande. Faites bien attention, car quand on commence à plonger le nez dedans, on ne s'arrête plus !! https://www.lespommesdeterre.com/
Instructions
Lavez les pommes de terre à l'eau claire. Prenez des petites pommes de terre et surtout laissez la peau et ne les coupez pas. Si vous les coupez en deux, l'amidon va donner une sauce qui ne sera pas du tout sirupeuse. Pour avoir un joli brillant, il faut donc les laissez entières !

Versez l'huile dans une casserole et faites chauffer sur feu soutenu. Mettez un couvercle et laissez cuire 15 minutes en remuant de temps en temps. Les pommes de terre vont joliment se colorer.

Ajoutez les gousses d'ail finement hachées ou écrasées au presse-ail et laissez cuire deux minutes.

Versez ensuite l'eau, le sirop de riz, la sauce de soja claire, le gojuchang et le vinaigre.

Cette fois, laissez cuire sans couvercle sur feu modéré. Le bouillon va s'évaporer doucement. Quand il en reste 2cm d'épaisseur, soyez très attentifs. Il va bien s'épaissir au fur et à mesure et devenir sirupeux.

Quand le tout nappe bien les pommes de terre, versez l'huile de sésame.

Mélangez puis servez sans attendre avec les graines de sésame grillé et un peu de ciboulette finement hachée.
Nutrition
Calories:
98
kcal
Carbohydrates:
19
g
Protein:
2
g
Fat:
2
g
Saturated Fat:
0.1
g
Polyunsaturated Fat:
0.5
g
Monounsaturated Fat:
1
g
Trans Fat:
0.01
g
Sodium:
70
mg
Potassium:
437
mg
Fiber:
2
g
Sugar:
2
g
Vitamin A:
76
IU
Vitamin C:
20
mg
Calcium:
20
mg
Iron:
1
mg