How to make real chocolates, like the ones you find in the streets, without a praline vat? I have found a simple and effective solution. I was surprised to find that making pralines, takes a little more time than I thought. There is indeed not only one, but three successive layers of sugar! In any case, offering "homemade" chocolates always has its little effect!
Recipe for chocolates: (for 1kg)
-350g raw unsalted peanuts (or almonds! but I love peanut street chocolates!)
-1 kg of sugar
-coffee brown" powdered colorant
-6g gum arabic with 10g water for coating (optional)
Divide the sugar into three equal portions. Put 330g of sugar in a pan with a good pinch of coloring.




Pour onto parchment paper and let dry.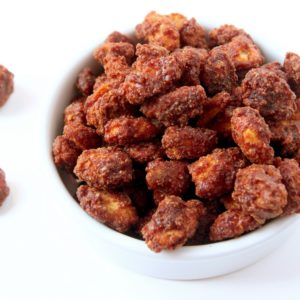 Pralines
Comment faire de vraies pralines, comme celles que l'on trouve dans les rues, sans une cuve à praline? Je vous ai trouvé une solution simple et efficace. J'ai été surpris de constater que faire des pralines, demande un peu plus de temps que je ne pensais. Il n'y a en effet pas qu'une, mais trois couches de sucre successives! En tout cas, offrir des pralines « maison », produit toujours son petit effet!
Instructions
Diviser le sucre en trois portions égales. Mettre 330g de sucre dans un poêle avec une bonne pointe de couteau de colorant.

Ajouter suffisamment d'eau pour imbiber le sucre, environ 50g.

Mettre à cuire sur feu doux. Porter à ébullition.

Ajouter les cacahuètes et bien mélanger.

Le sucre va cristalliser et le mélange sabler. Bien répartir le sucre sur la surface des cacahuètes.

Laisser durcir (le sucre sur les cacahuètes) sur un papier sulfurisé.

Trier les cacahuètes et remettre le sucre qui n'a pas couvert les cacahuètes dans une casserole qui contient un autre tiers de sucre, de l'eau et du colorant.

Porter ce sirop à 119°C.

Mettre les cacahuètes dans un grand bol ou une cuve de batteur kitchenaid ou kenwood. Verser le sirop en filet et en plusieurs petites quantités, en prenant soin de bien mélanger et de répartir le sucre sur les cacahuètes. Le sucre va sabler tout seul!

Quand tout le sirop est versé et que les cacahuètes sont recouvertes de sucre, mettre les cacahuètes dans une poêle bien chaude (la même que tout à l'heure!) et laisser caraméliser très légèrement. Il ne faut surtout pas que le sucre refonde, mais que simplement une petite couche en surface fonde. Cette opération n'est pas forcément très traditionnelle, mais je trouve que les pralines sont meilleures ainsi.

Remettre les cacahuètes sur le papier sulfurisé et laisser durcir le sucre. Séparer les cacahuètes si elles se collent. Remettre ensuite les cacahuètes dans la cuve. Recommencer la dernière opération. À savoir: refaire une sirop avec le sucre qui n'a pas adhéré, le reste du kilo de sucre, du colorant, un peu d'eau jusqu'à 118-119°C. Verser sur les pralines doucement et en filet pour enrober les pralines de sucre. Laisser refroidir sur un papier sulfurisé puis caraméliser légèrement dans la poêle pour créer une petite couche de caramel.

Pour finir, on peut y mettre une couche de gomme arabique. Cette étape n'est pas indispensable, mais elle donnera le look final aux pralines! De plus, cela les protège de l'humidité. Verser la poudre de gomme arabique dans une petite casserole.

Ajouter de l'eau puis porter à frémissement.

Verser doucement en filet, tout en mélangeant sur les pralines.

Bien enrober toutes les pralines de gomme arabique.

Verser sur le papier sulfurisé et laisser sécher.

Il ne reste plus qu'à les dévorer! Il faudra les garder dans une boite hermétique ou les mettre en sachet bien fermé.
Nutrition
Calories:
5845
kcal
Carbohydrates:
1051
g
Protein:
92
g
Fat:
177
g
Saturated Fat:
27
g
Polyunsaturated Fat:
60
g
Monounsaturated Fat:
78
g
Sodium:
87
mg
Potassium:
2624
mg
Fiber:
33
g
Sugar:
998
g
Calcium:
381
mg
Iron:
14
mg