Artichaut rôtis à la feta et à l'aneth
Une petite entrée savoureuse et pleine de lumière !! J'adore les petits artichauts poivrades, surtout quand ils sont bien dorés avec de l'huile d'olive. Avec un peu de feta, d'aneth et de fines lamelles d'oignon rouge c'est un délice très simple à faire chez soi ! J'ai été contacté par « les fruits et légumes frais » pour réaliser cette recette maison facile et rapide. Vous pouvez suivre leur page facebook ICI ! 
Ingredients
Instructions
Voici les petits artichauts poivrades. Un petit délice !!

Commencez déjà par presser l'un des deux citrons. 

Versez le jus dans un récipient et complétez avec un peu d'eau. Une fois les artichauts préparés, vous les mettrez dans cette eau citronnée pour éviter leur noircissement. 

Coupez la queue des artichauts.

Épluchez les premières feuilles jusqu'à arriver aux feuilles plus tendres et vertes.

Une fois cela fait, épluchez à l'économe la base de l'artichaut.

Puis retirez un peu de foin intérieur à l'aide d'une petite cuillère. 

Dès que c'est fait, placez-les au fur et à mesure dans l'eau citronnée. Faites de même pour tous les artichauts. 

Quand vous avez terminés, égouttez-les bien puis placez-les sur un papier sulfurisé. Arrosez d'un peu d'huile d'olive. Salez et poivrez. 

Refermez le papier en papillote et faites cuire 35 minutes à 180°C.

Pendant ce temps, émincez finement un demi oignon rouge épluché.

Placez-le dans l'eau bouillante pendant 10 secondes.

C'est donc très rapide ! Égouttez-les et placez-les dans un petit bol. Arrosez tout de suite d'un peu de jus de citron (deux cuillerées à soupe).

Les oignons vont magiquement virer au rose ! Mélangez bien et mettez de côté.

Coupez la feta en petits morceaux.

Quand les artichauts sont cuits, ouvrez la papillote.

Versez un peu d'huile d'olive dans une poêle sur feu assez vif et placez les artichauts.

Faites-les sauter jusqu'à avoir une légère coloration.

Dans un plat de service, posez les artichauts, surmontez de feta, de lamelles d'oignon rouge, d'un peu d'aneth ciselé. Salez et poivrez à votre goût puis arrosez d'un peu d'huile d'olive. Il n'y a plus qu'à dévorer ! 
Nutrition
Serving:
4
personnes
Calories:
267
kcal
Carbohydrates:
36
g
Protein:
17
g
Fat:
11
g
Saturated Fat:
7
g
Polyunsaturated Fat:
0.3
g
Monounsaturated Fat:
2
g
Cholesterol:
45
mg
Sodium:
890
mg
Potassium:
126
mg
Fiber:
16
g
Sugar:
7
g
Vitamin A:
2500
IU
Vitamin C:
35
mg
Calcium:
353
mg
Iron:
5
mg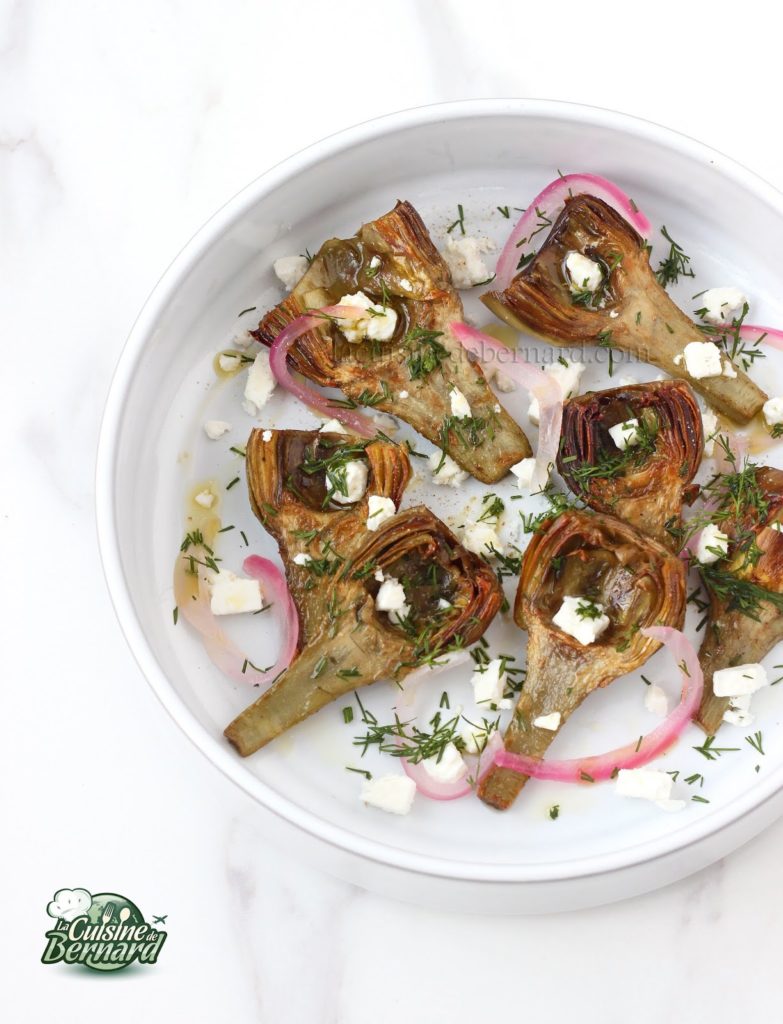 A tasty little starter full of light! I love baby artichokes, especially when they are browned with olive oil. With a little feta cheese, dill and thin slices of red onion, this is a very simple treat to make at home! I was contacted by
"les fruits et légumes frais"
to make this quick and easy homemade recipe. You can follow their facebook page
HERE
!
Recipe for 4 people:
12 small pepper artichokes
2 yellow lemons
1/2 red onion
200g of feta cheese
olive oil
a few sprigs of fresh dill
salt pepper
Instructions:
Here are the small artichokes. A little delight!
Start by squeezing one of the two lemons.
Pour the juice into a container and top up with a little water. Once the artichokes are prepared, you will put them in this lemon water to avoid their blackening.
Cut off the stems of the artichokes.
Peel off the first few leaves until you get to the softer, green leaves.
Once this is done, peel the base of the artichoke.
Cut them in half.
Then remove some of the inner hay with a small spoon.
As soon as it is done, place them in the lemon water. Do the same for all the artichokes.
When finished, drain them well and place them on a piece of parchment paper. Sprinkle with a little olive oil. Season with salt and pepper.
Close the foil and bake for 35 minutes at 180°C.
Meanwhile, finely chop half a peeled red onion.
Place it in boiling water for 10 seconds.
So it's very fast! Drain and place in a small bowl. Immediately sprinkle with a little lemon juice (two tablespoons).
The onions will magically turn pink! Mix well and set aside.
Cut the feta cheese into small pieces.
When the artichokes are cooked, open the foil.
Pour a little olive oil into a frying pan over fairly high heat and place the artichokes.
Sauté until lightly colored.
In a serving dish, place the artichokes, top with feta cheese, red onion strips and a little chopped dill. Add salt and pepper to taste and drizzle with a little olive oil. There is nothing left to do but to devour!