This recipe is ideal for those who do not want raw fish or nori seaweed leaves. We see them everywhere nowadays and they are a real fresh delight! When the good weather finally comes, it is a pleasure to enjoy. It's all much simpler than it seems!
Pour 3 rouleaux (3-4 personnes)
215g of round rice
270g of water
150g of crab sticks (I took 10 wild fish supremes from Coraya, which are 156g)
a little mayonnaise
1 tablespoon of lime juice
a little bit of chives
1 lawyer
a few coriander leaves
3 sheets of rice, 19cm square
3 large salad leaves
Pour le vinaigre à sushi :
25g of sugar
35g white vinegar or rice vinegar
5g of mirin (if you don't have any, it doesn't matter!)
Cut out the "crab" sticks with a knife. I am definitely not sponsored by Coraya, but I took this brand because it is the best fit for this recipe!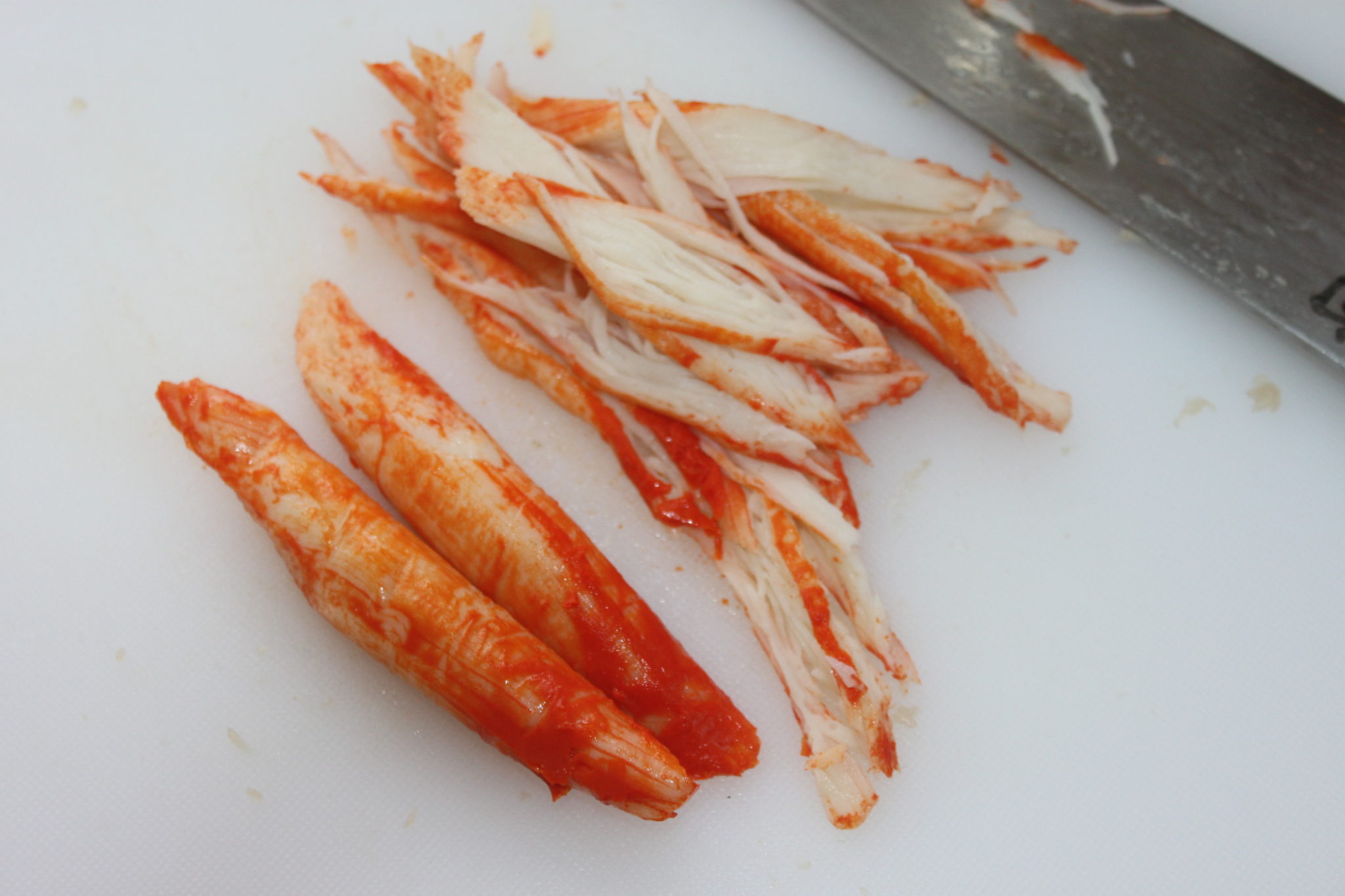 Put it in a small container with two to three tablespoons of mayonnaise, the lime juice and the chopped parsley.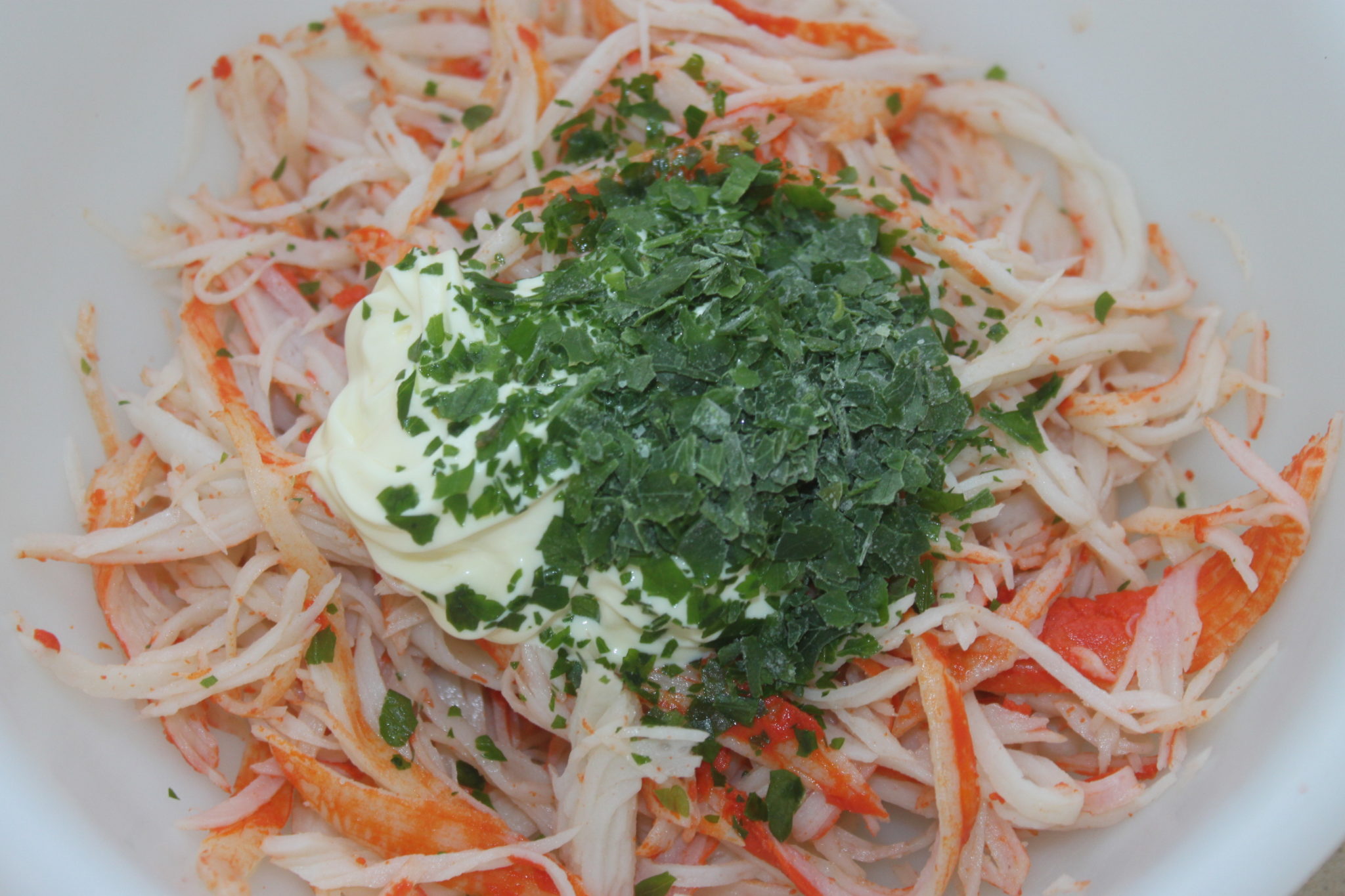 Mix well.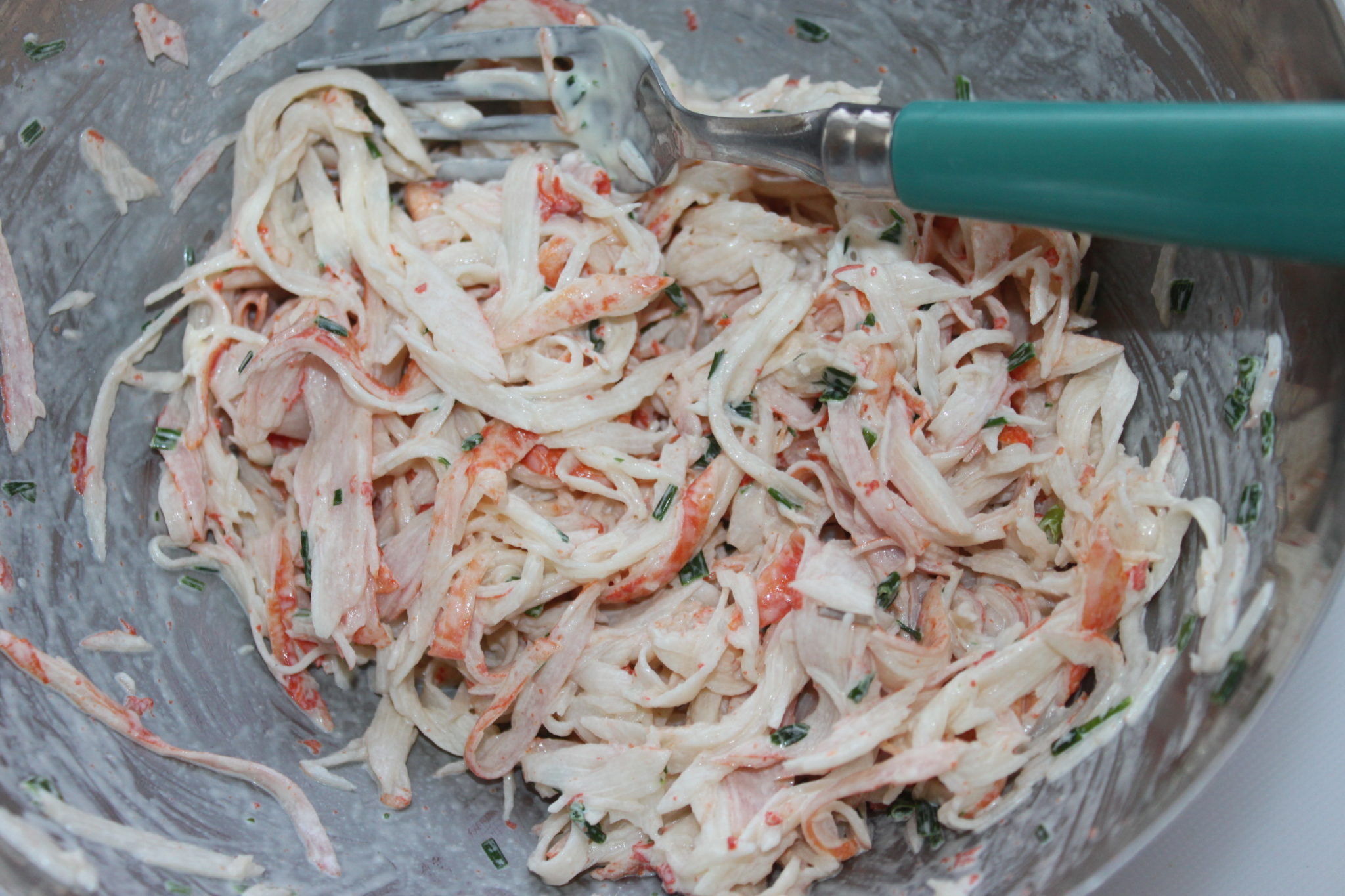 Wash the rice in a fine sieve, drain it, then place it with the water (270g) in a rice cooker. When the rice is cooked and still hot, add the prepared vinegar (just stir until the sugar is dissolved) and mix, lifting the rice to avoid damaging it. Let cool.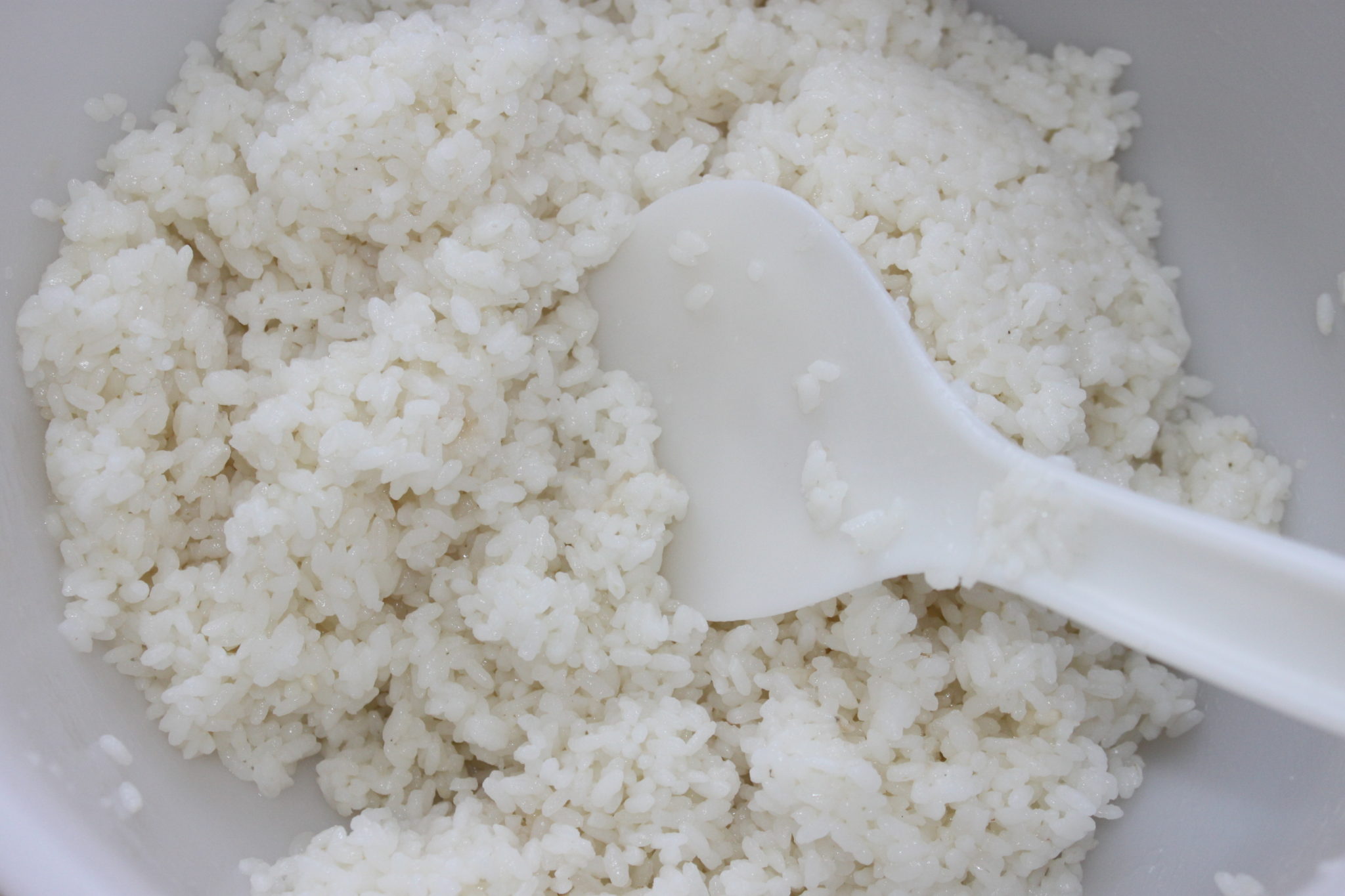 For this recipe, here are the square rice sheets.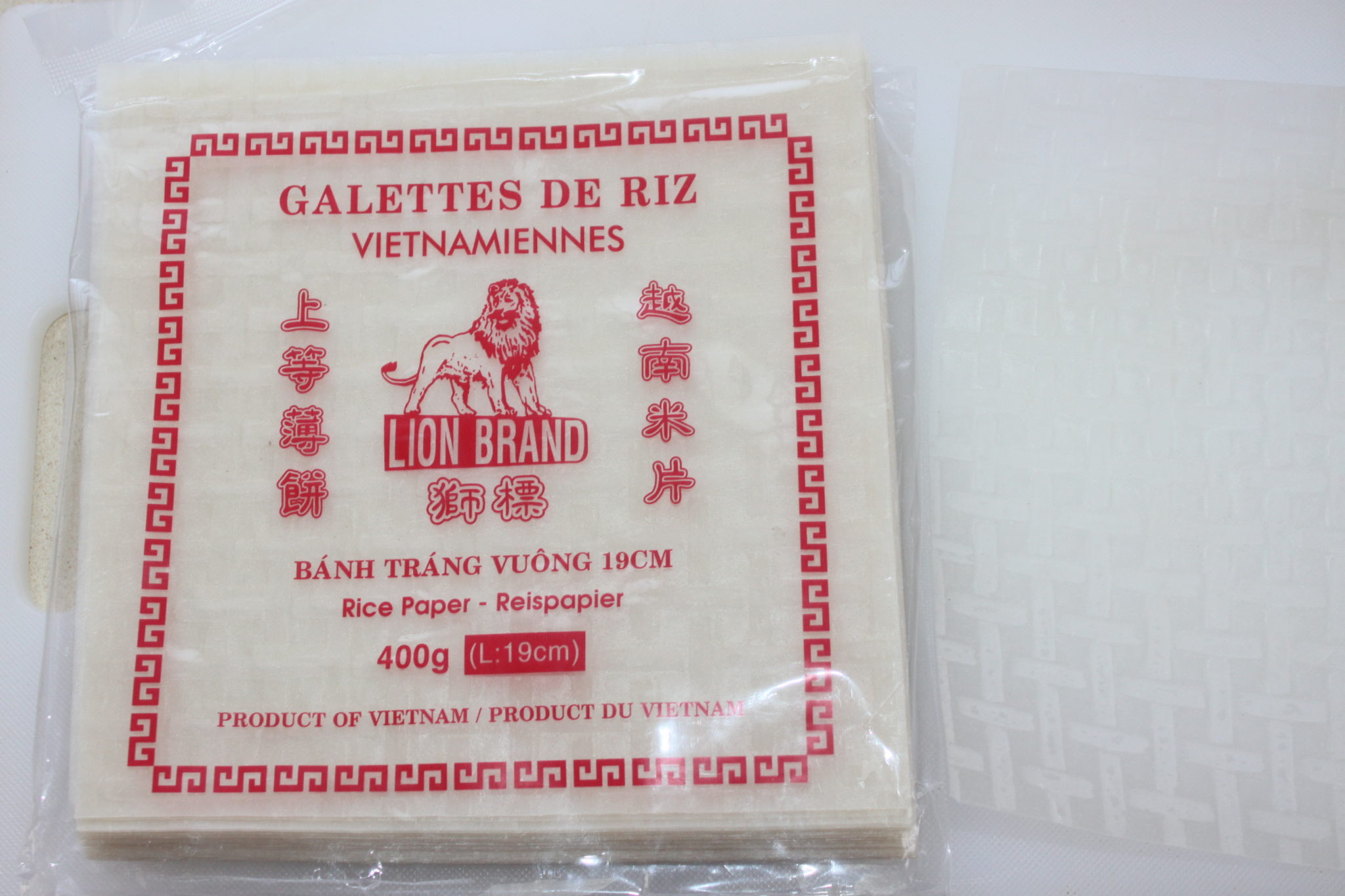 Run a sheet under cold water on both sides. Place it on a clean, dry cloth. Place a salad leaf in the center.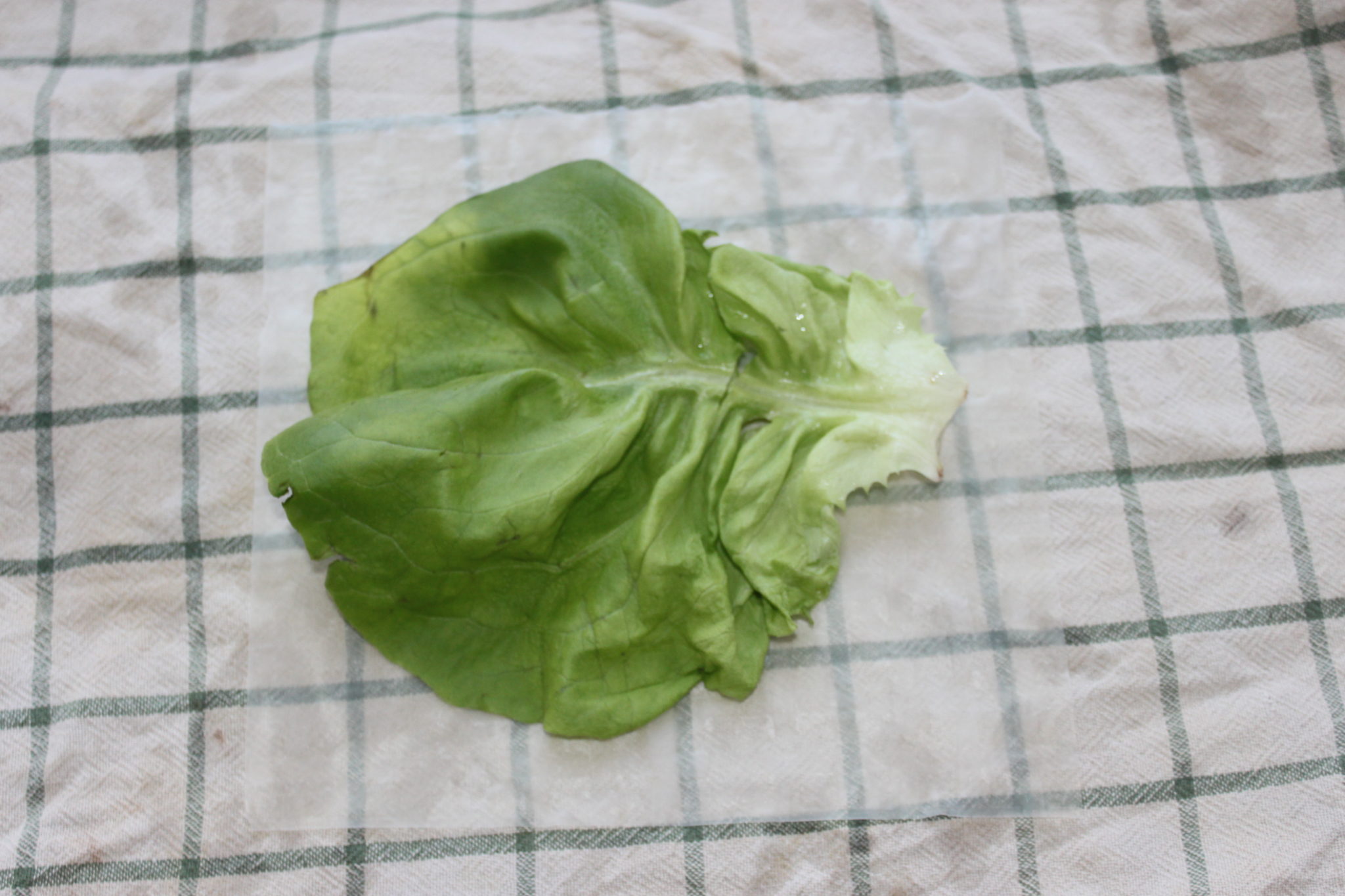 Pour in a third of the cooked rice, about 160g, leaving a 2cm strip at the top and bottom. Pour in one third of the crab and avocado slices. For the avocado, I cut it into quarters and each quarter into 3. So I put one quarter per roll.
Add a few coriander leaves.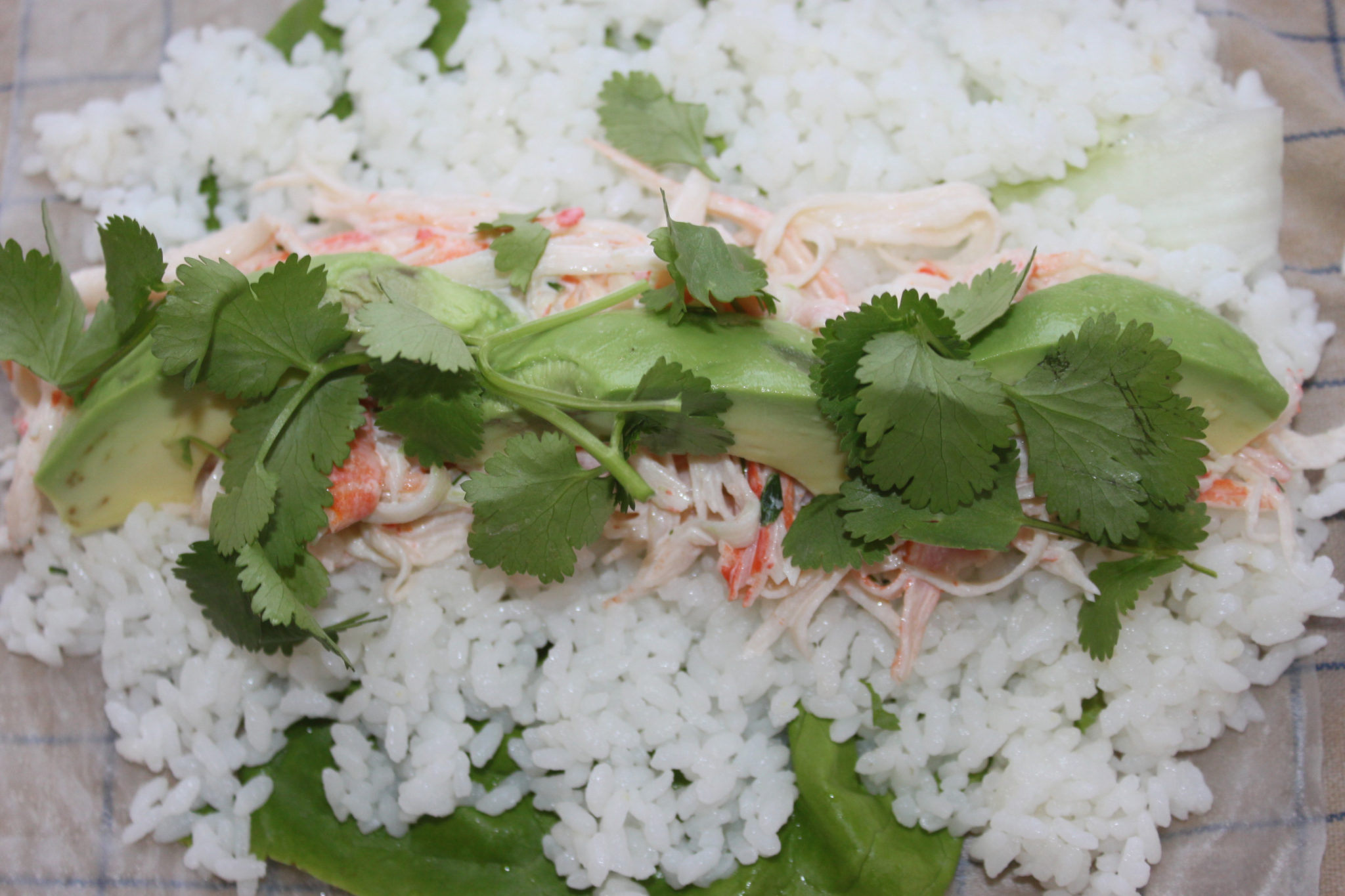 Wrap tightly. Do the same for the other two rolls.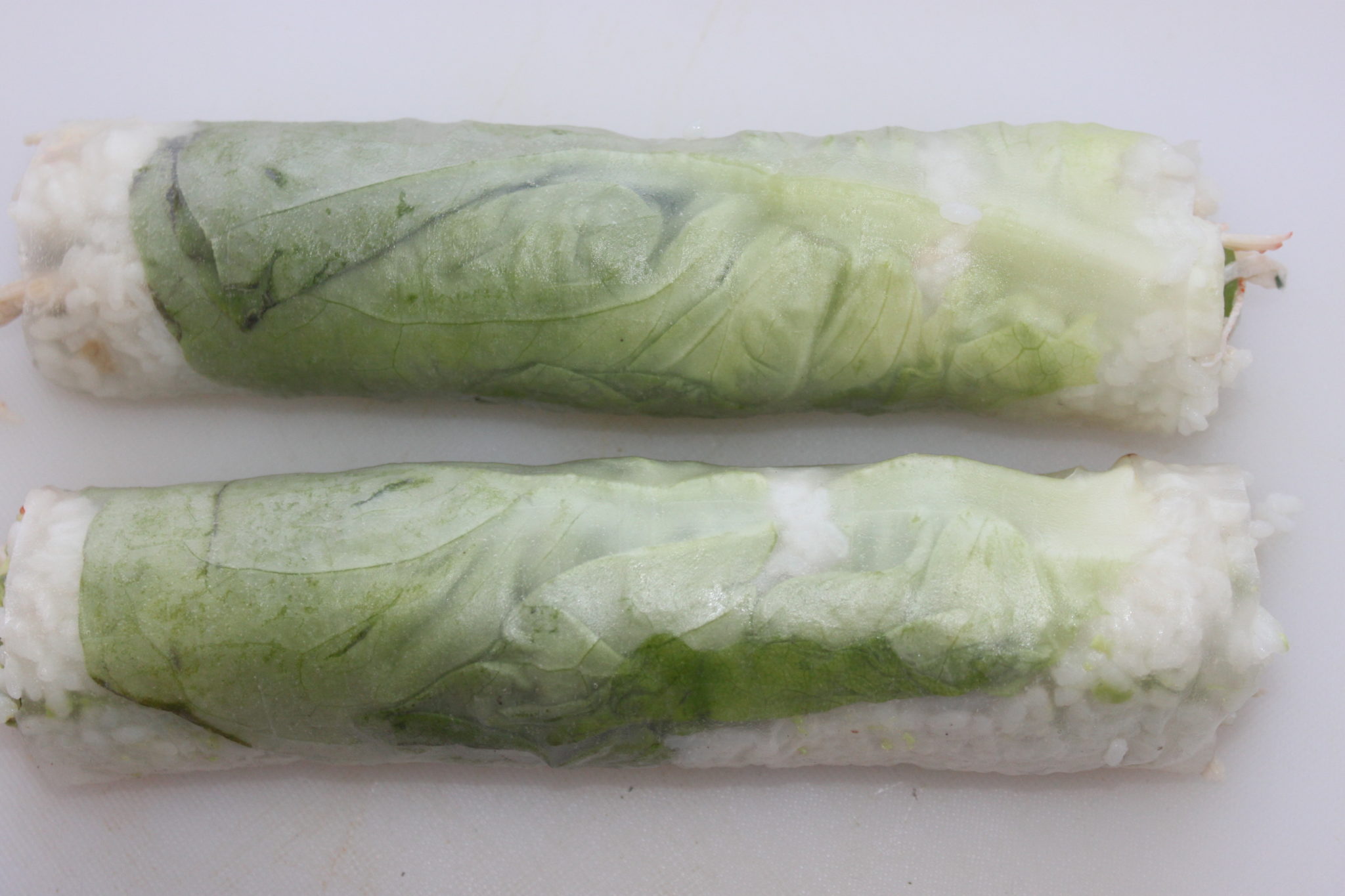 Cut with a good knife in half, then each half in 4.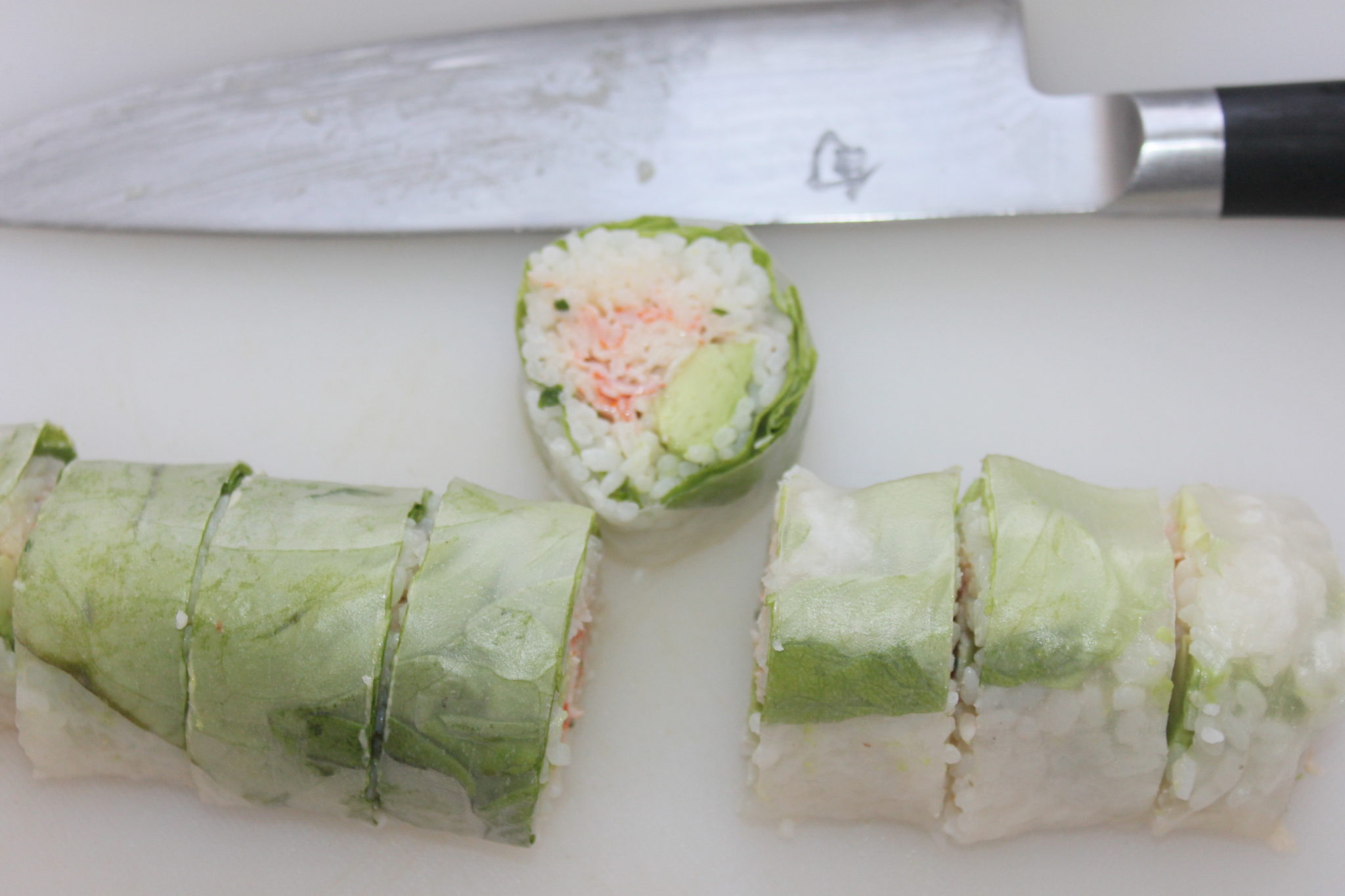 Serve chilled with a clear soy sauce!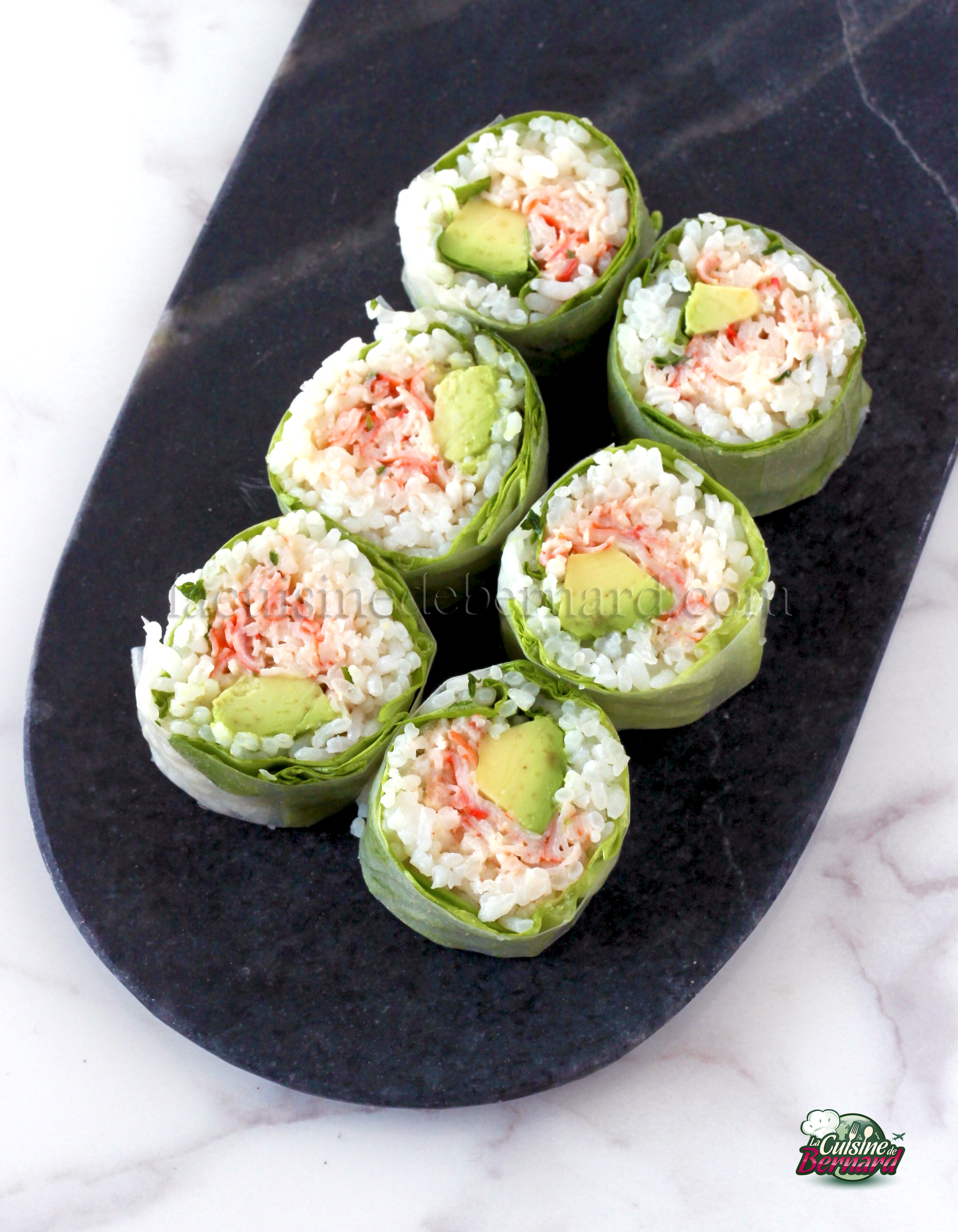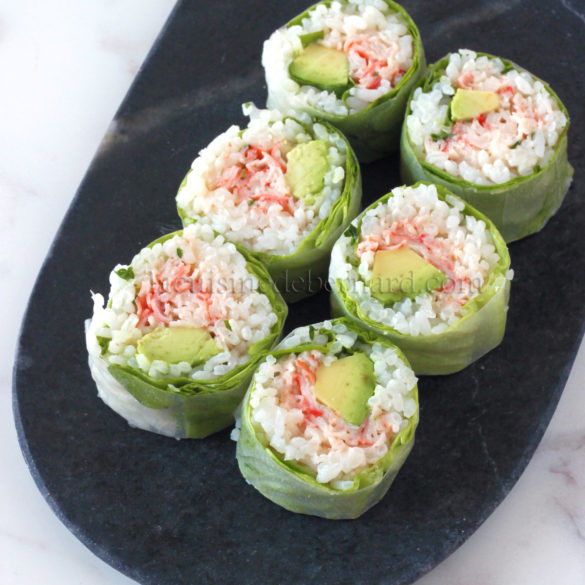 Maki de printemps à la feuille de riz
Cette recette est idéale pour celles et ceux qui ne veulent ni poisson cru, ni feuilles d'algues nori. On en voit aujourd'hui un peu partout et c'est un vrai délice bien frais ! Quand viennent enfin les beaux jours, c'est un plaisir à déguster. Tout cela est bien plus simple qu'il n'y parait !
Instructions
Découpez au couteau les bâtonnets de « crabe ». Je ne suis absolument pas sponsorisé par Coraya, mais j'ai pris cette marque car c'est celle qui correspond le mieux pour cette recette !

Mettez le tout dans un petit récipient avec deux trois cuillerées à soupe de mayonnaise, le jus de citron vert et le persil haché.

Lavez le riz dans un tamis fin, égouttez-le, puis placez-le avec l'eau (270g) dans un rice cooker. Quand le riz est cuit et encore chaud, ajoutez le vinaigre préparé (il suffit de tout mélanger jusqu'à ce que le sucre soit dissou) et mélangez en soulevant le riz pour ne pas l'abimer. Laissez tiédir.

Pour cette recette, voici les feuilles de riz carrées.

Passez une feuille sous l'eau froide des deux côtés. Posez-la sur un torchon propre et sec. Posez une feuille de salade au centre.

Versez un tiers du riz cuit, environ 160g, en laissant un bande de 2cm en haut et en bas. Versez un tiers du crabe et des tranches d'avocat. Pour l'avocat, je le coupe en quartier et chaque quartier en 3. Je mets donc un quartier par rouleau.

Ajoutez quelques feuilles de coriandre.

Enroulez en serrant bien. Faites de même pour les deux autres rouleaux.

Coupez avec un bon couteau en deux, puis chaque moitié en 4.

Servez bien frais avec une sauce de soja claire !
Nutrition
Calories:
446
kcal
Carbohydrates:
72
g
Protein:
16
g
Fat:
11
g
Saturated Fat:
2
g
Polyunsaturated Fat:
1
g
Monounsaturated Fat:
7
g
Cholesterol:
21
mg
Sodium:
444
mg
Potassium:
513
mg
Fiber:
5
g
Sugar:
9
g
Vitamin A:
122
IU
Vitamin C:
11
mg
Calcium:
54
mg
Iron:
1
mg