Tarama is a specialty of the Mediterranean basin, from Greece to Turkey and each country has its own recipe. Based on cod roe or mullet, I offer you my recipe, which is exactly what I expect from tarama!
November 2011: I put the tarama in front of you because I just participated in a small report on this recipe for M6 (100% mag, which will be broadcast in early December) and there it was the disaster! After making tarama perfectly two or three times (with the recipe on my blog), I couldn't make it pretty at all. Indeed, it was turning out like a failed mayonnaise and I didn't understand the reason. The day of the shooting at home, it was even worse than usual! Off camera, I caught up with it (so the story is saved, phew!) and vowed to understand the reasons for the non-emulsion. If you see the show, forget what I say! I now give you a method to never miss a tarama! I tried to understand how a mayonnaise takes (because it's the same principle, even though I've never missed a mayonnaise!) and I applied the same principle to tarama. Because it is necessary to know that this preparation turns in the blink of an eye and is difficult to make up. Now it will never be the case with the element I add! Come and discover why!
Why does the mayonnaise hold? Thanks to the surface-active molecules of the egg yolk which have a hydrophilic end and a lipophilic end (one that likes water and the other oil!). The water soluble end is placed in water (or milk here) and the other in oil. This is what holds it all together. To the naked eye, mayonnaise looks coherent, while under the microscope it is droplets of oil dispersed in the small amount of water (mustard or vinegar for mayo). For the tarama it's the same: just add a tiny bit of egg yolk (so little that it won't have any taste) which will act as a catalyst giving cohesion to the preparation. There is the water in the milk (from the bread) and the oil that is added. With this, the tarama is forced to hold and emulsify. With my new order of preparation, we can't miss anymore. It is necessary to respect the times of stirring (especially the yellow with the soaked bread, then with a little oil). When the cod (or mullet) eggs are added, the emulsion has already started and cannot be stopped! The trick is to use chemistry.
Recipe of the "tarama" for 4 to 6 persons:
-70g of bread crumbs (bread without the crust, but quality bread!)
-1/2 egg yolk (just take a little yolk)
-a 280g bag of smoked cod eggs (or mullets if available)
-170g to 200g of oil
-1/2 glass of milk
Instructions:
Start by removing the crust from the bread. I bought bread from Poilâne, which has a dense and delicious crumb. It is very easy with a fresh crumb.
Put the crumb in a bowl and pour enough milk to soak it completely.
Wring out the crumb in your hand. Remove excess milk from bowl. Return the crushed crumb to the bowl. If the bread still has a little milk in it, that's good because the tarama will hold up even better!
Add half an egg yolk (this will not give any taste, but provides the protein needed to emulsify the oil).
Mix at low speed with an electric whisk for 2 minutes, to break down the proteins in the egg yolk and milk.
Add the equivalent of two or three spoonfuls of oil while still mixing at low speed. This will start the emulsion. The oil immediately begins to enclose itself in small "capsules" of water (which comes from the milk and thanks to the half-yolk).
Here is an egg pocket of smoked cod.
Open it with a knife on one side. All that remains is to remove the eggs with a spoon.
Add the eggs (without the skin of the pocket).
Then start mixing until all the pocket pieces are gone.
Add the remaining oil in a thin stream, slowly rising just like a mayonnaise.
Do not make the tarama with a blender as I read in some recipes!
Then with an electric whisk, add the oil in a stream, very gently, just like a mayonnaise! I made my tarama on the fly, trying to get the best result possible. But I weighed everything before and after, so the proportions I listed above are the ideal ones for me.
Regarding the addition of lemon, I prefer to leave it up to each person to add it to the tarama at the time of tasting!
Once all the oil has been added, mix well with a spoon, scraping the edges to incorporate everything.
Film the tarama by putting the cling film in direct contact with the preparation. Let stand in the refrigerator for at least 3 hours before enjoying on slices of toast or (untraditional but delicious!) on warm blinis!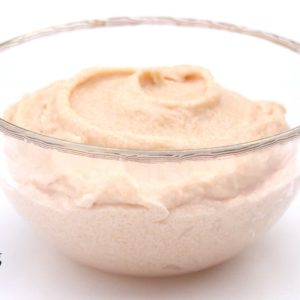 Tarama
Le tarama est une spécialité du bassin méditerranéen, de la Grèce à la Turquie et chaque pays a sa propre recette. A base d'œufs de cabillauds ou de mulets, je vous propose ma recette, qui correspond exactement à ce que j'attends du tarama!
Instructions
Commencer par enlever la croûte du pain de mie. J'ai acheté du pain de mie de chez Poilâne, qui a une mie dense et délicieuse. C'est beaucoup facile avec une mie bien fraîche.Mettre la mie dans un bol et verser assez de lait pour l'imbiber complétement.

Essorer la mie dans la main. Enlever l'excédent de lait contenu dans le bol. Remettre la mie écrasée dans le bol. Si le pain contient encore un peu de lait, c'est bien car la tarama tiendra encore mieux!

Ajouter un demi jaune d'oeuf (cela ne donnera aucun goût, mais fournit les protéines nécessaires à l'émulsion de l'huile).

Mélanger à basse vitesse au fouet électrique pendant 2 minutes, pour bien défaire les protéines du jaunes d'oeuf et du lait.

Ajouter l'équivalent de deux ou trois cuillerées d'huile tout en mélangeant toujours à basse vitesse. Cela va amorcer l'émulsion. L'huile commence tout de suite à s'enfermer dans des petites « capsules » d'eau (qui vient du lait et grâce au demi jaune).

Voilà une poche d'oeufs de cabillaud fumé. L'ouvrir avec un couteau sur un côté. Il ne reste plus qu'à prélever les oeufs avec une cuiller.

Ajouter les oeufs (sans la peau de la poche).

Puis commencer à mélanger jusqu'à ce que tous les morceaux de poche aient disparu.

Ajouter le reste de l'huile en filet, doucement en montant exactement comme pour une mayonnaise.

Surtout ne pas faire le tarama avec un mixeur comme je peux le lire dans certaines recettes!! Puis avec un fouet électrique, ajouter l'huile en filet, très doucement, exactement comme une mayonnaise! J'ai fait mon tarama au pif en essayant d'obtenir le meilleur résultat possible. Mais j'ai tout pesé avant et après, donc les proportions que j'ai indiqué en haut sont celles idéales pour moi.Concernant l'adjonction de citron, je préfère laisser à chacun le soin de l'ajouter sur le tarama au moment de le déguster!

Une fois toute l'huile ajoutée, bien mélanger à la cuiller en raclant les bords pour tout incorporer.

Filmer le tarama en mettant le film alimentaire en contact direct avec la préparation. Laisser reposer au frais au moins 3 heures au réfrigérateur avant de déguster sur des tranches de pain grillé ou bien (ce qui n'est pas traditionnel mais délicieux!) sur des blinis chauds!
Nutrition
Calories:
506
kcal
Carbohydrates:
14
g
Protein:
10
g
Fat:
46
g
Saturated Fat:
4
g
Polyunsaturated Fat:
12
g
Monounsaturated Fat:
28
g
Trans Fat:
0.2
g
Cholesterol:
28
mg
Sodium:
140
mg
Potassium:
81
mg
Fiber:
1
g
Sugar:
3
g
Vitamin A:
80
IU
Calcium:
71
mg
Iron:
1
mg