This time, I propose not one, but two recipes of thin apple pies. One with almond cream and vanilla and the other with chestnut cream and nuts. Two very simple delights to make that require very little preparation time. I give you in addition, the video replay of my facebook live of Tuesday, October 6, 2020!
Recette pour deux tartes fines aux pommes de 20cm (18 après cuisson):
500g of puff pastry
2 golden apples
50g of melted semi-salted butter
powdered sugar
For the vanilla almond pie:
20g almond powder
20g of melted semi-salted butter
15g of brown sugar
10g of egg
the inside of half a vanilla bean
For the brown walnut tart :
2 tablespoons of chestnut cream
40g of chopped nuts
Here is the recipe in video, but also in step by step photos!
Instructions:
Peel the apples and remove the core with a corer.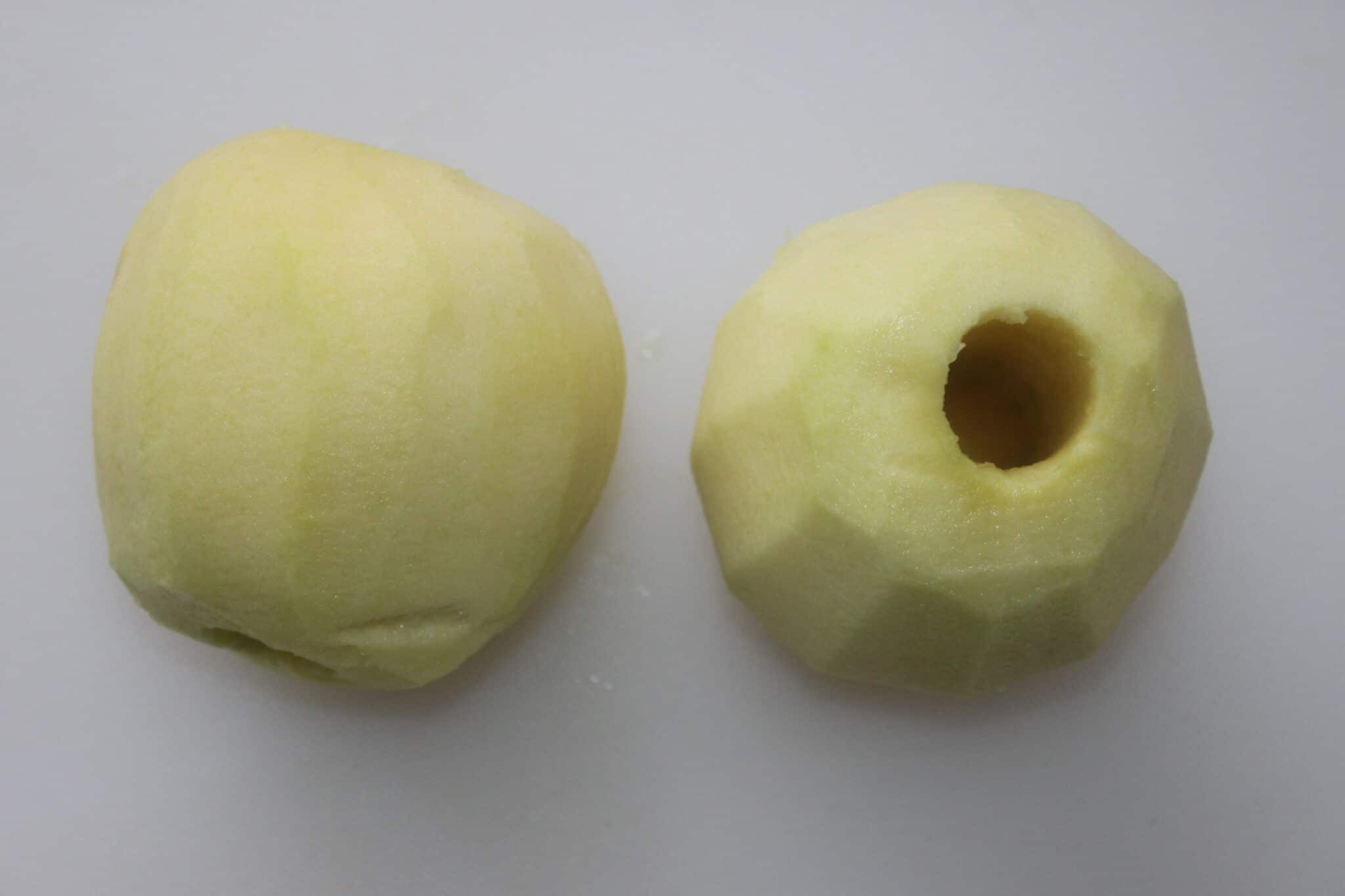 Slice the apples fairly thinly, best with a mandolin.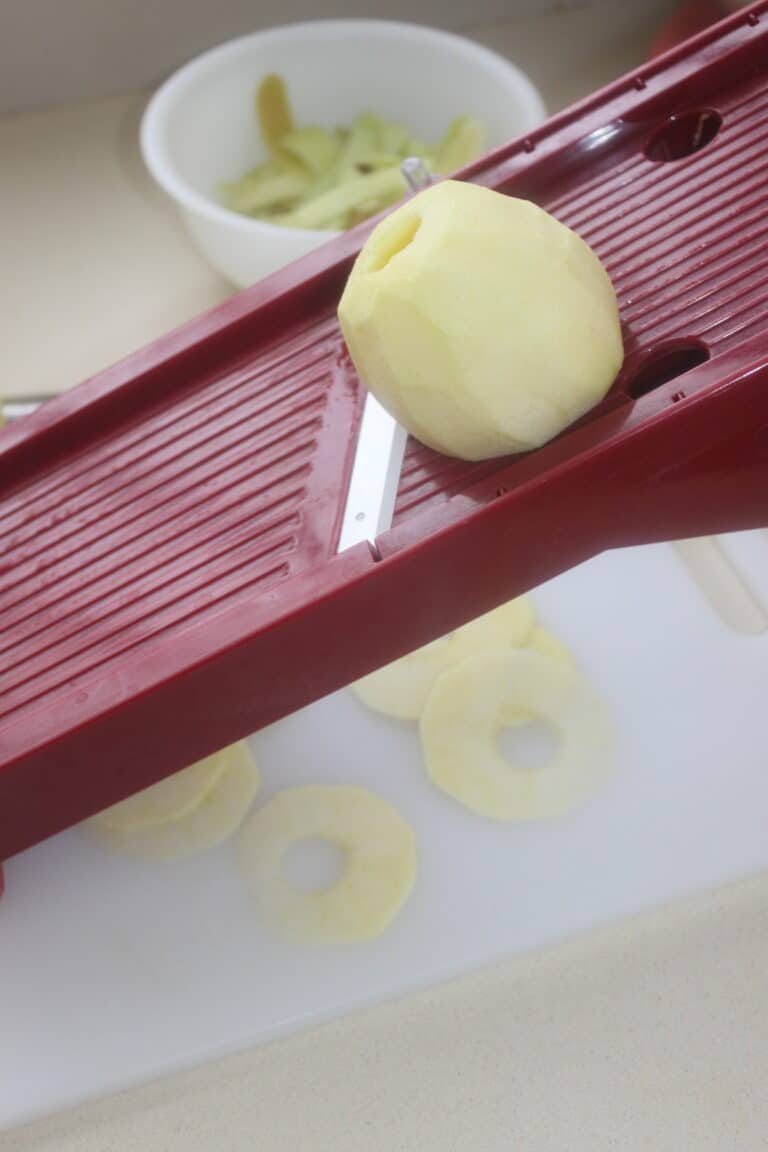 This is the result we are looking for.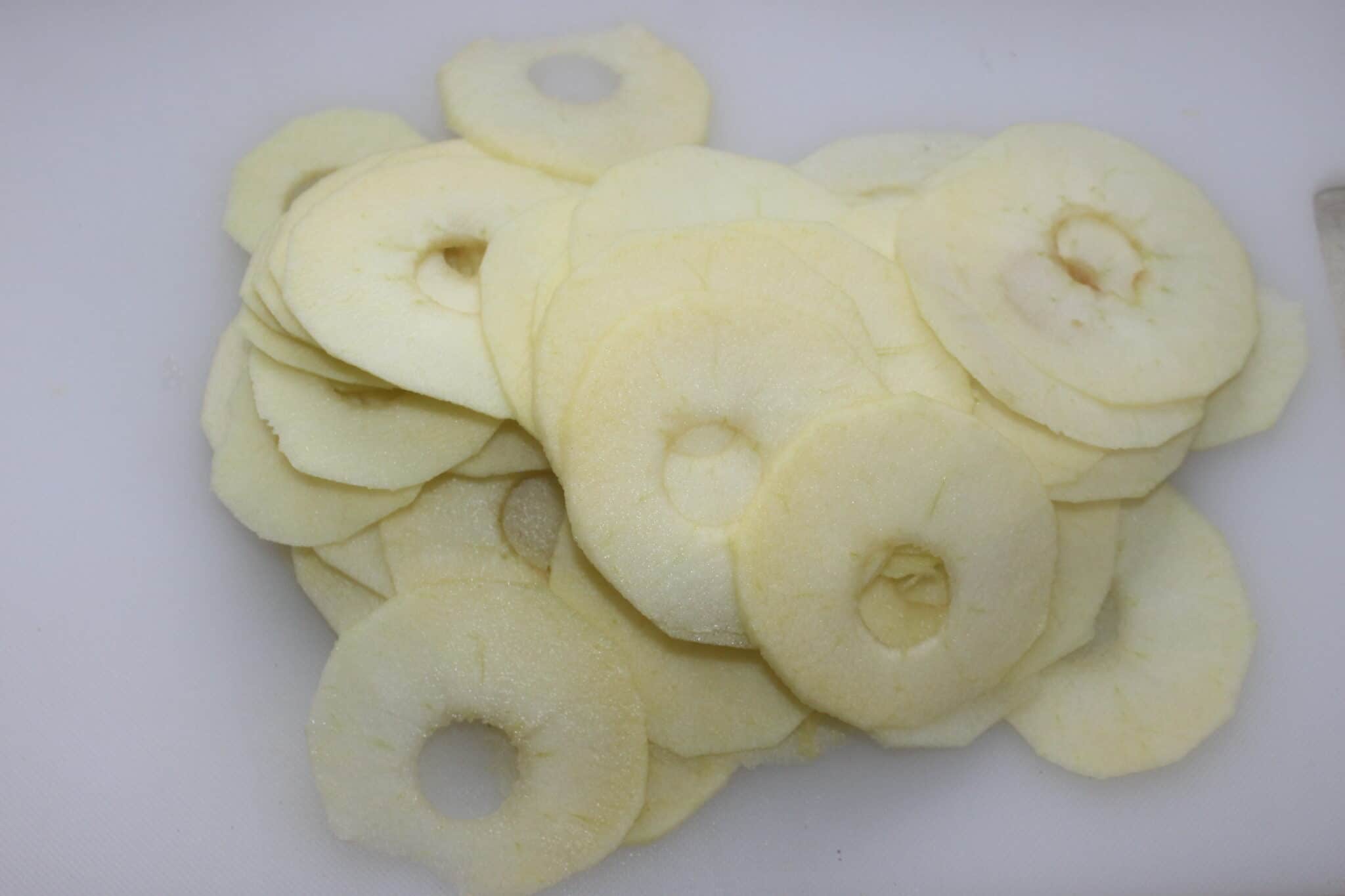 For the almond cream pie: mix all ingredients.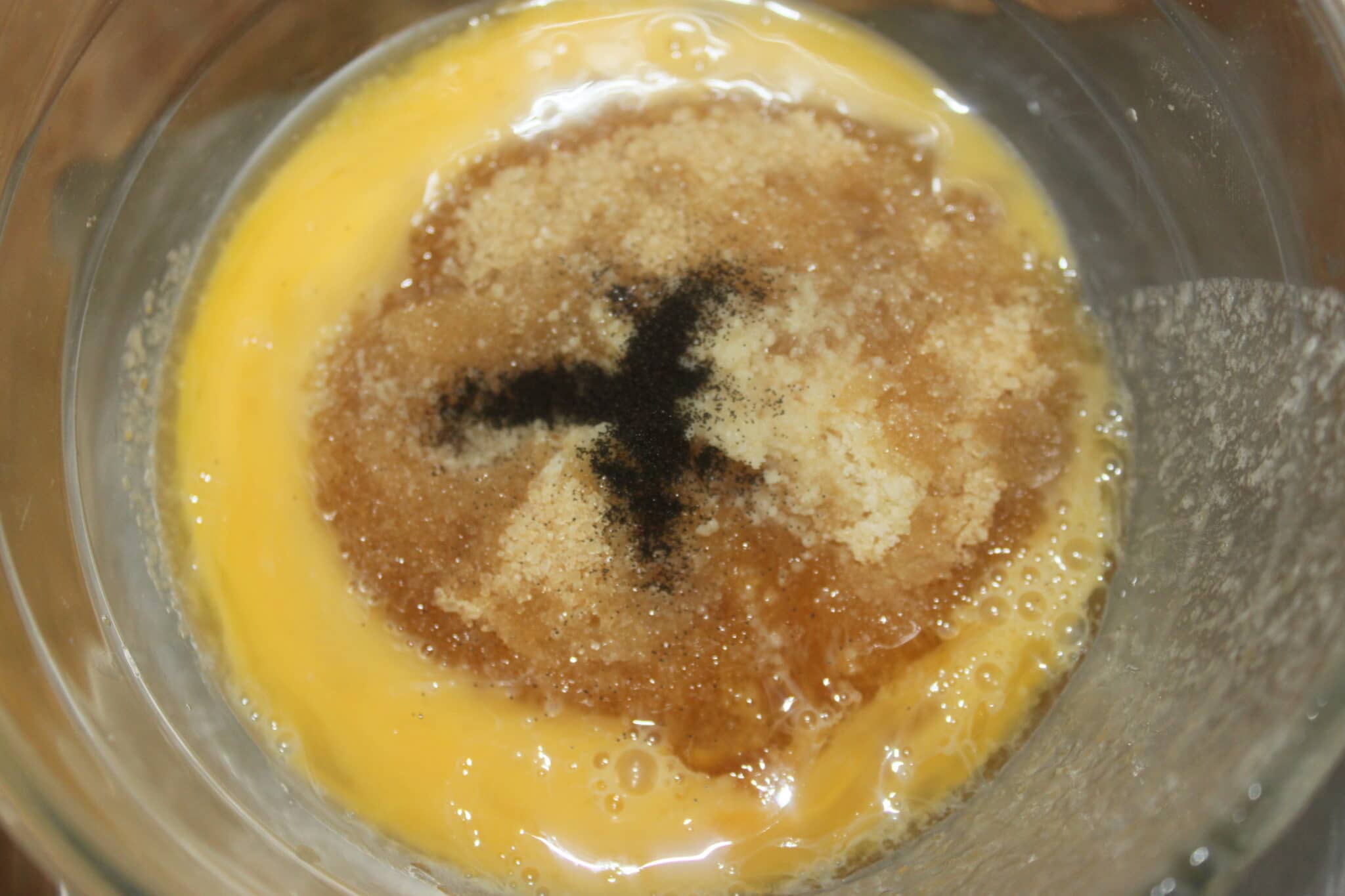 The cream must be homogeneous.
Roll out the first half of the puff pastry, roughly 250g, 2-3mm thick.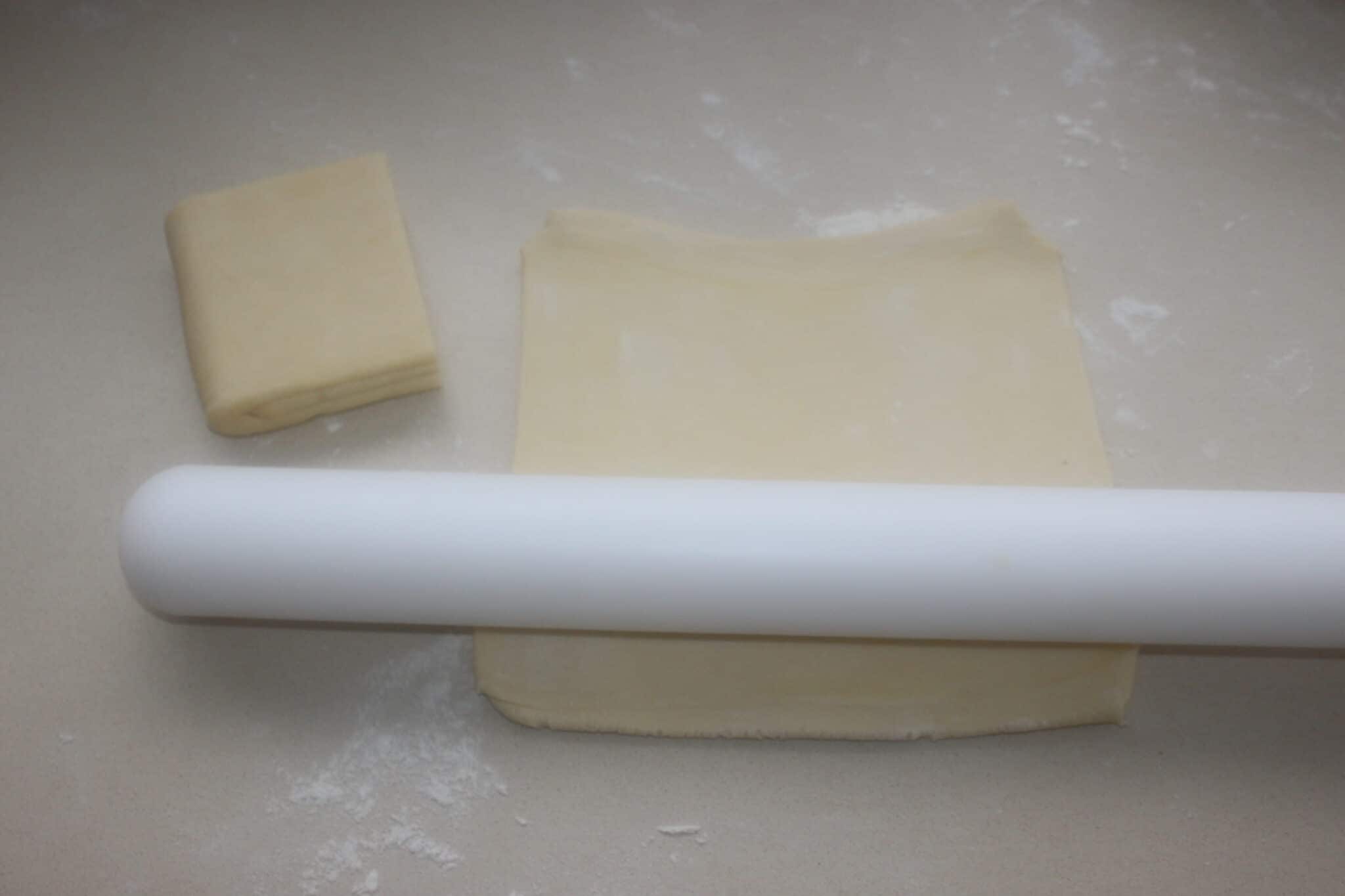 Cut a 20cm diameter circle with a knife. I'm using a circle here to get the right size, but don't use it as a cookie cutter, but cut well with a knife! This will give you a nice puff pastry all around the baked dough. Do the same for the second dough.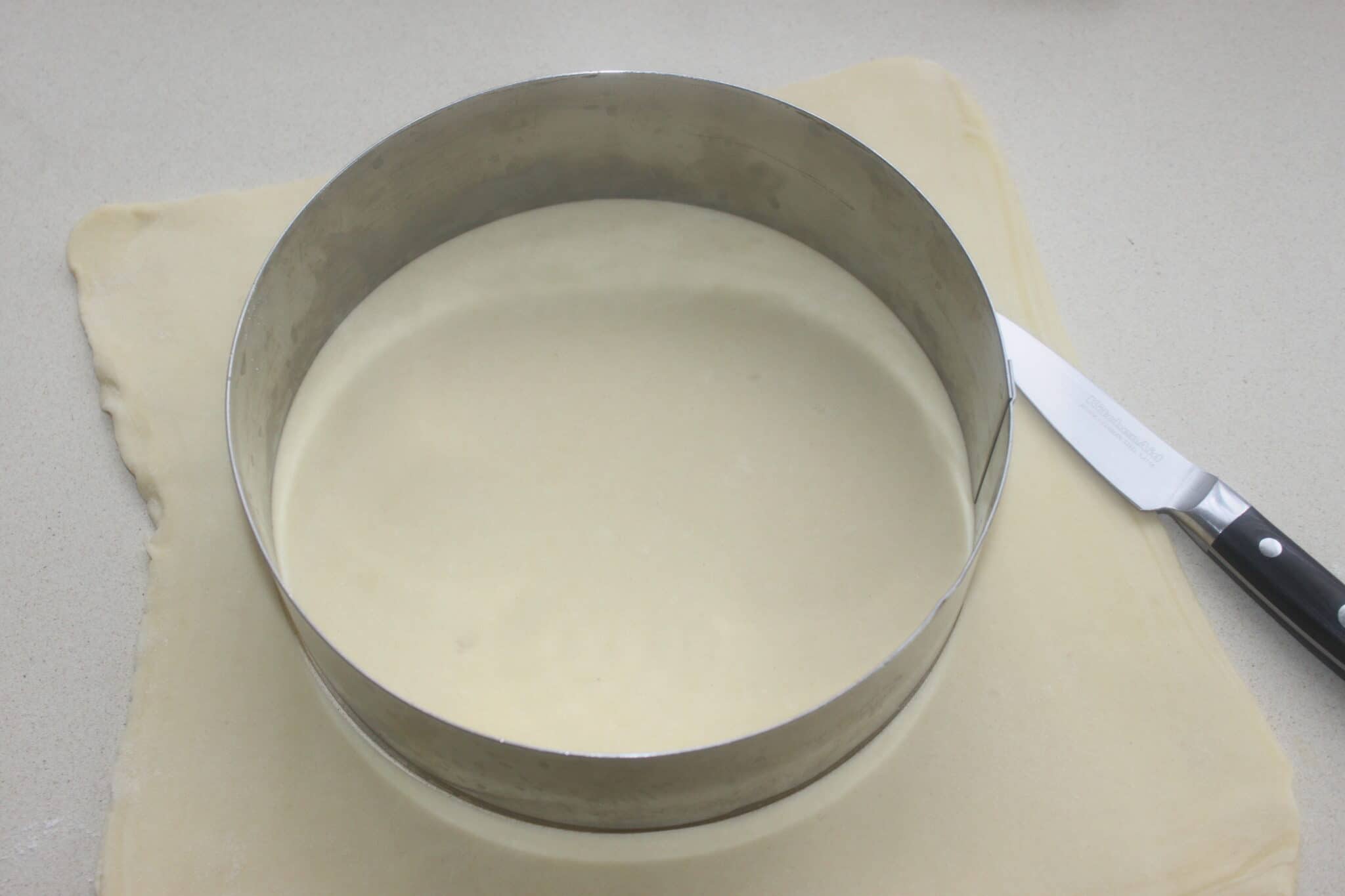 Place on a baking sheet lined with parchment paper or a baking mat.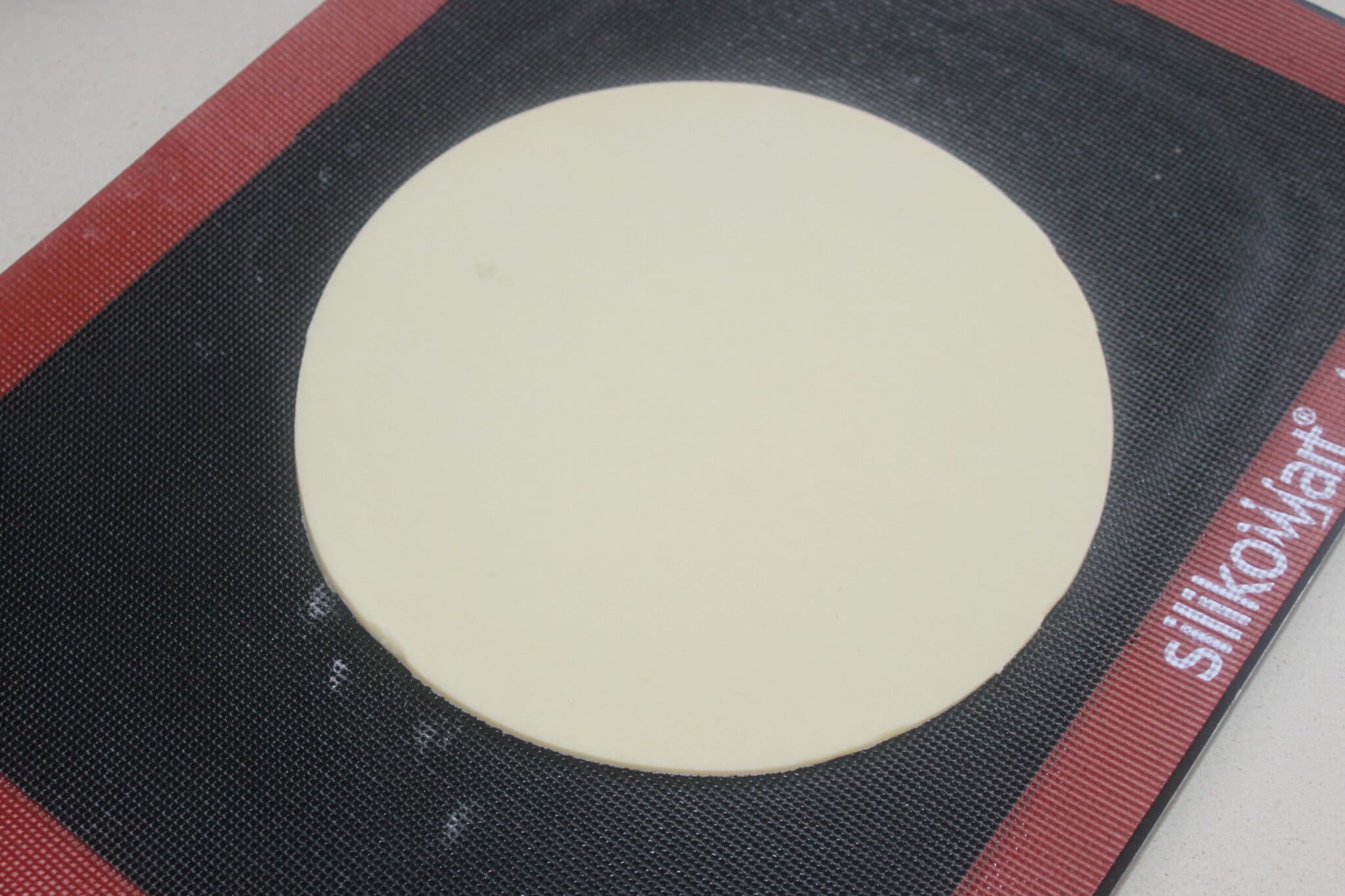 Prick the dough with a fork and chill for 20 minutes. Do the same for the second dough.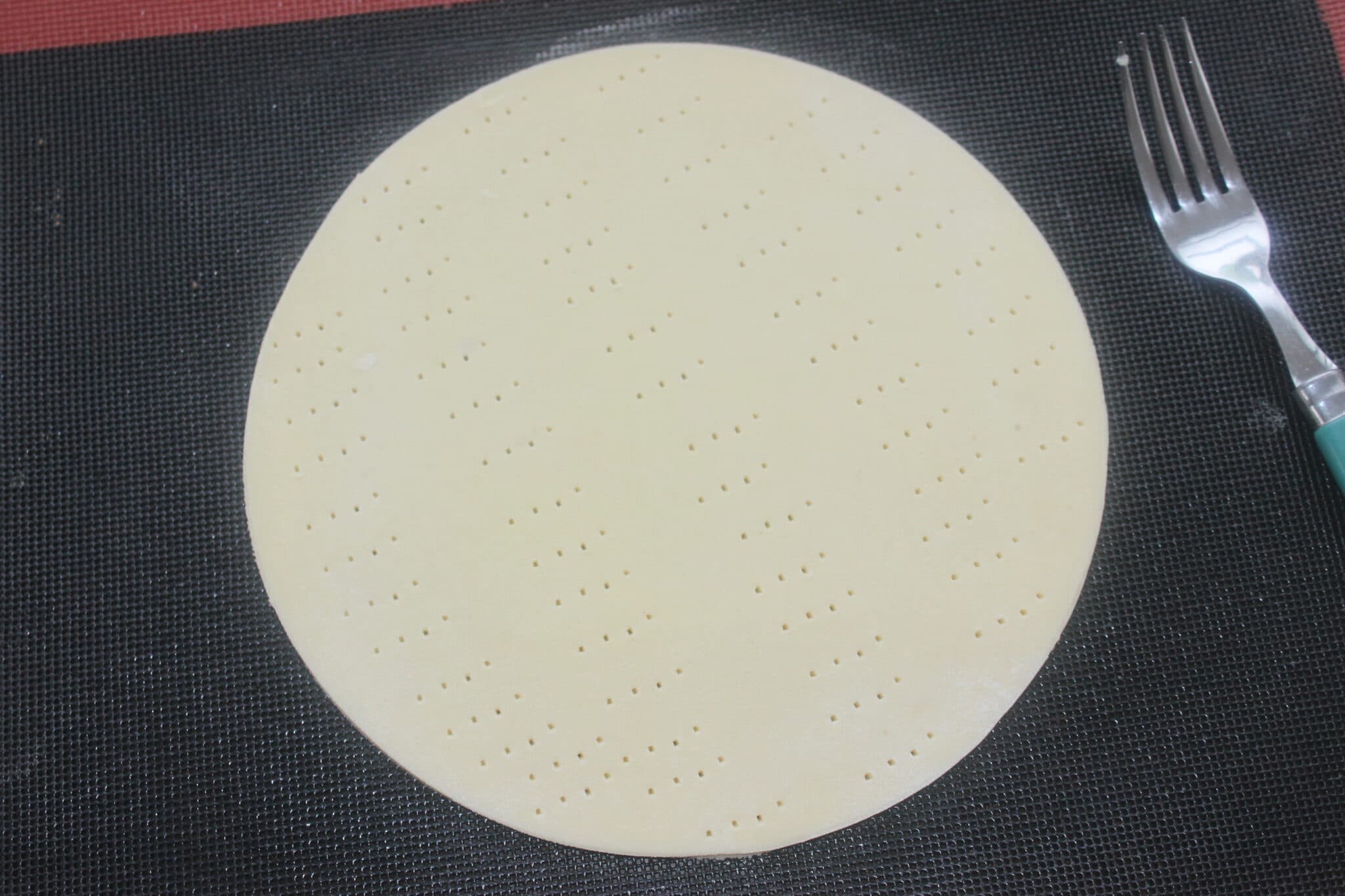 Pour all of the almond cream onto the first pastry. Spread it to within 5mm of the edge.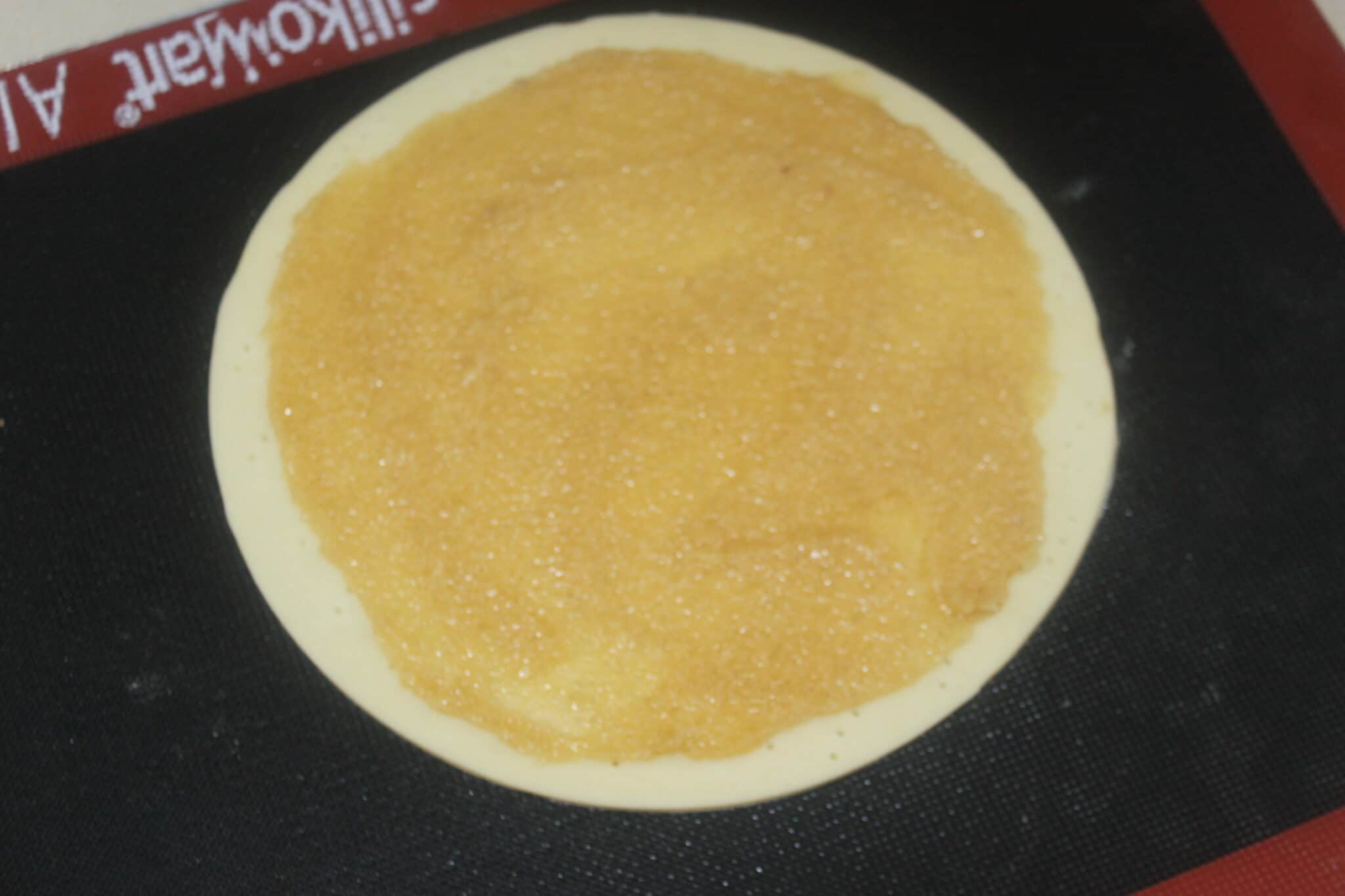 Arrange the apple slices on the pie.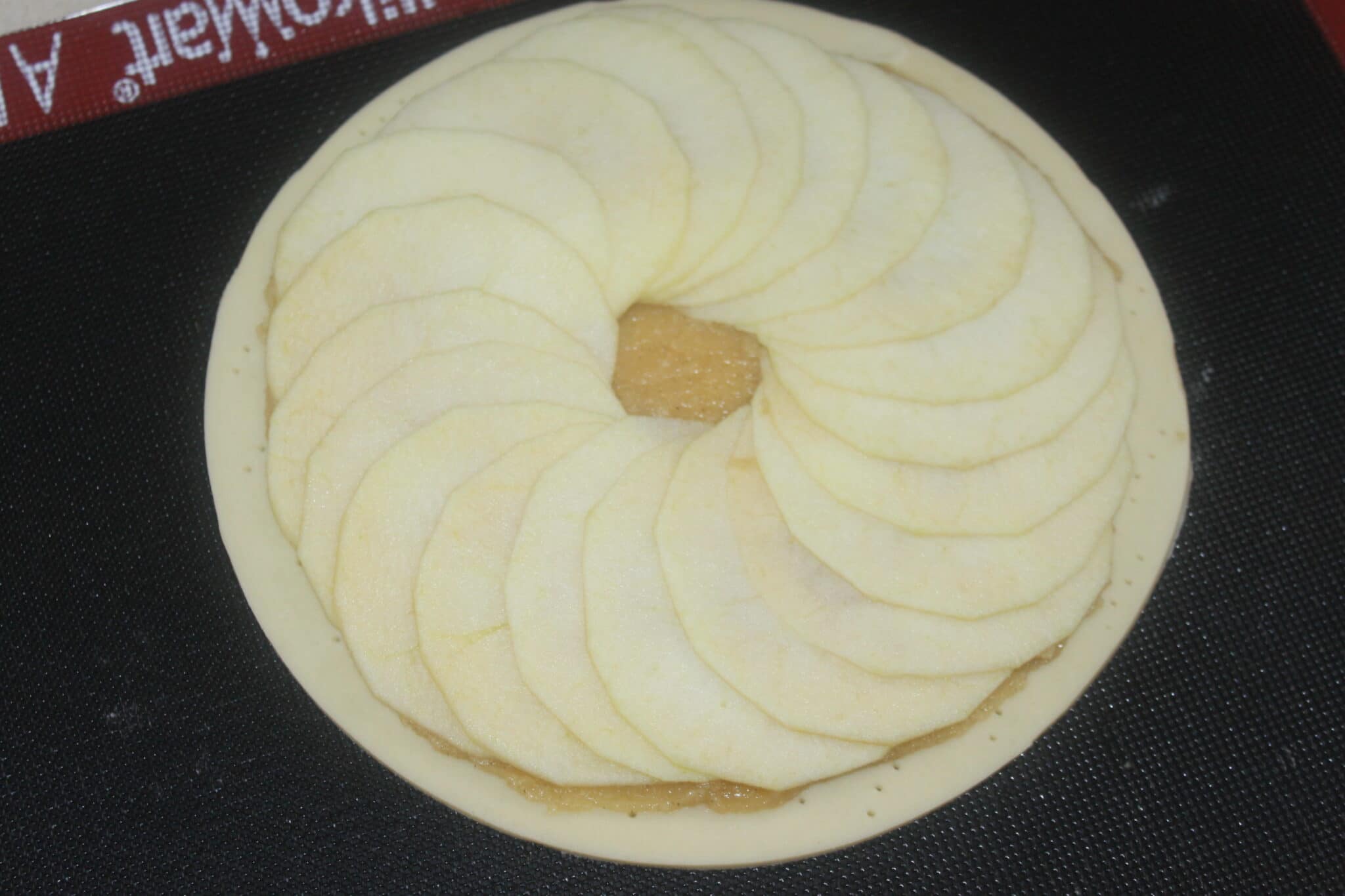 For the chestnut one, spread the chestnut cream on a puff pastry, then arrange the apples.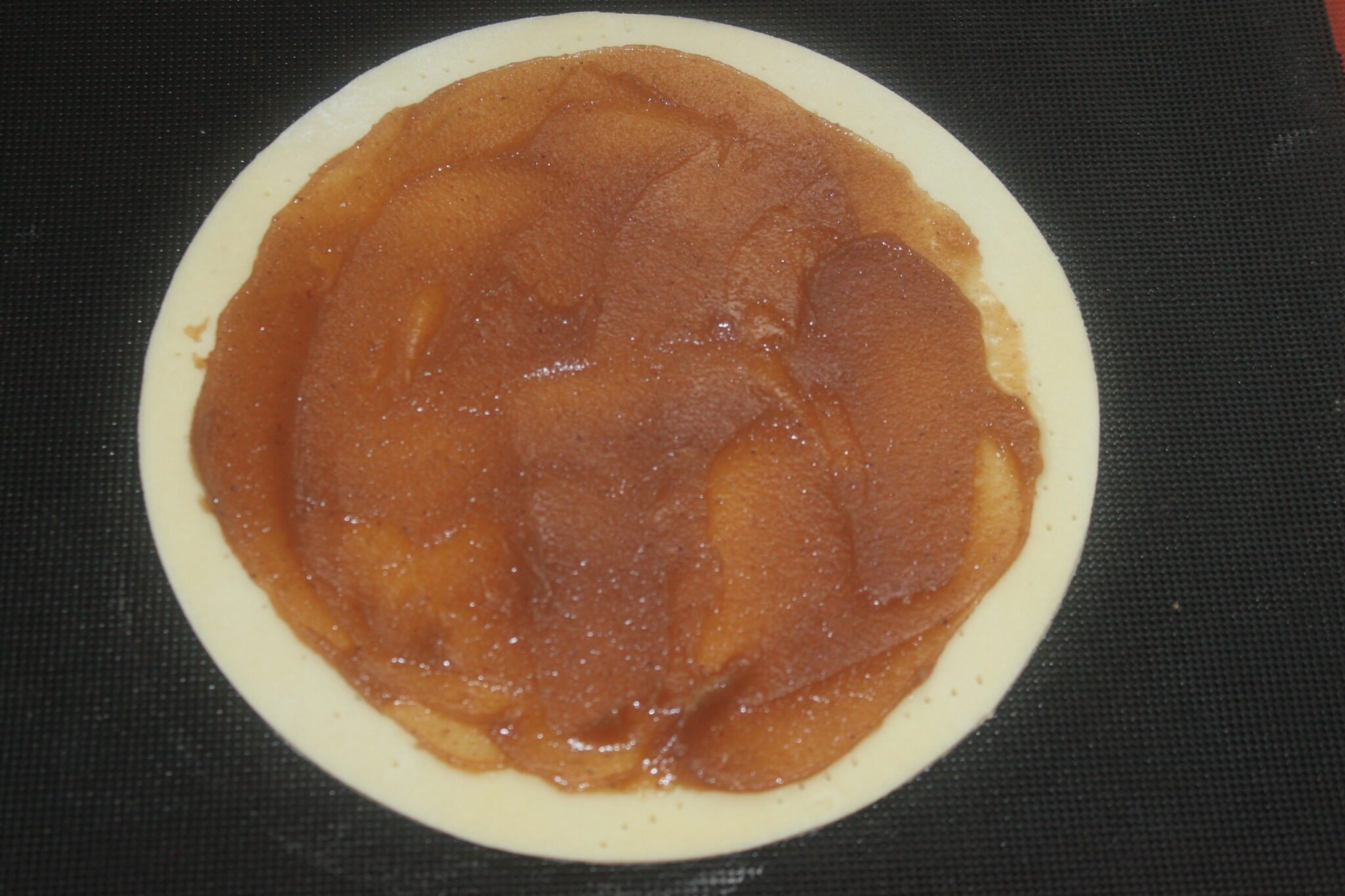 Here are the two pies.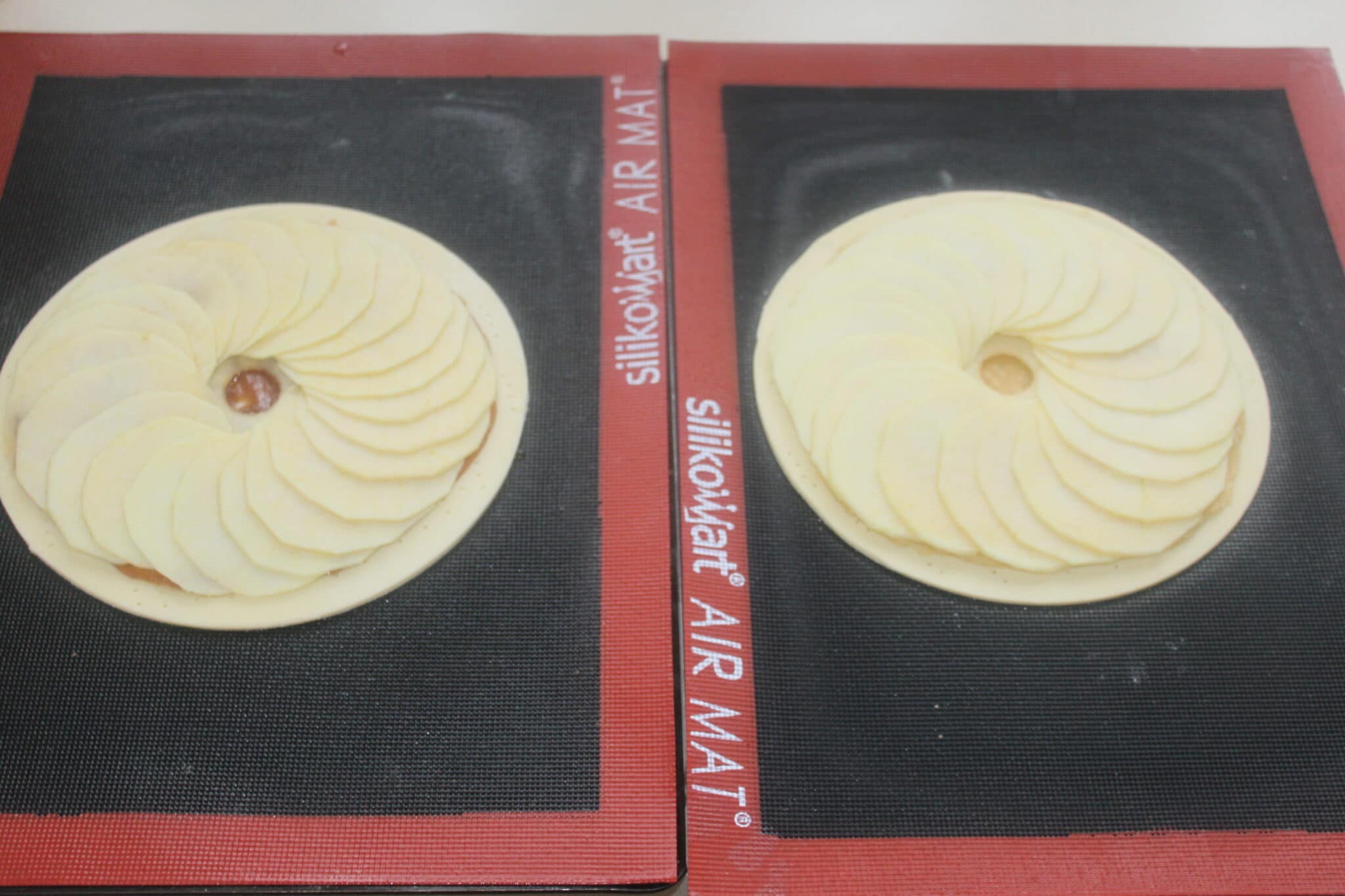 Brush the apple slices with melted semi-salted butter.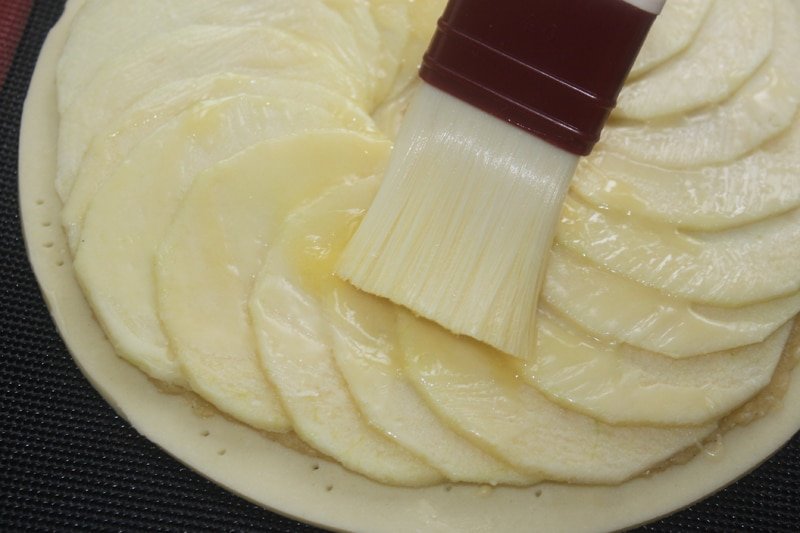 Sprinkle chopped walnuts on the pie with the chestnut cream, then in both cases, sprinkle with powdered sugar.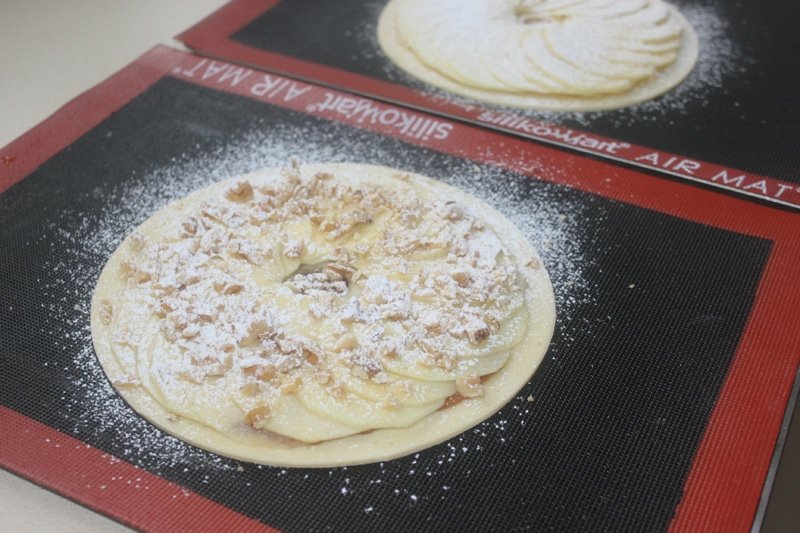 Here the one with almond cream, without the nuts.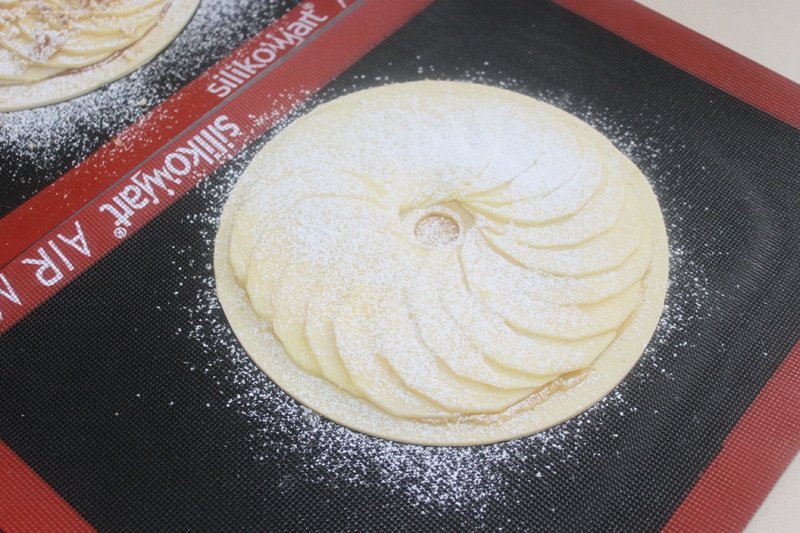 Bake in a preheated oven at 200°C on fan mode for 35 minutes.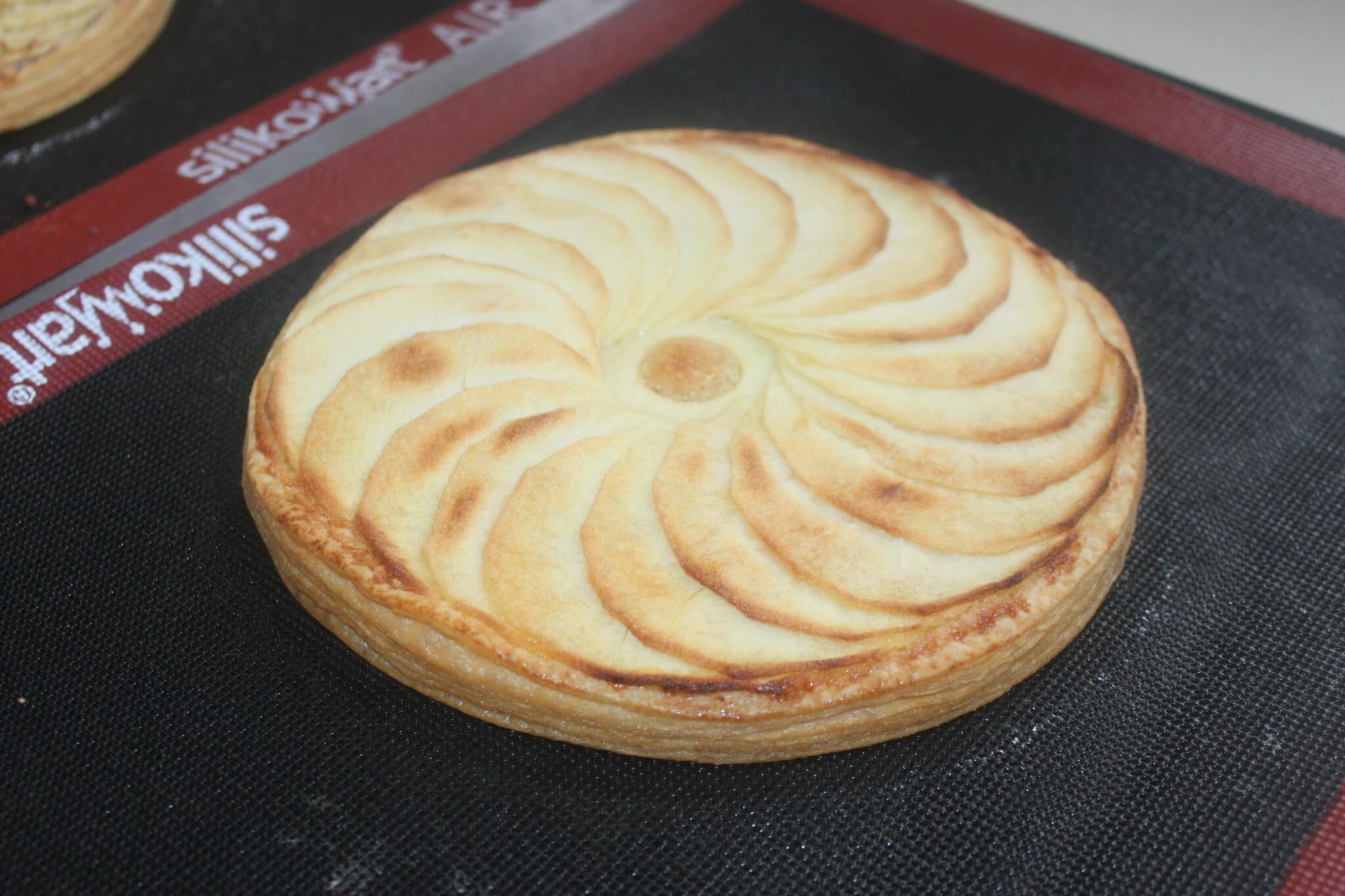 The dough should be cooked and golden brown.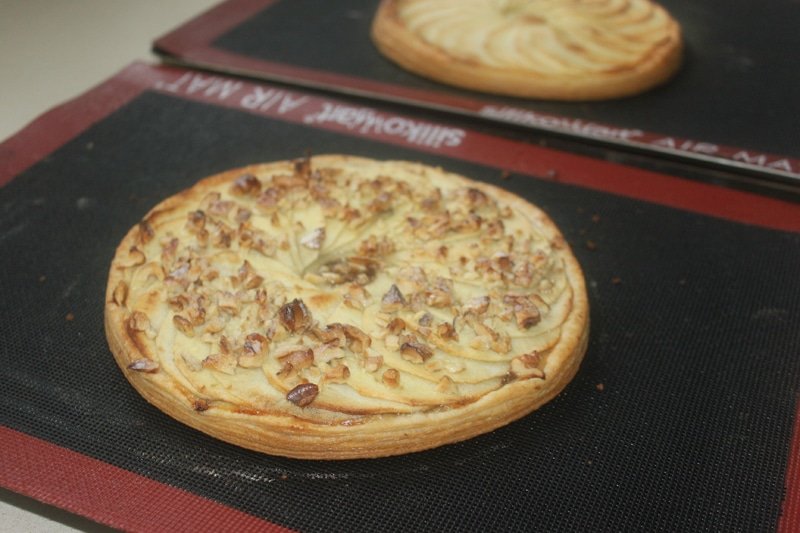 Serve the pies while still warm, sprinkling a little more confectioners' sugar on top.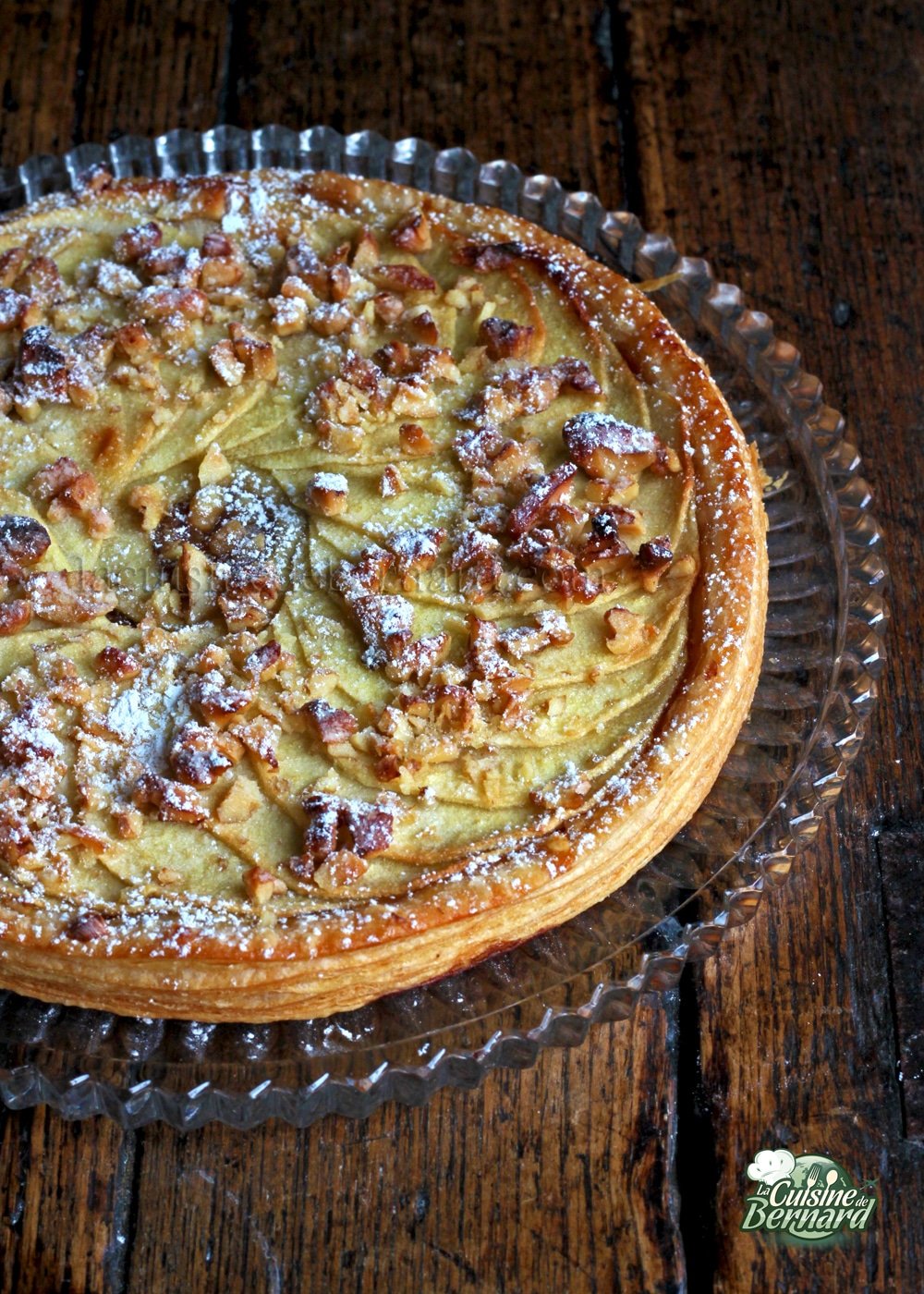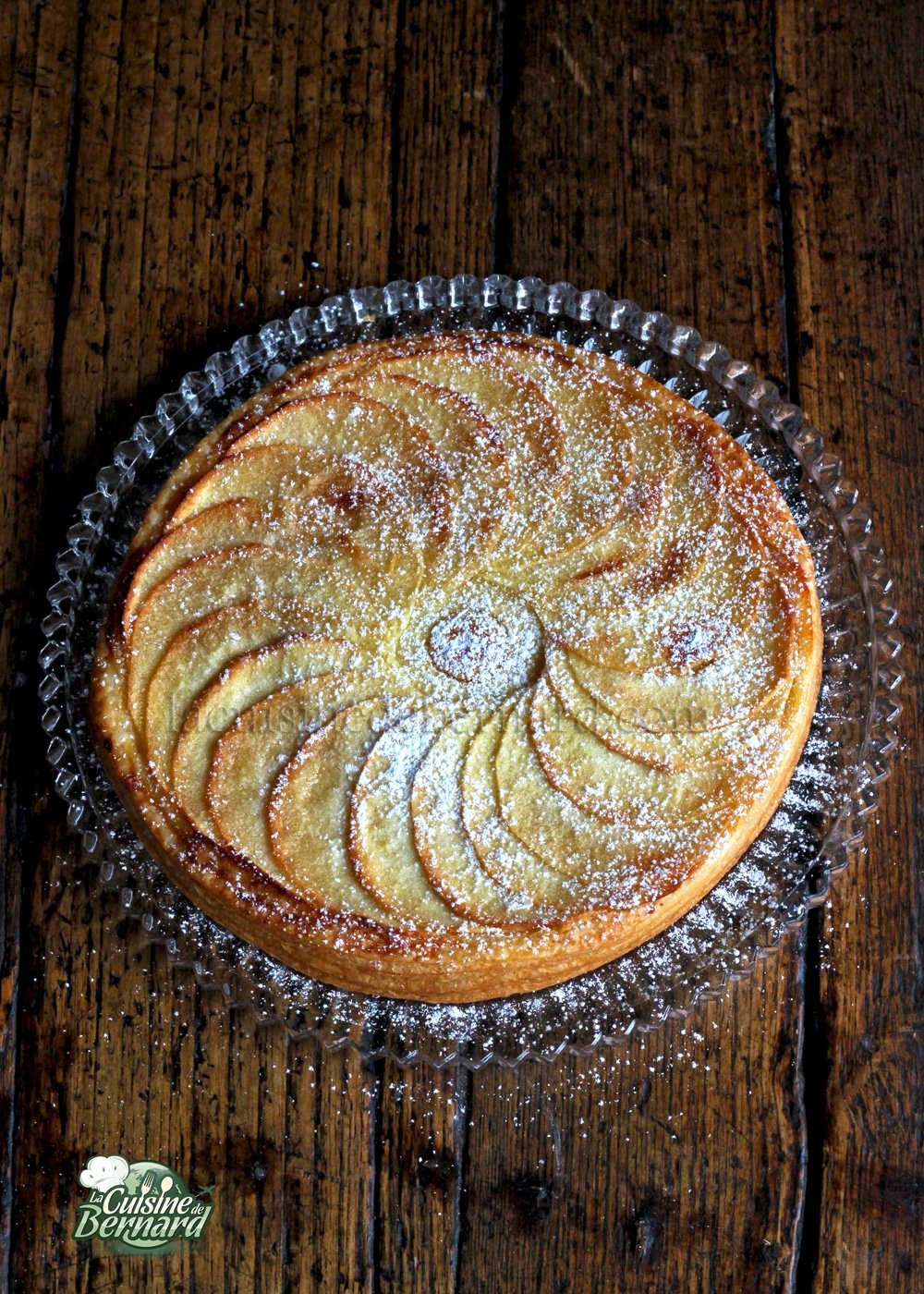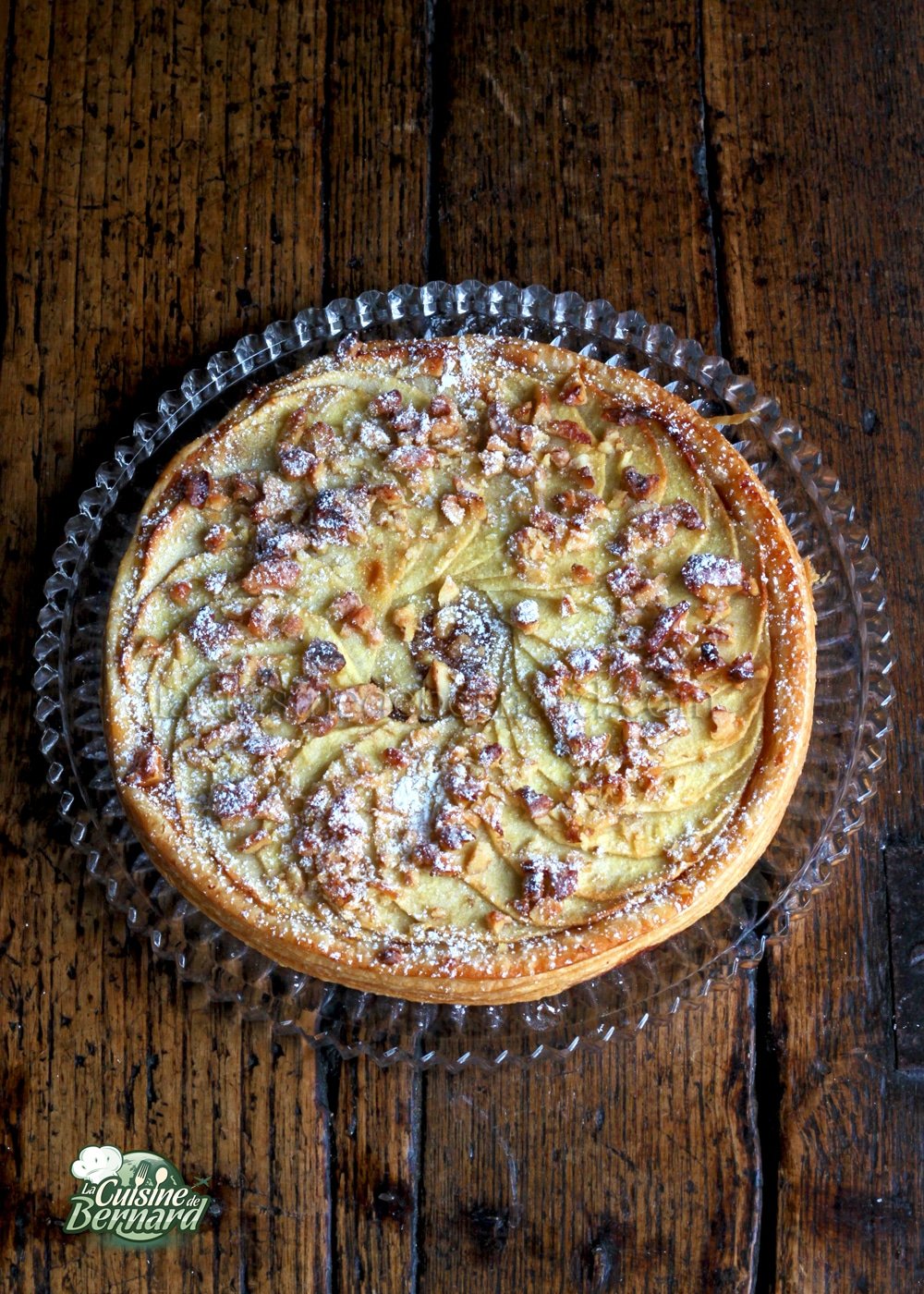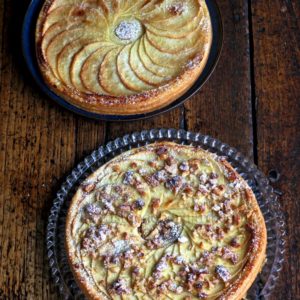 Tartes fines aux pommes
Je vous proposez cette fois, non pas une, mais deux recettes de tartes fines aux pommes. Une première à la crème d'amande et à la vanille et l'autre à la crème de marron et aux noix. Deux délices très simples à faire qui ne demande que très peu de temps de préparation. Je vous donne en plus, la vidéo en replay de mon facebook live du mardi 6 octobre 2020 !
Ingredients
Pour la tarte amande vanille :
Pour la tarte marron noix :
Instructions
Épluchez les pommes et enlevez le trognon avec un évidoir.

Tranchez les pommes assez finement, le mieux étant avec une mandoline.

Voilà le résultat que l'on cherche.

Pour la tarte à la crème d'amande : mélangez tous les ingrédients.

La crème doit être homogène.

Étalez une première moitié de pâte feuilletée, en gros 250g sur 2-3mm d'épaisseur.

Coupez au couteau un cercle de 20cm de diamètre. J'utilise ici un cercle pour avoir la bonne taille, mais ne l'utilisez pas comme un emporte-pièce, mais coupez bien au couteau ! Cela vous donnera un beau feuilletage tout autour de la pâte cuite. Faites de même pour la deuxième pâte.

Posez sur une plaque à pâtisserie garnie de papier sulfurisé ou d'un tapis de cuisson.

Piquez la pâte à la fourchette, puis mettez au frais 20 minutes. Faites de même pour la deuxième pâte.

Versez la totalité de la crème d'amande sur une première pâte. Étalez-la jusqu'à 5mm du bord.

Disposez les tranches de pommes sur la tarte.

Pour celle au marrons, étalez la crème de marrons sur une pâte feuilletée, puis disposez les pommes.

Badigeonnez de beurre demi-sel fondu les tranches de pommes.

Parsemez de noix hachées la tarte avec la crème de marron, puis dans les deux cas, saupoudrez de sucre glace.

Ici celle à la crème d'amande, sans les noix.

Faites cuire dans un four préchauffé à 200°C sur mode ventilé, pendant 35 minutes.

La pâte doit être cuite et dorée.

Servez les tartes encore tièdes, en saupoudrant d'un peu plus de sucre glace.
Nutrition
Calories:
1950
kcal
Carbohydrates:
151
g
Protein:
25
g
Fat:
142
g
Saturated Fat:
44
g
Polyunsaturated Fat:
23
g
Monounsaturated Fat:
63
g
Trans Fat:
1
g
Cholesterol:
94
mg
Sodium:
859
mg
Potassium:
461
mg
Fiber:
11
g
Sugar:
29
g
Vitamin A:
1007
IU
Vitamin C:
9
mg
Calcium:
94
mg
Iron:
8
mg