Salade de Pois-Chiches
Si vous avez suivi le petit voyage culinaire sur Beyrouth (qui est succinct mais je compléterai un jour), vous avez peut être aperçu cette salade de pois-chiches. Elle est très simple à réaliser et vraiment très bonne, surtout si elle vient compléter un dîner libanais. J'avais tout noté à l'époque de ce voyage il y a deux ans et je m'étais promis de la mettre en ligne un jour. C'est chose faite. Des pois-chiches, de la coriandre, de l'huile d'olive et des pignons de pin grillés, cette salade est tout en contraste, surtout si elle servie tiède comme j'avais pu la déguster là-bas…
Instructions
Si on utilise des pois chiches en boîte, bien les laver et les égoutter. 

Griller les pignons de pin à la poêle. 

Couper les tomates en petits dés et hacher l'oignon. 

Tout ajouter aux pois chiches dans un grand bol. 

Ajouter généreusement l'huile d'olive…

…Le cumin en poudre ainsi que du sel du poivre. 

Hacher soigneusement la coriandre. 

Ajouter enfin les pignons de pin grillés et bien mélanger. 

Goûter pour rectifier l'assaisonnement. 

Servir cette salade froide ou bien tiède en la réchauffant à peine à la casserole ou au micro-onde. Dans les deux cas, c'est très bon !
Nutrition
Calories:
216
kcal
Carbohydrates:
7
g
Protein:
2
g
Fat:
21
g
Saturated Fat:
2
g
Polyunsaturated Fat:
5
g
Monounsaturated Fat:
12
g
Sodium:
6
mg
Potassium:
261
mg
Fiber:
2
g
Sugar:
3
g
Vitamin A:
590
IU
Vitamin C:
11
mg
Calcium:
20
mg
Iron:
1
mg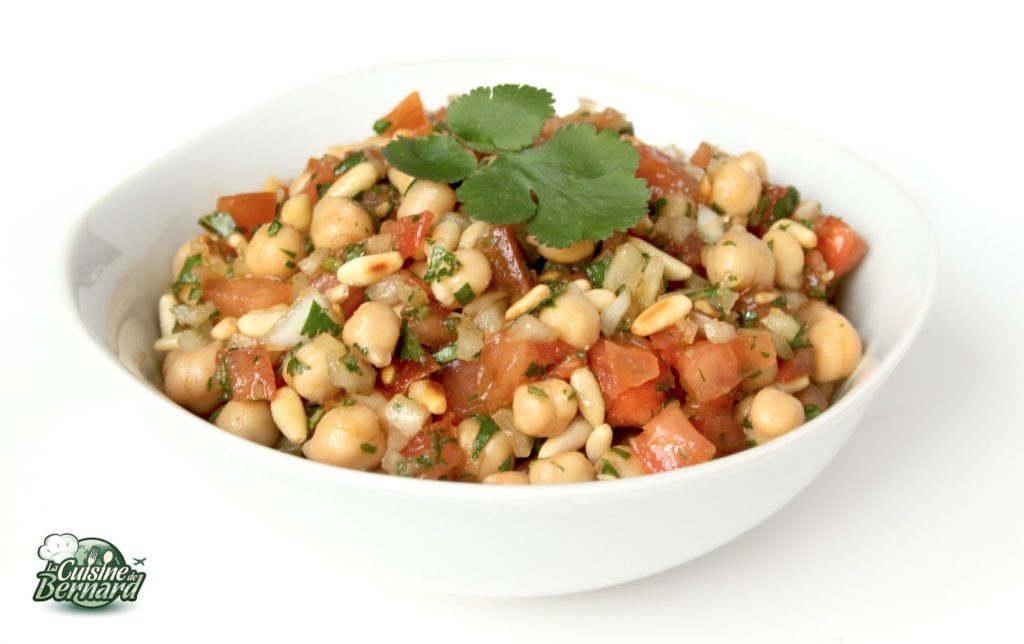 If you followed the little
culinary journey on Beirut
(which is succinct but I will complete it one day), you may have seen this chickpea salad. It is very simple to make and really very good, especially if it complements a Lebanese dinner. I had written down everything at the time of this trip two years ago and I promised myself to put it online one day. It's done. Chickpeas, cilantro, olive oil and toasted pine nuts, this salad is quite a contrast, especially if it is served warm as I had tasted it there…
Chickpea salad recipe:
-1 can of canned chickpeas
-2 tomatoes
-1 onion
-40g of toasted pine nuts
-4 tablespoons of olive oil
-salt pepper
-1 teaspoon cumin
-1/2 bunch of coriander
The Instructions
If using canned chickpeas, wash and drain them well.
Toast the pine nuts in a pan.
Dice the tomatoes and chop the onion.
Add everything to the chickpeas in a large bowl.
Add generously the olive oil…
…Cumin powder and salt and pepper.
Carefully chop the coriander.
And add everything.
Finally, add the toasted pine nuts and mix well.
Taste to adjust seasoning .
Serve this salad cold or lukewarm by heating it up slightly in a pan or in the microwave. In both cases, it is very good!