With autumn setting in and the cold weather inevitably gaining ground, I propose a rich and comforting pie with a foretaste of the end of the year party! A crunchy, low-sugar cocoa and crunchy cocoa nib pastry filled with a dense chocolate cream with a consistency similar to that of chocolate truffles, with a hint of coffee to underline the chocolate and cocoa flavor. A little delight to be enjoyed fresh or at room temperature!
For a 20cm diameter pie :
Cocoa paste :
250g flour
90g of powdered sugar
60g almond powder
35g cocoa powder
165g of butter cut in pieces
50g egg
50g cocoa nibs (optional)
Truffle cream :
200g dark chocolate
300g cream
1 coffee stick
50g of sweetened condensed milk
1 egg
Cocoa powder for sprinkling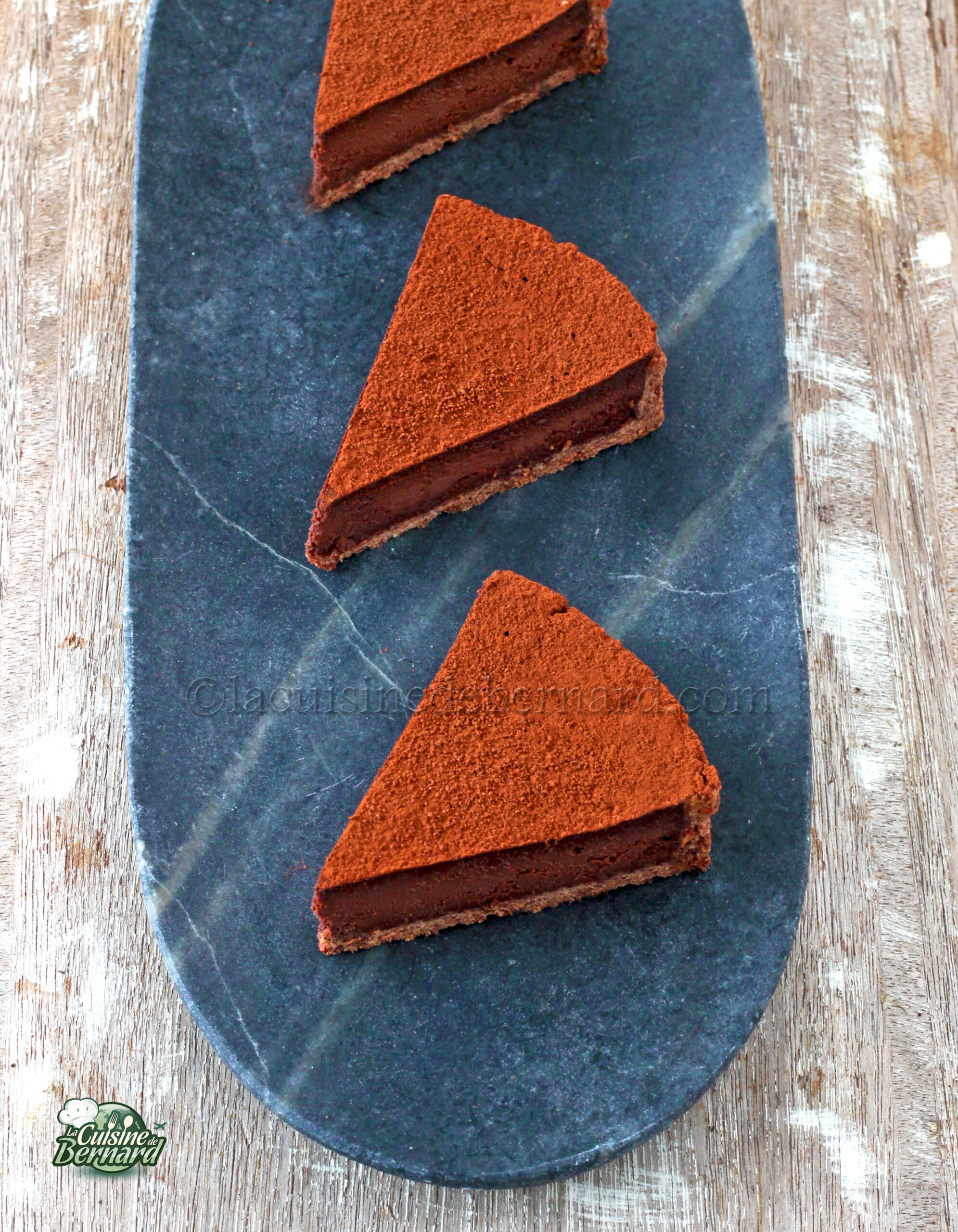 Start by preparing the cocoa paste:
Place all ingredients except the egg and cocoa nibs in the bowl of your food processor.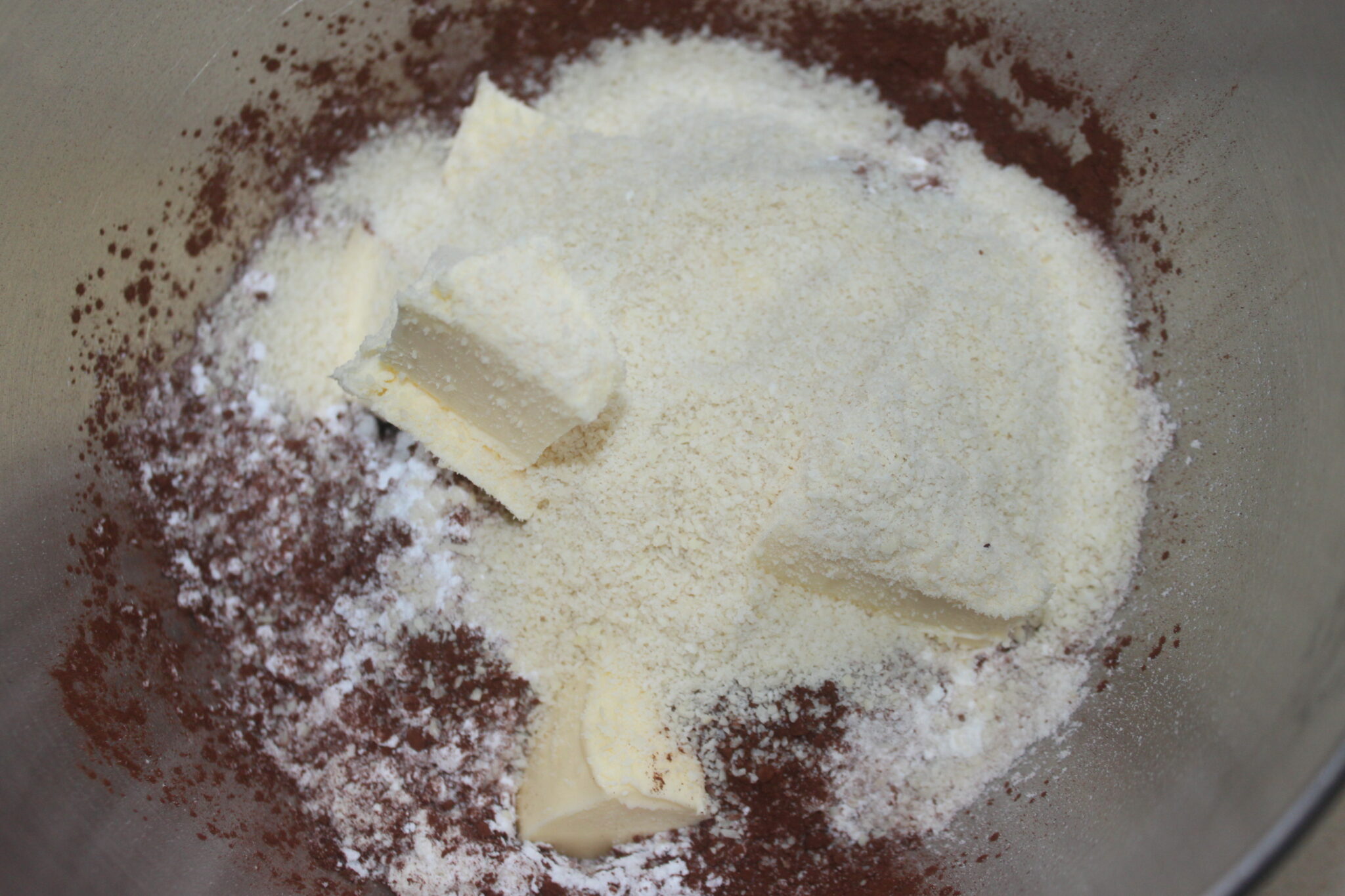 Mix with the sheet (the K-shaped utensil) or with your fingertips, until you have a kind of sand. Then add the egg omelette and cocoa nibs.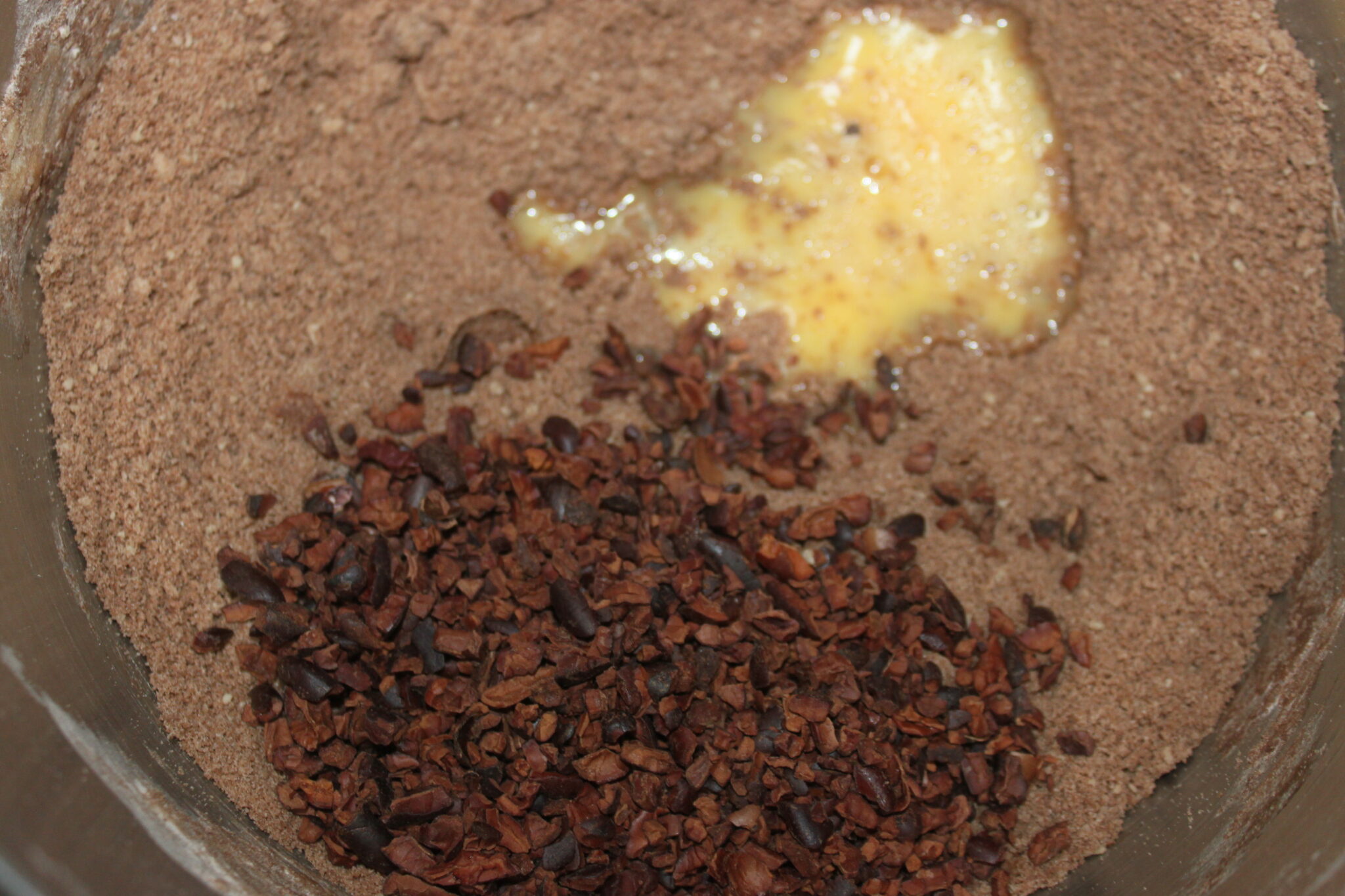 Mix again just to have a homogeneous paste, without insisting.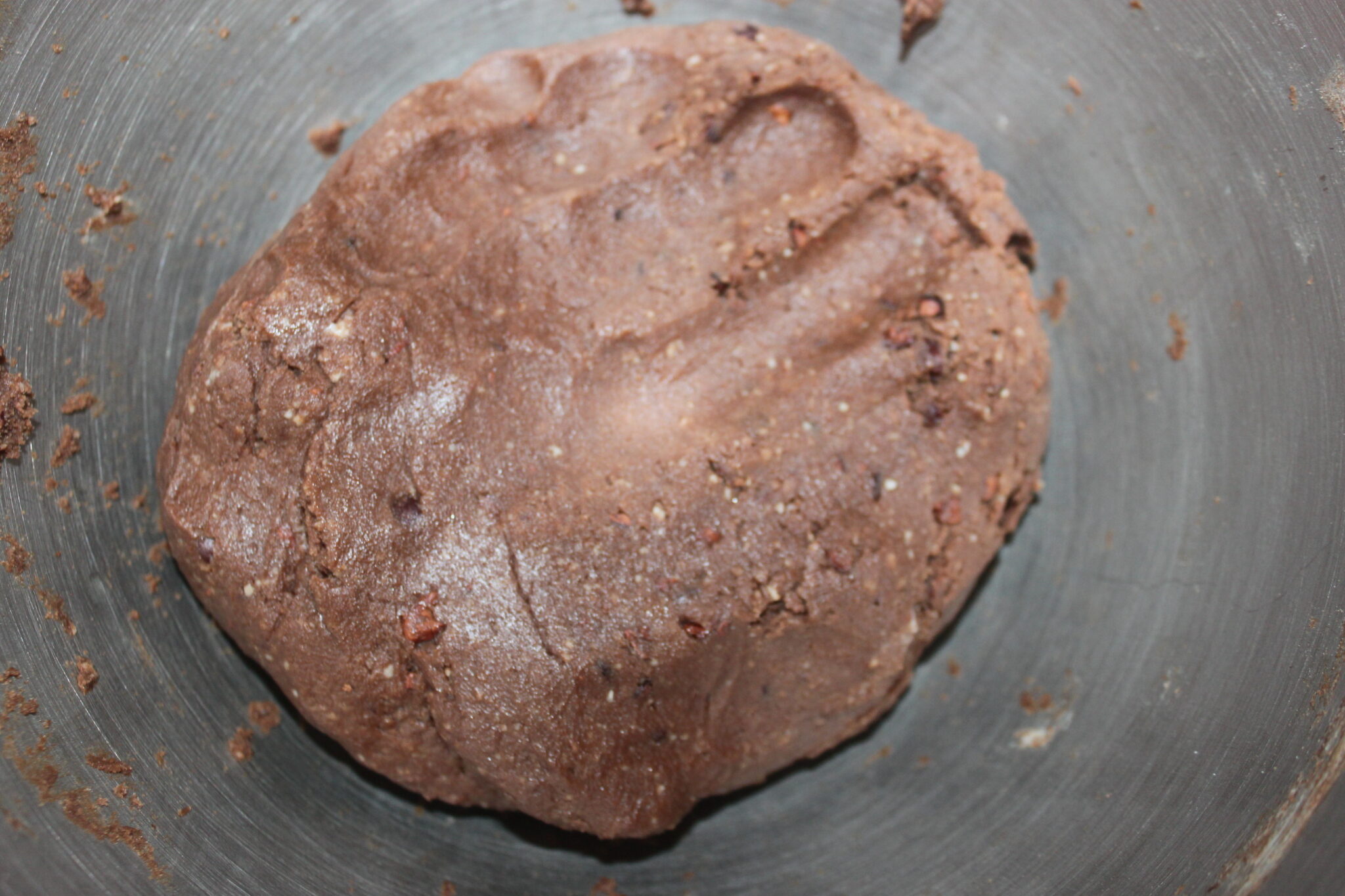 Wrap in cling film and chill for at least 2 hours. Place half of the dough lightly floured on parchment paper and roll out to 2-3mm thickness. There will be some dough left over, but I'll quickly come up with a recipe with it!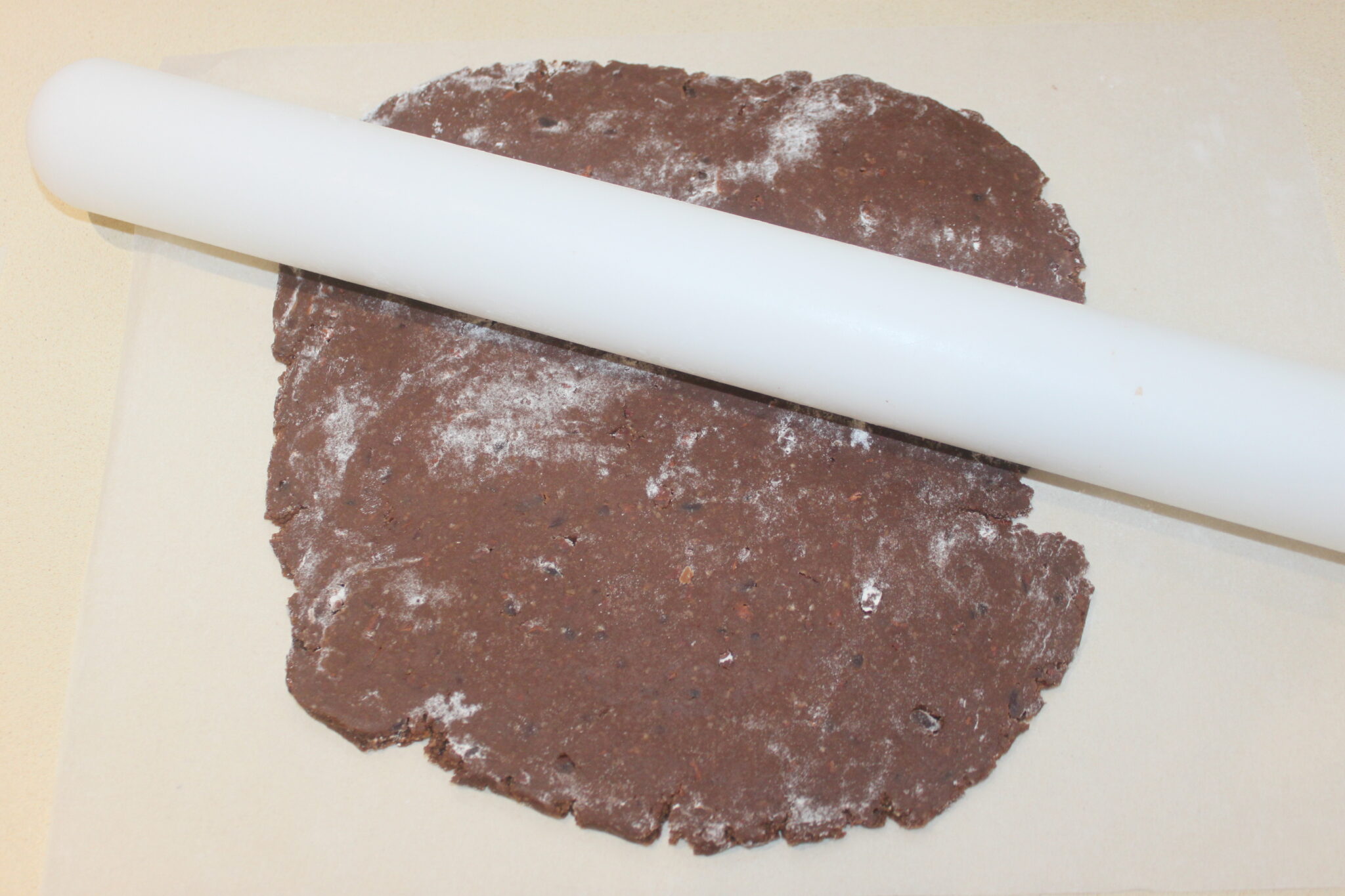 Place a 20cm diameter circle on a baking sheet lined with parchment paper or a siliconized baking mat, then place the dough in the circle. Be careful to have a nice right angle in the bottom and the edge of the circle.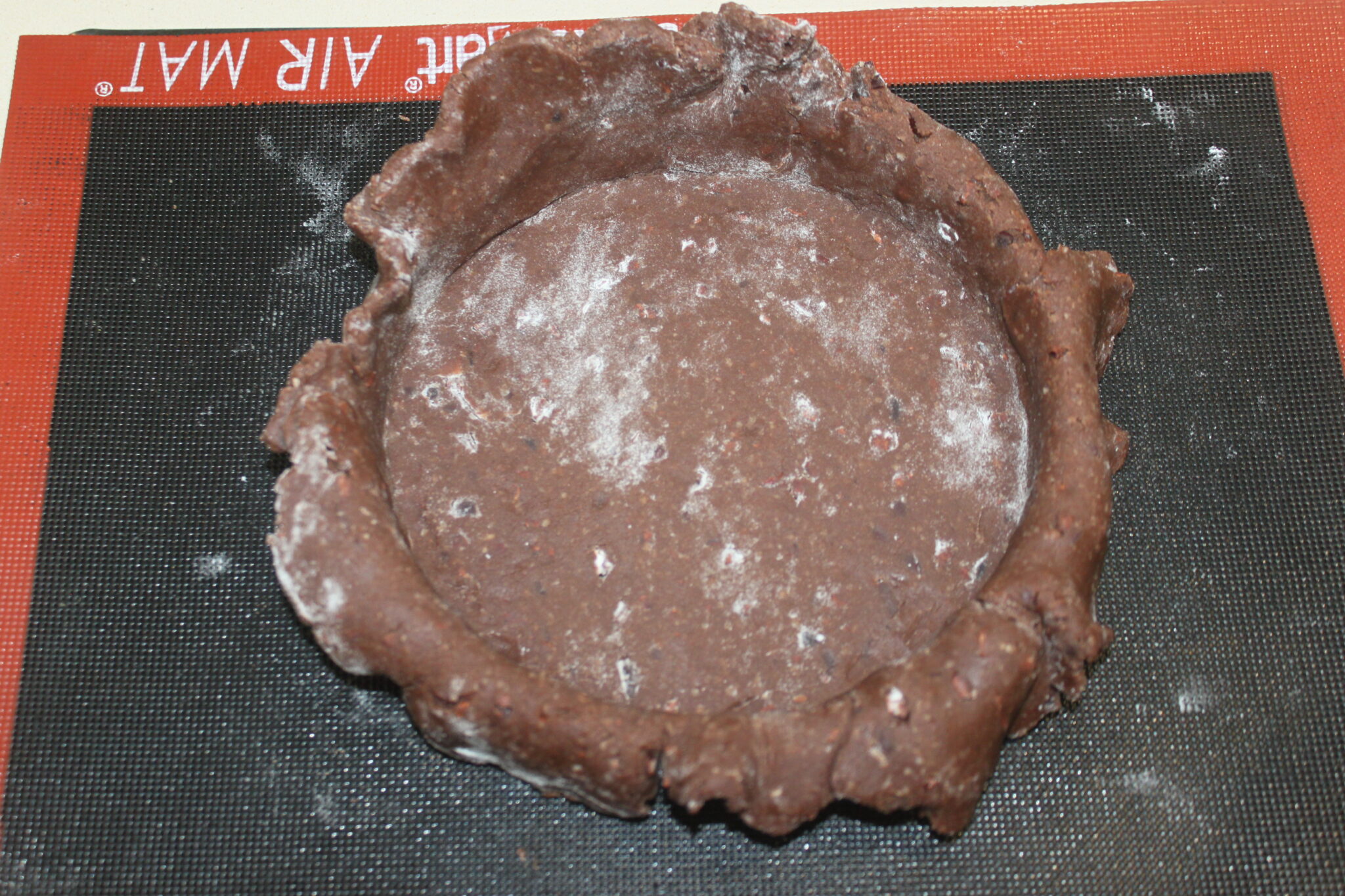 Cut off the excess dough and bake for 25-30 minutes at 170°C in a preheated oven. Prick the bottom of the dough to prevent it from puffing up.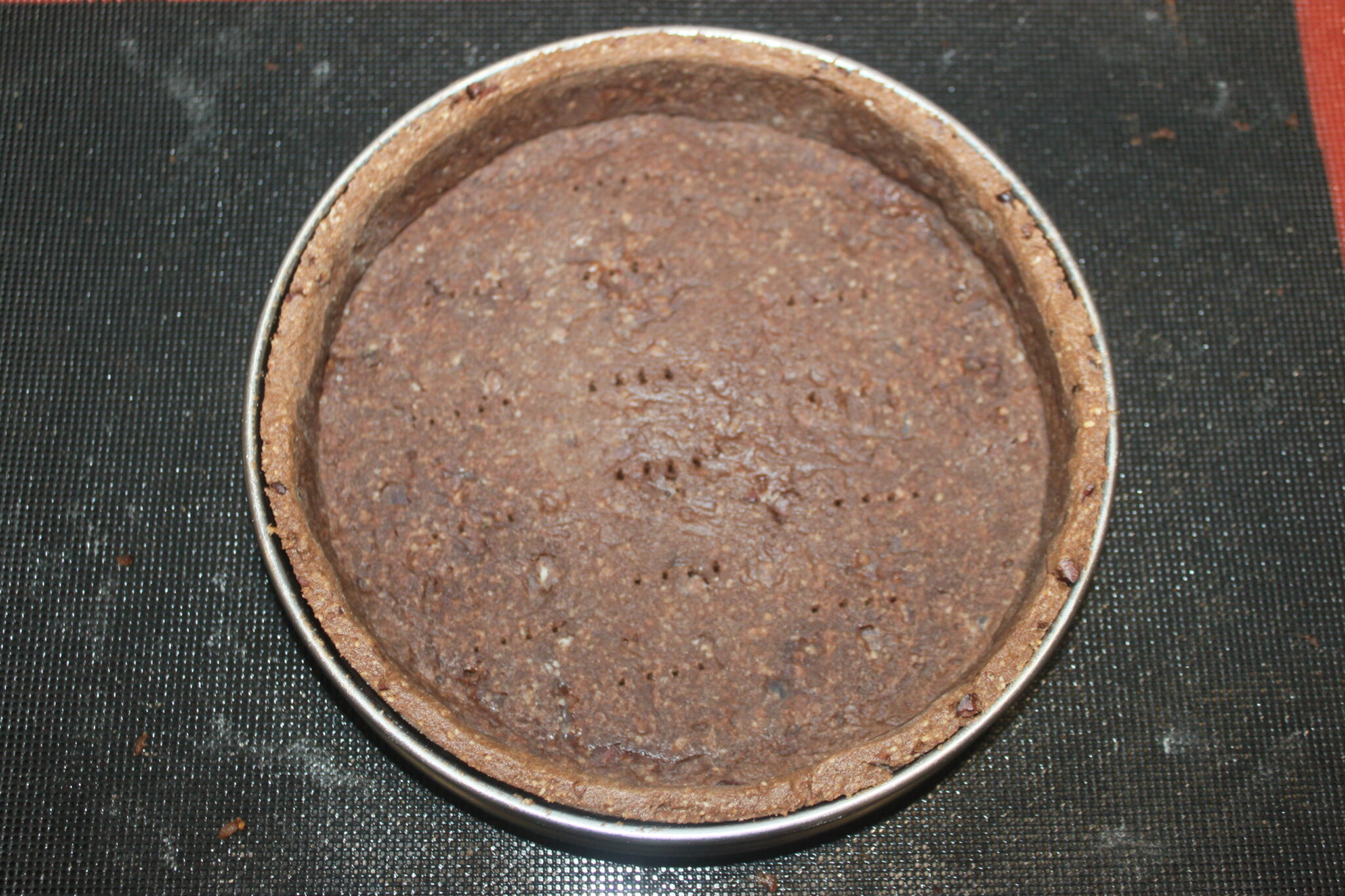 Pour the cream, dark chocolate pieces and sweetened condensed milk into a microwave-safe container.
Heat in 30-second increments until chocolate has melted. When the mixture is no longer too hot but lukewarm, add the soluble coffee stick and the egg.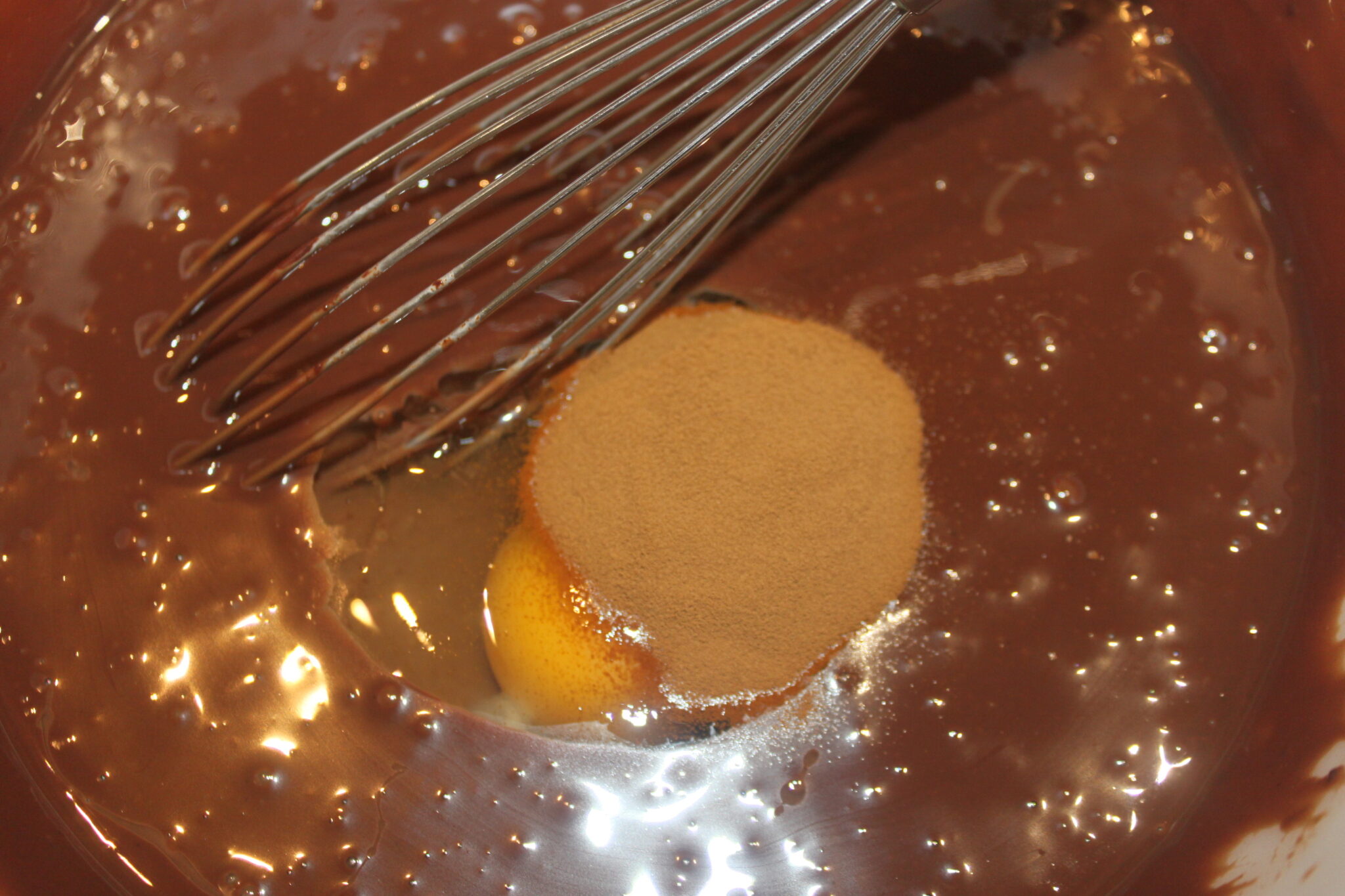 Mix well and pour into the pre-baked pie shell.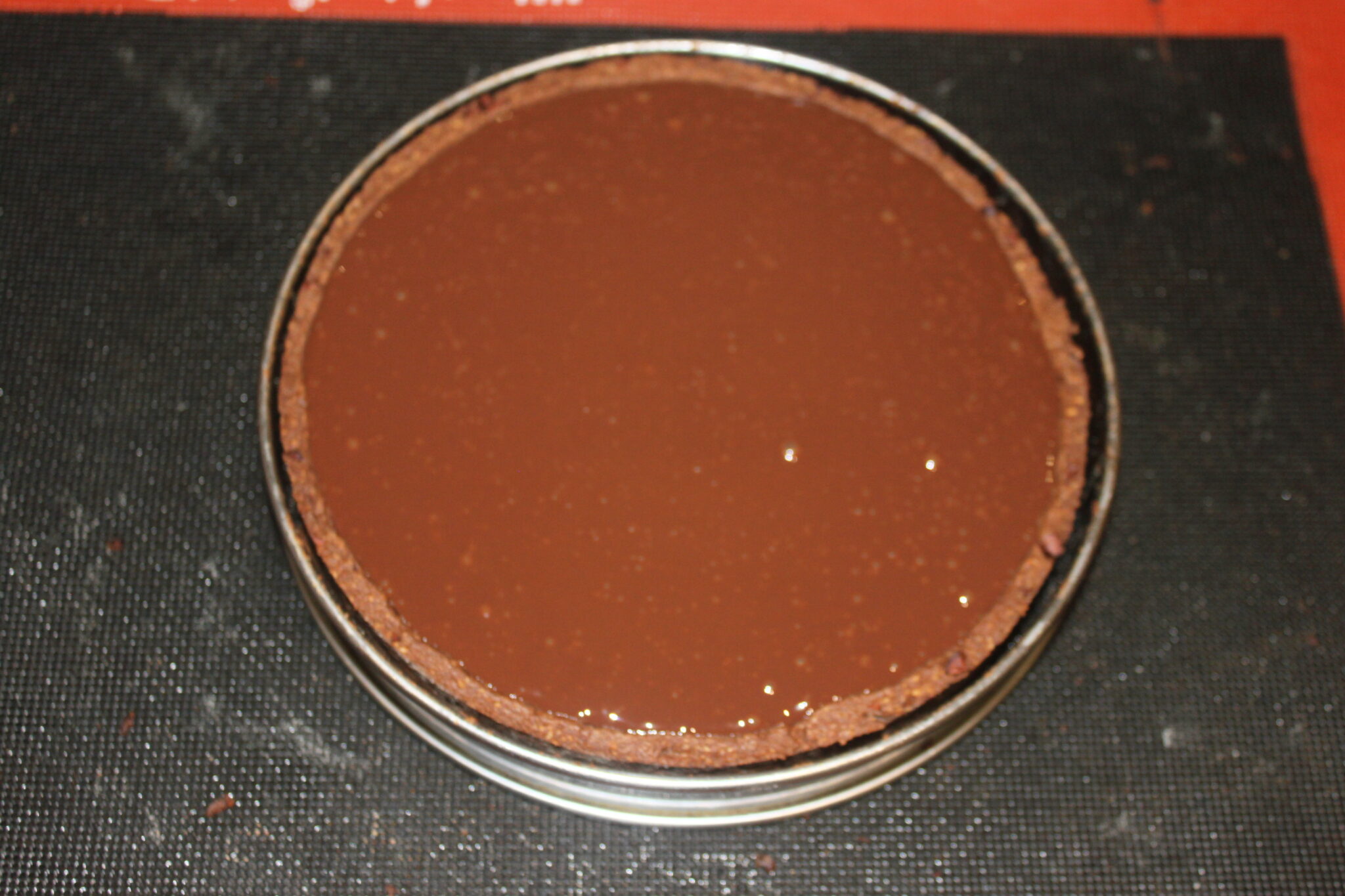 Bake for another 30 minutes, still at 170°C.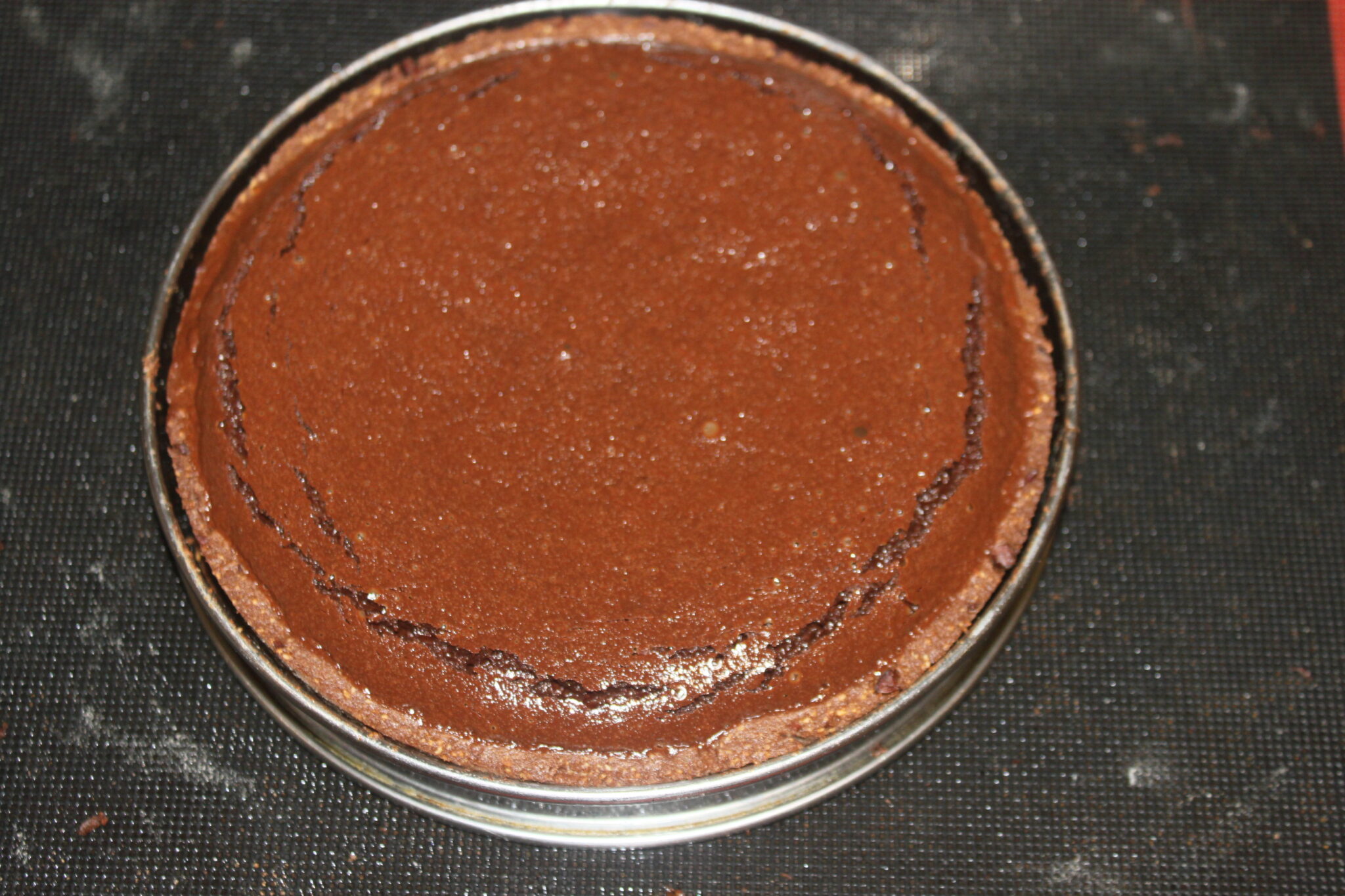 Let cool, then at the last moment, sprinkle with cocoa powder.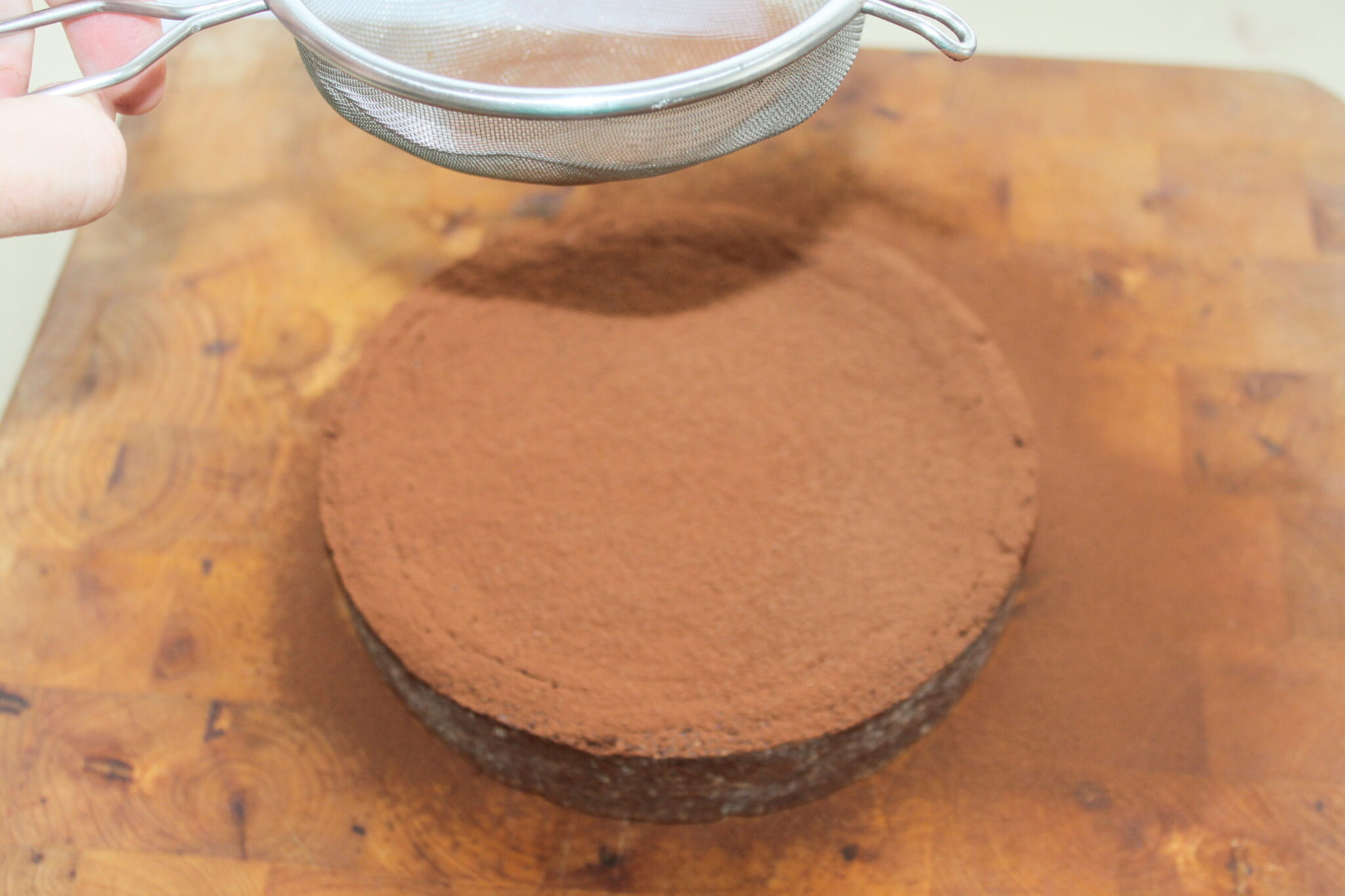 Serve the cooled pie in the refrigerator or at room temperature.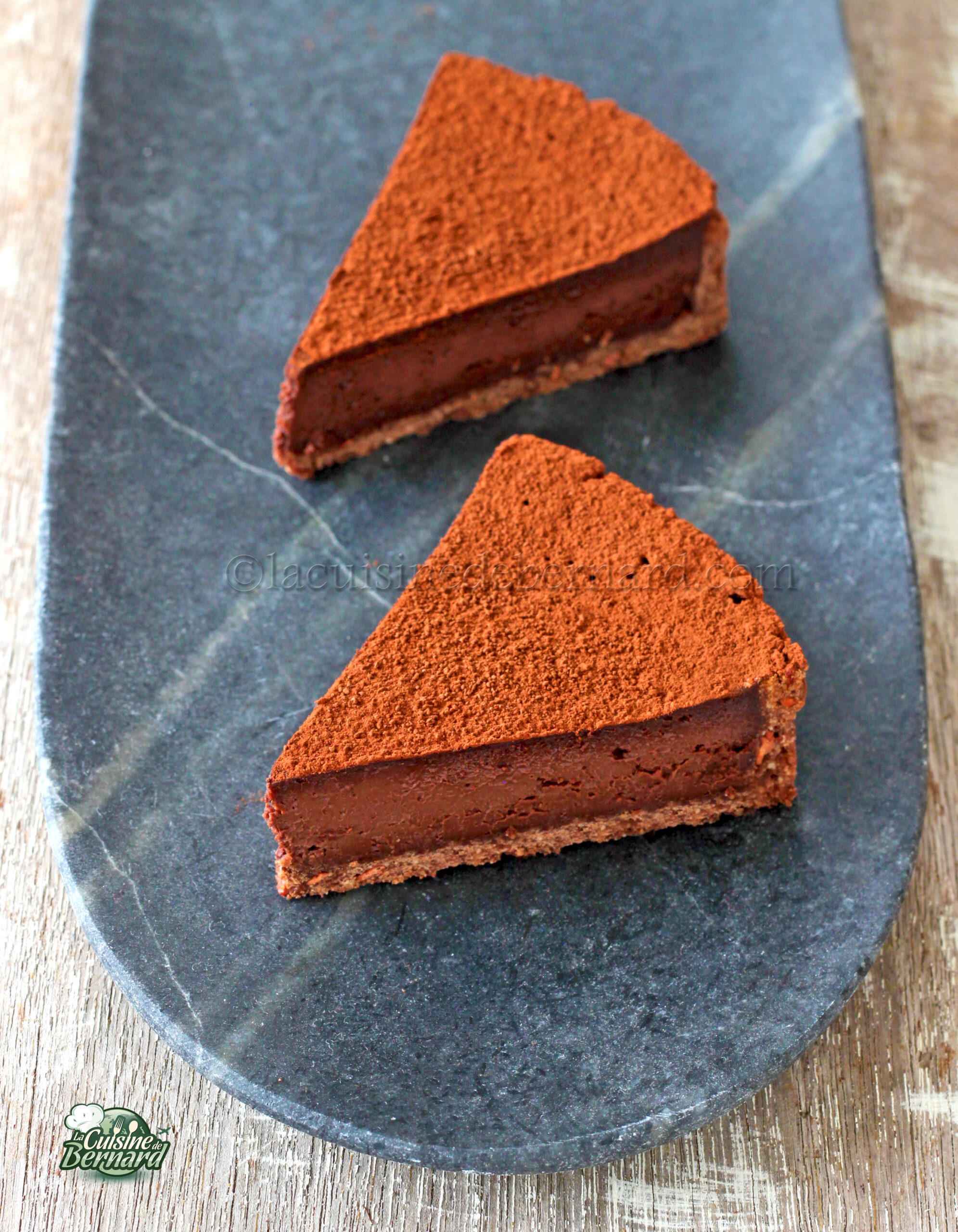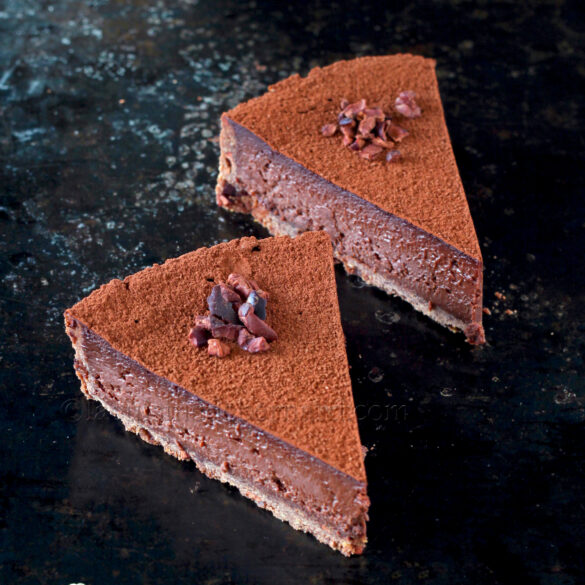 Tarte truffée chocolat café
Instructions
Commencez par préparer la pâte cacao : Mettez tous les ingrédients sauf l'œuf et le grué de cacao dans le bol de votre robot.

Mélangez avec la feuille (l'ustensile en forme de K) ou du bout des doigts, jusqu'à avoir une sorte de sable. Ajoutez alors l'œuf en omelette et le grué de cacao.

Mélangez de nouveau juste pour avoir une pâte homogène, sans insister.

Mettez dans un film étirable et placez au frais au moins 2 heures. Placez la moitié de la pâte légèrement fariné sur un papier sulfurisé et étalez-la au rouleau sur une épaisseur de 2-3mm. Il restera de la pâte mais je vous propose vite une recette avec !

Placez un cercle de 20cm de diamètre sur une plaque garnie de papier sulfurisé ou d'un tapis de cuisson siliconé, puis disposez la pâte dans le cercle. Faites bien attention à avoir un bel angle droit dans le fond et le bord du cercle.

Coupez l'excédent de pâte puis faites cuire 25-30 minutes à 170°C dans un four préchauffé sur chaleur tournante. Piquez le fond de pâte pour éviter son gonflement.

Versez dans un récipient allant au four à micro-ondes, la crème, le chocolat noir en morceaux et le lait concentré sucré.

Faites chauffer par périodes de 30 secondes jusqu'à ce que le chocolat ait bien fondu. Quand le tout n'est plus trop chaud mais tiède, ajoutez le stick de café soluble et l'œuf.

Mélangez bien puis versez dans le fond de tarte précuit.

Remettez à cuire 30 minutes, toujours à 170°C.

Laissez refroidir, puis au dernier moment, saupoudrez de cacao en poudre.

Servez la tarte refroidie au réfrigérateur ou à température ambiante.
Nutrition
Calories:
708
kcal
Carbohydrates:
56
g
Protein:
12
g
Fat:
50
g
Saturated Fat:
29
g
Polyunsaturated Fat:
2
g
Monounsaturated Fat:
12
g
Trans Fat:
1
g
Cholesterol:
133
mg
Sodium:
174
mg
Potassium:
363
mg
Fiber:
7
g
Sugar:
22
g
Vitamin A:
1157
IU
Vitamin C:
0.4
mg
Calcium:
99
mg
Iron:
6
mg