Delicious jalapeño peppers filled with cream cheese, cheddar and red bell pepper. I had tasted some in Seattle a while back at a great waterfront restaurant near the university in 2019 and wrote down what I liked so I could make them again. The hardest part is to find the peppers, but if you search on the internet, you will find them without too much difficulty. You can also replace them with mini peppers. It's nice and crispy, creamy, and very spicy (but bearable) in the case of jalapeños! To be enjoyed with a small soothing sauce.
Recette :
500g of jalapeño peppers
300g of cream cheese
80g grated cheddar cheese
1/2 red bell pepper
1/2 teaspoon garlic powder
1/4 teaspoon paprika powder
salt pepper
flour
1 egg
fermented milk
breadcrumbs (I used panko)
Instructions :
Here are the small jalapenos. I grant you, it is not easy to find. But you can replace them with mini peppers.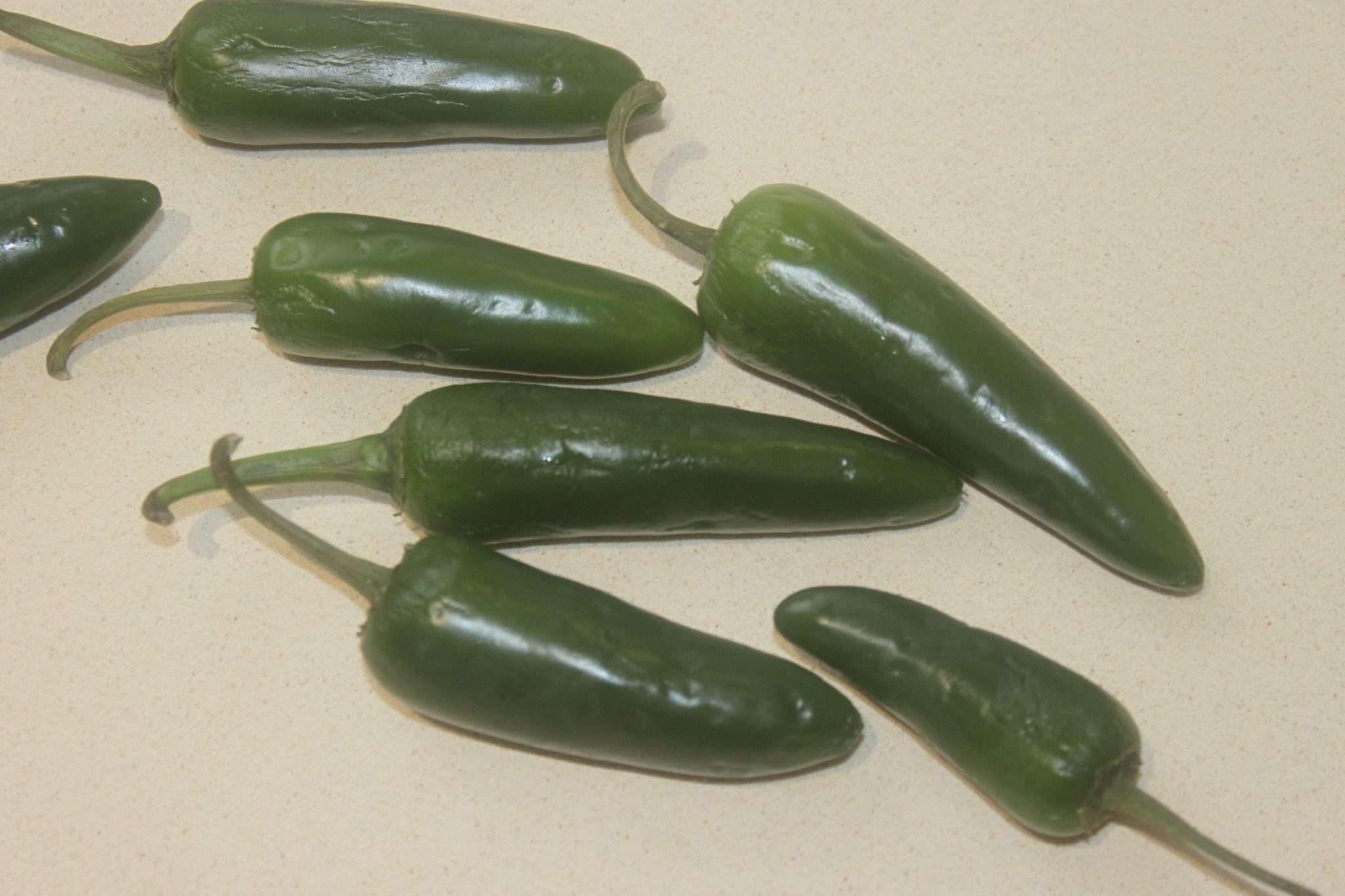 Slash lengthwise and then a little at the top of the pepper. You incise in the shape of a T. Empty the seeds. These peppers already sting, with the seeds it would be even worse!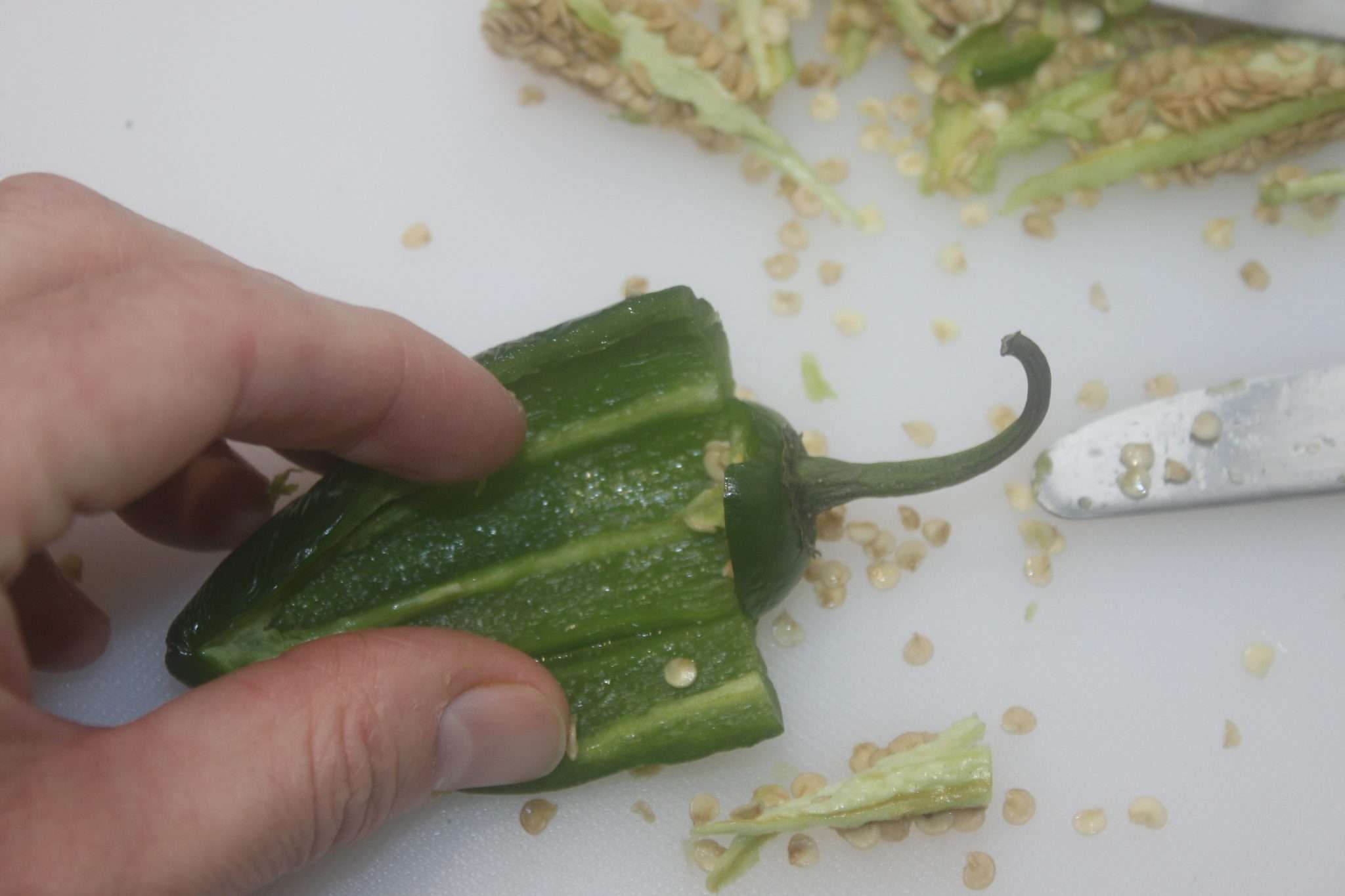 For the filling, mix the cream cheese, cheddar cheese, salt and pepper. Do not add too much pepper if the peppers are very hot.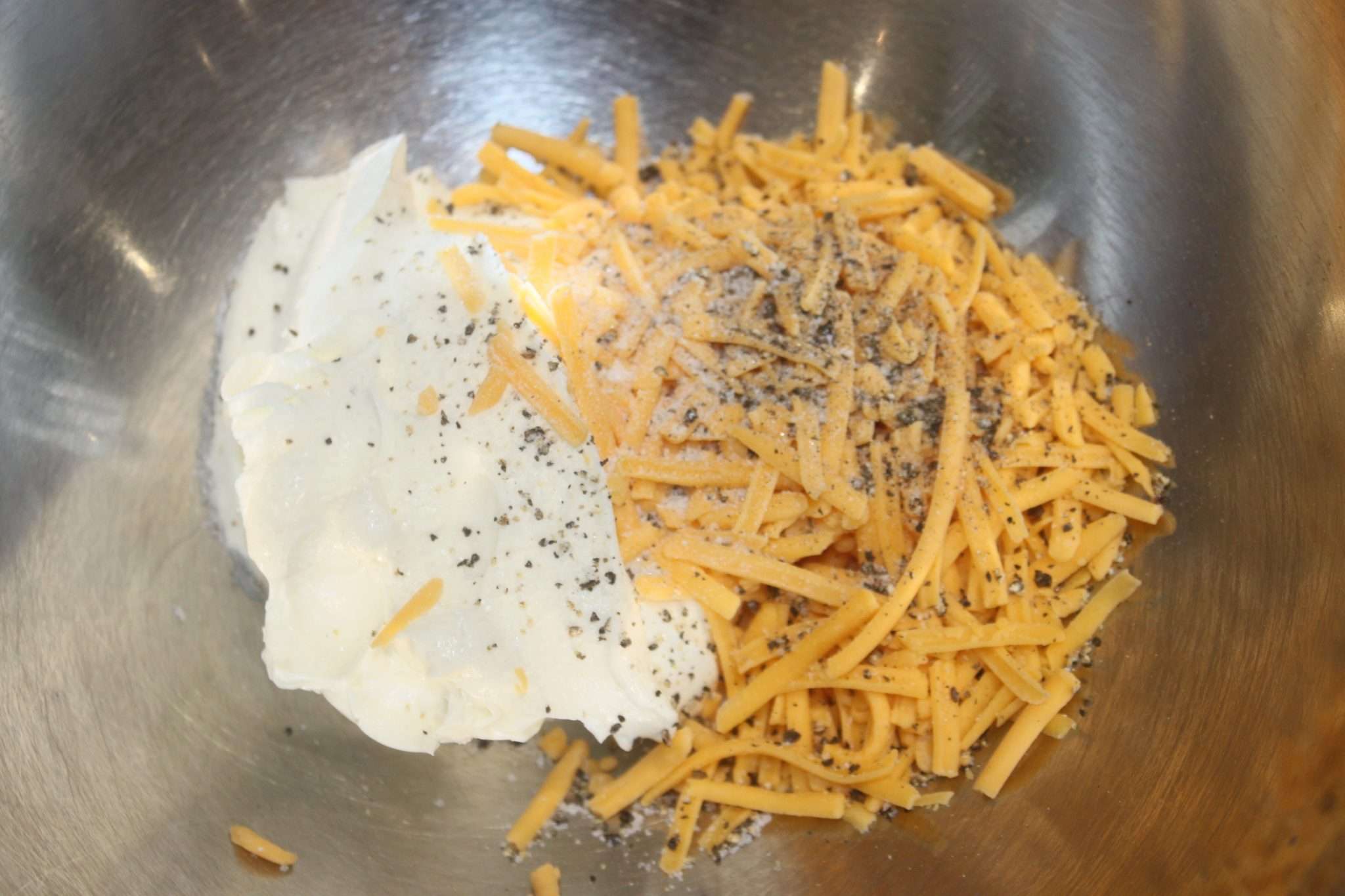 Drain the red bell pepper half and finely chop it.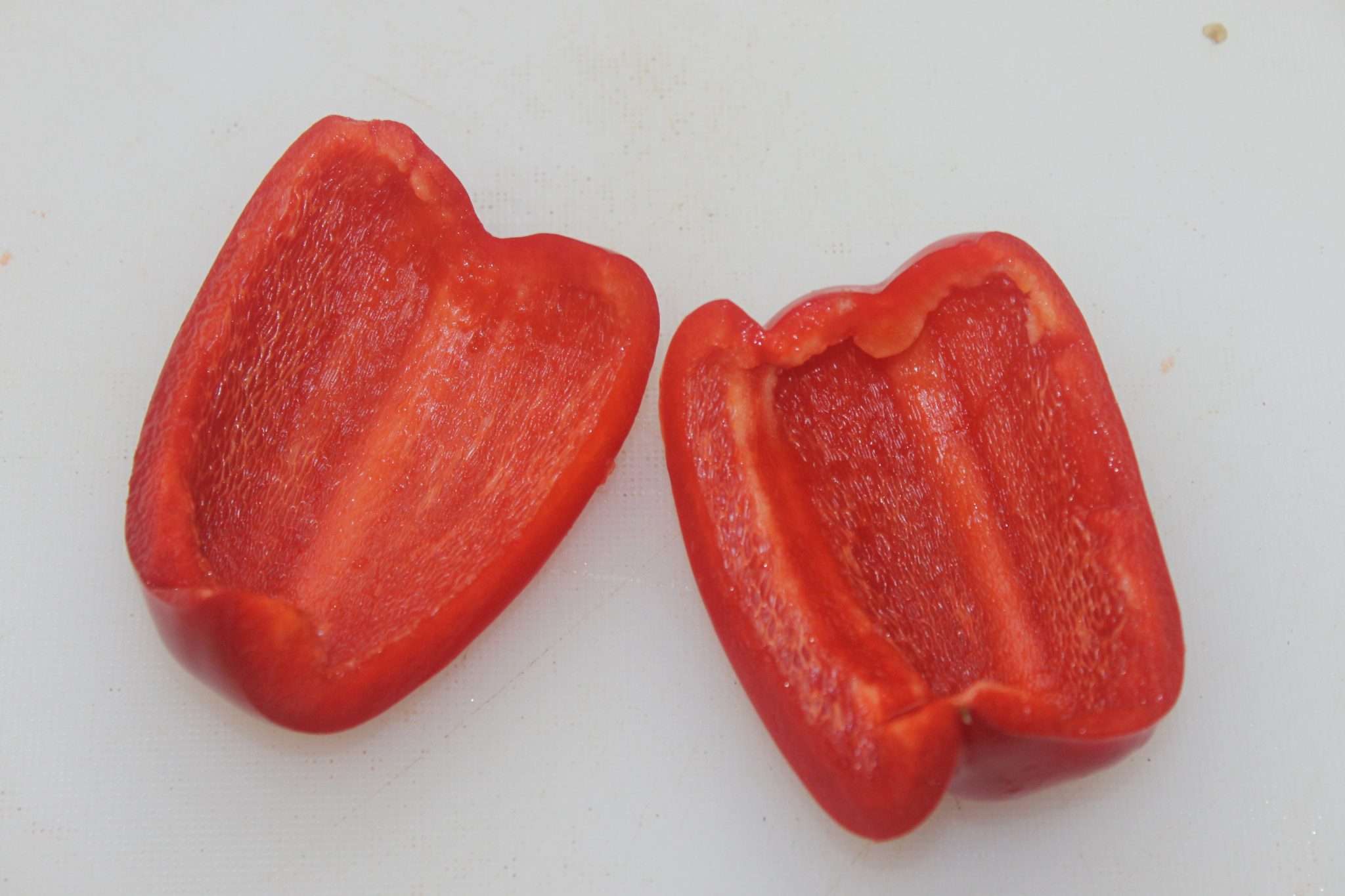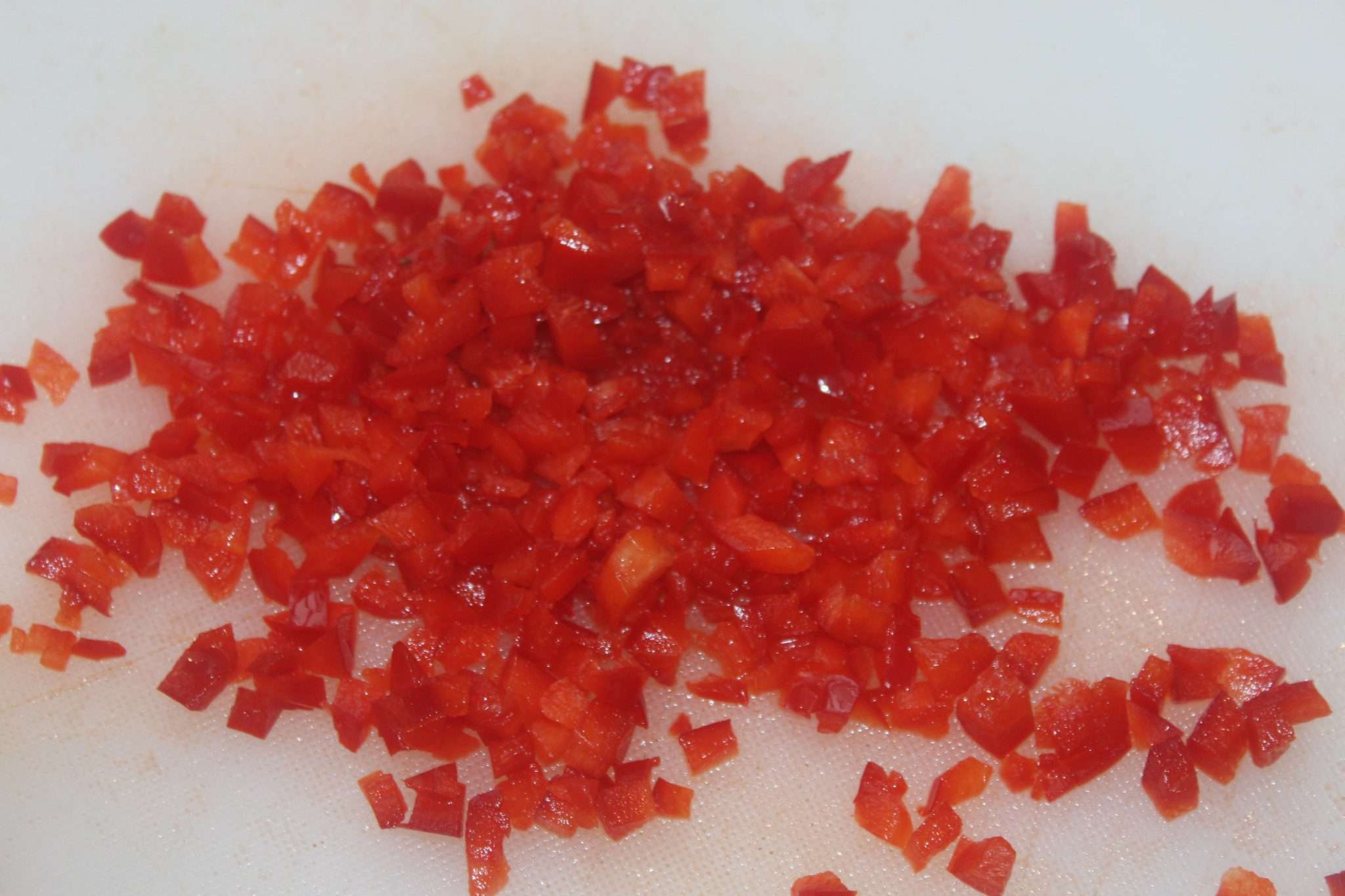 Put in the stuffing and mix well.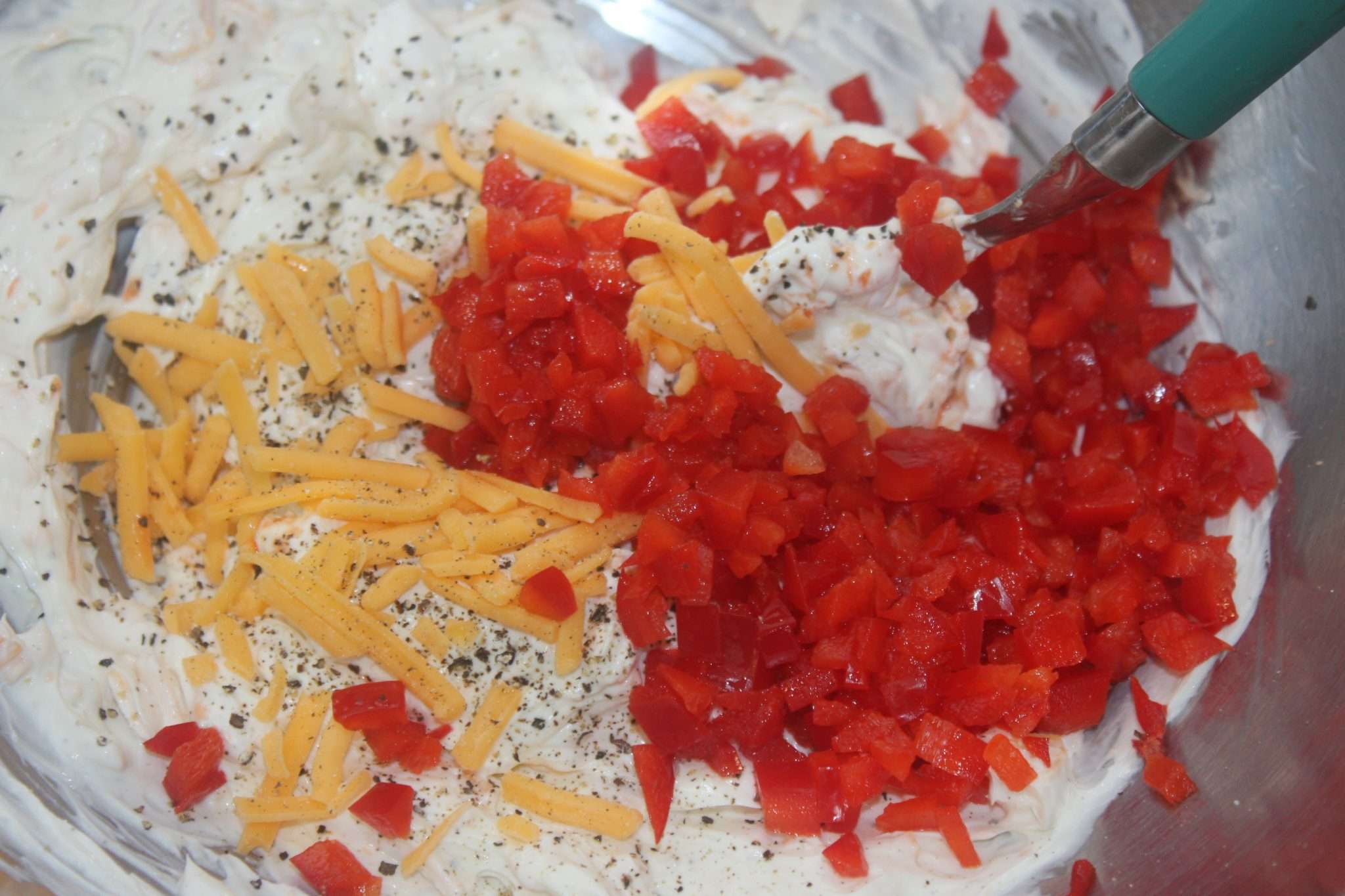 Add garlic powder and paprika.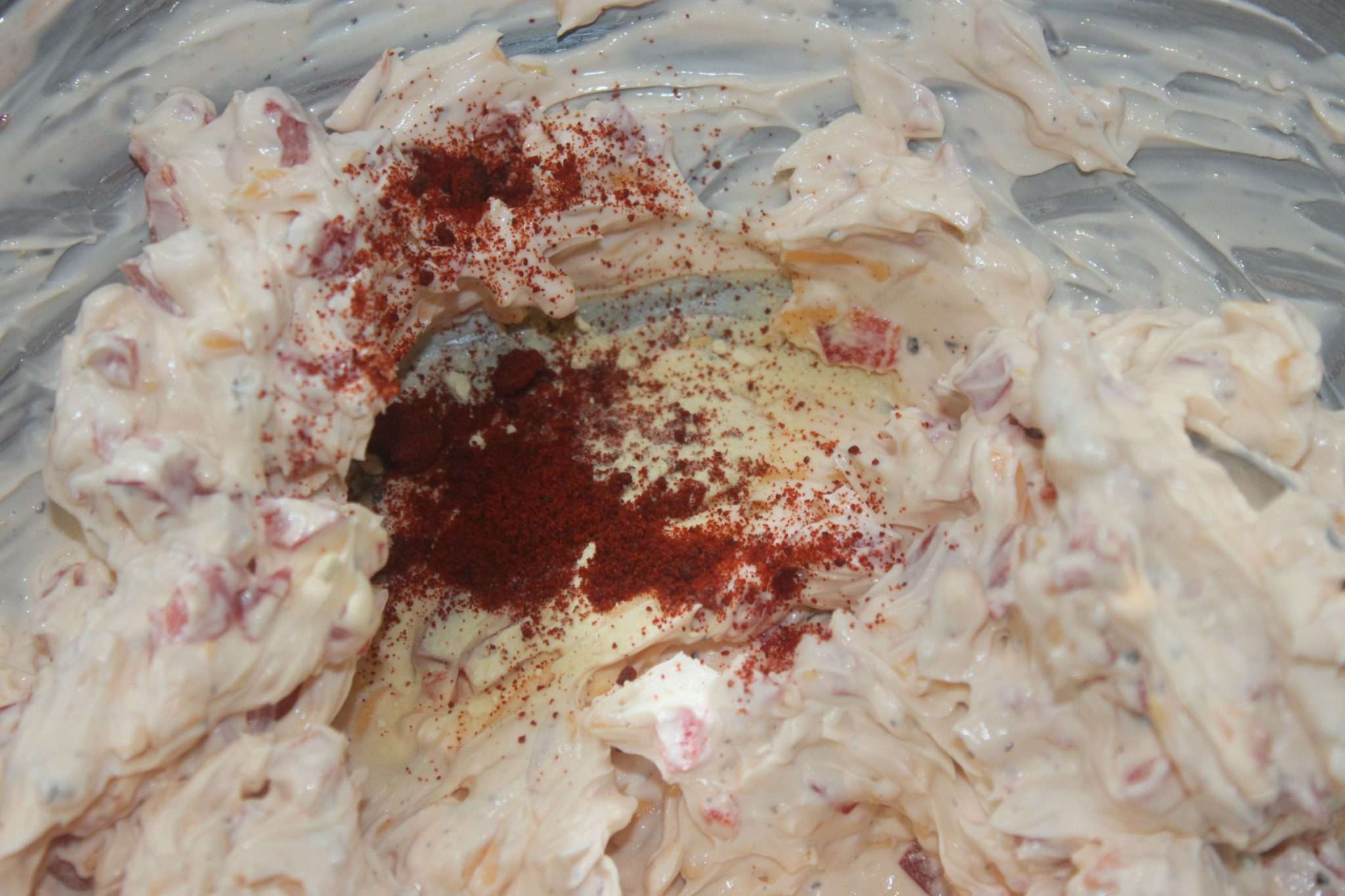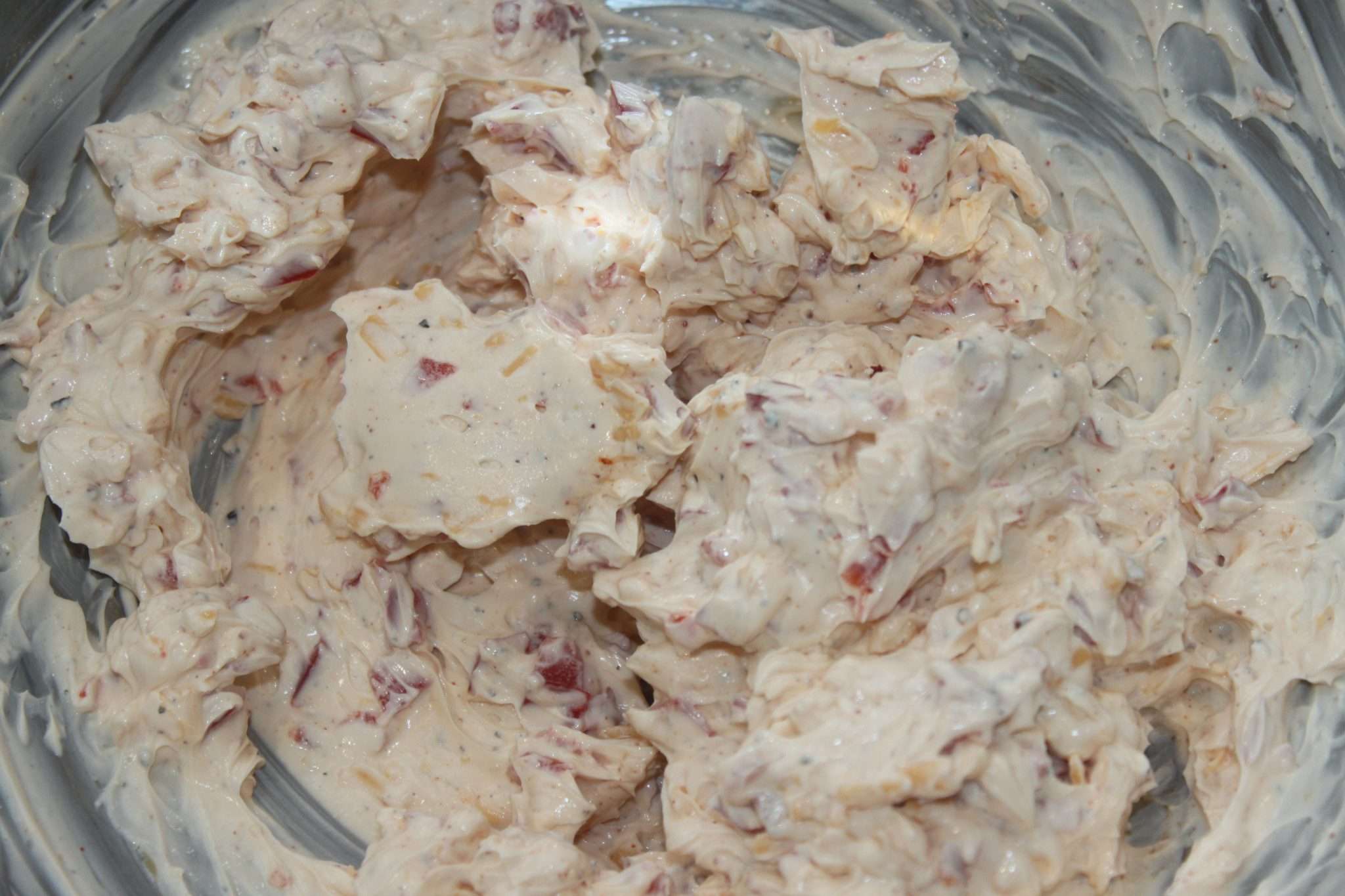 Fill the jalapeños.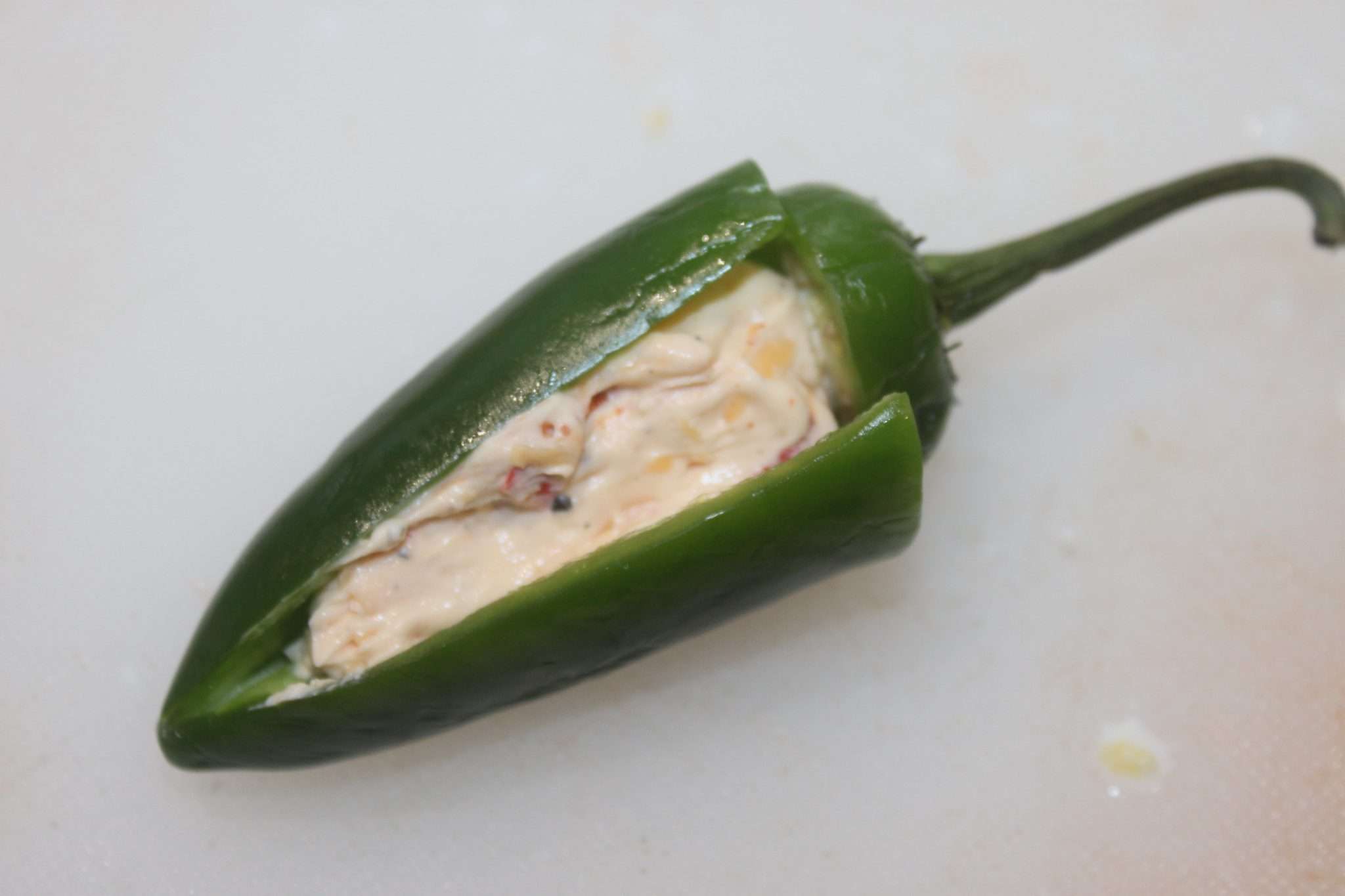 Do the same for all the peppers.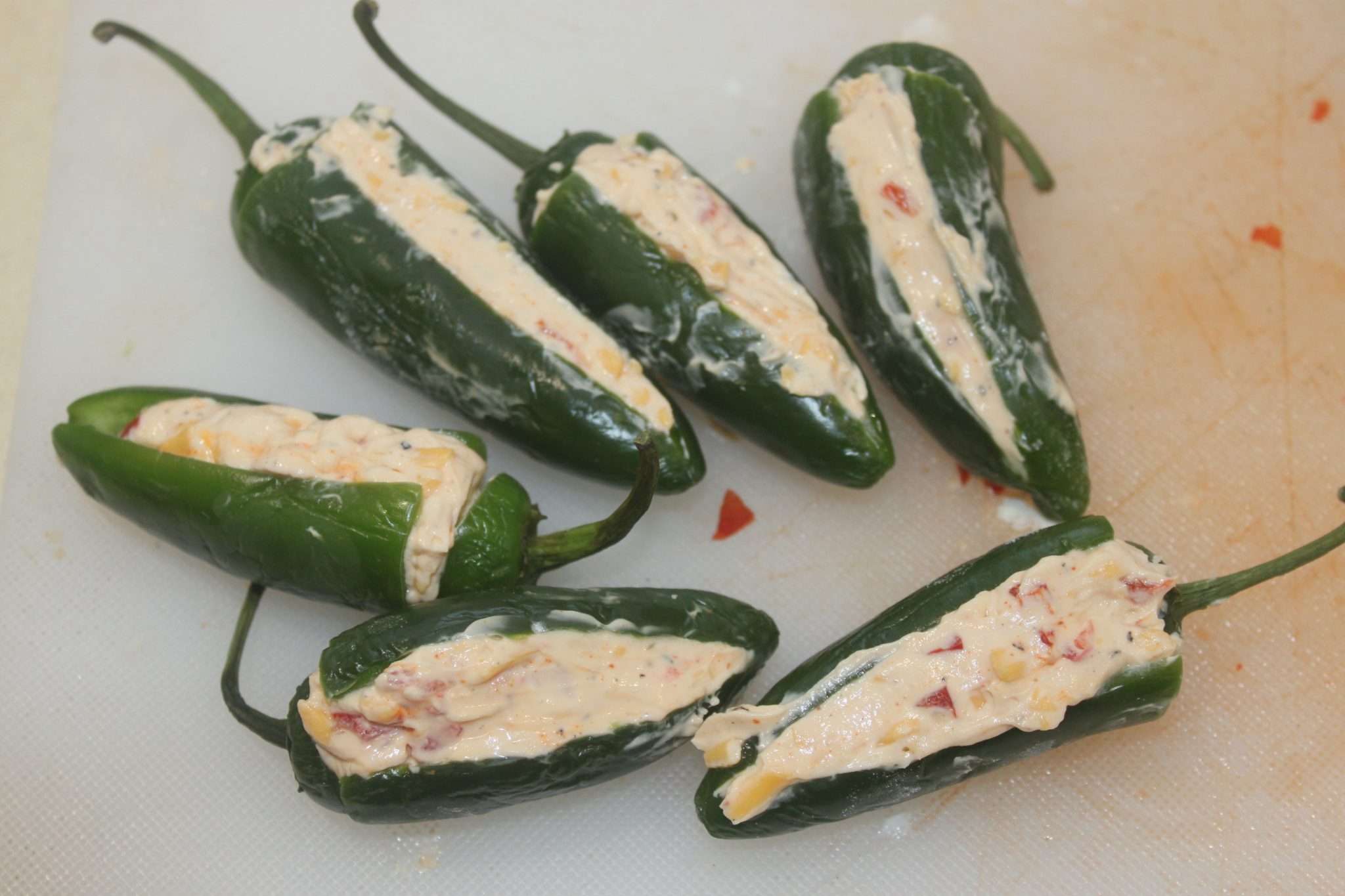 Beat the egg in a bowl and dip a jalapeño in it.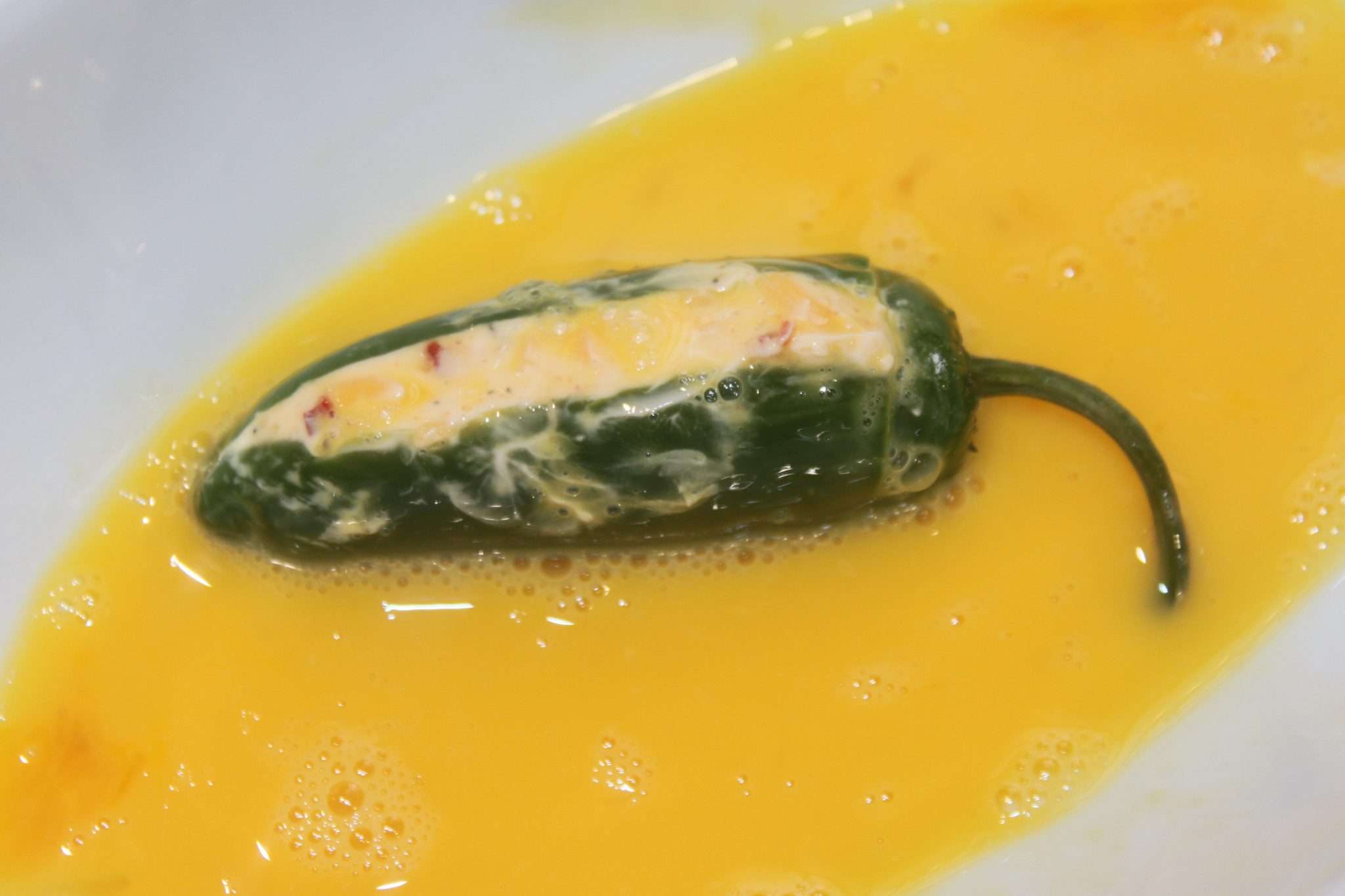 Transfer to a container filled with flour.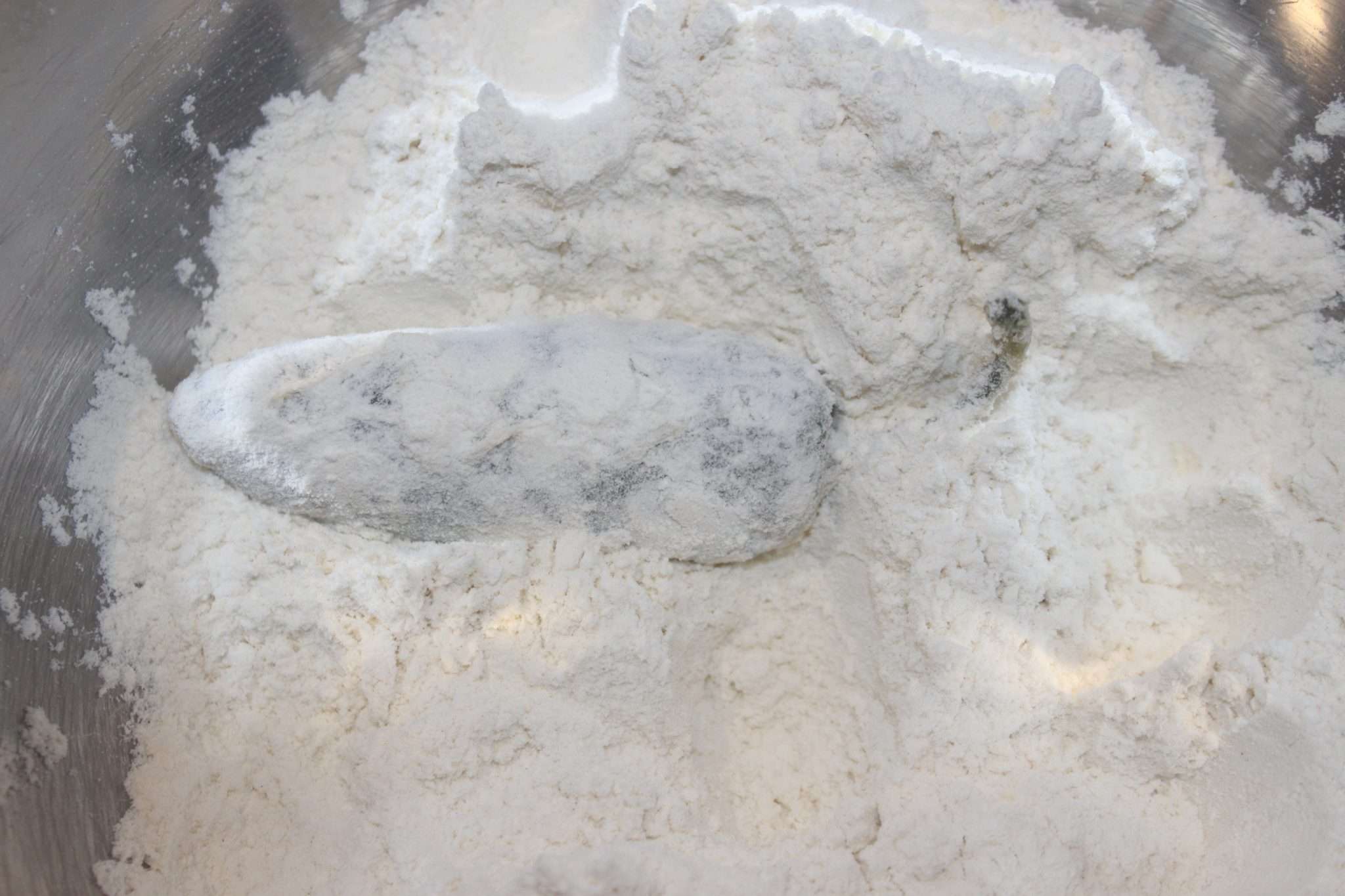 Then soak in the fermented milk.
Then in the breadcrumbs, here panko.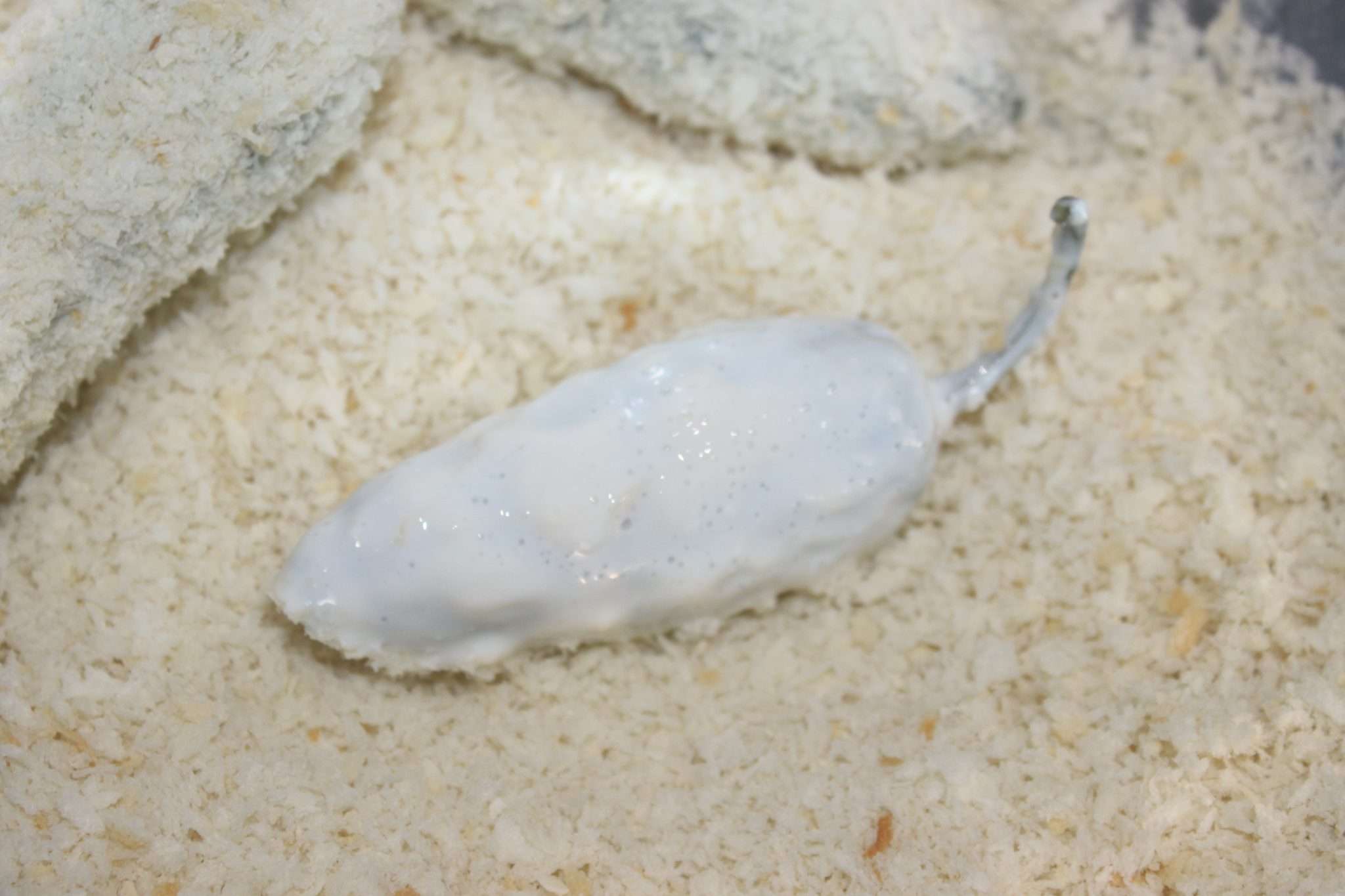 Bury well in breadcrumbs gently.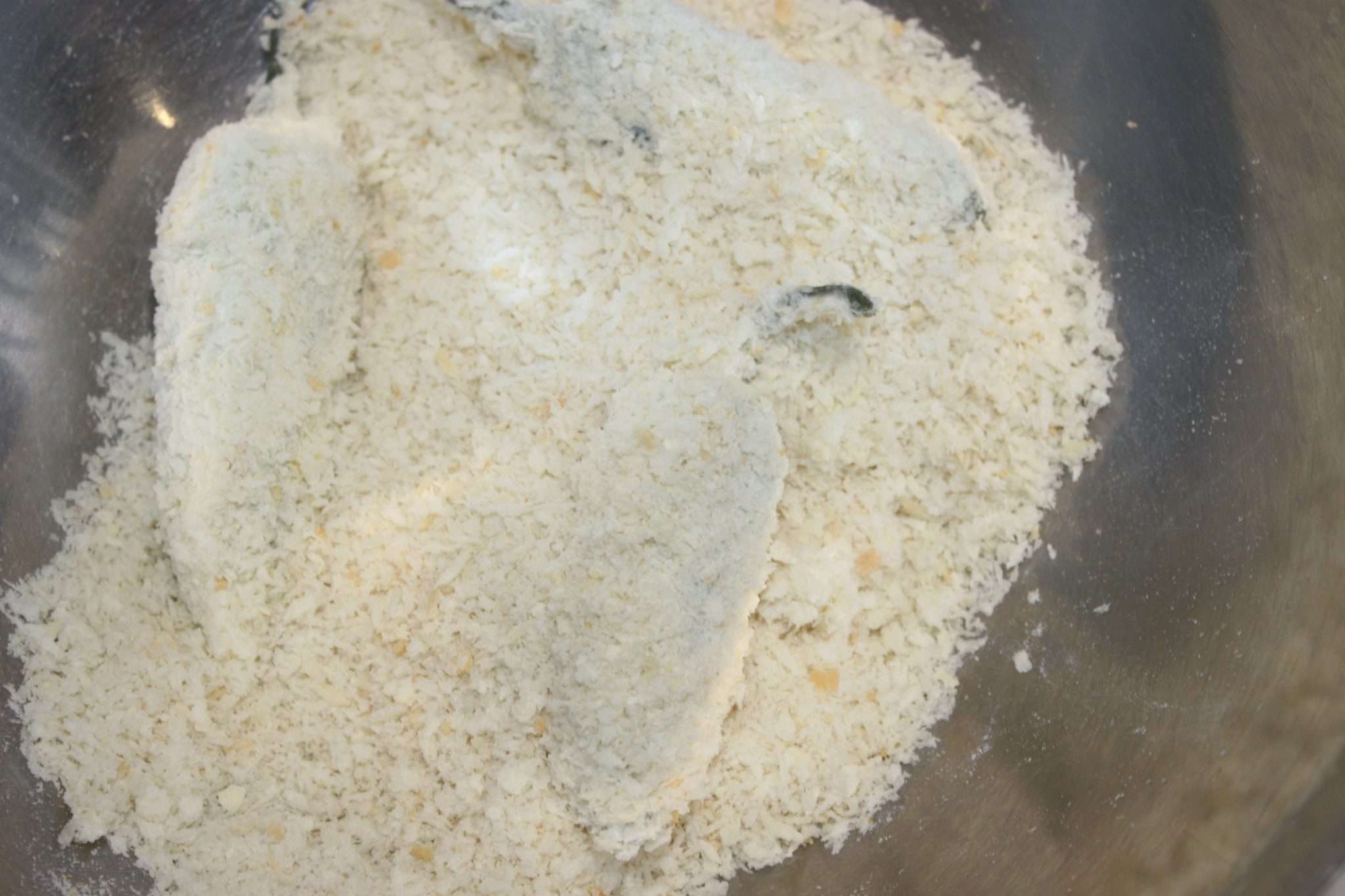 Heat a pan of oil to 180°C. Then fry the peppers. When it crackles a lot, it means that the stuffing is liquefying a little too much, it will be time to take them out!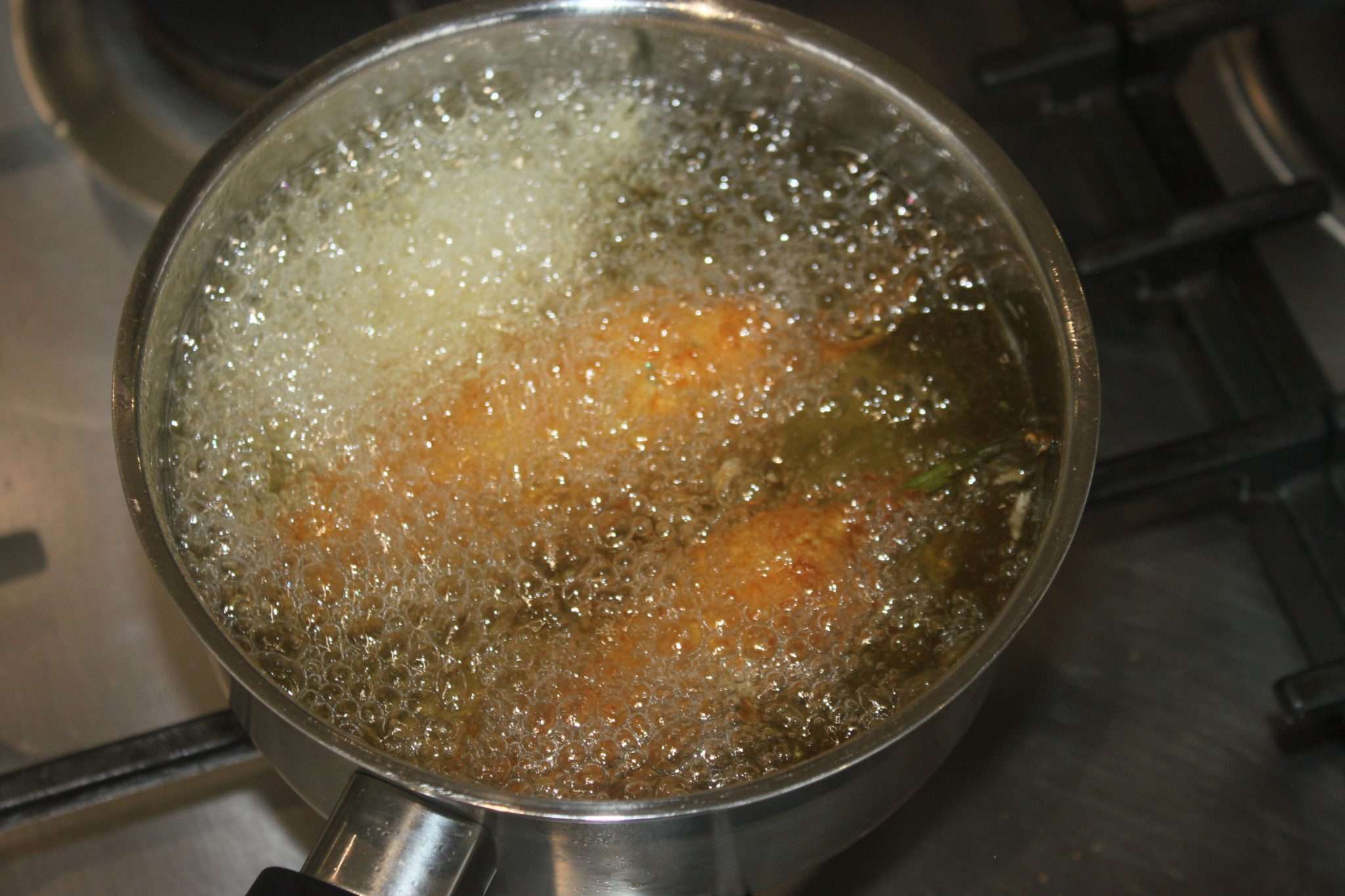 Let cool on paper towels.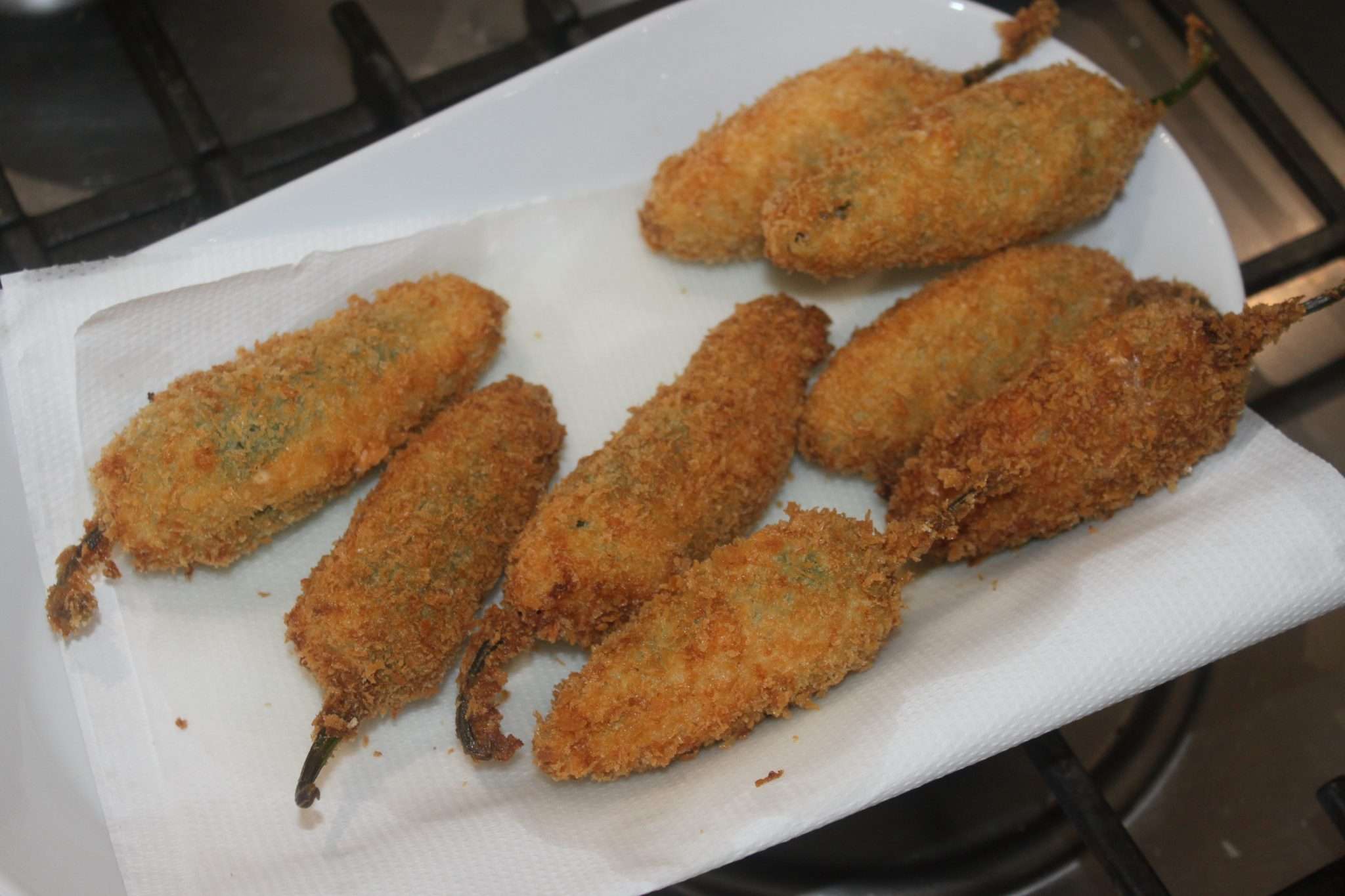 To be consumed immediately. You can also freeze them in an airtight box and then reheat them in the oven. After removing from the oven, let cool again for 10 minutes to regain their crispness. Serve with a paprika mayonnaise, as in my paprika fries (see recipe HERE) lightened with a little yogurt. The chili can be strong and you will need a sauce that soothes the palate.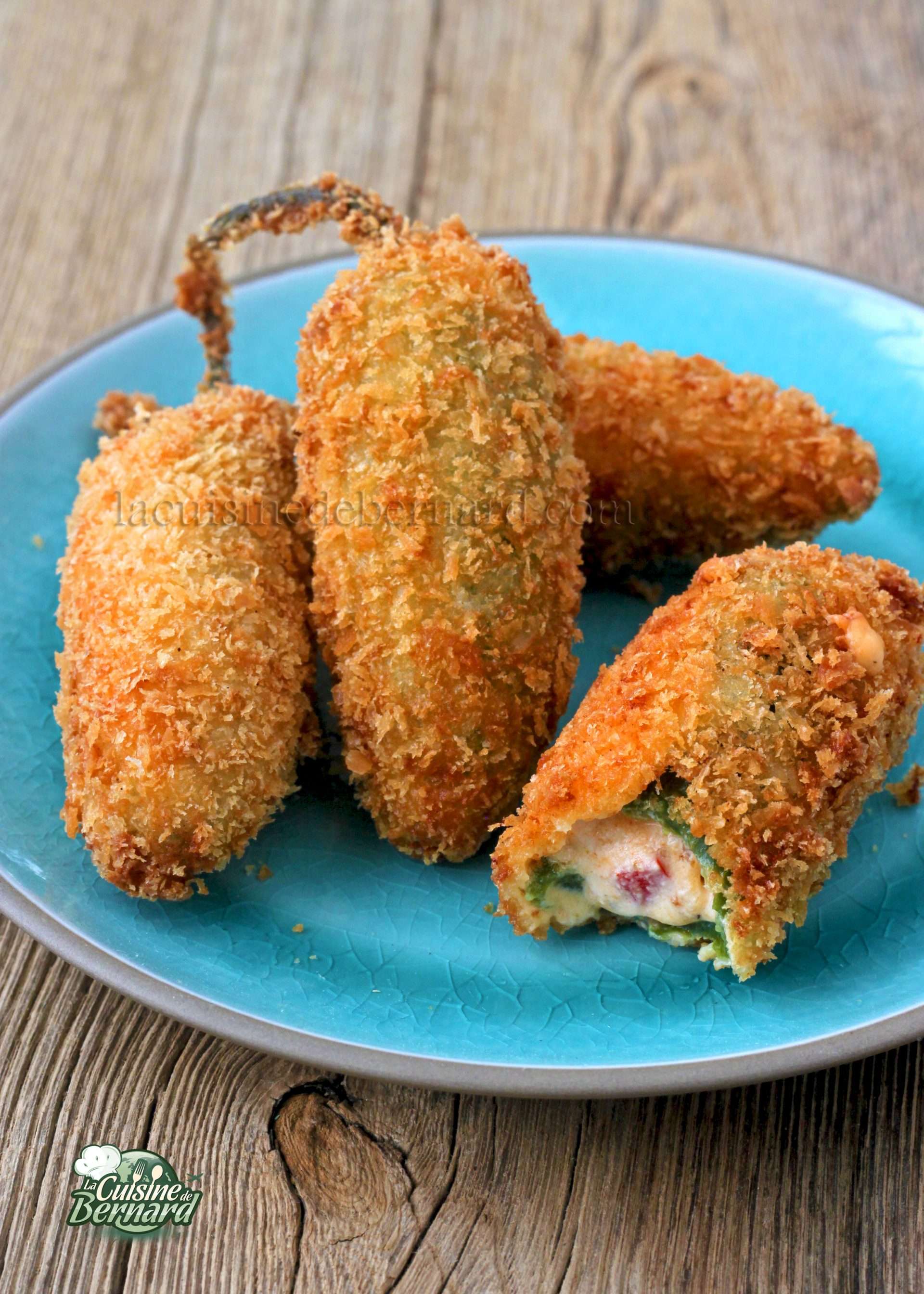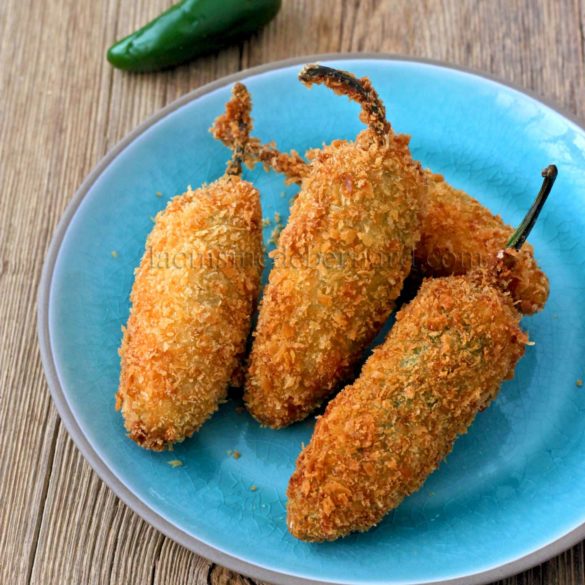 Jalapeño Poppers
De délicieux piments jalapeños fourrés au cream cheese, cheddar et poivron rouge. J'en avais dégustés à Seattle il y a moment dans un superbe restaurant au bord de l'eau, près de l'université en 2019 et j'avais bien noté ce que j'aimais pour pouvoir les refaire. Le plus dur est de trouver les piments, mais en cherchant sur internet, vous les trouverez sans trop grande difficulté. Vous pourrez aussi les remplacer par des mini-poivrons. C'est bien croustillant, crémeux, et fort piquant (mais supportable) dans le cas des jalapeños ! À savourer avec une petite sauce apaisante.
Instructions
Voici les petits piments jalapeños. Je vous le concède, on les trouve pas facilement. Mais vous pourrez les remplacer par des mini poivrons.

Incisez dans la longueur puis un peu dans le haut du piment. Vous incisez en forme de T. Videz les graines. Déjà que ces piments piquent, avec les graines ce serait encore pire !

Pour la farce, mélangez le cream cheese, le cheddar, le sel et le poivre. Ne poivrez pas trop si les piments sont très forts.

Videz le demi-poivron rouge puis hachez-le finement.

Mettez dans la farce et mélangez bien.

Versez l'ail en poudre et le paprika.

Remplissez les jalapeños.

Faites de même pour tous les piments.

Battez l'œuf dans un récipient et trempez-y un jalapeño.

Transvasez dans récipient rempli de farine.

Trempez ensuite dans le lait fermenté.

Puis dans la chapelure, ici du panko.

Enfouissez bien dans la chapelure délicatement.

Mettez une casserole d'huile à chauffer à 180°C. Puis faites frire les piments. Quand ça crépite beaucoup, c'est que la farce se liquéfie un peu trop, il sera temps de les sortir !

Laissez tiédir sur un papier absorbant.

À consommer dans la foulée. Vous pourrez aussi les congeler dans une boite hermétique puis les réchauffer au four. À la sortie du our, laissez tiédir à nouveau 10 minutes pour qu'ils retrouvent leur croustillant. Servez avec une mayonnaise au paprika, comme dans mes frites au paprika (voir recette ICI) allégée d'un peu de yaourt. Le piment peut être fort et vous aurez besoin d'une sauce qui apaise le palais.
Nutrition
Calories:
49
kcal
Carbohydrates:
1
g
Protein:
1
g
Fat:
4
g
Saturated Fat:
3
g
Polyunsaturated Fat:
0.2
g
Monounsaturated Fat:
1
g
Trans Fat:
0.001
g
Cholesterol:
18
mg
Sodium:
51
mg
Potassium:
22
mg
Fiber:
0.05
g
Sugar:
0.5
g
Vitamin A:
235
IU
Vitamin C:
3
mg
Calcium:
30
mg
Iron:
0.1
mg