A great classic prepared with fresh mangoes. If you have an ice cream maker! But I also propose a version with blender and frozen mangoes without the ice cream maker!
Recipe for one liter of sorbet:
-2 fresh mangoes, or 750g of mango flesh
-250g of cane syrup (or a third of the weight of mango flesh!)
-the juice of half a lemon
Start by washing the mangoes well.
Cut the mangoes on both sides of the pit and scoop out the flesh directly with a spoon, then scoop out all that remains around the pit. Place this flesh in a blender with the sugar cane syrup and lemon juice.
Mix and put immediately in an ice cream maker.
Place in jar and store in freezer for at least 3 hours before serving.
To obtain a 100% healthy ice cream, buy cut mangoes from Picard in 450g packages. Cut them into pieces. Place 0% mango yogurt and a few pieces of mango in a blender. Turn on the blender and add the mango pieces as you go. Sweeten with aspartam, it's up to you. Once all the mangoes are mixed, serve immediately, it is a real delight without any scruples!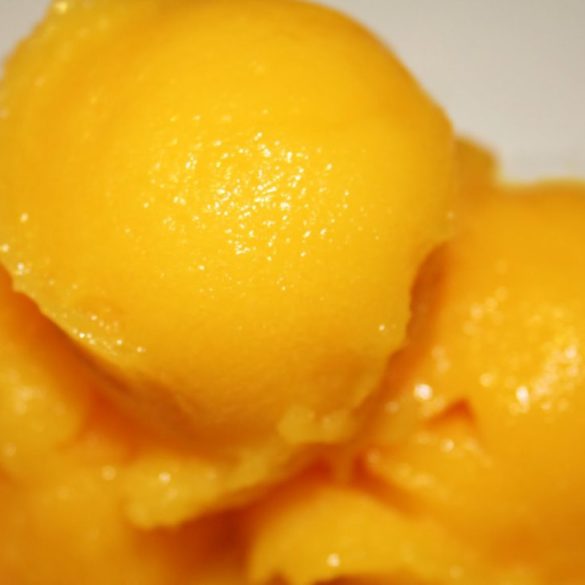 Sorbet à la Mangue
Un grand classique préparé avec des mangues fraîches. A condition d'avoir une sorbetière! Mais je vous propose aussi une version avec mixeur et mangues conglelées sans la turbine à glace!!
Ingredients
Recette pour un litre de sorbet:
Instructions
Commencer par bien laver les mangues.

Couper de chaque côté du noyau les mangues et prélever la chair directement à la cuiller, puis tout ce qui reste autour des noyaux. Placer cette chair dans un blender avec le sirop de canne à sucre et le jus de citron.

Mixer et mettre tout de suite en sorbetière.

Mettre en pot et stocker au congélateur au moins 3 heures avant de servir.

Pour obtenir une crème glacée 100% diététique, acheter des mangues coupées chez Picard en paquet de 450g. Les couper en morceaux. Placer dans un mixeur un yaourt à la mangue 0% et quelques morceaux de mangue. Mettre en marche le mixeur et ajouter au fur et à mesure les morceaux de mangue. Sucrer avec de l'aspartam, c'est au goût de chacun. Une fois toute les mangues mixées, servir immédiatement, c'est un véritable délice sans aucun scrupule!!!
Nutrition
Calories:
1081
kcal
Carbohydrates:
312
g
Protein:
3
g
Fat:
2
g
Saturated Fat:
0.4
g
Polyunsaturated Fat:
0.3
g
Monounsaturated Fat:
1
g
Sodium:
4
mg
Potassium:
778
mg
Fiber:
7
g
Sugar:
307
g
Vitamin A:
4479
IU
Vitamin C:
151
mg
Calcium:
46
mg
Iron:
1
mg