This time we are in Chile for a tasting without moderation of local products, from Santiago to Valparaiso. On the program of this culinary trip, markets, specialties and a hike in the Andes! This is sure to whet our appetites!
Even before the arrival to Santiago, we fly with pleasure over the Andes. A great show!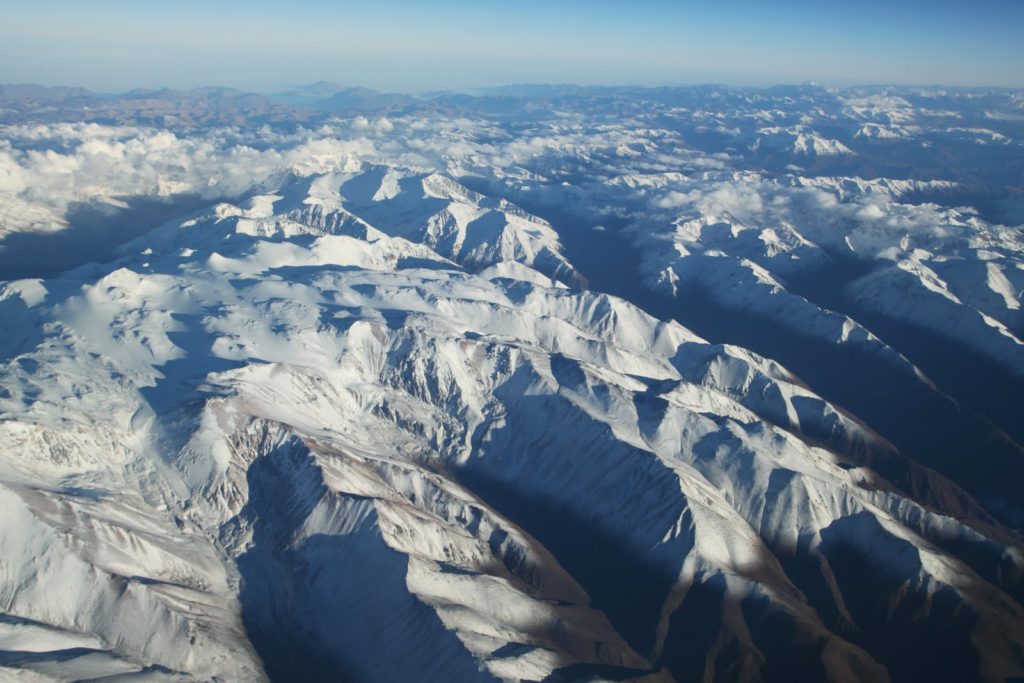 But we don't hang around, and I go directly to a tea room-restaurant, the "peluqueria francesa"!
It is a hairdresser still in business, but where there is also a restaurant with a delicate atmosphere.
An address to remember for the decoration of a place full of charm and authenticity.
Of course, one comes there to have lunch, or like me to have coffee with a dulce de leche pastry.
After a visit to the historical center of the city, you can sit back and enjoy a beer and lick your lips while reading the menu!
There are the famous "empanadas de pino".
Direction the central market of Santiago!
We find there the exotic fruits for us, but very local there.
There are many products in this market and of course we find the sea products.
You can also eat small fried empanadas, which look like Brazilian pastéis.
You can find everything in this small market, including plants to drink in infusions.
You really have to take your time because there are always unknown fruits!
There is also the Merquén, which is a Mapuche spice, a community of Amerindians in southern Chile.
Walking around the city, you can find the giant pumpkin sopaipillas!
And lots of empanadas! Every forage has its own folding! There are empanadas of pino, beef, cheese etc…
In the street, there will be no shortage of places to eat! In the background, we still see sopaipillas.
I put this picture because I liked the contrast between the real cat taking a nap and the stone cat sculpture in the background.
When you are in Chile, you can't miss the "pastel de choclo", a kind of minced meat without potatoes, but with corn.
In spite of the seismic tremors, the city is constantly modernizing. You can visit the Gabriela Mistral cultural center.
It's time to go to the Andes, but before leaving it is necessary to give strength with a breakfast, especially when you have such a view!
A spectacular hike and a real breath of fresh air!
The time to settle down to take a picnic at the edge of a lake and we continue the walk!
Don't forget that they easily spit in our faces!
It's time to try Chilean wines! Including the famous carmenere.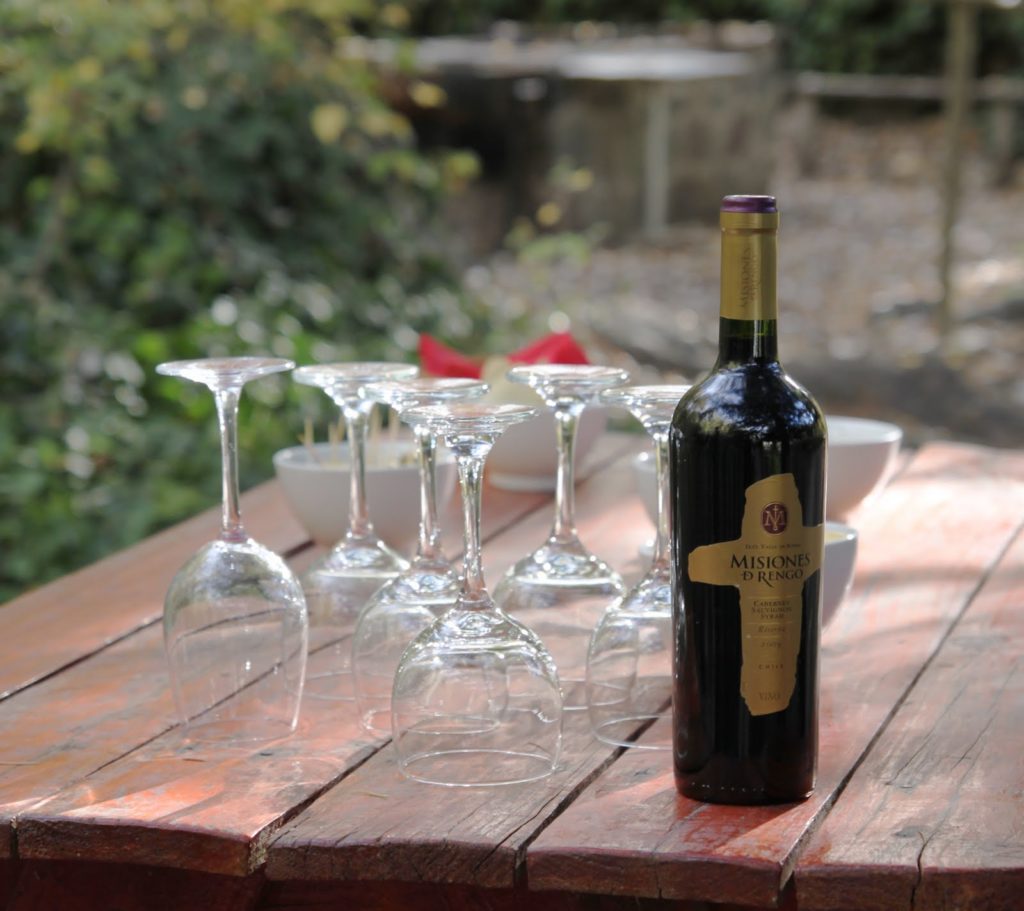 Especially with grilled empanadas.
And tasty skewers!
We stopped for a few moments in a farm at the foot of the mountains.
A farm that offers us chicken eggs, pigs and a "home-made" cheese!
It is difficult, if not impossible, to come this far without visiting Valparaíso, a Unesco World Heritage City.
Valparaiso is above all an industrial port. This may be surprising at first.
But all the charm of this city is due to its colors, its relief, but also and especially to its funiculars. One sees here a pastry bakery at the foot of this one.
The ride can quickly become tiring, as you have to keep going up and down. But there is always a new point of view!
For lunch, we have to look for the rare pearl. Namely a charming restaurant with a view!
The dishes finally arrive. Not specialties per se, but delicious dishes with local products. Like these ribs cooked with carmenère and its corn purée with cheese and parsley.
Many meat dishes, cooked in red wine for hours, until they become very tender.
One of the nicest markets is the one in Valparaiso.
You can find emblematic products of the region, such as the pumpkins needed to make the delicious sopaipillas.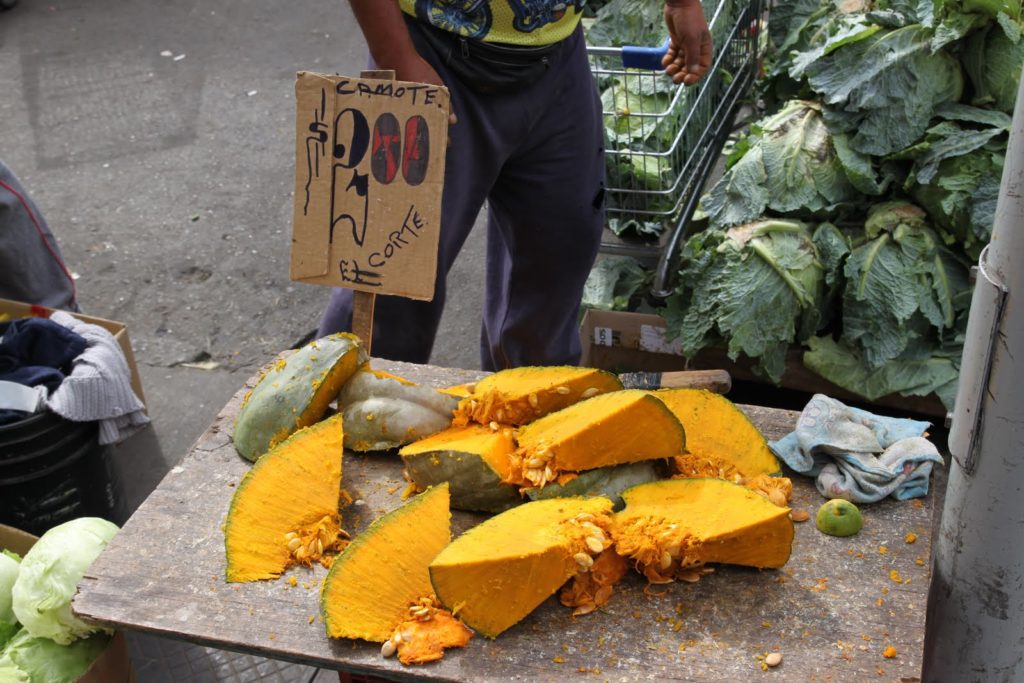 Fresh fruits and vegetables…
Varieties of beans and peas…
Seafood…
In short, a place of life where it is good to shop.
The most amusing thing about the city is the little stores that have not changed for over 60 years! A real leap in time!
On the way back, we can stop for a while a few kilometers north on these incredible dunes that fall into the sea!
In the evening, for dinner, it is time to settle down to finally devour the sopaipillas…
With their tomato, coriander and onion accompaniment.
You can't leave Chile without tasting perfectly cooked meat, often accompanied by creamed spinach and home fries!