I recently made this amarena cherry tiramisu for some friends, as I had just bought a large jar of these delicious, incredibly fragrant cherries. I remade the tiramisu for my cooking blog to offer you the recipe. If you prefer the classic tiramisu, know that the recipe has been available for years HERE! To compensate for the syrup, I reduced the sugar a lot. The result is a tiramisu with an airy texture that holds together, and a strong cherry flavor, without being overly sweet at all. Then it's up to you if you add more cherries!
For 4 to 6 people:
2 large eggs
35g of caster sugar (for the yolks)
15g powdered sugar (for the whites)
500g of mascarpone
amarena cherries
spoon cookies
Separate the egg whites from the yolks. Put the caster sugar with the yolks and whisk briskly for 3 minutes until you have an airy and fluffy texture.
Add the mascarpone and 2 tablespoons of amarena cherry syrup.
Whisk again for 3 minutes to get a texture that holds together. The whole thing should not be liquid. The mascarpone ends up rising a bit like whipped cream.
In a separate bowl, place the egg whites with the powdered sugar and whisk until the eggs are stiff.
Add the first third of the meringue to the mascarpone cream, and mix it all together without breaking the texture of the whites, like a chocolate mousse.
Do the same with another third of the meringue, then the rest.
Pour 3-4 tablespoons of cherry syrup into a small container.
Pour a little hot water to dilute the whole, it is to your taste. However, it must be liquid. Pour in the first 6 cookies and let them soak in, turning them once.
Place soaked cake pieces in the bottom of cups of your choice. I have taken here 4 individual cuts quite large. If needed, you can cut the cakes to arrange them as you wish. Add 2-3 drained cherries, then cover with half the cream.
Add again 6 cookies soaked in the same way (you can crush them a little to remove if there is too much juice amarena), drained cherries.
Then cover with the remaining cream.
Chill for at least 3 hours before serving chilled. You can improve the presentation. I wanted these desserts to be fairly plain, without cocoa powder, to leave the cherries all the way through. It is a delight!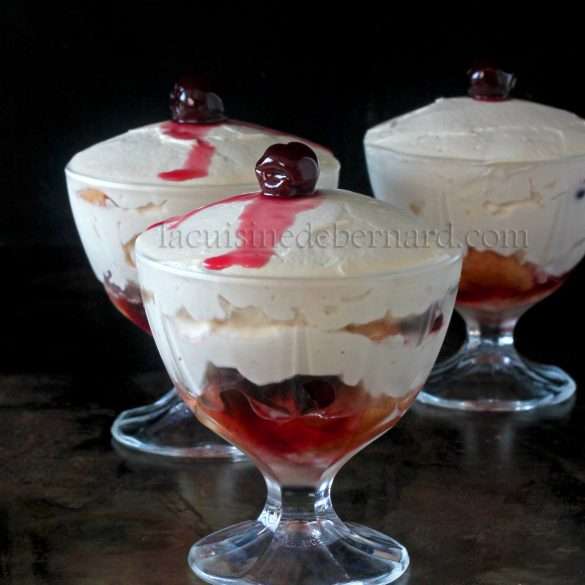 Tiramisu Amarena
J'ai récemment fait pour des amis, ce tiramisu aux cerises amarena, car je venais d'acheter un gros pot de ces délicieuses cerises incroyablement parfumées. J'ai refait le tiramisu pour mon blog de cuisine afin de vous en proposer la recette. Si vous préférez le tiramisu classique, sachez que la recette est disponible depuis des années ICI ! Afin de compenser le sirop, j'ai beaucoup réduit le sucre. Le résultat donne un tiramisu à la texture aérée, qui se tient, et à la saveur bien prononcée des cerises, sans être du tout trop sucré. À vous ensuite de voir si vous ajoutez d'avantage de cerises !
Instructions
Séparez les blancs des jaunes des œufs. Mettez le sucre semoule avec les jaunes et fouettez vivement pendant 3 minutes jusqu'à avoir une texture aérée et mousseuse.

Ajoutez le mascarpone et 2 cuillerées à soupe de sirop des cerises amarena.

Fouettez de nouveau pendant 3 minutes pour avoir une texture qui se tienne. Le tout ne doit pas être liquide. Le mascarpone finit par monter un peu comme une chantilly.

Dans un autre récipient, mettez les blancs avec le sucre glace et fouettez pour avoir des œufs en neige ferme.

Ajoutez un premier tiers de la meringue dans la crème au mascarpone, et mélangez le tout sans casser la texture des blancs, comme pour une mousse au chocolat.

Faites de même avec un autre tiers de la meringue, puis le reste.

Versez 3-4 cuillerées à soupe de sirop des cerises dans un petit récipient.

Versez un peu d'eau chaude-tiède pour diluer le tout, c'est à votre goût. Il faut cependant que ce soit bien liquide. Versez 6 premiers biscuits et laissez-les s'imbiber en les retournant une fois.

Déposez des morceaux de gâteaux imbibés dans le fond de coupes de votre choix. J'ai pris ici 4 coupes individuelles assez large. Au besoin, vous pouvez couper les gâteaux pour les disposer comme vous le souhaitez. Ajoutez 2-3 cerises égouttées, puis recouvrez avec la moitié de la crème.

Ajoutez de nouveau 6 biscuits imbibés de la même façon (vous pouvez les écraser un peu pour enlever si il y a trop de jus amarena), des cerises égouttées.

Puis recouvrez avec le reste de crème.

Mettez au frais au moins 3 heures avant de déguster bien frais. Vous pouvez améliorer la présentation. J'ai voulu ces desserts assez sobres, sans cacao en poudre, pour laisser la place entière aux cerises. C'est un délice !
Nutrition
Calories:
642
kcal
Carbohydrates:
15
g
Protein:
12
g
Fat:
58
g
Saturated Fat:
36
g
Polyunsaturated Fat:
0.4
g
Monounsaturated Fat:
1
g
Trans Fat:
0.01
g
Cholesterol:
207
mg
Sodium:
100
mg
Potassium:
31
mg
Sugar:
12
g
Vitamin A:
1869
IU
Calcium:
187
mg
Iron:
0.4
mg