A while ago, I had tasted in a restaurant with friends, pasta with lobster. The name alone made me want to go there, but the bill was quite steep! I thought I'd try my own recipe from my parents' grilled lobster recipe that I posted a while ago on my cooking blog (recipe HERE). This is a bit of a holiday recipe, as I don't buy lobster every day. But in the end, when you see that you get 4 generous portions, it is very profitable! I thus start from the grilled lobster, then I continue the preparation by recovering all the possible juices which I make reduce in a sauce with the hallucinating taste. It's actually frustrating that the photo doesn't do this dish justice. Well, I made it quickly because I wanted to enjoy this dish which I really enjoyed! But I promise you an absolutely delicious dish, between the taste of the grilled and flambéed lobster and the bisque. The pasta gorges itself with this rich sauce and becomes addictive!
Recette des PÂTES AU HOMARD pour 4 personnes :
2 lobsters
25g of semi-salted butter for the lobsters
100ml full cream
20ml of port wine
25g of semi-salted butter for the sauce
20ml of cognac
herbs of Provence, salt, pepper
For the sauce:
400g of tomato pulp
200ml full cream
20ml of port wine
a pinch of herbs de Provence
salt pepper
500g of pasta of your choice cooked 1 minute less than "al dente
Instructions :
For lobsters, I buy them live and boil them for 2 minutes and no more, just to seize them. Cut them in half. To see all about it, I invite you to see my grilled lobster recipe HERE. I take back the base to go a little further… Place halved lobsters on a baking sheet. Save the juice from the lobsters and place it in a saucepan.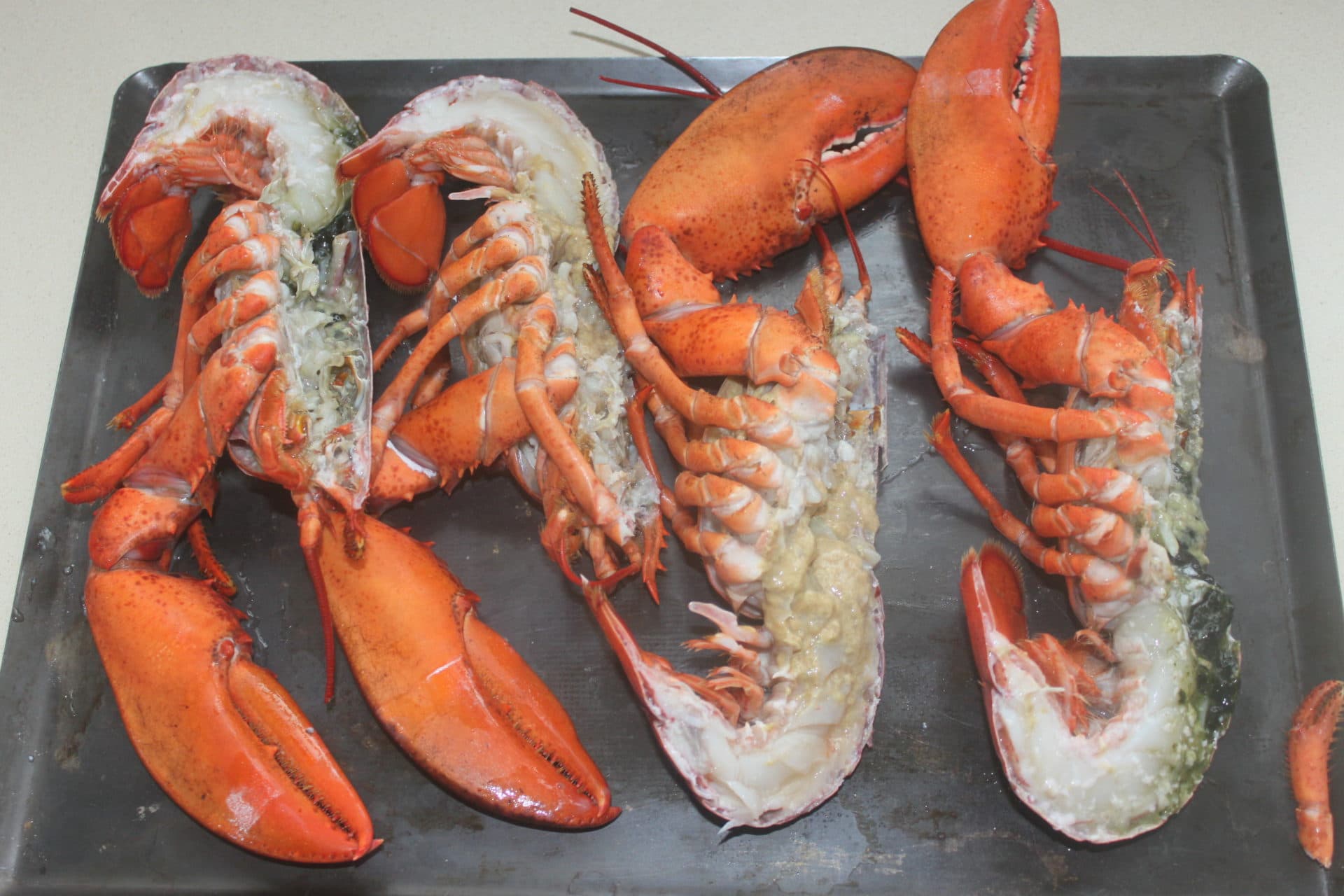 Divide the 25g of butter into 8 portions and place it on the lobster. Add salt and pepper and a little bit of herbes de Provence. Place in preheated oven at 205°C with broiler if possible for 10 minutes.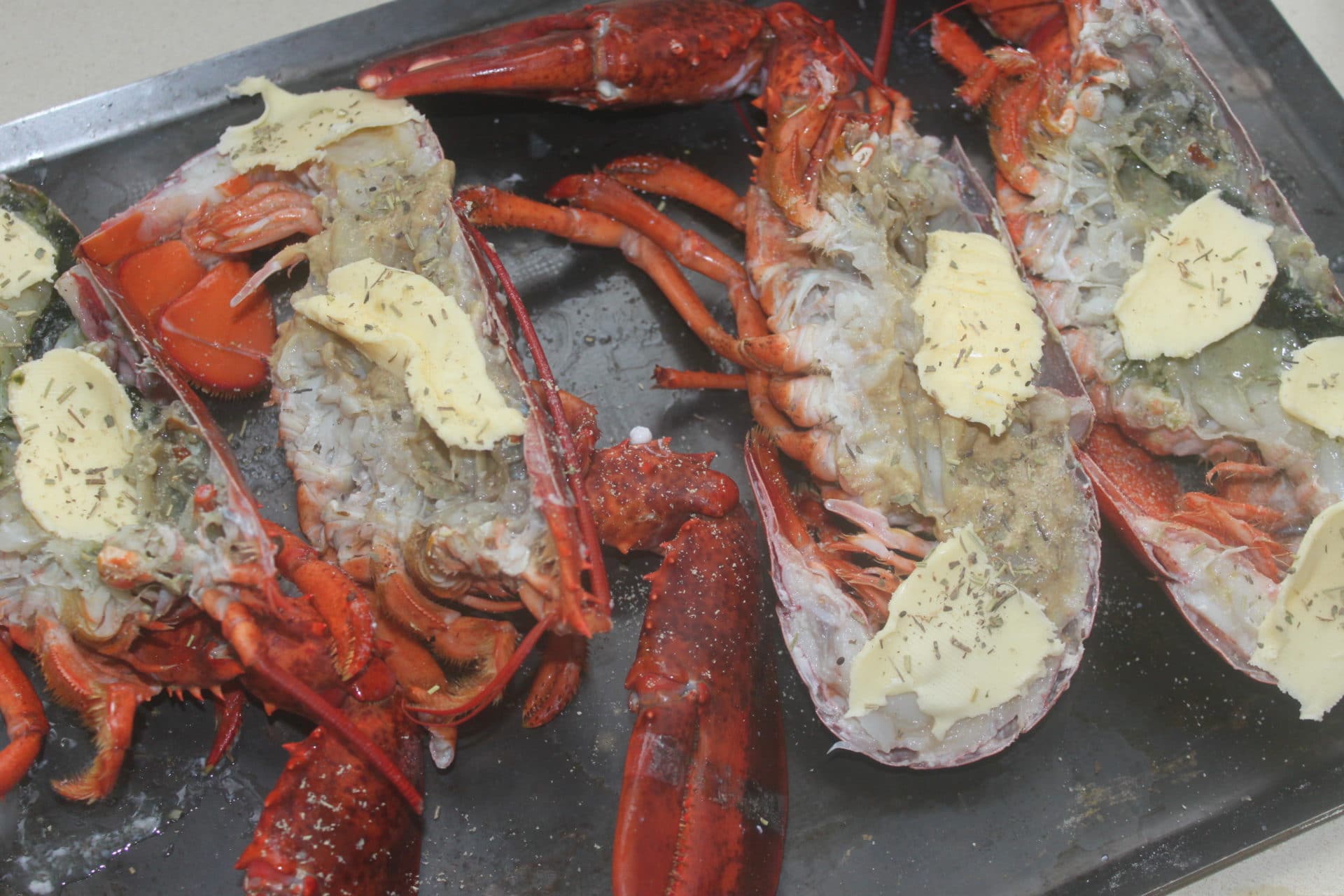 Pour into the pan containing the juice, butter, port and cream.
Boil for two minutes and then pour the sauce into the body and head.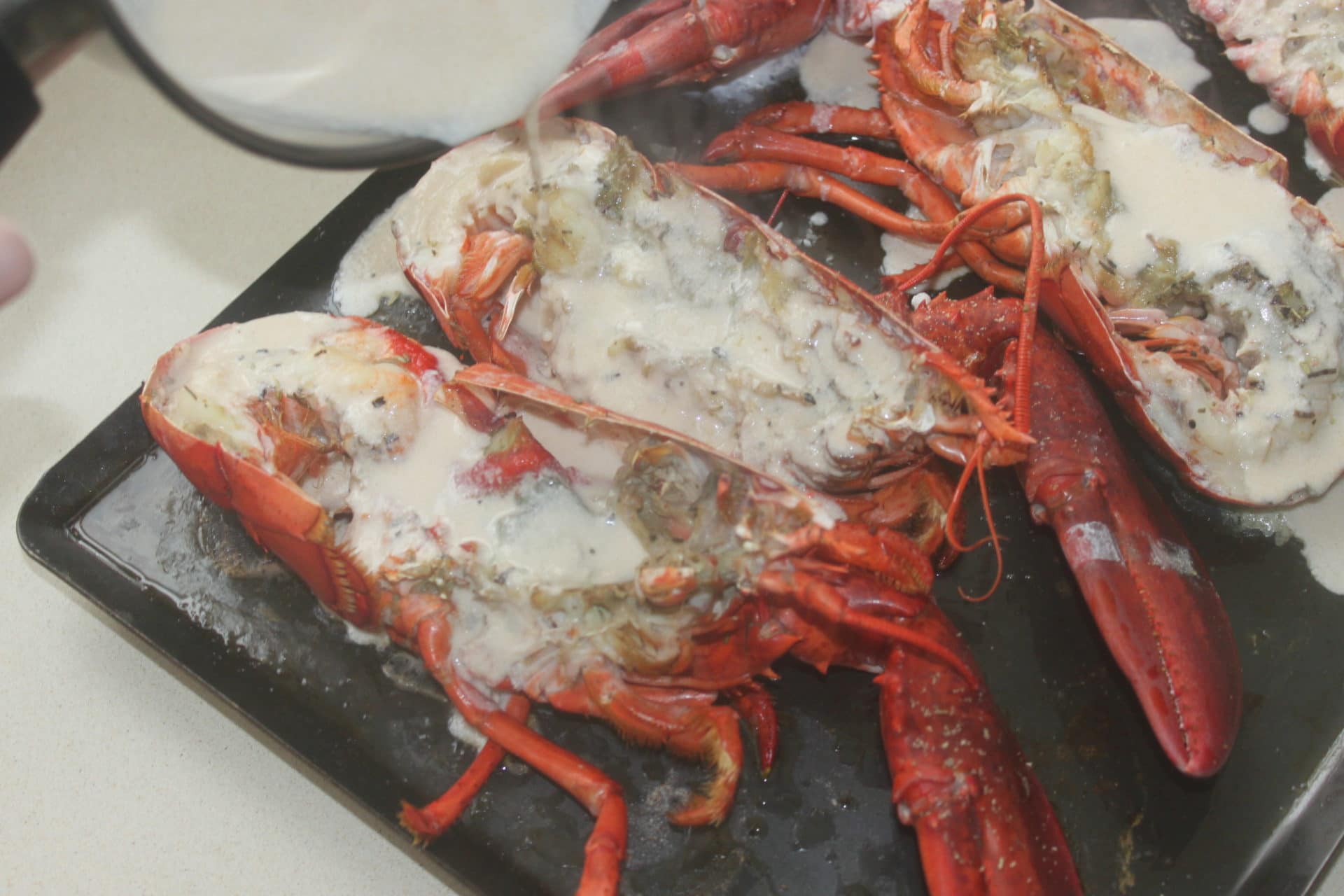 Return to the oven for 3-4 minutes and during this time heat the cognac. Take out the lobsters and pour the coganc that you make flambé.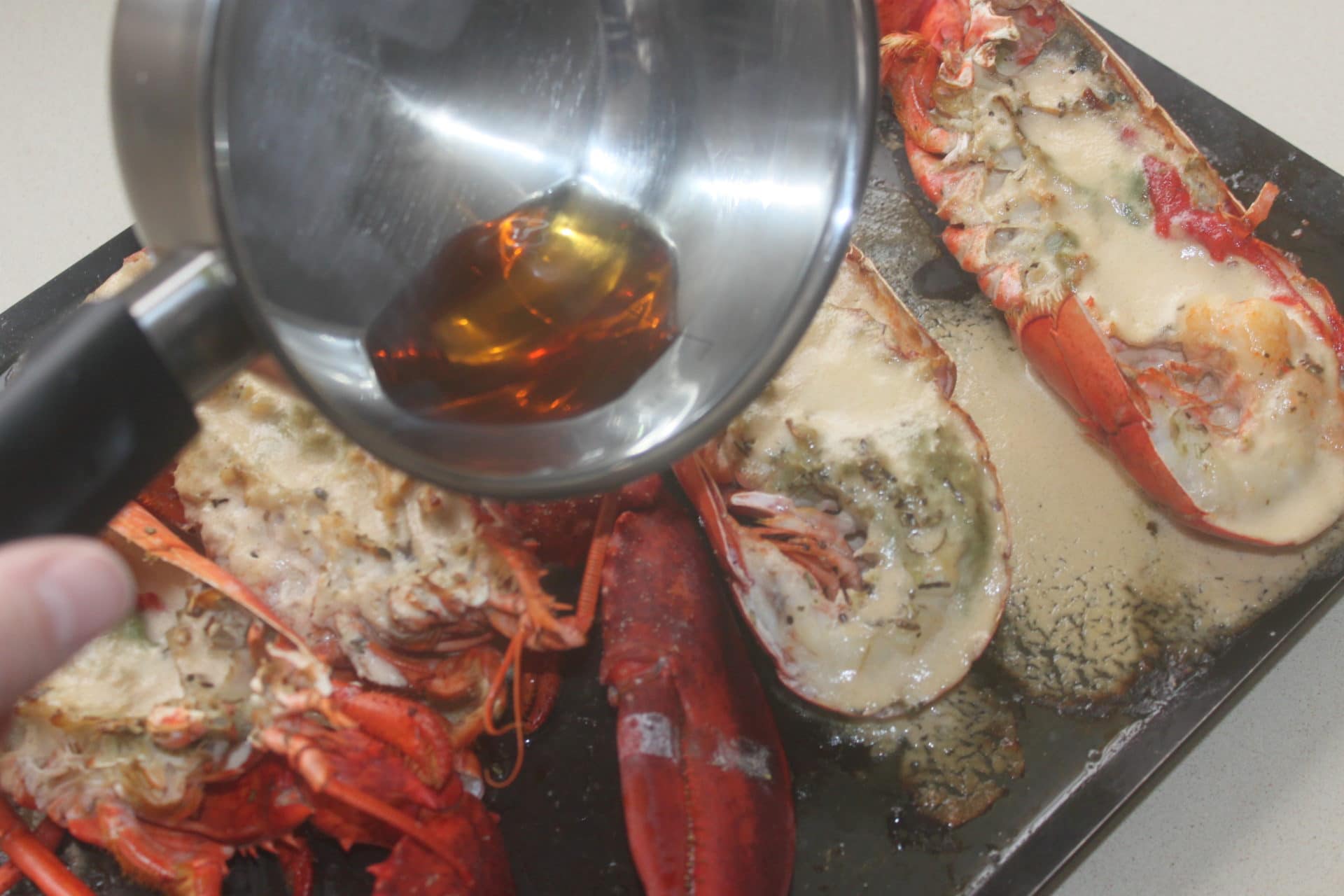 Put the oven this time on grill and place the lobsters on it to brown them slightly (2-3 minutes).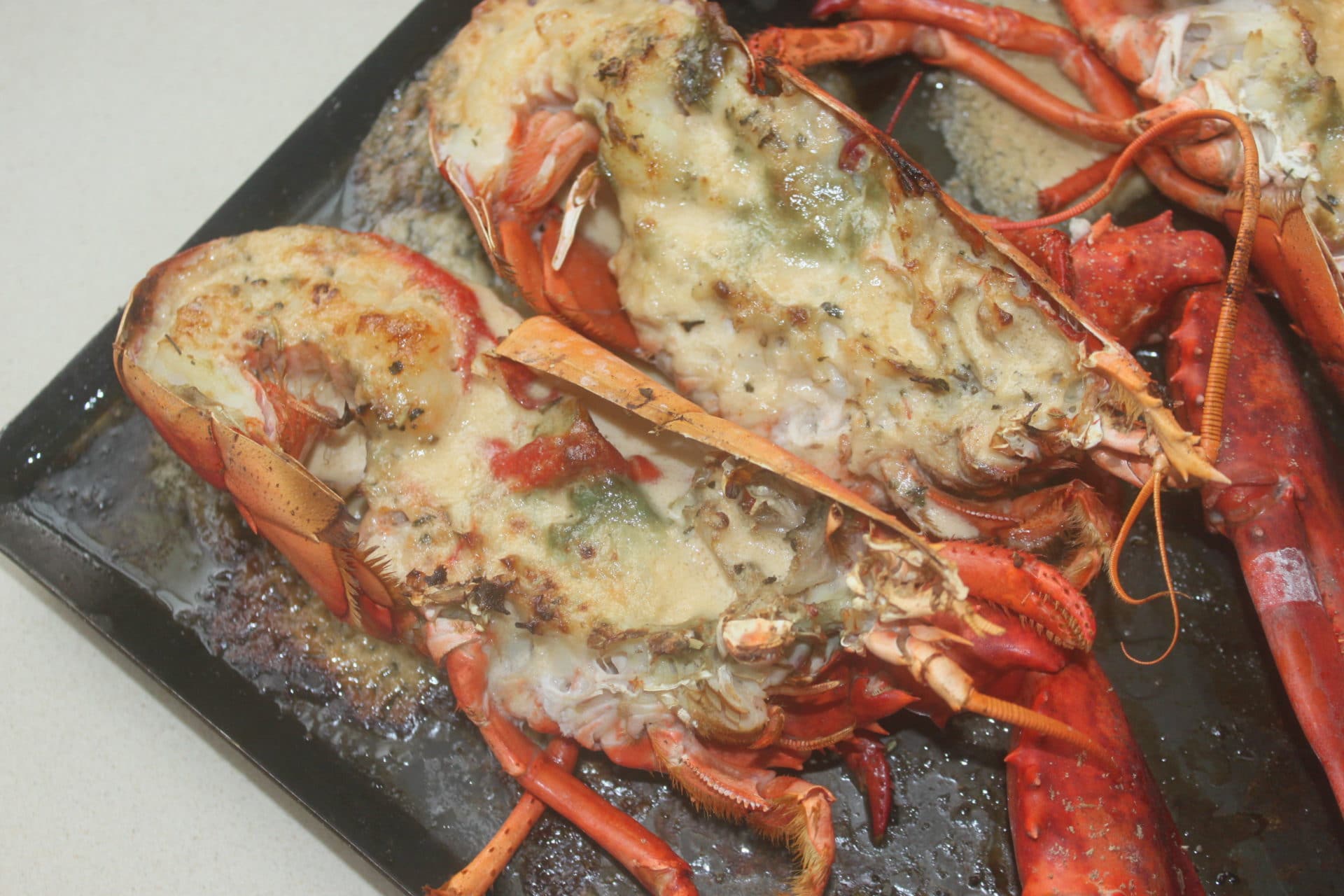 Then let it cool and remove the flesh from the tails.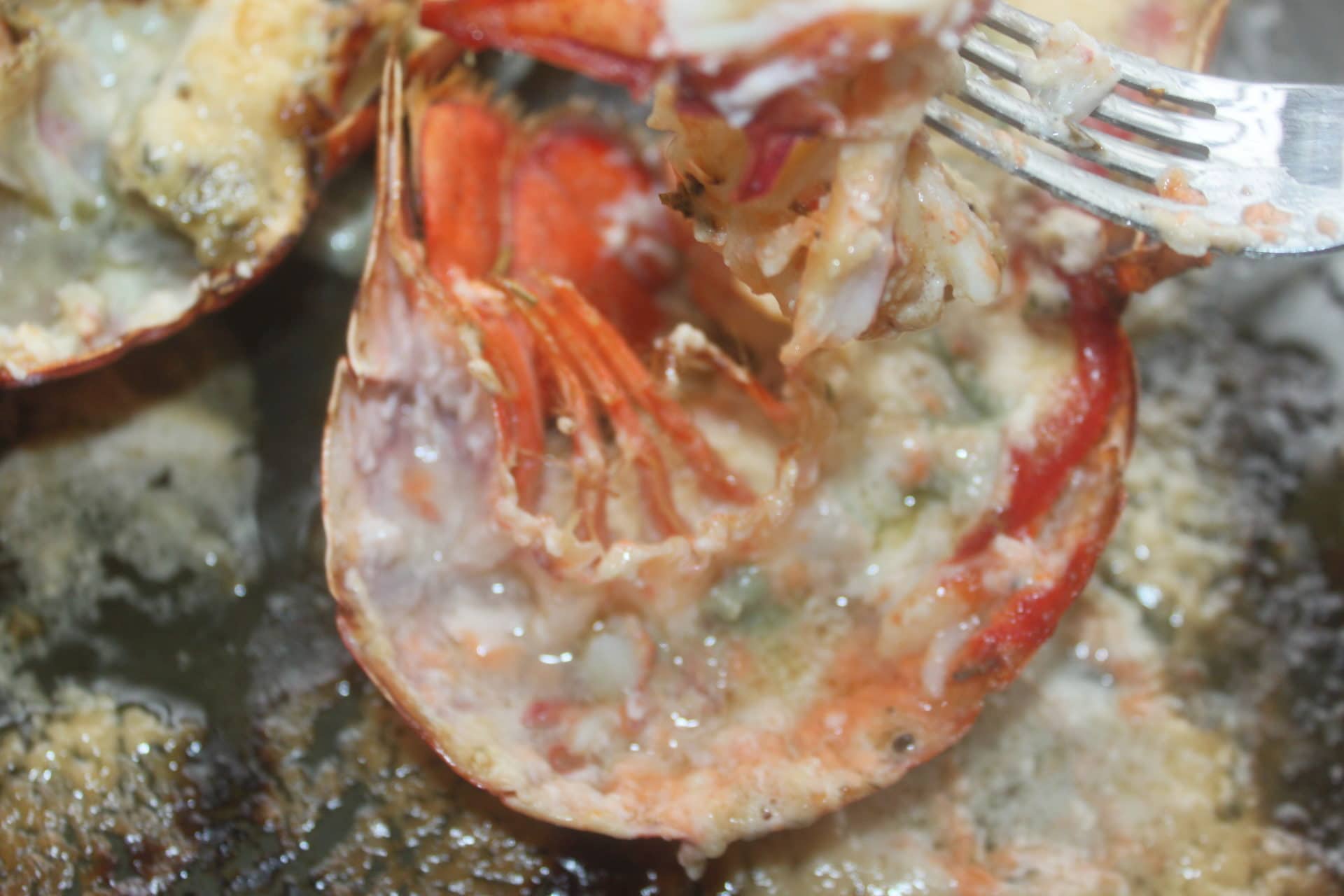 Break off the claws and set all the flesh aside in a container.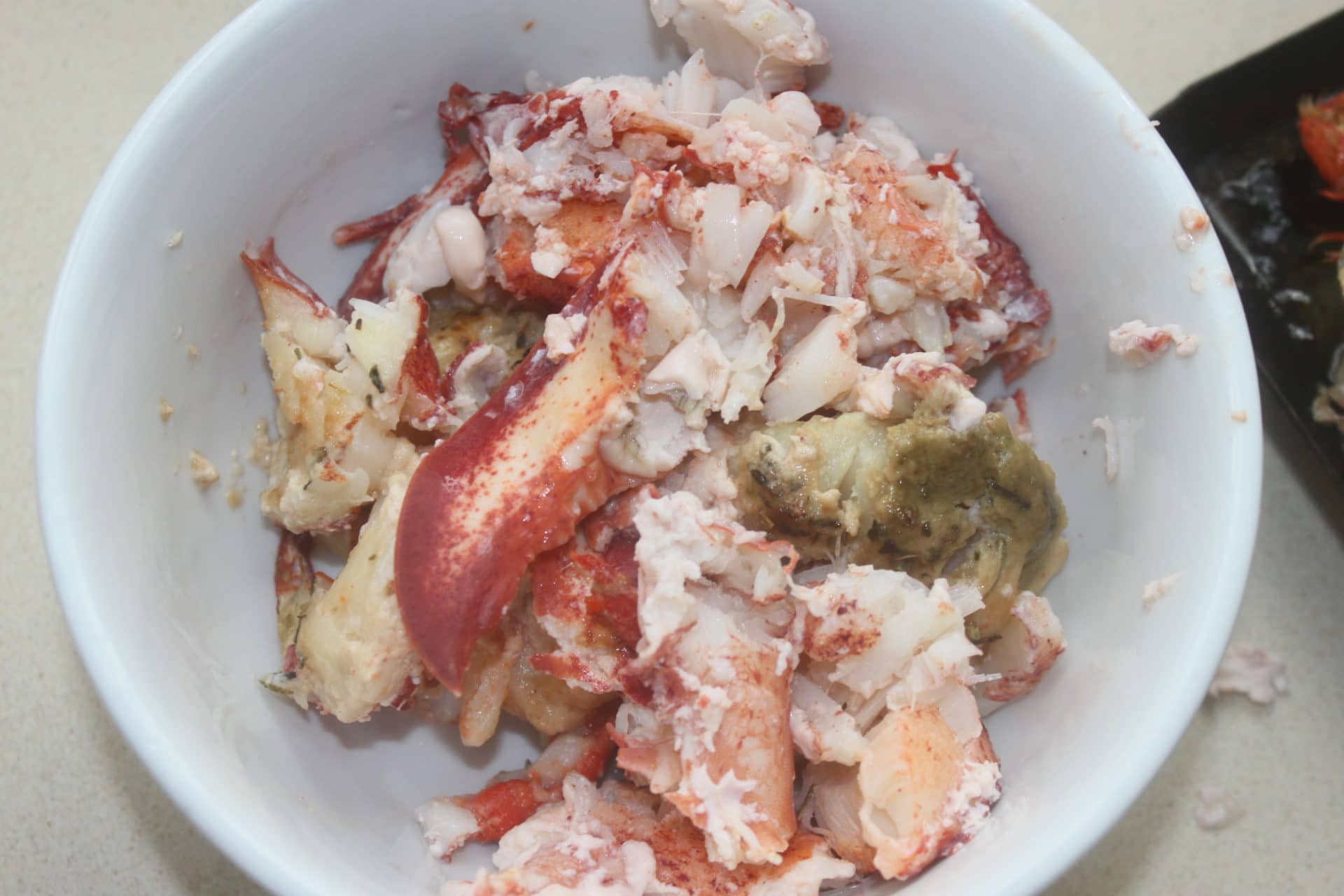 Then scrape the inside of the heads. Everything that can be kept must be kept!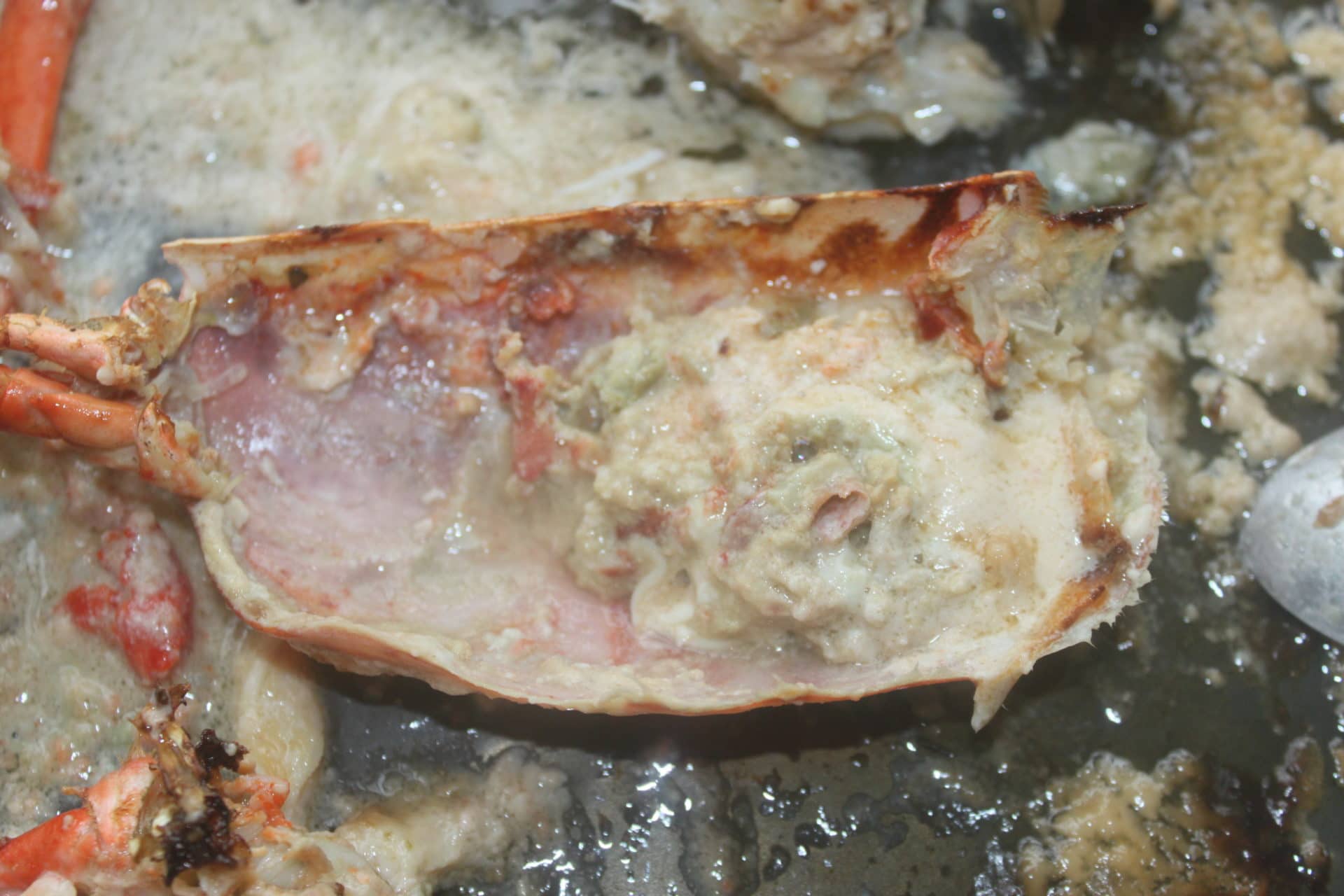 It's not very appetizing in pictures, but it's just a delight. I did get everything back from the tails and heads. I just kept the paws here.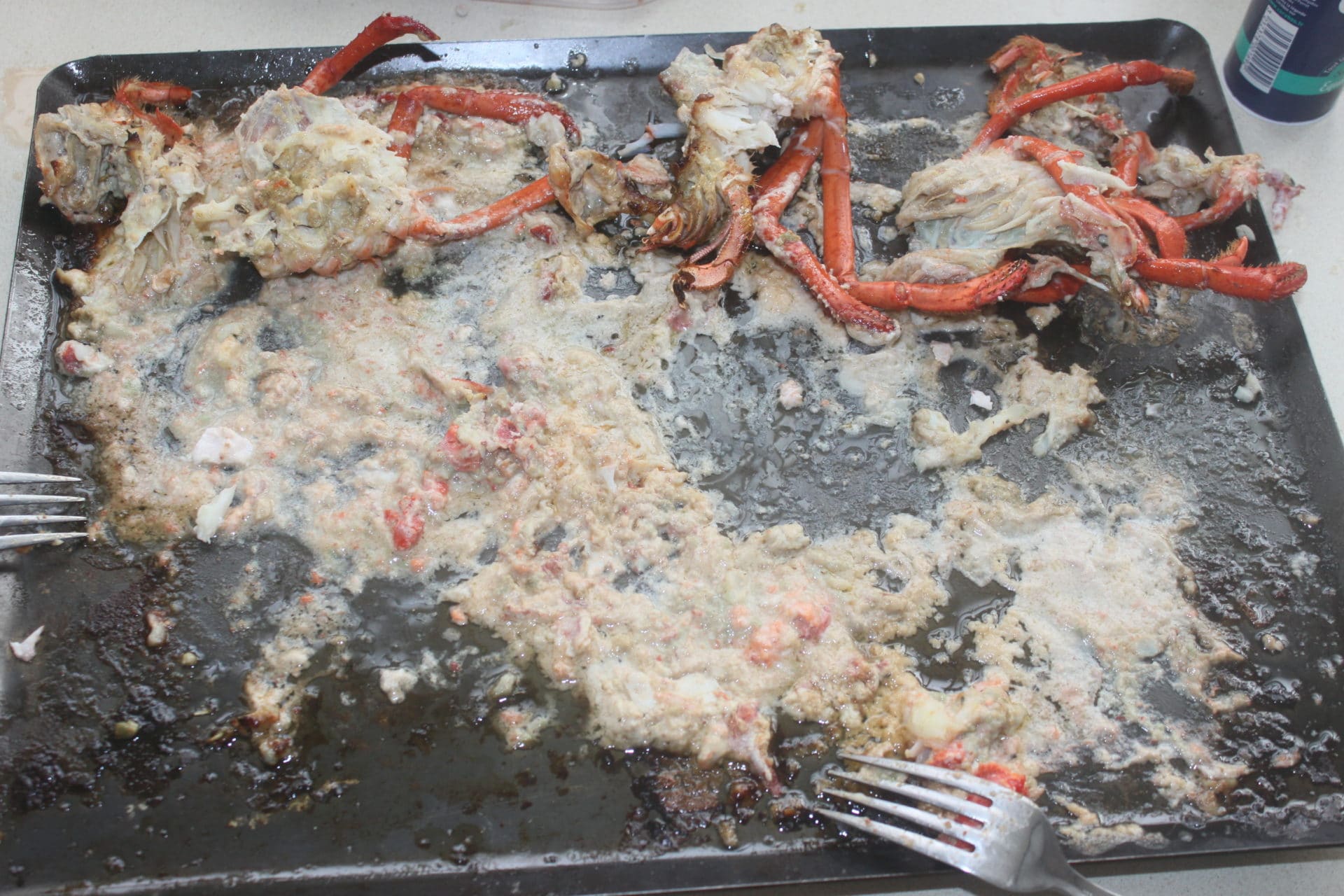 Pour everything into a casserole dish.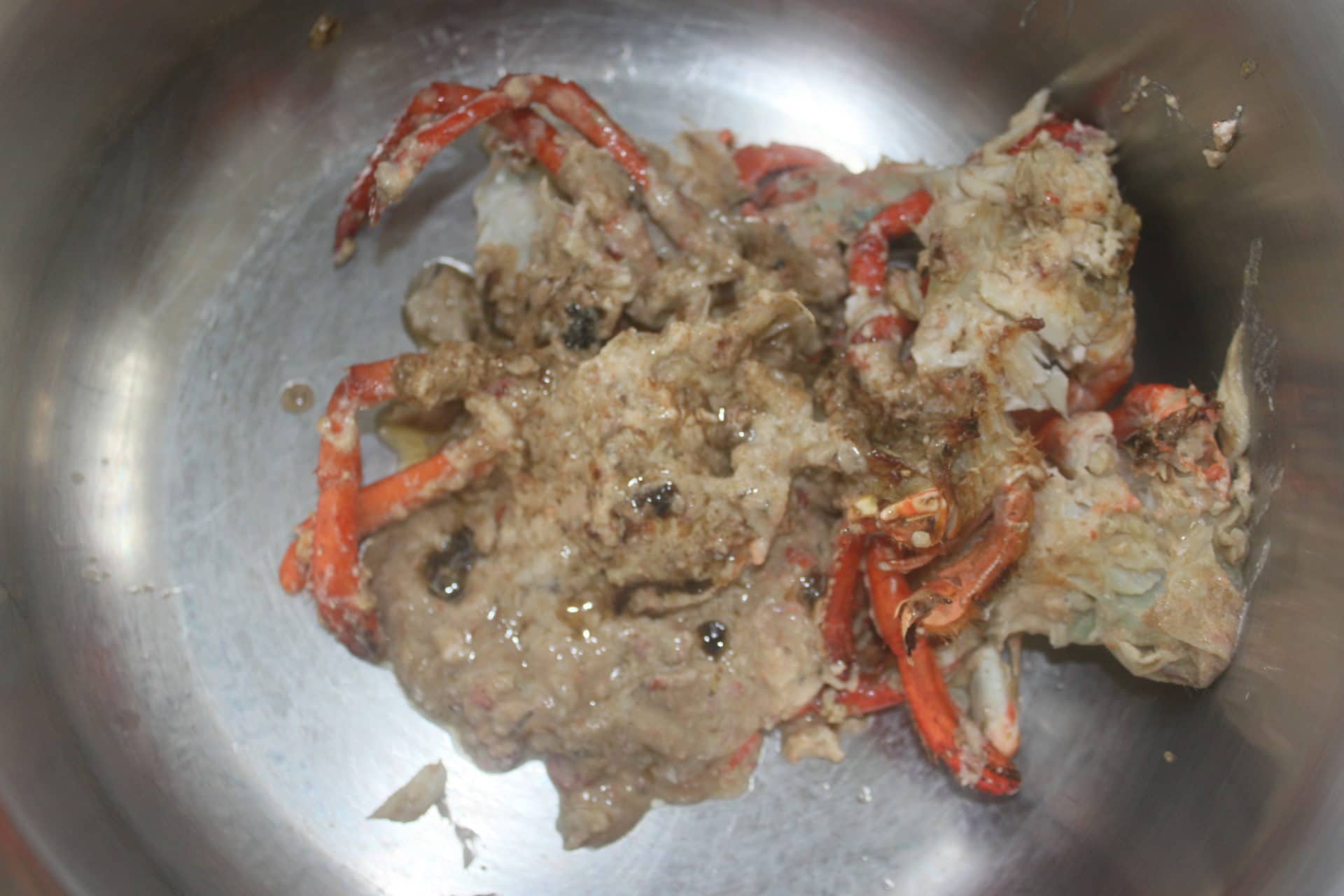 Pour water into the plate to dissolve all the juices and pour this water into the casserole.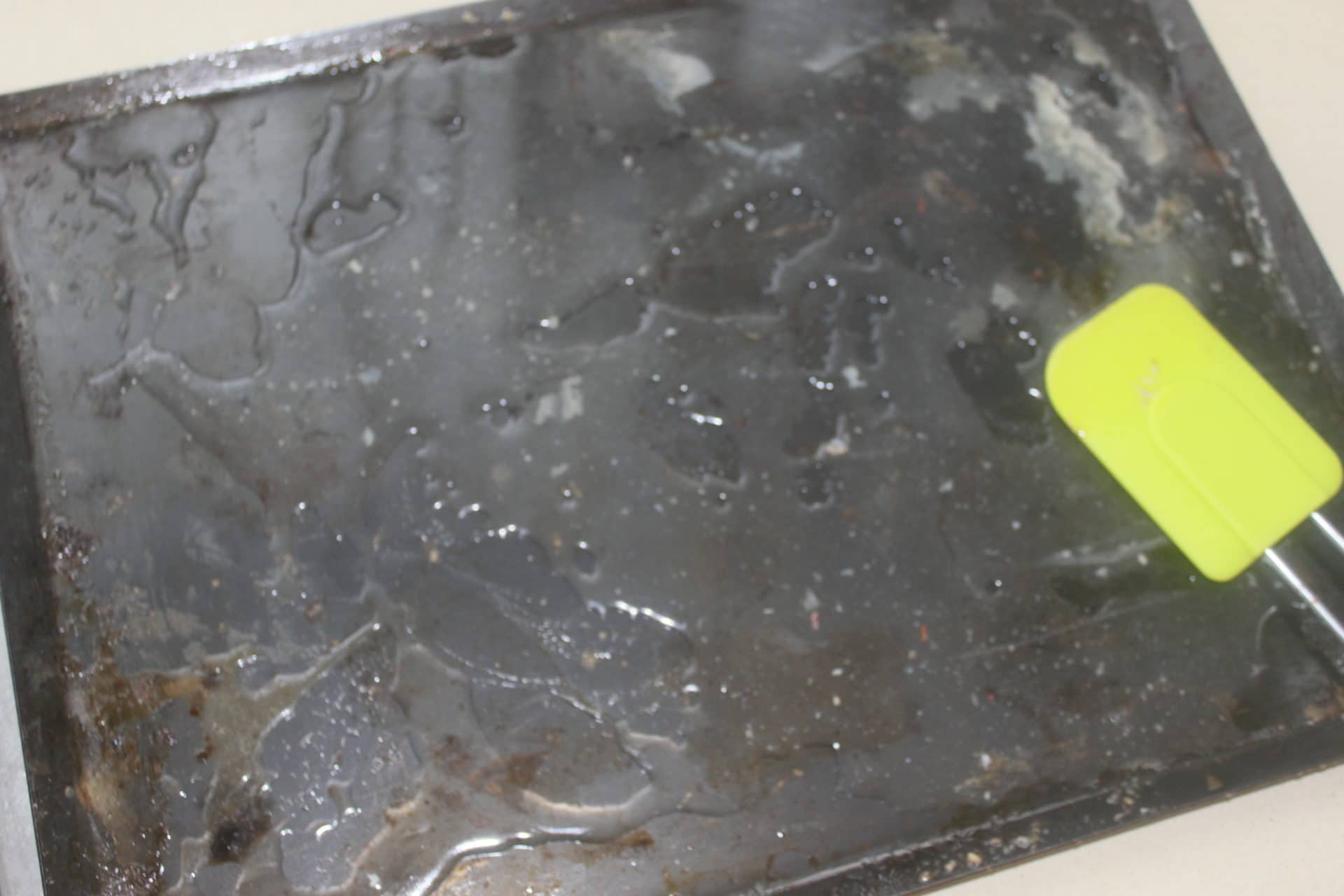 I add the equivalent of a good big glass of water to dissolve all the juices. Crush the legs a little and dilute well what is in the body.
Place the bodies and legs in a sieve, rinse a little with fresh water that you recover in the pot.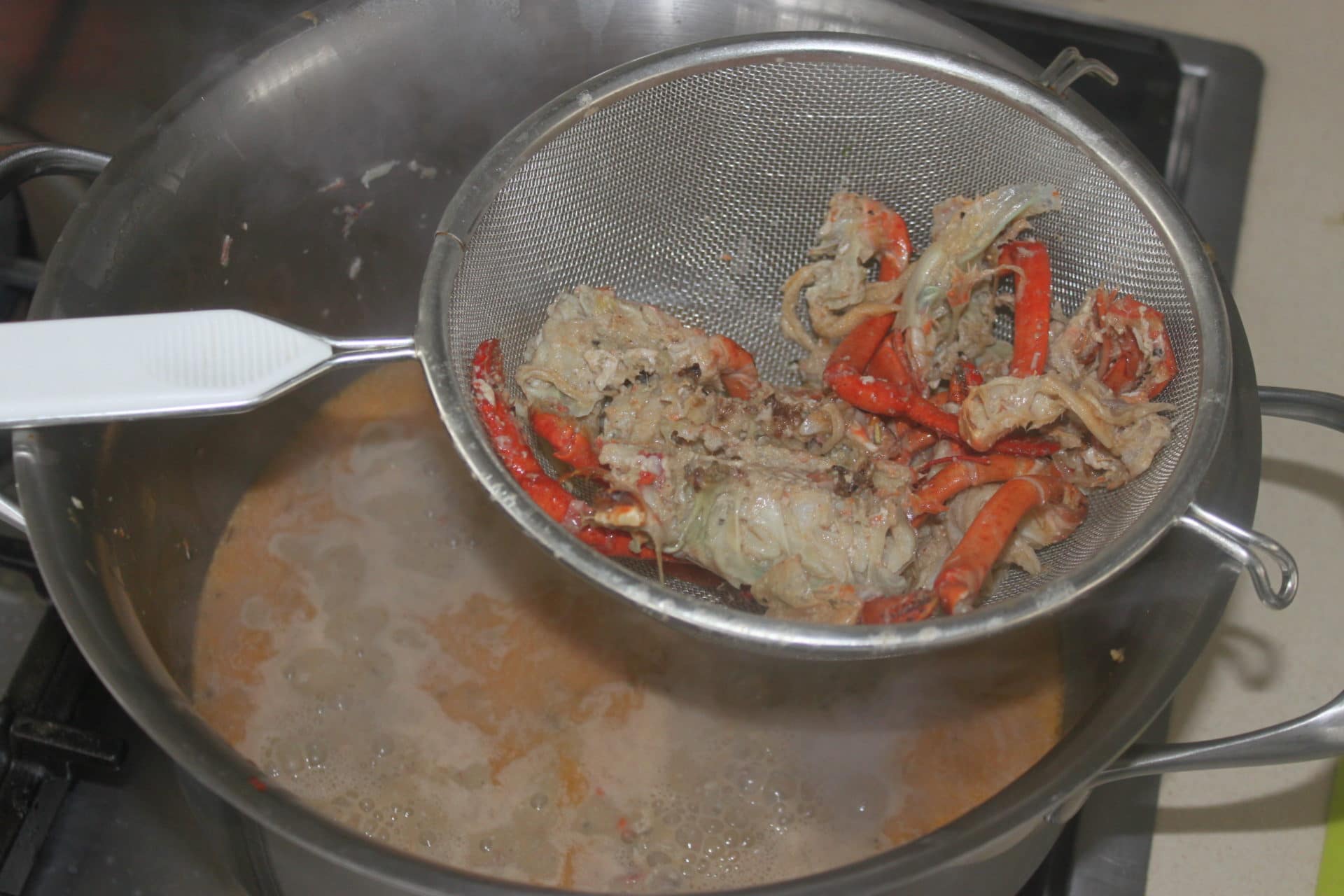 And this is the sauce base which is extremely aromatic. Allow to boil to evaporate all the water that has been used to "wash" the bodies and dissolve the juices of the plate.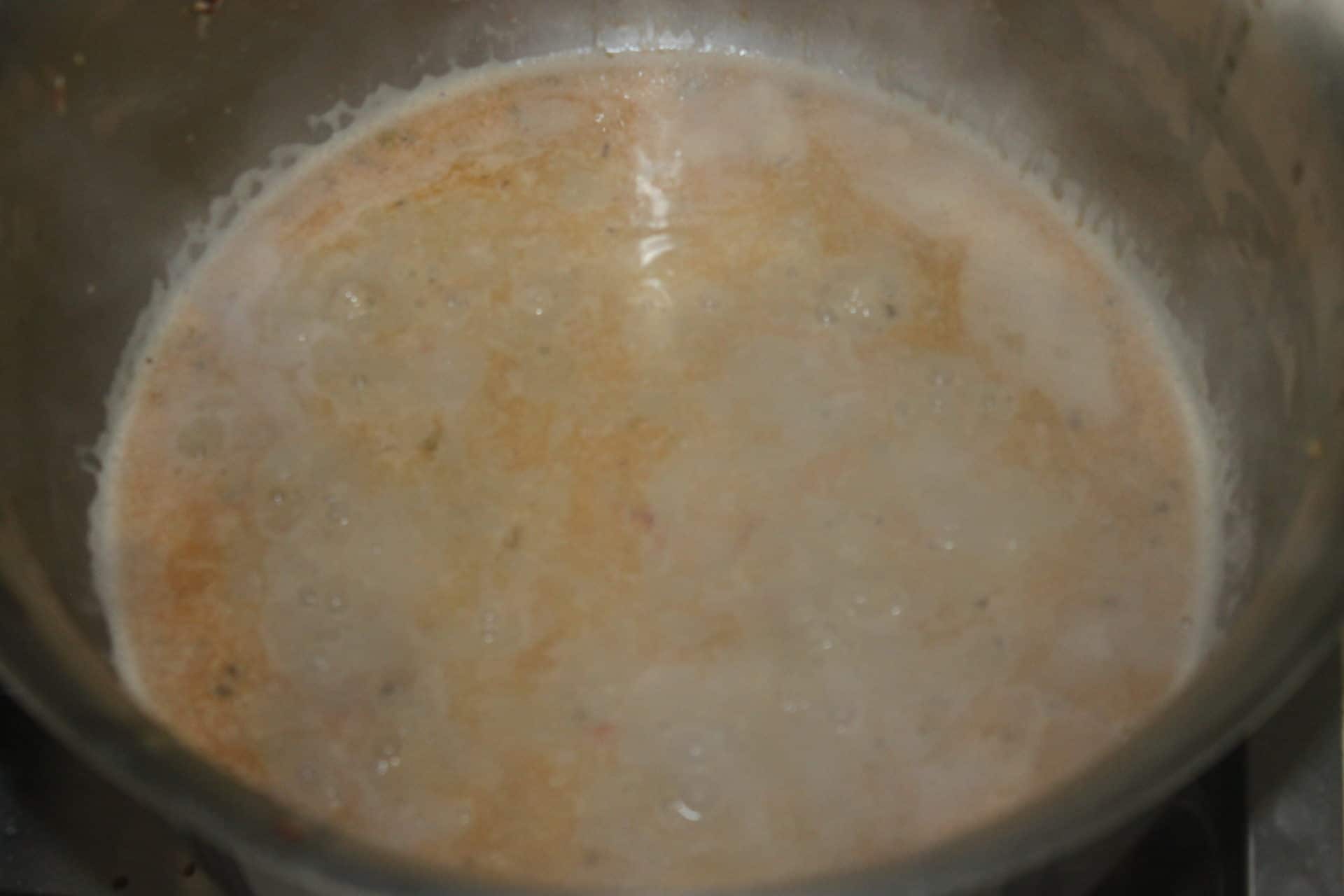 When the sauce becomes consistent, pour in the 400g of tomato pulp. I have whole peeled tomatoes here, it doesn't matter.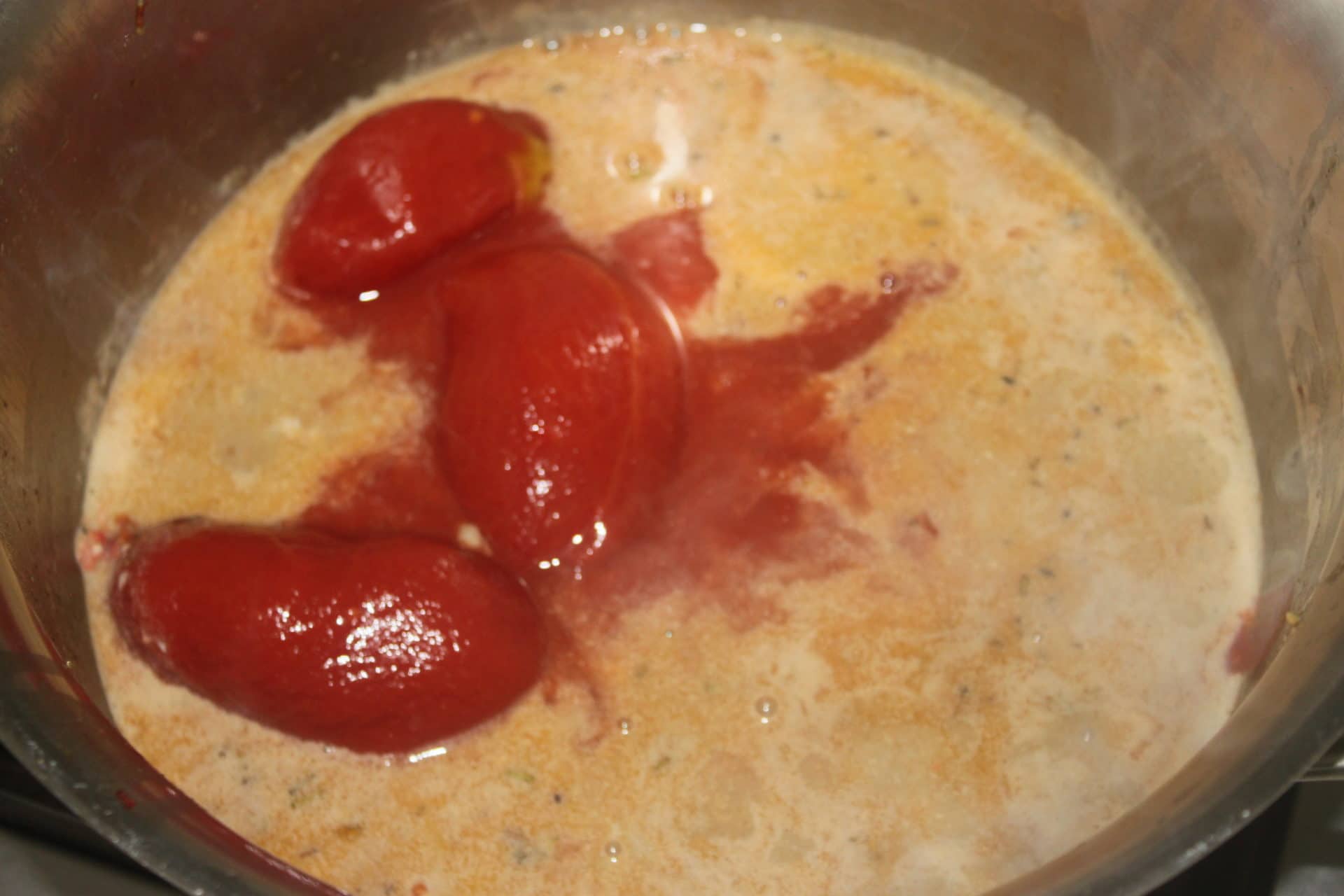 If so, blend a little to make a smoother sauce.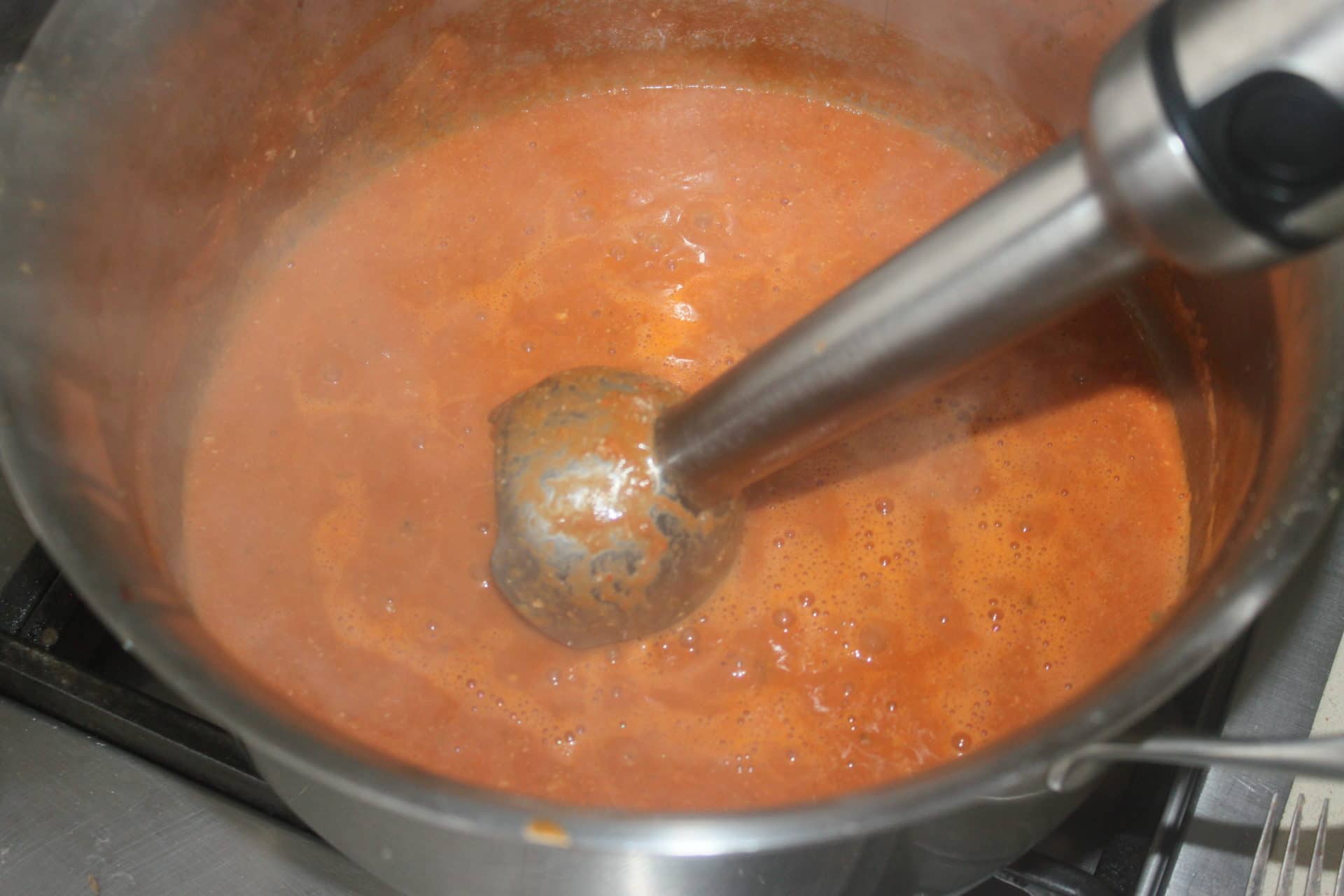 Cook for 5-10 minutes over moderate heat to reduce again. Pour in the port wine, add salt and pepper to taste and a good pinch of herbes de Provence. Pour in the cream as well.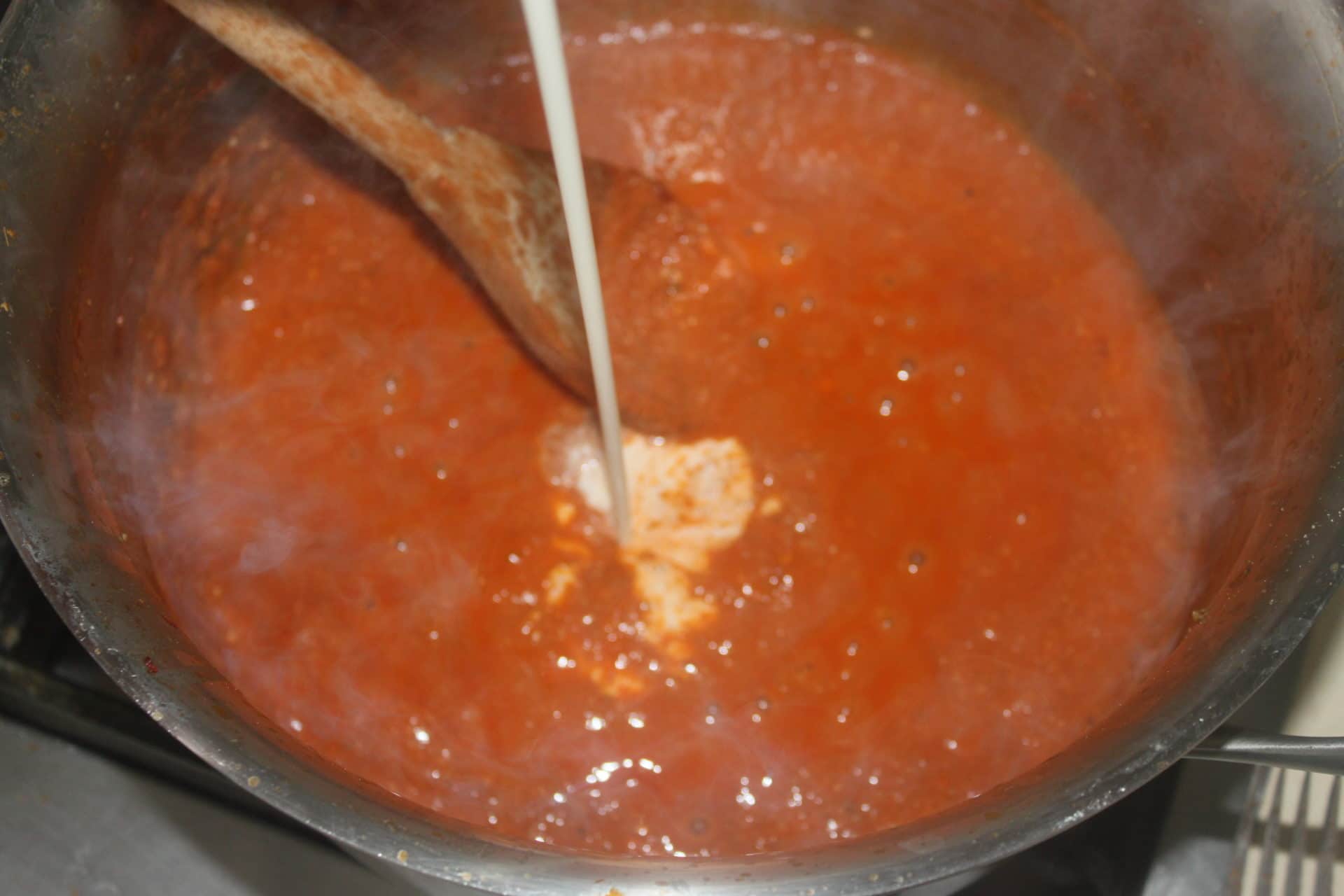 Reduce for another 5 minutes (or more or less) until sauce is well coated. Taste to see, it is an incredible delight !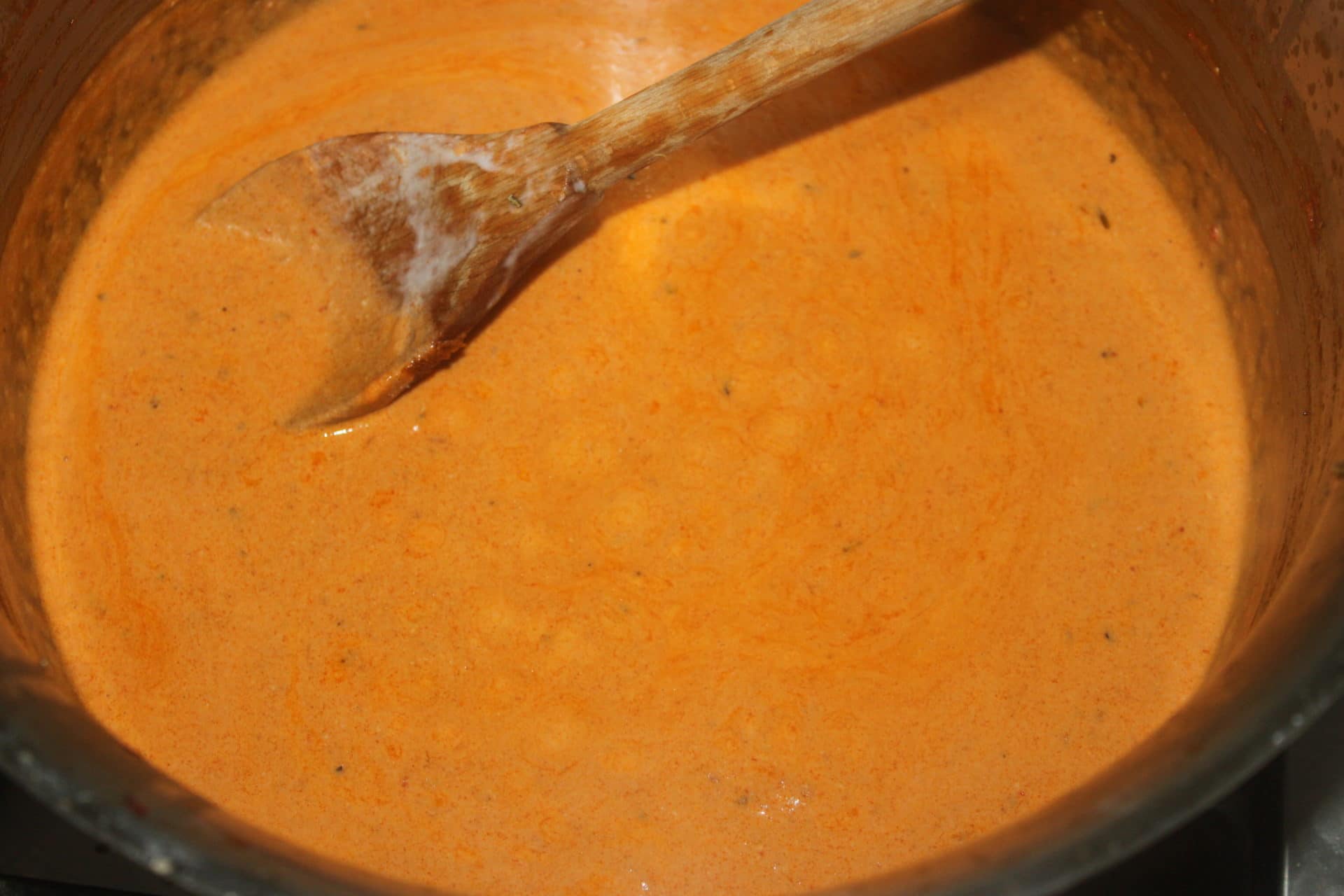 Choose good pasta that you will cook for 1 minute less than "al dente".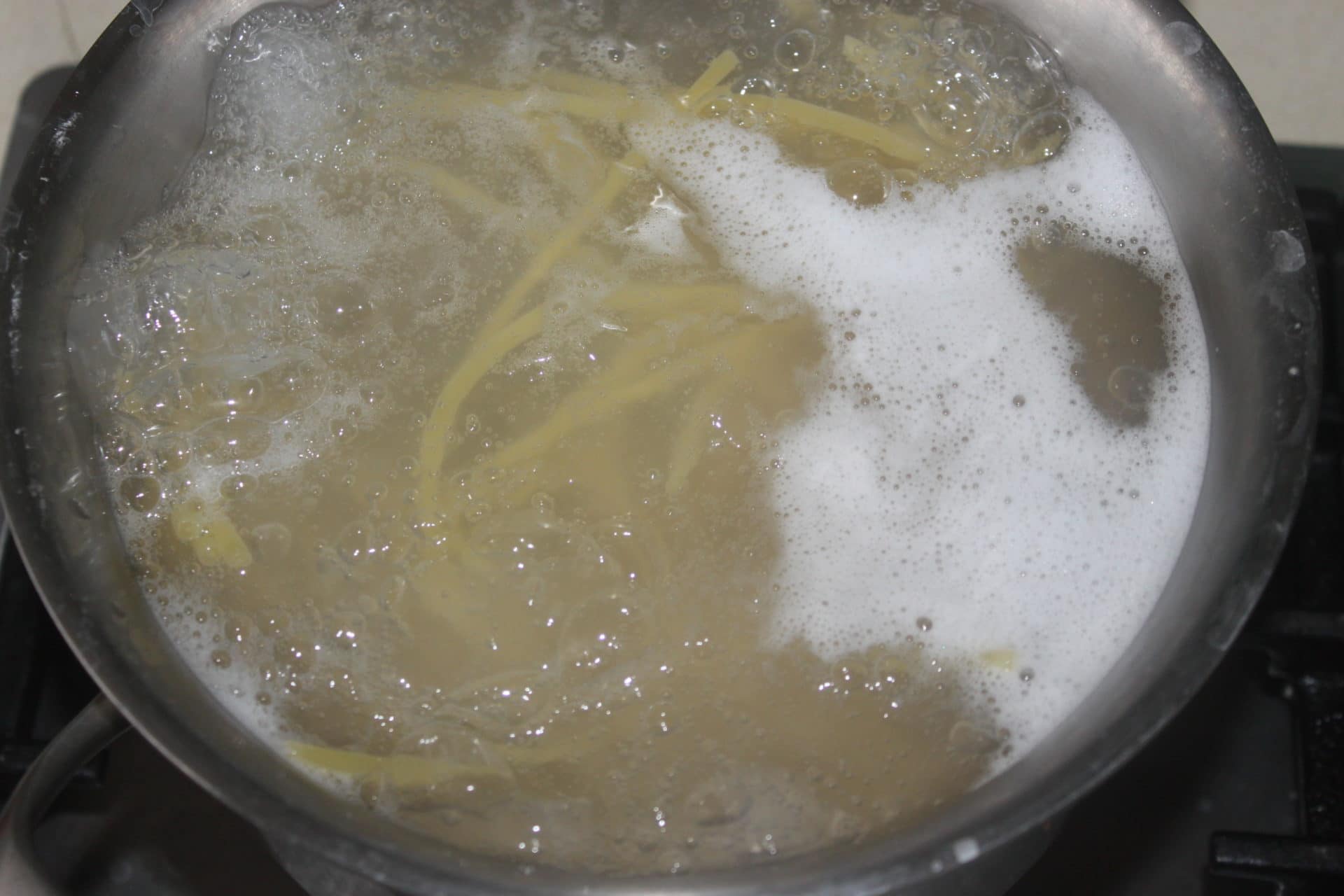 Drain them well. If you don't eat right away, run them under cold water to stop the cooking process.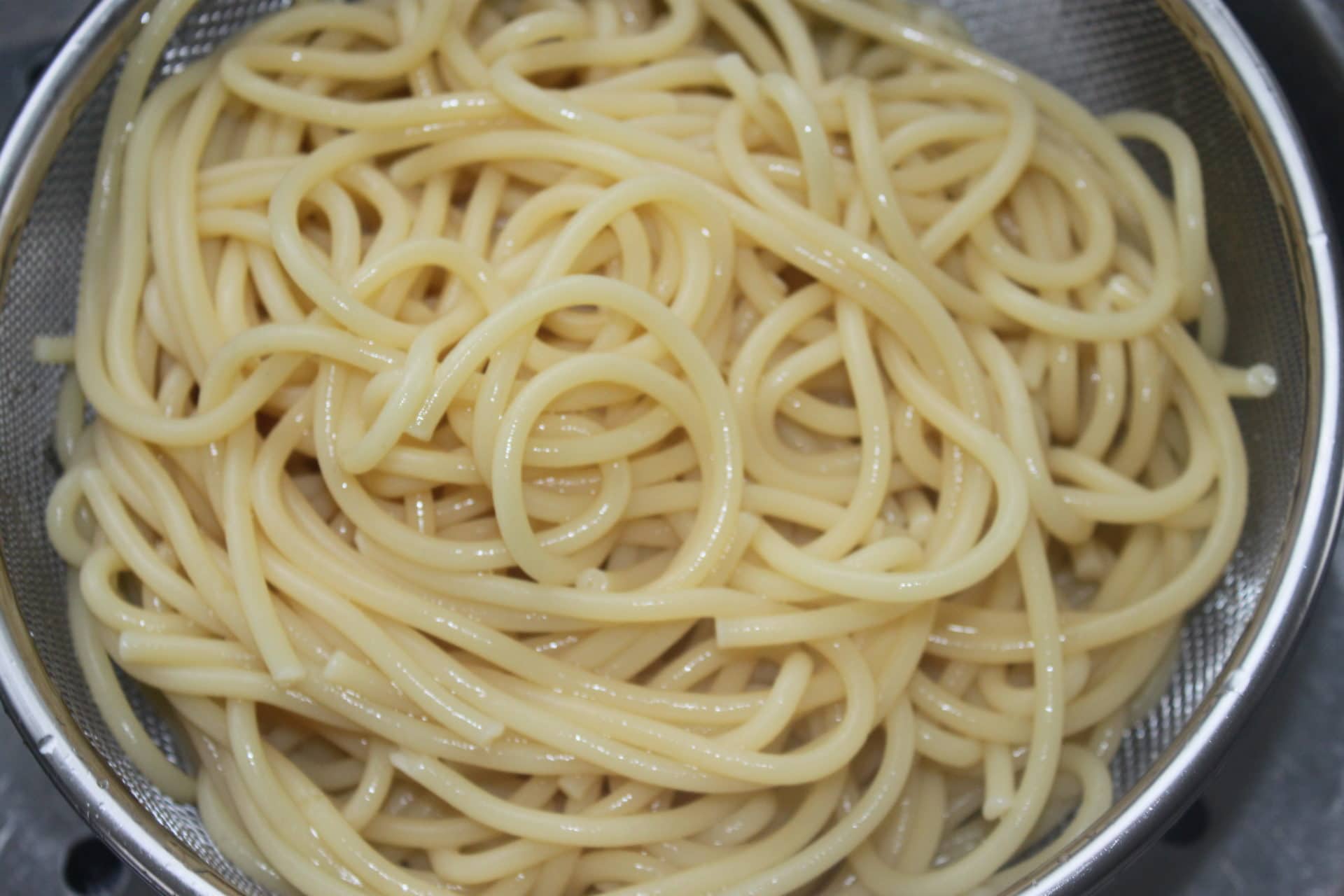 When ready, pour back into the sauce.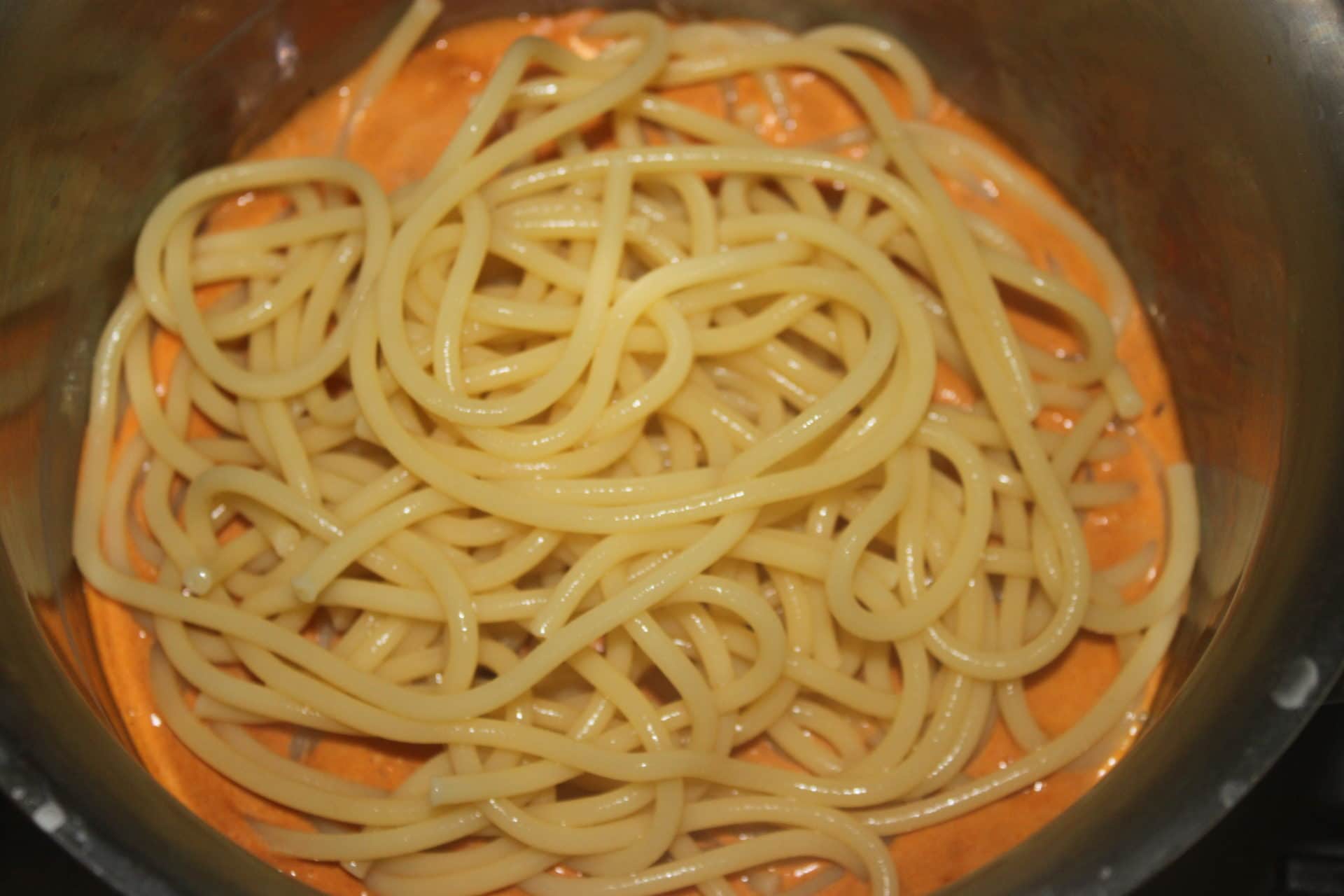 Mix well, cook for 1 or 2 minutes to coat the pasta and finish cooking, then add all the lobster meat.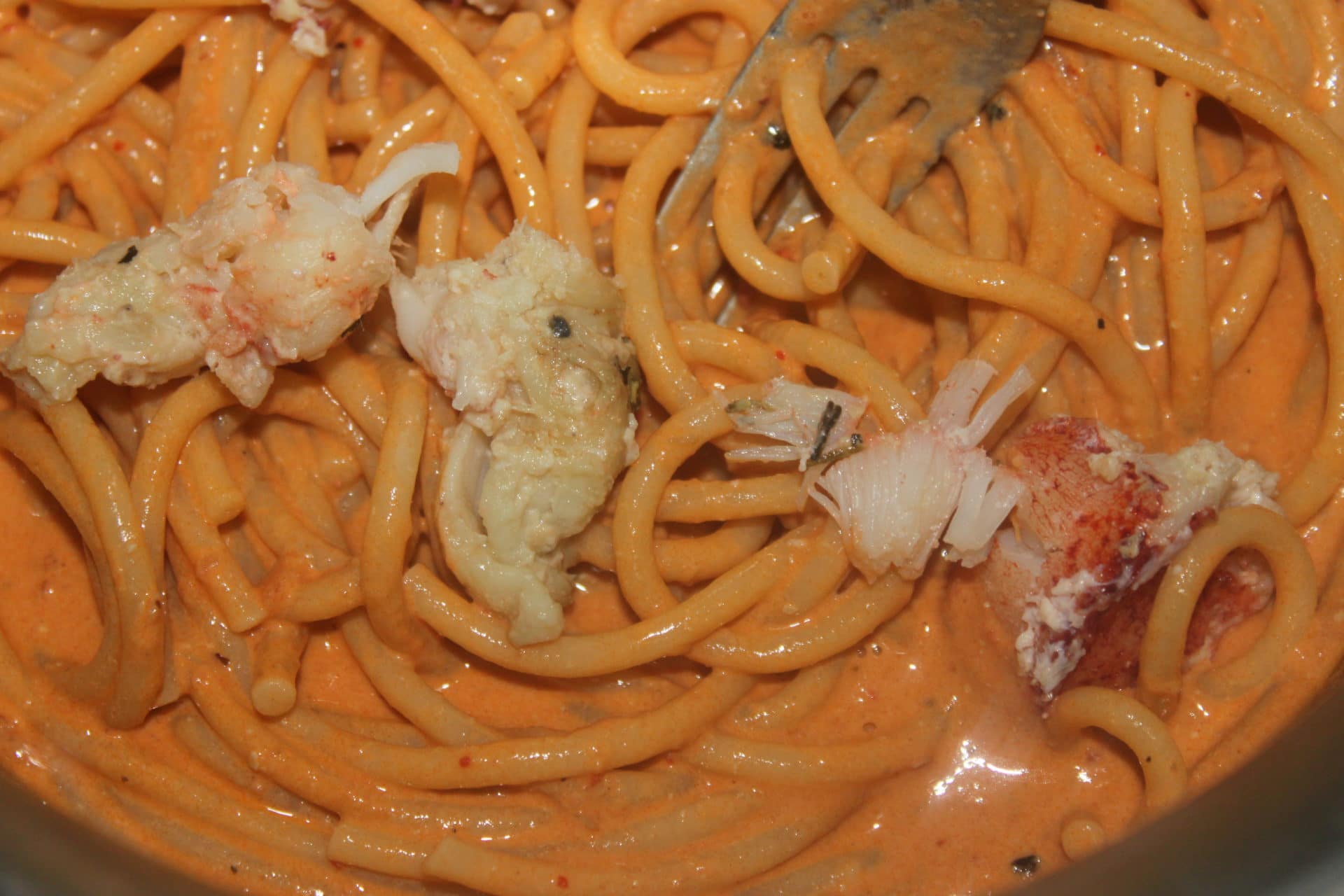 A final mix and serve without delay!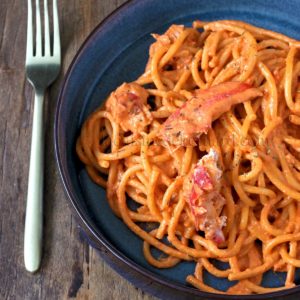 Pâtes au homard
J'avais il y a un moment, dégusté dans un restaurant avec des amis, des pâtes au homard. Rien que le nom me donnait envie, mais l'addition fût salée ! Je me suis dit que j'allais tenter ma propre recette à partir de la recette de homards grillés de mes parents que je vous avais déjà postée il y a un moment sur mon blog de cuisine (recette ICI). C'est un peu une recette de fêtes, car je n'achète pas du homard tous les jours. Mais finalement, quand on voit que l'on obtient 4 généreuses portions, c'est très rentable ! Je pars donc du homard grillé, puis je poursuis la préparation en récupérant tous les sucs possibles que je fais réduire dans une sauce au goût hallucinant. C'est d'ailleurs frustrant que la photo ne rende pas justice à ce plat. Bon et puis je l'ai faite vite car je voulais surtout profiter de ce plat dont je me suis franchement régalé ! Mais je vous promets un plat absolument délicieux, entre le goût du homard grillé et flambé et la bisque. Les pâtes se gorgent de cette sauce riche et deviennent addictives !
Instructions
Pour les homards, je les achète vivants et je les fais bouillir 2 minutes et pas plus, juste pour les saisir. Coupez -les en deux. Pour tout voir là-dessus, je vous invite à voir ma recette de homard grillé ICI. Je reprends d'ailleurs la base pour aller ensuite un peu plus loin… Placez les homards coupés en deux sur une plaque allant au four. Gardez le jus que rendent les homards et placez-le dans une casserole.

Divisez les 25g de beurre en 8 portions et placez-le sur le homard. Salez, poivrez et mettez un tout petit peu d'herbes de Provence. Placez au four préchauffé à 205°C avec grill si possible pour 10 minutes.

Versez dans la casserole qui contient le jus, le beurre, le porto et la crème.

Faites bouillir le tout deux minutes puis versez la sauce dans le corps et la tête.

Remettez au four 3-4 minutes et pendant ce temps faites chauffer le cognac. Sortez le homards et versez le coganc que vous faites flamber.

Mettez le four cette fois sur grill et placez les homards dessus pour les gratiner légèrement (2-3 minutes).

Laissez ensuite tiédir et récupérez la chair des queues.

Cassez les pinces et mettez toute la chair dans un récipient de côté.

Raclez bien ensuite l'intérieur des têtes. Tout ce qui peut se garder doit l'être !

Ce n'est pas très ragoûtant en photo, mais c'est juste un délice. J'ai bien tout récupéré ce qu'il y avait dans les queues et les têtes. J'ai juste gardé ici les pattes.

Versez le tout dans une cocotte.

Versez de l'eau dans la plaque pour dissoudre tous les sucs et versez cette eau dans la cocotte.

J'ajoute l'équivalent d'un bon gros verre d'eau pour dissoudre tous les sucs. Écrasez un peu les pattes et diluez bien ce qu'il y a dans le corps.

Placez les corps et pattes dans un tamis, rincez un peu avec de l'eau fraiche que vous récupérez dans la cocotte.

Et voici la base de sauce qui est extrêmement aromatique. Laissez bouillir pour évaporer toute l'eau qui a servi a « lavé » les corps et dissoudre les sucs de la plaque.

Quand la sauce redevient consistante, versez les 400g de pulpe de tomate. J'ai ici des tomates entières pelées, cela ne change rien.

Si c'est le cas, mixez un peu pour avoir une sauce plus lisse.

Laissez cuire 5-10 minutes sur feu modéré pour à nouveau réduire le tout. Versez le porto, salez et poivrez à votre goût et mettez une bonne pincée d'herbes de Provence. Versez également la crème.

Laissez réduire encore 5 minutes (ou plus ou moins) jusqu'à ce que la sauce soit bien nappante. Goûtez pour voir, c'est un incroyable délice !!

Choisissez de bonnes pâtes que vous ferez cuire 1 minute en moins que « al dente ».

Égouttez-les bien. Si vous ne mangez pas tout de suite, passez-les à l'eau froide pour stopper la cuisson.

Au moment voulu, reversez dans la sauce.

Mélangez bien, faites cuire 1 ou deux minutes pour bien napper les pâtes et finir leur cuisson, puis ajoutez toute la chair des homards.

Un dernier mélange et servez sans attendre !
Nutrition
Calories:
912
kcal
Carbohydrates:
105
g
Protein:
31
g
Fat:
40
g
Saturated Fat:
24
g
Polyunsaturated Fat:
3
g
Monounsaturated Fat:
10
g
Trans Fat:
0.4
g
Cholesterol:
192
mg
Sodium:
403
mg
Potassium:
919
mg
Fiber:
6
g
Sugar:
10
g
Vitamin A:
1934
IU
Vitamin C:
11
mg
Calcium:
150
mg
Iron:
4
mg