Everyone has the best tarragon chicken recipe! But many of you ask me about these great classics of our cuisine. I give you my version which is the one I like: with a rich, creamy and fragrant sauce! Here, really nothing complicated. You just have to cook the sauce well to give it time to reduce so that it is coating as it should. A delight to serve with plain rice!
Tarragon chicken recipe for 4 people:
a chicken cut into pieces
2 tablespoons of olive oil
1 shallot
150ml dry white wine
500ml chicken stock
1 bunch of tarragon
40cl of whole whipping cream
salt pepper
Heat a pot over medium heat with the olive oil. Add the chicken.
Let it color by turning it over from time to time. All in all, it takes about ten minutes.
Finely chop the shallot.
Remove the chicken from the casserole, leaving the fat (fat is good!) and put the shallot in place.
Stir regularly for two or three minutes then add the wine and chicken broth.
Return the chicken. I remove most of the skin at this time, otherwise the dish becomes too greasy. I leave some on a piece of thigh for example.
Cook on medium for twenty to thirty minutes. Check the cooking of the chicken. When it is cooked, remove it from the broth and set it aside on a plate.
Now let the broth reduce by half. It may take a while.
Roughly chop the tarragon.
Put it in the broth.
Pour in the whole cream.
Note from Bernard : if you prefer not to add cream, in this case you will have to add a tablespoon of flour to the shallots before pouring in the broth and wine. Otherwise the sauce will be liquid like water!
Reduce again to desired consistency. For me it's like a custard. The sauce should coat the spoon.
Put salt and pepper at your taste.
When this is the case, put the chicken back and let it warm up for about ten minutes before serving with plain rice, steamed potatoes or pasta.
Treat yourself !!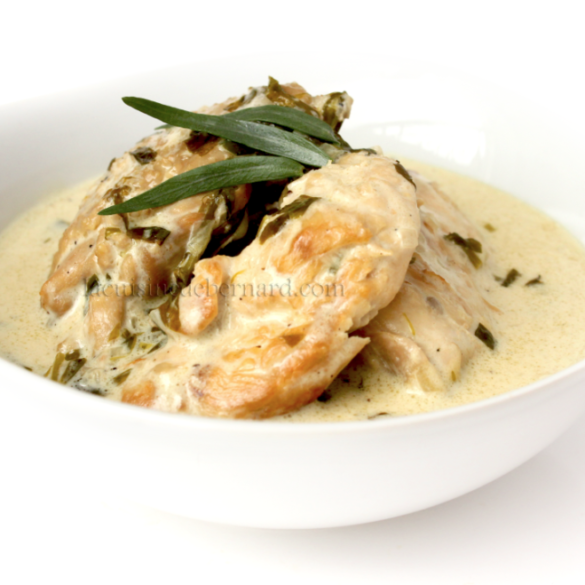 Poulet à l'Estragon
Chacun a forcément la meilleure recette de poulet à l'estragon ! Mais vous êtes nombreux à me demander ces grands classiques de notre cuisine. Je vous donne ma version qui est celle que j'aime: avec une sauce riche, onctueuse et parfumée à souhait ! Ici, vraiment rien de compliqué. Il faut juste bien cuire la sauce pour lui laisser le temps de réduire afin qu'elle soit nappante comme il faut. Un délice à servir avec un riz nature !
Ingredients
Recette du poulet à l'estragon pour 4 personnes:
Instructions
Faites chauffer une cocotte sur feu modéré avec l'huile d'olive. Ajoutez le poulet.

Laissez-le se colorer en le retournant de temps en temps. En tout cela prend une dizaine de minutes.

Hachez finement l'échalote.

Ôtez le poulet de la cocotte en y laissant le gras (c'est bon le gras !) et mettez à la place l'échalote.

Remuez régulièrement pendant deux ou trois minutes puis ajoutez le vin et le bouillon de poule.

Remettez le poulet. J'enlève à ce moment la plupart de la peau, sinon le plat devient trop gras. J'en laisse sur un morceau de haut de cuisse par exemple.

Faites cuire sur modéré pendant vingt à trente minutes. Vérifiez bien la cuisson du poulet. Quand il est cuit, enlevez-le du bouillon et mettez-le de côté dans une assiette.Laissez maintenant réduire le bouillon de moitié. Cela peut prendre un peu de temps.Hachez grossièrement l'estragon.

Mettez-le dans le bouillon.

Versez la crème entière.Note de Bernard: si vous préférez ne pas mettre de crème, il faudra dans ce cas ajouter une cuillerée à soupe de farine dans les échalotes avant de verser le bouillon et le vin. Sinon la sauce sera liquide comme de l'eau !

Laissez de nouveau réduire jusqu'à la consistance désirée. Pour moi c'est comme pour une crème anglaise. La sauce doit napper la cuillère.Salez et poivrez à votre goût.

Quand c'est le cas, remettez le poulet et laissez réchauffer une dizaine de minutes avant de servir avec un riz nature, des pommes de terre vapeur ou des pâtes.
Nutrition
Calories:
2103
kcal
Carbohydrates:
14
g
Protein:
152
g
Fat:
144
g
Saturated Fat:
37
g
Polyunsaturated Fat:
28
g
Monounsaturated Fat:
68
g
Trans Fat:
1
g
Cholesterol:
586
mg
Sodium:
2668
mg
Potassium:
1862
mg
Fiber:
1
g
Sugar:
8
g
Vitamin A:
1141
IU
Vitamin C:
15
mg
Calcium:
279
mg
Iron:
8
mg