I'm continuing my suggestions of pumpkin for the fall, as it is very easy to use in both sweet and savory recipes. Here are some very simple gnocchi to make. It may just take a while to make them beautifully, but maybe it's time to spend some time in the kitchen with a few people chatting in anticipation of a good meal! For now I'll just give you the basic recipe, then I'll publish very soon a dish in which I put these pretty little colored gnocchi!
Recipe for 450g of gnocchi (3-4 people)
180g pumpkin puree
250g of T55 flour
20g of yolk
Start by cutting the pumpkin in half, removing the seeds and cutting into quarters.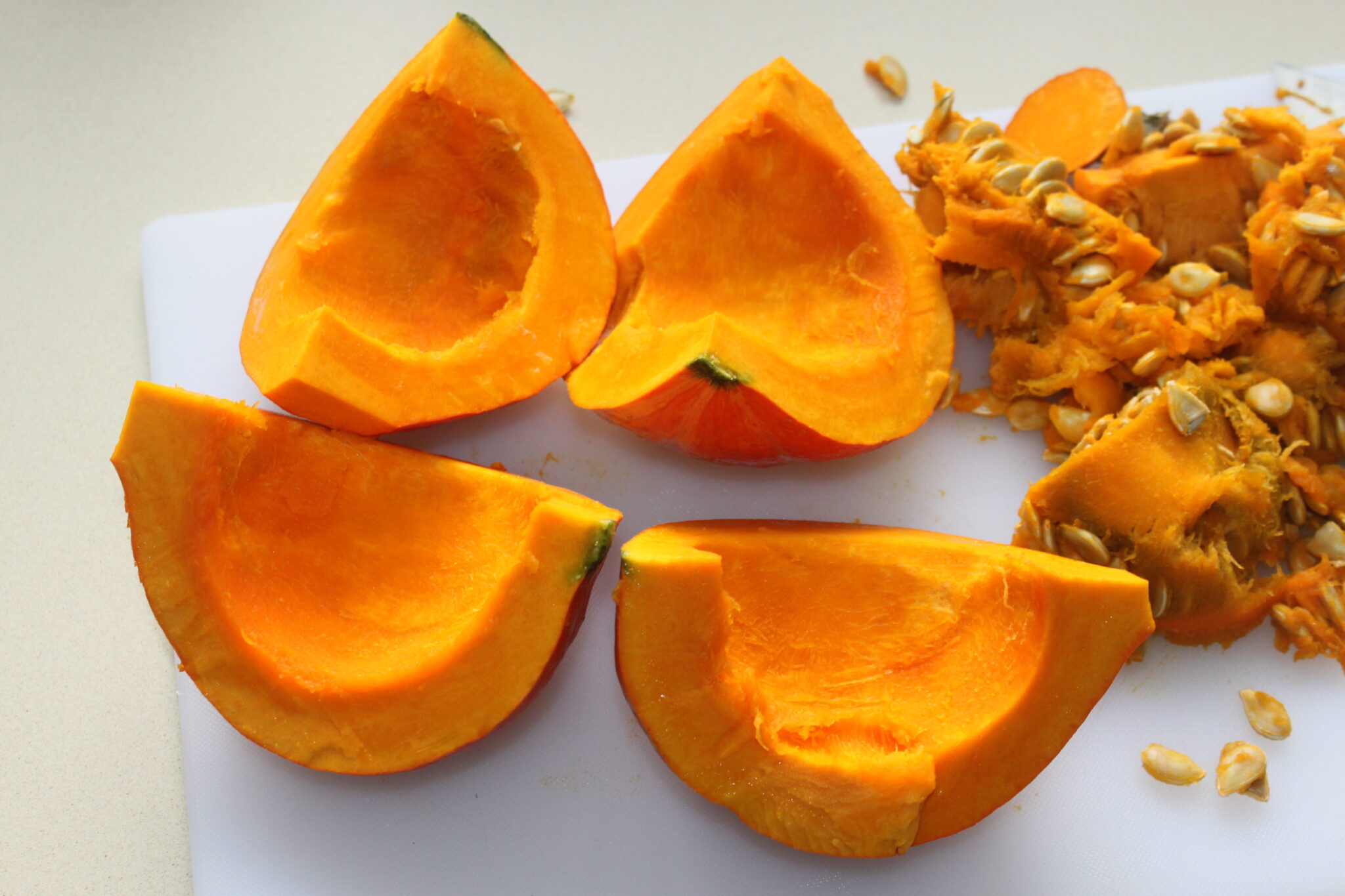 Steam for 20 minutes.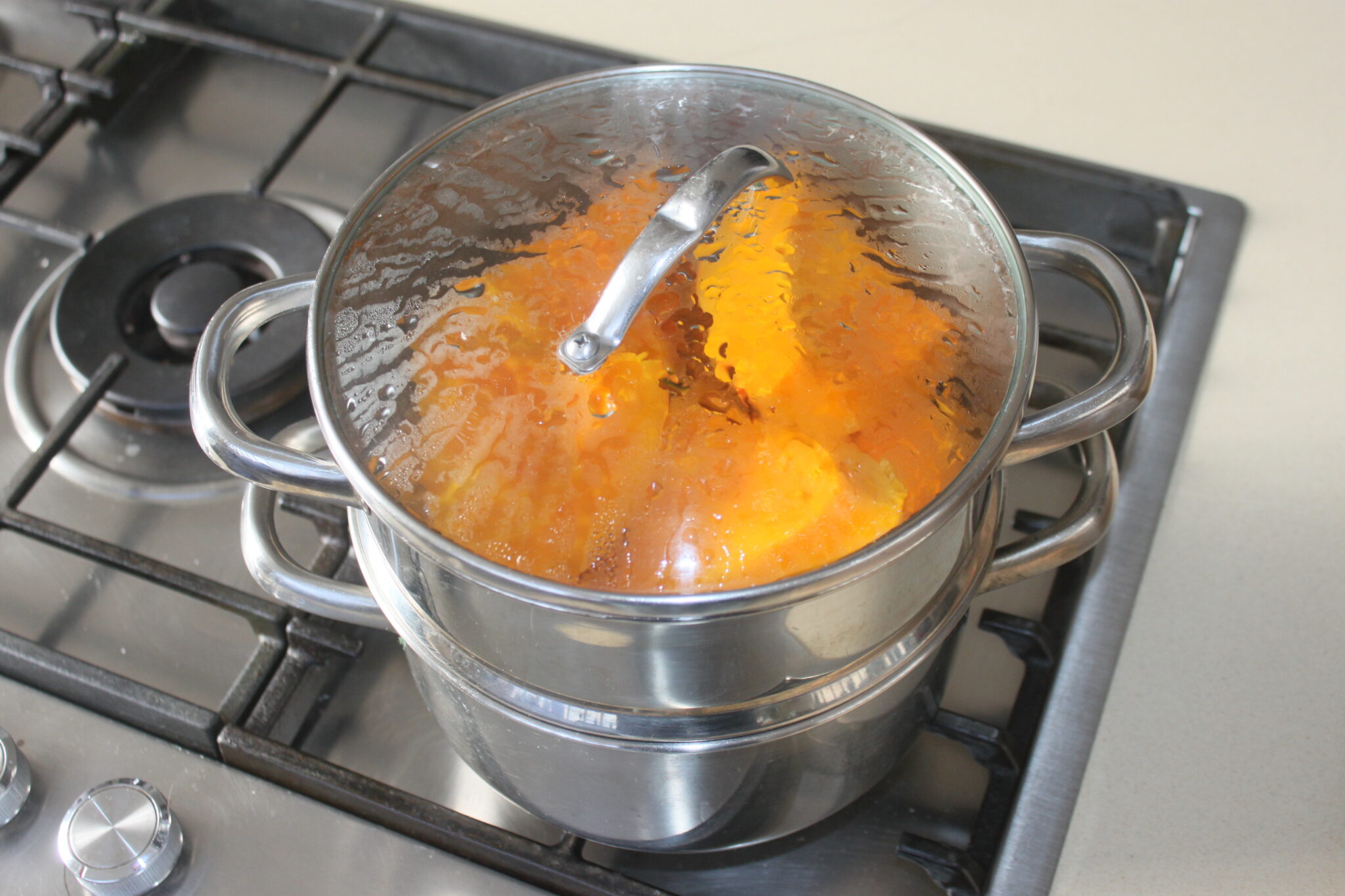 Check for doneness by sticking a fork into it.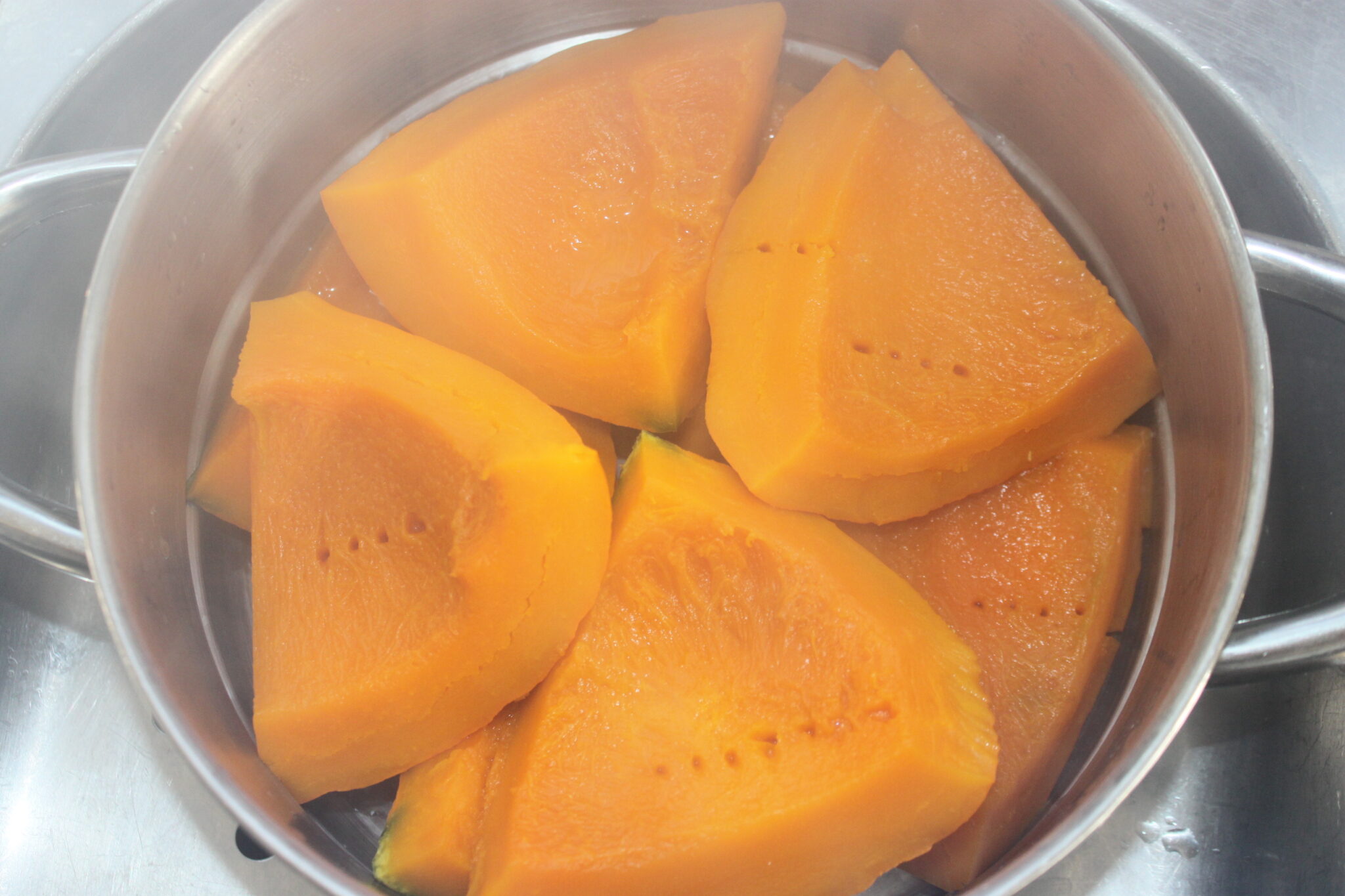 Collect the required weight of pumpkin.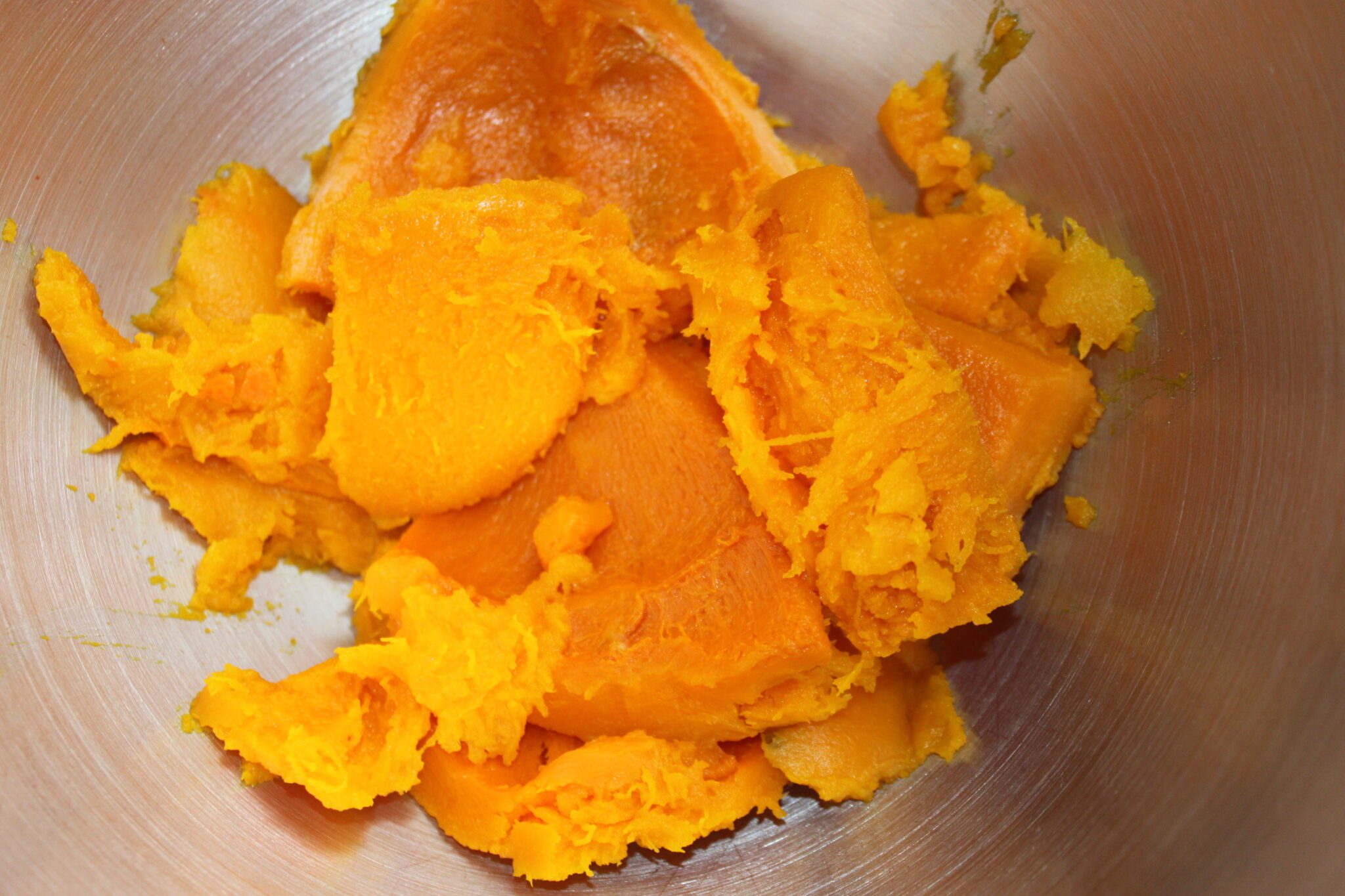 Blend in a blender or hand blender to a smooth purée.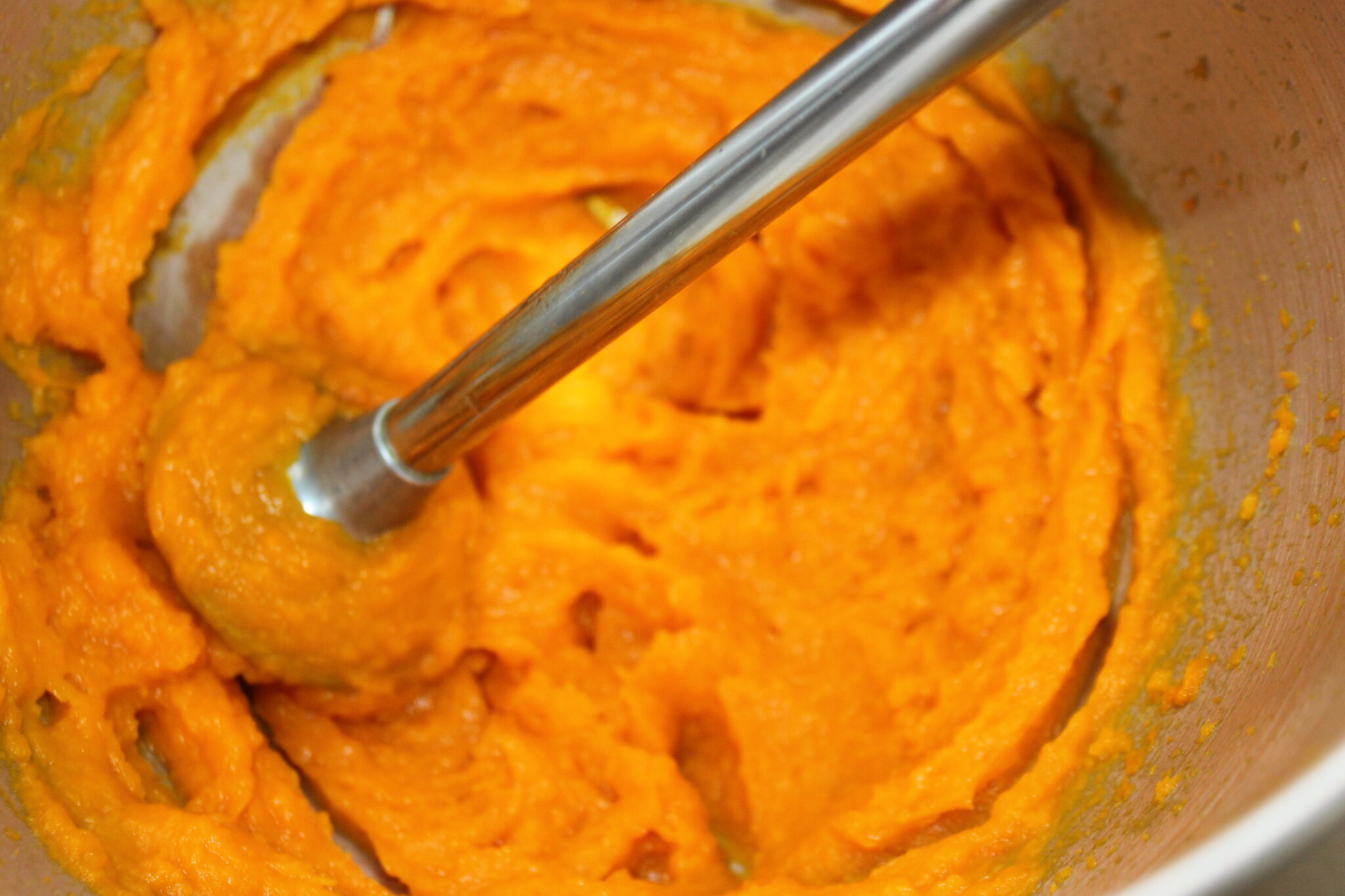 Add the egg yolk and flour.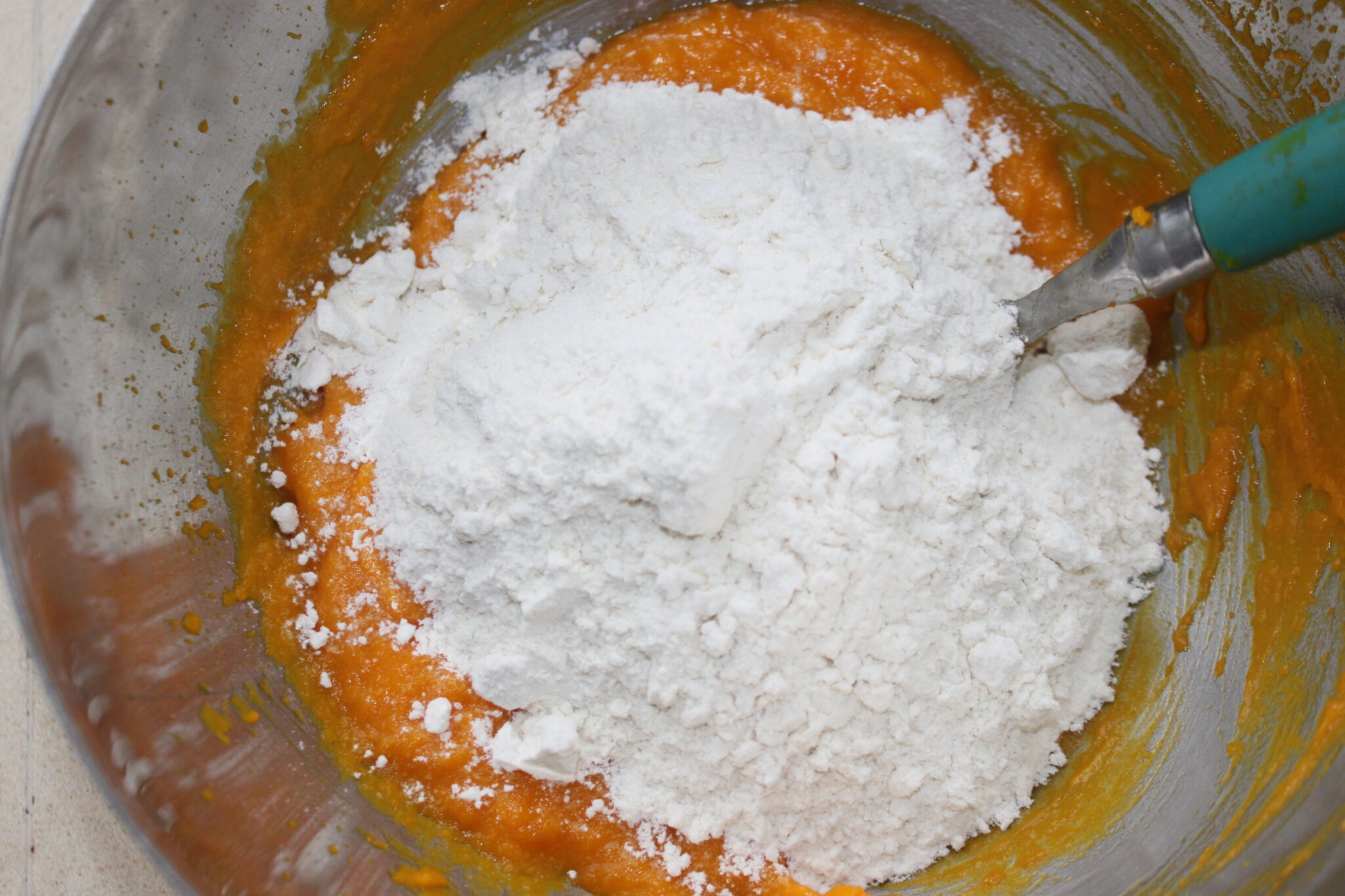 Mix first with a spoon and then by hand on a floured work surface.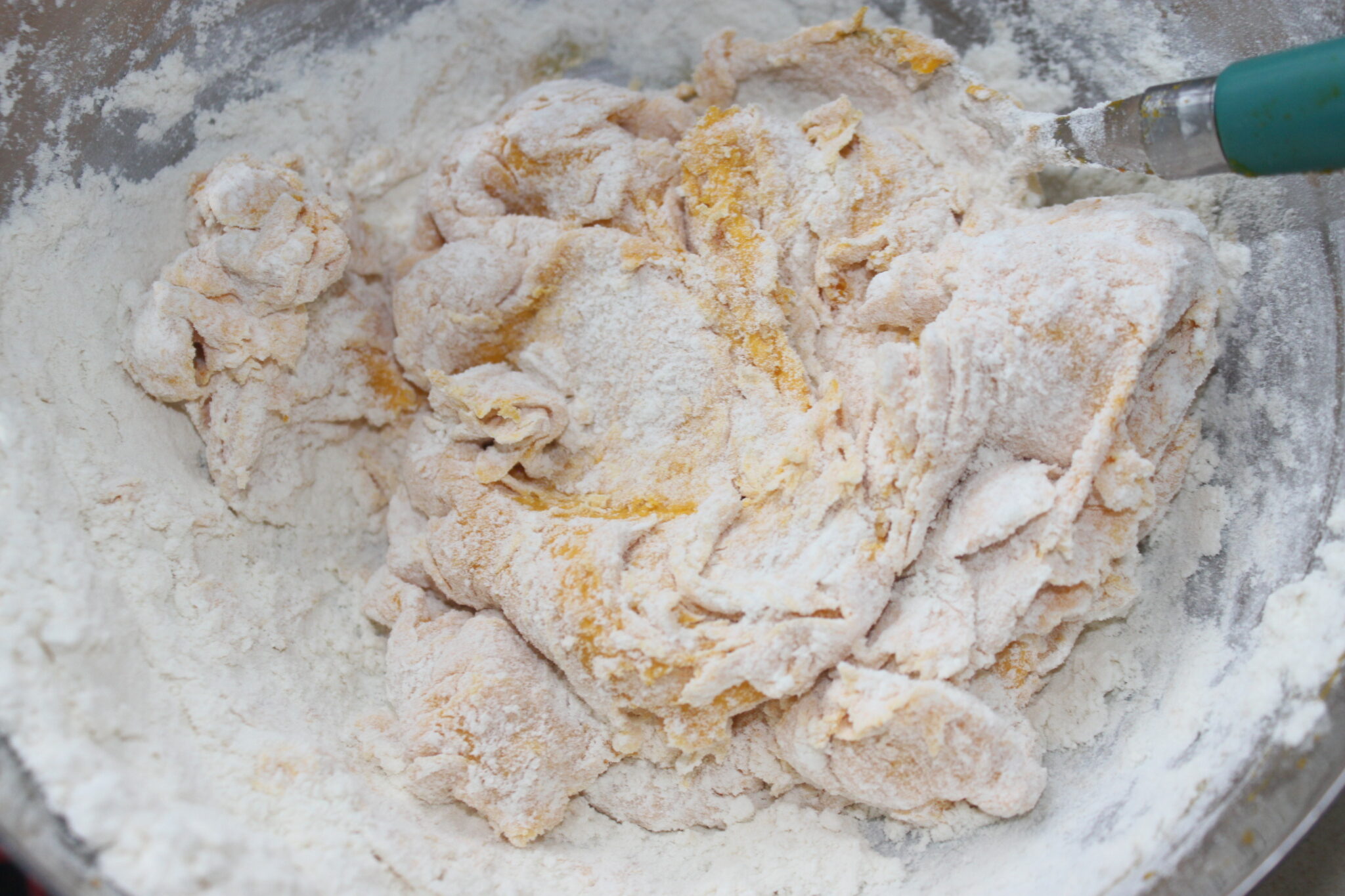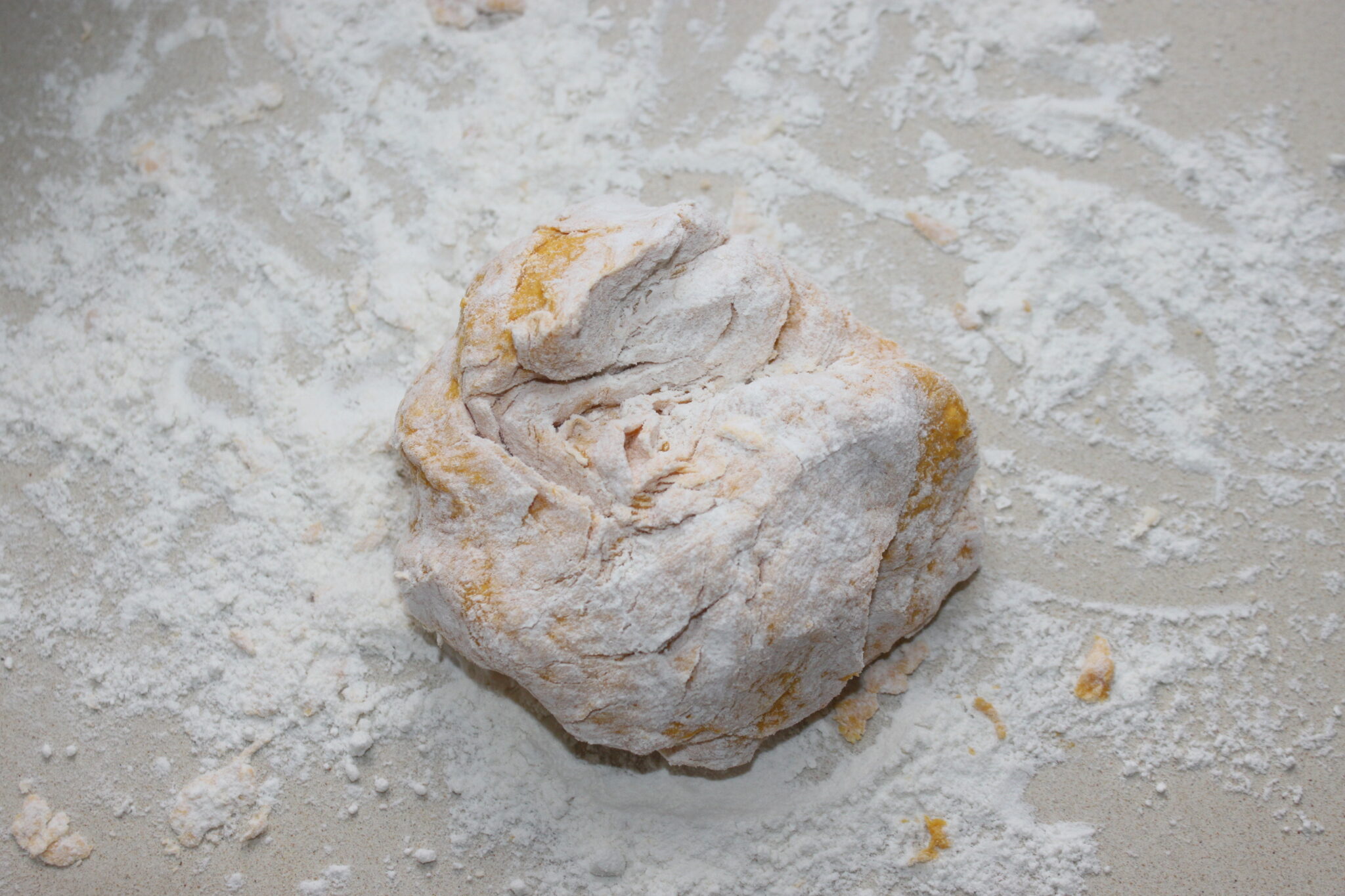 Knead the dough, adjusting the amount of flour if necessary, depending on the quality of the flesh obtained.
You should get a ball that is almost no longer sticky to the touch.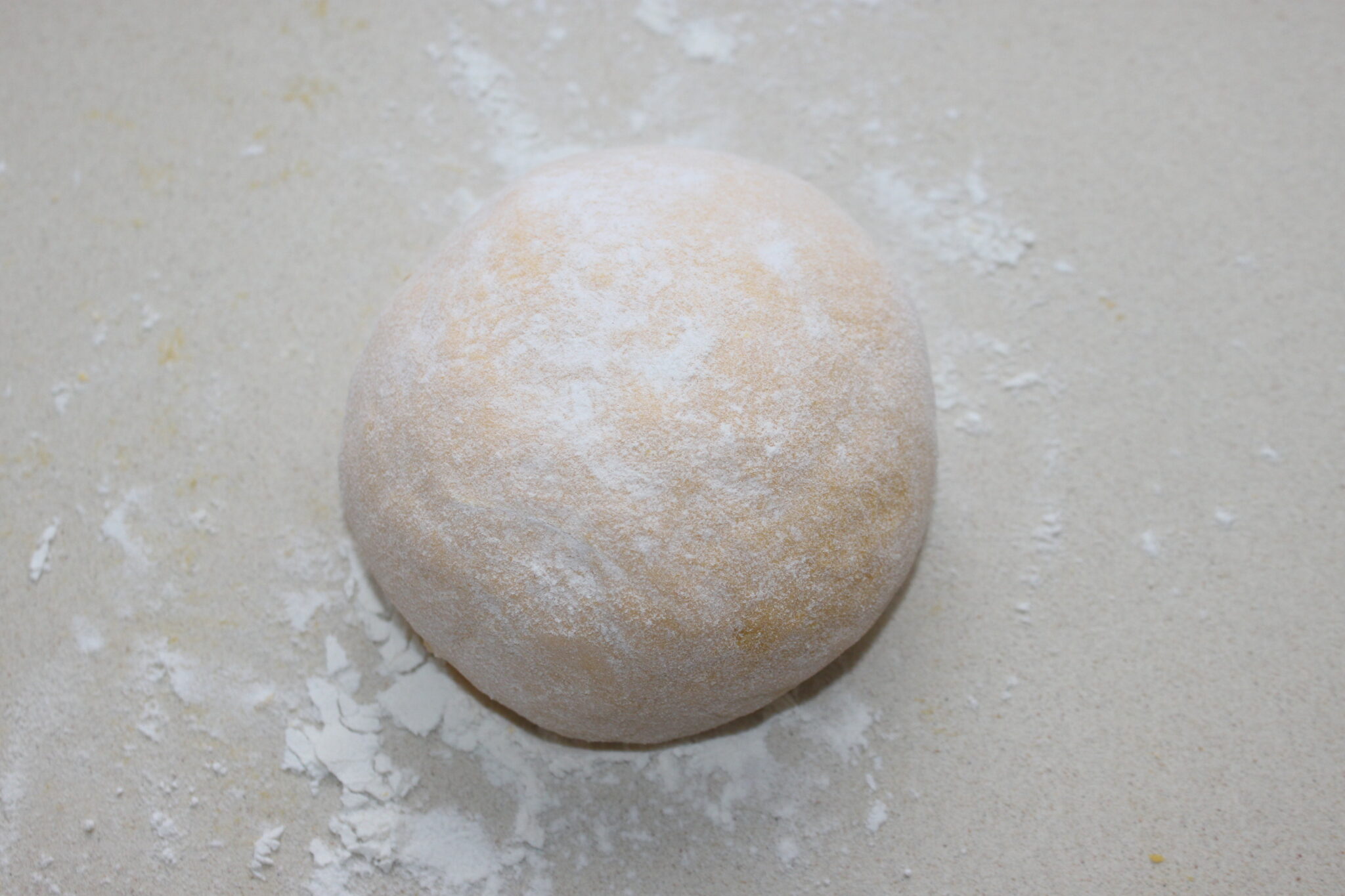 To make the gnocchi, you'll need a small board or a fork.
Weigh a 8 to 10g dumpling and roll it well between your hands. Place it on the board.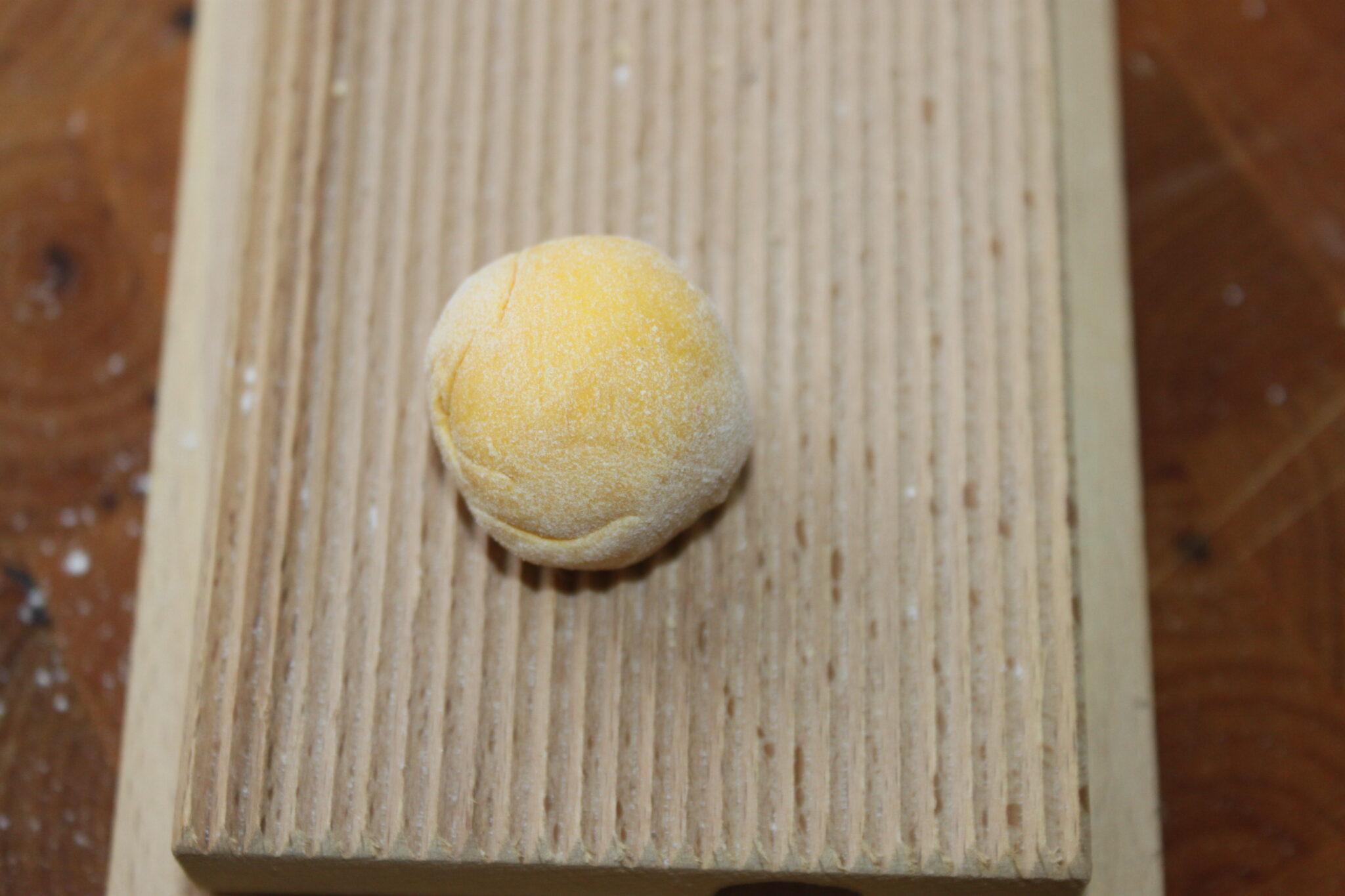 Press your thumb into it while rolling it on the wood.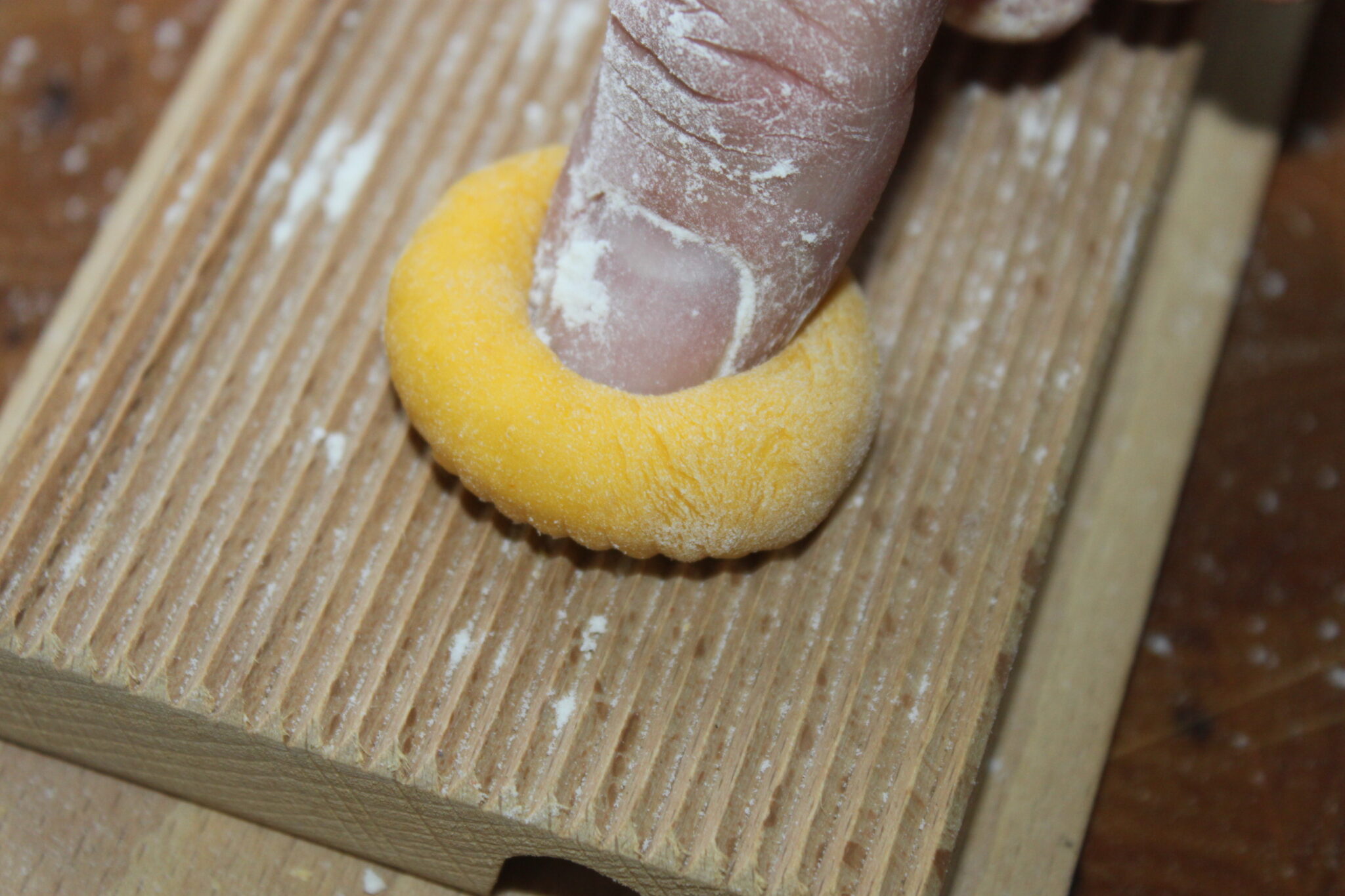 You'll get a nice, pretty gnocchi!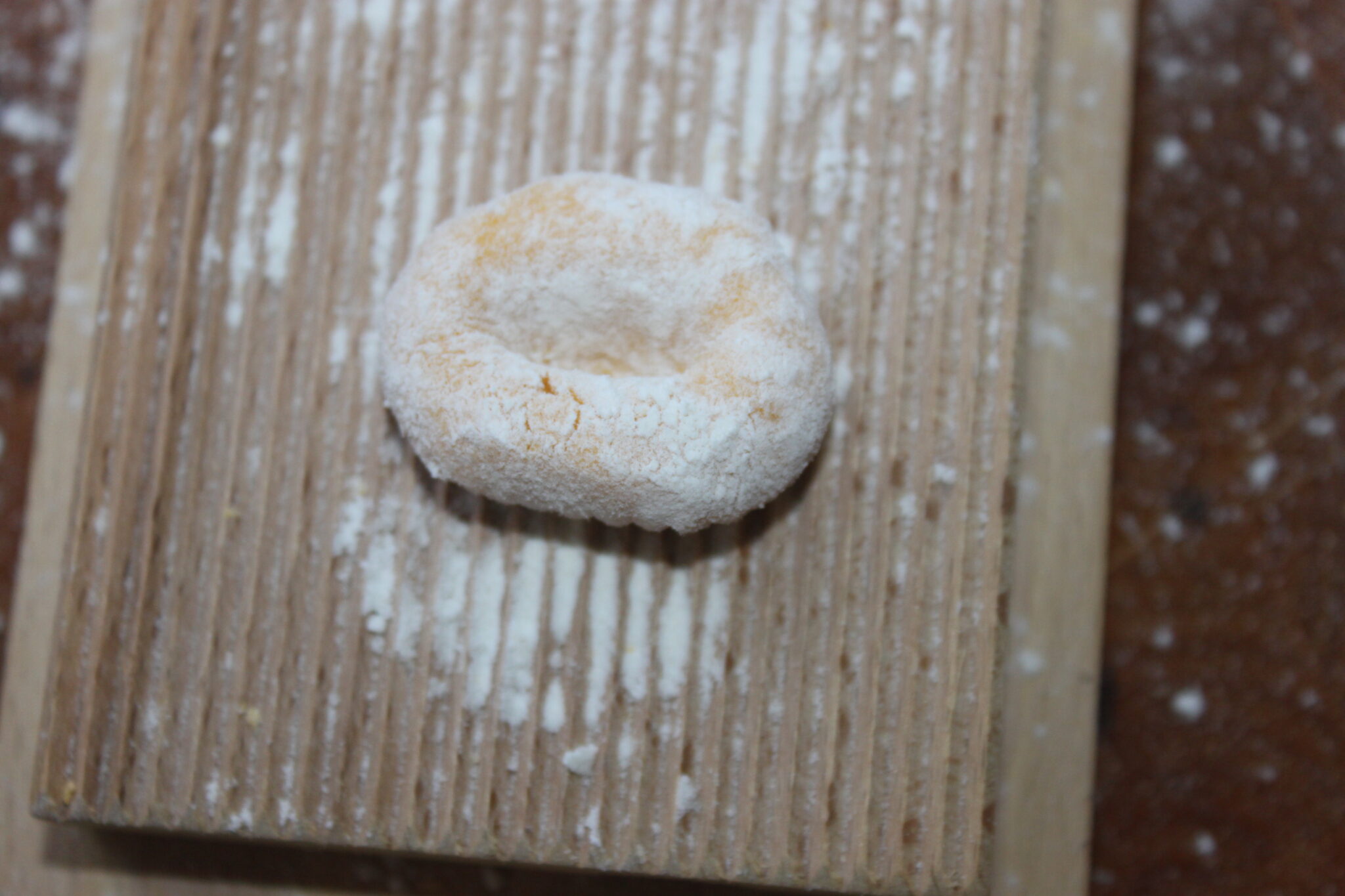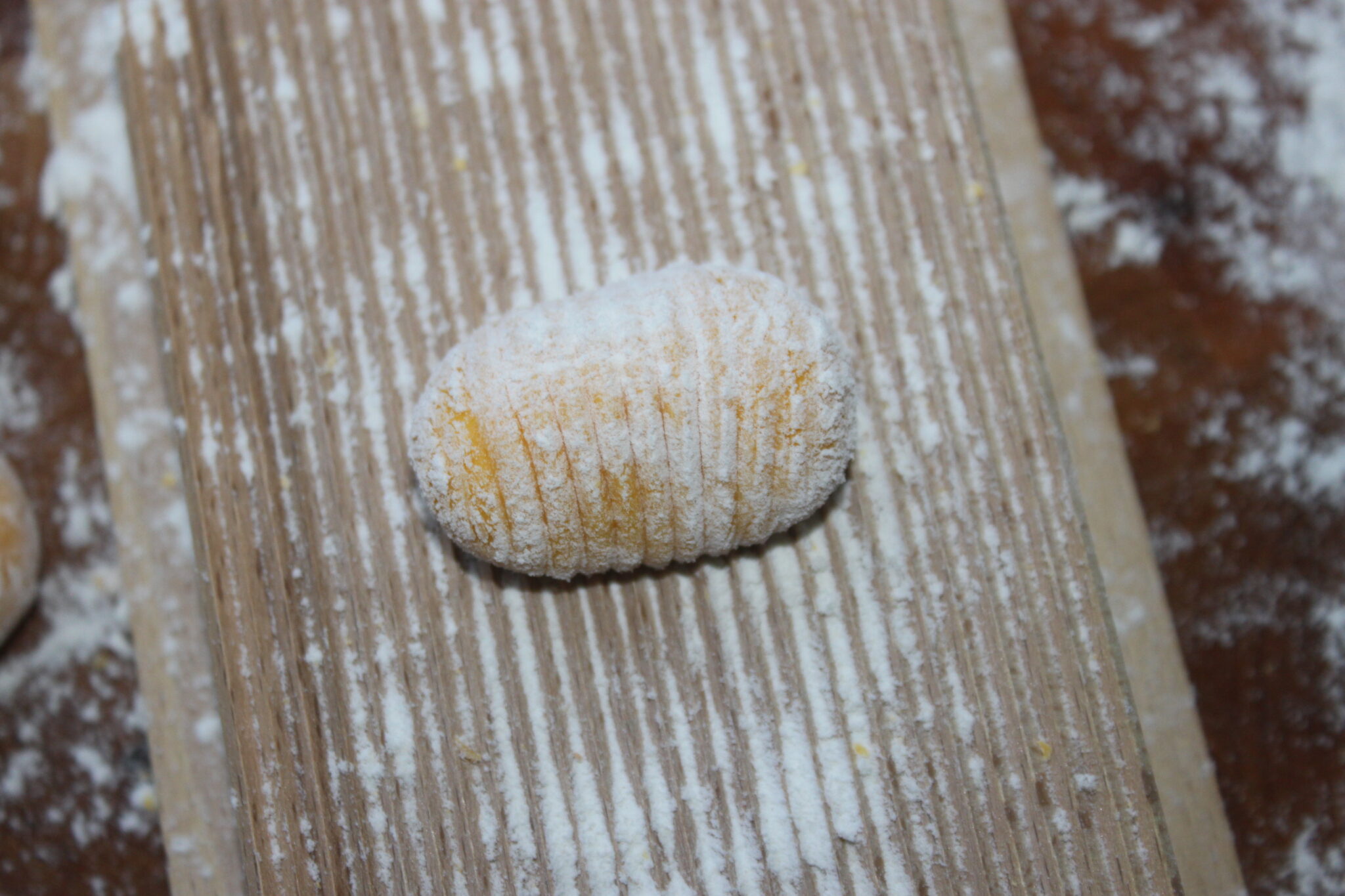 Do the same for all the gnocchi. It's a bit long, especially when you want to do them nicely, but it's worth it!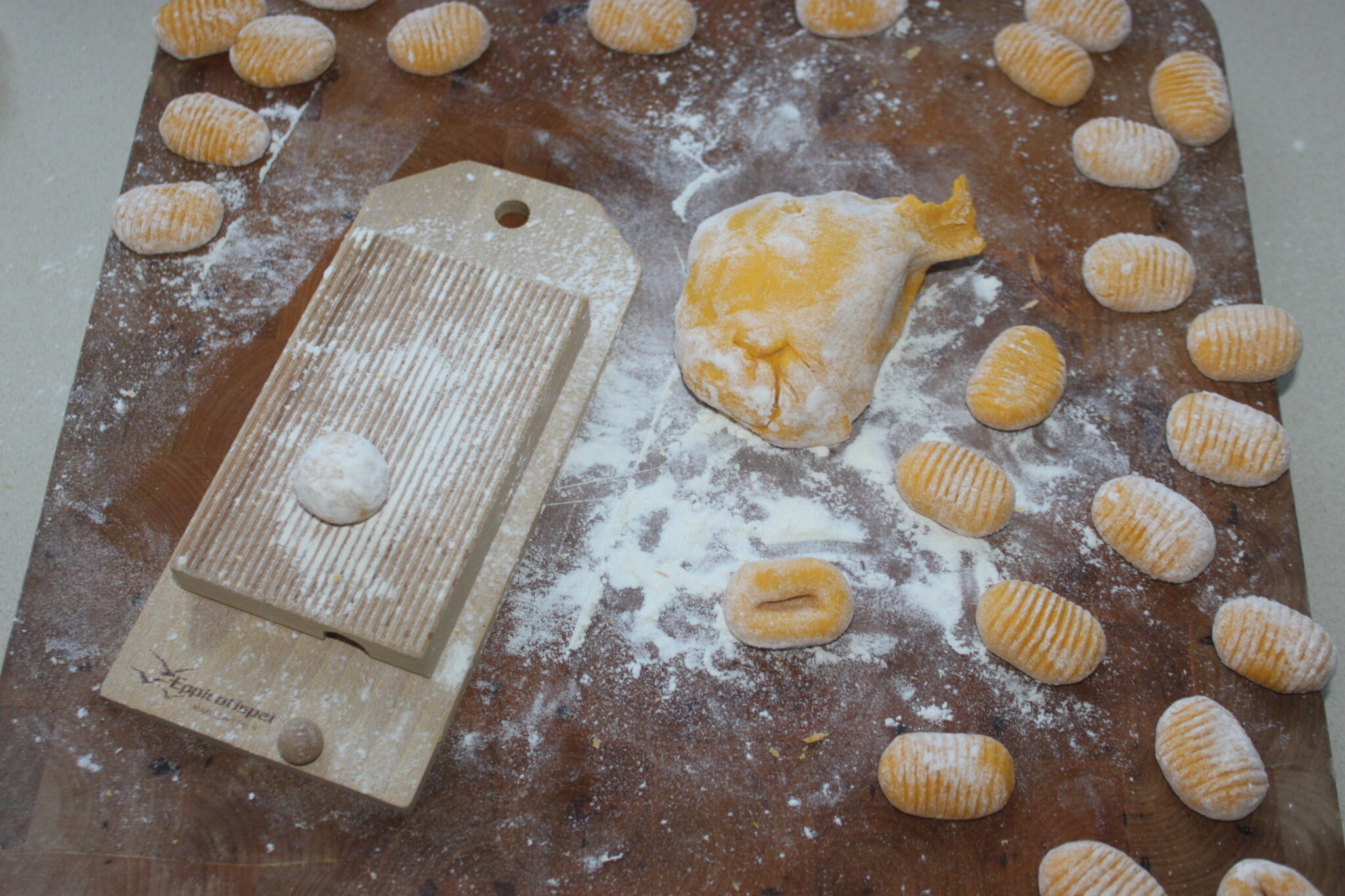 You can cook them in the process or freeze them. Instead, freeze them flat on a plate and when they are as hard as pebbles, you can accumulate them in a box! This way they won't lose their beautiful shape!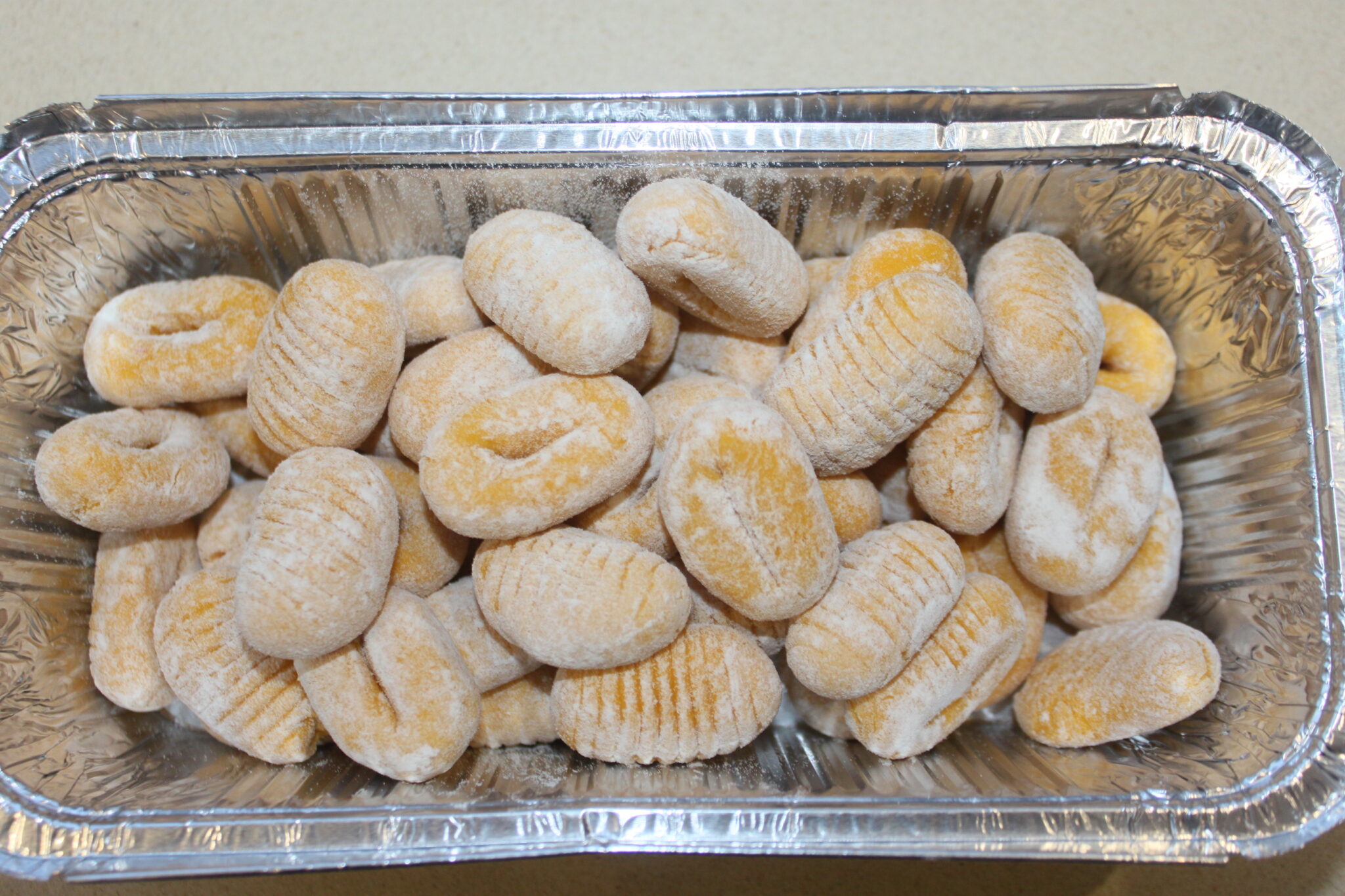 And I'll soon offer you a seasonal recipe for cooking them!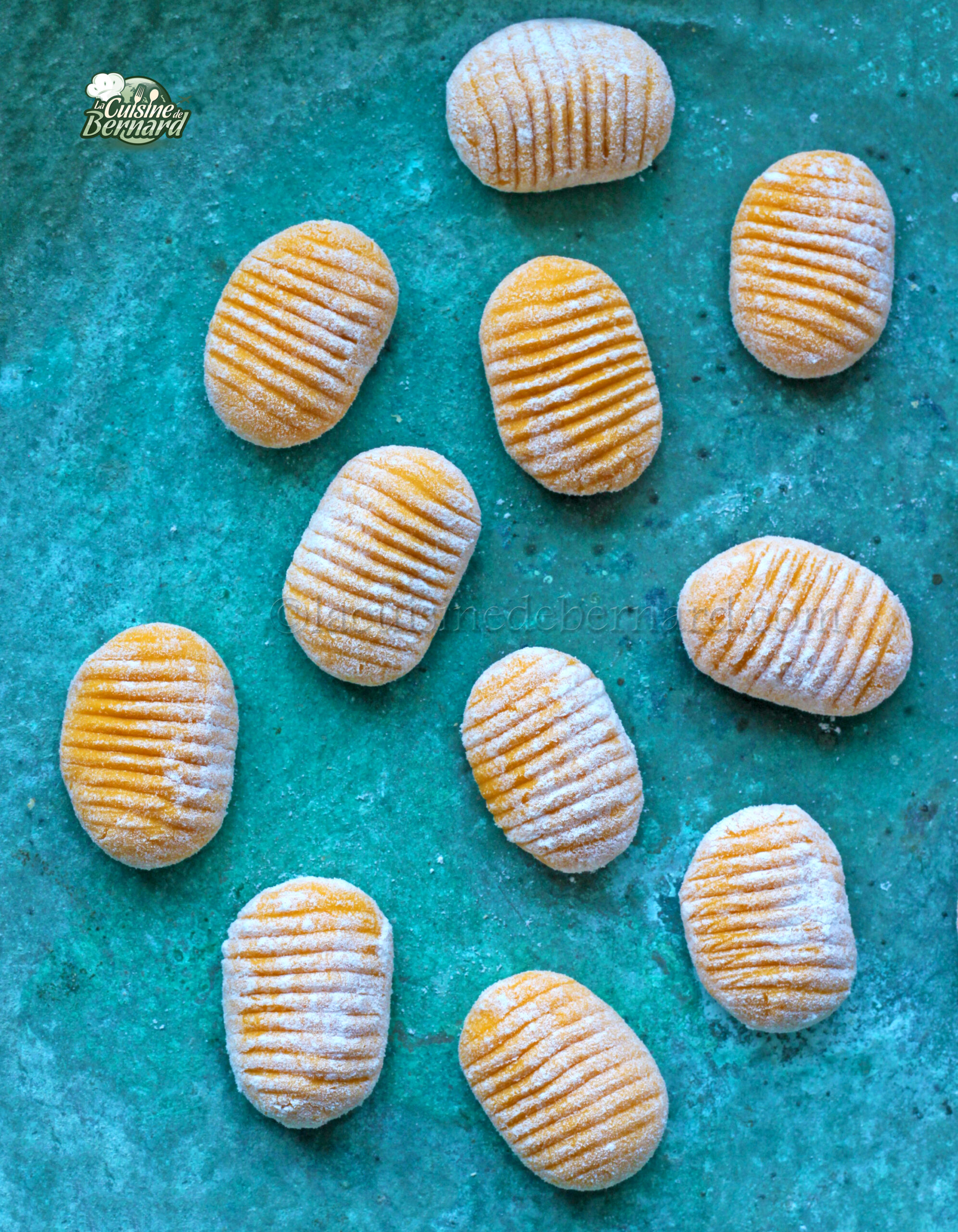 Gnocchis au potimarron
Je continue mes propositions de potimarron pour l'automne, car ce dernier est très facile à utiliser dans des recettes aussi bien sucrées que salées. Voici donc des gnocchis très simples à faire. Cela peut juste prendre du temps pour les réaliser joliment, mais c'est peut-être le moment de passer du temps en cuisine à plusieurs à papoter en prévision d'un bon repas ! Pour l'instant je vous donne juste la recette de base, puis je publierai très vite un plat dans lequel je mets ces jolis petits gnocchis colorés !
Instructions
Commencez par couper le potimarron en deux, enlevez les graines puis coupez en quartiers.

Faites cuire 20 minutes à la vapeur.

Vérifiez la cuisson en y plantant une fourchette.

Récupérez le poids de potimarron nécessaire.

Mixez au blender ou au mixeur plongeant pour obtenir une purée lisse.

Ajoutez le jaune d'œuf et la farine.

Mélangez d'abord à la cuillère puis à la main sur un plan de travail fariné.

Pétrissez ensuite la pâte en ajustant au besoin la quantité de farine en fonction de la qualité de la chair obtenue.

Vous devez obtenir une boule qui ne colle presque plus au toucher.

Pour faire les gnocchis, il vous faudra une petite planche prévue à cet effet, ou alors une fourchette peut aussi faire l'affaire.

Pesez une boulette de 8 à 10g et roulez-la bien entre vos mains. Posez-la sur la planchette.

Enfoncez le pouce dedans en la faisant rouler sur le bois. Vous allez obtenir un joli gnocchi tout beau !

Faites de même pour tous les gnocchis. C'est un peu long, surtout quand on veut les faire joliment, mais le jeu en vaut la chandelle !

Vous pourrez les cuire dans la foulée ou alors les congeler. En revanche, congelez-les à plat sur une plaque et quand ils sont durs comme des petits cailloux, vous pourrez les accumuler dans une boite ! De cette façon ils ne perdront pas leur belle forme !

Et je vous propose bientôt une recette de saisons pour les cuisiner !
Nutrition
Calories:
255
kcal
Carbohydrates:
51
g
Protein:
8
g
Fat:
2
g
Saturated Fat:
1
g
Polyunsaturated Fat:
0.5
g
Monounsaturated Fat:
1
g
Cholesterol:
54
mg
Sodium:
4
mg
Potassium:
225
mg
Fiber:
2
g
Sugar:
1
g
Vitamin A:
3903
IU
Vitamin C:
4
mg
Calcium:
25
mg
Iron:
3
mg